Are you looking for the best webinar tools? With the right webinar tools, aside from live streaming webinars, you can collect user feedback, grow your email list, and more.
In this post, we'll show you some of the best webinar tools on the market.
Why Webinars?
With webinar marketing, you can demonstrate your latest products, showcase your company's expertise, and more.
And although it's an opportunity to sell, the point of the webinar is to provide value for your participants.
So, what does any of this have to do with webinar tools?
Webinar tools let you easily promote, record, and share your online seminar.
Webinar tools can do everything from:
Increasing attendance
Live streaming your webinar
Reminding attendees
Collecting attendee feedback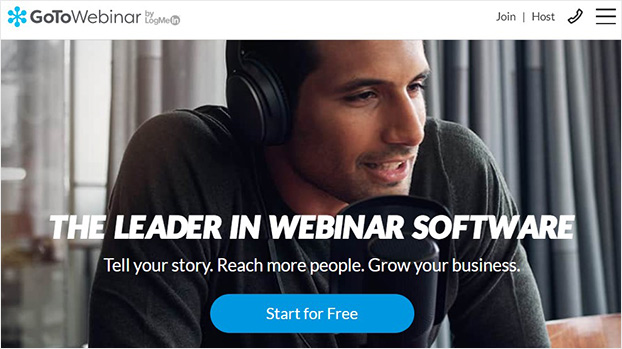 When you're choosing a webinar tool, make sure it lets you record, share, and promote your sessions. GoToWebinar is a solid option that is reliable, easy to use, and works on all devices.
GoToWebinar lets you conduct polls, share handouts, and run Q&As during your webinar. Its video editor even lets edit your webinar before you share. You'll need to download the GoToWebinar app to use this webinar tool.
They offer a free trial that doesn't require a credit card. You can enjoy access to all of their top-notch features during the free trial.

If you want to host a successful webinar, you need to get people to attend.
Sounds simple enough, right? But, if you've ever tried to get people to sign up for anything, you'll know it's not always that easy.
Fortunately, there's a proven way to boost webinar attendance that requires little effort from you.
And that's by adding a webinar registration popup to your website.
A webinar registration popup promotes your webinar to your site visitors. Its job is to convert your casual site visitors into webinar attendees.
So, how do you create a webinar registration popup?
OptinMonster is the best popup tool for getting more of your site visitors to register and attend your webinar. It allows you to easily create eye-catching popups to get your site visitors to sign up for your webinar.
With OptinMonster, you can build lead capture forms for your webinar quickly using a drag and drop builder.
Using OptinMonster's built-in templates, you can:
Easily embed webinar registration form on your popup
Seamless integration with your webinar software and email marketing service
Show the registration popup at the right moment when your visitors are more likely to register
Use exit popups to invite your site visitor as they are about to leave your site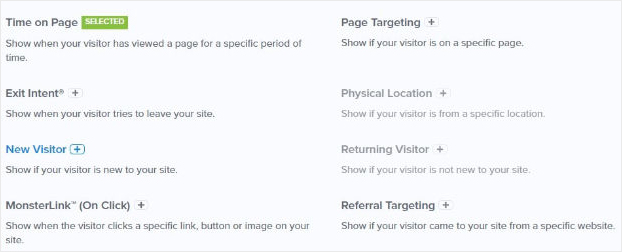 One of the advantages of OptinMonster is you control exactly where and when you show your popup. You can make a popup appear after someone has viewed a specific number of pages or scrolled a certain percentage down the page.
The benefit of this kind of targeting is you're showing your popup to your most engaged visitors.
Get Started With a Webinar Registration Popup Today!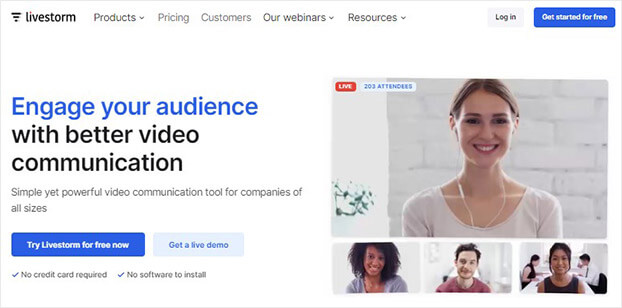 Livestorm is a free webinar tool. It allows you to run live and on-demand webinars. With Livestorm, you can send automatic email reminders. Plus, you can share your screen and relevant documents during your webinar. Other key webinar features include chat and automatic recording. It's a browser-based webinar tool, so you won't need to download an app.
Livestorm's free webinar software lets you host unlimited webinars. Webinar sessions on the free plan are limited to 20 minutes and 10 viewers.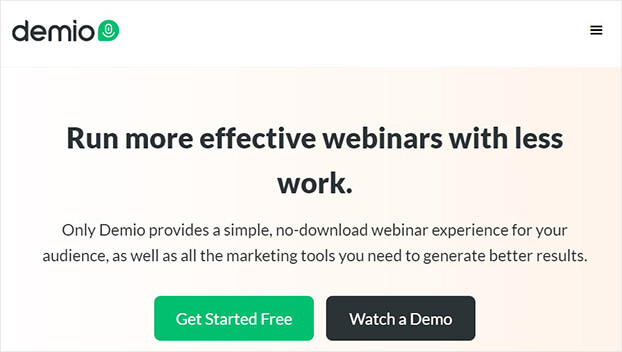 Demio is webinar software for small businesses and marketers. It lets you run live, on-demand, and automated webinars. You'll be able to set up a series of webinars and allow participants to register for all episodes in one go.
On top of that, you can share documents and videos during your webinar. It comes with marketing features, like the ability to create registration forms for your website.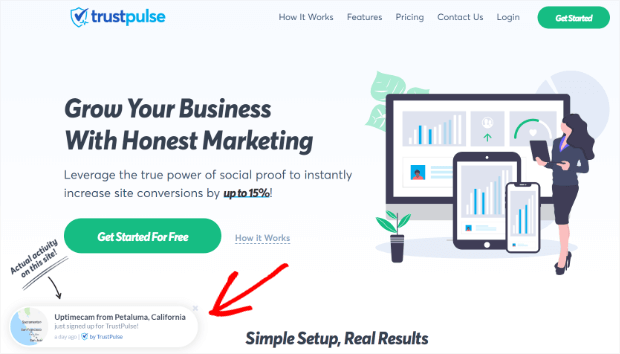 Looking for a quick, easy way to bump up your webinar registrations?
Then you should try live webinar signup notifications.
And the easiest way to add these live notifications to your website is with TrustPulse.
TrustPulse lets you display live notifications to promote your webinar.
When you add live notifications to your website, you can let your site visitors know the instant someone signs up for your webinar.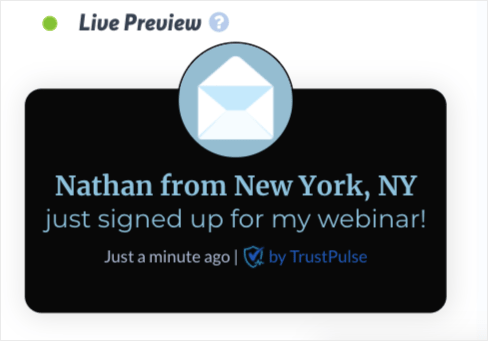 The good news is setup is quick and easy. And they're wildly effective. This webinar tool has been shown to increase conversions by up to 15%.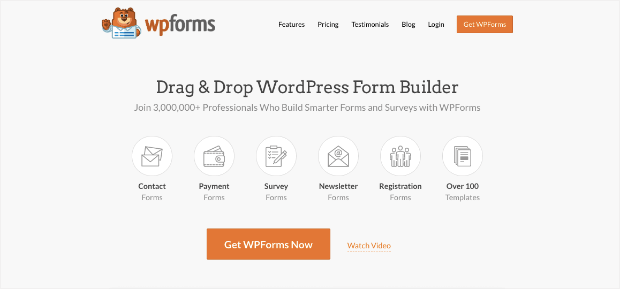 WPForms is a form builder that allows you to add webinar registration forms to your website.
WPForms comes with prebuilt webinar registration form templates.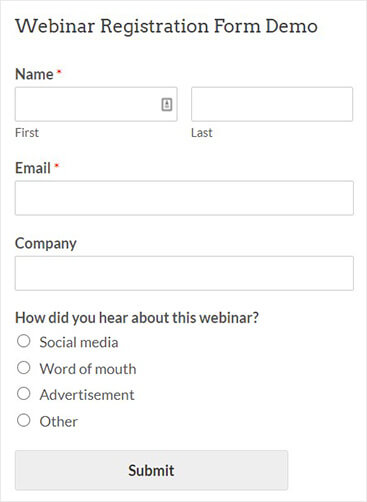 You have the freedom to add and remove fields in WPForms drag and drop builder.
Plus, you can use WPForms to create surveys and polls for webinar attendees. Pre and post surveys are great tools for gaining an even deeper understanding of your audience.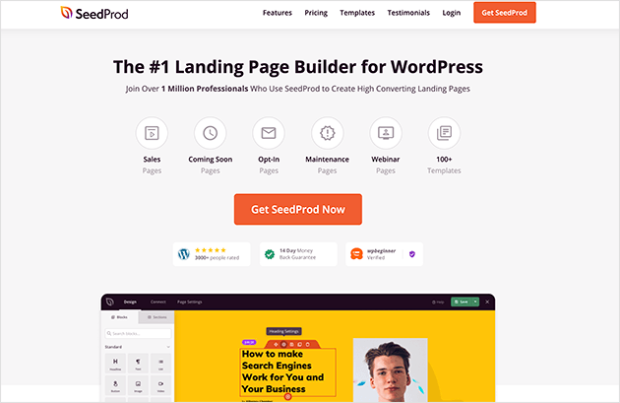 Having a strong landing page can dramatically boost your webinar attendance.
A landing page is the first thing someone sees when they click on your webinar marketing post from social media or search.
It has a single goal: to get more people to sign up for your webinar.
SeedProd is a great webinar tool for building landing pages. It comes with beautiful webinar registration page templates. And, you can easily customize your webinar registration page with a drag and drop builder.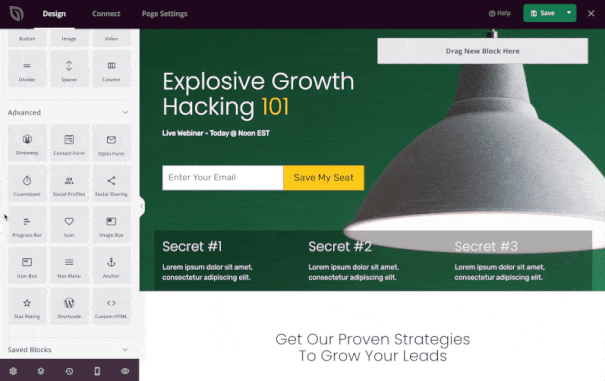 Plus, it's 100% responsive so it will work on any device.
Elements of a great webinar landing page include:
Super specific headline: your headline should offer a clear benefit
Compelling copy: focus on copy that tells your attendees what's in it for them
Basic details: Include things like the date and topic
Call to action: display a prominent call-to-action button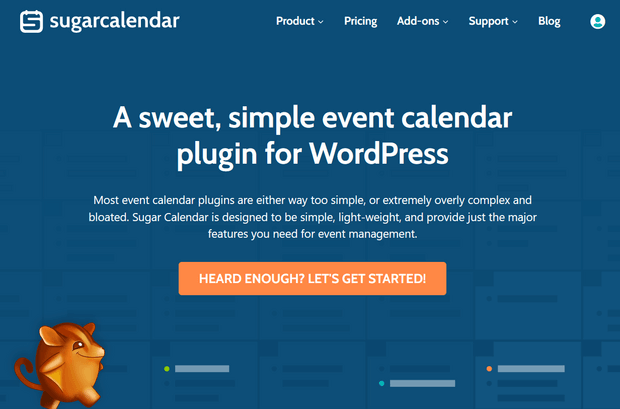 If you regularly hold webinars, you can use Sugar Calendar to display upcoming events on your WordPress website.
This is a great way to get people excited about future webinars and increase registrations.
Sugar Calendar is super easy to use. You can display one-time or recurring events, single or multi-day events, add start and end times, assign event time zones, and much more.
You can even sell tickets to your webinars through Stripe or WooCommerce with the Event Ticketing addon.
It comes with multiple front-end display options and embedding your webinar events calendar on your site is simple.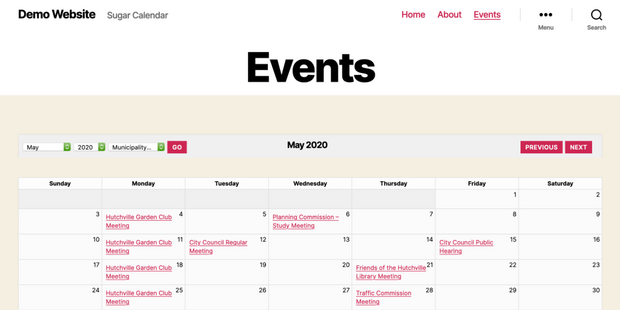 You can paste in the shortcode on any post or page or choose from 4 different event calendar widgets.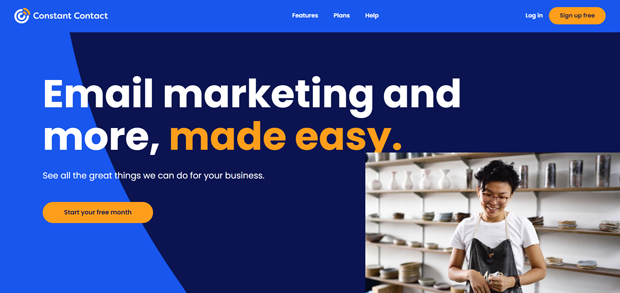 An excellent technique for boosting webinar conversions is to run an email marketing campaign.
Email marketing software like Constant Contact makes it easy to run and automate these campaigns.
Consider building an email sequence that gets people excited about attending.
In addition to an email confirming the webinar registration, add these emails:
Reminder emails with related content
Thank you messages with any resources, like slides
Webinar recording emails
There you have it. Now, you know which tools can help you host a successful webinar.
If you want to get started with webinar marketing right away, you should use OptinMonster. With OptinMonster, you can use stunning popups to boost your attendance.
Get Started With a Webinar Registration Popup Today!
We hope you enjoyed this article. If so, you might find these resources useful:
Ready to start generating more leads for your webinar? Get OptinMonster today.