Do you want more sales this holiday? Adding a countdown timer to your site is a proven way to boost online sales. In this tutorial, we'll share how to create a holiday sales timer with OptinMonster.
If you have a holiday promotion coming up, you need to try adding a countdown timer to your site.
We've tested adding an animated countdown timer on several of our own sites, including OptinMonster, WPForms and Envira Gallery. The results have been astonishing… even to us!

Many of you saw our timer and requested this feature in OptinMonster, so we added it. Now, adding a countdown timer to your site is just a few clicks away.
Are you ready to add more urgency to your holiday promotion and see a big boost in sales? Let's dive into the 5 simple steps to set up a holiday timer in OptinMonster…
Step 1: Create a Floating Bar using the "Countdown" Theme
First, go to your OptinMonster dashboard and create a new optin.

Then, enter a title for your holiday sales timer (we'll call ours "Thanksgiving Sale") and select your website from the dropdown menu. Choose the Floating Bar optin type, and select the "Countdown" theme.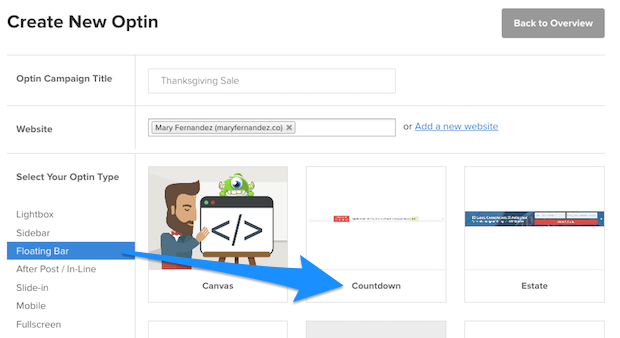 Step 2: Set the End Date/Time for Your Holiday Sale
Next, go to the Optin tab and make sure that the Countdown Type is set to Static. (This means that every visitor will see the exact same countdown when they arrive at your site.)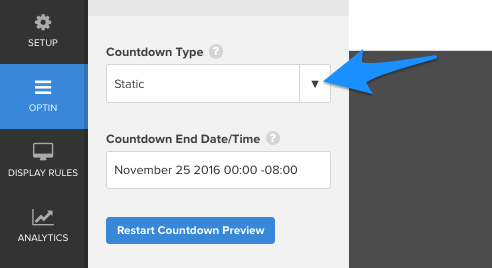 Now, go ahead and enter the date and time when your holiday sale is scheduled to end (this goes in the Countdown End Date/Time field).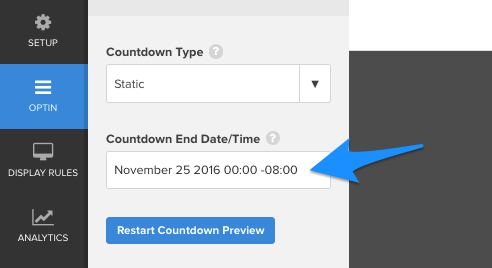 You can click on the blue Restart Countdown Preview button to see what your countdown would look like right now with your current settings.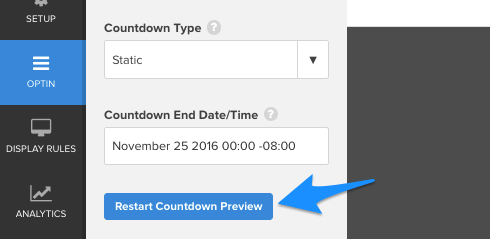 Step 3: Customize the Copy & Design
Next you can customize the floating bar to look the way you want, and reflect your holiday offer.
We'll change our timer background color to orange, change the copy to say "Thanksgiving Sale: Get 25% Off Any Order", and change the discount code to "25THANK".

Step 4: Set the Display Rules
Once you're happy with how your holiday sales timer looks, now it's time to set the display rules.
Go to the Display Rules tab, and deactivate the default "After 'X' seconds" option. Instead, we're going to set this floating bar to be displayed right away, based on the visitor's date and time.
Activate "Based on the visitor's date or time", and set it to show when the current date is on or before and enter the end date for your sale (in our case, we want the timer to be displayed on or before Thanksgiving, so we'll use 11/24/16).

Next, we need to set who should see this campaign. We would like our holiday timer to be displayed on the "shop" page, so we'll activate Visitors browsing specific pages and set it to show when the URL path exactly matches shop.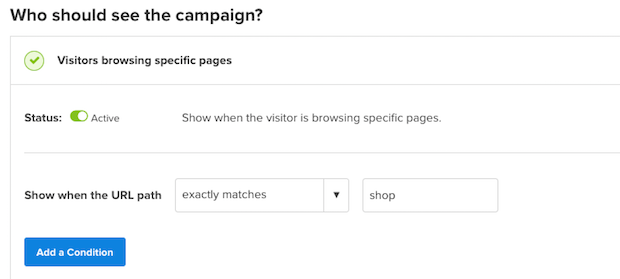 Now, whenever a visitor lands on our http://domain.com/shop page, they will see the holiday timer.
(Note: if you have a lot of different shop pages and you'd like to display the holiday timer on all of them, simply set it to show when the URL path contains shop.)
Step 5: Start the Campaign
Now all that's left to do is start the campaign! Click on the green Start Campaign button at the top of the screen, and then click on the Embed button right next to it to see your options for embedding the holiday timer on your site.

After embedding the timer on your site, you'll have a floating bar that looks something like this:

That's it!
Now it's your turn. Get started with OptinMonster today to create a countdown timer for your next holiday promotion!
If you enjoyed this tutorial, you may also want to check out 22 OptinMonster Hacks to Boost Your Conversions.