Want to add scarcity marketing to your online campaigns? Whether you are an eCommerce store, a local shop, or any type of business, using scarcity marketing is proven to boost conversions and sales. In this guide, we'll share 34 scarcity examples to boost your conversions.
We'll dive into the examples in just a moment, but first, let's briefly go over a basic scarcity marketing definition…
What is the Scarcity Principle?
The psychological scarcity principle states that a limited supply increases the attractiveness of that item.
In other words, there is a human tendency to want stuff that is harder to get.
If you've ever heard of the "beer goggle effect" (the theory that "all the girls get prettier at closing time"), you may be surprised to know that Australian scientists actually studied this and found that the effect has nothing to do with alcohol at all… it is actually the scarcity principle at work.
You see, they found that it is true that the perceived attractiveness of members of the opposite sex increases towards closing time at bars. However, even when the participants of the study had not been drinking alcohol, the effect still held true! What this suggests is that the "beer google effect" isn't actually about beer, but about the number of "options" becoming scarce towards closing time.
Another study conducted by Stephen Worchel offered subject two nearly identical jars of cookies. The only difference was that one jar had ten cookies, while the other jar only had two cookies.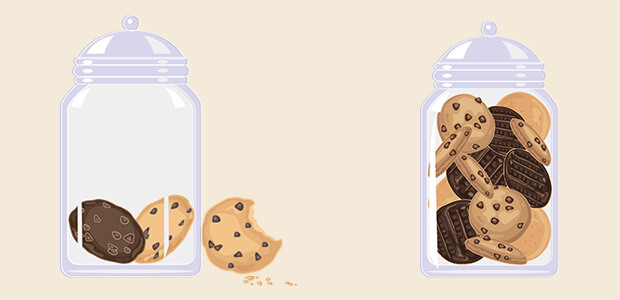 When asked which jar they preferred, participants actually preferred the jar with only two cookies in it!
That's because psychologically people assume that if there is less of something, it must be in higher demand. Therefore, it must be of higher value.
You can use this principle in any marketing campaign to increase your conversions. This is a particularly important marketing trick for increasing eCommerce sales, but it can also be used to increase email optins or any other call to action on your website.
Let's take a look at 34 examples of scarcity.
1. "Lock in this great price while you still can"
Booking.com is a master at scarcity marketing. Take a look at how they imply that this deal on a hotel won't be available for very long.

2. "Booked 26 times today"
They also tell you how many times a particular hotel has been booked today, which means the hotel must be a desirable place to stay (and you'd better book your stay now before they're all booked up).

3. "5 people are looking right now"
You may also notice in the screenshot above that they share how many other users are currently viewing the same hotel you are viewing. Better book now before those 4 other people get the room you want!

4. "You missed it!"
Booking.com even shows you what hotels aren't available anymore, so you'll know not to mess around with the next hotel you try to book.

5. "In high demand – only 4 rooms left on our site!"
Whew, you are really close to missing out on this opportunity!

6. "Only 2 left in stock"
Amazon.com lets you know when they are running low on a particular item.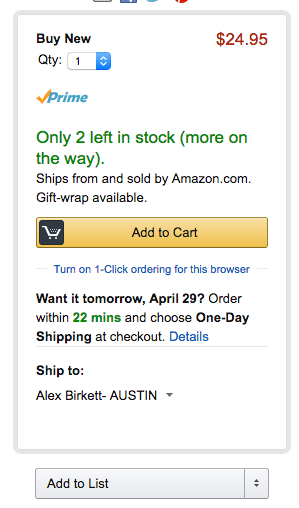 7. "Want it tomorrow?"
They also tell you how many minutes you have left to order if you want to get the item by tomorrow.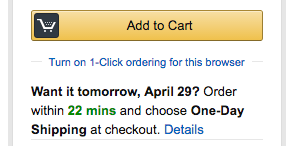 8. "Up to 50% off until 4/30"
Amazon Prime Now has a weekly ad with a time-sensitive discount.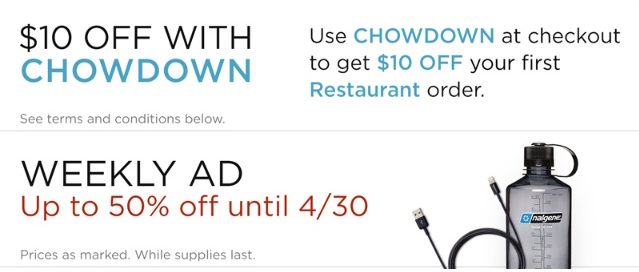 9. "Today's Lightning Deals"
Amazon's "Lightning Deals" are offered on a daily basis for only a few hours.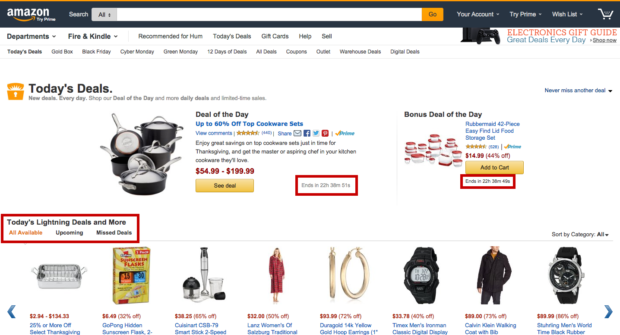 10. "Free gift every hour"
Chubbies Shorts runs a promotion around the Fourth of July where they release a free gift every hour with purchase. Each day there is a different gift only available that day (or even that specific hour).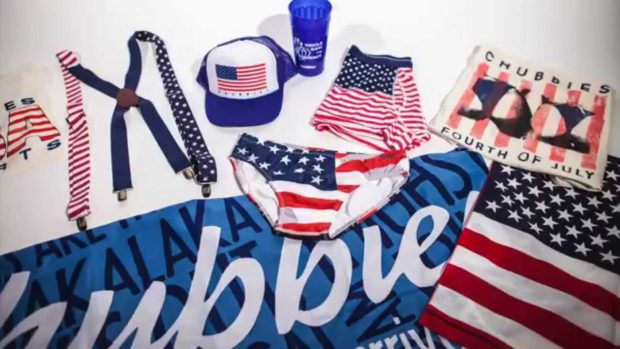 11. "Pre-sale: will ship by 6-21-16"
They also release special items for pre-sale with a guaranteed ship date.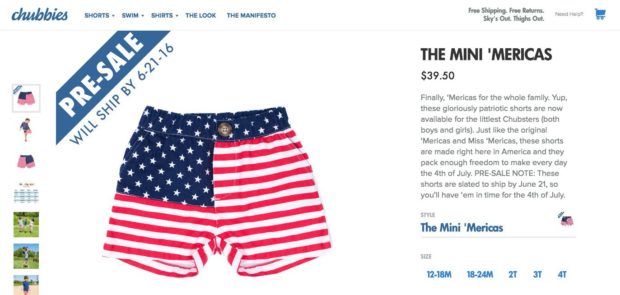 12. "Today's Deal Ends in: 10 Hours: 8 Minutes: 11 Seconds"
TigerDirect.com has deals every day and uses a countdown timer to show visitors how long the deal will last.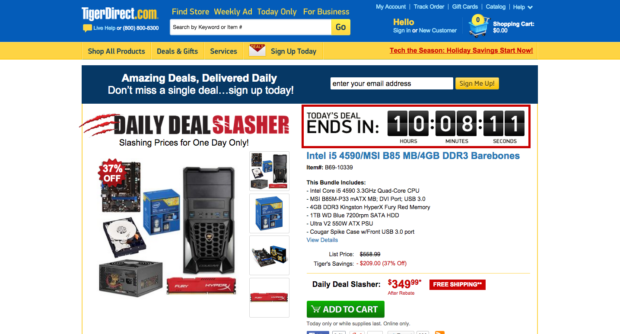 13. "There's still time for Mother's Day delivery w/ expedited shipping"
Think Geek uses a banner tailored specifically to last-minute Mother's Day shoppers.

14. "Be among the first to own a pair of Hush"
Hush used a Kickstarter campaign to let prospects know that they can be the first to own a pair of smart earplugs, at a discounted price.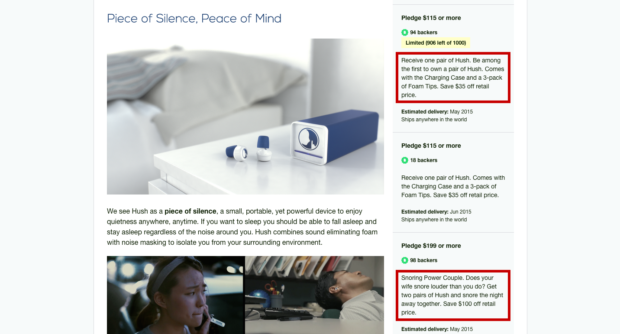 15. "Team USA Closing Ceremony Uniform"
Ralph Lauren released these exclusive Olympic uniforms for pre-order, so you can have them in time for the closing ceremony.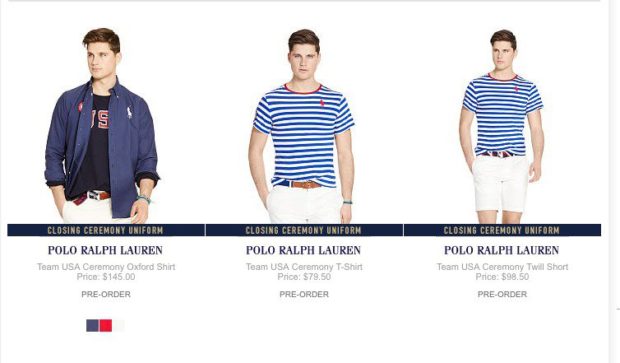 16. "Gold Star Clearance"
Kohl's adds scarcity using clearance sales.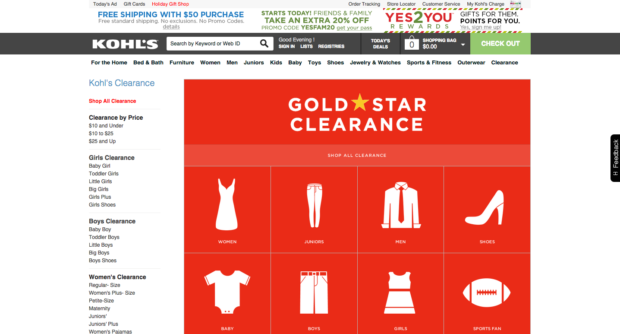 17. "Limited time offer"
The Badgers offered this "limited time only" t-shirt to add scarcity.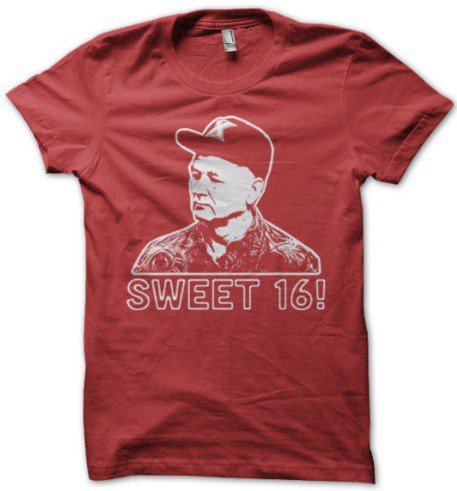 18. "24 Hour Reply"
Bumble (a dating app) adds scarcity by only giving women 1 day to start a conversation with their match, or the match disappears. Then, the men only have 24 hours to respond.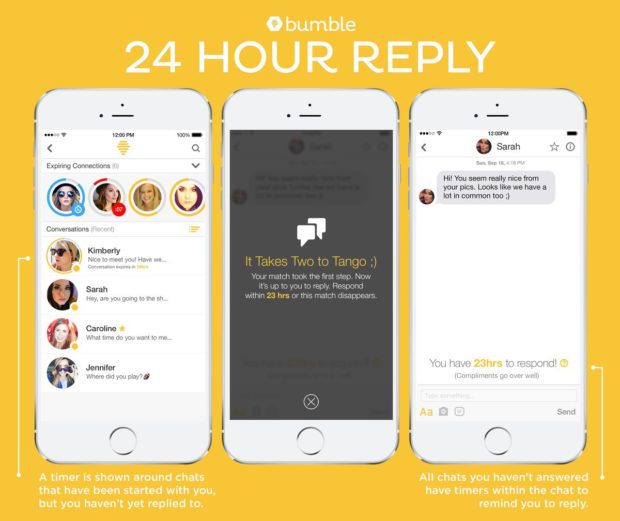 19. "Anniversary Sale"
An anniversary sale, like this one from Evo, is a great opportunity to add scarcity with a limited time only offer.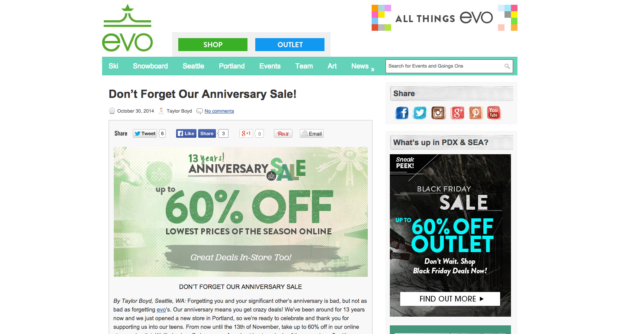 20. "This option is currently unavailable."
When you select sizes and designs on Ministry of Supply, they'll tell you when an option you have picked is unavailable. This uses social proof to add scarcity.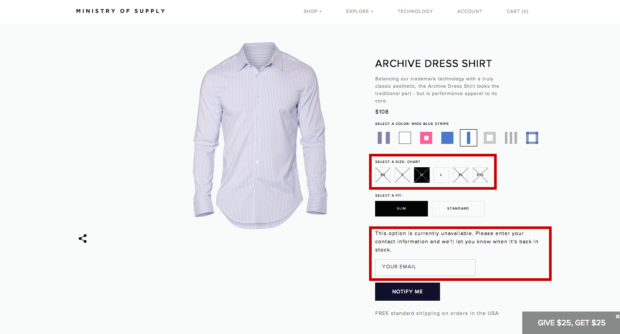 Related ContentSocial Proof Statistics: Powerful Facts That Will Help You Boost Your Brand
21. Auctions
eBay uses auctions to add scarcity marketing. To boost conversions, they have a "time left" countdown timer and tell you the number of bids that have already been made on the item.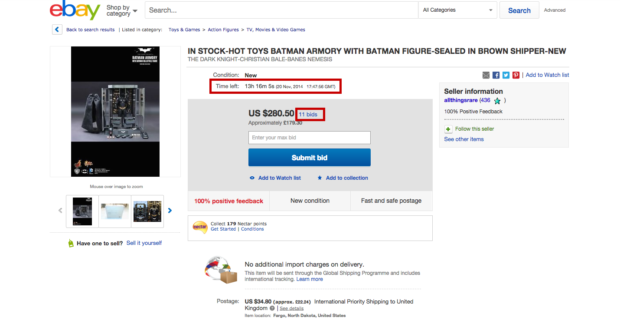 22. "Out of Stock"
Bonobos don't wait for you to select a particular size, cut or color before they show you what's out of stock. This increases scarcity even more than what you typically see on an eCommerce site.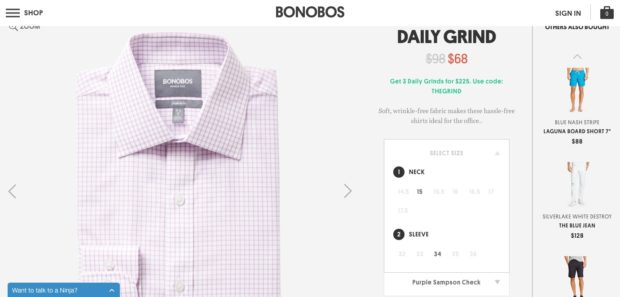 23. "Free Kickstarter Green Lid"
Memobottle used a bonus item as an incentive to back the project now. For every bottle pledged, you'll get one special green lid for free!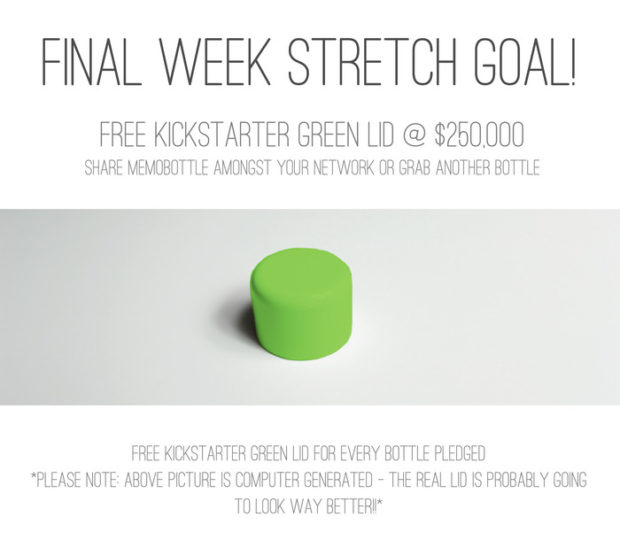 24. "9 left!"
ModCloth has plenty of examples of scarcity. For instance, they use a red indicator that certain items have low stock.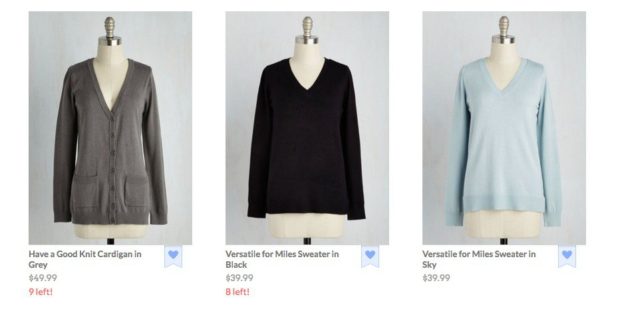 25. "Back Today!"
They also show you which items are back by popular demand, increasing social proof and boosting scarcity at the same time.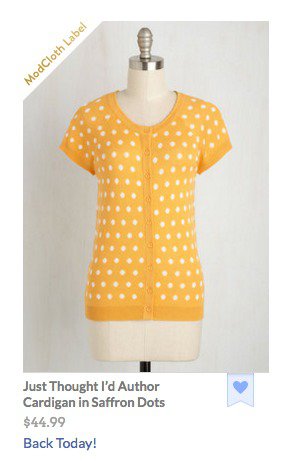 Top Tool AlertCheck out this list of social proof software you can use to add social proof to your site!
26. "Out of Stock!"
Rather than removing unavailable items from view, they'll simply let you know when a particular item is out of stock. That way you'll wish you had it and will be more likely to buy another item before that too goes out of stock.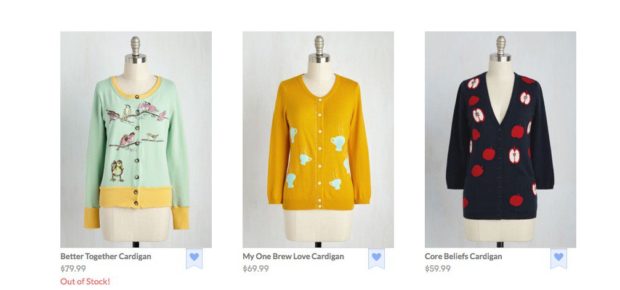 27. "Holiday Sweaters"
Another scarcity marketing strategy that ModCloth uses is to create limited quantities of holiday items. You won't want to wait too long to buy these!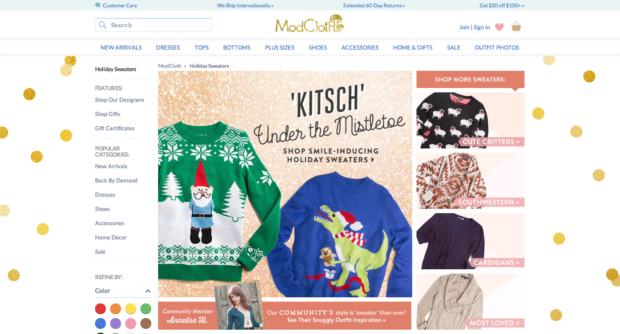 28. "Free for 3 months"
NewYorker.com released its archives to the public for free for three months. A limited-time free offering like this is a great way to boost your traffic and email subscribers.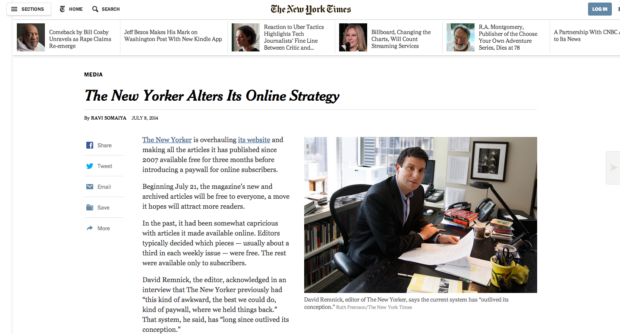 29. "Time left: 0 Days 19 Hours 18 Minutes 00 Seconds"
Marketizator used a floating bar countdown timer to add scarcity to their webinar by displaying how much time there was left to register.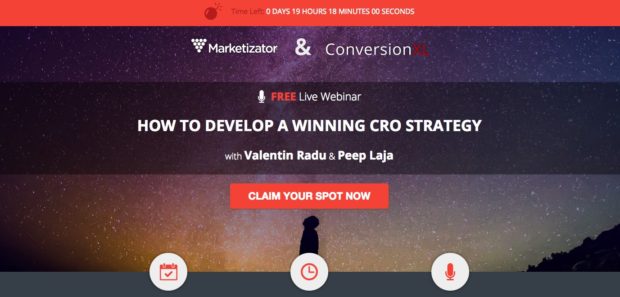 30. "Enjoy it while it lasts"
Starbucks uses holiday flavors paired with strong scarcity messaging to encourage you to buy now.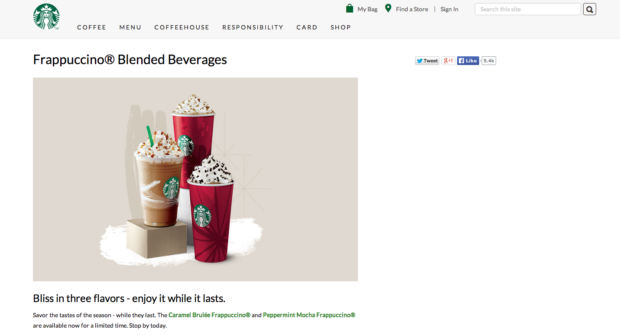 31. "This just in: we now only have 71 tickets left…"
When ConversionXL ran a special event, they shared how many tickets they had remaining to increase scarcity.

32. "This Week's Highlights"
Frank + Oak highlights specific products to increase the perceived value and "rareness" of their products.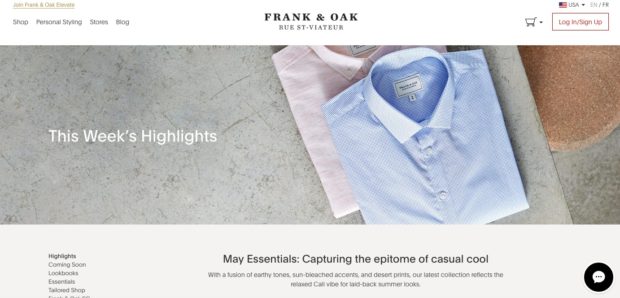 33. "Back in Stock"
Jack Threads not only has a "New Arrivals" section to announce brand new products, but they also share which items were previously sold out and are now "back".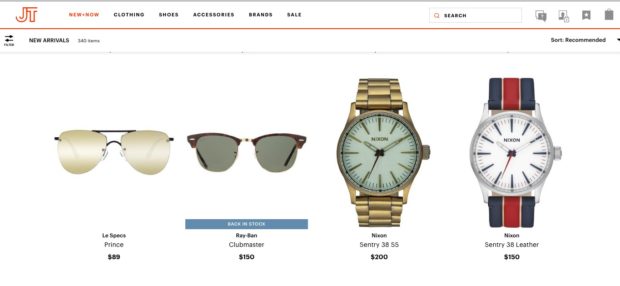 34. "Connect now and you'll automatically save 20% on your first purchase."
The same company also uses a lightbox popup to encourage first-time visitors to save 20% on their first order, when they subscribe now.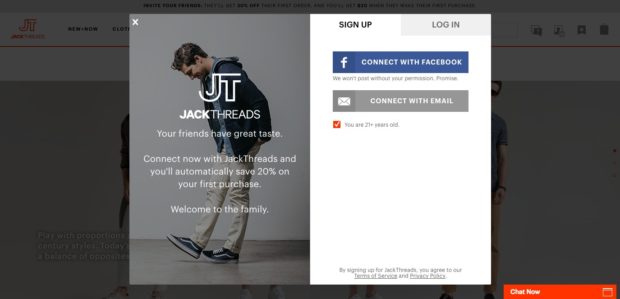 That's it! 34 scarcity examples to boost your conversions.
If you enjoyed this guide, you may also want to check out The Ultimate Guide to Email Marketing for Beginners. Email marketing is simply the best way to sell anything online, and this step-by-step guide will teach you how.