Are you learning email marketing for eCommerce but not sure how to make it successful?
As an online store owner, growing your email list can be tough. And knowing how to use that list to drive actual revenue can be even tougher.
That's why, today, we're going to teach you everything about eCommerce email marketing. More specifically, we'll give you 7 actionable tips to set up your email marketing plan.
Then, we'll share 3 strategies you can use to start growing your list TODAY.
But, first, let's get clear on what makes email marketing for eCommerce unique.
How Is Email Marketing Different for eCommerce?
You've probably read lots of guides on the general topic of "email marketing." And, for the most part, you can apply that advice to eCommerce.
But there are some aspects to email marketing for eCommerce that you'll need to focus on more if you want to be successful.
For example, email marketing for eCommerce often means more:
Transactional emails
Emphasis on real-time sales
Opportunities for reaching out to customers
These are just a few examples of the parts of email marketing that you'll need to pay attention to as an eCommerce owner. There are, of course, many others.
And we'll cover each of these points in more detail below as we look at our 7 tips for eCommerce email marketing.
Let's dive into the list.
Email Marketing for eCommerce
This is an in-depth guide to eCommerce email marketing. As such, we've made the following table of contents to help you navigate to the section that you're most interested in:
But we highly suggest reading all the tips to get the fullest understanding of email marketing for eCommerce.
Let's get started.
1. Capture Leads Faster With OptinMonster
Like we said at the start of this article, one of the hardest parts of email marketing for eCommerce is growing your email list.
But let's be honest: this is important no matter what kind of business you're in.
And things will be exponentially easier (and faster) with the right tool. That's where OptinMonster comes in: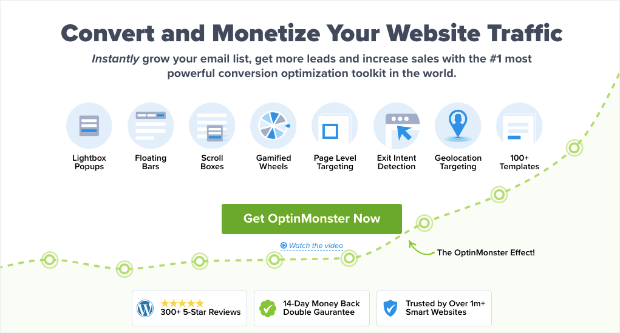 OptinMonster is hands down the best way to grow your email list for online business owners. That's because it's simple to use but incredibly powerful.
With OptinMonster, you can create professional-looking and high-converting campaigns in a matter of minutes, even with no coding background or "tech skills."
These campaigns are things like popups, floating bars, fullscreen welcome mats, and other types designed to grow your email list.
Plus, Optinmonster comes with tons of templates designed for desktop, mobile, and tablet. And it has a drag and drop builder to make customization super easy.
Then, and this is really important for eCommerce, OptinMonster is loaded with targeting rules for your campaign. These rules determine when, where, and to whom your campaigns appear.
This lets you personalize your campaigns to show them to the right people, in the right places, and at just the right time in their customer journey.
Want to see it in action for yourself? Click below to sign up for your 100% risk-free OptinMonster account:
Grow Your eCommerce List Today!
BONUS: Done-For-You Campaign Setup ($297 value):
Our conversion experts will design 1 free campaign for you to get maximum results – absolutely FREE!
Click here to get started →
Later in this guide, we'll share 3 concrete strategies for how you can grow your eCommerce email list fast.
Now, though, let's look at other aspects of email marketing that you need to prepare for.
2. Create Email Series for Cart Abandonment
If you're in the world of eCommerce, then you know how big a problem cart abandonment is. As of March 1, 2020, roughly 88% of all online carts were abandoned.
That means nearly 9 out of every 10 people who added your products to their shopping cart didn't go through with checkout.
That's A LOT of missed opportunities.
That's why you need to focus on building a strategy to recover those sales. And while there are lots of ways to reduce cart abandonment, you'll want to create email campaigns specifically for that purpose.
You'll need to craft email copy to persuade people to come back to your online store. But how can you create a persuasive and effective email if you're not a confident writer?
Fortunately, we've got just the resource you're looking for. Check out this post on 14 abandoned cart emails that are proven to boost revenue.
These will give you real-life examples of cart abandonment email campaigns from big companies like Amazon, Asos, the Dollar Shave Club, and more.
Then you can use these examples like templates for your own eCommerce shop to increase revenue.
3. Select the Right Email Service Provider (ESP)
In the same way that OptinMonster is the best tool for getting new leads, you'll want an email service provider (ESP) that's the best for your eCommerce business.
This will change depending on the current size of your company and your needs, but here are 3 options we always recommend: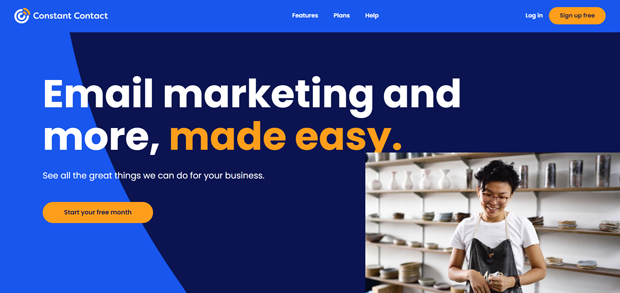 Constant Contact is one of the best email service providers for small businesses who want to scale. It's incredibly flexible and great for both big businesses or "mom and pop" shops alike.
With Constant Contact, you can get started for as low as $20/month, making it an affordable option, as well. Some of its top features include:
Heatmap feature to see which parts of your emails get the most attention
Campaign activity reports to help you optimize your email copy
Email editor with tons of templates you can start from to save time
And much more…
Constant Contact is an easy-to-use but powerful ESP that's worth considering for any eCommerce business.
Try out Constant Contact Today!
2. Brevo (formerly Sendinblue)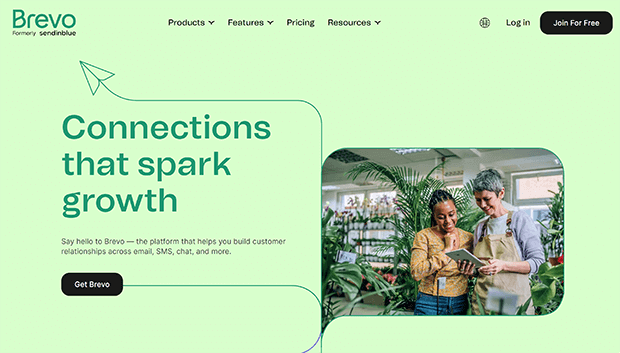 Brevo (formerly Sendinblue) is another great option for eCommerce email marketing. Unlike many ESPs, Brevo lets you get started totally free, regardless of the number of contacts on your list.
Instead, this service charges based on the number of emails sent. This has a few advantages worth considering:
Get started at zero-risk, especially if you're just starting out
Avoid charges for contact lists with spambots of unsubscribed users
That last one is really important. Lots of ESPs like Mailchimp will charge you for contacts on your list. That includes unsubscribed users (until you manually remove them from your account).
But with a service like Brevo, you're charged by how many emails you send, so this isn't an issue.
Plus, Brevo comes with all the bells and whistles you want in an ESP, such as:
Email templates
Automated campaigns
Metrics reports (for open rates, click-through rates, unsubscribes, and so on)
Powerful A/B testing
And much more…
Want to try it out for yourself? Sign up for Brevo today!
3. Drip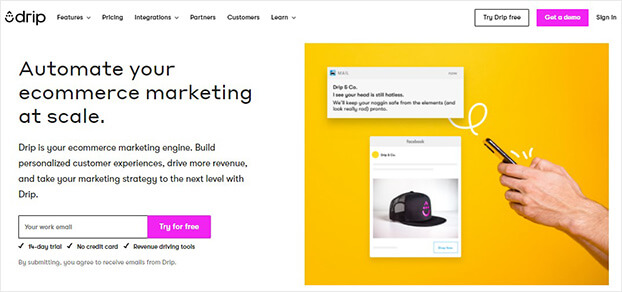 Drip is the last ESP on this list, but certainly not the least tempting. The best way to describe Drip would be like "Mailchimp but for eCommerce."
That's because it's a much better option if you plan to scale your company in the future. Not only is it free for under 100 subscribers, but Drip also keeps their pricing affordable as you grow.
And with Drip, you get powerful features like:
A/B testing
Detailed analytics to optimize emails
On-site behavior tracking to segment your list
Integrations with your favorite marketing tools
And much more…
With Drip, you can run successful email marketing campaigns for eCommerce at a price you can afford (no matter what size business you have).
As far as ESPs for eCommerce goes, these are 3 options that are totally worth checking out.
4. Optimize Your Transactional Content
Transactional emails are all those "boring" emails you get that give you more details about a recent transaction (hence the name).
So when you buy a pair of shoes and get a follow-up email with shipping details, that would be considered transactional.
Or when you sign up for a newsletter and see a confirmation email in your inbox, that would be transactional, too.
And, earlier in the post, we mentioned the transactional content is one area where eCommerce email marketing stands out.
That's because eCommerce shops typically send out a lot more transactional emails than other business models.
Consultants, for example, might only send a handful of transactional emails to their clients every month.
But in eCommerce, you'll send out confirmation emails, shipping updates, and many others as your customers buy your products more frequently.
And this is where most online business owners mess up: they let their boring transactional emails stay boring.
The timing of transactional emails makes them a crucial moment in your customer journey.
Not only do you have the opportunity to improve user experience (UX) by keeping them informed, you have a chance to upsell, downsell, or cross-sell to boost revenue.
Or, it's a great chance to ask for some customer feedback. Then you can use your testimonial or review as social proof to, again, boost revenue.
Transactional emails are such a great opportunity because they usually come right after a customer has made a purchase. That means they trust your brand, and they're excited about that new order.
You can leverage this timing to build a deeper relationship with your customer and improve your bottom line.
Want more help with this? Check out this resource: What Is a Transactional Email? (With 10 Stunning Examples).
That article will have everything you need to make your transactional emails more meaningful and more profitable.
5. Build Automated Email Campaigns
One of the best ways to generate money from your email list is by creating automated series.
When enough people enter a specific automated campaign, you can usually bet on a certain percentage of sales to follow.
And the best part is that you only need to write the initial email to reap the benefits for years to come. Email campaigns are great at giving you the opportunity to increase revenue through:
Upsells
Downsells
Cross-selling
Promotional offers
Seasonal sales
And more…
But how do you build these automated campaigns without coming off as too "salesy" from your eCommerce store?
One of the best places to start is here: How to Create an Effective Email Autoresponder Series.
That resource will walk you through all the steps it requires to create a profitable email series for your eCommerce store.
Then as new leads get added to your list, you can have them automatically go through your email series. This leads to more passive revenue and larger boosts in your eCommerce sales for years to come.
6. Send Customer Feedback Forms (Consistently)
Too many eCommerce business owners think that customer surveys or feedback forms are only for SaaS companies.
But you should be getting feedback from your customers no matter what type of business you're in.
Customer surveys are one of the best ways to understand your target audience. It allows you to create more effective marketing strategies to attract the right people to your site.
Plus, a well-crafted customer survey can give you insight into how your audience "speaks." And once you understand the type of language your target audience uses, you're much more likely to transform casual web traffic into loyal customers.
And once you start getting more positive reviews or testimonials, you can use it as social proof to increase conversions on your site.
One of the best ways to do that is with TrustPulse: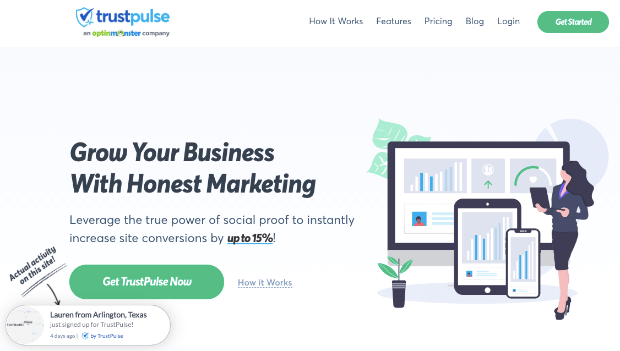 TrustPulse is the world's best social proof software. It lets you build social proof notifications in a matter of minutes.
These are small messages that appear on your visitors' browser screen, letting them know of recent activity concerning your brand both on and off your site.
You've probably seen these before. They look something like this:

When users see messages like this, they're more motivated to act.
But what does this have to do with customer feedback forms or surveys?
When you get a positive review or testimonial, you can use TrustPulse to broadcast it across your site. By creating a static campaign, you can let others know the response you get from your customer survey emails.
Imagine a visitor coming to your site and seeing a notification like this:

Then when users click that notification, they'll be taken to a landing page that's loaded with even more social proof.
These notifications don't just increase your site's trustworthiness. They have a direct impact on sales, too.
In fact, TrustPulse users have seen an instant boost in sales by up to 15%.
And if you can get more customer quotes, testimonials, or reviews through your email marketing efforts, you're sitting on a winning strategy to drive profits through the roof.
7. Integrate & Automate Everything to Save Time
Earlier in this post, we talked about creating an automated email series. When users go into that series, they'll get a number of emails that lead them further down your sales funnel.
But for eCommerce, you need to have nearly every aspect of your email marketing strategy on auto-pilot.
That's because, more than other industries, your eCommerce store gives you lots to keep track of. In eCommerce, you need to worry about managing:
Inventory
Shipping costs
Delivery times
Accounting information (for tax season)
Attracting customers
Retaining customers
Adding new products
And, well… you get the point. Every day, you're juggling about a million tasks while trying to put out a thousand fires.
That means you need to be searching for tools that integrate with other marketing tools to save you time.
OptinMonster, for example, doesn't just grow your email list. It integrates with your ESP and sends your new leads directly to your contact list.
Plus, you can tag new leads from your new OptinMonster campaigns, so they go to the right email series.
This lets you personalize your messaging from the time you attract a new lead to the time you convert them into a paying customer.
And, again, all of this can be set on auto-pilot once it's set up.
You need to build your eCommerce store with flexible and versatile tools that save you time on the tedious stuff. That way, you can focus on more profitable areas of your marketing and sales strategy.
Now that we've looked at 7 aspects of email marketing specifically for eCommerce, let's look at how you can grow your list faster.
Growing Your eCommerce Email List
In this section of our guide, we'll specifically be working with OptinMonster.
That's because, as we said earlier, OptinMonster is THE BEST tool for growing your list fast. And, now, we're going to show you 3 concrete strategies for growing your eCommerce site's email list.
To get started with your 100% risk-free OptinMonster account, just click below:
Grow Your eCommerce List Today!
Let's dive in.
1. Exit-Intent® Technology
One of OptinMonster's most effective triggers is an exit-intent popup. It relies on Exit-Intent® Technology to display your campaigns as users are actively leaving their browser page.
This is a critical moment for you because when visitors leave your site, they're not likely to come back.
So imagine someone comes to your eCommerce site, they look around, add a few things to their cart, but decide to take off without making a purchase.
As they're leaving, you show them a popup like this one: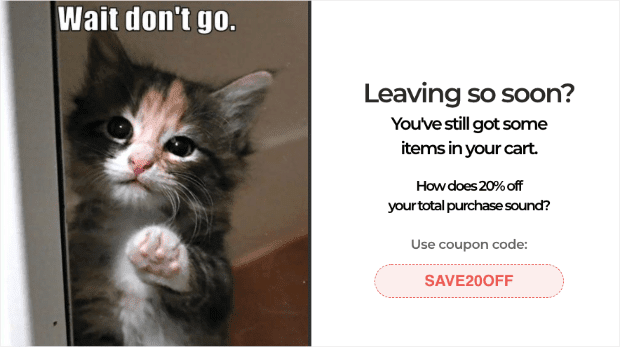 The image grabbed their attention, but the coupon code really sealed the deal.
Your visitor decides 20% off is just the motivation they needed to finish their purchase. In doing so, they provide their email address at checkout and enter your automated series.
You can now cross-sell, upsell, downsell, or send other seasonal promotions to get them back to your site at any time.
Sound too good to be true? Check out the following success stories from OptinMonster customers using exit-intent popups:
You can have similar results in your eCommerce store by leveraging OptinMonster's powerful exit-intent campaigns.
2. Onsite Retargeting® for Personalized Messaging
Another great feature with OptinMonster is the ability to retarget users on your website with Onsite Retargeting®.
One of the biggest problems eCommerce business owners make is showing the same campaigns to people who have already seen them.
But with OptinMonster, you can retarget users based on how they've interacted with campaigns in the past. This allows you to modify your message to get the highest conversion rates possible.
For example, maybe you showed a campaign to someone, and they decided not to opt-in.
Showing them the same campaign probably won't do much good if they come back to your site. Instead, you can create new campaigns to display if people did NOT opt into your first offer.
Not only does this improve your (UX) because it's less annoying for returning visitors, but it will also boost conversions.
By showing your audience fresh offers on every visit, you're guaranteed to grow your eCommerce email list faster.
3. Floating Bars
We'll end our eCommerce email marketing guide with one of the best (and most underused) tools you can use to grow your list: floating bars.
Having a sitewide floating bar is perfect for gathering emails with promotional deals like:
Free shipping
Discounts
2-for-1 deals
eBook downloads
Cheatsheets
And more…
Floating bars are non-intrusive, which means they don't interfere with your user's browser experience. But, they're also highly effective with the right design.
Here's an example of a floating bar that could be used for free shipping:

This is the same strategy that Kennedy Blue used to reduce abandoning visitors, increase sales, and get more readers to their high-converting pages.
You can use floating bars in your eCommerce store to capture more emails and improve your email marketing strategy.
And that's it! We hope you found this guide on email marketing for eCommerce helpful.
If you did, you might also want to check out the following resources:
These articles will have all the tips, tricks, and strategies you need to grow your list faster and increase your eCommerce sales.