Are you looking for the best ways to boost conversions with downselling?
Downselling can be a powerful technique for increasing revenue. But you need to go about it the right way to get the most sales possible.
So, today, we're going to teach you 5 ways to get more conversions with downselling. These techniques will get your customers more purchases and bring you more profits.
But before we start, let's make sure we're clear on what downselling is and why it's such a fantastic strategy.
What Is Downselling?
Downselling refers to offering a product or service to your customers at a lower price point than a product they were previously considering.
So, let's say you were looking for a new car. You really like a newer model, but you find the price point too expensive. Rather than let you leave the car lot with nothing, the sales representative decides to show you a similar car that costs less.
Since the cost of the first car was the only thing holding you back, you decide to buy the second car because of the more reasonable price.
That's essentially what downselling is. And it's one of the smartest things you can do for your business.
That's because downselling is a great way to get users into the habit of making purchases from your store.
Once they purchase one item, no matter what the cost, they'll be more likely to make other purchases in the future.
Also, downselling can be a way to get customers to purchase the product that you wanted them to all along!
If we go back to the example of buying a car from above, the sales representative may have shown you the more expensive car on purpose knowing you wouldn't buy it. Why?
Because it would increase the odds that you'd pull the trigger and buy the second car.
This works because the first product you see (the one you find too expensive) makes the second option look all the more reasonable.
Regardless of how you go about downselling, it can be a great way to increase your profits. Now let's turn our attention to 5 ways you can boost eCommerce conversions with downselling.
5 Ways to Boost Profits With Downselling
Below are 5 actionable techniques you can use to generate more profits with downselling. And each of these strategies can be built with OptinMonster, the world's #1 lead generation software.
Our mission is to give small and medium-sized businesses the tools they need to increase conversions on their site. Whether you want more sitewide traffic, more email subscribers, or more sales, OptinMonster can make sure you're getting the highest conversions possible.
To learn more about how OptinMonster can help your business grow, check out this article: How Does OptinMonster Work? (8 Benefits + 12 Case Studies).
Ready to get started? Sign up for your risk-free OptinMonster account today!
Now let's dive into our tips.
1. Use an Exit Intent® Popup on Product Pages
One of the simplest ways you can get into downselling is with a simple exit intent popup. Exit Intent® technology is something that OptinMonster uses to trigger popup campaigns.
When a customer is looking at your website, your popup will appear as they attempt to leave the browser page. This is a super effective method for recovering abandoning visitors.
Just check out these examples of OptinMonster clients who saw massive success with exit intent campaigns:
But how does any of this relate to downselling?
You can target specific product pages on your website that are sold at a high price point. Then, you can create a downselling popup that contains a related product but at a lower price.
If your customers were looking at an expensive necklace, for example, you may show them this popup campaign as they're trying to leave: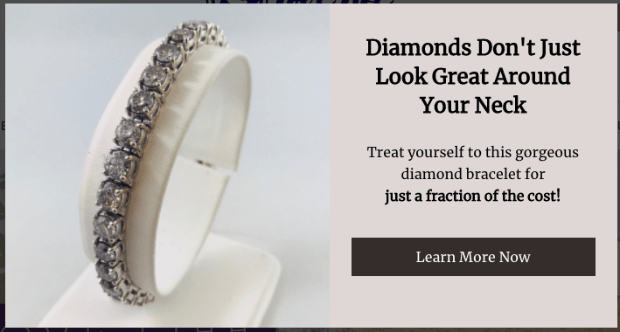 If your customers were hesitant to make the initial purchase because of the price, your downselling popup will capture their attention and make your second offer hard to refuse.
2. Create a Classic Tripwire Funnel
In the past, we've written about tripwire funnels and how they can be a great way of boosting sales.
If you haven't read that article yet, we highly recommend it.
One of the key components in the tripwire funnel is the downsell offer. Here's how tripwire funnels work:
Your customer puts a very low-cost item in their cart
At checkout, you show them a limited time only upsell offer (another product at a lower price point)
If they decline the upsell, you show them a downsell offer that costs less than your upsell, but more than your original product
And here's what makes this type of downsell so powerful: it's actually always an upsell!
Let's look at an example. Suppose you were selling an eBook for $5. When your customers put it in their cart, they see a popup for a private online course priced at $997.
They decide not to purchase this service, but then they see another offer for a group course at $97.
The difference in the price between these two offers makes your group course very tempting, and your customer decides to buy it.
Even though the $97 was a downsell compared to the more expensive private course, it's still a major upsell from the original $5 eBook.
You can easily create this type of popup using OptinMonster's Yes/No campaign. Here's an example of what the upsell campaign would look like: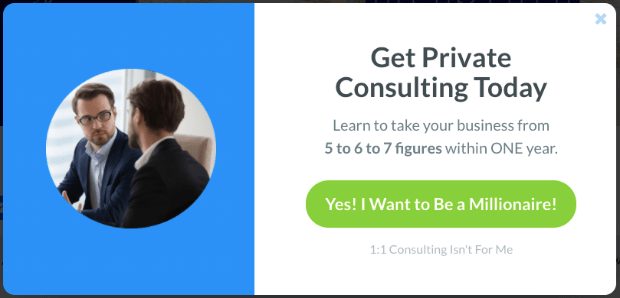 If your customer clicks Yes, they'll get redirected to the course's product page to make the purchase. If they click No, your downsell offer will appear: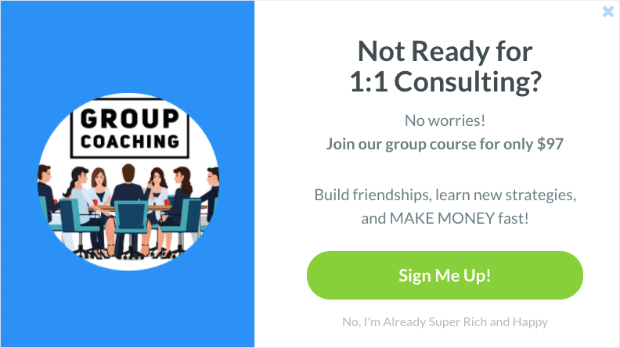 This campaign took us less than 5 minutes to build for this demo. You can make a similar campaign and start generating more profits today.
3. Make Targeted Product Suggestions
It's rare that any product would have everything to satisfy your customer's needs. When someone buys a phone, they also need a charger. If they buy a suit, they'll need a tie. Or if they buy sunglasses, they'll likely need a case.
The point is that many products require accessories that can function as downsells.
You can create targeted product suggestions for all of your product pages. Then, when a customer adds something to their cart or makes a purchase, you can trigger your popup to show a related–but less expensive–product.
If your customer added a jacket to their shopping cart, for example, you could show them a popup recommending another item of clothing: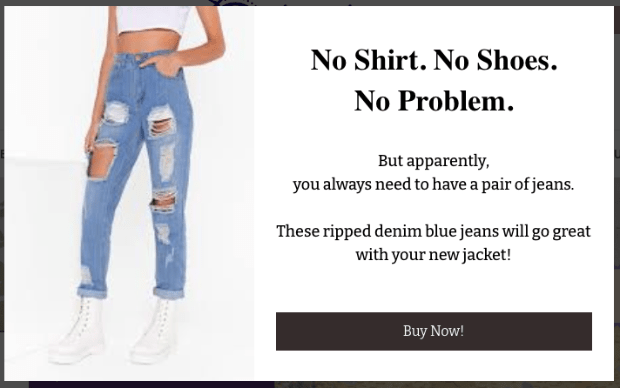 Again, OptinMonster allows you to make targeted product recommendations for your downselling offers in a matter of minutes.
That way, you can save time and energy to focus on other areas of your business while watching your profits grow.
4. Remove Premium Features for Downsell Packages
One form of downselling is to create product packages that are essentially stripped-down versions of more premium products.
So let's say you have a training course that offers live support, 1:1 weekly calls, a video course, and access to group forums. This is your premium product that sells for $497.
You can easily develop a downsell offer by removing a few of the premium features and creating a more cost-friendly package. You might remove live support and the 1:1 weekly calls, for example, to sell the video course and forum access for $97.
Now you have 2 products: the premium version and your downsell offer. Here's an example of what this kind of downsell campaign may look like: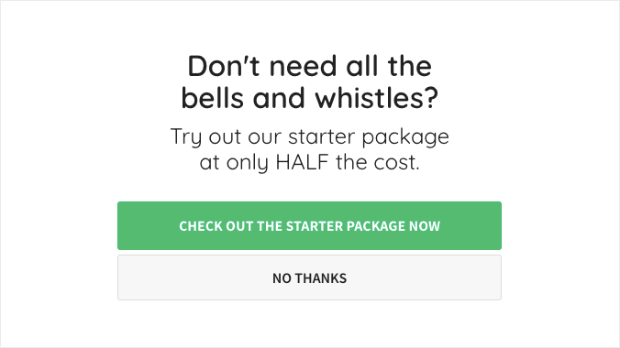 This works particularly well for online products and SaaS companies. But this also works if you sell anything that comes in packages such as gift baskets, flower arrangements, food assortments, and more.
5. Use OnSite Follow Up Campaigns®
OnSite Follow Up Campaigns® allow you to show offers based on how users have interacted with other campaigns on your site.
That means you can use your customer's behavior to create personalized downsell offers. If you know that a user has interacted positively with an offer for a coupon, for example, you can later target them for similar products at a lower price point.
You can also use Smart Tags to highly personalize these follow up campaigns. This allows you to grab your user's attention by referring to them by name or location.
The more personal you can make your downsell offers, the more likely you are to increase conversions.
This type of downsell campaign could look something like this: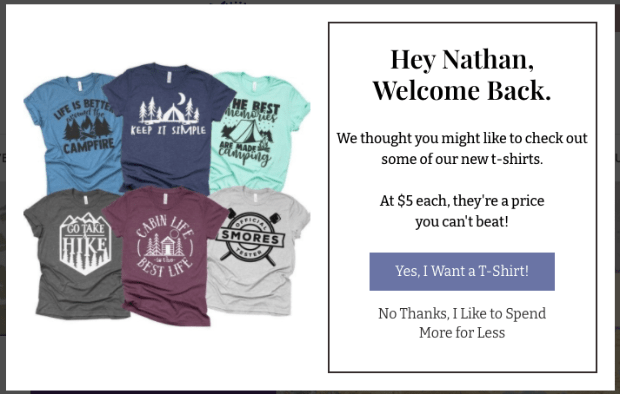 Onsite Follow Up Campaigns® are an incredibly effective tool for boosting conversions. In fact, it's the exact tactic that the travel agency Travel Anywhere used to recover 56% of abandoning visitors.
And that's it! These are 5 ways you can get more conversions through downselling.
We hope you found this article helpful. If so, you may be interested in using OptinMonster to boost profits in other ways. For that, we recommend you check out the following posts:
These posts will have everything you need to learn how OptinMonster can start bringing in more profits to your business today.