You can now enable content blocking for OptinMonster's After Post / Inline Campaigns! Follow this guide to learn how to use OptinMonster's content blocking feature.
---
Step 1 – Create an After Post / Inline Campaign
To begin, create an After Post / Inline Campaign that you would like to use for content blocking.
Step 2 – Configure Content Blocking
Once you've created an After Post / Inline campaign, navigate to the Optin panel in the campaign builder to begin configuring content blocking for your campaign.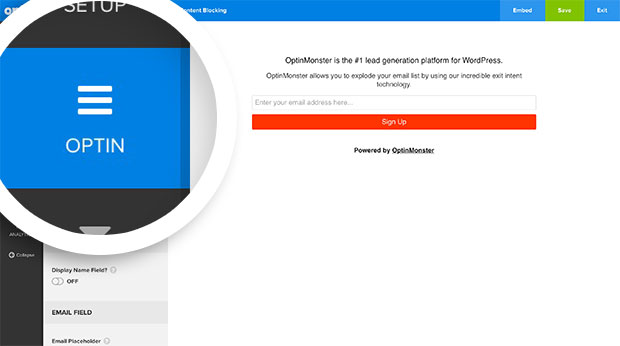 Scroll down to the Content Blocking section, here you can activate content blocking for the campaign.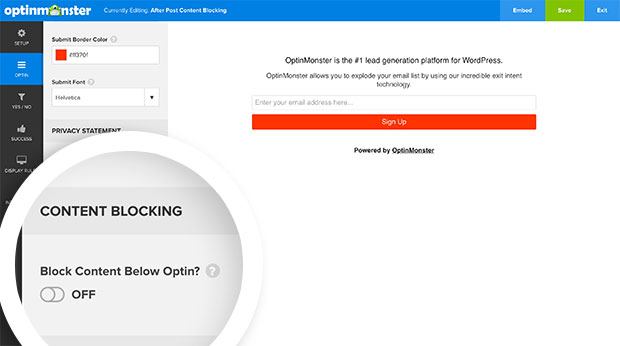 Once activated, the following options can be configured:
Content Blocking Method – Determines the way in which content is blocked.

Obfuscation: Blurs out the text below the campaign (default).
Removal: Removes the text completely below the campaign.

Success Cookie Duration – The number of days before the campaign will display again once the user successfully opts in to your campaign. Change to 0 to prevent success cookies from being set.
Step 3 – Embed the Content Blocking Campaign
The campaign is now ready to be embedded before the content you want to block.
Important: Your campaign will only block content that is in the same container. Be sure the campaign embed code is not wrapped in a separate div container or it will not block any of the content that appears visually beneath it.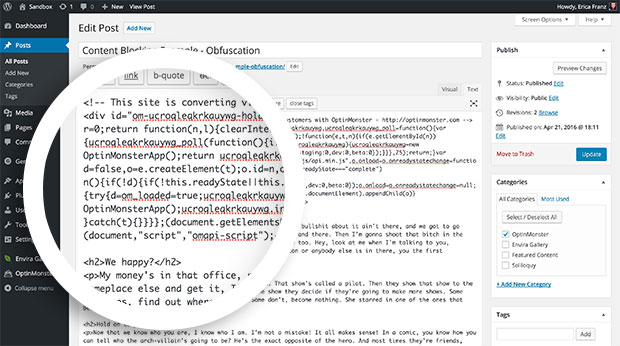 Using WordPress?
Learn how you can use the OptinMonster shortcode to manually place your content blocking After Post / Inline campaign
following our guide
.
Save the changes to your page or post, then preview your site and your content will be blocked based on the optin's configuration until the visitor submits the campaign.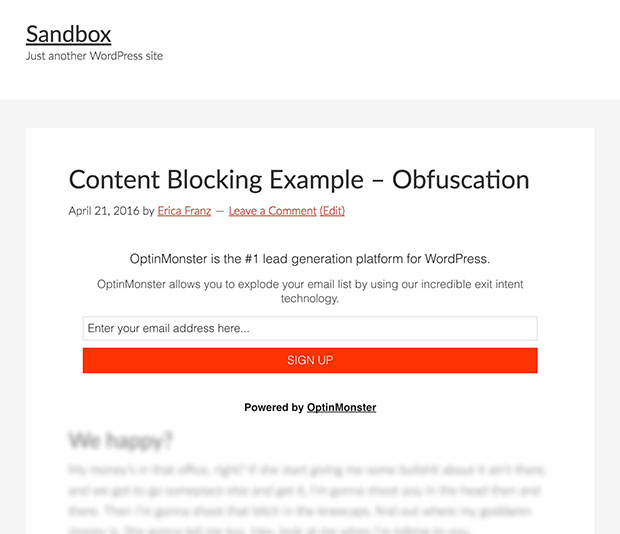 ---
FAQ
Q: How can I unlock all content on my site after a visitor has subscribed?
A: Yes! Be sure to set global cookie durations for your domain. Any value greater than zero for the Global Success Cookie will unlock all content on your site once a visitor has subscribed for that number of days.
---
Q: Can I use Content Blocking with a Custom HTML Integration?
A: Yes! Just be sure your custom HTML form's submit field contains the om-trigger-conversion class, and OptinMonster will take care of the rest.
If you're adding an HTML link to the Custom HTML field instead of a form, you can add the same class to your HTML link tag and when selected the content will be unlocked.
Learn more about using the om-trigger-conversion class with OptinMonster.
---
Q: Why doesn't Obfuscation work on Internet Explorer 11?
A: Unfortunately Internet Explorer 11 does not support the obfuscation method, so to ensure your content isn't freely available to visitors on IE11 we remove the content from view until it has been unblocked.