Are you trying to create a newsletter popup, but you're not sure where to get started?
Growing your email list is a challenge for every new business. After months of leaving a static signup form on your site, it's discouraging to see a handful of subscribers.
That's why, in today's post, we're going to offer you a dynamic solution that's proven to generate more leads fast. 
We'll teach you exactly how to create a newsletter popup that boosts conversions and grows your subscriber list.
But before we dive into the tutorial, let's get clear on why you might want a newsletter popup in the first place.
Do Newsletter Popups Still Work?
Over the past few years, lots of marketers have developed the mistaken idea that "popups are dead."
These same people shout similar things about SEO, content marketing, social media, and other still thriving marketing strategies.
But the truth is that newsletter popups aren't dead.
In fact, they're more necessary now than ever. And when you create the right kind of newsletter popup for your site, you'll see the following advantages:
Improved UX: Give your audience more of what THEY want with personalized offers.
Increase in Conversions: Build your business by getting more people to engage with your calls to action (CTAs).
Massive Growth in YOUR List: Drive more revenue through email marketing best practices.
These are just a few of the benefits of using a newsletter popup, though there are many others.
Which means you're probably wondering, "What's the catch?"
The main reason people think popups are dead is that so many people use them wrong.
They create a general offer for an unspecified audience and display it instantly to every visitor. Now THAT kind of popup strategy is dead.
But when you can personalize offers directly to your target audience, you'll see BIG results from your newsletter signups.
And when you show those offers at just the right times in your customer's journey, you can expect even BIGGER results for generating highly qualified leads.
In fact, here's the popup we'll build in today's tutorial: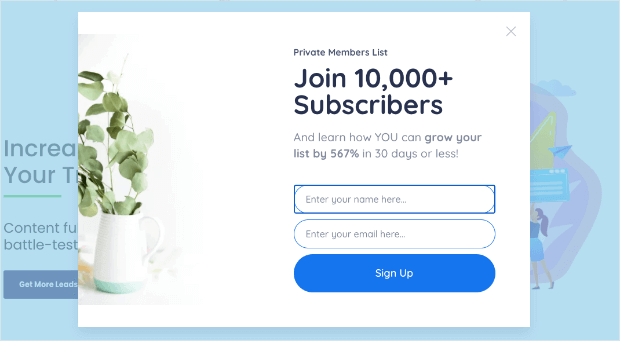 We built this newsletter popup in under 5 minutes.
And throughout the steps in this tutorial, you'll also learn how to target popups to your audience to get the most conversions possible.
Ready to get started? Let's dive in.
How to Create a Newsletter Popup in 5 Steps
For this tutorial, we'll create our newsletter popup with OptinMonster: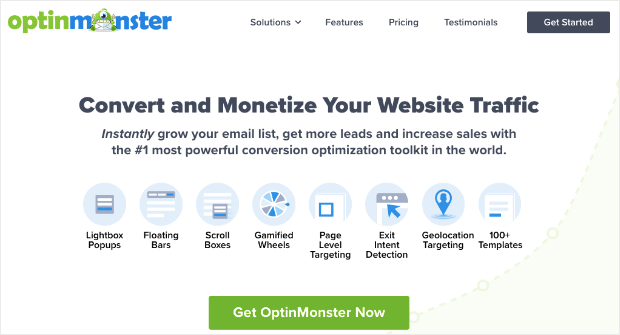 OptinMonster is hands down the best lead generation tool on the market and your best bet for creating high-converting popups fast.
That's because this tool gives you everything you need to build and automate your lead generation strategy.
Plus, it works with any platform your site is built with. If you're a WordPress user, you can simply download the plugin and hop right in.
For all other platforms, you'll just need to add a bit of code (the same way that you set up Google Analytics).
And with that, you'll have a powerful codeless drag and drop campaign builder. Not only can you make and target newsletter popups across your site, but you can build other campaigns like:
Floating bars
Fullscreen welcome mats
Slide-in scroll boxes
Inline campaigns
Content lockers
And much more…
Now let's look at how easy it is to build your newsletter popup in 5 steps.
But first, be sure to click below and sign up for your 100% risk-free OptinMonster account to follow along:
Get Started With OptinMonster Today!
BONUS: Done-For-You Campaign Setup ($297 value)
Our conversion experts will design 1 free campaign for you to get maximum results – absolutely FREE!
Click here to get started →
Step 1) Choose Your Campaign Type & Template
Once you've signed up for OptinMonster, the automated setup wizard will help you connect to your website.
If you still need a bit of help, no worries. You can use either of these 2 resources:
Once you're set up, you'll be in the OptinMonster dashboard. For WordPress users, you'll need to click Create New Popup: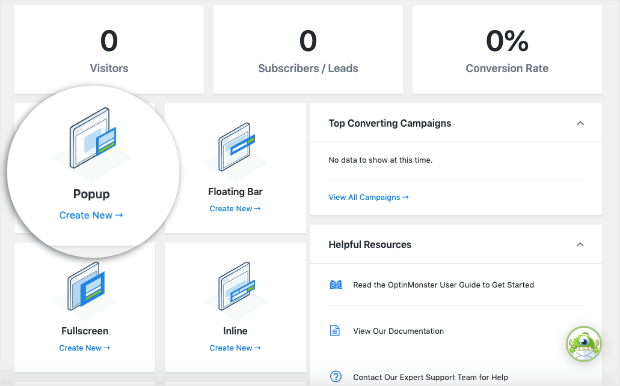 Not using WordPress? This portion of building your newsletter campaign will look slightly different (though the rest of the process is identical).
At this point, click Create Campaign from your OptinMonster dashboard: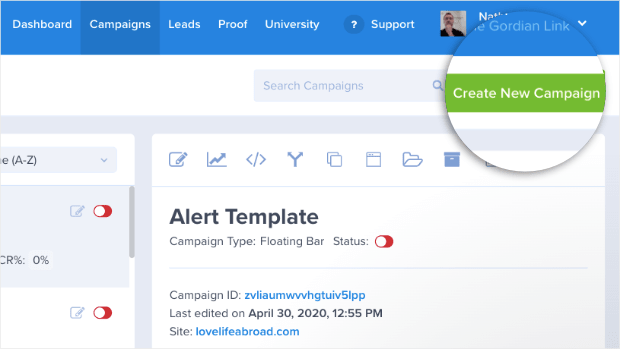 From there, you'll be taken to OptinMonster's template selection.
OptinMonster has over 50 premium templates to choose from: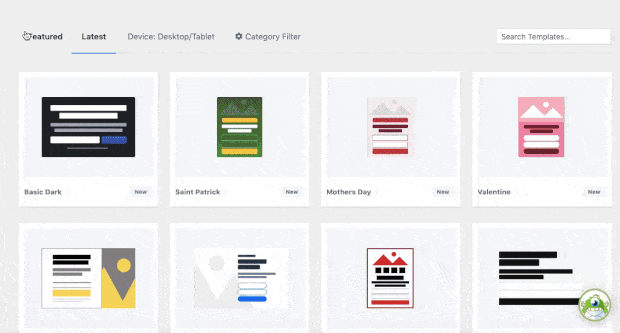 All of these are ready to go out-of-the-box, are fully responsive, and are 100% mobile-friendly.
You can browse through the templates and preview them before deciding. That way, you can choose the template that comes out most closely aligned with your brand.
When you've selected the template you want to use, you'll need to name your campaign: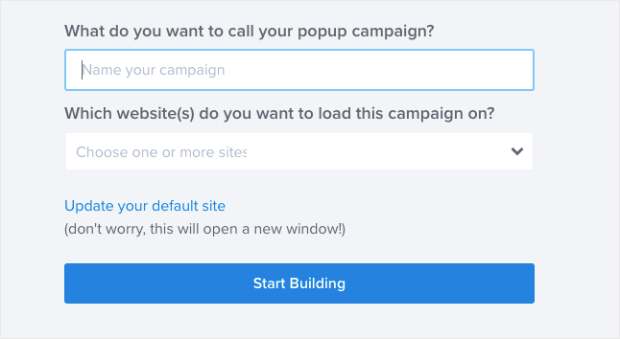 Now you're ready to go to the OptinMonster builder.
Step 2) Modify Your Campaign
As we mentioned earlier, OptinMonster has a drag and drop visual builder that doesn't require any code.
That means you can quickly and easily create professional campaigns in minutes, even if you have ZERO technical or design experience.
When the build opens, you can modify any text element you want with OptinMonster's inline editor: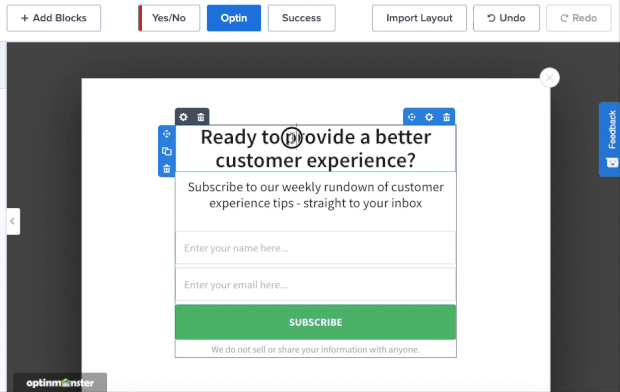 This allows you to completely customize your messaging.
That way, you can make your offers personal to YOUR target audience.
And if you want to add new features like images, videos, CTA buttons, custom HTML, and more, you can find these under OptinMonster's Blocks.
That's because each feature comes as a block element that fits neatly into place with your popup's design. When you find the feature you want to add, drag and drop where you'd like: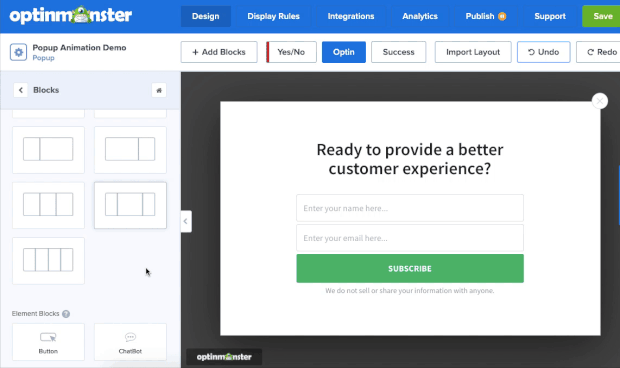 This is important because it means you don't need any graphic design experience to make your newsletter popup look stunning.
Instead, everything fits together and is 100% customizable from features to fonts.
We won't go into much more detail on how to modify your campaign because, at the end of the day, your popups' design will depend on your offer.
But if you want some more help, we recommend starting here: How to Create Your First OptinMonster Campaign.
Next, let's look at how to target your audience to get the highest conversions possible.
Step 3) Target Your Audience
Building a great newsletter popup is only half the battle.
The other half is showing that popup to the right people, in the right places, and at just the right time in their customer journey.
And that requires advanced targeting rules.
Fortunately, OptinMonster offers more ways to reach your audience than ANY other lead generation tool on the market.
A few of OptinMonster's most popular rules include:
Exit-Intent® Technology: Re-engage visitors who are actively abandoning your website.
OnSite Retargeting®: Keep visitors interested in your brand by showing fresh popups to returning users.
Geolocation Targeting: Personalize the user journey by targeting people based on their physical location.
Again, these are just a few examples of OptinMonster's most popular rules, though there are many others.
Plus, these are the same types of rules companies like Crossrope used to increase conversions by over 900%.
Or how Human Food Bar gets 1800+ newsletter subscribers per month!
For this tutorial, we'll add an exit-intent rule to show your newsletter popup as people are actively leaving your website.
This is a pivotal moment in your customer's journey because once they leave your site, odds are that they won't be coming back.
To set this up, click Display Rules at the top of your OptinMonster dashboard.
By default, there are 2 rules set up:
Time on page is at least 5 sec.
Current URL path is any page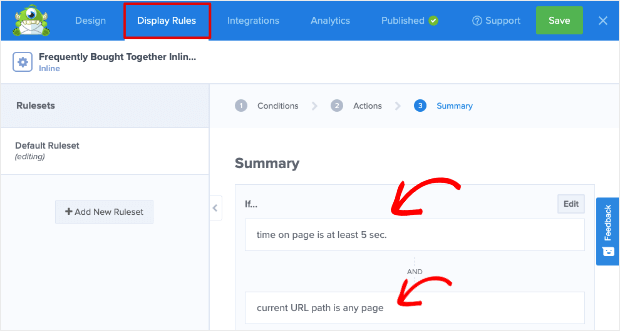 Click on Time on Page to pull up the targeting rules menu: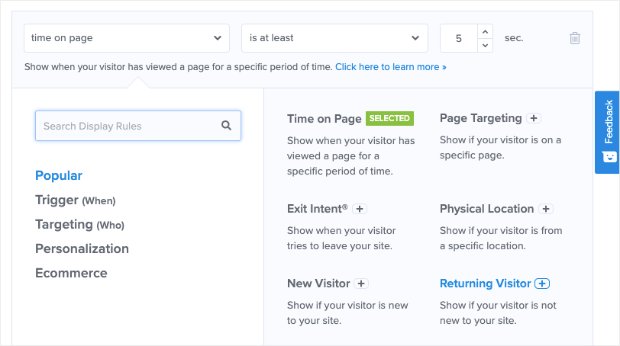 Use the search bar to locate and click Exit Intent®: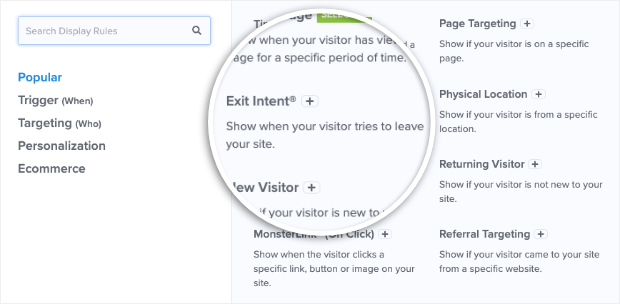 Then you'll need to decide which device you want this newsletter popup to appear for. You can choose from:
You'll also need to set your popup's Sensitivity level. You can choose between:

A quick note on Sensitivity levels: these determine how fast your popup will appear as a user's mouse leaves the browser window.
But for mobile devices, Sensitivity levels are more important. They determine what kind of exit-intent rule is activated.
Low and Medium sensitivity will show your popup as users scroll back up on their mobile devices.
And High sensitivity will show your popup as users move to hit the back button on their smartphone.
Keep this in mind as you're deciding how to set up your newsletter popup's Exit-Intent® rule.
We'll keep the second condition, current URL path is any page, as it is.
However, you can change this to target specific posts and pages across your site: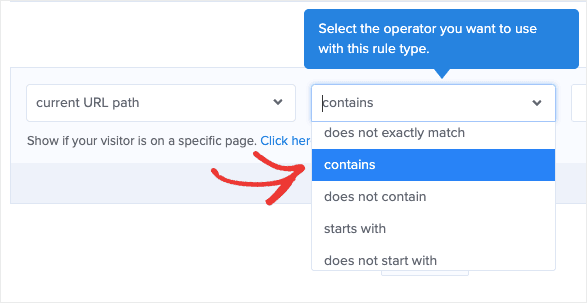 This allows you to build custom offers for all of the content across your site. And it's this level of personalization that will make or break your lead generation's success.
From here, we need to add your email service provider (ESP) if you have one.
That way, your new leads will go exactly where you need them to be.
Step 4) Sync Your ESP
One of the best parts about working with OptinMonster is that it allows you to automate your lead generation process.
Every popup or campagin you build can send new leads to different segments of your contact list.
By "segment," we simply mean a sub-group of your larger audience. This is called "audience segmentation" and will play a crucial role in getting you more conversions.
For more information on how it works, check out this post: 50 Email Segmentation Tips You Need to Use Now.
Here's what you need to know for today:
Go to the Integrations tab from your OptinMonster dashboard.
Then find and click Add New Integration in the left-hand side menu: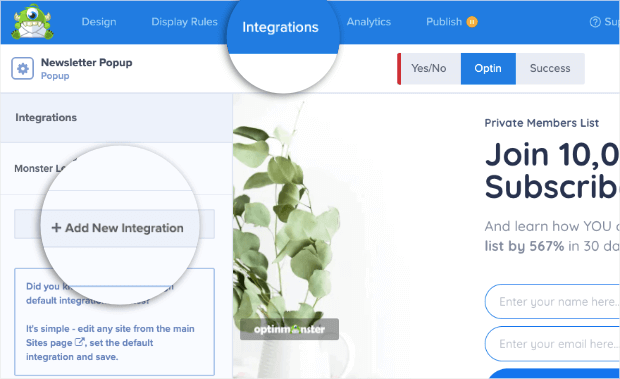 Then select your ESP from the drop-down menu: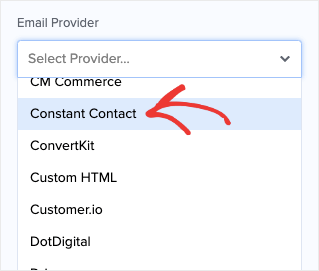 OptinMonster natively integrates with most ESPs on the market. And in the majority of cases, all you need to do is copy and paste your ESP's API key to connect.
Don't see your ESP on the list? No worries. OptinMonster syncs with ANY email provider on the market.
For more help, follow this in-depth tutorial: How to Sync OptinMonster With Any Email Provider Using Webhooks.
Once you've connected your ESP, you can select any audience lists you've created through your email provider: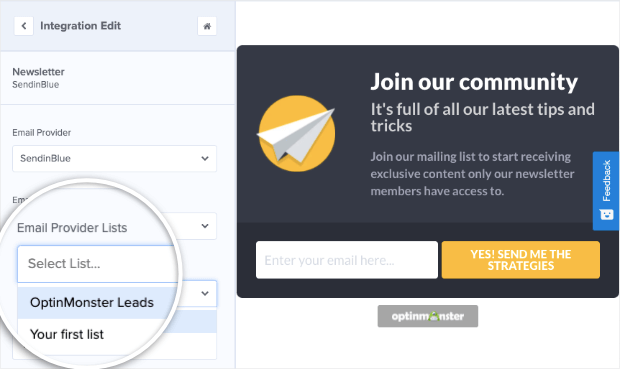 This ensures that you send your new leads exactly where they belong in your ESP (according to which offer they signed up for).
This not only boosts conversions, but it makes your email copywriting much easier.
When your ESP is connected to OptinMonster, there's just one last step: publishing your campaign.
Step 5) Publish Your Newsletter Popup
When you've finished creating and configuring your campaign, you're ready to make it go live.
From the Publish tab in your OptinMonster dashboard, you can preview your campaign to make sure it looks perfect.
Here's the newsletter popup we built and previewed for today's tutorial: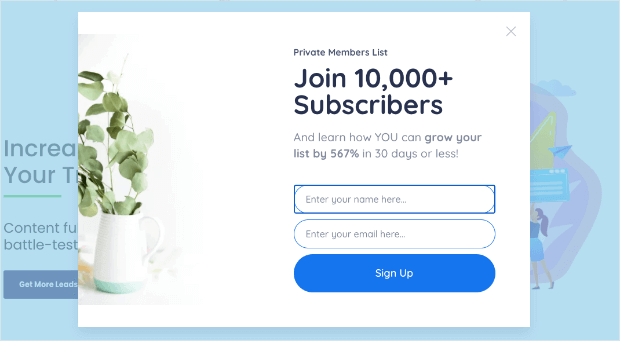 Again, we created and targeted this popup in under 5 minutes from start to finish.
To preview your campaign, click Preview from the publishing menu: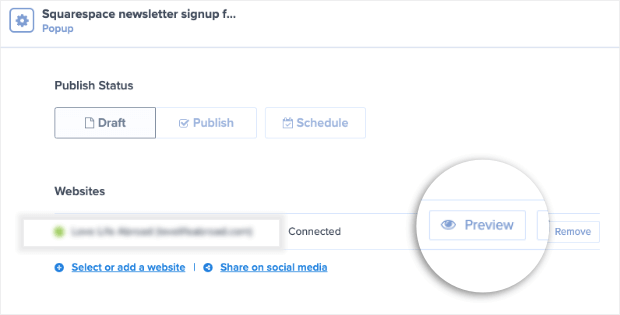 When you're done, you can switch the post's status from Draft to Publish, all from the same Publish menu in your OptinMonster dashboard):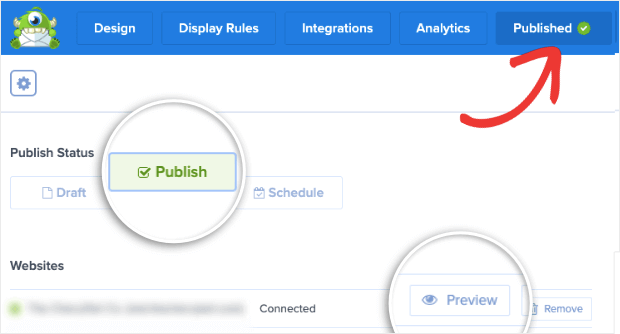 If you're using WordPress, make sure you check the status of your popup from the Campaigns list.
You can find this in your WordPress dashboard by navigating to OptinMonster » Campaigns:

And now your newsletter popup is live and ready to go.
We hope this post helped you create a popup to get more newsletter subscribers for your site.
If you've just been reading along, what are you waiting for? Click below to start your 100% risk-free OptinMonster account to get MORE subscribers today:
Get Started With OptinMonster Today!
BONUS: Done-For-You Campaign Setup ($297 value)
Our conversion experts will design 1 free campaign for you to get maximum results – absolutely FREE!
Click here to get started →
And if you did find this post helpful, you definitely don't want to miss the following resources:
These articles will have even more information you need to grow and monetize your email list once you see more subscribers coming from your newsletter popup.