Wondering how to use OptinMonster to grow your email list so you can get more subscribers and leads? Email marketing is still one of the best ways to reach your audience and customers, so it's a great place to start if that's your ultimate goal.
What does OptinMonster do for customers? Here are a few examples:
Ready to get started with OptinMonster on your own site? It's pretty simple to get your first campaign up and running. And the sooner it's live, the sooner you can see your own conversions improve.
In this guide, we'll help you create a simple but effective marketing campaign to grow your email list with OptinMonster.
(Already done your OptinMonster setup and created your first campaign? Then check out this list of our favorite OptinMonster hacks to grow even faster.)
Here's the campaign we're going to create: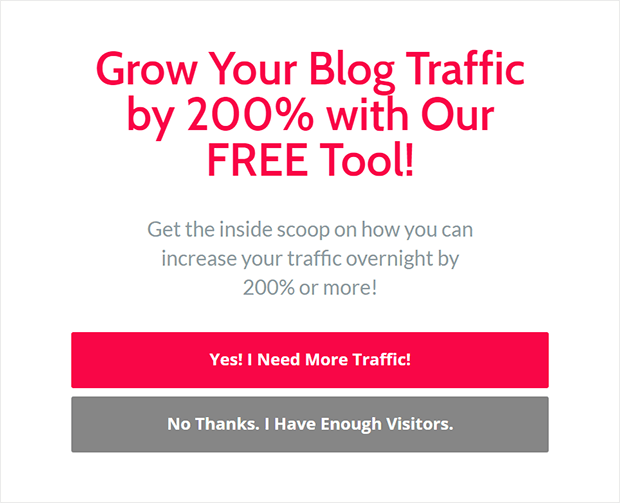 1. Create a Campaign
Login to your OptinMonster account and press the green Create Campaign button.

Choose a campaign type. For this tutorial, let's go with Popup. This campaign type is attention-getting and converts well.

Choose a campaign template. We're going to use Simple.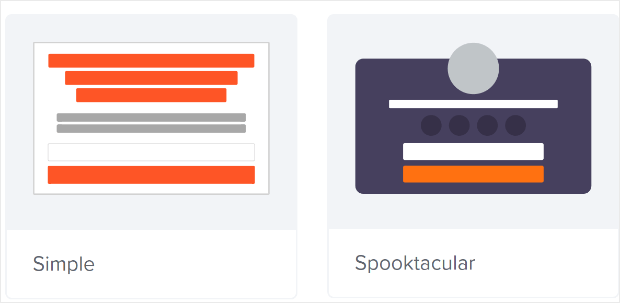 When you hover over your selected template a blue Use Template button will appear. Click it to select the template.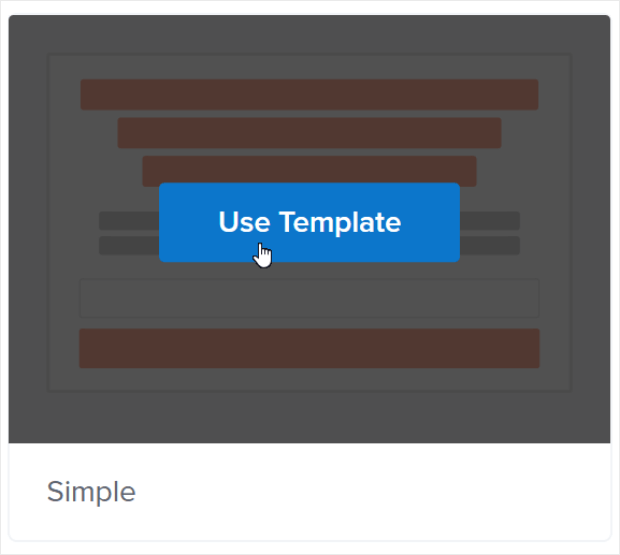 Next, give your campaign a memorable and recognizable name. You can also add the website where you plan to use the campaign.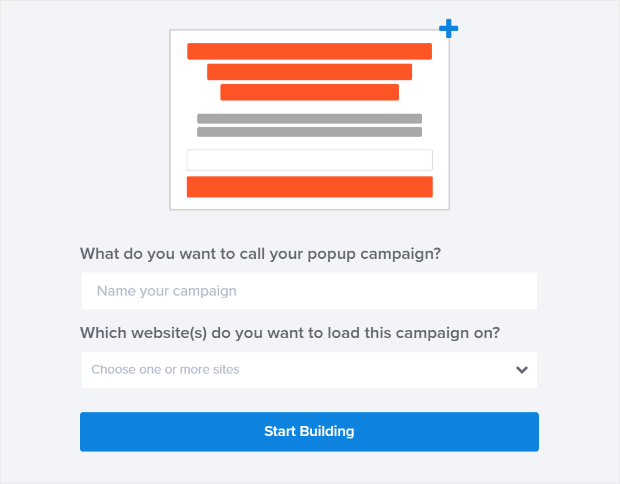 Press Start Building to create the campaign and go to the OptinMonster campaign builder. You'll see the default Simple campaign and have access to a nearly unlimited suite of campaign editing tools.
2. Edit the Campaign
First, let's go ahead and activate the Yes/No view.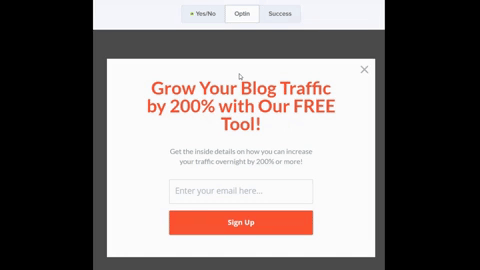 To change the text simply click on any text element to open the editing tools to the left of the campaign preview.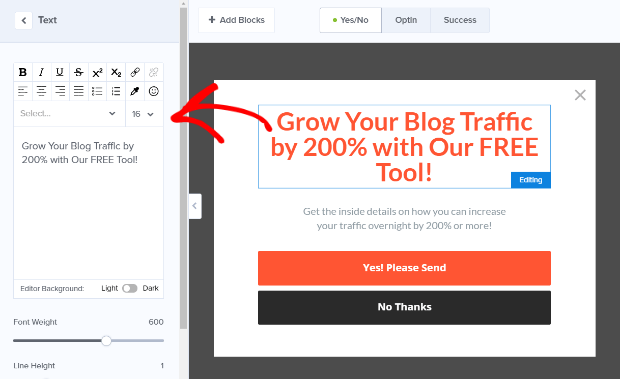 Quick Tip: Save your work regularly using the green Save button to the top right.
Next, let's edit the Yes/No buttons.
To open the Yes/No button editing tools just click on the buttons. Just like the text editing tools, the Yes/No button editing tools will appear to the left of the campaign preview.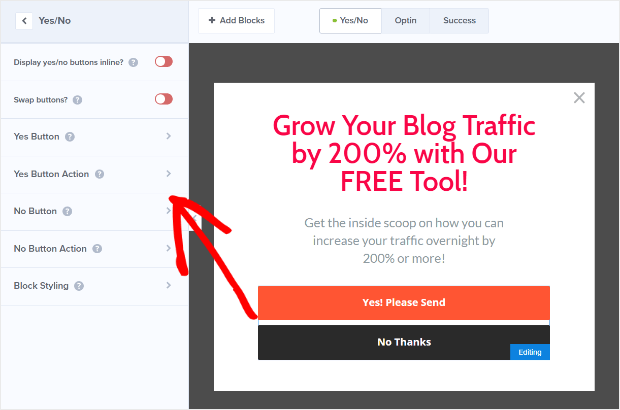 You can edit the appearance of the buttons by selecting either Yes Button or No Button on the left.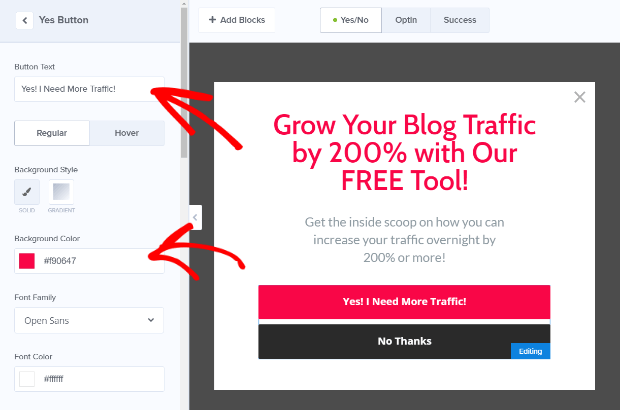 Go ahead and get your buttons looking the way you want before we move onto Yes/No Button Actions.
Set your Yes Button Action. For this campaign, we're going to set our Button Click Action for our Yes Button to Go to a view. Then, we'll have it go to the Optin view. Let's also turn on Conversion tracking to trigger a conversion once the button has been clicked.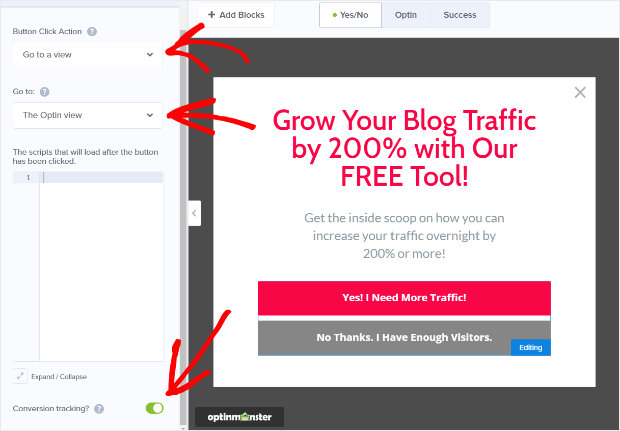 For the No Button, we're just going to set the Button Click Action to Close the campaign.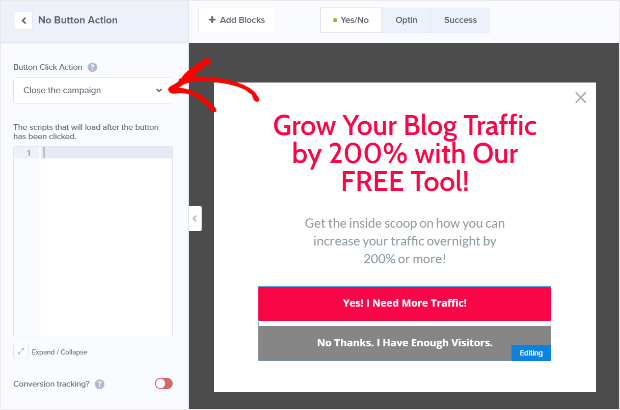 Since we've chosen to send a Yes Button click to the Optin view, we'll need to make sure to edit that view appropriately. If you want to include a Success Message for completed optins, you'll need to edit that view, too. Editing the Optin and Success views is just as easy as editing your Yes/No view.
Different views can be accessed from the top menu in the campaign builder.

Once you get your views the way you want them we can move on to our Display Rules.
3. Set Display Rules
Display rules control when your campaign shows up on your site and who sees it. By default, the campaign is set to appear to all site visitors after 5 seconds.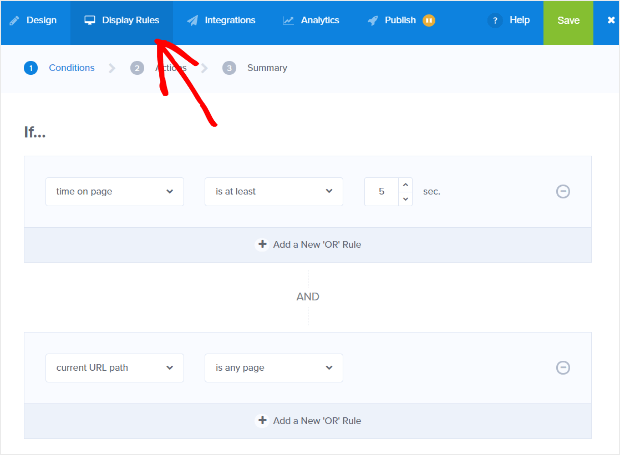 Let's change this to appear if exit detected, and remove the second parameter.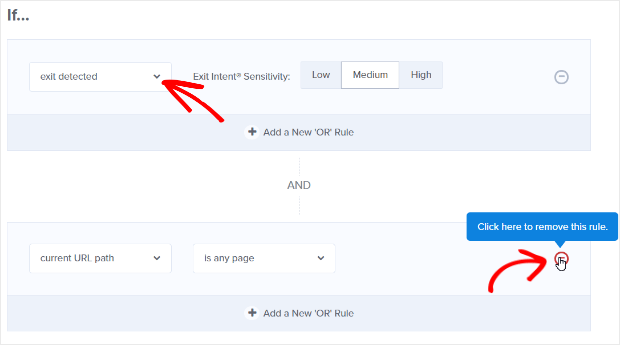 Click Next Step to choose the Action. We'll set the action to Show the campaign view Yes/No.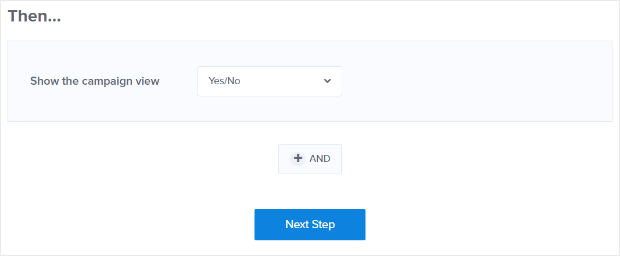 Click Next Step to see a summary of your display rules.

4. Add an Email Integration
To use OptinMonster to build your email list you'll need to add an email integration. OptinMonster integratesOptinMonster integrates with all major email marketing services. Let's add a MailChimp integration together so you can see how it works.
In the campaign builder go to  Integrations » Add New Integration » Email Provider and select MailChimp from the drop-down. You'll need to enter your MailChimp API key and click Connect to MailChimp.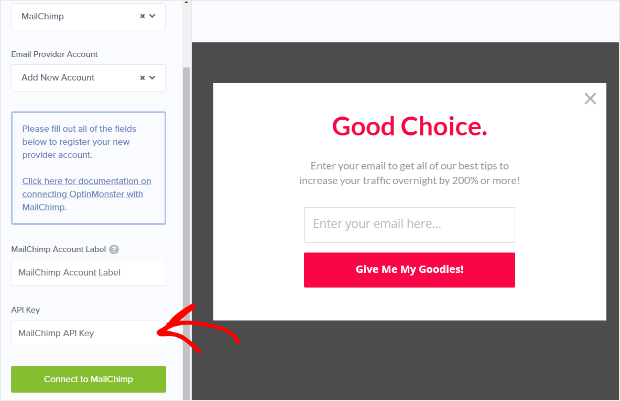 The screen will refresh and you will have the option to select the Email Provider List you want to use to collect email addresses with your new Yes/No campaign.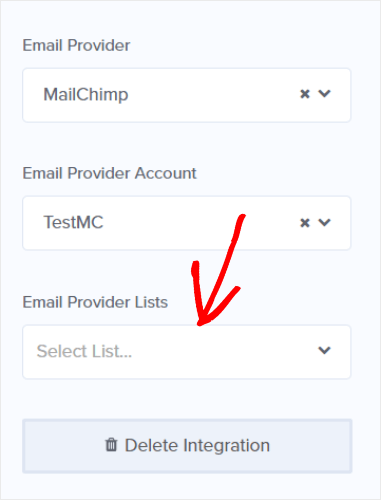 Not using MailChimp? Check out these instructions for other OptinMonster integrations.
4. Publish Your Campaign
Once you're done editing and integrating, you're ready to publish your campaign. To do this, click Publish in the top menu and change the Status toggle from Paused to Live.

Scroll down the Publish page a little bit to see OptinMonster's range of publishing options. If you need more information, take a look at the documentation for embedding OptinMonster on your site.
There you have it! We've successfully created a complete Yes/No campaign triggered with exit-intent and customized our Optin and Success views. With OptinMonster's easy-to-use Drag and Drop campaign builder, you are only moments away from starting an eye-catching campaign that converts.
Looking to add more pizazz to your campaign? Try adding a MonsterLinks trigger along with exit intent. MonsterLinks turns any image or link into a 2-step optin campaign. When visitors click the image or link, there's a popup asking them to subscribe or buy. Visitors can take action immediately, eliminating the natural dropoff that happens when they have to leave a page to complete an action.
We also recommend split-testing your campaign to get better results. When you split-test a campaign you're able to change up the campaign to see what works. Do you get more conversions when you remove the No option, leaving only the Yes button on the campaign? Do different text or images convert better than others? What about a 15% discount instead of a 10% discount? With split-testing, you can find out!
OptinMonster Campaign Examples
Here are a few examples of list building campaigns using OptinMonster's lightbox campaign type with the Bullseye theme.
AtHoc was able to increase sales qualified leads by 141%: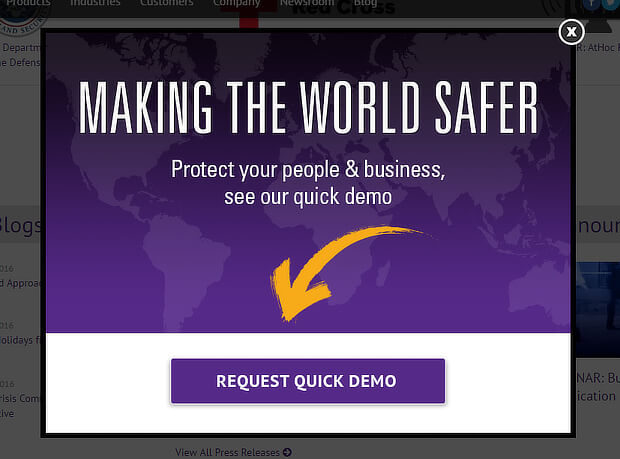 WininHealth added Exit-Intent® to its campaign to boost revenue by 300%: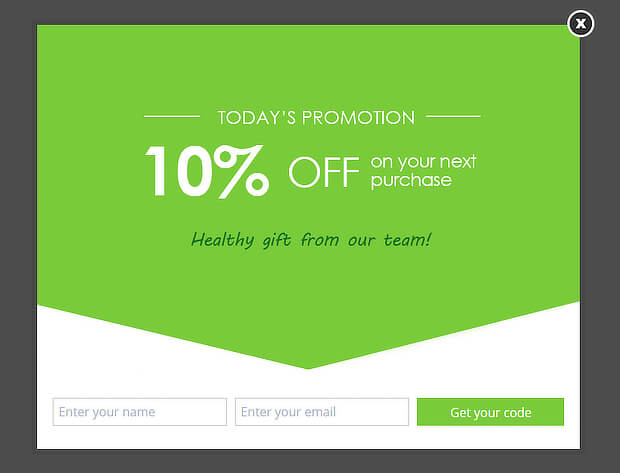 Ryan Robinson integrated Exit-Intent® into his campaign and got 500% more subscribers: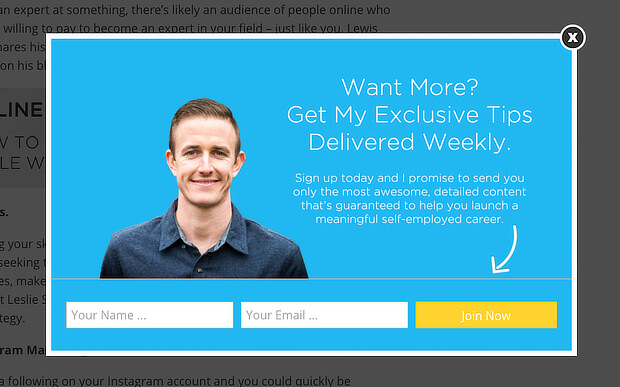 RazorSocial combined this theme with our content locker feature to increase conversions by 520%.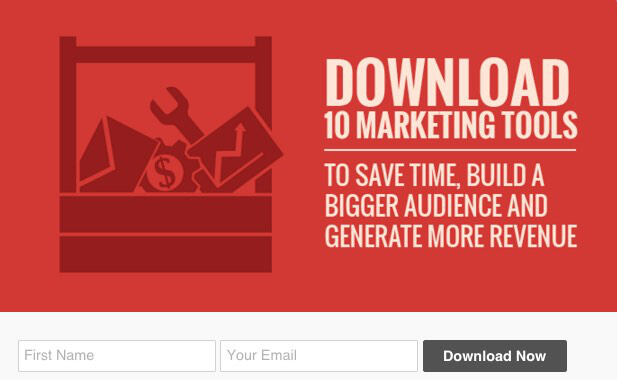 That's it!
What to Do Next
Now you know how to use OptinMonster to create a simple lightbox campaign, here's what you can try next:
And be sure to follow us on Facebook and Twitter for more OptinMonster education and in-depth guides.
Not using OptinMonster yet? Click here to get started today.