Are you still wondering whether a mobile marketing strategy is really worth your time and money?
If you're not using a mobile popup on your WordPress site, you're missing out on leads and sales.
That's not hype – more and more sales are made on mobile devices. Sales made via smartphones rose by 65% between 2015 and 2016, and are rising even more.

And even if your target is other businesses, rather than consumers, you can't relax. Google says mobile drives more than 40% of revenue in the top B2B organizations.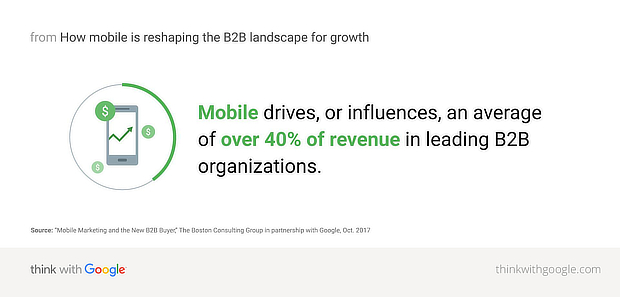 With 11 billion mobile devices due to be in circulation by 2019, and people spending more time than ever on those devices, you can't afford to wait to create a WordPress mobile popup to improve lead generation and boost sales.
Choosing a WordPress Mobile Popup Tool
Ever visited a website on your smartphone, and been annoyed by difficult to use navigation, content that doesn't display well, and ads that cover the content?
We have, too, and it's pretty frustrating.
According to Think with Google, people who have a less than stellar mobile experience won't just leave now. They're also 62% less likely to buy from you in the future.
That's why it's crucial to choose the right WordPress mobile popup builder for your email marketing campaign.
Here are some of the features you should look for in a WordPress mobile popup tool. It should:
Automatically distinguish between desktop, tablet and mobile visitors so you can have different marketing campaigns for each
Include mobile-friendly templates so you can quickly create memorable and effective campaigns without a designer
Benefit from the same advanced targeting you get when creating campaigns for desktop computers
Our customers think OptinMonster is the best WordPress popup plugin because it does all that, and more.
OptinMonster's features include:
A wide range of mobile responsive themes and templates allowing you to run multiple campaign types on your site. Many of these themes mirror the desktop themes, so you can create a seamless experience across devices.
Device-based targeting, which lets you improve the user experience no matter what device visitors use to browse your site.
The InactivitySensor™, which allows you to mimic our advanced Exit-Intent® Technology so you can show campaigns to visitors who appear to be losing interest, and recover those conversions.
Sound effects, to get the attention of mobile users who are accustomed to listening out for notifications.
This all adds up to being able to show the right campaigns to the right visitors at the right time – and that's what results in more conversions, leads, and sales.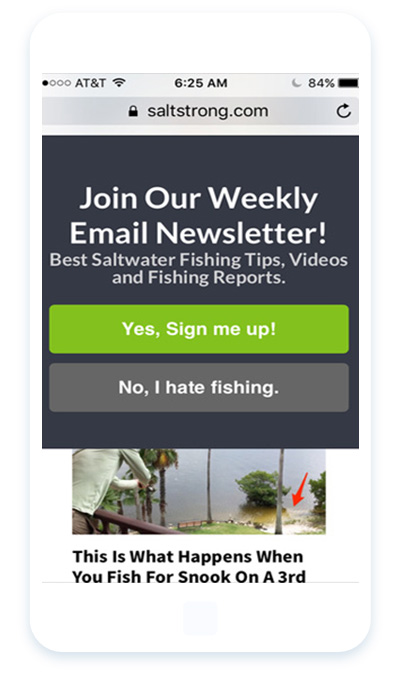 OptinMonster customers have used mobile WordPress popups to:
…and much more. Here's how you can do the same.
How to Create a WordPress Mobile Popup with OptinMonster
Now, let's look at how to use OptinMonster to create a WordPress popup for mobile devices, step by step.
We'll show you how to customize your mobile marketing campaign, choose the best display rules to attract the right audience, and publish the campaign to your WordPress site.
We're going to create this campaign for a site looking to increase podcast subscribers.
Step 1. Create Your OptinMonster Campaign
Login to your OptinMonster dashboard, and press the Create Campaign button.

Choose a campaign type. Since we're creating a WordPress mobile popup, we'll use the Mobile Popup campaign type.

Choose a template for the marketing campaign. We'll use Transparent.

Name your campaign, and press Start Building.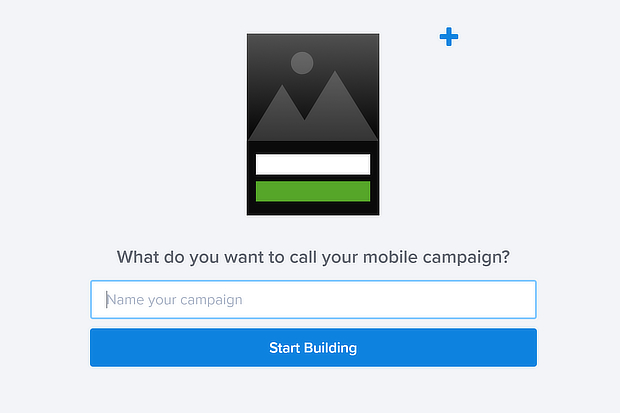 This will take you to the OptinMonster campaign builder.
Step 2. Customize Your WordPress Popup
You'll see the blank campaign in the campaign builder. Now it's time to customize it, so you can start getting leads and sales from mobile visitors.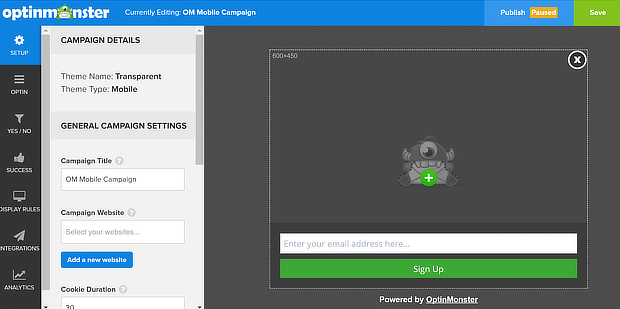 Let's begin by adding an image to attract attention from web visitors. There's a suggested image size in the top left corner of the blank campaign, and we'll work with that.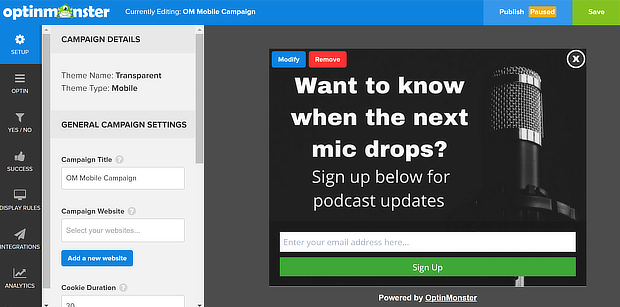 If you haven't got an image, you can grab one from one of these free image sites and customize it to suit your needs. We added text to our image with Canva.
Add the website where you plan to use the campaign. If you have previously added a website to your account, this will appear under Campaign Website on the left.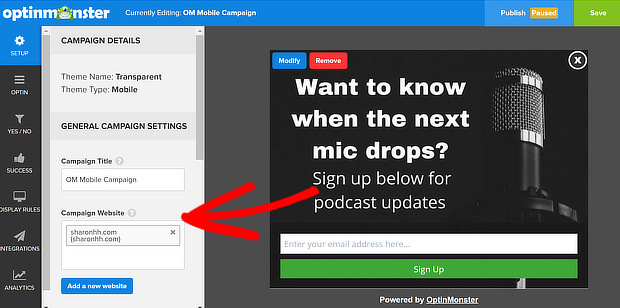 Click on the email field in the campaign builder. This will take you to the Email Placeholder, in the Optin tab.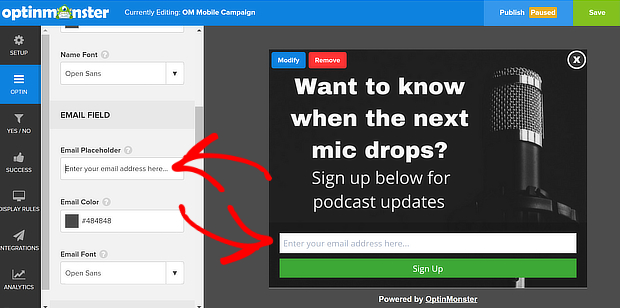 There, you can change the prompt that appears in the box.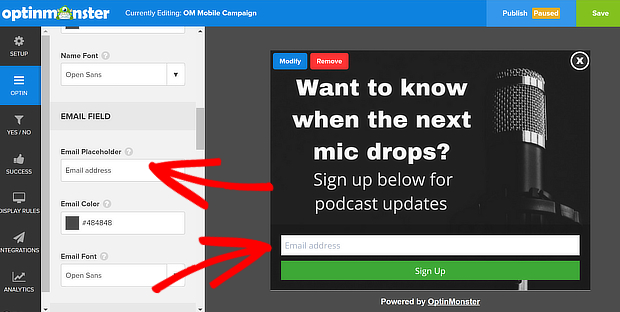 Click the submit button to bring you to the Submit Placeholder, in the Optin tab.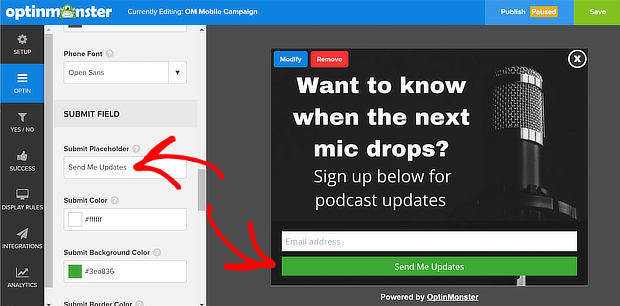 You can change both the text, and the color of the button.
Change the text as described above, then scroll down to Submit Background Color, and click to bring up the color picker. Change the color if you wish, though we're going to leave it as is.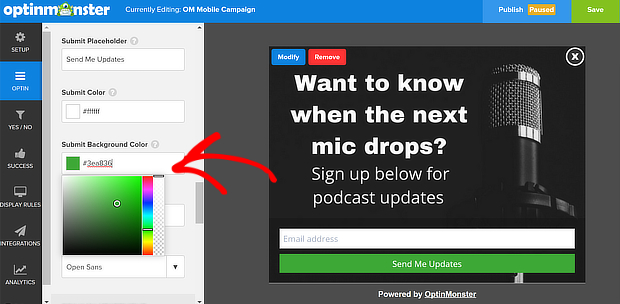 You can also click on Submit Font to change the font. We switched from the default to Bree Serif for increased contrast.
Finally, scroll down to Sound Effect in the Design Fields section, and add a sound effect to help get your mobile visitors' attention. We've selected Flam.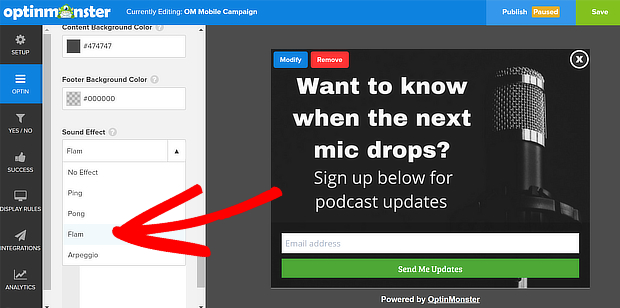 Step 3. Choose a Success Action
The next step is to decide what happens after your mobile visitors sign up. We'll take care of this in the Success tab.
We're going to stick with the default success theme, but change the color so it mimics the main template for consistency.

To do this, go to Success Background Color, and use the color picker to change the color.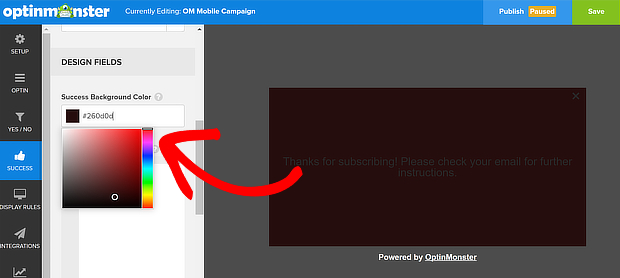 Then select the text. An editing menu will come up. Click on the paint drop icon to change the color of the text. You can also edit the text by selecting the area you want to change and typing your new words.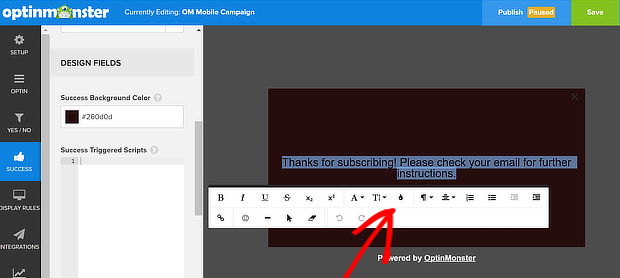 Here's how the final success message looks: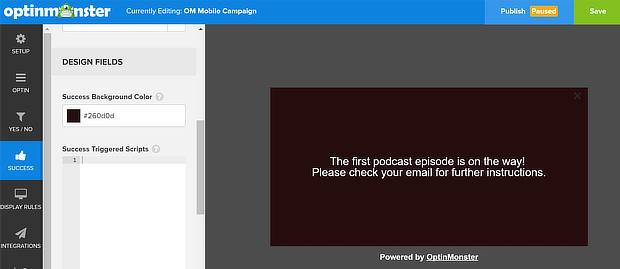 Step 4. Choose Display Rules
Next, it's time to decide when your marketing campaign should appear, and who should see it. As we've mentioned, OptinMonster offers a variety of display options. For example, you can display a WordPress popup on click with Monsterlinks™.
For this tutorial, we're going to use two display rules specifically designed for mobile users.
First, go to Display Rules » When should the campaign appear?. After 'X' seconds is enabled so that your campaign always shows even if you don't actively change the display rules.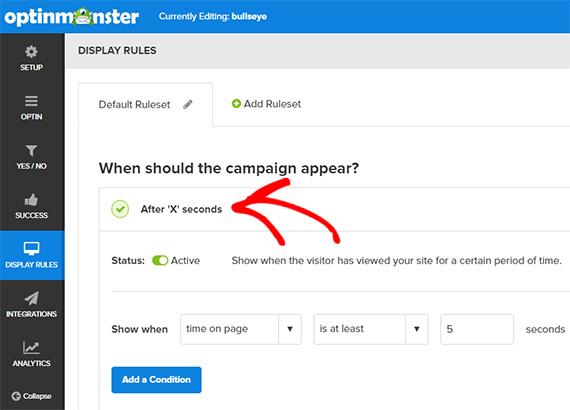 Scroll down to InactivitySensor™. Click the toggle to enable it. While the default value is 60 seconds, we're going to make it even shorter, as mobile users don't tend to stick around for long.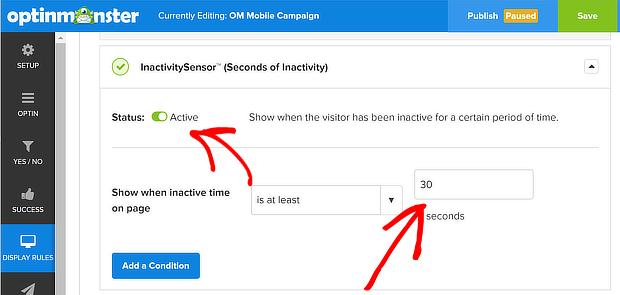 Next, go to Who should see the campaign?. Visitors browsing specific pages is enabled by default to ensure that campaigns show on all pages if you don't choose specific settings. However, we want to focus on showing this campaign only to mobile device users.
To do that, we're going to scroll down to Visitors on a specific device, and enable that display rule. When you're using a mobile specific campaign, you can choose between displaying your campaign on a phone or on a tablet.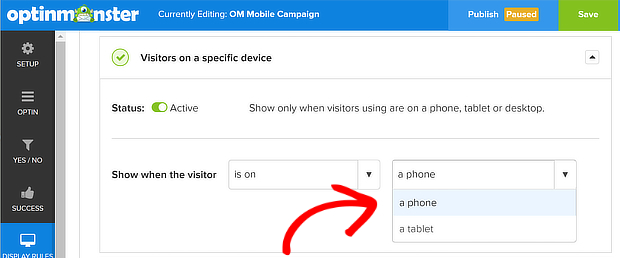 Step 5. Publish the WordPress Mobile Popup
The last step is to add your email marketing service, and then publish your WordPress mobile popup.
First you'll need to link the campaign to your email marketing service via the Integrations. OptinMonster has dozens of integrations with market leading platforms and services.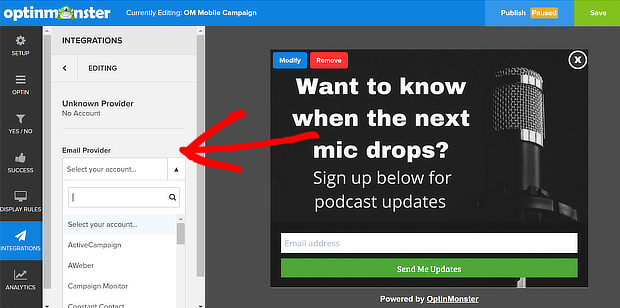 You can also link your campaign to your Google Analytics account to track your conversion analytics from the OptinMonster dashboard.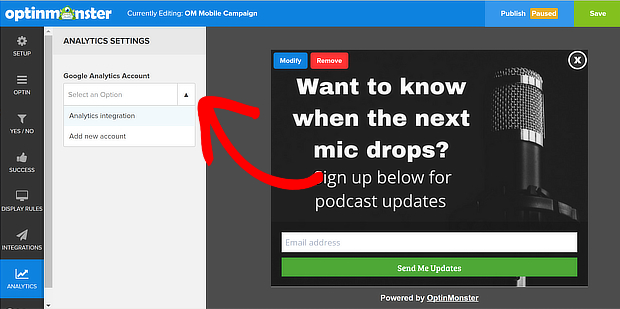 To publish your campaign, click Save, then Publish.

This will bring up the publishing options interface, where you can click the toggle to continue the publishing process by making the campaign live.

To publish your mobile popup on WordPress, you'll need to install the OptinMonster WordPress plugin. Then click on the OptinMonster icon in your WordPress dashboard.

This will bring up a list of your campaigns. If the campaign you've just created isn't showing. Click the Refresh Campaigns button.
Then go to Edit Output Settings below the campaign to tweak the display even further.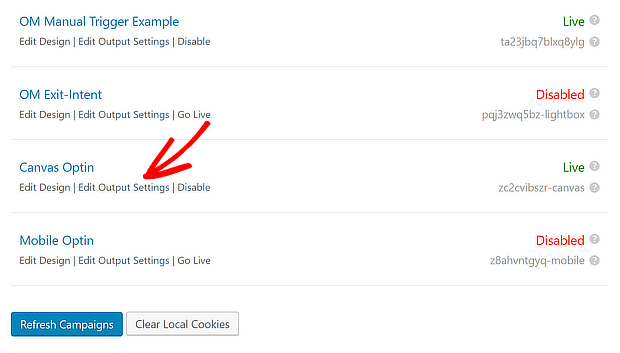 This will bring up a range of options for tweaking the campaign display, including selecting which blog categories it should display on. If you have a category that's specifically relevant to mobile users, you could choose to display it there.
Once your campaign is live, check that you're happy with the display. We went back and made a few tweaks to the campaign image, to ensure mobile visitors using small screens could see all of the text. Here's the final version: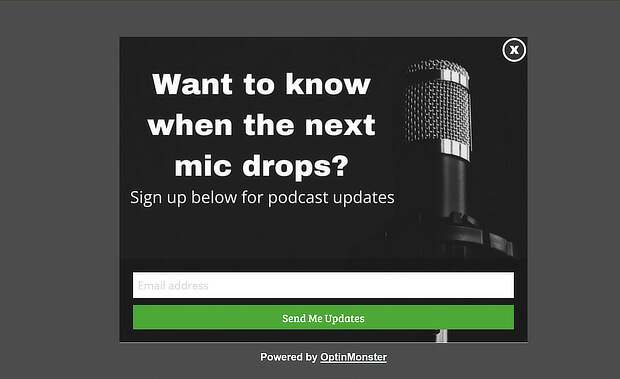 That's it! Now you know how to create a mobile popup for WordPress that'll help you win more conversions from your mobile visitors.
Next, check out our mobile popup examples for inspiration. And read our tutorials on how to boost engagement with video popups and increase sales with a coupon popup.
Not using OptinMonster yet? Get started today and start converting more visitors into subscribers and customers!