Not sure which mobile payment options are right for your store? Don't worry, we've created this list of the best mobile payment solutions just for you!
Shopping these days can be done anywhere—during work breaks, Skytrain rides, or even during a sporting event. With more and more people doing their shopping on their phones, it's so important that your eCommerce store offers a wide variety of options for mobile shoppers.
10 Best Mobile Payment Solutions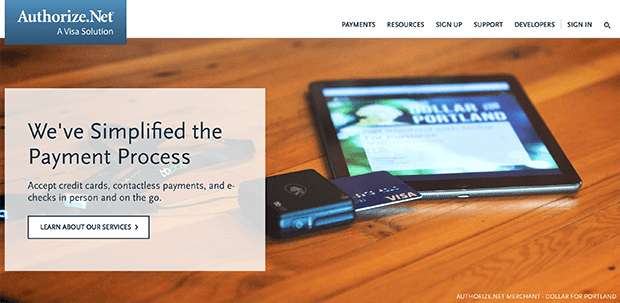 Authorize.net is a one of the best mobile payment solutions for eCommerce stores. It's well established, serving over 400,000 customers. Its primary customer base is larger companies.
Pricing
There's a reason Authorize.net caters mostly to larger businesses: it's not cheap. Just setting it up costs $45, along with a monthly gateway fee of $25. On top of this, there's a transaction fee of 2.9% plus $0.30 per transaction.
And if you've got a broad international market (anything outside of Canada, the US, Australia, or Europe) you're looking at an additional 1.5% international fee.
But despite the prices, there's a reason Authorize.net has 400,000 users. It does not fall short on features.
Key Features
Authorize.net offers an advanced fraud detection suite helping you prevent inventory loss due to fraud. It comes included with every account
You can set up reoccurring charges to clients
Customers can save billing, payment, and shipping information for future payments
Quick and straightforward checkout that's optimized for mobile shopping
A variety of payment types for mobile devices like EMV chip cards, digital payments, and more
You can make it easy for your accountant by syncing with QuickBooks
Amazing customer service and support
As you can see, larger eCommerce companies could really benefit from Authorize.net and its features. The only downside is its international fees and limited international shipping options.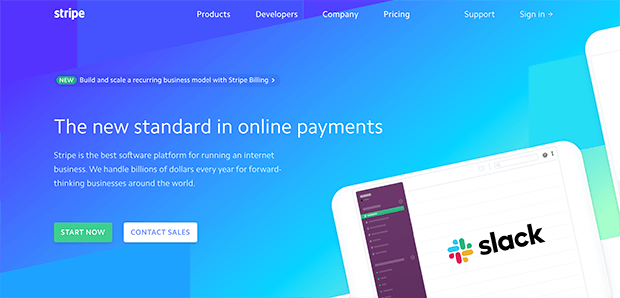 If you've been considering different payment solutions, you've probably come across Stripe. Stripe is a very popular third party payment processor that offers a wide variety of payment options like credit cards, international currencies, and wallets.
Many smaller eCommerce businesses use them because the price is right.
Pricing
Unlike Authorize.net, Stripe doesn't charge a setup fee or any monthly gateway fees. However, it does charge a flat-rate of 2.9% plus $0.30 per transaction, just like Authorize.net.
Despite the similarity in transaction fees, Stripe has some outstanding features worth looking at.
Key Features
Processing of over 100 different currencies at no additional charge
A custom user interface that allows merchants to create its own payment form for mobile
Features to make mobile checkouts faster
Stripe Billing lets merchants send customized invoices and request payments from clients as well as make scheduled, tiered, and recurring payments
Uses adapted algorithms to detect fraud
Stripe's features are pretty good. And the price is relatively equal to many other payment processors on the market.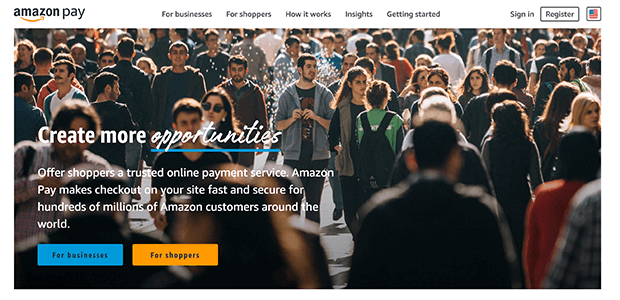 If you're already selling through this eCommerce beast, Amazon Payments could be right for you! It offers plenty of integrations, including a variety of eCommerce plugins like Shopify, BigCommerce, OpenCart, 3dcart, and more. But most importantly, it won't break the bank.
Pricing
Amazon Payment fees are transaction-based, so you'll pay the standard 2.9% plus $0.30 per transaction, plus tax.
However, it does charge a processing fee for cross-border transactions. In this case, if you receive payments from outside of the US, you'll pay a 3.9%  transaction fee as opposed to 2.9%. If your primary market is in Canada or Asia, you might want to go with Stripe.
Key Features
Integrate with almost any eCommerce platform or plugin
Add, change, and set up bank or credit card information and notifications
Monitor customer satisfaction and manage customer disputes and chargebacks with built-in analytics
Full access to transaction and settlement reports, as well as payment details for your account
Fully mobile-friendly checkouts
Amazon Payments is a great option if you're just starting as an eCommerce business. Since it's such a widely used platform, there are many resources out there to help if you get stuck on a technical issue or simply have a question.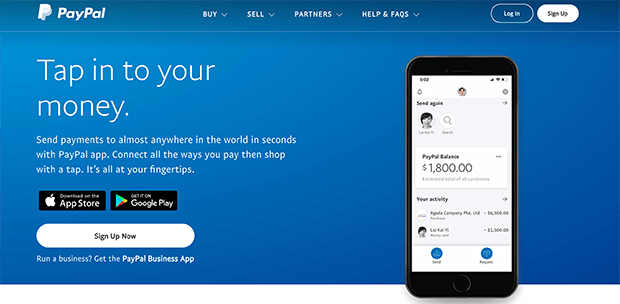 If you've been doing some research for mobile payment solutions, we're positive you've come across PayPal. And, since roughly 17 million merchants worldwide use the platform, we're betting you've made a payment through the platform as well.
Let's find out why it landed on our list of the best mobile payment solutions.
Pricing
What merchants appreciate most about PayPal is that you don't get locked into a contract with an early termination fee, and there are no monthly fees!
Merchants can expect to pay the standard 2.9% plus $0.30 per transaction for selling within the US. But international merchants beware: if you sell outside of the US, you'll pay a higher fee of 4.4% plus $0.30 per transaction. That's quite a dramatic difference.
Key Features
PayPal supports 25 currencies, including all of the major ones—Australian, Canadian, and American dollars—but it also includes currencies like Mexican Peso, Polish zloty, and Russian rouble.
It has a fully optimized mobile payments app
Not everyone needs a PayPal account to transfer or receive money (an email address will do)
Built-in marketing tools, including newsletter subscription management, discounts, and vouchers, and abandoned cart-savers
Easy integration with your shopping cart
PayPal can support any size of business. It has enough features and integrations that your store can grow and still be successful using PayPal.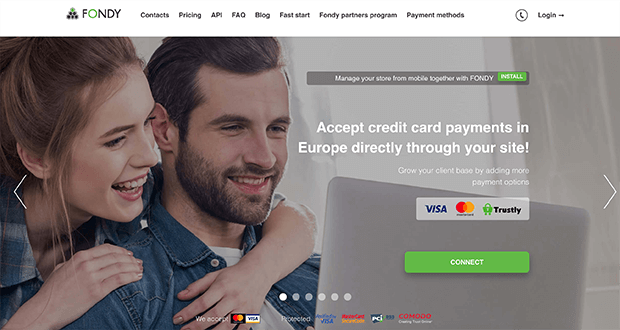 Fondy is another platform to accept quick and secure payments through your online store. It offers a wide variety of integrations with many different eCommerce platforms and plugins, making it easy for anyone to integrate. Fondy is international and serves 33 different countries and like Stripe, serves 100 currencies.
Pricing
Fondy offers three different plans:
$10.97/month with a 1.8% transaction fee plus $0.22
$54/month with a 1.6% transaction fee plus $0.22
$109/month with an individual account
Pricing isn't as straightforward as PayPal or Stripe, but the features just might win you over.
Key Features
Customizable payment module to match your online store
Mobile is has all the same features as the web version
Software development kit for Android and React Native
Covers 100 different currencies
Customers can save all card and shipping information with one click
Customers can make payments through Facebook
High level of customer support with quick response time
You can start accepting payments in less than 3 hours after signing up
Because of the extensive features, Fondy supports large eCommerce businesses effortlessly. It's known to make the customer checkout experience smooth, and there aren't many reported technical problems with the platform.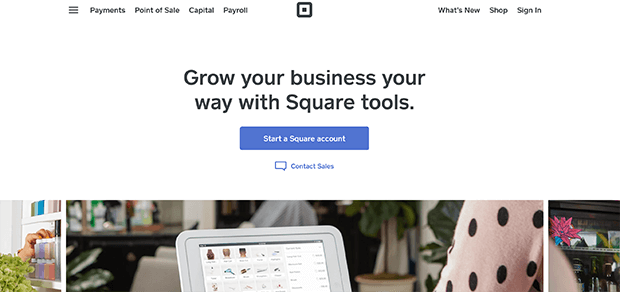 Square is easy to use and works on a flat-rate fee system. It's used by many smaller eCommerce stores and offers a great selection of features. However, it is known to have a lack of stability, making them a risk for huge companies.
Pricing
With Square, there are no monthly fees but the regular rate of 2.9% plus $0.30 applies for eCommerce transactions.
Key Features
Real-time reporting and analytics
All payment features available on mobile except managing online store orders
Intuitive dashboard
Bank verification features for customer protection
Send and resend customized receipts
Smaller businesses love Square because of the easy flat rate transaction fees and great features, landing it on our list of the best mobile payment solutions. It isn't the most popular, but it is established, serving 25,000 merchants.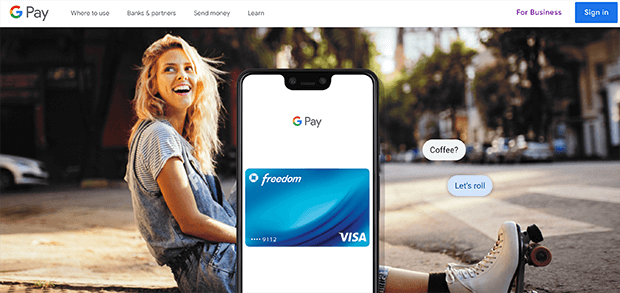 Along with Amazon, Google Pay is a giant in the industry. And, it has already been implemented by other giants like Airbnb and StubHub. In fact, after StubHub implemented Google API on its site, it saw a massive increase of 600% of customers paying with Google Pay.
Google Pay is a digital wallet that caters to mobile apps, eCommerce stores, and in-person checkouts. As mentioned above, large companies use it, but it's not made for any specific business type.
Pricing
Google Pay is free for merchants and users. No transaction fees.
Key Features
Custom-built channel in the Google Pay App
Integration in just a few steps
Google Pay Shield enhances payment security to verify identity, prevent hacking, and detect identity fraud
Easy and well-designed mobile checkouts
24-hour merchant support
With no transaction fees, Google Pay will help you save your pennies. Plus, it's one of the most recognized payment solutions in the world.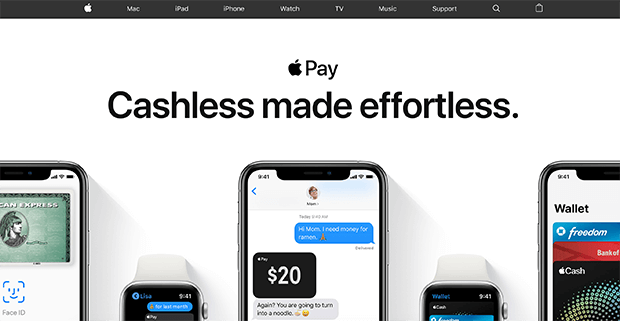 Like Google Pay, Apple pay is a digital wallet. It makes the process really easy, eliminating the need to fill out forms or enter credit card numbers. This is great for your eCommerce store as the more straightforward checkout will reduce cart abandonment rates.
Pricing
Apple Pay is 100% free. No transaction charges, no setup fees.
Key Features
Mobile payment using fingerprint or face recognition
No transaction or set up fees
A default card option shows up for customers with an iPhone 8 or later
Apple Pay is supported in almost every country and region including Canada, US, and Europe
If you want to save money and value simplicity, Apple Pay is a great option.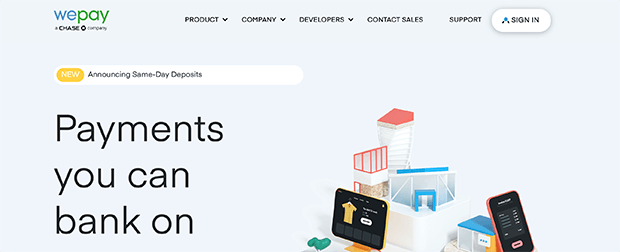 WePay is another of the best mobile payment solutions for eCommerce. It was designed to provide optimal payment experience for customers, making everything smoother for your business.
Pricing
WePay doesn't charge any setup fees, but the standard 2.9% plus $0.30 per transaction applies.
Key Features
Customizable signup, checkout, and email communications
Analytics so you know how money is moving through the platform
Mobile payments offer an excellent user experience
Compatible with Apple Pay and Android Pay
High level of security
International payment acceptance
No programming required
Any size eCommerce business can use WePay. There isn't much differentiating it from other solutions mentioned above, but its features are robust, it's mobile-friendly, and the transaction fees aren't over the top.
Braintree is an easy and sophisticated way of accepting online payments with many options for customization. Despite its many features, Braintree only charges transaction fees.
Pricing
Braintree charges the standard amount of 2.9% plus $0.30 per transaction.
Key Features
Braintree provides a focused, high-quality payment solution for your store
130 currencies accepted from 35 different countries
4 services to choose from, including Braintree Direct, Braintree Extend, Braintree Auth, and Braintree Marketplace
Choose Braintree's ready-to-go checkout or completely customize your own
If you're creative and want your checkout to look or act a particular way, Braintree will allow you to do that. It's easily one of the most customizable payment processors on the market today.
There you go—all the best mobile payment solutions for your eCommerce store. We hope this article helped shed some light on which payment solution is best for your business. ?
Give your new mobile payment solution a workout with an exit-intent popup from OptinMonster. Exit-intent stops abandoning visitors in their tracks, giving you another chance to make the sale. Join OptinMonster today!