OptinMonster makes it easy to create and display a Sidebar Widget campaign on your WordPress site. Sidebar campaigns are a great way to convert subscribers without interrupting their browsing experience. With OptinMonster, you can create a WordPress sidebar widget campaign in just a few easy steps following this guide.
Also, if you haven't reviewed the general process for creating a campaign, we encourage you to check out our Creating Your First Campaign documentation.
---
Step 1 – Create a New Sidebar Widget Campaign
The first step is create a new campaign by determining it's type and title according to our guide.
You should select the Sidebar Campaign Type.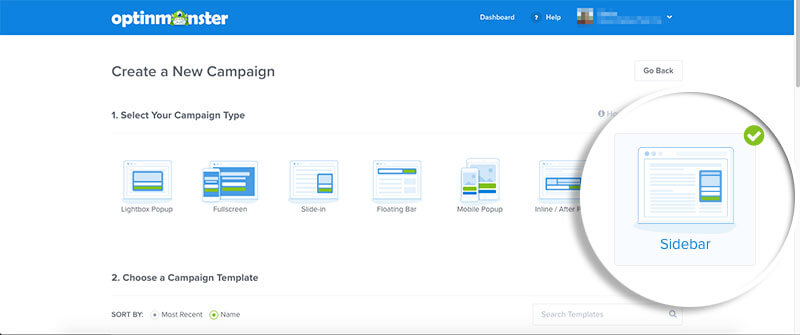 Next, select the template you would like to start with.
On the next screen, you will give the campaign a title and assign it to a specific site(s).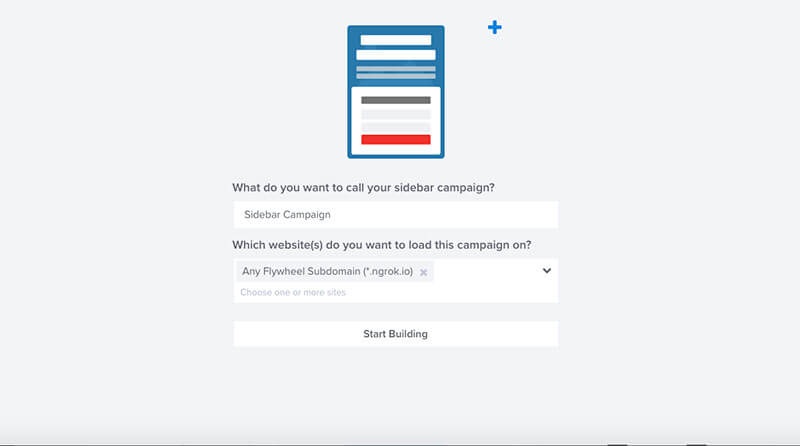 After you've followed the guide above and created a new campaign, then the next task is to build your campaign.
Step 2 – Design Your Sidebar Widget Campaign
The next step is to design your sidebar campaign according to the steps in Creating Your First Campaign.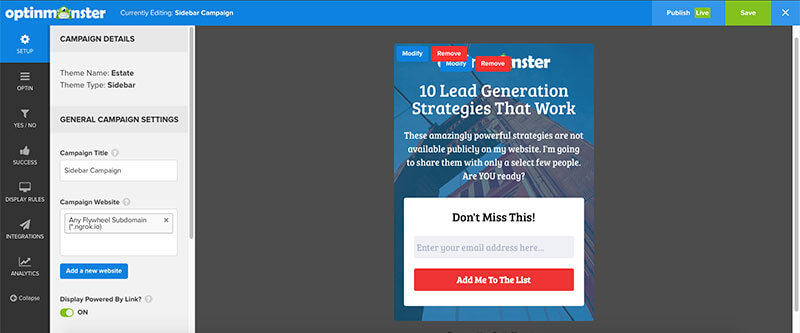 When you are finished, be sure to save your campaign and make it Live. Congratulations, you're all done building your campaign!
Step 3 – Go Live in the OptinMonster Plugin
The next step is to navigate to the WordPress Admin > OptinMonster > Optins tab view. Select the Refresh Optins button to sync your new Sidebar campaign with your WordPress site. Once that is complete you can now select the Go Live link below the name of your Sidebar campaign. You'll see your campaign listed as Live once this is complete:

Not using WordPress? You can still embed Sidebar campaigns on your site by manually placing the embed code in the page where you want the campaign to appear.
Step 4 – Add the OptinMonster Widget
The final step in displaying your sidebar campaign is adding the OptinMonster Widget to a widget section in your WordPress admin.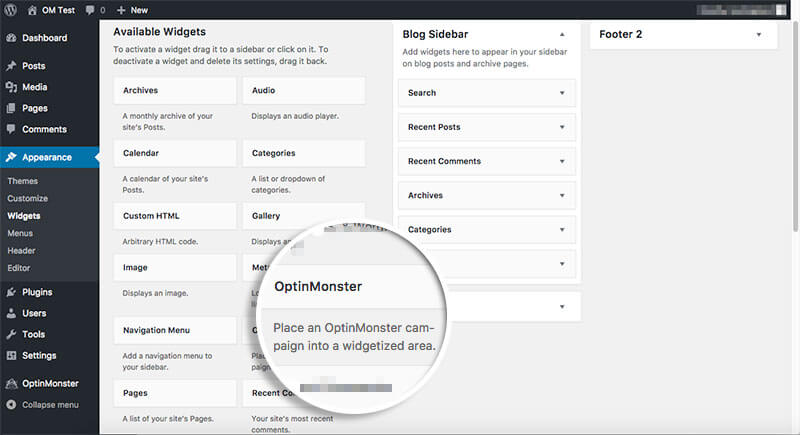 That's it, you've successfully created and added a Sidebar Widget campaign to your WordPress site!
---
FAQs
Q: I don't have a WordPress site, can I still create/use Sidebar campaigns?
A: Yes! If your site is not powered by WordPress the only step that changes is how you add the campaign to your site. Copy/paste the embed code for your campaign into your site where you want the campaign to appear.
The campaign will load inline on the page where you place the embed code so be sure you've added it exactly where you want your campaign to appear. That's it!
---
Q: Do I need to use both the WordPress Plugin and the Display Rules?
A: Learn how our WordPress Plugin and Display Rules work together.
---
Q: How do I control where my Sidebar campaign loads in WordPress?
A: We recommend using a plugin, like one of the following, to control where the OptinMonster widget appears on your site: