Do you want to learn how to increase sales with social media?
Social media can be one of the best ways to connect with your audience and get your company in front of countless numbers of prospective customers.
It's also a fantastic way to generate sales when you use the right techniques.
That's why, in today's post, we'll be sharing 9 expert tips on how to increase sales with social media.
Ready to get started? Let's jump right into the list.
How to Increase Sales With Social Media
1. Use Interactive Posts to Entice and Educate
This might sound a bit odd, especially since we are talking about how to increase sales with social media, but you shouldn't be trying to push a hard sell on every post.
To best maximize your social media presence, you also want to entertain, educate, and entice your audience.
When do people use social media? For the large majority of users, it's in their free time.
That means they are there to either relax or see things that entertain them instead of being actively pushed to spend money.
So you might be wondering, "How do I promote a product without being too pushy?"
Well, you can create content that encourages people to interact, like contests or giveaways.
These types of posts can quickly spread beyond your direct social media followers, especially if you make sharing or tagging friends part of the entry rules.
This is the easiest way to make your contest or giveaway go viral and get your brand in front of more eyes.
More eyes and engagement=more sales.
If you really want to promote engagement, start generating buzz a few days before starting your giveaway or contest.
And don't worry, running a contest or giveaway on social media doesn't have to be complicated. We personally recommend RafflePress to help you run your contests and giveaways.

RafflePress is the best social media contest and giveaway tool. With it, you can create and run contests and giveaways, even with their free version.
Honestly, this tool has everything you need to run a fair and successful social media contest, including built-in rules and random winner generators.
With RafflePress, you can run different types of contests, with most offering 1-click entry and the option to verify entries.
In the free version of RafflePress, you can:
Design gorgeous free giveaway templates with a drag and drop builder
Integrate with major social media platforms
Automate contest start and end times
Prevent fraudulent entries with anti-spam and fraud protection
If you upgrade to the pro version of RafflePress, you unlock even more powerful features, like:
Build a distraction-free giveaway landing page
Go viral with the refer-a-friend social sharing giveaway action
Extra giveaway templates for Instagram, Twitter, Facebook, and YouTube
Allow entrants to login to your contest via Facebook or Twitter
Bonus giveaway actions like Facebook like and share, leave a comment, and more.
But the best part is that there's ZERO coding or "tech skills" required. Everything can be done in minutes with a SUPER simple setup.
Are you ready to run your social media contest to help generate sales? Get started with RafflePress today!
2. Share User-Generated Content
Potential customers tend to read multiple reviews before buying anything to make sure the brand and product are trustworthy and worth their money.
More people are also turning to social media to find authentic reviews and see products and services in action.
So how can you get these reviews into your social media presence to help prove your brand is worth their hard-earned money?
If you have customers sharing positive experiences with your products or services or show them in use, share that content.
Whether it is a retweet on Twitter, sharing an Instagram story, or duetting their video on TikTok, use their content to help bolster social proof.
This also brings authenticity to your profile that you can't get by just creating your own content.
According to a study by Stackla, 79 percent of people say user-generated content highly impacts their purchasing decisions.
Only 13% say content from a brand is impactful.
How do you get your current customers generating content for you?
Find ways to encourage people to share their positive experiences through videos and photos on social media.
Also, ask them to tag you or use a company-specific hashtag if you have one.
You can also get this content on your website by adding a social media feed. If you're using WordPress, we recommend using Smash Balloon.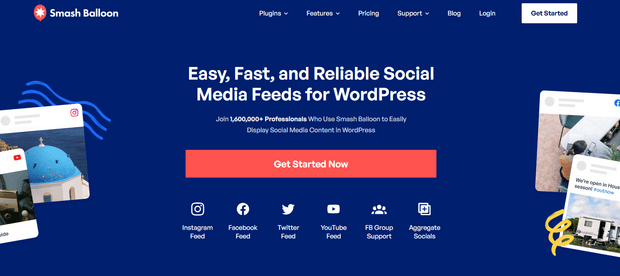 Smash Balloon is the world's top social media feed plugin for WordPress.
With Smash Balloon, you can easily display social media feeds from the most popular sites like:
Instagram
Facebook
Twitter
YouTube
Smash Balloon is user-friendly and lets you sync your social media profiles to your website. That way, all the user-generated content you are sharing is instantly displayed on your website.
Plus, it lets your visitors engage with your social media profiles directly from your website.
Smash Balloon gives you the freedom to create fully customized social media feeds so you can tailor them to your brand.
The biggest upside (other than the increased social proof and sales) is that getting Smash Balloon set up is incredibly easy. And yes, your website stays running just as fast as ever.
Click here to give Smash Balloon a try today!
3. Use the Social Media Networks Your Audience Uses
It may be tempting to just go out to the internet and sign up for all the social media platforms and just cross-post your content on all of them.
Sure, while you may decide this is the best for you, you don't want to spread your resources too thin.
In fact, doing this may be doing more harm than good.
Each platform has a different user base and a different type of content that it specializes in.
For instance, Facebook has been losing favor with younger audiences for quite some time. Meanwhile, Instagram and Snapchat are big draws for millennials and Gen Z.
And, of course, if you are a B2B brand, LinkedIn would be an ideal starting place.
Study your target audience and meet them where they are at. If you are talking directly to your target audience, prepare to see your sales numbers take off.
But what kind of content should you create for each social media network?
Facebook: video and longer written content
Instagram: photos with a story-like description
Snapchat: short videos that have entertaining content
Pinterest: recipes, DIYs, and sharing information about the products
Twitter: short messages and videos, along with pictures
YouTube: long-form videos that are entertaining or informational (product/service demonstrations, how-to's, tutorials, etc.)
If you want to just get on social media, where should you go to get the most out of your efforts while you refine your strategy?
For more tips on finding the right network, check out: 8 Best Social Media Platforms for Business: Your Ultimate Guide.
When creating posts or other content, just remember to stay authentic to your brand. You don't want to start jumping on a platform and creating content that isn't your brand.
That won't attract your target audience.
For instance, take a look at the Instagram profile of popular camera manufacturer GoPro. You can see that they have a distinct look to their pages that scream that it's their brand.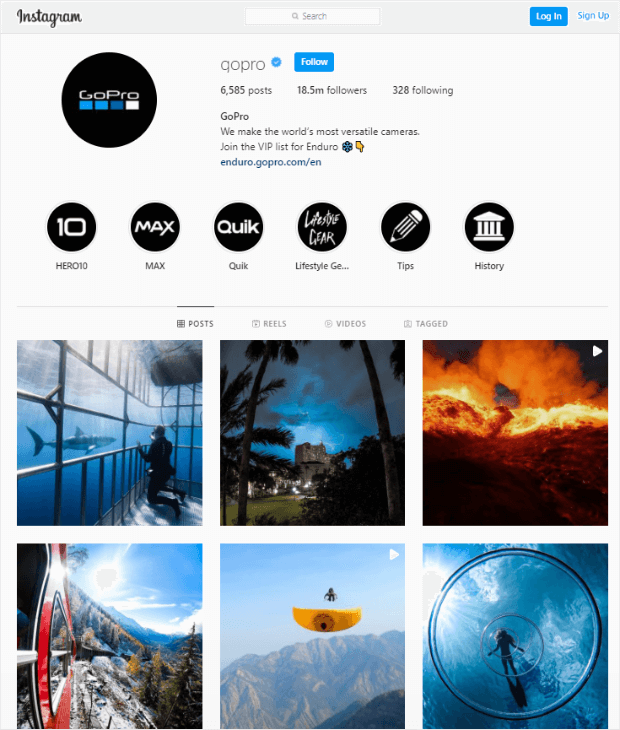 Once you're on the right social media platform, your odds of reaching your target audience skyrocket.
When they are reached, then your chances of seeing an increase in sales improve dramatically.
4. Use Shoppable Posts
Shoppable posts are an amazingly effective way to increase sales with social media. With shoppable posts, people can buy your products or services straight from your social media post.
Instagram is a perfect example of this.
For instance, you can tag products and services in your Instagram stories and posts. This helps your customers see the product they want and instantly go to your website to buy it with a simple tap of their screen.
The tag has the description, price, and name of the product.
Then, they can click the "checkout" button on the product page.
After that, all they have to do is enter their name, payment details, delivery address, and they're good to go.
GoPro is also a pro at using their Instagram profiles for product promotion and generating sales. First, let's look at how they advertise products on their feed.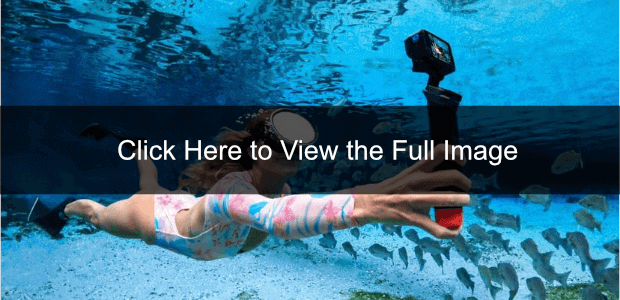 Then, when people interact with the post, this screen listing the products pops up: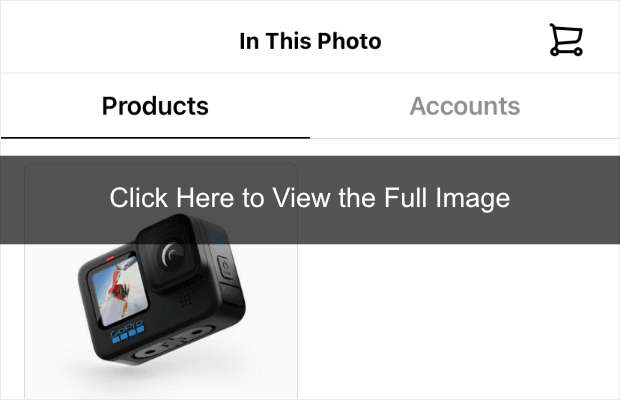 Customers can also easily track their purchases and receive shipping and delivery updates directly from the Instagram app.
Thanks to these features, increasing sales through social media just got a lot easier to do.
To get started, you will need to make sure have a business account on Instagram.
Over on Facebook, there is a shop section of your company's page to list your products. Also, Pinterest offers buyable pins where people can also purchase products directly from the app.
Shoppable pins make the customer experience easier and give you the best access to your customers.
5. Enlist the Help of Influencers and Customers
What if you are just starting out on social media and want to get in front of many people fast? Influencers are a go-to method to increase sales with social media.
There are many influencers out there, all with different audiences.
Find influencers that have a similar target audience as yours and serve your industry. This bit of due diligence will ensure that they have followers interested in your product or service.
How does influencer marketing work?
Ask them to promote your brand by honestly reviewing your products on their profiles in exchange for a discount or affiliate link or potentially a free sample.
Some influencers do charge for these reviews. This will put you in front of their massive following and is proven to increase sales.
If you aren't quite ready to use influencers, you can enlist the help of your more passionate customers. Ask them to review their experience or promote your products in exchange for things like discounts, freebies, or other perks.
Some companies also do a referral program where their customers can share their referral codes or links with their followers, friends, and families.
Then, they can get perks or a percentage of the sale when their code is used.
Either way, this gets your products in front of a larger portion of your target audience, increasing sales.
6. Promote Flash Sales
Promoting flash sales is another important how to in increasing sales through social media.
A flash sale is, just as the name suggests, a limited-time sale. They are different from regular sales, which are usually held at the same time every year.
Most companies will announce flash sales at most an hour or two before it starts. These types of sales are great for creating a sense of urgency in your customers, especially since these sales usually only run for a day.
You can promote your flash sale on your social media to get the most engagement and sales. Most companies will turn to Facebook and Instagram for these types of sales promotions.
For your Facebook followers, you can create an event if you want to start generating buzz early. For Instagram, you can publish posts or Instagram stories about the sale.
If you don't have a large following, you can also run ads on these platforms.
7. Create Brand Specific Hashtags
Hashtags bring attention to your brand by letting you be discovered more easily.
It also can bring fans of your brand together as a community since they can find each other by browsing the hashtag.
Hashtags are an essential element of social media marketing.
But, you can take it to the next level by creating and using unique brand hashtags. They help people understand your posts, drive engagement, and increase your brand's visibility.
Hashtags also are a key way to help people discover user-generated content related to a brand.
For example, take a look at the Twitter profile for Pop-Tarts: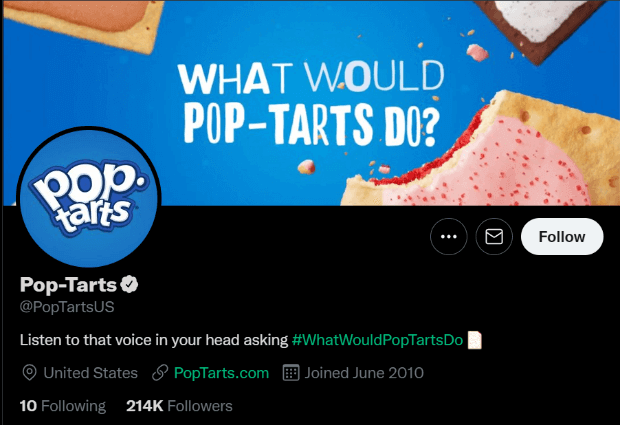 See that green text? That's a hashtag.
You can click on it and see hundreds, if not thousands, of posts of people engaging with that hashtag and talking about Pop-Tarts.
Hashtags aren't just limited to Twitter, either.
Pretty much every social media platform uses them for community engagement and search purposes.
When you are creating your brand's hashtag, remember to keep it simple and memorable. It should also match your brand's personality.
At the end of the day, everything you do on social media should feel authentic to your brand and your message.
8. Stay Consistent with Your Posting Schedule
People are constantly on social media. That means you should be, too.
The lifetime of a social media post can vary from just minutes to hours. These lifetime numbers are when you will see the most engagement or when the post will disappear, as in the case of an Instagram story.
So how long do your posts live on the different platforms?
Instagram feed: 48 hours
Instagram stories 24 hours
Facebook post: 5 hours
YouTube video: Up to 30 days
TikTok: Just minutes- unless it goes viral
Twitter: 15-20 minutes
Pinterest Pin: 6 – 12 months
To get the most out of social media, you will want to generate fresh content to have something new for your audience.
However, you shouldn't be posting all the time. This can bombard or annoy your audience.
Try out different posting frequencies and schedules to see what resonates best with your audience and stick with it.
9. Stick to Your Brand
We've said it several times already in this guide on how to increase sales with social media, but it needs to be said just one more time.
Stick to your brand.
For many people, your social media accounts will be their first impression of your brand.
Once someone sees your content, they will likely check out your profile to learn more about you. That means your profile, content, and message must give an accurate look at your brand.
If you stick to your brand, you will likely see more followers, more engagement, and more sales generated from social media.
But how do you set up your profile to best reflect your brand? They a few of the following tips:
Use a username that reflects your business
Include a company URL to a landing page
Use high-quality profile and cover photos
Make sure your content is visible to the public
These are also building blocks to fostering trust between you and potential customers. Having a full and professional-looking profile makes you look credible.
Also, remember that your social media pages should have a uniform look across all platforms. This way, people will recognize your brand, furthering their trust in you.
Well, that's it for today! We hope these expert tips on how to increase sales with social media have been helpful.
If so, you'll definitely want to check out the following resources:
These articles will have even more information on improving your social media presence to generate more sales.