What if we told you that your 404 error page could actually increase your conversions and boost revenue?
We know it sounds too good to be true. But with some effort crafting the right 404 page design and proper optimization, you can turn lost visitors into loyal customers.
In this post, we're going to cover 21 of the best 404 pages we've seen. Plus, we'll explain why they work.
Before we dive into the list, though, let's get clear on what 404 pages are and why they're so crucial to your digital marketing strategy.
What Is a 404 Page (& Why They Matter)
404 pages are designated pages that your visitors will land on when they enter or click a faulty URL related to your site's domain.
So, for example, if you were looking for a specific page on OptinMonster but misspelled the URL, you'd land on this page: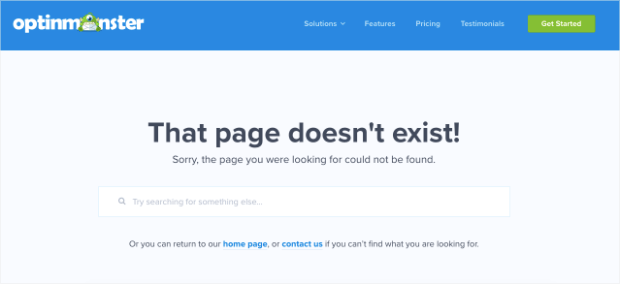 The user would instantly know they've landed in the wrong spot and are given options for where to go instead.
In the example above, the user could either go to the Home page, the Contact Us page, or use the navigational search bar to go where they're looking for.
404 pages are crucial to keeping user experience (UX) high across your site. As you grow your website, your links may change or break over time.
As users click to navigate through your site, they may land on one of these faulty links. If your site doesn't have a 404 page, you can likely say goodbye to that potential lead forever.
But WITH a professional 404 page, you can redirect users where they want to go. From there, you can guide them down your sales funnel to create more loyal customers and boost sales.
And to create your own custom 404 pages, we recommend using SeedProd: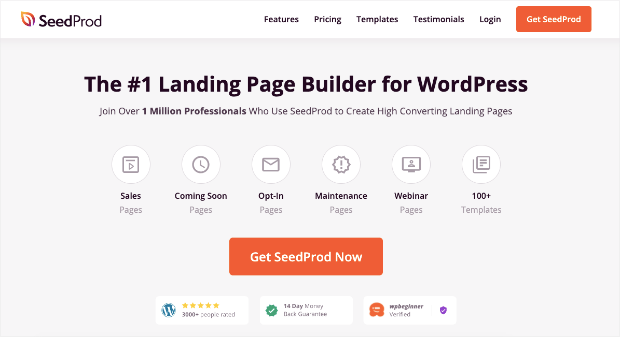 SeedProd is hands down the BEST 404 page and landing page builder for WordPress. It's easy to get started and doesn't require any code at all.
That's because this plugin comes with ready-made 404 page templates and a visual drag and drop builder. Literally anyone can create professional and high-converting 404 pages that redirect users and improve UX.
Plus, you can add a variety of powerful elements to your 404 pages, including optin forms, featured products, CTA buttons, FAQ sections to answer customer questions, and more.
When you're using SeedProd, you don't need to be a professional designer (or even be "tech-savvy, for that matter). Instead, you'll be able to create stunning 404 pages in minutes.
Want to try it out yourself? Click here to start your 100% risk-free SeedProd account today!
And for some added inspiration, we're going to look at 21 of the best 404 error page examples we can find.
Best 404 Page Examples
1. OptinMonster – 404 Page Example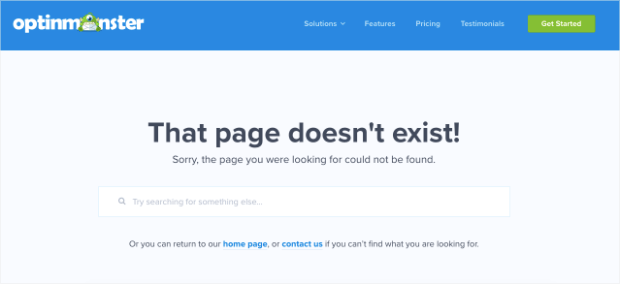 Why it works:
We've already caught a glimpse of OptinMonster's 404 page earlier in the post. But since it's such a straightforward example, we'll start the list here.
Again, the main highlight of this page is how functional it is. The users have 3 options. They can either go:
Back to the Home page
To the Contact Us page
Navigational search bar
But the goal is always the same: keeping users on the OptinMonster site.
And we can say with experience that this page does what it was made to do.
2. WPForms

Why It Works
Here's another example of a stripped-back 404 error page example. It uses playful language ("whoops") and invites users to navigate the site with their search bar.
Users aren't given too many options, as that can be overwhelming, and they can still navigate the site with the main header menu at the top of the page.
One thing we might improve, however, is adding a CTA button or link to give users easier access back to the homepage.
Otherwise, this is a sleek and professional 404 page example that we know works.
3. Pixar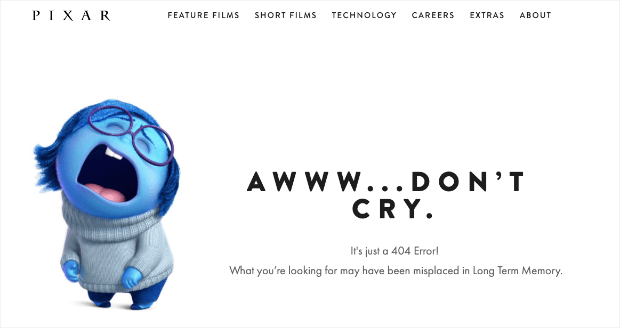 Why It Works
When it comes to creativity, Pixar stands far apart from the rest. That's why it should be no surprise that they have a fun, creative, and engaging 404 page example.
What's interesting here is that they don't have a navigational search bar for users to find what they're looking for.
In that department, sites like OptinMonster or WPForms have the better 404 pages.
But Pixar's page is meant to make the user smile, and they certainly accomplish that.
With one of the characters from their movie Inside Out, they play with how frustrating it can be to land on the wrong page. Then people can use the main menu at the top of the page to go back through the site.
4. Disney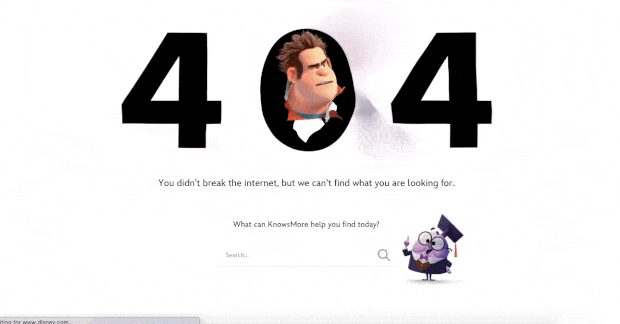 Why It Works
Just like we saw with Pixar, Disney's 404 page is perfectly on-brand.
In fact, as you can see, it comes with animation from their hit movie Ralph Breaks the Internet.
It's a great way to suck users back into the Disney Universe. Plus, they have a navigational search bar (unlike Pixar) to help their audience find what they're looking for.
5. Netflix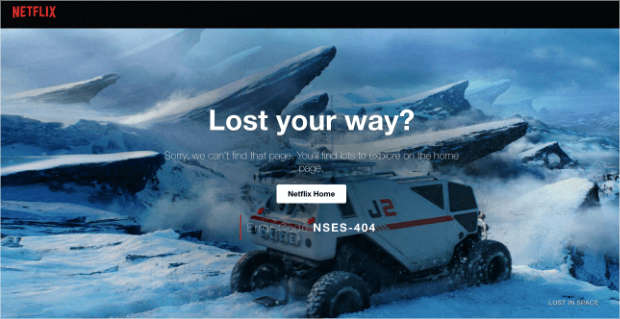 Why It Works
Netflix has a fun page from one of the films they offer, Lost in Space. It's a good fit considering the reason people have landed on the page.
The main thing to notice here is the big CTA button in the middle: Netflix Home.
That redirects users back to the homepage so Netflix users can find the page or movie they're looking for.
Again, something as simple as adding a button back to the homepage is more than enough to boost UX from a 404 error page.
6. Hulu

Why It Works
Another example for a 404 page comes from Netflix's rival: Hulu.
What's interesting about this page is how stripped down it is. There aren't any colors, and there's only one button that says "OK."
While this button takes users back to the homepage, it's not clear from the copywriting that this is where the user is headed.
But if a mega-brand like Hulu is doing something, chances are that it's because it works.
7. Nerf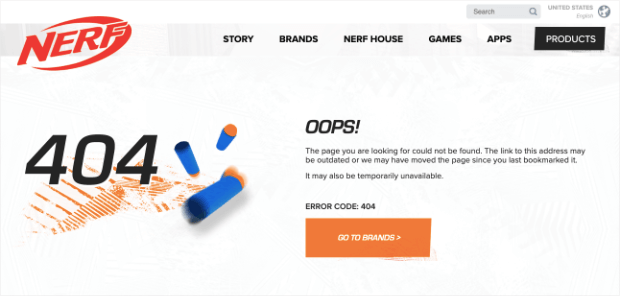 Why It Works
Nerf has a detailed 404 page with a fun graphic and a large CTA button that says "Go to Brands."
It also explains why the user landed on this page ("the link is either outdated or has changed"). This explanation is helpful for their target audience: older kids.
This is important because that age group is likely less familiar with a 404 page and probably won't know what it is.
With an added explanation about why the page isn't working, kids and adults alike can redirect themselves to Nerf's product line.
8. Tripadvisor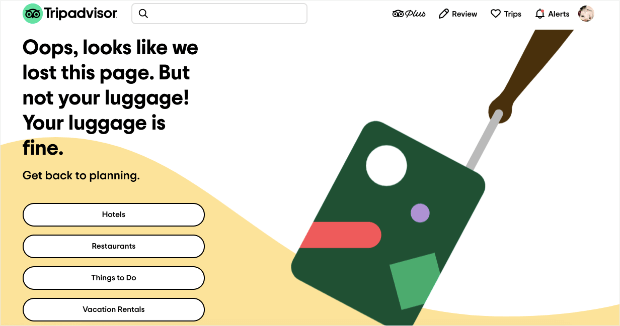 Why It Works
Tripadvisor has a fun and animated 404 page example.
The copywriting jokes about having lost the page but not your luggage. This is perfectly on-brand for the travel site, and it invites the user to navigate to 4 main sections of their site:
Hotels
Restaurants
Things to do
Vacation rentals
This is an excellent way of re-engaging the user and helping them further plan their next vacation.
9. Constant Contact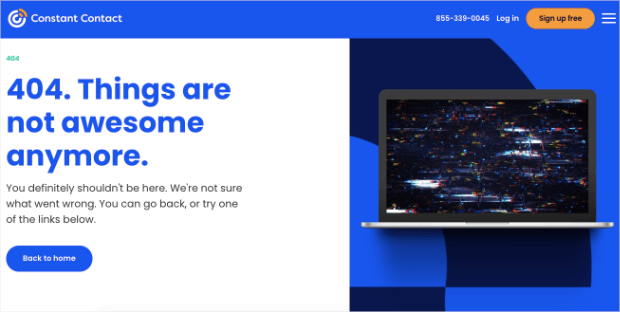 Why It Works
Constant Contact uses more informal language that resonates with their target audience (younger startups and digital marketers).
The not-so-buttoned-down language gets that across quickly with, "Things are not awesome anymore."
They then give users a quick way to get back to the homepage.
One thing we'd fix is the language surrounding the CTA. It says, "You can go back, or try one of the links below." But after that, there's only one link the user can choose.
If redone, it would be good to change the copy around the CTA or to provide more links for users to follow.
10. Slack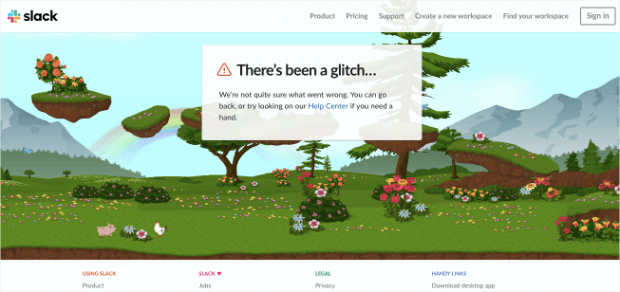 Why It Works
Slack made an entire animated background for their 404 error page.
This is a great way to keep the user engaged and let them stay on your site a little longer. They also have a link that takes users back to the Help Center, though there is no button to get back to the homepage.
But they do provide several links in the footer menu that can help users navigate back to the page they're looking for.
11. Lego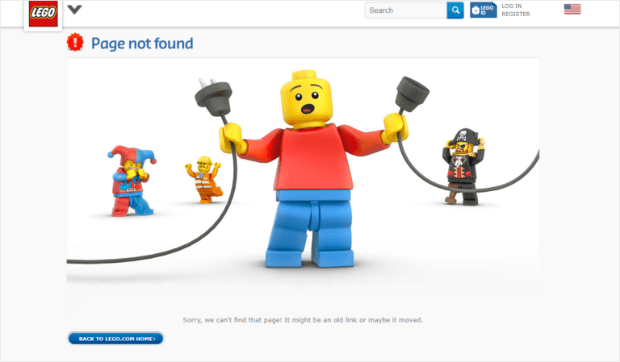 Why it works:
Not only is Lego's 404 page 100% on-brand, but it's also fun and easy to understand. There's no technical wording and no reference to a "404 error" that some folks may not understand.
All your visitor needs to know is that they didn't get the page they wanted. They don't really care about the why; they just want a solution.
12. Email Center UK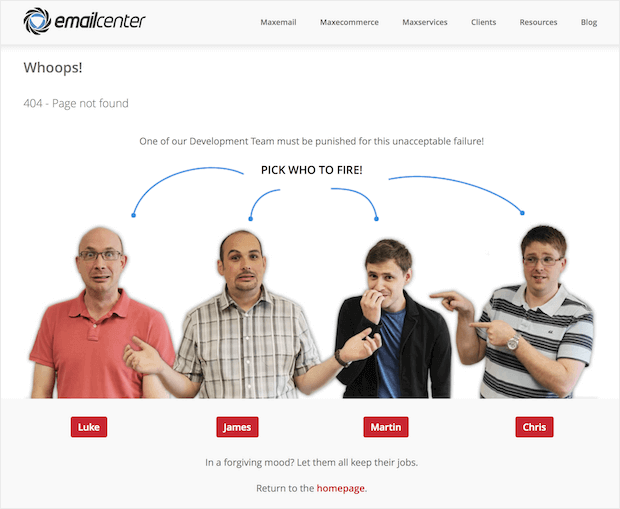 Why it works:
Email Center UK uses a two-part 404 page that takes all of the blame from the visitor, giving users a fun way to work out their 404 frustrations.
You'll also notice that this page doesn't blame the user for the problem. Instead, they're apologetic.
They turn the page into a game that blames the developer for an error. When you click the person you want to fire, you get a follow-up page that looks like this: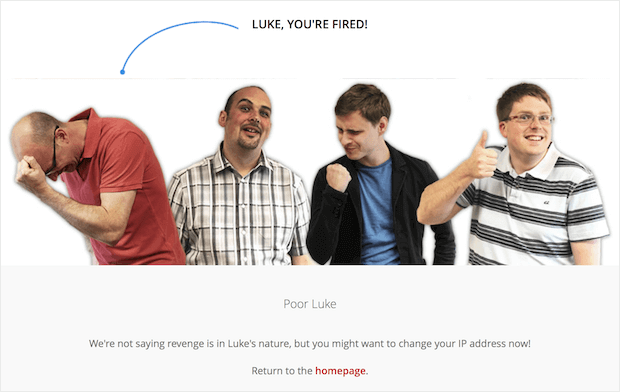 This is a way to turn your 404 page into a little game that increases engagement AND the user experience.
13. List25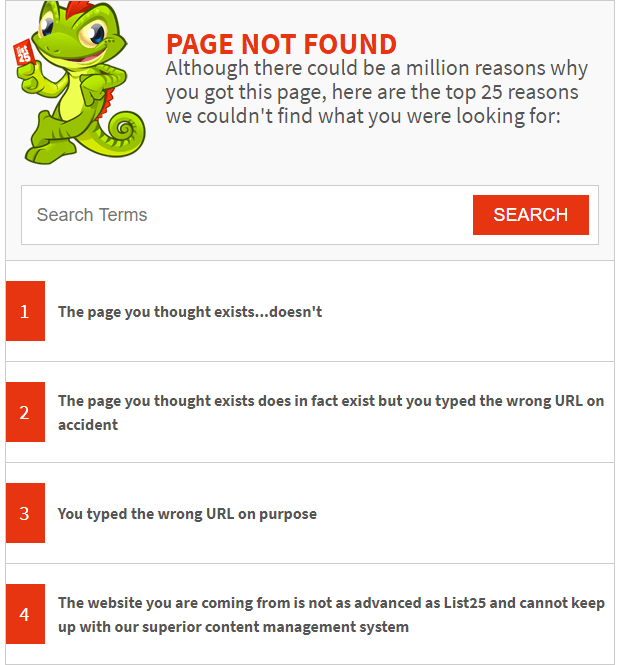 Why it works:
This 404 error page from List25 is brilliant and so on-brand it hurts.
A major user experience design best practice is to provide explain what went wrong when delivering an error message. List25 offers 25 explanations – some serious and some in jest.
They have a search bar at the top so visitors don't have to scroll all the way through the list, but we're pretty sure that most List25 visitors are going to anyway.
14. Brett Terpstra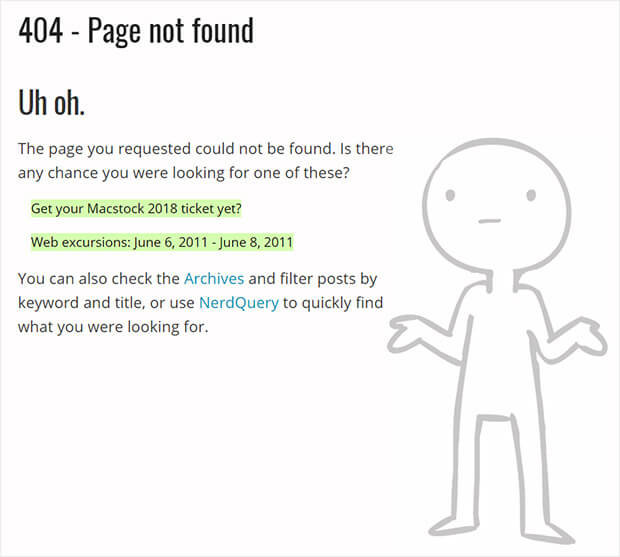 Why it works:
One of the most annoying things about 404 error pages is that they can signal a dead end. If the page isn't well-designed, you may end up with nowhere to go next.
Brett Terpstra's 404 page provides a list of posts containing keywords related to the link you were trying to access. The posts are linked making it easy and fast to navigate to them.
The page isn't showy, but it's exceedingly useful.
15. Steve Madden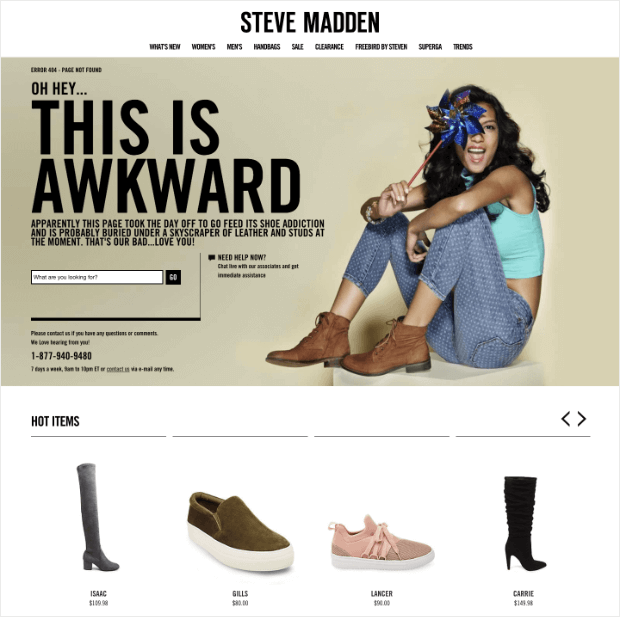 Why it works:
Steve Madden's 404 page offers up options to lost visitors. The search box is a great addition to any 404 error and offering a few different ways of getting help lets visitors know that they're listening.
They also include links to other popular products to distract visitors from what could be a very frustrating experience. Sneaky and effective.
Help your lost visitors out with your 404 error message text and design. Including some of the ideas below can encourage visitors to continue browsing and searching, extending their time on your site.
Some things to include in your 404 page design:
Menu navigation
A link back to the homepage
A link to your sitemap
A search bar
Links to popular posts
And with SeedProd, you can easily display products on your 404 error page. Simply drag one of SeedProd's custom WooCommerce blocks and drop it into place.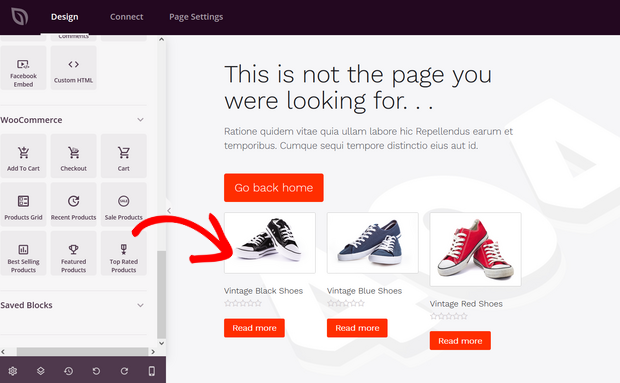 You can choose from blocks like products grid, sale products, top-rated products, and more.
16. 9gag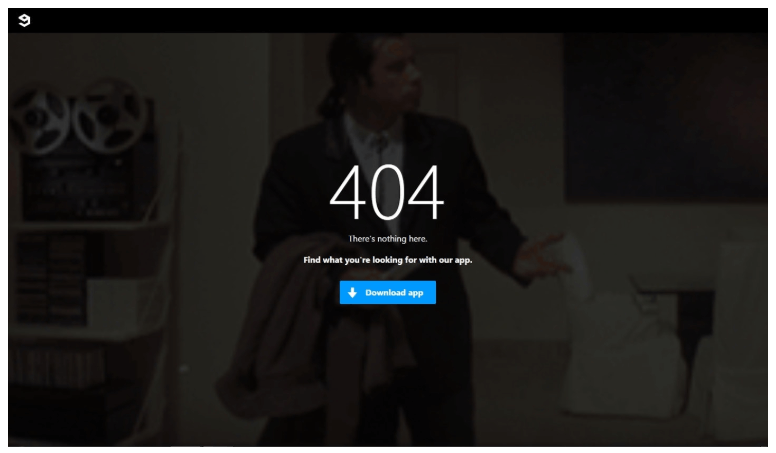 Why it works:
9gag's 404 page has one purpose: to get you to download their app. They don't even pretend to want anything else.
Adding a full page of the popular Pulp Fiction Travolta gif in the background is a fun touch!
And simplicity is key here.
Yes, we just talked about offering up ways to keep your visitors browsing, but don't overwhelm them with too many options, either.
17. Path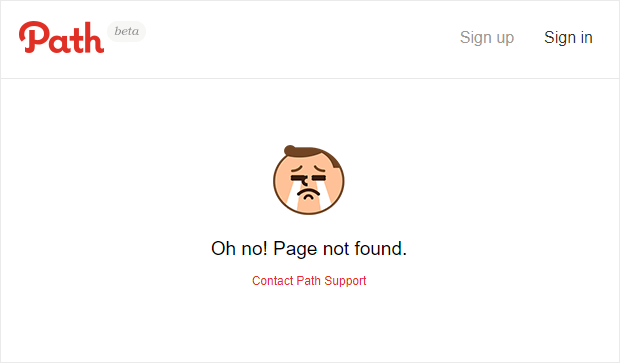 Why it works:
Path's 404 page is simple and straightforward. They don't want to have broken links and missing pages so they give visitors the option to contact Path support to report it.
Notice that Path also includes a navigation footer in case the visitor doesn't want to report the problem and would rather browse around. This gives the power back to the visitor and helps to ease their frustration.
The goal here is to give visitors a chance to report the problem.
You can do this in a few ways. You can keep it simple like Path and include the option to contact support. Another option is to use a feedback form.
18. IMDB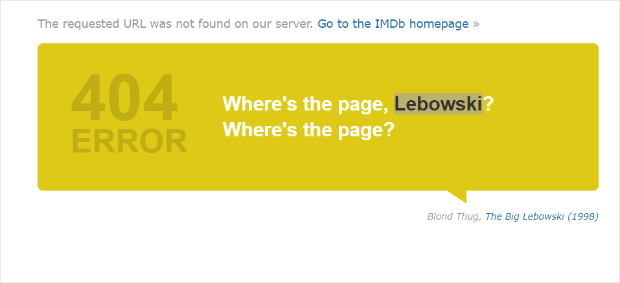 Why it works:
IMDB shows visitors a movie quote on their 404 page.
The branding is subtle here. There are no movie posters, no trailers competing for the visitor's attention. IMDB simply offers up a movie quote, a link to the site's homepage, and a link to the quoted movie.
When designing your 404 error page, make sure to maintain brand familiarity.
Rather than disorienting your users, it will be reassuring for them to experience the same brand that they have come to know and love.
19. Everipedia

Why it works:
Everipedia's 404 page is everything its visitors would expect from an online encyclopedia. This reminds visitors why they love the site and keep coming back.
TED speaker and marketer Renny Gleeson said of the 404 error page, "A simple mistake can tell me what you aren't. Or remind me why I love you."
Use your 404 page to remind visitors why they love you. What is your unique value proposition? What sets you apart from your competitors?
If you can quickly answer that from your 404 pages, you'll be set to convert your lost visitors into paying customers.
20. Heyzap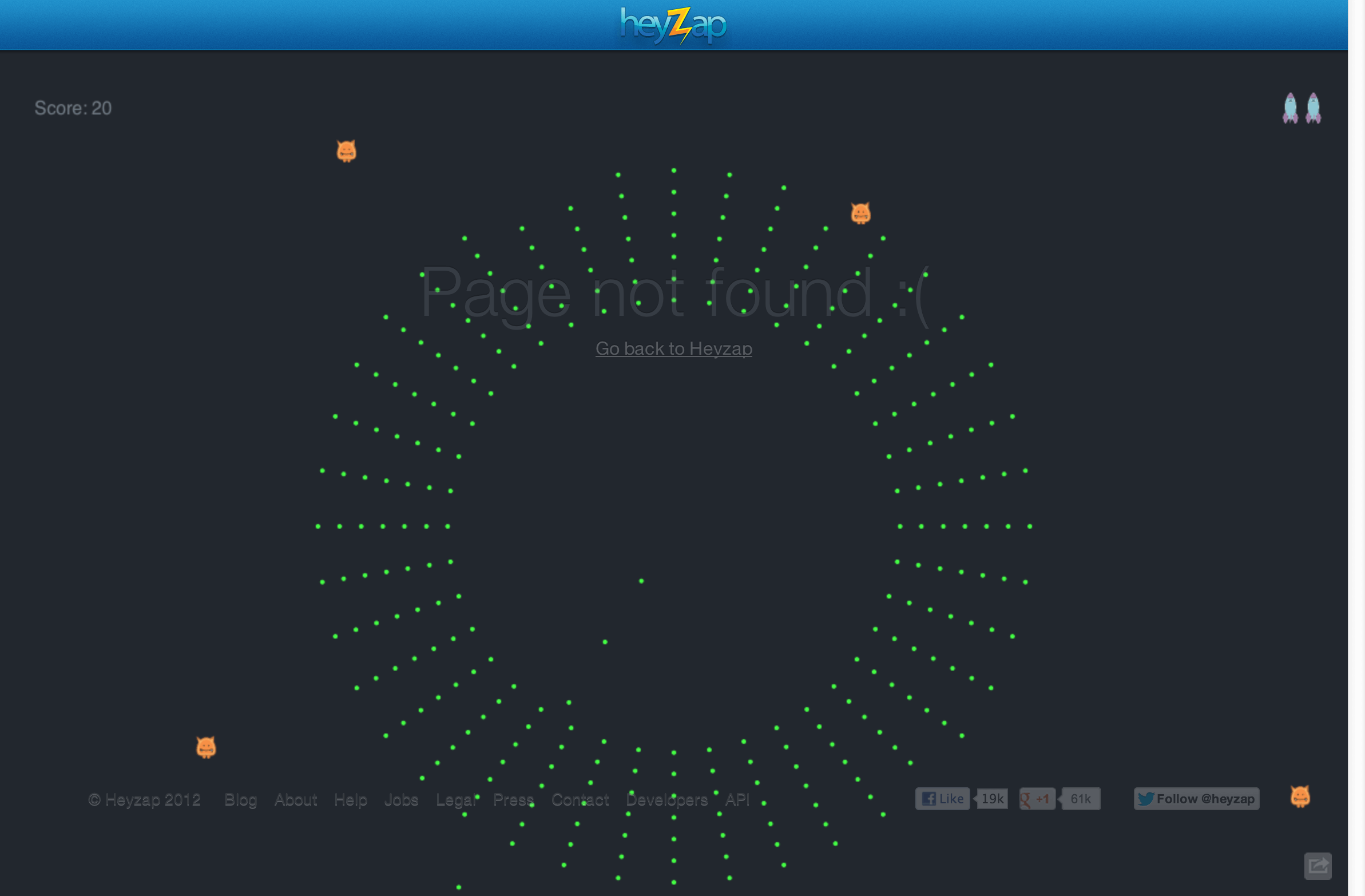 Why it works:
Who doesn't love to play games?
Heyzap's 404 page adds an interactive element that will keep visitors entertained and engaged on the site for a while. Maybe even long enough to get over their frustration of landing on an error page in the first place!
No, you don't have to develop a game. But do consider adding an interactive element to your page.
Adding an interactive element gives your site's visitors something to do on your 404 error page. This increases time on page and reduces bounce rates, both important for keeping your website in Google's search results.
21. Amazon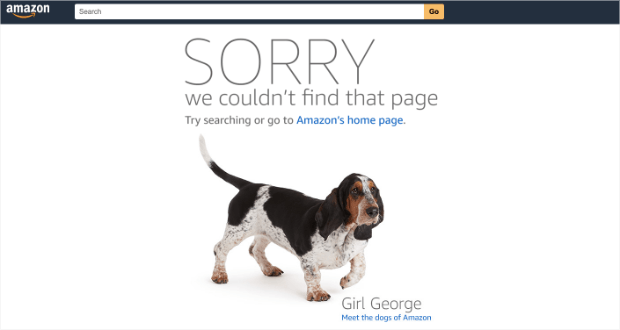 Why It Works
If a company like Amazon is having fun with their 404 page, that means you probably should, too.
Amazon starts by apologizing in big, bold letters. It then redirects users to Amazon's homepage OR allows users to meet "the dogs of Amazon."
This lighthearted redirect is a great way to keep people on their site for longer. After all, who doesn't love dogs?
And that's it for today! These have been 21 of the best 404 page examples that you can use to create your own 404 pages today!
We hope you enjoyed this post. If you did, you'll definitely want to check out the following resources:
These articles will have everything you need to create better and higher-converting landing pages for your websites.