People often ask us, "Is OptinMonster free?" And it's a fair question.
Having worked with other SaaS companies, people have found a few brands that offer a "freemium" service. That's a basic free plan before upgrading to a more advanced one.
So, when they come to OptinMonster, it's only natural that they'd like to know if we have a free plan, too.
That's why, in today's post, we're going to look at OptinMonster's pricing plans and features and compare OptinMonster alternatives.
But first, let's answer the main question head-on: "Is OptinMonster free?"
Is OptinMonster Free?
OptinMonster is not free and doesn't offer a free version (or a "freemium" plan). Instead, OptinMonster offers some of the most powerful marketing and lead generation tools at an affordable price.
OptinMonster also lets users get started for a free 14-day money-back guarantee, so there's no risk getting started.
Here's a quick breakdown of OptinMonster's plan by price (billed annually):
Basic: $9/month
Plus: $19/month
Pro: $29/month
Growth: $49/month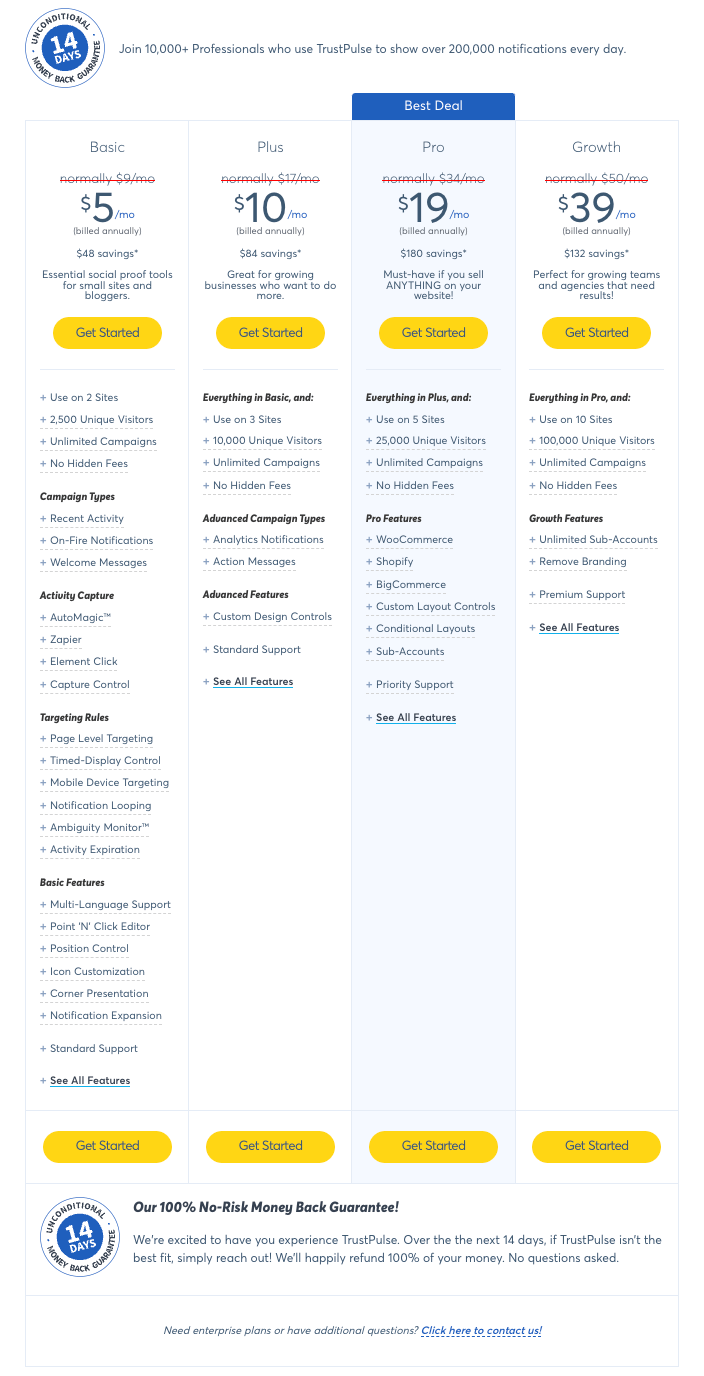 Starting with the Basic plan, you get OptinMonster for 1 site with 2,500 page views.
This plan is more than enough for many small businesses or solopreneurs and costs less than your monthly streaming services like Netflix or Hulu.
As you upgrade, new features unlock to help you scale your business.
For example, the Plus plan has everything in the Basic plan but allows for 2 sites and 10,000 page views. It also has advanced integrations, A/B testing capabilities, content locking, and many other features to grow your email list quickly.
The Pro plan (our most popular) has everything in the Plus plan but gives you 3 sites with 25,000 page views. It also comes with our Exit-Intent® Technology, 2 sub-accounts, campaign scheduling, Yes/No forms, countdown timers, and more.
Finally, the Growth plan has everything in the Pro plan but gives you 5 sites with 100,000 page views.
This unlocks many advanced features like OnSite Retargeting®, Follow-up Campaigns®, success scripts tracking, spin-to-win wheel templates, unlimited sub-accounts, and much more.
Get Started With OptinMonster Risk-Free Today!
BONUS: Done-For-You Campaign Setup ($297 value)
Our conversion experts will design 1 free campaign for you to get maximum results – absolutely FREE!
Click here to get started →
We created these plans to make OptinMonster the most suitable lead generation tool for companies of all sizes.
OptinMonster is consistently known as the best software for growing your email list, increasing conversions, and driving more sales from your website.
But, seriously, why would you pay for a lead generation tool like OptinMonster? Why wouldn't you find an alternative offering a free starter plan?
Let's look at the question in more detail: why pay for OptinMonster?
Why Pay for OptinMonster?
1. Create Powerful Campaigns in Minutes
When you're purchasing any new tool for marketing or sales, you're buying two things:
Results: You have a specific goal in mind and need help getting there
Time: Not only do you expect results, but the right tool should also save you time while getting them
These are important considerations to keep in mind, especially when shopping for lead generation tools.
If you want the best results in the shortest amount of time, you need software that's as powerful as it is reliable. And we've had customers come to OptinMonster after trying "freemium" plans with other lead generation tools.
The optin campaigns (popups, floating bars, fullscreen campaigns, and so on) from these free plans were glitchy and unreliable at best. Sometimes they worked, and sometimes they didn't.
And after the free plan, upgrades became expensive. This discouraged people from using paid plans.
This can lead to months or even years of stalling your company's growth as you try to get new leads into your funnel.
But with OptinMonster, you'll get a reliable and powerful tool right out of the gate. Plus, with our drag-and-drop builder, you'll have professional optin campaigns in minutes.
Here's an example of an OptinMonster campaign we built: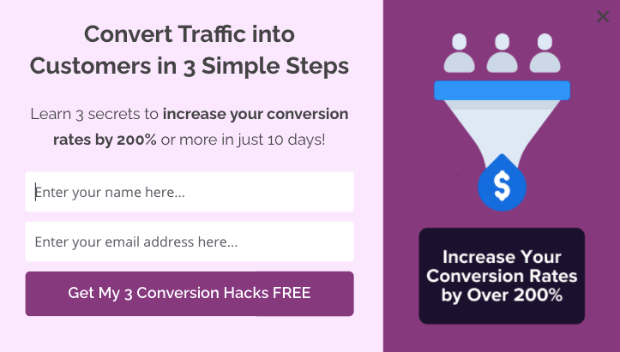 From start to finish, this popup was ready to go in under 5 minutes. It requires zero coding and is designed to get the results you want as quickly as possible.
OptinMonster is how Adam Enfroy added over 11,000 email addresses to his list in just one year.
With plans starting at only $9/month, it's easy to see how it's a tool worth paying for.
2. Target Your Ideal Audience
Building professional-looking campaigns are only half the battle. The other half is making sure they're seen by the right people and at just the right time in their customer journey.
For that, you need effective display rules to get the job done.
More than any other lead generation software available, OptinMonster is your best bet for connecting with your target audience. That's because we offer the most advanced and comprehensive display rules around.
These rules breakdown into two categories:
Targets: This relies on a visitor's demographics including the content they enjoy, the device they're using, where they're physically located, and more
Triggers: This relies on a visitor's behavior, like how far down a page they scroll, if they're trying to leave your browser page, when they click specific links or buttons, and more
Some of the more popular targeting rules include:
Exit-Intent® Technology: Recover visitors actively leaving your website with exit intent popups.
Page Level Targeting: Personalize your campaigns by making your offers match the content your user reads.
Geolocation: Increase conversion rates by targeting people by their physical location.
With OptinMonster's extensive targets and triggers, you can grow your email list more quickly and drive more revenue. Just check out some of these success stories we've seen customers achieve:
OptinMonster helps you get your brand's voice and message in front of the right people. You can get new leads and nurture them into loyal customers.
3. Rely on a Dedicated Support Team
One thing that people often forget about "freemium" plans or free plugins for WordPress sites is that support will be limited.
It takes a lot of people, training, and tooling to create a dedicated support team to help customers. As such, many companies will save their support staff for paying customers.
OptinMonster has one of the best support teams around. But don't take our word for it. Here's a customer review from the 3rd-party site Capterra:

And another one from G2:

These are only two examples you can find around the web about our support team, though there are many others.
Because with OptinMonster, we never want users to feel "stuck" or "alone." That's why we offer the following channels for support:
Thorough documentation of our product
Live chat for instant results
User-submitted tickets (via email)
Social media channels
YouTube tutorials
Blog (with weekly updates)
In other words, if you need help with OptinMonster, you've got six different ways to grab our attention.
And yes, this stellar support is included in your $9/month Basic plan.
4. Automate and Refine Your Marketing Strategy
When it comes to improving any aspect of your marketing and sales, there is no "silver bullet." In other words, any of your tools will rarely work in isolation.
Instead, you need tools that are easy to integrate into your current marketing flow. This is important because it allows you to free up lots of time once you've made some initial configurations.
OptinMonster automates and enhances at least two aspects of your marketing strategy:
Let's take a quick look at how.
a) Email Marketing
First, OptinMonster natively integrates with over 30 of the most popular email marketing services (also known as "email service providers" or "ESPs").
That means, for the most part, you can find your ESP from a drop-down menu in the OptinMonster dashboard: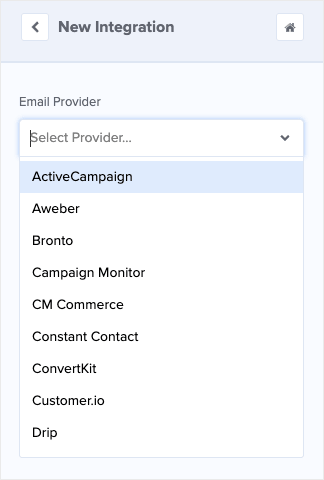 When you find your ESP, you'll be able to connect with OptinMonster in seconds. Usually, the connection only requires copying and pasting an API key found in your email provider's user dashboard.
Once you've set this up, your new leads will go directly to your contact list, which means everything can run on autopilot.
You can get your new lead with OptinMonster, and create automated email campaigns to start when a new lead subscribes.
Need help getting hooked up to your ESP? No worries. Check out this helpful resource: How to Connect OptinMonster to an Email Service Provider.
b) Paid Ads
Most paid ad platforms offer websites a small snippet of tracking code. You can put this code on your website to help your paid ad platform determine who should see your ads.
Let's say you started using Facebook ads and installed a Facebook pixel on your site.
When a new visitor reaches your site, that tracking pixel will let Facebook know this would be a good candidate to see your ad.
This process is known as retargeting, and it's incredibly effective at getting you better leads and higher sales.
But here's the best part: add these tracking code bits to your OptinMonster campaigns. That means when a user interacts with your optin forms, it'll let other platforms know to show this person your advertisement later in their feed.
For more information, check out this post: How to Boost the ROI of PPC Campaigns With Targeted Optins.
The point is that OptinMonster makes it easy to work with other tools and achieve your marketing or sales goals.
It allows you to switch parts of your marketing strategy on autopilot. It also refines your paid ad efforts to make more targeted offers to your ideal buyer.
In the end, this brings in better leads for your funnel and more profits for your business. This leads us to our next and final benefit: increasing revenue with OptinMonster.
5. Profit From Your Mailing List
Last but certainly not least, we get to the real point of why OptinMonster is worth paying for: OptinMonster pays for itself in many cases.
This should be true of any marketing tool that you invest in. And this type of thinking creates a profitable cycle:
Your new marketing tool lets you grow in ways you couldn't before
That growth leads to higher profits
Those profits lead to other marketing tools that help you scale
In other words, a marketing tool should always bring you a high ROI. This begs the question: Is OptinMonster worth at least $9/month?
Rather than speak for ourselves, check out some of the results our customers have achieved using OptinMonster:
These are just a few examples of OptinMonster helping companies grow, but there are many others.
So when we see our customers experience rapid growth, increase their conversions, and see massive jumps in sales, we can't help but feel confident that OptinMonster is worth every penny.
Want to find out for yourself? Click below to start your 100% risk-free OptinMonster account today:
Get Started With OptinMonster Risk-Free Today!
BONUS: Done-For-You Campaign Setup ($297 value)
Our conversion experts will design 1 free campaign for you to get maximum results – absolutely FREE!
Click here to get started →
OptinMonster Alternatives: Comparison
OptinMonster, unlike most of its alternatives, can work on any website, WordPress, Shopify, or dynamic site. In addition to its robust plugins, OptinMonster is a standalone app that lives on its website. To create your optin campaigns, you'll log in to your account on the OptinMonster app website.
If you have multiple websites, it's easy to manage them in your OptinMonster dashboard. That's one of the many benefits of having your campaigns hosted in a standalone app. Your account information and campaign creation are hosted in the same standalone app.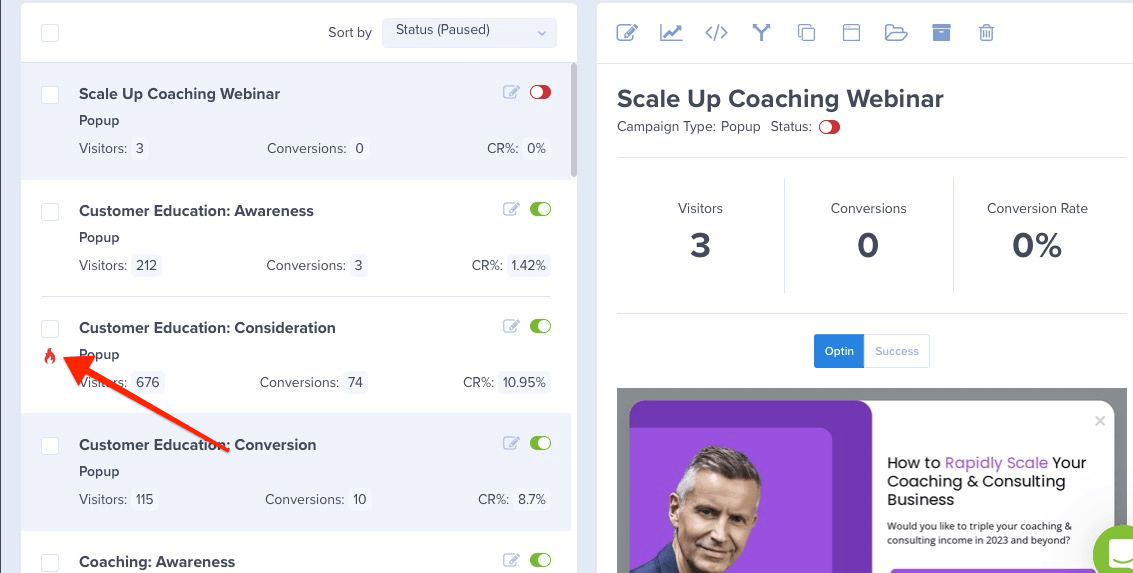 OptinMonster has an array of different campaign types to choose from.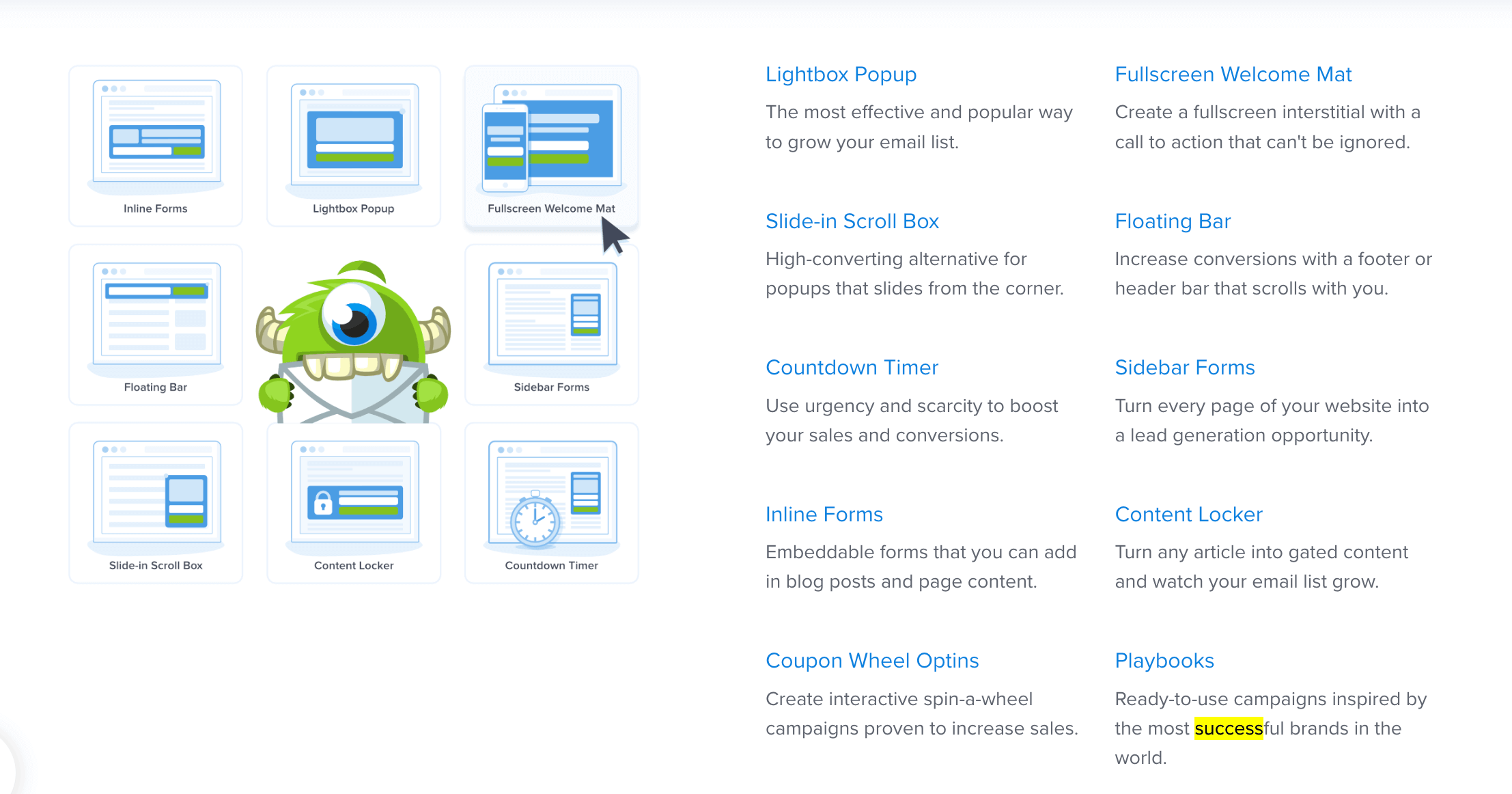 Top that up with 100+ inbuilt, saving you time to get started.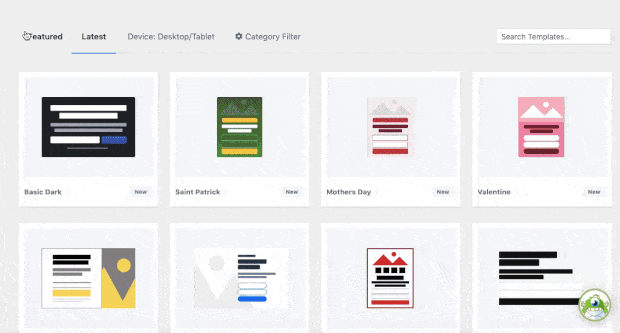 If you are not interested in the built-in templates, OptinMonster offers the most user-friendly drag-and-drop builder to build and customize a campaign of your choice.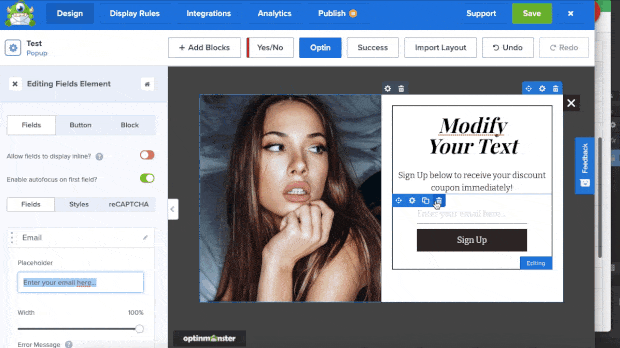 You can detect your visitors' behavior and use smart triggers to display the right campaign to the right person at the right time.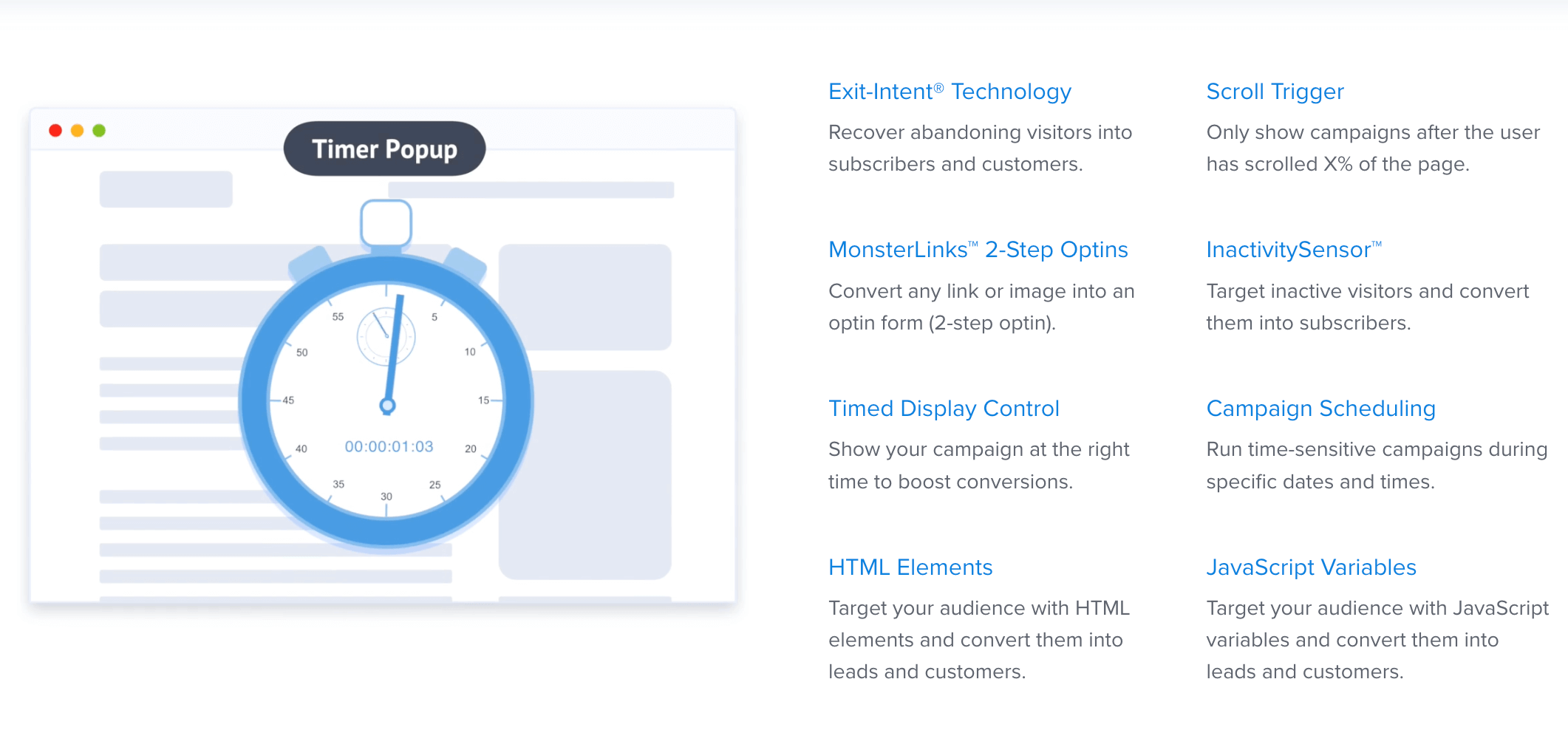 If that wasn't enough, you can find a detailed comparison between OptinMonster alternatives here.
Is OptinMonster Free? No, but It's Worth It
OptinMonster isn't free. But when you consider the number of leads and profits it can generate for your business, you quickly realize that it might as well be.
OptinMonster is the most powerful lead generation tool on the market. Plus, it's one of the most affordable investments that, when used correctly, pays for itself.
For about the same price as 2 cups of coffee, you can get started with OptinMonster–and don't worry, all those new leads will give you way more energy than caffeine.
That's all for today, but we hope you found this article helpful.
If you did, you might also want to check out the following resources:
These articles will provide more information about how OptinMonster can grow your business. Plus, they'll provide plenty of tips to improve your lead generation strategy.