Are you wondering if the benefits of email marketing are worth the time and effort?
Email marketing is one of the best ways to communicate with customers, share company information, and generate passive income.
And while most email service providers (ESPs) now come with plenty of automation tools, email marketing can still take patience, hard work, and a small bit of financial investment upfront. Which leads back to that same question:
"Is email marketing worth all the time and effort?"
So, today, we're going to answer that question with a resounding YES. And by the end of this article, we think you'll agree.
Because we're going to share 13 undeniable benefits of email marketing that make it one of your best assets for growing your business.
Before we talk about the benefits of email marketing, though, let's start by looking at the best way you can grow your email list.
How to Build Your Email List from Scratch
Many marketers know that email marketing is incredibly effective. Still, they run into another problem: none of the benefits apply to them if they don't have a robust email list to work with.
That's why the best place to start this conversation is to show how easy it is to grow your list in the first place. All you need is the right tool.
And that's where OptinMonster comes in: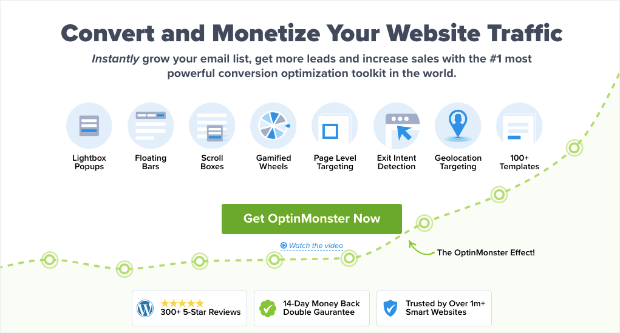 OptinMonster is the best tool on the market for growing your email list. Not only does it come with all the advanced tools and features you'd want in a lead generating software, but it's incredibly easy to use.
In fact, you don't need any coding knowledge or "tech skills" to build beautiful campaigns in a matter of minutes. But now, you may be wondering, "how does OptinMonster grow my email list?"
OptinMonster lets you create powerful "optin campaigns." These are messages that you show to your audience, usually with some kind of lead magnet and a call to action (CTA).
Again, you don't need any professional experience to create these campaigns. OptinMonster comes with over 50 premade templates to save you hours of time in the design process.
Plus, these campaigns are super easy to modify and customize to your brand's voice, style, and audience with its drag and drop builder.
From there, you'd use OptinMonster's targeting and trigger rules to make sure these campaigns are seen by the right people at just the right time in their customer journey.
This level of personalization boosts conversions and gets you more subscribers in less amount of time.
These optin campaigns are incredibly effective. The fitness company Crossrope was able to explode their email list by 900% with a simple exit-intent popup.
And the internet blogger Adam Enfroy was able to use OptinMonster to grow his email list to over 11,000 subscribers in just 1 year.
You can experience the same massive success by getting started today. Just click below to sign up for your 100% risk-free OptinMonster account:
Grow Your Email List FAST
Know that growing your list with OptinMonster is easy, but still not sure if it's worth it? Let's dive into our list of the top benefits of email marketing.
Benefits of Email Marketing
Since this is such an in-depth guide, we thought we'd make it a bit easier for you. Feel free to use the table of contents to navigate to the email marketing benefit you're most interested in:
Otherwise, let's start at the beginning with our first benefit of email marketing.
1. Connect With a Constant Audience of Warm Leads
We'll kick off this list with one of the biggest benefits of email marketing: you're always connected with an audience of warm leads.
More than any other platform, email lets you stay in constant contact with your audience. Even with social media, you can't be sure that your audience will engage with the platform you use every day.
If you have a heavy presence on Instagram, for example, then you might build a loyal audience on that platform. But all those users also spread their time over other channels like Facebook, LinkedIn, Twitter, and over 65 other social media platforms on the market.
But you know what channel all of those people use every day? Email.
This means growing your list will give you direct access to warm leads every single day. This leads to our next benefit of email marketing…
2. Promote Content Instantly (and Improve SEO)
As we just saw, email marketing means having direct contact with warm leads who've shown an interest in your site, brand, or niche.
That means they're the perfect people to share new content with.
Through your email marketing campaigns, you can promote new content and bring people back to your website. In doing so, you'll increase pageviews and user sessions, which are all positive signals to search engines like Google.
This instant traffic can be just the boost you need to get your content to rank higher.
As a result, you'll see organic traffic grow and have the opportunity to add even more leads to your contact list. Over time, your email marketing and content marketing strategy can work together to strengthen your site's SEO and get you closer to your target audience.
Once people come to your website, why not take things a step further with OptinMonster?
You can create campaigns to redirect users to high-converting posts or pages. Here's an example of what a redirect campaign would look like: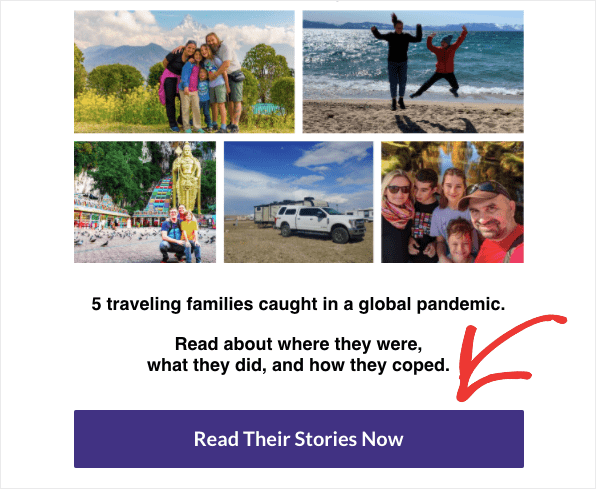 Now your email got people to your website, and your optin campaigns work to keep them there.
This further boosts pageviews and user sessions, which only strengthens your SEO efforts.
3. Save Money by Avoiding Paid Ads
Another benefit of email marketing is that it's more affordable than other marketing strategies. Most email service providers (ESPs) let you get started for free, so you won't have any upfront costs to store your list and send a limited amount of emails.
Then, as you scale, many of these same tools cost under $30/month. And with a lead generation tool like OptinMonster, you're looking at prices that start at only $9/month.
When you compare these minimal costs to running ads on platforms like Google or Facebook, it's not hard to see how much you can save. Especially when you're just getting started.
Rather than spending hundreds (or thousands) of dollars testing ads to find your ideal audience, you can use email marketing to learn more about what your customers like or dislike.
Then you can use the list you've built to create a customer avatar to help guide your paid ad strategy as more revenue comes in.
The point is that the barrier to entry for email marketing is much less but still offers a high return on investment (ROI).
4. Create Passive Revenue
When we talk about the ROI for email marketing, it's statistically one of your best options. The most common stat has become widely known: for every $1 spent on email marketing, $44 is made in return.
But how are people making this money through email marketing?
Once you grow your list to a fairly substantial size (let's say over 1000 contacts), you can start building an automated email campaign.
In these campaigns, you'll want to nurture the relationship, share some cool content, and, of course, let people know about your awesome products.
So let's say you promote a product, and it costs $99.
You send out an automated email campaign to promote this product. Out of the 1000 subscribers you have, only 7 people buy your offer.
While this is just a small percentage of your audience, remember: that's still $700 from ONE campaign with a fairly small list.
But here's the cool part. All the hard work of writing the emails and putting people into your automated series is already done.
Now, as new subscribers join, you can expect a small percentage of them to buy your products, too.
Over time, this leads to tons of passive income, especially as you continue to add to your email series and create new products to promote.
5. Automate Everything
In the last benefit of email marketing, we touched on the idea of automation. But let's take a closer look at what that can mean for you.
As we said earlier, most ESPs come with tools that let you turn everything on autopilot. We'll give you an example of what we mean.
You already know that you can automate your email campaigns. That way, as new people join your list, they'll receive scheduled emails on a routine basis.
And, again, you can count on a certain percentage of passive income to be generated as you add more people to your list.
But there are other areas where automation comes into play.
If you're using OptinMonster, for example, then you'll be able to integrate your list building tool directly with your ESP. Most of these ESPs integrate by selecting an option from a drop-down menu and entering an API key: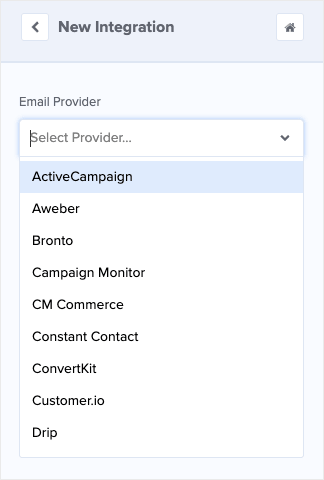 That means all your new leads from OptinMonster will go automatically to your email list.
You can even sort your audience into different categories (called "segmentation") using tags.
That means once you set up your optin campaigns, all of your new leads will go exactly where you want them to. Then, in your email campaigns, you can redirect users to landing pages and product pages to boost sales.
Once you've set this system up, everything will run on its own. All you'll need to do is sit back and watch the new leads (and profits) roll in.
6. Nurture Leads to Reduce Churn Rate
A big problem in the eCommerce world is something called "churn rate." This is the number of existing companies you have who leave your business. More often than not, they never come back.
While this is most common in the SaaS world, it exists to a certain extent in every field.
Imagine you had an online shop where you sold shoes. A customer joined your mailing list and ended up buying a pair.
Unlike a SaaS company, this person won't be paying a monthly or yearly subscription for your product. But you'd still like them to come back to your store in 6 months when they need a new pair.
Regardless of what type of business you're in, you need a system in place to nurture the relationship you've built with customers.
Email marketing is the best solution for that.
With email campaigns, you can let customers know how much you value them. You do this by sharing great content, the best promotional deals, and other non-promotional emails that will improve their experience with your brand.
More than any other channel on the market, email can be the best and most efficient way to make your customers feel valued and reduce churn rates.
7. Gather Data through Customer Surveys
No matter what stage in business you're in, you should be working tirelessly to collect customer data from surveys.
Surveys can be one of your biggest assets as you try to identify your target audience and improve your marketing strategy.
Not only do surveys tell you about what your customers like or dislike, but the right survey can also give you insight into what kind of language your customer uses.
This is incredibly valuable because it helps you personalize your "copy" or the persuasive language you use to connect with your audience.
The more information you have about your audience, the easier it is to design your copy to inspire users toward your CTA.
But how do you get customers to fill out these critical survey forms? You guessed it: email remains your best bet.
You can distribute these surveys directly in the email campaigns. Or you can also send users to your website and create a survey form directly in your OptinMonster campaign.
Here's an example of what that would look like: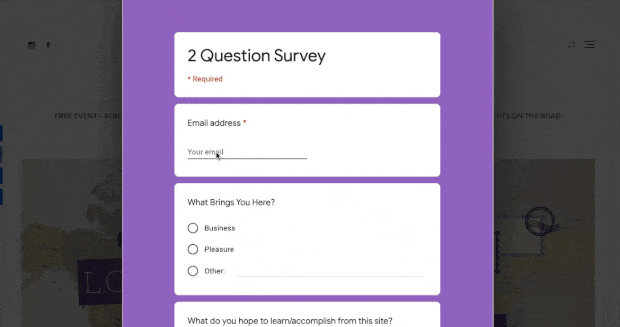 Now you can send users to your website (to boost pageviews and user sessions) and design a survey popup form to catch their attention.
For more information on how to do this, check out this resource: How to Add a Custom HTML Popup to Your Website.
That article has everything you need to add survey forms to your optin campaigns.
8. Collect Testimonials and Reviews for Social Proof
Along with surveys, you can also use email marketing to boost your testimonials and reviews.
These are both powerful forms of social proof that you can use to leverage more sales. You may have noticed many websites use testimonials on their website to appear more credible.
This is a common tactic because people typically won't buy products from websites they don't trust. But by seeing that other people have already bought things from you in the past, they'll feel more confident doing so, too.
Plus, you can send out an email with a CTA to leave your business a review on 3rd-party sites like Google My Business or Yelp.
Then you can create social proof notifications for your site to proudly display these reviews. For that, you should definitely check out TrustPulse: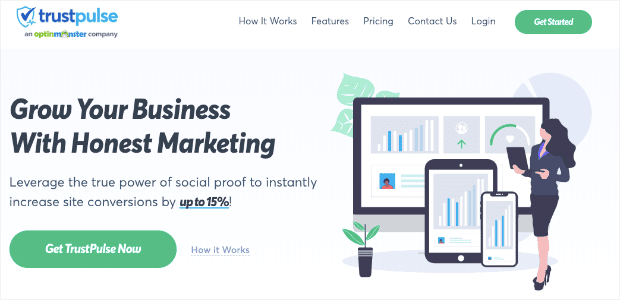 TrustPulse is the world's best social proof software. It allows you to create social proof notifications for all occasions, which includes displaying your positive reviews.
In fact, TrustPulse users have been known to see an instant boost in sales by up to 15%.
By running your email marketing strategy the right way, you can easily increase the number of testimonials and reviews you get across your site.
9. Maintain 100% Control over Your Audience
Out of all the email marketing benefits, this may be one of the biggest: you want complete control over your audience.
More than any other platform, email marketing gives you the most stability.
With social media, you always run the risk of having your account suspended or shut down. Sometimes this isn't even from something you did intentionally wrong.
People have had their accounts shut down for promoting their page on certain groups (without knowing they couldn't) or by breaking other rules they weren't aware of.
It's why you hear horror stories of people building their entire business in Facebook pages and groups, only to get shut down and lose everything.
And the world of content marketing isn't any better.
Thanks to algorithm updates and changes in SEO ranking factors by Google, you never know when your content will fluctuate on the results pages (SERPs).
One day you could rank #1 for a keyword that gives you tons of traffic. The next? You could drop to page 2 and lost all those monthly views.
But with email marketing, you are in total control of your contact list. If your account gets wrongfully suspended (which rarely happens), you still have your contact list stored.
And if you're using OptinMonster, you can keep a separate list of your new leads with Monster Leads.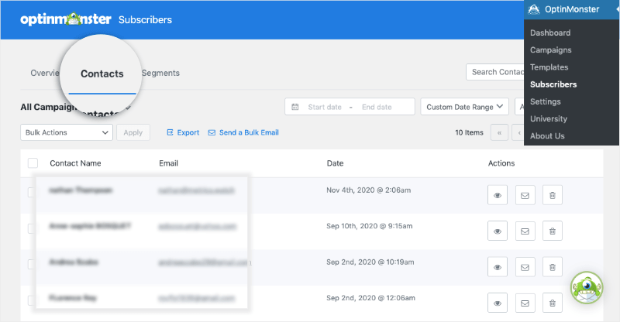 This means you'll never lose your contacts and will always have instant access to people who are subscribed to your list.
10. Personalize Your Message With Segmentation
Earlier, we chatted about something called "segmentation." Segmentation is when you organize your contact list by interests, demographics, purchase history, and other factors that help you communicate more efficiently with the customer.
Email marketing is one of the few platforms that allows you to organize your audience in a way that makes sense.
If you have people interested in blog updates, you can craft your messaging around your content. You can show related offers for new products for people who purchased things from you in the past.
Or, for people who live in a specific region, you can share your in-store deals to generate more foot traffic.
But none of these messages will be effective if you send them to the wrong people.
That's because the entire goal of marketing is to connect with your consumer in a way that they understand. It's about targeting the right offers to people who would be most likely to buy the product at that time.
By segmenting your email list, you'll see huge leaps in your conversion rates. Plus, segmentation can't be done on other platforms like social media or content marketing–at least not with the same accuracy as email.
Plus, when you use a tool like OptinMonster, you can segment your audience based on the optin campaign you show them.
So if you know people who sign up for a specific lead magnet are more likely to purchase a certain product from your store, you can tag the new lead from your OptinMonster account: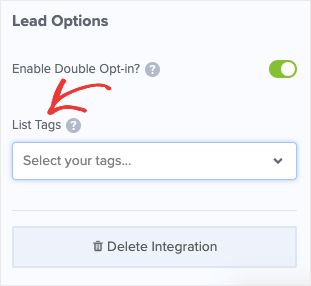 Then in your ESP, you can create email campaigns for people with that tag to increase your conversions.
11. Refine Open Rates With A/B Testing
Any email marketer who knows what they're doing will tell you that no email campaign is ever truly "done."
When you're starting to see sales from your list, you most likely have one thing run through your mind: how can I get even more?
That's because professional marketers know that they need to focus on optimization–making small tweaks to their campaign to test where improvements can be found.
Email marketing allows you to create A/B tests of the emails you send out. If you find that Email A sold 15% more products than Email B, then you'd send all new leads to Email A.
Then, over time, you'd continue to test your email copy until you're confident that you're not leaving any sales on the table.
This is something that you can't do as easily or accurately with social media (except for with paid ads). And while you can A/B test your site's content with tools like Google Optimize, it's not very user-friendly or intuitive.
In other words, most platforms make A/B testing a nightmare.
But most ESPs allow you to quickly and easily A/B test all of your emails and give you the analytics tools to track their success.
Most people don't know that you can use A/B testing to grow your list. With OptinMonster's Split Test, you can create a duplicate of any campaign: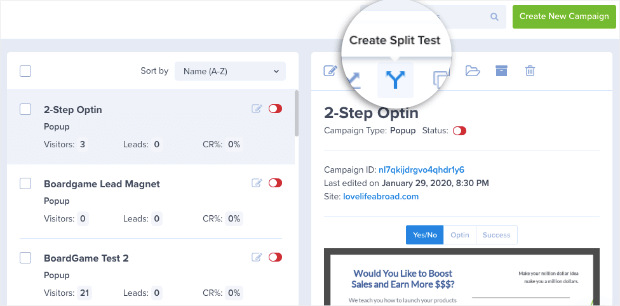 Then, you can change elements of that campaign, such as the headline or image, and OptinMonster will randomly show both versions to your audience:

When you review the campaigns from your dashboard, you'll see which ones have higher conversion rates, and you'll be able to run your best performing one.
This lets you rest assured that you're never leaving new leads on the table.
12. Open the Lines of Communication
So far, we've really only covered the benefits of email marketing for you. But there's another advantage: email gives your customers a voice.
This is good because it gives customers another channel to contact you for questions or problems with your business.
Rather than trying to track you down on social media, users can simply go to their inbox and search for your brand's name.
Then they can pull up your last email and hit "Reply."
This is a much more intuitive process for many users. That's because nearly everyone uses email every single day. But only a handful use social media to communicate with businesses.
By keeping this line of communication open, you encourage users to reach out with their questions. This helps you nurture the relationship, increase your sales, and reduce your company's churn rate.
13. Start Now (No Matter What Stage of Business)
The final benefit of email marketing is simple: you can get started no matter what stage in business you are.
Whether you run a successful, 7-figure company or you're working from your parents' basement, email marketing has almost no barrier to entry.
Again, it's more affordable than other channels, gives you a great ROI, and is incredibly easy to set up.
All you really need is an internet connection, an email address, and a bit of time to write compelling email copy.
From there, the sky really is the limit.
And that's it! These have been the top 13 email marketing benefits.
We hope you found this post helpful. If you did, you might also want to check out the following resources:
These guides will have everything you need to take your email marketing strategy to the next level to get more leads and increase your profits.