How do you make your business stand out in an ultra-competitive, multi-million dollar industry? That's a question that travel marketers have to wrestle with every day.
Travel is one of the world's largest industries, contributing US$7.6 trillion to the world economy, according to Statista. Around 1.2 million people traveled internationally in 2016.
With a lot of competition, and a large potential market, it's essential to find effective ways to reach new customers, retain existing ones, and make your business stand out.
One of the best ways to do that is with travel industry email marketing.
As our email marketing statistics roundup shows, Statista says more than 90% of American adults use email. Email has an ROI of $38 for every dollar spent, which is better than the ROI for both direct mail and social media.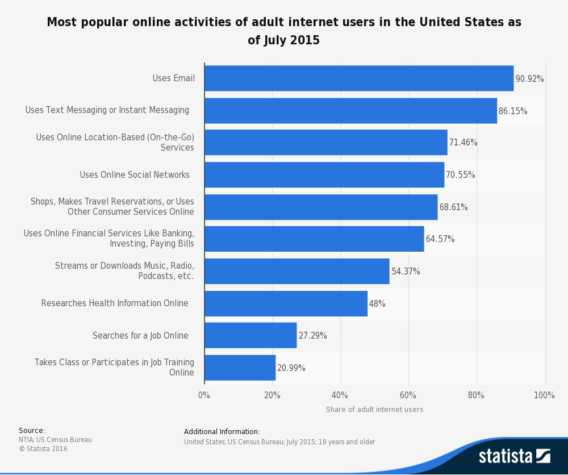 This guide will show how marketers and travelers view travel industry email marketing. It'll look at the increasing importance of mobile, and will give some email marketing tips and best practices for the travel industry.
By the end, you'll know how to nail travel industry email marketing so that more people use your travel business to book flights, reserve accommodation, rent cars, and do other travel-related tasks.
Benefits of Travel Industry Email Marketing
Email marketing has a lot to offer the travel industry, and travel industry professionals know it. According to MailChimp, travel email marketing has a 20.69% open rate.
That's no doubt why 84% of travel brands use email marketing to help them retain customers.
With people starting to plan their trips 84 days ahead, according to Litmus, email marketing helps woo customers while they're making their minds up, and can even make people who weren't planning a trip decide to buy. That's a nice boost to the bottom line.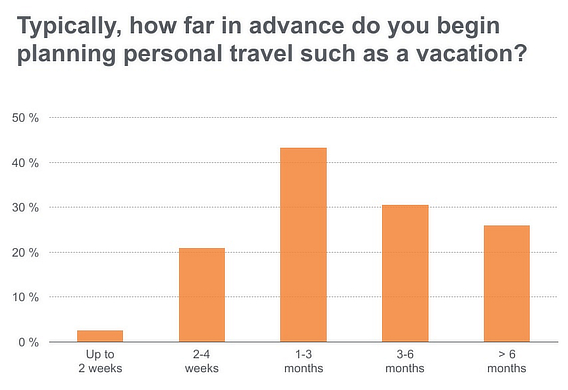 Other benefits of travel email marketing include:
Building brand loyalty among your existing customers.
Attracting and retaining new customers.
Letting small travel firms compete successfully for attention with larger ones.
Getting your share of a large, vibrant market. In the US alone, travelers spend $31,400 a second, according to the USTA.
Smartphones: World's Favorite Travel Accessory
There's one major industry trend that affects how you'll implement your email marketing strategy as a travel marketer: the rise of the smartphone.
Smartphones have become a favorite travel accessory for 76% of people (even ranking higher than a loved one), says Eye for Travel.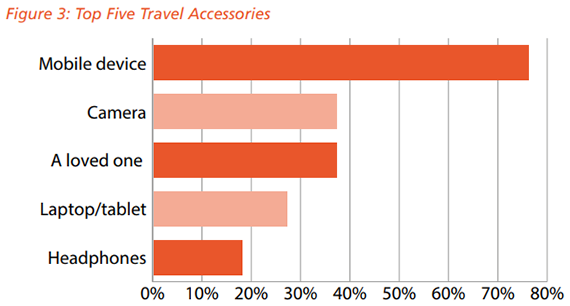 A report from Email Monks reveals that 69% of travel emails are opened on mobile devices.
But despite the rise of mobile, travel brands can't ignore desktops for email marketing. The reason: conversions. Although people research destinations on mobile devices, for now, at least, more people complete travel sales on desktop computers.
That's why you must include emails optimized for both types of devices in your travel marketing mix.
Now let's get started with our travel industry email marketing tips. You'll need to follow these six steps to build and manage your list.
Step 1: Set Up Your Email List
The first step is to choose an email service provider.
You'll need to look for a beginner-friendly provider that provides templates so you can design emails without having to code. You'll also want to make sure they provide helpful customer service, and analytics so you can see how your emails are performing.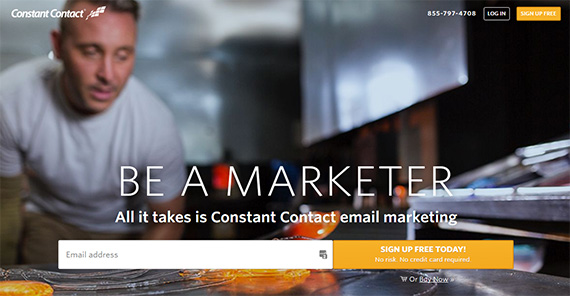 We recommend giving Constant Contact a try. Rated by WPBeginner as the best email marketing service of 2017, it's a solid choice for travel email marketing.
You can try Constant Contact for free for 60 days. After that plans start at $20/month.
Step 2: Create Your Welcome Email
The first email you send subscribers is the most important, because it sets the tone for your relationship with them. For most businesses, that's the welcome email, which has a 60% open rate.
A good welcome email will help you retain the subscribers you've already attracted, and make them feel good about being on your email list. To create your welcome email:
Craft a killer email subject line to encourage people to open and read it.
Introduce your company and yourself briefly, and help subscribers get started with the services you offer. Keep your welcome email content short, relevant and valuable.
Include a call to action (CTA) that asks subscribers to do one thing that gets them more involved with your company. It doesn't need to be complicated; just reading a blog post or sharing a piece of content begins the bonding process.
In this travel newsletter example from Hotwire, they keep their email short, reminding subscribers of the benefits of joining Hotwire and including a CTA to download their app: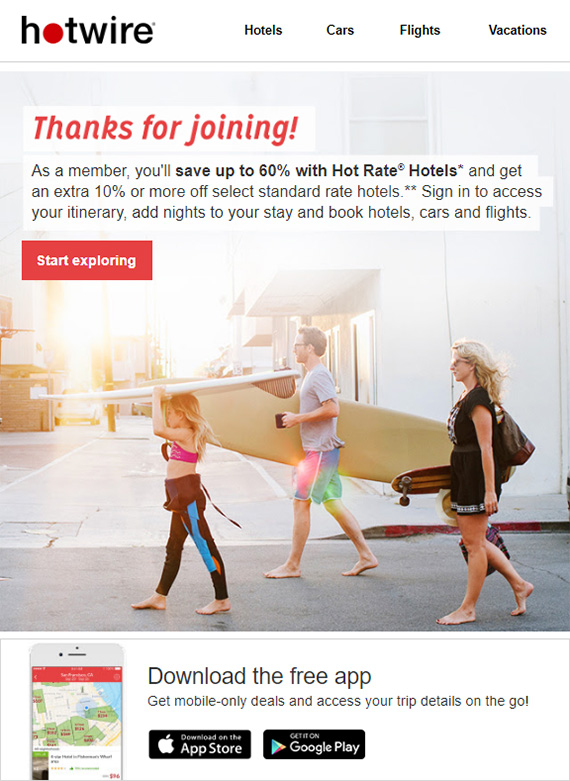 Step 3: Collect Email Addresses
Now your email list is set up and ready to start welcoming new subscribers.
Next, it's time to collect email addresses so you can market your business to potential customers. Don't be tempted to take a shortcut and buy an email list. Buying a list is a waste of money, since they're usually full of outdated or wrong information, and you'll get blacklisted when recipients start reporting you for spam – emailing them without permission.
Instead, it's better to build your email list on your travel website, because people who visit are already interested in your company.
That's why you should put an optin form on your website to get email newsletter signups.
It's also useful to offer an incentive for signing up, like a coupon. See the example below from Avenue Hotel Canberra: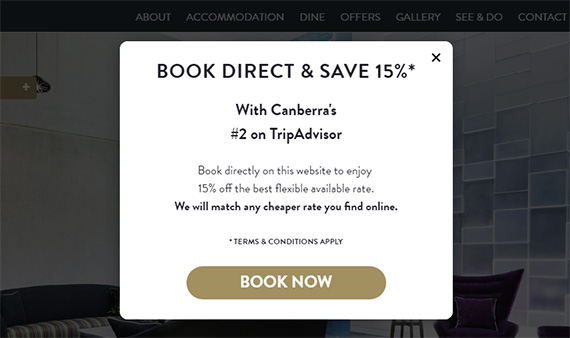 Here's how you could create something similar:
First, you'll need to create a new campaign with the Lightbox campaign type.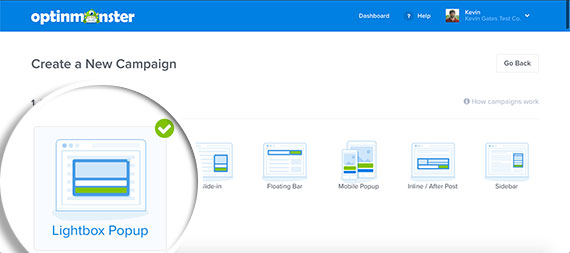 Then choose a template. We're going to use the Coupon template in our example. You can scroll down to find it, or just type "coupon" in the search box like we did: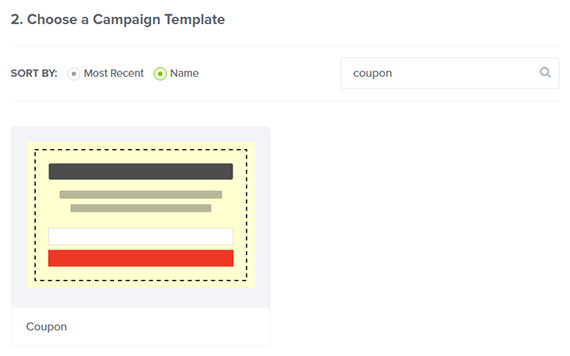 Our campaign will offer a coupon as a lead magnet in exchange for the visitor's email address.
To recreate the example above, we'll need to enable the Yes/No button option. Just click Yes/No in the left menu, and click Enable Yes / No Buttons? to turn them on.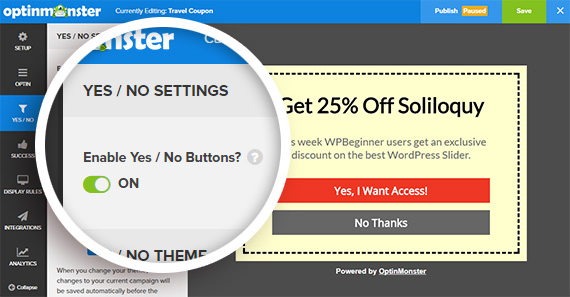 Then we can scroll down a bit to turn off the No button.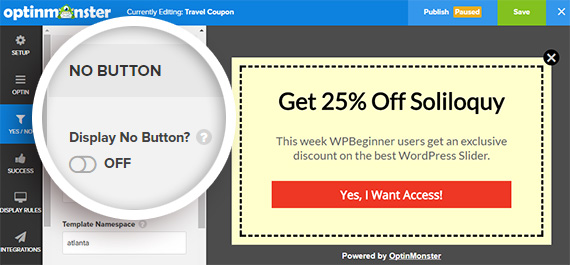 Next, you can customize the campaign's text, colors, call to action, and more.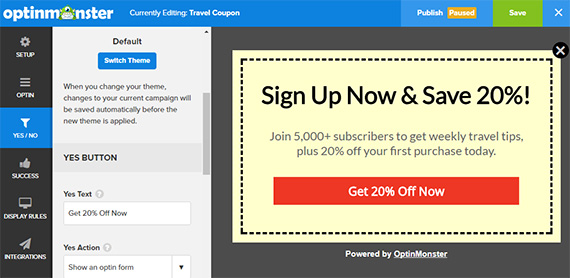 When a visitor clicks on the button, an optin form will display. You can customize it by clicking on the Optin tab on the left.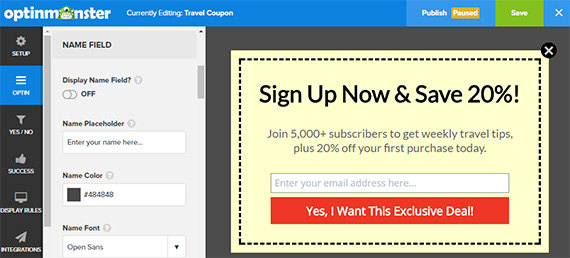 Now you'll need to deliver the coupon code after the visitor subscribes. We recommend giving them the code right away, as well as delivering it to their email.
To display the coupon code in the optin, click on the Success tab. Here you can choose a success theme. We used the default theme, but changed the background color to match our campaign.
Then just edit the text to include your coupon code.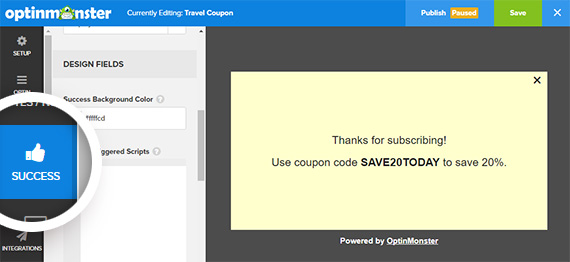 Next, you'll want to enable exit intent so the campaign shows just before people abandon your site. To do that, click on the Display Rules tab on the left. Then click on On Exit Intent and set to Active.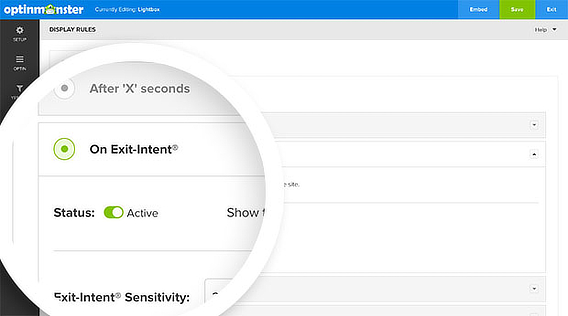 Make sure your campaign is integrated with your email services so your visitors can automatically be added to your email list. See our integration guides here for step-by-step instructions for our dozens of integrations.
Finally, you'll need to embed your campaign on your website. OptinMonster can be used on any website platform. Check out our platform guides for more details on how to set it up on your site.
With a campaign like this, you'll see your subscriber numbers increase. ChinaImportal and OlyPlant used similar campaigns to convert up to 11% of abandoning visitors into subscribers.
Step 4: Get the Timing Right
Before you begin to email your subscribers, you'll need to decide how often you'll send them emails.
Avoid the temptation to email too often. Campaign Monitor's data shows that almost 44% of people want businesses to send less email.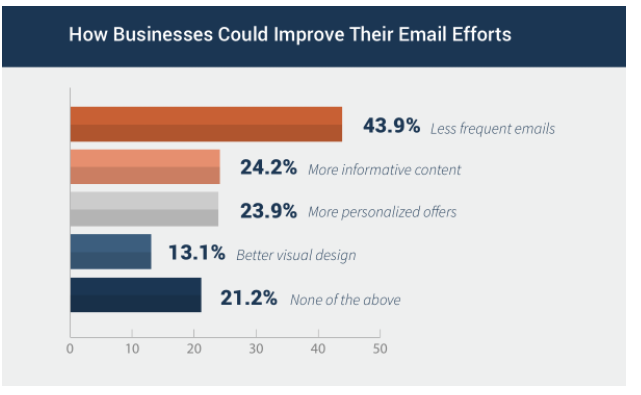 The danger of sending too much email is that people will mark your emails as spam, unsubscribe or simply never open them. Those are all terrible options from a marketing viewpoint.
The latest email marketing benchmarks from GetResponse show that those who send one newsletter a week get the highest open and click-through rate, at 37.08% and 5.58% respectively, so that's a good starting point for your own travel email marketing schedule.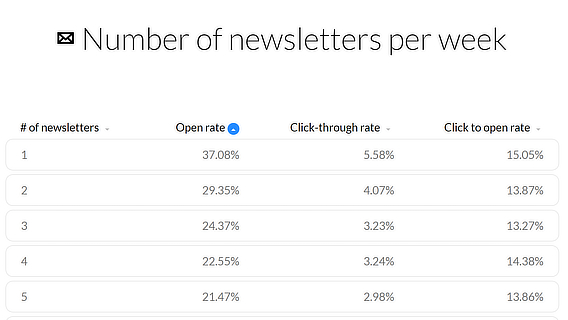 However, this is an average across all industries, so you'll need to work out the ideal frequency for your own audience.
Step 5: Plan Your Email Marketing Calendar
After deciding on email frequency, you can begin to create your email marketing calendar. With an email marketing calendar, you'll know exactly what to send on which dates and can see your email marketing plan at a glance.
We recommend planning your calendar at least a month in advance, up to a full year if you're able to. Planning in advance will save you time since you don't have to brainstorm topics every week, and it'll allow you to take advantage of events and holidays to send promotional emails.
Hubspot has a useful email marketing calendar template you can use, but you can also just use any blank calendar, physical or online.
To get started with your own email marketing calendar:
Start by planning promotions for the biggest travel holidays.
Add in regular broadcasts, for example emails that update customers about new articles on your blog.
Include any upcoming announcements that you know about in advance, such as changes within the company.
Finally, fill in the blanks with some of the travel newsletter ideas suggested below.
Step 6: Brainstorm Travel Newsletter Ideas
Many marketers struggle with content creation, so here are a few travel newsletter ideas to get you started:
Destination guides
Travel tips and essential information
Recommended destinations or trips
Spotlights on attractions or events
Information on holidays and festivals
Reviews of both destinations and travel services
Travel stories from other customers
Polls and quizzes
Deals, discounts and loyalty offers
Cross-promotional offers (say, for hotels and car rental)
Here's a travel newsletter example from Quinta M, a hotel in Portugal, about a local event: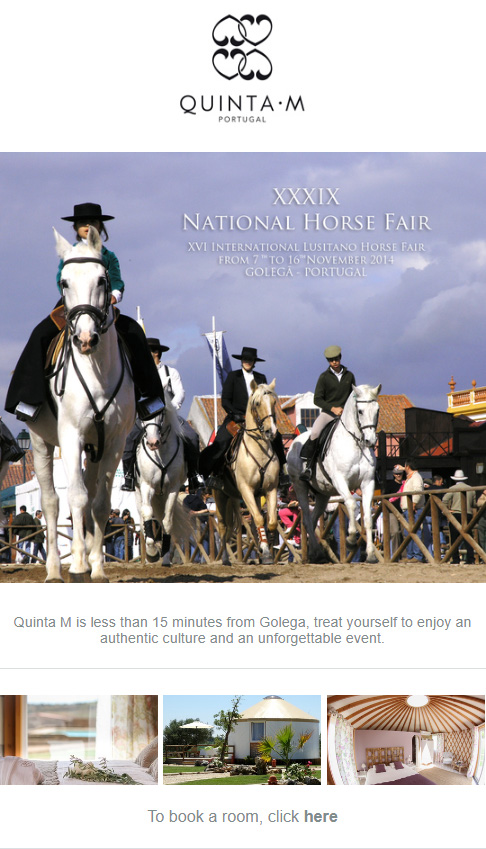 As we mentioned, you can also include content from your blog (if you're not blogging yet, here's how you can start a blog), favorable press coverage, and insider views of your travel company.
5 Tips for Successful Travel Email Marketing
Now you've got your travel newsletter all planned out. Next, let's look at some practical strategies to improve your travel industry email marketing.
1. Personalize your marketing
There may be billions of travelers worldwide, but each one wants to feel special.
That's why it's important to tailor your travel industry email marketing promotions to people's behavior and interests. The more relevant an offer is, the more likely it is that they'll make a reservation.
Using personalization can be as simple as using someone's name in your emails and travel campaigns. Research by Experian showed that personalized email subject lines resulted in 26% higher unique open rates, with travel companies experiencing the biggest boost from personalized subject lines: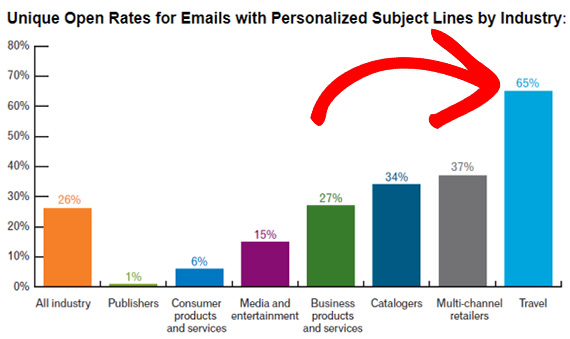 On your own website, one way to get personal with your customers is to use OptinMonster's dynamic text replacement feature to personalize your campaigns. That lets you use information you already have to personalize future interactions.
In the example below, this travel firm already has the person's name, and has used that to get their attention for an offer.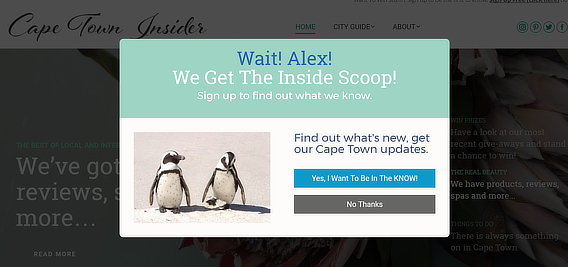 And in this example, an offer is made based on the content the visitor is were looking at. It's easy to see how a travel site could use this to show offers related to particular destinations, experiences or types of travel, using page level targeting.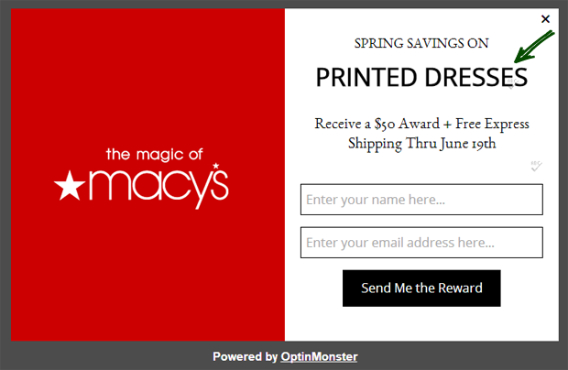 2. Include videos
Did you know that, according to Econsultancy, 66% of travelers watch videos when researching a destination?
As our video marketing statistics roundup shows, marketers who use video increase brand awareness by 54% and get 66% more leads.
In addition to using videos in your emails, you can grab travelers' attention early by embedding travel videos in your OptinMonster campaigns. In fact, we've got a couple of themes that are particularly suited to video embeds.
To embed a video in your campaign, you'll need to:
Choose a template that supports video.
Grab the URL of the video you want to embed.
Add it to the template and save.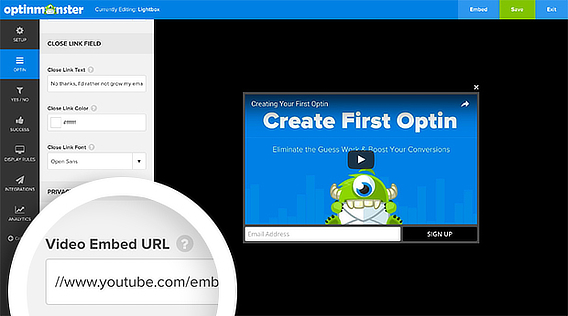 Check out our full tutorial on embedding video with OptinMonster, plus a guide for showing a campaign after a video, if you prefer that approach.
3. Use their location
Another useful type of personalization is to display custom campaigns based on where your visitors are located.
In OptinMonster, you can do that once you've created a campaign by:
Going to the Display Rules section of your dashboard.
Scrolling to Who should see the campaign?
Activating Visitors from a specific physical location.
Choosing and validating your target location.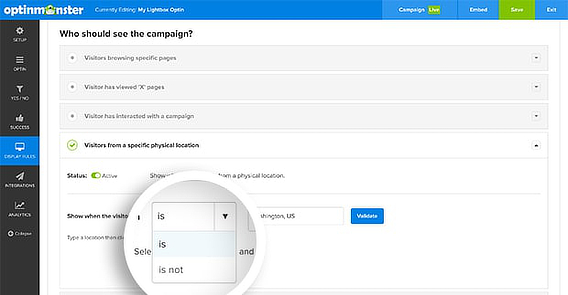 Here's a full guide to geo-targeting campaigns with OptinMonster.
4. Make your offers urgent
Urgency is a tried and true marketing tactic, and nothing says "buy now" like a limited time offer. Digital Marketer used urgency to get a conversion rate of 8.45% for one campaign.
You can use this technique for your travel email marketing. We're willing to bet that flash travel sales are one of the reasons some people make those unexpected travel purchases we mentioned earlier.
OptinMonster is the perfect way to do this. Just use a floating bar campaign with the countdown theme, and set an end date for your sale. Here's the full tutorial on creating a sales timer. We've had amazing results with this combo, so we know it works.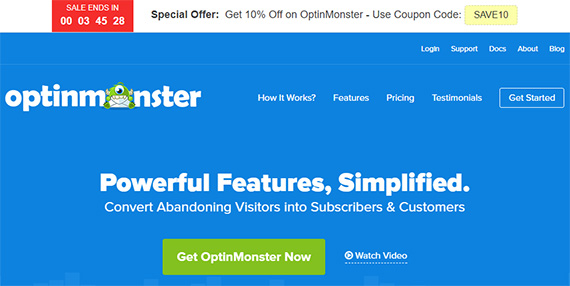 5. Detect their device
As mentioned earlier, mobile is where it's at for travel email marketing, so make sure your campaigns are appropriate for the device subscribers are using.
OptinMonster's page level targeting feature can also detect when users are on a tablet or phone and show the right campaign accordingly.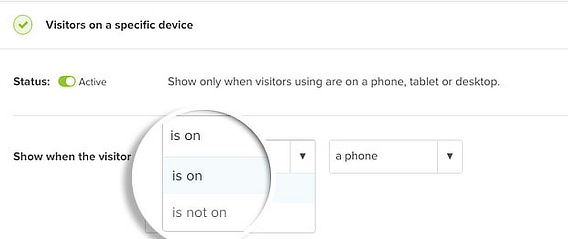 You can even use our InactivitySensor™ to display a travel offer that grabs the attention of disengaged and abandoning visitors on any device.
Both these approaches can help boost mobile conversions. Here are some more tips for maximizing conversions from your mobile campaigns.
Now you know how to keep those bookings coming with travel industry email marketing, check out these simple ways to get even more email subscribers, and be sure to follow us on Twitter and Facebook for more in-depth guides.