With so many other ways to reach customers, many marketers and business owners wonder, is it still worth sending email?
The short answer: Email marketing is here to stay.
This article will share email marketing statistics that show that, far from being dead, email marketing is an essential tool for attracting and retaining customers. Along the way, you'll pick up some info that'll help you refine your own email marketing strategy.
Email Marketing Facts
Let's be clear: The stats show that email isn't going anywhere.
Did you know that we send around 74 trillion emails every year? And the numbers keep going up, with 28% more email sent in 2016 than in 2015, according to the Communicator Email Benchmark Report 2016.
In 2017, the numbers will be even higher, as the latest Radicati Group Email Statistics Report shows. People will send and receive 269 billion emails per day in 2017, with an expected 3.7 billion email users worldwide by the end of the year. In five years' time, there'll be even more email with an expected 319.6 billion emails sent.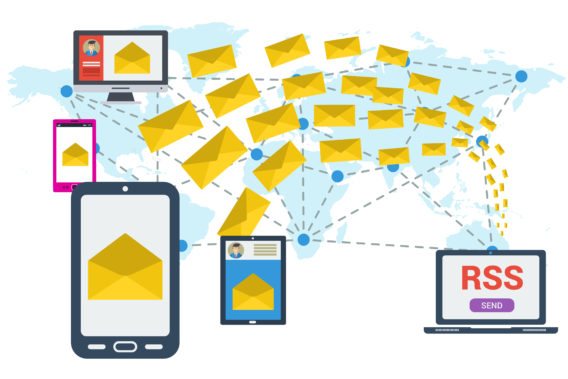 Who's using email? In the US alone, more than 90% of adults use email, it turns out. 
And it's not just older people using email. Despite the rise of social messaging apps, 74% of teenagers use email, say Adestra.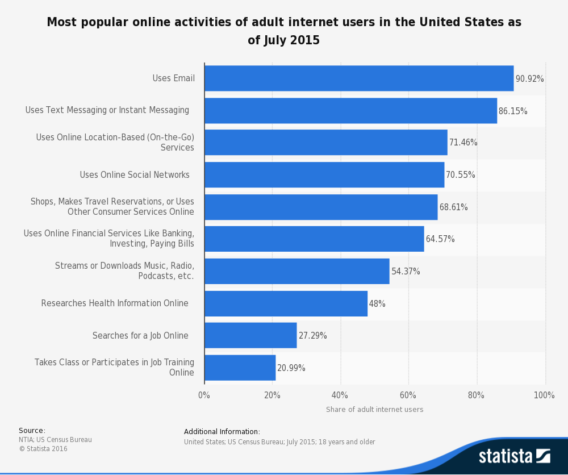 Key takeaway:  No matter what age group you are targeting or where they are located, email remains a great way to reach your audience.
How do people usually check their email – on desktop or mobile? By far the largest number are using the iOS mail client, whether that's on the iPhone or iPad, says Litmus. The next largest group use Gmail, who recently reported more than one billion users.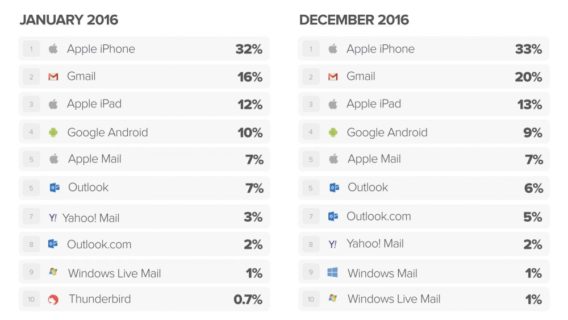 So how many of those emails actually get delivered? According to DMA Insight's 2016 email benchmarks, the average deliverability rate for email was 98%.
(Compare that to social media, where you have to time your message just right, and still only reach a small portion of your followers.)
Key takeaway: Emails reach most of the people they're intended for, so email marketing remains an essential part of your marketing strategy. Give your emails a better chance of reaching your customers by reading our guide: 11 Reasons Why Your Emails Go in the Spam Box and How to Make Sure They Don't.
Consumers and Email Marketing
If you're wondering how email marketing looks from the consumer point of view, this next batch of email marketing stats gives some insight.  According to Adestra, consumers prefer email for communicating with the brands they're connected with.
Email is also the dominant communication tool for professionals. Some 95% of professionals use email, making it ideal for business to business communication.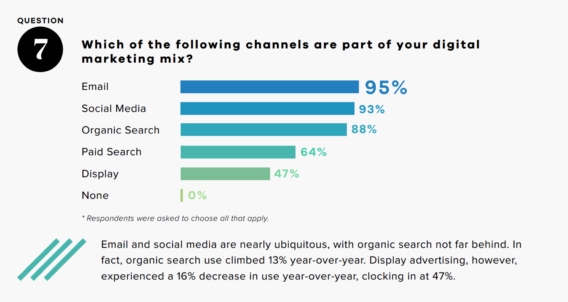 It's not all good news, though. DMA Insight says consumers also say they get too many irrelevant emails from brands. And with 17.3% of emails sent classified as spam according to Radicati Group research, it's easy to see how consumers could easily be put off by getting the wrong emails.
It's also easier than ever for consumers to fight back, with changes to email apps making it easier for them to block emails they don't want.
The best way to fight this is with personalization. Communicator Corp says personalization reduces email unsubscribes, increases the number of clicks and results in a higher open rate.  Automated emails which include personalization have a 75% higher open rate than those that don't.
Key takeaway: Consumers now have more power to get rid of the irrelevant emails that they hate. One way to fix this is with personalization. Read our guide to learn how to make your optins more personal with dynamic text replacement.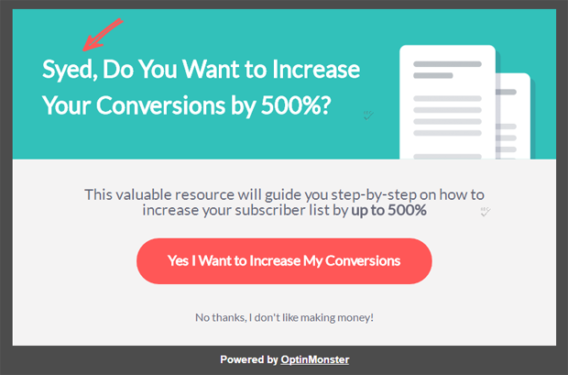 What Email Marketers Say
When it comes to email marketing software, marketers are spoilt for choice. But how do they feel about the emails they send?
It turns out that relevance is a huge concern for them, too. DMA reports that 42% of marketers say only some of the emails they send are relevant, and a whopping 10% say their emails aren't relevant at all. That's an issue, with consumers trashing irrelevant email.
Content is a big issue for email marketers. According to DMA, 25% of marketers have trouble getting content for their email marketing campaigns. Since we know that content is one of the main ways to attract and retain your audience, finding ways to create good content has to be a priority for any marketer. Check out our guides to creating a content marketing strategy and growing your list with content upgrades.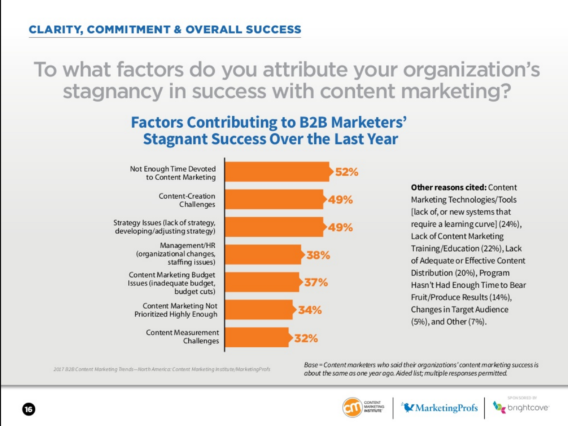 As we're always saying on OptinMonster, one way to figure out if your emails are working is to test them. It turns out that marketers agree, as 92% test their emails. However, 14% don't feel confident about testing, says DMA Insight. Don't worry; we've got your back with the Ultimate Guide to Split Testing Your Email Newsletters.
Key takeaway: Email marketers agree with consumers about the issue of relevance in email marketing. This will become more important, so there's work to do here.
Email Marketing ROI
Another issue people wonder about is the ROI of email marketing. In other words, is it really worth it? Uh, yeah! Our own comparison of email marketing vs social media shows that email outperforms social by miles. And Chief Marketer says the ROI of email marketing is 28.5% better than for direct mail.
Still not convinced? Chief Marketer also says email marketing outperforms other tactics for lead generation, while Hubspot is clear that it improves sales. Email Monday even puts a number on it: every dollar you spend on email marketing brings you $38 in return.
Key takeaway: although the numbers vary, all the statistics agree that email marketing delivers excellent ROI. Find out the ROI of your own campaign by reading our guide on How to Measure the Effectiveness of Your Email Campaigns.
Email Marketing Benefits
So, what are some of the benefits of email marketing that make it a must for marketers?
Remember how we said that consumers still like email? Turns out that they use emails for shopping and finding deals. That's the skinny from Clench Media). Some 45% of people redeem coupons via their mobile devices.
Clench are also fans of the reach and adaptability of email. There are multiple other communication methods out there, but email has managed to adapt and stay relevant.
For us, one of the big reasons to use email is that social media platforms come and go. The time when MySpace was relevant is far in the past, but some people are still reeling from the shutdown of Vine.
Social media sites can also take away your profile at any time. It happened to world-famous skydiver Felix Baumgartner, who had over a million fans at the time. Makes you think, doesn't it?
Here's why it makes sense to focus on your own email marketing list. When you build a list, you own that list but you don't own social. That's why email is a better long-term proposition for connecting with your customers.
Key takeaway: Email marketing has shown it has the capacity to evolve so it's a must for marketers wanting to stay relevant to their customers. Learn how to start your own email marketing strategy right in our Ultimate Guide to Email Marketing for Beginners.
Mobile Email Marketing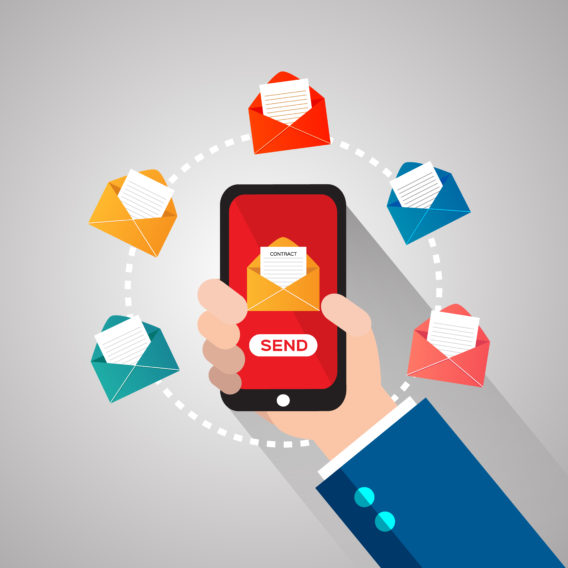 These days, nobody can afford to ignore mobile email marketing. Remember those 1 billion Gmail users we mentioned earlier? Well, 75% of Gmail users use mobile devices. And let's not forget about all those iOS users.
When it comes to email, smartphones rock! According to Adestra, 86% of people use their phones to check personal email and 34% use them for business email. In fact, email is the second most important activity carried out on smartphones, with more than half of all email read on mobile devices.
If you're targeting a younger demographic, then pay attention to this: almost all young people use smartphones. And 73% of teens and 81% of millennials use "inbox triaging" to decide how to handle their emails. That means if they think your email looks irrelevant, they won't even open it.
Key takeaway: It's no longer optional to have optins that work well on mobile devices. If you don't, you're missing out on a lot of potential connections, customers, leads and sales. To solve this issue, read our guide on How to Create a Mobile Optin.
Email Marketing Predictions for 2017 and Beyond
So, what's coming up in email marketing over the next year or so? Litmus has some email marketing predictions we should pay attention to:
Interactivity, where email recipients can interact with your content without leaving the email.
Using big data and integrating data so that marketers have a detailed, end-to-end view of their customers and can really rock personalization.
Related to that, this integration will let marketers create an omnichannel experience where customers are recognized wherever they happen to connect with the company.
Embedding HTML5 video into emails (supported by the latest version of iOS where 53% of emails are opened).
More email automation focused on emails that are triggered by user actions.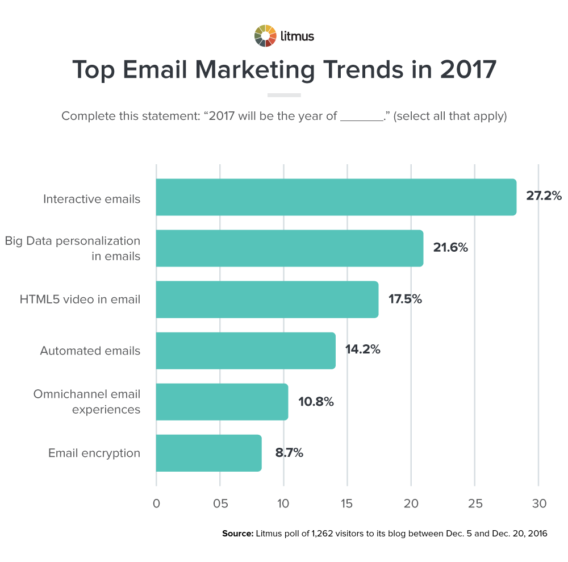 Key takeaway: Customers will expect an even more personal email experience, and marketers will have to use more tools and technologies to deliver that.
Three other predictions worth paying attention to are:
Increased encryption may be on the horizon if another email provider decides to flag secure emails as Gmail already does.
Irrelevant messaging is increasingly likely to get lost as email recipients ignore or delete it.
With the Internet of Things (IoT) becoming popular, especially in younger demographics, marketers need to return to including plain text versions of marketing emails.
Key takeaway: the future looks bright for email marketing but marketers must keep on their toes to get ahead of these coming trends.
So, is email marketing dead? It's pretty clear to us that (with apologies to Mark Twain) the reports of email marketing's death are greatly exaggerated.
Far from being dead, email marketing is alive, well and increasingly relevant for you to reach audiences across generations. Give yourself a head start by checking out these subject lines that boost your email open rates.
For more free guides to email marketing, be sure to follow us on Twitter and Facebook.