At OptinMonster, our goal is to help recover abandoning website visitors into subscribers and customers. That's why we were the first to offer a powerful Exit-Intent® technology that our customers have seen tremendous success with.
Now we're pushing that even further with our new InactivitySensor™. This allows you to grab the attention of disengaged and abandoning visitors on any device (mobile, tablet, and desktops).
---
What Is the InactivitySensor?
InactivitySensor monitors user behavior and detect when a visitor stops all activity on your site (scrolling, mouse movement, or typing). After that, it triggers a targeted campaign based on the setting you choose.
Mobile users often cease scrolling and interacting with your site when they're no longer engaged with your content, and are about to close their internet browser. The InactivitySensor is the best opportunity to capture those leads before they abandon your site for good.
How to Use the InactivitySensor
In the Display Rules, use the visitor inactive time rule to use the InactivitySensor.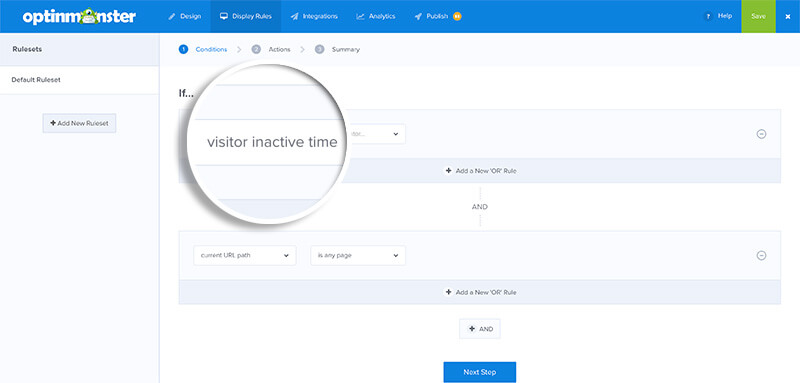 The most effective way to use this rule is to target desktop and mobile users separately.
For desktop users, your delay may need to be longer as their monitors will not automatically dim or close like a mobile phone is more likely to do. Therefore, study your Google Analytics data for your site and test your how many seconds of inactivity produce the best results for your site.
For mobile users, you will likely want a lot shorter time period for the seconds of inactivity. This is because a user is often scrolling on mobile devices while they are actively engaged on your site. Once again, review your Google Analytics data for your mobile users as well to get the best indicator.
---
Frequently Asked Questions
Q: How do I get more subscriptions by using this rule?
A: The best way to use this rule is to use an OR condition with the exit-intent rule so that it will target users who get ready to leave or stop browsing.
Next, it's best to create split tests so you can determine the best time of inactivity, for the most impressions and more importantly a higher conversion rate.