Is your mobile conversion rate lagging behind conversions from visitors on desktop computers? You can't afford to ignore your mobile users, whose numbers increase daily.
That's because mobile is a key channel for people researching your products and services, and connecting with your company. The latest research shows that 70% of media time and 79% of social media time happens on mobile devices.
With more people using mobile devices than desktops, it's essential for businesses to future-proof their marketing strategy by boosting those mobile conversion rates.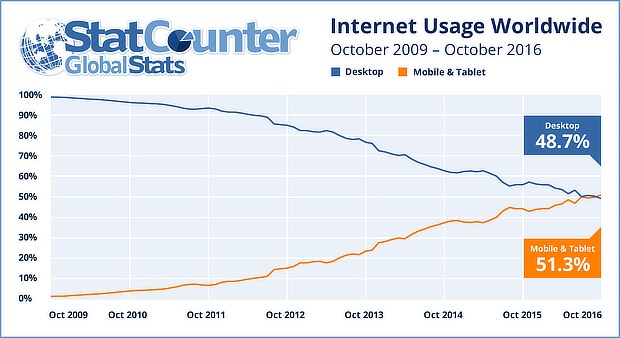 What is Mobile Conversion Rate Optimization?
Before we talk about optimization, let's start with a mobile conversion definition:
Mobile conversion rate is the percentage of people who opted in to your mobile marketing campaign, out of the total number of people who saw the campaign.
The higher that percentage, the more successful your mobile marketing strategy is. Mobile conversion rate optimization is simply using strategies to increase the percentage of people who convert.
In this guide, we're going to walk you through proven techniques to increase mobile conversion rates so you can capitalize on your mobile audience, improve lead generation and make more sales.
Here's a list of the methods for quick reference:
1. Speed Up Your Mobile Site
If there's one golden rule of improving mobile conversion rates, it's that speed matters – a lot! In addition to Google's long-standing focus on improving mobile page speed, there are a couple of incontrovertible pieces of evidence.
First, 40% of people abandon sites that take more than 3 seconds to load.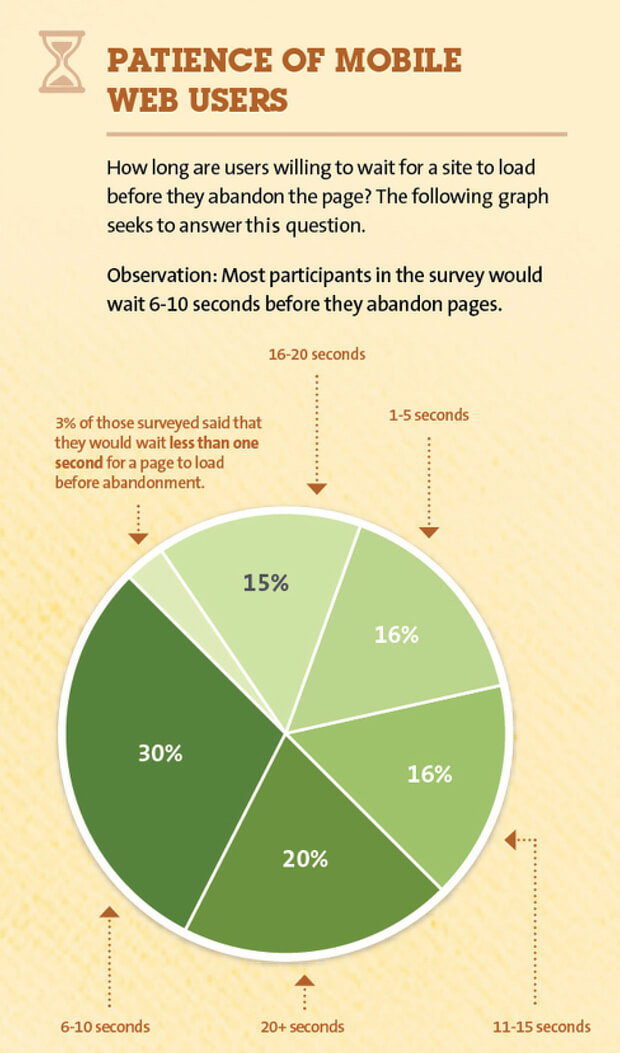 A big part of mobile page load speed is what's called render start time (RST), which is how long it takes for the first content to appear on the screen.
Sites with the best mobile RST get 50% more engagement than other sites, and more engagement increases your chances to increase mobile conversions.

How do you ensure your site is as fast as possible?
Other ways to improve page speed include:
If you're running a WordPress site, then WPBeginner has a great list of tips for boosting WordPress page speed on any device.
2. Improve Site Design
First impressions count, so that's why it's essential to nail mobile site design.
Google's own research shows it takes less than a second – a lot less – for people to form an impression about your site. And other research shows that great design builds trust and encourages visitors to stick around. Bad design doesn't.
You definitely want to look after usability, so people find it easy to get the information they need. We'll talk more about usability in tip #4.
You can solve this by:
Having a mobile-responsive site design (yes, it's worth repeating)
Paying attention to user flow so you can ensure mobile visitors are finding the right information to encourage them to convert
Making your onsite marketing campaigns mobile-friendly, too
Let's talk about this last point a bit more. There's no point in having a mobile-optimized site if your marketing campaigns aren't also optimized.
If your campaign ruins the browsing experience for mobile visitors, they'll just leave – and they may not come back. OptInMonster has a range of mobile popup templates designed specifically to optimize mobile conversions, so that's one issue you won't have to worry about.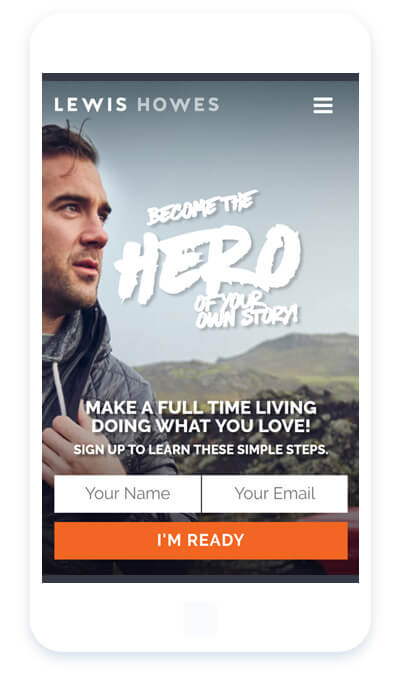 Get more inspiration from our mobile popup examples gallery.
3. Use Attractive Images
Not only do images get visitors' attention, but they can also help you form a connection with visitors. Jeff Bullas found that content with images got 94% more views than content without images.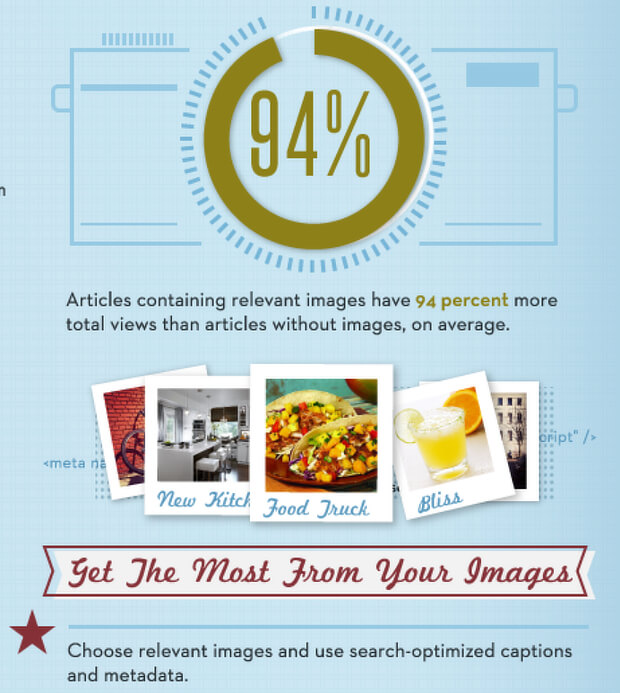 Some of the best images to use include:
Images of people because we're hard-wired to look at other people
High-quality images that elicit an emotion we want site visitors to feel
High-quality product images so visitors know what they're buying
There's just one thing to be aware of: the higher the image quality, the larger the original image. That's why it makes sense to compress and resize images so they load quickly on your site and don't affect page load speed.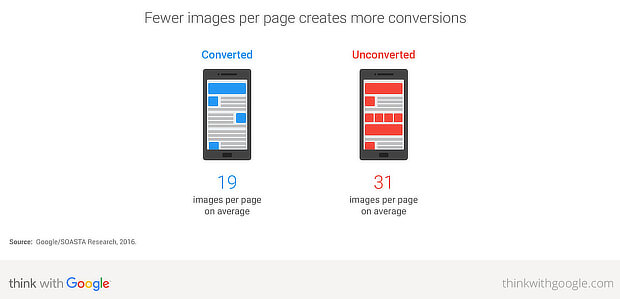 Stumped for where to get high-quality images? Check out our guide to getting free images online.
4. Make it Easier for Visitors to Use Your Website
We mentioned usability earlier, and this is an important part of any online interaction, whether on mobile or other devices. According to Jakob Nielsen, the acknowledged expert in this area, usability includes:
Making it easy for visitors to learn to do new tasks when they arrive on your site (like finding information or adding an item to their wishlist)
Ensuring that once they know what to do, the process is efficient
Making sure that if they come back to the site after a break, they can still easily accomplish what they need to
Making it easy for users to recover from common errors, like entering information incorrectly
How can we translate these usability principles to boost the mobile conversion rate? Here are a few ideas:
Highlight elements that are selected, for example when choosing options on an eCommerce store
Design your site to allow plenty of space for users to tap, so they don't end up frustrated by making the wrong selections
Ensure that the call to action (CTA) can be tapped to make the process of converting as easy as possible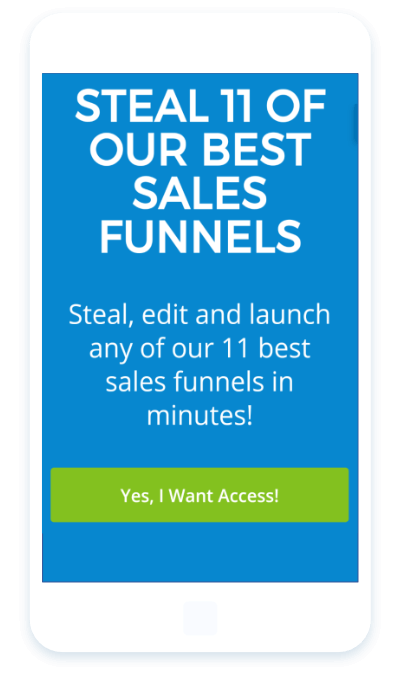 You can test mobile usability with tools like UXCam and UserZoom.
5. Implement Autocomplete
Still on the subject of usability, if you help users find what they want, then they're more likely to convert. One useful approach is to use autocomplete as part of onsite search functionality, similar to how Google works.
As users type, they see available options and can quickly select one, reducing the time it takes to find items, like this example from Amazon: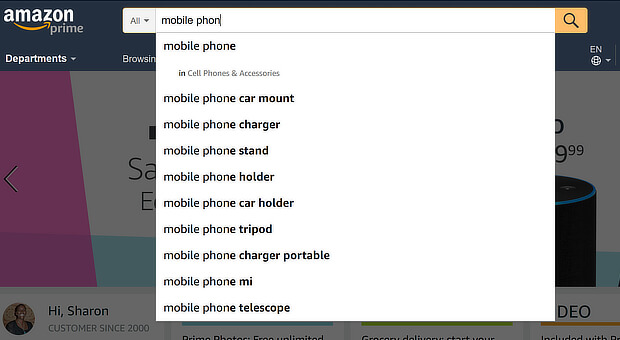 This is proven to boost conversions.
If you're using WooCommerce or Shopify, you can easily implement search autocomplete using a WordPress plugin or Shopify app. (See our lists of the best WooCommerce plugins and best Shopify apps for more tools to boost your revenue.)
Another option is to use onsite filtering tools, like the ones Amazon uses. This helps users get more and more relevant items with each selection, and relevance is known to improve conversions. Here are some additional tips on implementing onsite filtering.
Related Content: Conversion Rate Optimization Statistics You Need to Know
6. Use Product Videos
Getting visitors' attention is the first step in winning conversions. Our video marketing statistics roundup shows that if you want to get attention on mobile, using video is a great way to do it:
79% of consumers would rather watch a video than read about a product
84% of consumers have bought something after watching a video
90% of consumers watch videos on their mobile devices
And if you want to use video more widely in your marketing, follow our instructions for creating a video popup to boost engagement on your website.
7. Build Trust
When people trust you, they're more likely to take the desired action. How can you build trust for mobile users? In many cases, you'll use some of the same techniques you'd use for desktop browsers, like:
Using social proof such as testimonials and reviews to reassure potential customers that they're making the right decision
Including that show that people's personal and financial information is safe with you
Having contact information that shows that you're real people in a real place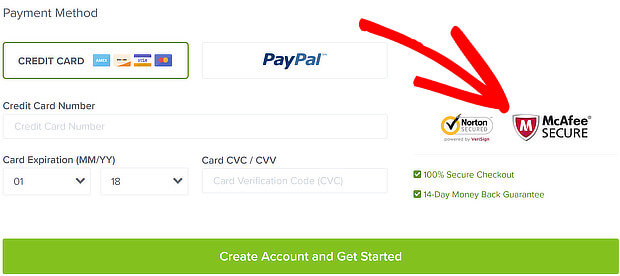 But there's one more thing you can do, especially for mobile users: include a tap to call or click to call interaction on your mobile site.
It turns out, mobile devices users like knowing there's someone on the other end of the phone to answer their questions. It builds trust and is proven to boost conversions and sales.
Not only can you add a click to call button quickly and easily to your OptinMonster campaigns, but you can do it anywhere on your WordPress site using the WP Call Button plugin.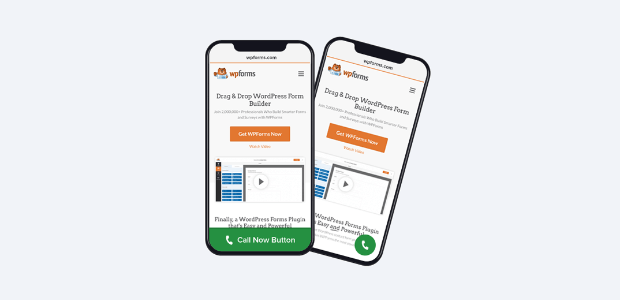 This static call button generator shortcode works seamlessly with the Classic Editor. Plus, if you're using Gutenberg, you can use the built-in WP Call Button Block to easily create and customize beautiful click to call buttons in minutes.
Top Tools Alert: Looking for a way to manage your calls? Check out our picks for the best business phone systems and VoIP providers!
Most importantly, WP Call Button seamlessly integrates with all top business phone services across the world, as well as working seamlessly with other popular WordPress plugins like WPForms, Elementor, WooCommerce, and more.
8. Use Urgency
Human beings are hardwired to act on urgent messages, and mobile device users are no exception.
In fact, mobile users buy more often and spend more money, according to ConversionXL. Around 30% of smartphone users and 40% of tablet users make purchases from their devices, and more than a third of smartphone users have applied mobile coupons during their purchase.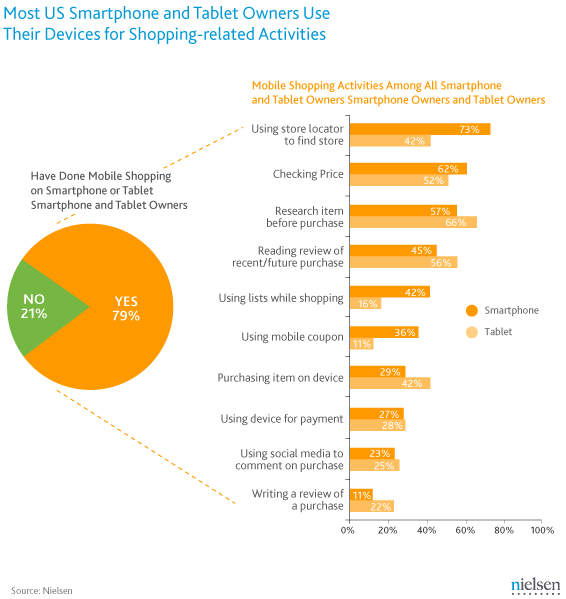 That's why it makes sense to use urgency in mobile marketing. Things to try include:
Triggering the fear of missing out (FOMO) in your marketing with a limited offer
Using the right language in your CTA to encourage immediate action
Creating an offer within an offer, such as an additional discount for mobile users on an already discounted price
Here are some more examples of urgency in marketing for you to try with your mobile audience.
9. Look after Mobile SEO
Search engine optimization (SEO) is all about helping customers to find you through by having your content appear in search results.
With the advent of Google's mobile-first index (which will use mobile versions of sites for indexing and ranking pages), you need to optimize your site so mobile users will find your content when they search. If you don't, they soon won't find your site as easily, which will seriously reduce conversions.
A good starting point is to use Google's mobile testing tool to see how your site stacks up. You'll get recommendations for improvement – implement those to improve your site's search presence.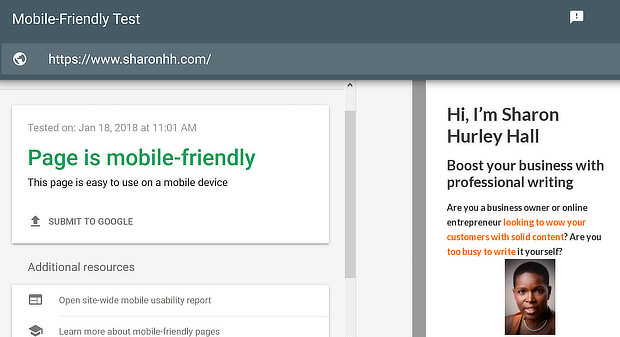 And you can follow other mobile SEO tips to improve your content, like:
Optimizing page titles and descriptions
Making sure you've included the phrases people are looking for in your content – learn more in our keyword research guide
Linking internally and to authoritative external sites (and attracting links from those sites)
For more on SEO, check out our guide to SEO for lead generation.
10. Use Mobile Optins
Many businesses use optin forms to improve conversions for desktop users. This works well for mobile users, too.
In addition to the mobile-optimized templates mentioned earlier, OptinMonster's advanced targeting rules help you create non-intrusive mobile marketing campaigns that are fully compliant with Google's latest rules.
For example, SaltStrong has used OptinMonster slide-in campaigns to boost conversions by 185%.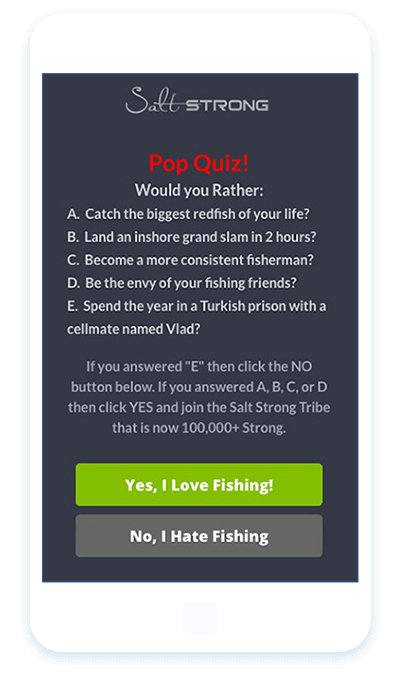 And White River got a 150% increase in conversions with an OptinMonster mobile-optimized popup.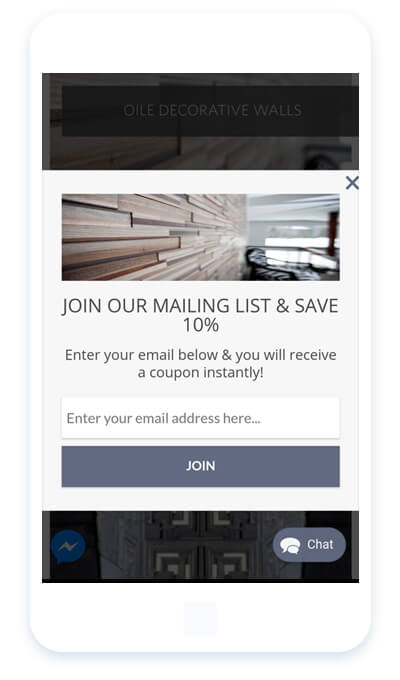 To implement this for your site check out our guides to creating mobile optin campaigns, and designing mobile popups for WordPress sites. You can also use OptinMonster's InactivitySensor to re-engage mobile visitors.
And, don't forget the power of click-to-call marketing. More and more visitors want to be able to tap a button to get their questions answered in a quick phone call with a real person. OptinMonster makes this super easy, by the way. Check out how to get more phone calls from your website and give your visitors another way to get their hands on your stuff!
And here's one final tip: keep your optin forms short, since the fewer visitors have to do, the more likely they are to take action.
11. Personalize Your Marketing
Personalizing your mobile marketing is a no-brainer because it has the potential to increase not just conversions, but sales. Gartner says that by 2020, personalization could boost eCommerce profits by 15%.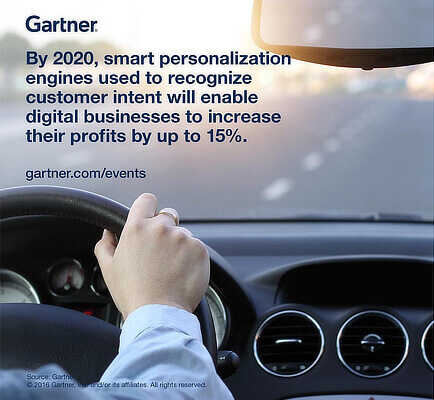 Personalization is much more than using someone's name in your marketing. It's about showing visitors the right offer at the right time. That relies on data about who they are and how they've already interacted with your message and your site.
One personalization method that's particularly suited to mobile users is using geomarketing. In fact, Google's research shows that 61% of users prefer to buy from sites that customize marketing material according to their location.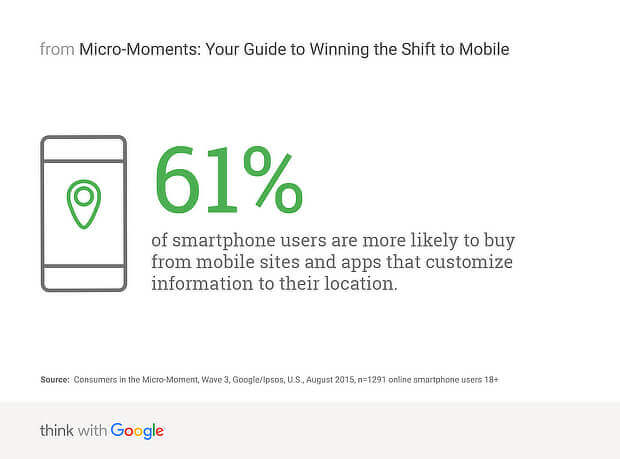 You can use OptinMonster's geolocation feature to target your marketing according to location. To do that, once you've created a campaign, navigate to Display Rules » Who should see the campaign? Select Visitors from a specific physical location.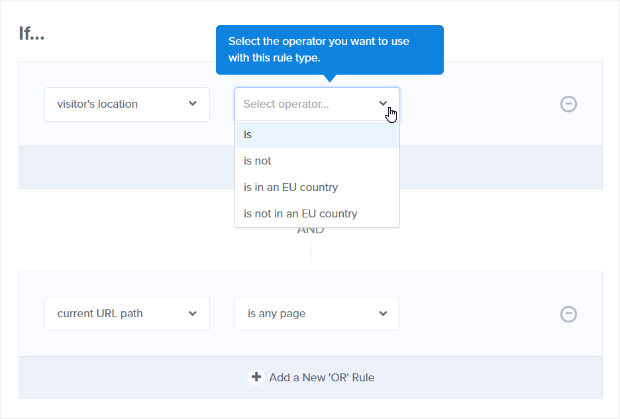 Enter the location in the text box, then press validate.

A new screen will pop up. If more than one location is listed, click on the location you want.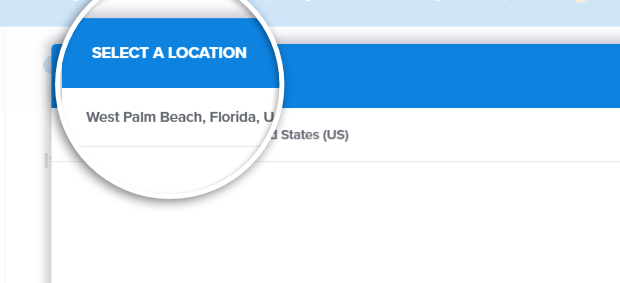 Another way to use personalization to boost mobile conversion rates is to display offers relevant to a product category people have been looking at. IncStores increased list subscriber numbers by 300% with that technique.
Check out some more personalization examples for inspiration.
12. Use Multi-Step Optins
Multi-step optin campaigns rely on the Zeigarnik Effect, which says that if visitors complete the first step, they're more likely to complete the second.
OptinMonster's multi-step optins are called Yes/No forms, and our customers have had great results with them: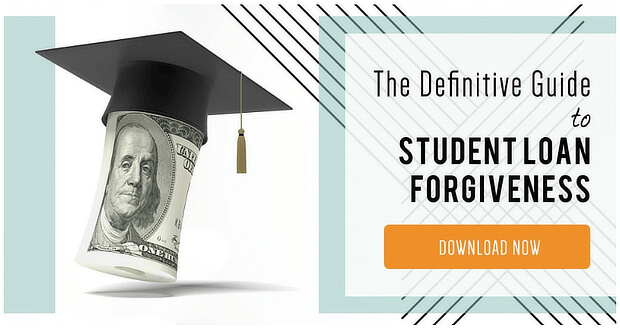 To use Yes/No forms in your own marketing, create a campaign. Navigate to Yes/No in the OptinMonster campaign builder, and click Activate View to enable the functionality.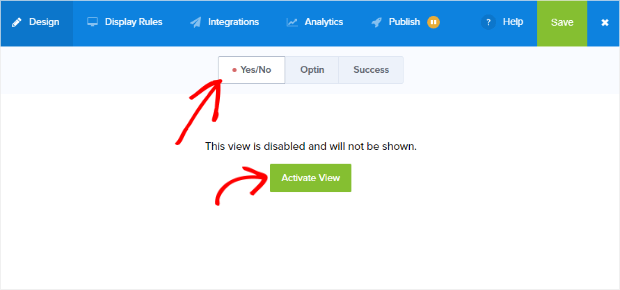 Decide on an action for each button. Some options are:
Have the Yes button trigger the next step, and the No button close the campaign
Have the Yes button trigger the next step, and the No button trigger a different campaign
Change the text on each button and have each redirect to a different area of the site (for example, product categories)
Check out our article on creative ways to use yes/no campaigns for more inspiration.
13. Get Your CTA Right
Conversions on any device rely on the effectiveness of the call to action (CTA). This is where you tell visitors what to do next, after presenting compelling reasons to take action on the rest of the page.
Both on mobile and desktop, a good call to action:
Clearly communicates the benefits of taking action
Uses action words and power words to inspire conversion
Leads to the immediate delivery of what you promised
Here's an example from AtHoc, using OptinMonster's Yes/No forms: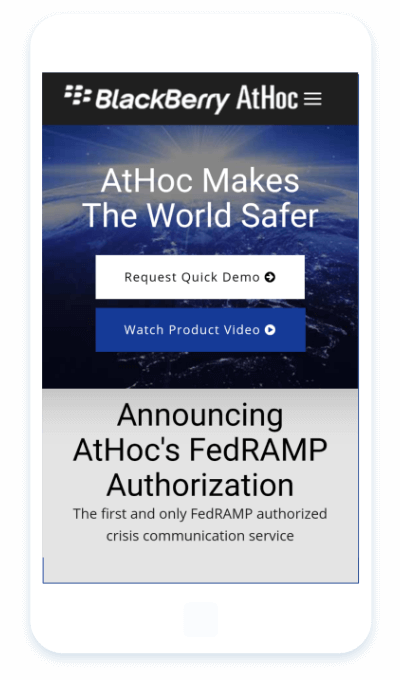 And, of course, it must work well on mobile devices by being tappable and leading to another mobile-friendly page, like:
The page where you deliver what you promised
The thank-you page
Another relevant page of your site
Learn more about CTAs in our article on how to write a perfect call to action.
14. Make It Easy for Visitors to Pay
Ever tried to pay for something on your mobile device, only to have something go wrong while you were editing your credit card number?
We have too, and it's a conversion killer.
For 28% of people, a complicated checkout process (we'll look at that more in the next tip) can lead to abandonment.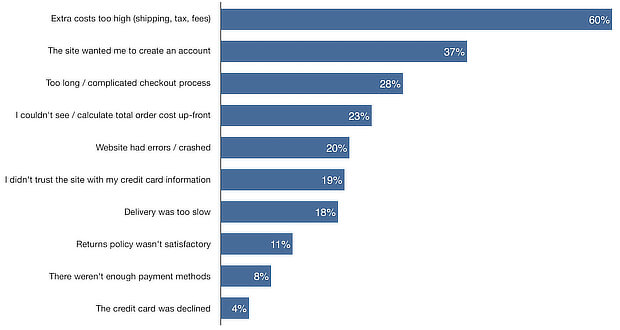 It doesn't have to be that way. If a site has enabled it, visitors can use digital wallets like Google Pay and Apple Pay to pay quickly. In one case study from Big Commerce, conversions tripled when digital wallet payment was available.
Not sure which payment solutions to use? Check out our list of the best mobile payment solutions to find the right one for your business!
15. Improve Checkout Usability
For eCommerce sites, one way to increase mobile conversions immediately is to fix the checkout process. In addition to making it easy to pay, as described above, you can:
Reduce the number of checkout steps. If you can get it down to a single step, that's ideal.
Show visitors' progress through the checkout, with a progress bar or other visual signal
Use a guest checkout, so visitors don't have to sign up to purchase (but offer the option to save their details after purchase
Here are some more tips on improving eCommerce conversions.
16. Reduce Abandonment
Another way to reduce abandonment that works on both desktop and mobile devices is to put a targeted offer in front of visitors to get their attention just before they leave.
On a desktop, you do that with OptinMonster's advanced Exit-Intent® Technology. For mobile devices, there's another feature: InactivitySensor™. This provides exit-intent for mobile, by detecting when visitors haven't taken action for a while and pop up an offer.
To enable this, go to Display Rules » visitor inactive time is at least and then adjust to the number of seconds you want to delay your campaign.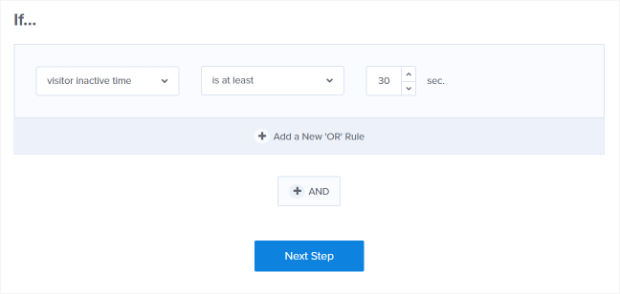 17. Test Your Changes
It almost goes without saying that if you're working on improving your mobile conversion rate, you'll need to test. Testing can really improve mobile conversions. ConversionXL got a 24% mobile conversion rate increase by testing and tweaking.
Plus, you want to be sure that any changes you implement make a real difference to the mobile conversion rate. If you're using OptinMonster, it's easy to use our A/B testing feature to see if small changes to your mobile optins make a big difference. Learn how in our A/B testing guide.
18. Use SMS and Push Notifications
If you're going to make the most of mobile marketing, you'll need to integrate core aspects of mobile platforms into your mobile conversion strategy. Two of these are SMS messaging and push notifications, both of which are proven to increase conversions.
With at least 75% of cell phones able to receive text messages, and a whopping 45% response rate, SMS is a great channel. You can use SMS to get people's emails and encourage them to opt into your email list or make it easy for mobile users to access a campaign by using a shareable MonsterLink™.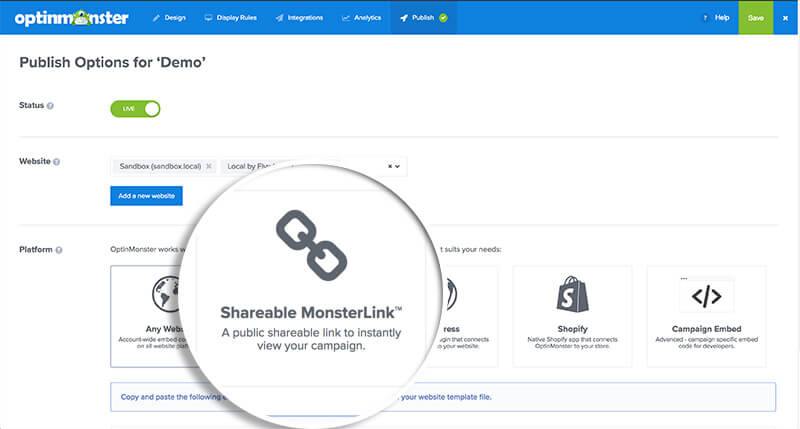 Meanwhile, data from Localytics shows that:
Half of all mobile users find push notifications useful
Push notifications boost engagement by as much as 88%
MarketingLand suggests that, as with other marketing, list segmentation and message timing are two of the keys to using push messaging to increase mobile conversion rates.
19. Make Your Strategy Cross-Platform
According to Go Gulf, most digital consumers now own more than three devices. That means they'll likely use more than one device when checking out your site or completing a transaction. The stats show that:
31% of customers have used multiple devices to shop
25% of transactions completed on a desktop are started on a smartphone
35% of transactions completed on a smartphone are started on a desktop
71% of customers hate inconsistent cross-device experiences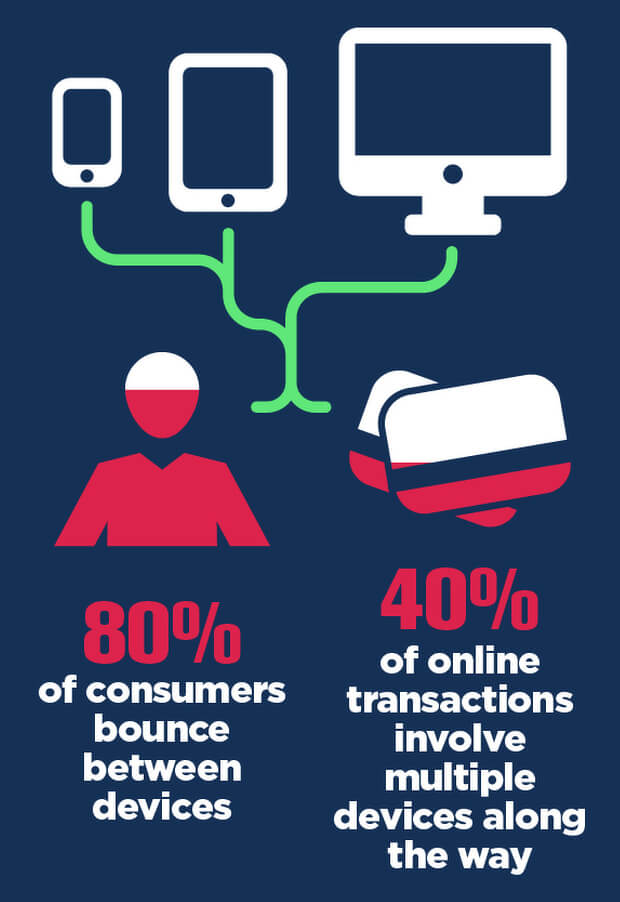 That's why it pays to ensure that visitors can switch back and forth without hitting roadblocks. Nielsen Norman Group has some tips on creating a seamless cross-channel experience.
That's it! Implement any of these 19 proven mobile conversion rate boosters to see an increase in the number of mobile visitors who sign up or buy.
For more on mobile conversion optimization, check out our guides to creating high converting mobile popups and winning more business with mobile optins. And follow us on YouTube, Twitter, and Facebook for more tips and in-depth guides.