Have you ever wondered if you can add an OptinMonster Campaign to your Facebook page to collect leads?
With OptinMonster, you can add a campaign form to your Facebook in a just a few minutes.
Note: This feature is for Advanced Users who are familiar with using Facebook applications. At this time we do not provide support beyond recommending the basic settings. In addition, this guide requires using 3rd party integrations to show on Facebook that is outside the bounds of OptinMonster's support.
Step 1 – Add A site to Your Inline Campaign
The first thing you need to do is to create your inline campaign. If you need assistance in doing this then you can follow our guide for creating an inline campaign here.
If your inline campaign already exists that you would like to use on Facebook, then edit your existing inline campaign.
Now you need to add the following domain to your existing campaign:
raw2.statichtmlapp.com
Important: This domain is what is utilized by the Facebook Application Referenced below in Step 3. If you use another Facebook application, then your domain will be different.
You can give it a custom Site Name of your choice, such as "Show on MySite's Facebook Page".
If you need assistance in adding a domain to your campaign, you can follow our
domain guide here
.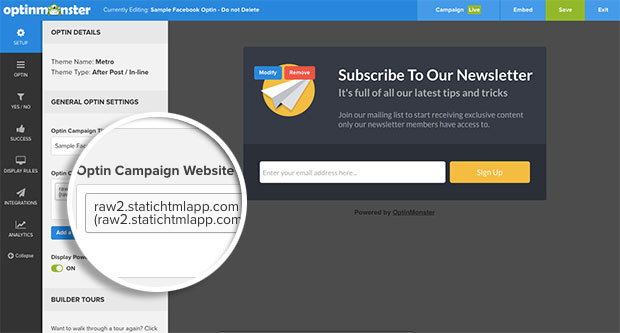 Warning: Your campaign must have the domain referenced above for your campaign to work on Facebook.
Step 2 – Create a Facebook Page
Next, you either need to have a pre-existing Facebook page where you are an administrator or owner, or you need to create a Facebook page for your site.
You can create a Facebook page by following Facebook's official guide here.
Step 3 – Add an iFrame Application to your Facebook Page
Once your Facebook page is created, you need to add an app to your page which will allow you to add in an iFrame. For this setup, we're using the Facebook App called Static HTML – Thunderpenny as this application is easy to setup and provides HTTPS security.
To connect their app, follow Thunderpenny's walkthrough available here.
Step 4 – Add OptinMonster to Your iFrame
After your app is set-up, go to your Facebook page and look for the Custom iFrame App you installed in the previous step. Generally, you will find it on the left-hand side above Manage Tabs named Welcome as seen in the screenshot below.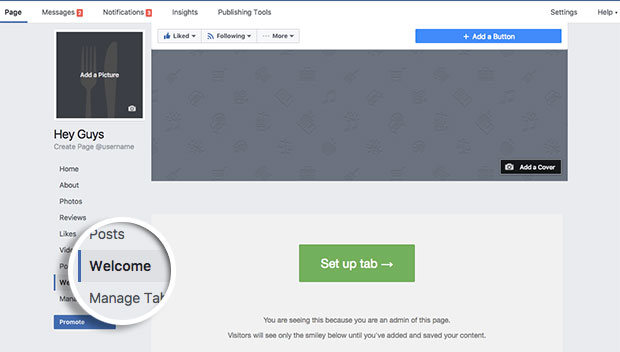 Click Setup Tab to add content.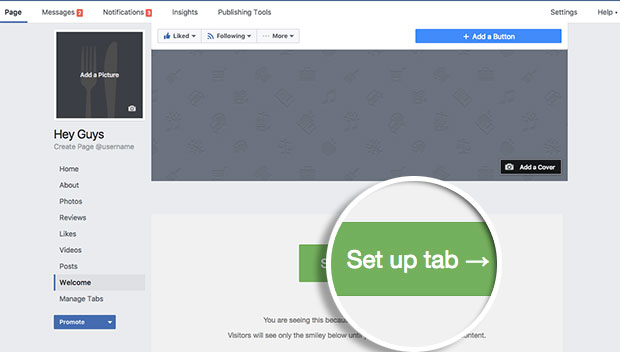 Add your Campaign's Embed Code in the index.html section and include the Campaign Embed Code before the closing