Want to use OptinMonster to show your visitors a video? With OptinMonster's Drag and Drop Builder, its easy to add a video to your campaigns. Follow this guide on embedding a video in compatible templates to get started.
---
Step 1 – Create or Modify a Campaign
Create a new campaign or modify an existing campaign from OptinMonster Dashboard. Open the OptinMonster Builder by selecting the Edit button.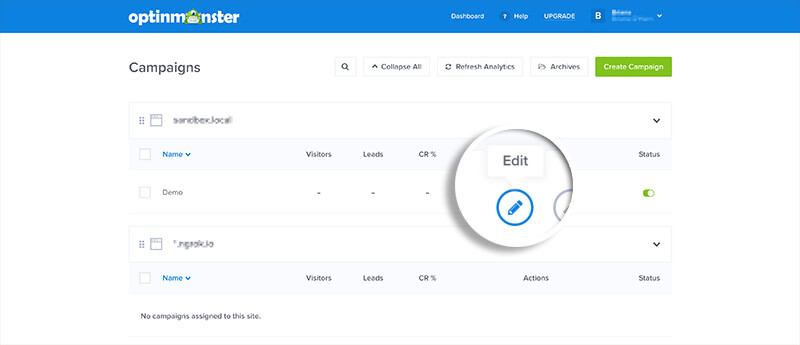 Step 2 – Add a Video Element
On the Design tab, click + Add Blocks to add a new element.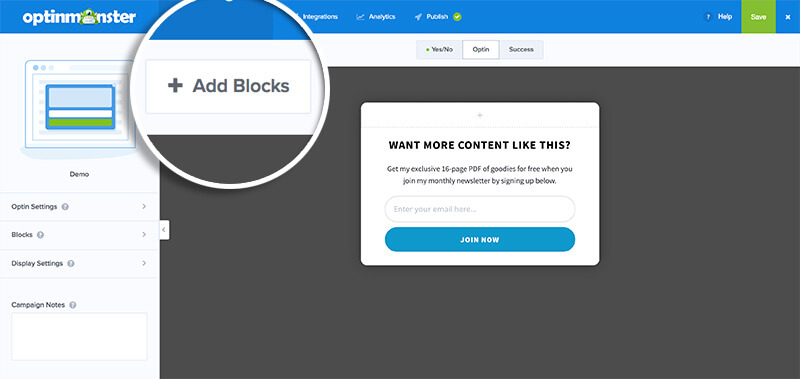 Drag and drop a Video element onto the campaign.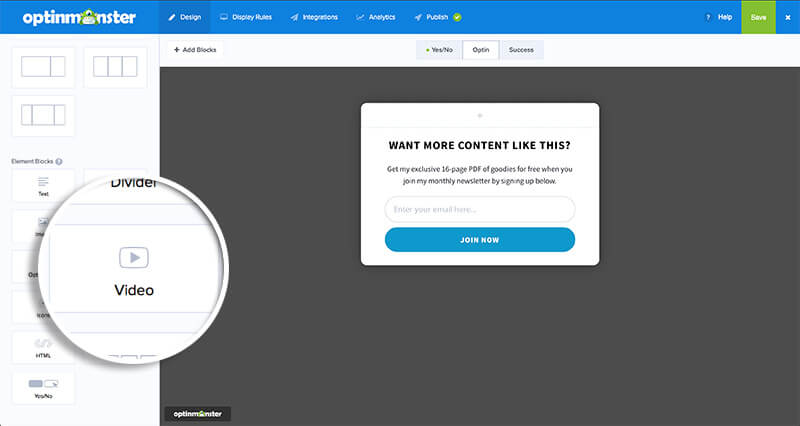 Step 3 – Copy Your Video Embed URL
Copy the embed url for your video. This is typically different than what you see in your address bar.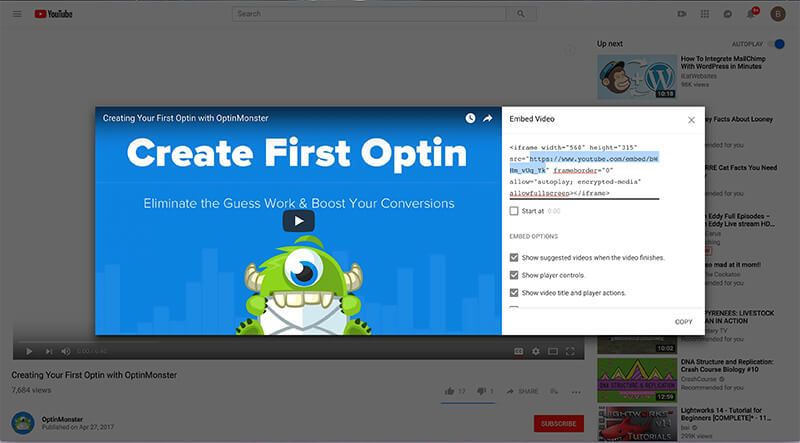 Step 4 – Paste Video Embed URL
Click on the video element on your campaign to edit its settings. Paste the embed URL in the Hosted Video URL field.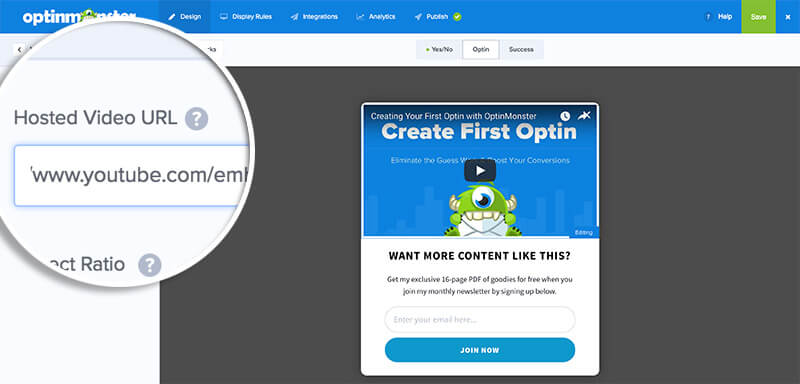 You can also optionally adjust the Aspect Ratio for the video.
That's it! You have successfully added a video to your campaign.
Ready to show the video to your visitors? Check out our guide on how to target specific visitors.
---
FAQs
Q: My video isn't loading in the campaign preview, why?
A: The most common reason for this issue is using an incorrect video embed URL. Most video-hosting services will use a specific URL for video embedding which is different from the URL displayed in your browser.
The following formats for video embed URLs should be used (replacing VIDEO_ID with the ID of your video) when embedding video from these common video-hosting services:
YouTube — //www.youtube.com/embed/VIDEO_ID
Vimeo — //player.vimeo.com/video/VIDEO_ID
Wistia — //fast.wistia.net/embed/iframe/VIDEO_ID
---
Q: How do I hide the controls, autoplay or loop my video?
A: If your video hosting service supports it, this can be done by adding the appropriate query string to the end of your video embed URL.
The most up-to-date information can be found at the links below:
Common Query Parameters
Query Parameters each have a Key and a Value. Therefore they always appear as something like: ?key=value
When it comes to the query parameters used for these video parameters, the number 1 is used to represent "true" or "enabled" whereas the number 0 is used to represent "false" or "disabled".
You can add the follow query parameters to the end of your video link to achieve additional functionality with your video.
YouTube
Autoplay a Video → ?autoplay=1
Hide Video Information → ?showinfo=0
Hide Video Player Controls → ?controls=0
Examples of a YouTube Video URL to be used in OptinMonster:
www.youtube.com/embed/VIDEO_ID/?autoplay=1
www.youtube.com/embed/VIDEO_ID?autoplay=1&showinfo=0&controls=0
Vimeo
Autoplay a Video → ?autoplay=1
Loop the Video → ?loop=1
Set Default Video Quality → ?quality=1080p
Examples of a Vimeo Video URL to be used in OptinMonster:
//player.vimeo.com/video/VIDEO_ID?autoplay=1
//player.vimeo.com/video/VIDEO_ID?autoplay=1&loop=1&quality=1080p
Wistia
Start at 30 seconds → ?time=30
"Slide" Transition between videos → ?transition=slide
Examples of a Vimeo Video URL to be used in OptinMonster:
//fast.wistia.net/embed/iframe/VIDEO_ID?time=30
//fast.wistia.net/embed/iframe/VIDEO_ID?transition=slide