Did you know that Instagram's number of active monthly users grow at a faster rate than Facebook, Twitter, and Snapchat? In this article, we'll help you get in on the action and walk you through how to generate leads on Instagram with proven tips.
As of June 2018, Instagram reached an astonishing 1 billion active monthly users, as well as at least 25 million business profiles worldwide.
And, Instagram users love interacting with businesses.
Instagram's own statistics tell us that at least 200 million Instagrammers visit at least one business profile each day. And, 60% of people say they discover new products on Instagram. ?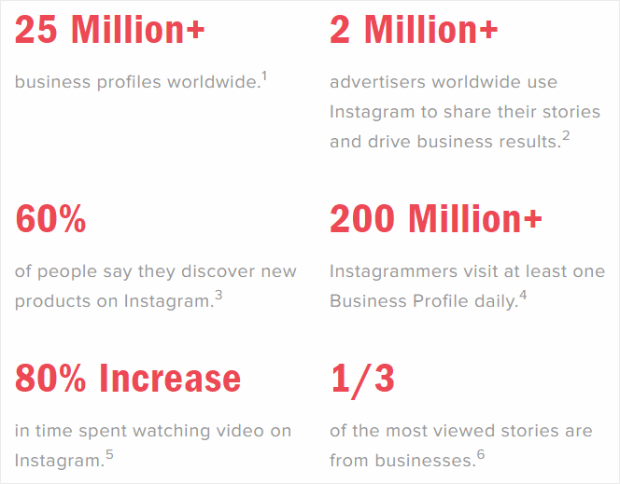 That's a lot of love being shown to businesses by Instagrammers. But before we get into the specifics, let's talk about what type of businesses benefit most from Instagram marketing.
Who Should Use Instagram?
We want to start by saying that no matter what you're selling, with over 1 billion active monthly users on Instagram, you'll probably see some benefit from Instagram marketing. Maybe you want to consider it.
Of course, there are eCommerce and offline businesses selling products that are naturally more visual that definitely should be using Instagram marketing.
Here are a couple of things you want to look at:
Industry Fit
Certain industries, like auto, fashion, beauty, and travel, seem to be made for Instagram. And, considering the numbers of those brands on Instagram, those brands are taking advantage of it.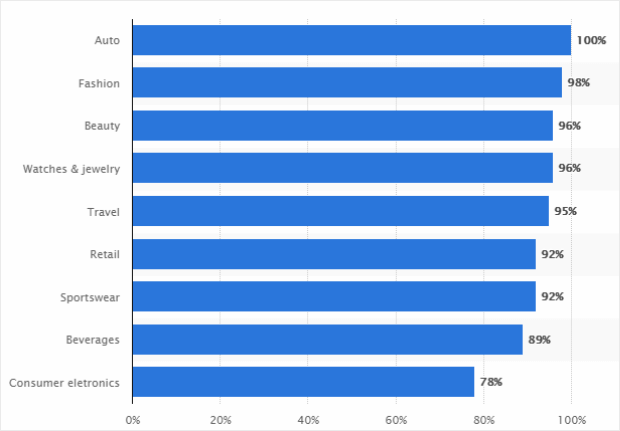 This is great news for you because you can use them as case studies. Check them out to see what they're doing; use their successes as your inspiration and their missteps as your learning opportunities.
Visual Products
Instagrammers also live for visual storytelling. Beautiful imagery and videos are an enormous draw to the platform, so if you have a product that is super photogenic or lends itself well to visuals in other creative ways, Instagram will love you.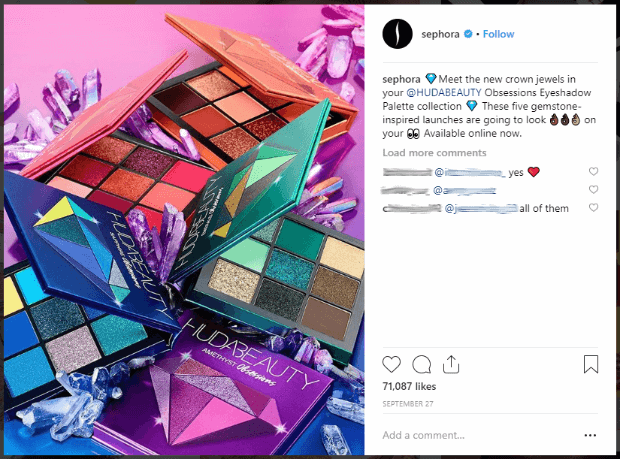 Bottom line, just about any business can benefit from Instagram marketing with a little creativity. Next up, we'll take you through 12 proven ways to generate leads with Instagram.
How to Generate Leads on Instagram
Instagram lead generation takes more than just a post here and there and a few hashtags. Like every other aspect of your marketing, Instagram marketing requires planning.
Generating leads through Instagram and other social media platforms goes a lot smoother when built into your overall marketing strategy. Be sure to map out your Instagram campaigns, content, stories, and even hashtags ahead of time to get the most out of your Instagram marketing efforts.
Now, let's get into the specific steps you can take to generate sales leads on Instagram like crazy!
1. Use Instagram Lead Generation Ads
To use Instagram lead generation ads you'll need to create a Facebook page and an Instagram business profile.
Once you have those 2 things in place, go to the Ads Manager to start building your ad.
You'll start by choosing Lead generation as your marketing objective and naming your campaign.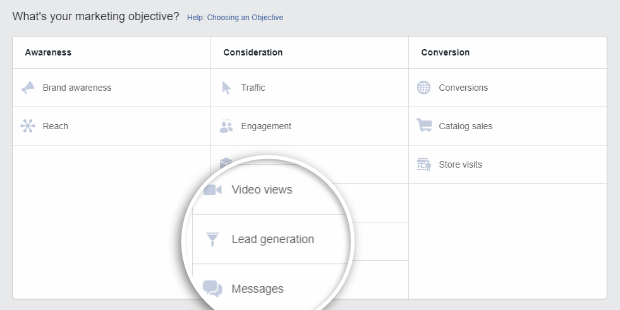 Facebook makes the process of creating an ad really easy:
Choose your marketing objective
Define your audience
Select your placement (Facebook recommends Automatic Placements and we do too)
Set your bid (optimize for leads or for link clicks)
Choose an ad format
Create your lead generation form
For step-by-step instructions on creating leads ads, head over to Facebook.
2. Create Facebook Lookalike Audiences
Creating a lookalike, or custom audience in Facebook lets you target Instagram users who are similar to your existing customers. This is a great step to take if you already have at least 1,000 Instagram followers.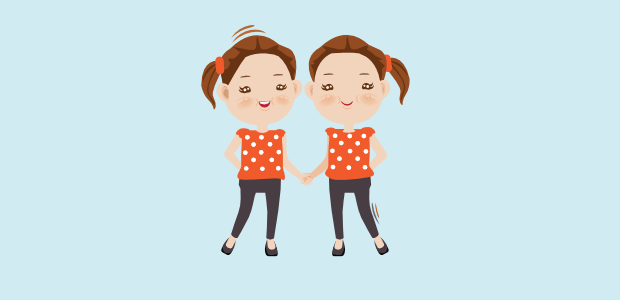 Facebook lets you create a lookalike audience of Instagrammers based on things like:
Everyone who engaged with your Instagram profile
Only those who visited your profile
Only those who engage with your content or ads
People who sent a message to your business profile
Those who saved any of your posts or ads
Lookalike audiences help you generate high-quality leads by targeting users who are more likely to be interested in your products.
3. Optimize Your Bio
The one major drawback of Instagram is not being able to add clickable links in posts. Plus, you only get one clickable link in your bio. ?
Never fear. There are some pretty tremendous things that can be done with only a single clickable link.
A great, optimized Instagram bio is designed with your target audience in mind. In one of their Instagram profiles, ASOS encourages their target (largely millennials) to share user-generated content with #AsSeenOnMe to get featured on the ASOS Instagram feed. They also connect 2 of ASOS's other Instagram accounts and use their single clickable link to link users to the ASOS website.

As you can see, there are 3 important elements to an optimized Instagram profile:
Profile image
Content
Link
Just remember that when you reference "link in bio" in your Instagram posts, those references will be outdated if you change your bio link. There are a couple of tools you can use to avoid that problem; we'll get into those later. ?
4. Engage With Your Audience
What even is social media without the "social" part of it? You have to engage with your audience if you're serious about generating leads through Instagram.
One of the easiest ways to step up engagement is to simply respond to everything (except the spam). But, don't just throw out a canned "Thanks!" and carry on with your day.
If you really want to grow your audience and Instagram leads, you have to take some time to dig a bit deeper and craft a thoughtful response.
Hot Box Cookies does an excellent job at engaging with their audience on Instagram:
Engaging with your audience doesn't mean that your responses have to be a paragraph, or even multiple sentences long. Just show that you gave their comment some attention.
Keep your responses engaging and human, too. There are a lot of ways to do that:
Use emojis
Share related images
Reply with a funny GIF (available in Stories only)
Ask a follow-up question
Heads up! You can still engage if you don't have your own audience. Seek out similar brands (yep, your competitors) and engage with the Instagrammers who are engaging with them.
Anything you can do to make your brand appear more accessible, friendly, and engaging is going to win new followers and keep them coming back for more… and, they're going to bring friends.
5. Share User-Generated Content
We touched briefly on user-generated content earlier, but it's definitely important enough to deserve its own section.
User-generated content is any unpaid content put out by fans and it's huge when it comes to social proof. People just trust what other people tell them about a product or brand, even if those other people are online.
Instagram is a perfect platform for sharing user-generated content to take advantage of both the social proof and the engagement that the content brings.
Let's take a look at ASOS's #AsSeenOnMe user-generated content from earlier: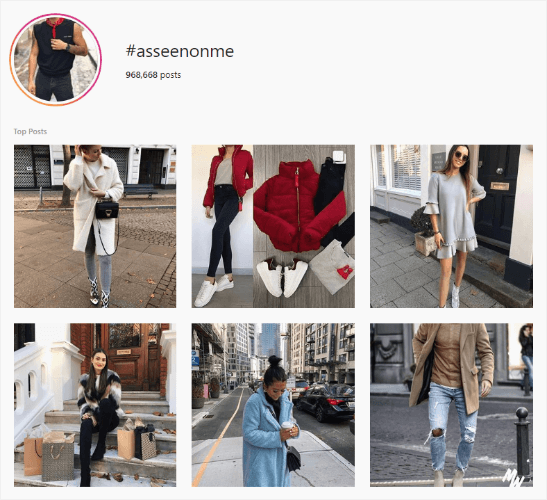 By using this hashtag, ASOS followers are able to tag themselves wearing ASOS products, increasing the reach of the ASOS brand.
You can also create an Instagram collection of user-generated content you have permission to use so you can engage with the follower and easily find the content when you want to use it.
Top Tools AlertCheck out this list of social proof software tools that make it ridiculously easy to add social proof to your site!
6. Go Instagram Live
When you go live on Instagram, the video shows up in your Instagram stories and viewers can interact with you in real-time. But, when it's gone, it's gone. There's no going back to watch it later.
And just like that, Instagram has a built-in sense of urgency to their live videos.
Your followers will get a notification on their phone that you've started a live video and, if they're already on Instagram, they'll be able to see that you're broadcasting in the Instagram Stories section.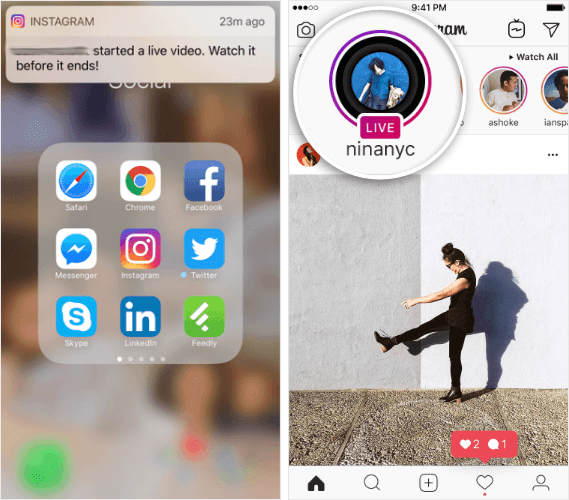 Since Instagram live content can't be saved for later, it's best used to promote "in the moment" content:
Big announcements
New product teasers
Sneak peeks
Social contests
Live Q&A
To turn this into a lead generating machine, be sure to include your call to action ("link in bio," anyone?), encouraging people to act immediately.
Tools to Use11 Best Instagram Video Editing Tools Compared (Free and Paid)
7. Use Instagram Stories
For up-and-coming brands, partnering with an influencer is a must for Instagram stories. These partnerships typically happen in the form of account takeovers, where the influencer "takes over" the brand's Instagram account for a certain amount of time.
During the takeover, the influencer posts whatever they want (as long as it relates to the brand), and the brand gets exposure to the influencer's audience.
You can also create an organic story that is available to your followers and disappears after 24 hours.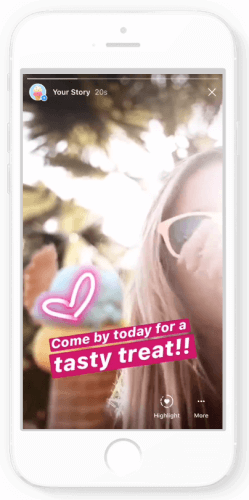 Unfortunately, unless you have at least 10,000 followers you'll still be unable to add links. This means that the "link to bio" approach will still be your primary option unless you run an Instagram Stories ad.
Instagram marketers have also used a couple of other creative strategies like including their call to action link as an image in their story, written on a piece of paper that they hold up, or similar. If you use this approach, make sure your link is short and easy to read.
8. Tease On-Site Content
Instagram is a great platform to tease on-site content and drive traffic to your website. Create a cool and clever Instagram post hinting at some equally cool and clever content or products on your site and get that traffic moving!
You can (and should) set up specific landing pages to greet your Instagram traffic once they get there. This creates a personalized experience that makes getting those leads and conversions even easier.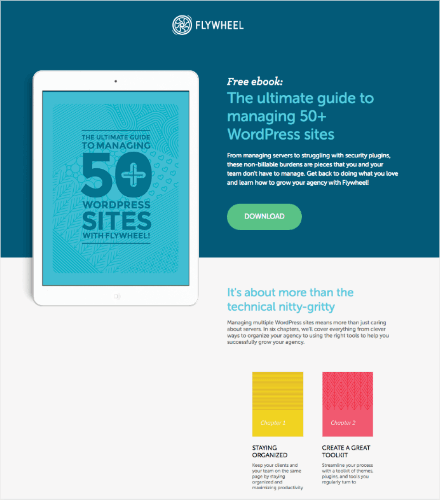 9. Include a Call to Action
We've already talked about calls to action quite a bit in this post, but calls to action are what drive leads, so there's always more to say.
Just like any other platform, the ways people can interact with your brand on Instagram is just about limitless. Be sure to mix it up to keep them interested. In addition to the "link in bio" that we've discussed, here are some other ways to generate leads with a call to action in your Instagram posts:
Ask for Engagement
Some Instagram influencers and marketers simply take the "double-tap to agree" or "tag a friend who'd want to see this" approach. It's easy and straightforward and folks will no doubt take you up on it if your content is engaging.
Contests
Contests are Instagrammer catnip. And, user-generated content contests are awesomely easy to run. You could structure a simple contest like this:
Post announcing the contest
Ask followers to tag a friend
To enter, followers upload their own content with a contest-specific hashtag (or whatever rules you establish)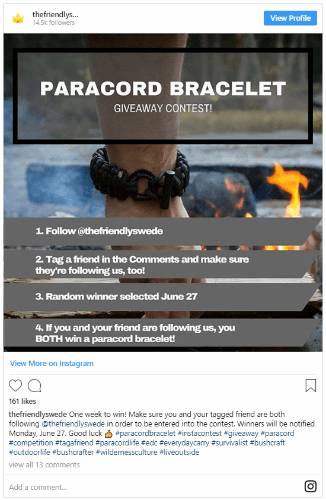 Top Tool AlertRafflePress makes it easy to run a viral online contest or giveaway to grow traffic and sales!
Lead Magnets
Everybody loves "free." Offering something of value in exchange for contact information tends to work well. Need ideas? We've got you covered with these awesome lead magnet ideas.
Check out this post on how to write the perfect call to action to get your Instagram leads poppin'.
10. Develop an Instagram Content Strategy
Okay, you may have just read that heading and thought, "Um, isn't that what we've been talking about?"
Yes! And also no. Here's what we mean by that.
We've been talking about various types of content as a part of your strategy, not developing a plan for what you'll do with your different types of content and when.
There are 3 key steps that you'll want to follow to find the right content for your Instagram business profile:
Step 1. Choose Your Core Topics
Come up with interesting and visually appealing ways to show off the best bits of your brand, industry, and products. If you aren't sure what types of things you should focus on, check out other brands in your industry and see what they're doing. Or even go outside of your industry to other brands you admire for inspiration.
Here's an idea of what topics brands might post about:
User-generated content
Company culture
Customer stories
Behind the scenes content
Step 2. Schedule Your Photo Shoots
To be successful on Instagram you'll need to post multiple times every day. With high-quality, professional-level images. That also look almost accidental.
Do you have time to do that every day? Nope.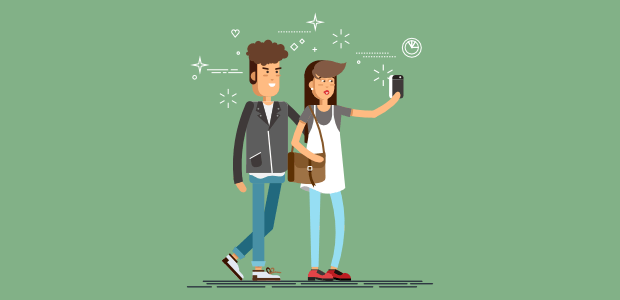 Schedule just 1 photo shoot each week. Give yourself an hour to shoot the photos with lots of natural light and your smartphone camera. You don't need more than that unless you really want it.
Step 3. Schedule Your Posts
Can you believe that Instagram's answer to "scheduled" posts used to be to send Instagrammers a push notification to remind them to publish their "scheduled" post? So very glad those days are over.
Now you can actually schedule your posts ahead of time and they'll post without you watching over them with tools like Buffer and Hootsuite.
Why did we wait so long before mentioning content strategy? Easy. If you're just starting out on Instagram you don't need to limit yourself. Create and post. Try different things and see what sticks. Most importantly, get followers. There will be plenty of time later to pare it down to the loyal ones.
11. Establish a Posting Schedule
There are 4 parts to your posting schedule and it's important to hit each part to get the most out of Instagram's lead-generating capabilities.
Part 1. Regular Instagram Posts
You should be posting a regular Instagram post at least once a day. Like we mentioned earlier, there are tools like Buffer, Hootsuite, and others available to help you schedule these posts in advance and keep you on track.
The content of these posts should be in-depth and include up to 10 relevant hashtags. You can also include emojis to keep things personable and fun.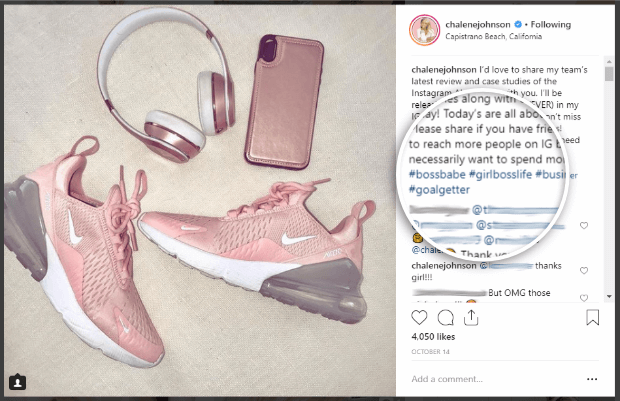 Part 2. Instagram Stories
Post between 5 and 15 Instagram stories throughout the day, every day. You can't automate them, but you definitely should be planning them.
You don't have to worry about having them at the same time every day; when you update your story you'll automatically get popped to the top of followers' feeds. ✨
Also, for most of them, you should have a plan before you start recording. Sometimes, sure, fly by the seat of your pants and see what happens. Mostly, though, plan it out.
If you don't have 10,000 followers yet, make it a priority to get there. Why?
Swipe Ups.
Swipe up stories make it easy to add clickable links right to your stories that users can swipe up on your story to get to! ?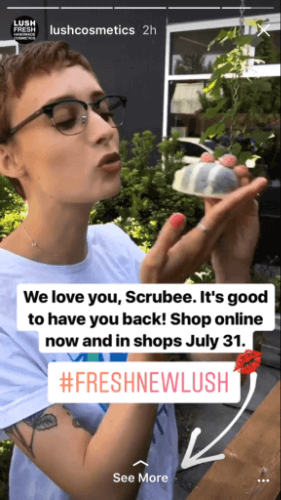 Part 3. Instagram Live
Instagram Live, like any live platform, offers the most opportunity for engagement. Because of that, you really need to have a solid plan before you start your broadcast or you can get off track like it's your life's purpose.
Here's a basic plan that you can adapt to your needs:
Have all of your tools (whiteboard, notecards, screenshare, etc.) laid out and ready.
Have a glass of water on hand.
Prepare a plan of action to deal with trolls (because Instagram Live is open to anyone, there are guaranteed to be trolls here and there).
When you go live, pin your topic in a comment so it's there to see no matter when folks arrive.
Plan a lead-off question to start engaging in the first couple of minutes.
Before you close, open to questions.
Close with a reminder of the next live session and topic, and your call to action.
Thank them and say bye!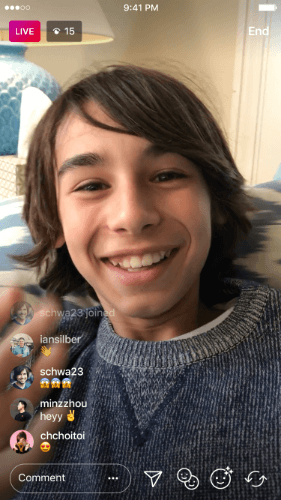 For the biggest impact on lead generation, going live once a week would be your best bet.
Part 4. Engagement
As mentioned in #4, above, respond to everyone and everything. Make connections every day.
12. Track and Measure Your Instagram Campaigns
By now, you can tell that Instagram marketing takes some work. It's well worth it, of course, but you're definitely going to want a way to calculate your ROI to make sure that you're getting the most out of your investment into this powerful marketing platform.
Fortunately, there are many ways you can track and measure your Instagram campaigns:
Landing page click rate
Lifetime customer value
Landing page conversion rate
Customer acquisition cost
In addition to those metrics, you can also track clicks to the link in your bio. The most common suggestion out there is to do that using bit.ly.
It's not a bad suggestion, but for the actual tracking, you should definitely use Google Analytics.
You can use this super easy Campaign URL Builder to add the coding that Google Analytics uses to track the campaign source (in this case, Instagram), name, term, and other things.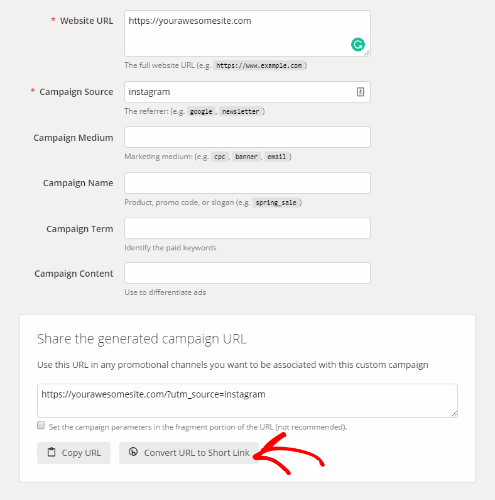 Then, you click Convert URL to Short Link and you have a bit.ly link that will feed correctly to Google Analytics! So, you'll have the power of Google Analytics that you'll greatly benefit from, as well as the convenience of bit.ly's short URLs that will make life so much easier for you and your followers. ?
7 Super Cool Tools for Instagram Lead Generation
Sometimes you put in a ton of effort and you're just not seeing the results that you want. It happens. Fortunately, there are some pretty awesome tools out there to help with Instagram lead generation. Here are a few of the ones we're loving at the moment.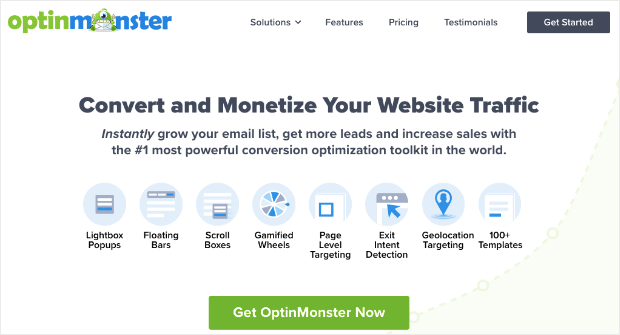 After driving more traffic to your site from your awesome Instagram campaigns, you'll want to turn those users into subscribers and leads with OptinMonster.
With OptinMonster, you can create eye-catching optin campaigns in no time using the drag and drop builder and campaign templates.
Find out more about how to use OptinMonster to grow your email list.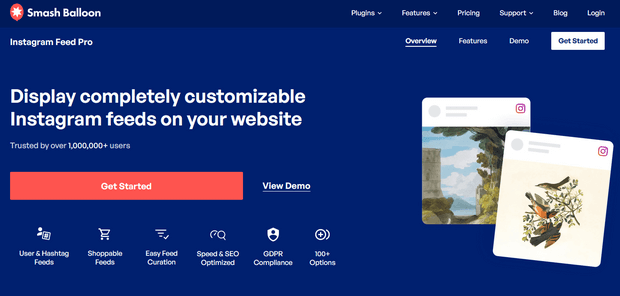 With Smash Balloon's Instagram Feed Pro, you can easily display beautiful Instagram feeds anywhere on your WordPress website. This is a great way to introduce website visitors to your Instagram content, get more followers, and boost engagement.
You can create a standard Instagram feed, a hashtag feed to show off user-generated content, display Instagram Stories and IGTV videos, create a shoppable feed, and much more.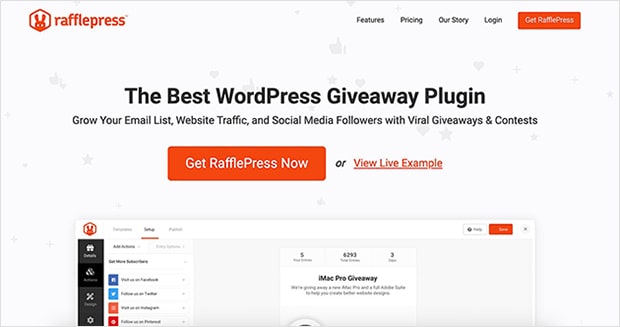 RafflePress is the best giveaway plugin for WordPress. With this tool, you can easily create a giveaway contest to drive more traffic to your site, grow your email list, boost your Instagram following, and more.
Plus, RafflePress includes entry actions so that you can reward participants with extra giveaway entries for completing specific tasks. You can add entry actions like 'Visit us on Instagram' and 'View Instagram Post/Video' to help with Instagram lead generation.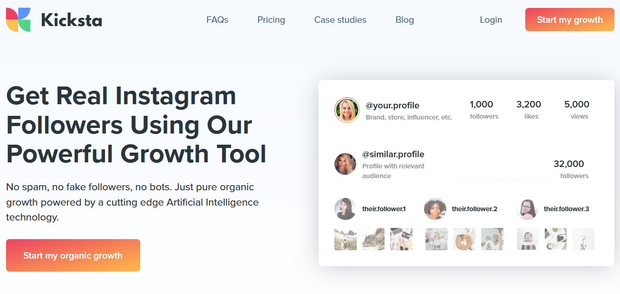 Kicksta makes it easy to find followers relevant to your brand who are likely to be interested in the products or services you offer. They do this by using a list of Instagram accounts provided by you that have the kind of followers you want for your own brand. Kicksta then likes posts made by users who fit your target audience (using your account) to get their attention.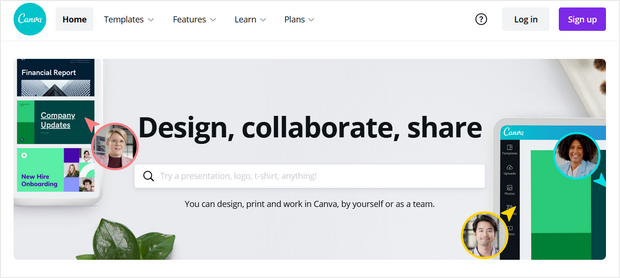 Create great high-quality images, even with Canva's free plan! You don't have to hire an outside agency to get feed-stopping imagery that will get Instagrammers to stop and take notice.
Shopify's Shopping on Instagram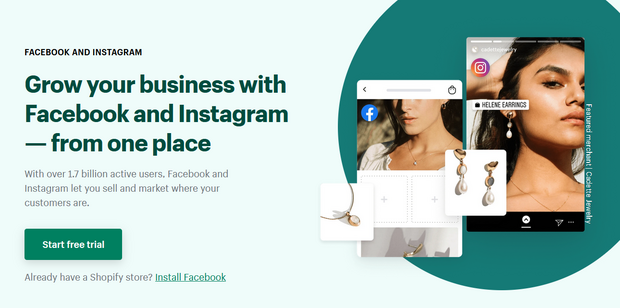 If you use Shopify for your eCommerce business, you really need to get this Instagram add-on to link your store directly to your Instagram account. With the add-on, you can tag products that you feature in posts, add the pricing information, and let followers go through the purchasing process without leaving Instagram.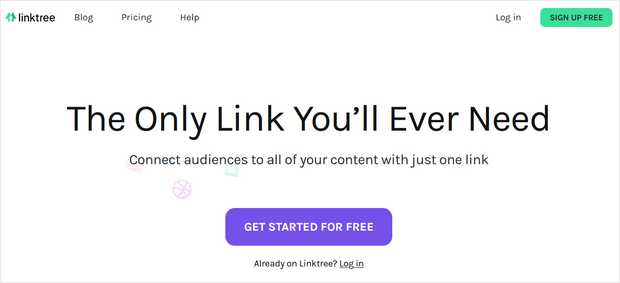 Linktree lets you turn your single "link in bio" into a few more links in your bio. And, it's free for the basics you need. Of course, if you're already handling your own website, you could easily create your own landing page to do the same thing and personalize it as much as you want.
There ya go! You now know how to generate leads on Instagram! Go forth and get them.
Then, check out our roundup of the best lead generation tools to grow your business.
If you're looking for more ways to use social media to grow your business, check out these ways to grow your email list with social media. Or, if you want more tools to make the most of your social media marketing efforts, try out these social media marketing tools to kick it to the next level.
Not yet a member of the OptinMonster family? Join us today!