Are you looking to create standout Instagram reels for your business?
The rise of short, entertaining video content has been a significant trend in social media, with platforms like Instagram and TikTok leading the charge.
With Instagram reels rapidly becoming a key part of social media strategies, having the right tools to make your content pop is crucial.
In this blog, we'll explore the benefits of Instagram Reels for your business and discuss how to select the ideal editing tool. We'll also introduce you to 13 of the best tools specifically designed for crafting Instagram Reels.
Why Create Instagram Reels for Your Business?
Creating Instagram reels for your business can be a highly effective strategy for several reasons:
1. Increased Visibility and Reach
Instagram reels are prominent in the Instagram app, often getting priority in the platform's algorithm. Reels can increase visibility on Instagram's Explore page, helping reach new audiences. This means that reels are more likely to be seen by a broader audience, including those who don't follow your Instagram profile.
2. Engagement with a Younger Audience
Reels are particularly popular among younger demographics. If your business targets millennials or Gen Z, reels can be an effective way to engage with these audiences in a format they prefer and frequently use.
3. Showcasing Creativity and Brand Personality
Reels allow for creative, short-form video content to showcase your brand's personality. This format is perfect for creating fun, engaging, and memorable content to help your brand stand out.
4. Leveraging Trends for Virality
Instagram reels often revolve around trends, challenges, and popular music. By participating in these trends, your business has the opportunity to tap into viral content, significantly increasing your brand's exposure.
5. Driving Traffic and Sales
With the ability to add call-to-action buttons and links, reels can be a direct driver of traffic to your website or product pages, leading to increased sales and conversions.
6. Enhanced Storytelling and Product Showcases
Instagram reels provide a dynamic way to tell your brand's story or showcase your products/services in action. This can be more engaging than static images or text, leading to better customer understanding and interest.
7. Competitive Edge
As more businesses adopt reels, not utilizing this feature could mean missing out on a key competition area. Being active with reels can give your business a competitive edge in the digital space.
8. Building Community
Instagram reels can help in building a community around your brand. Engaging, relatable, or informative reels encourage likes, comments, and shares, fostering a sense of community among your followers.
9. Cost-Effective Marketing
Creating Instagram reels doesn't necessarily require a big budget. With some creativity, you can produce engaging reels using just a smartphone, making it a cost-effective marketing tool.
How To Choose the Right Instagram Reels Editing Tools
Several key features must be considered when selecting the perfect editing tool for Instagram Reels. These features enhance the quality of your Reels and ensure they resonate with your audience and align with Instagram's trends and functionalities.
The following are the must-have features in Instagram Reels editing tools that you are looking for:
Aspect Ratio: Instagram Reels have a unique vertical format. The ideal tool should allow you to easily adjust the aspect ratio to 9:16, ensuring your content fills the entire screen without any black bars on the sides.
Cover Photo: An engaging cover photo is crucial as it's the first thing viewers see. The right tool should let you create or edit a captivating cover photo that reflects the essence of your Reel and encourages users to click.
Original Audio: The ability to add your own voiceover or original audio gives your Reels a personal touch. Look for tools that offer high-quality audio recording features.
Sound Effects: Sound effects can significantly enhance the entertainment value of your Reels. Tools with a sound effects library give you the creative flexibility to add more engagement to your content.
Seamless Transitions: Smooth and creative transitions are key to keeping viewers engaged. Tools with a variety of transition options can help your Reels flow more naturally.
Trending Audio: Music is at the heart of many viral Reels. Editing tools that provide access to trending audio tracks or integrate with the Instagram music library can be crucial for creating content that resonates with current trends.
Tag People and Hashtags: Tools that allow you to tag people and add relevant hashtags directly can enhance discoverability and engagement.
Metrics and Analytics: Understanding how your Reels perform is essential. Tools with built-in analytics can provide insights into viewer behavior, helping you refine your strategy.
Hands-Free and Countdown Features: For creators who film themselves, hands-free recording and countdown timers are invaluable for ease of use.
Influencer Collaboration: Tools that facilitate easy collaborations with influencers can add variety to your Reels content.
Best Instagram Reels Editing Tools
Here are 13 best Instagram reels editing tools available in the market: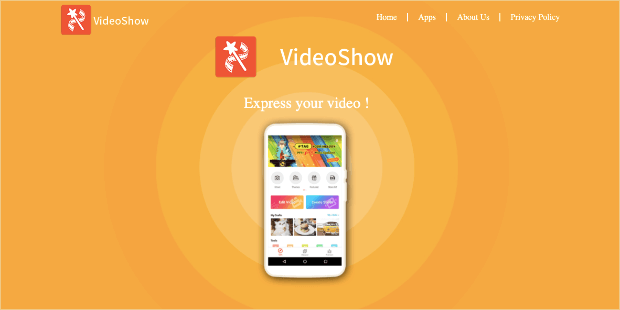 VideoShow is an all-in-one video editor and makes a great solution for editing your Instagram videos.
VideoShow is now more relevant for creating quick, catchy reels with its wide range of stickers, emojis, and text options. Its Instagram reels templates are perfect for crafting short, engaging reels that stand out.
This tool lets you create stunning and engaging videos FAST. You can add stickers, emojis, text, and more to hook your audience and increase watch times.
Plus, you have other useful features to repurpose content like an audio extractor, 4k video exports, video splicing, and more.
That means you can easily take your Instagram videos and turn the same content into podcasts, a YouTube channel, and other video or audio-based platforms.
This will allow you to get more marketing mileage from your Instagram videos with VideoShow.
Key Features
Audio extractor
Pre-made templates
4k video exports
Low learning-curve
Voice-overs
And more…
Who Is VideoShow Best Suited For?
This tool would be best for people who want a quick way to make stunning videos for a variety of channels. If you're simply making Instagram reels, then this tool might be overkill.
But if you create lots of video-based content for your audience, then VideoShow is an absolute no-brainer.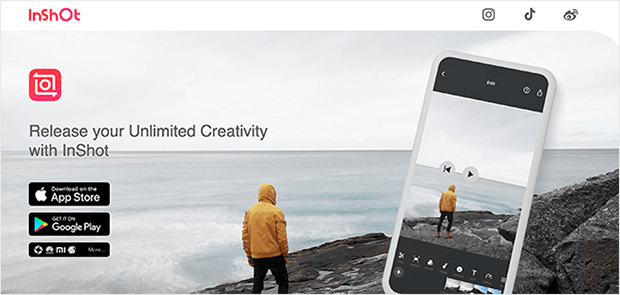 The InShot video editing app is made for iPhone and Android users to be able to edit reels quickly on the go.
InShot's frame size adjustment feature is ideal for the vertical format of Instagram reels. Its easy-to-use interface lets you quickly edit and add creative touches to your reels.
On top of reels video editing, you can make picture collages and add filters to images.
However, the "edit on the go" feature means the app will be limited in what it can do, but it's simple and easy for anyone to use.
Key Features:
Lets you easily set frame size for Instagram reels, Instagram stories, or Instagram feed
Includes necessary basic features such as trimming, cutting, and splitting
Blurs the background for unused areas
Lets you add filters, including colors and a variety of cool effects like ghost, glitch, TV, and more
Includes slow-motion and fast-motion controls
Lets you add stickers to your videos
Allows you to easily add text to your videos
Includes volume control, video rotation and flipping, and music
InShot offers so many features that we could write an entire blog post about it.
The only downside to InShot is that if you use the free version, your videos will come with InShot brand logos and a small ad space. You can eliminate this by paying $2.99/month. Paying will also open all of the features, although you can still get by pretty well with what's offered in the free version.
Who Is InShot Best Suited for?
InShot obviously can't replace the technicality of software like Adobe Premiere Pro. But if you just want some fun, quick videos for your Instagram that aren't meant to be extremely professional, InShot is an excellent place to start.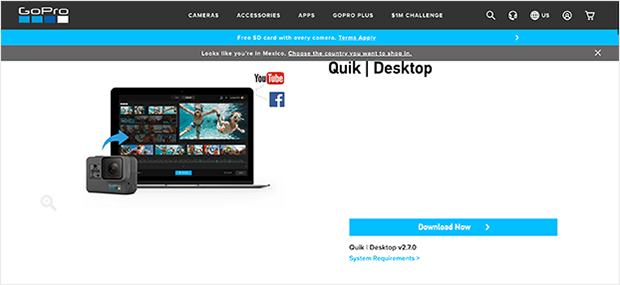 Quik is a video editing app created by GoPro. If you have a GoPro, you should be familiar with Quik as it's the app where you go to see your GoPro images and videos. But to make a video on Quik, you can also import footage from anywhere, including your camera roll.
Quik is great for compiling fast-paced, visually appealing reels. Its ability to import footage and add music and text overlays makes it a go-to for reel creators.
You can decide to custom make videos, or let the app make videos for you by gathering moments and putting them together. It looks professional, there's music, and the cuts and transitions are smooth.
Key Features:
Imports up to 500 items at a time
Imports the most common formats such as MOV, MP4, and H264
Lets you add text and music
Plays footage in fast or slow-motion
Allows you to add text overlays, emojis, and title slides
Chooses video duration based on which social media platform you're posting it to
Lets you choose from (almost) endless filters
Includes size formatting for Instagram
The features offered by Quik are impressive, and there isn't much you can't do to create your dream video. It's nice that you have the option to edit yourself or let the app do it for you.
Quik costs $4.99/month, but you're invited to a 30-day free trial to try it out first. You also won't have any ads or brand logos shown on your videos.
Who Is Quik Best Suited for?
Quick can import up to 500 videos at once. If you're trying to make a reel with multiple scenes, this Instagram reel editing tool is for you. You don't need any video editing experience as Quik is easy to piece a bunch of clips together.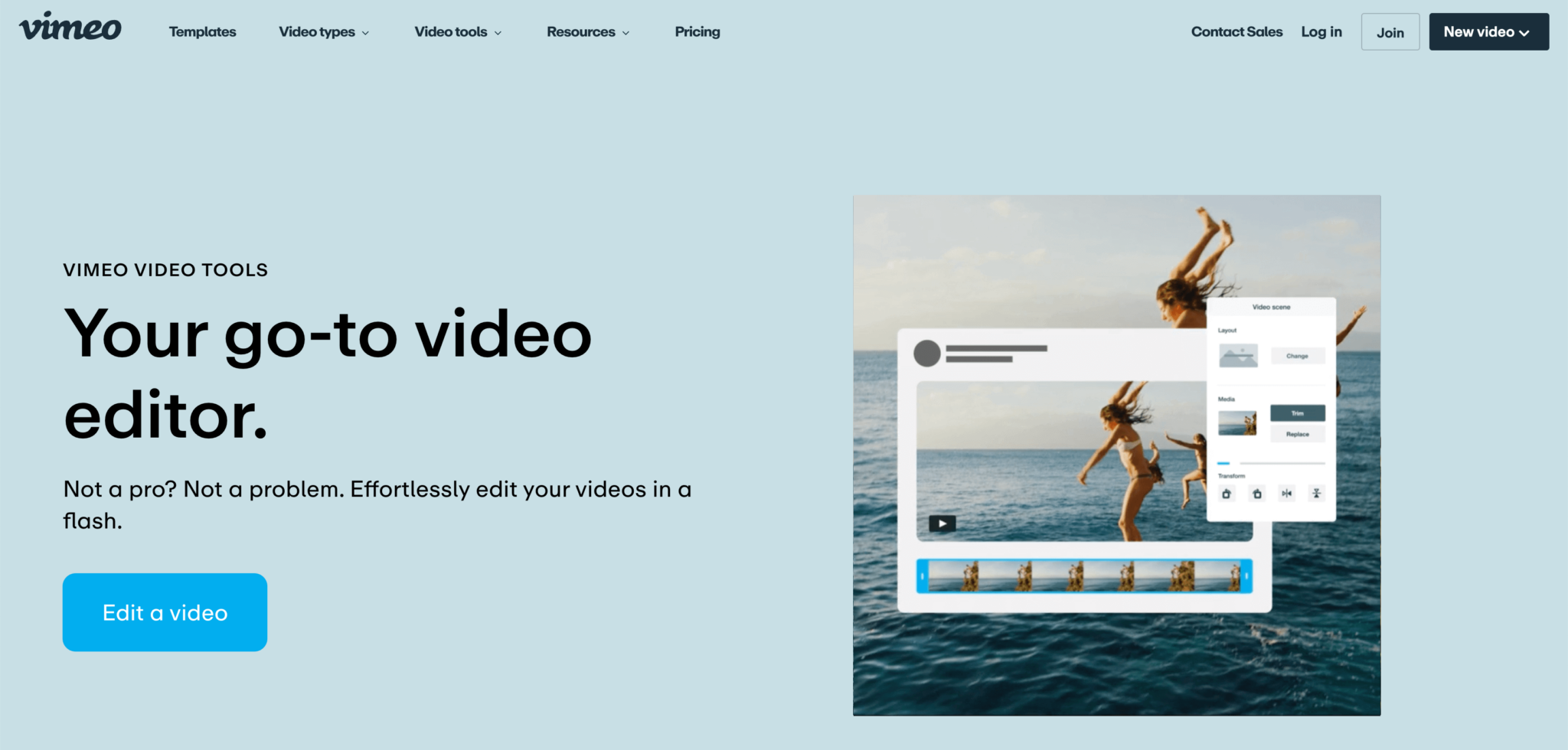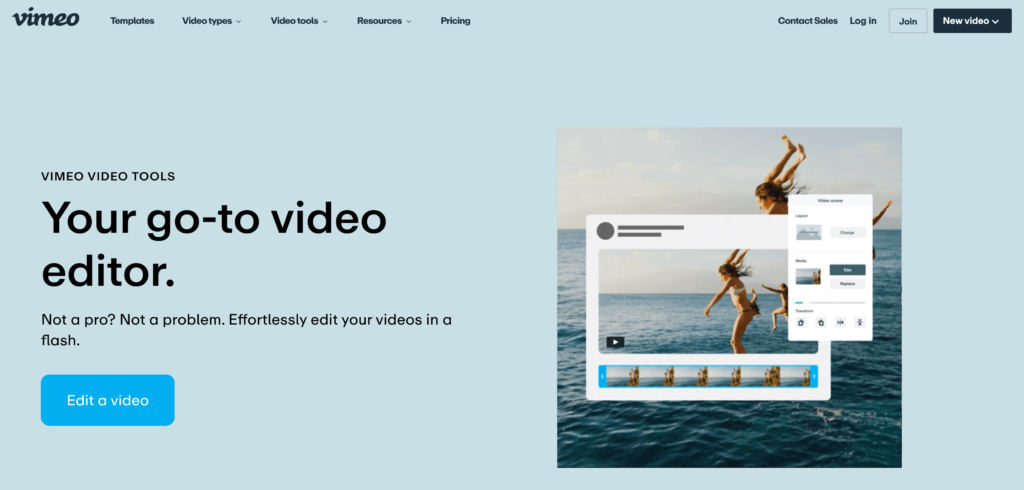 Vimeo is an Instagram reel editing tool that is powered by artificial intelligence.
Vimeo's AI technology is perfect for creating emotionally engaging reels. Its advanced editing capabilities can help turn your footage into captivating reels with minimal effort.
Vimeo's AI will create your videos based on sound and facial recognition, landscapes, and action sequences.
Unlike the tools mentioned above, Vimeo has the capability of providing you with more customization, almost automatically through AI.
Key Features:
Allows you to access your media library so you can upload from your videos
Gives you the option to include animation
Lets you edit easily with a drag and drop builder
Adjusts speed for slow and fast-motion
Lets you use custom branding
Supports HD resolution with ease
Gives you the choice of a large variety of filters
Gives you access to analytics and privacy options
Vimeo is one of the most feature-rich tools available for Instagram video creators. The only thing that's missing is the ability to upload items in bulk.
In terms of pricing, Vimeo has 3 separate plans, all with different features included. The plan you choose will depend on your business needs and how serious you are with video marketing. Here are the plans:
Starter: $12/month
Standard: $20/month
Advanced: $65/month
Who Is Vimeo Best Suited for?
Vimeo is for people who want to produce more than just a basic video. It's best suited for small to medium businesses looking for the most features and customization options to turn their videos into scroll stoppers.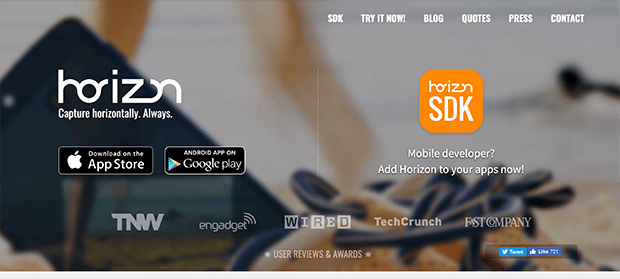 Most Instagram users record their videos in portrait mode since it's best-suited for Instagram, and you're able to fill the entire screen of a user's phone. However, almost every other platform supports videos shot in horizontal.
Horizon ensures your Instagram reels always have the perfect orientation, no matter how you shoot your footage. This is especially useful for repurposing content across different platforms.
You can tilt the camera up, down, back and forth, and the captured video will always be in horizontal. This helps tremendously in ensuring your horizontal videos look clean and professional.
Key Features:
Lets you use a horizontal viewfinder
Adds feeling to your creations with real-time filters
Gives you options to upload items or record footage directly on the app
Shoots in slow or fast-motion
Shoots in 2k resolution
Gives you an in-app tutorial on how to capture and edit your first videos
Horizon offers a free version for Android users. However, the features are limited, and you can only record video clips up to 15 seconds. They also have a watermark in the bottom corner, and each video ends with a Horizon brand advertisement. Having said that, investing $1 to unlock all features and have no advertisements might be worth it.
iOS users still don't have access to a free version and will pay a one-time payment of $1.99. When you pay for the iOS version, you'll unlock all features right away.
Who Is Horizon Best Suited for?
Horizon will best benefit Instagram users who prefer a horizontal view on their videos.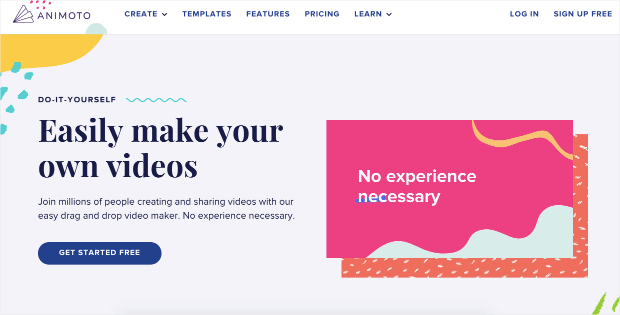 Animoto is a free editor that allows you to easily make your own Instagram videos.
This tool doesn't require any video editing experience or "tech skills" to get started. That's because it comes with a drag and drop video maker that anyone can use.
Plus, Animoto comes with pre-made templates to help you make videos more quickly. And if you run out of images or music in your video, you'll have thousands of stock-free options to choose from.
If you need a quick and easy solution to make your videos, then Animoto might be the right tool for the job.
Key Features
Easy customization tools
Stock images and music
Unlimited video creation (with various layouts)
Well-reviewed and reliable
And more…
Who Is Animoto Best Suited For? 
This is a great tool for busy business owners without any video editing experience.
It's also a free tool (though you might want to upgrade). And that means it's one of the best solutions for getting started with video editing for your Instagram channel.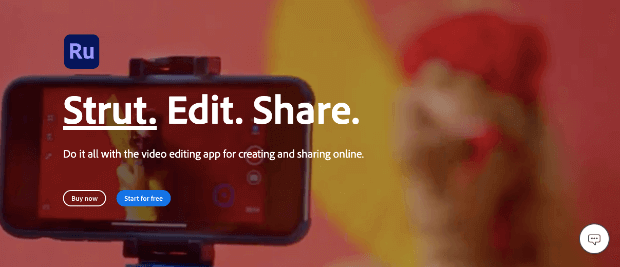 Previously referred to as Adobe Premiere Clip, Adobe Premiere Rush is a free video editing app that's connected with Adobe Premiere Pro.
They offer 2 forms of editing to cater to your needs: freeform and automatic. Freeform mode will let you take control and do all of the editing yourself while automatic mode will create the video for you with smooth transitions and selected footage clipping.
For more sophisticated Instagram reel edits, Adobe Premiere Rush offers a range of professional tools. Its connection with Adobe Premiere Pro makes it ideal for detailed editing work.
Key Features:
Lets you sync everything to the cloud
Transfers your work into Adobe Premiere Pro and edit further
Downloads on any device
Exports optimized for all social platforms, including Instagram
Includes some features found in Adobe Premiere Pro like built-in transitions, filters, and text are available
Allows you to make your own videos or let the app make it for you
Like Vimeo, AI powers Adobe Premiere Rush, which they call Adobe Sensei. This AI will capture all of the best moments of your clips and mash them together automatically. However, it can also make the footage a bit rocky by cutting to different clips at random moments, resulting in the video making no sense at all.
The app is free to download and use, but only comes with 2GB of storage. If you need more than that, you can pay $9.99/month for the Premiere Rush Single App.
Who Is Adobe Premiere Rush Best Suited for?
If you already have other Adobe products downloaded, this app will feel familiar to you in terms of editing. Their freeform mode is one of the most versatile tools for creating high quality, customized videos.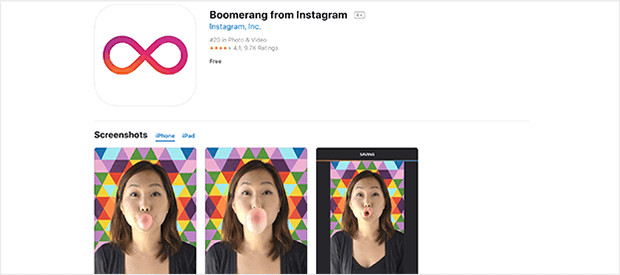 If you're looking to bring some real fun into your Instagram video editing, look no further. Boomerang is different than the Instagram video editing tools mentioned above.
Boomerang's looping effects can add a fun, quirky element to your Instagram reels, making them more engaging and shareable.
Instead of making a formal video, you can make your own GIFS and short videos using a sequence of 10 pictures. All you need to do is select 10 photos, and the app will loop them automatically into a mini video. This allows you to get creative and make engaging videos quickly.
Key Features:
Allows you to post your video directly to Instagram from the app
Lets you create short, engaging videos
Allows access easily with no separate sign-up or creating an account required
Saves videos to your camera roll and upload them later
The Boomerang app is free and easy to use and set up. You'll be limited to Instagram's features, so you won't have very many customization options other than adding filters, music, text, and stickers. However, Boomerang isn't for editing professional videos, so the features that come with it are pretty much all you'll need.
Who Is Boomerang Best Suited for?
Anyone can and should use Boomerang. Whether you have a huge company or you're just starting out, it's a great way to engage with your audience and show people that you're playful.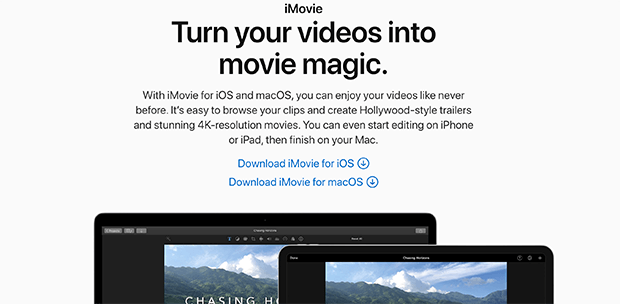 Designed for iOS users, iMovie may be the easiest to use Instagram reel editing tool for you.
It's a well organized, user-friendly interface that helps you create high-quality reels with many great editing features. You can take control and edit on your own with the movie option, or let iMovie edit for you with the trailer option.
Its stability features and HD support ensure your reels look professional.
Key Features:
Allows you to stay organized by putting all your content in different media libraries
Includes access to 30 video filters and 20 audio filters
Matches color to make your video look more consistent and tweak the white balance
Supports HD and 4K
Includes a stability feature, which most Instagram editing tools don't have
Lets you share easily with social media platforms
All of these features come at no cost as iMovie is free.
Who is iMovie Best Suited for?
iMovie is great for beginners who are looking for something simple that still gives you good video quality. Unfortunately, it's only available to iOS users.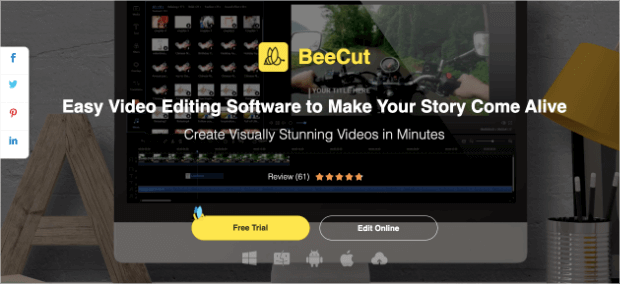 BeeCut is a video editing software that promises to make your stores come alive.
BeeCut's advanced features, like filters, overlays, and visual effects, allow for creative and professional-looking Instagram reels.
It allows you to quickly trim and cut your videos, so your audience will focus their attention where you want them to. You can also split and splice videos together for smoother (and seamless) transitions.
Everything can be matched to your brand's style, too. This allows you to embed videos on your Instagram channel that fully represents your brand's voice, style, and look.
Finally, BeeCut offers plenty of advanced features like filters, overlays, visual effects, music, and much more.
Key Features
Low learning curve
100% customizable
Video optimization features
Quick sharing to Instagram
And more…
Who Is BeeCut Best Suited For?
BeeCut is best for intermediate users who may not have a lot of time but have a good understanding of video editing.
While beginners can definitely still use BeeCut for their Instagram videos, the advanced features would likely be wasted. But intermediate and advanced video editors will love the variety of tools they can use to make professional and stunning videos FAST.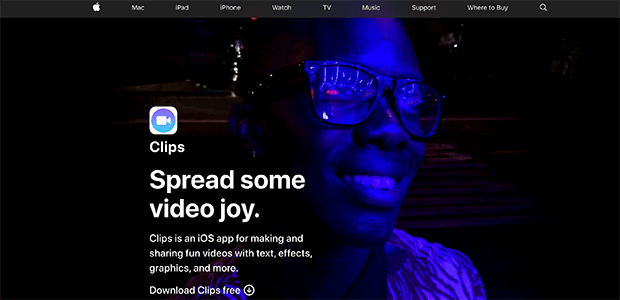 Apple Clips was created by Apple as a dead-simple, "what you see is what you get" video editing app.
Apple Clips offers straightforward controls and creative options like stickers and music, making it a great tool for quick Instagram reels edits.
It's feature-rich but doesn't offer many advanced options for those looking to take their editing beyond the starting line. However, the simple functionality of Apple Clips is precisely the reason why people prefer to use it.
Key Features:
Lets you edit videos with straightforward controls
Allows for creativity with fun stickers, emojis, and posters
Adds music from your library, or choose from Apple Clips tracks
Records in-app and drag and pinch to zoom in or out
Shares directly to Instagram or any other social platforms
As is the case with most of Apple's products, you must have an iOS device to download it. Apple Clips supports any iOS device. However, to be able to use all the features, you must have iOS 16.0 or later.
And the best part is that Apple Clips is 100% free!
Who Is Apple Clips Best Suited for? 
Apple Clips best suits iOS users who are looking for an easy Instagram video editing tool that allows for plenty of creativity but doesn't overwhelm the user with complicated features.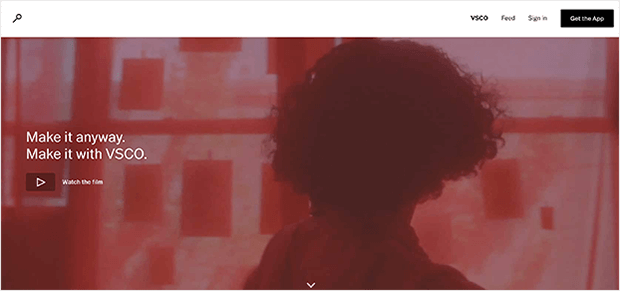 If you're interested in photography, you probably already have a VSCO account or at least have heard about it. In 2017, VSCO upped its game by creating a video editor. It's relatively new, but it's a great tool to use for your Instagram videos.
With its library of presets and advanced editing tools, VSCO is ideal for creating aesthetically pleasing Instagram reels that resonate with your audience.
Having a VSCO account also gives you access to their VSCO community, where you can get access to a huge network of other creative users.
Key Features:
Includes a library with 200+ presets
Offers advanced editing tools like HSL (high-speed link) and borders
Shares your work for a chance to be curated on the VSCO community
Gives you access to tutorials with tips and tricks to help you develop your skills further
Lets you upload anything with no size or length limitations
Uploads 4K videos up to 30 frames per second, and 60 frames per second up to 1080
VSCO offers a 7-day free trial so you can decide if it's worth it for you. After your free trial, you'll pay a low price of $29.99 per year with access to the video and image editor.
Who Is VSCO Best Suited for?
If you're already familiar with VSCO, this could be the easiest Instagram video editing tool for you. VSCO doesn't cost much, and you also get access to an active community of users. VSCO also offers the most presets out of any other tool.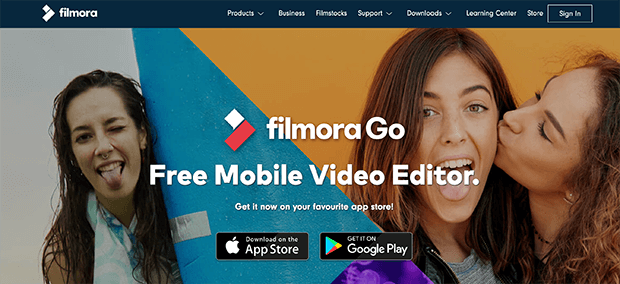 FilmoraGo is a free app that doesn't add watermarks, making it perfect for creating fun and engaging Instagram reels without additional costs.
There's also no limit on the length of video you can record, edit, or share.
Key Features:
Imports videos from camera roll or social networks like Instagram and Facebook (Meta)
Offers many stylish features that look professional
Includes a library of licensed songs that you can choose from, or you can import your own
Exports to the 1:1 Instagram aspect ratio
Allows you to reverse, speed up or slow down your video
Lets you choose built-in transitions, add text, and add still and motion features
FilmoraGo has all the ingredients to make an entertaining, visually appealing Instagram video. Plus, the fact that you won't get watermarks, ads, or a time limit on your video is everything.
FilmoraGo is entirely free, and you'll only pay extra if you want additional unique features like holiday and retro effects.
Who Is FilmoraGo Best Suited for?
FilmoraGo is for anyone looking for a cheap, simple way to make fun Instagram videos. However, it's not the most developed app out there. If you're a company looking to create super polished videos through heavy editing, it would be more beneficial to go with something like Adobe Premiere Rush. That way, you can connect to Adobe Premiere Pro, which could support heavier edits.
Instagram Reels Hacks and Bonus Tips
Understand the Instagram Reel Algorithm: Using relevant hashtags and understanding the Instagram Reels algorithm is crucial to maximize visibility and engagement on the platform.
Consistency is Key: Regularly posting Reels can significantly increase your visibility and engagement on Instagram. Consistency helps in building a loyal audience and keeps your brand top-of-mind.
Experiment with Diverse Content: Feel free to experiment with different types of content in your Reels. Whether it's behind-the-scenes footage, tutorials, product showcases, or entertaining challenges, diversifying your content can help you discover what truly resonates with your audience. Pay attention to the metrics and feedback to refine your approach.
How to Convert Instagram Followers
Earlier in this post, we mentioned that one of the biggest advantages of upgrading your Instagram videos is that you can drive more sales from your online store.
The only question that remains is, "How?"
Now, we're going to answer that question with the following tool: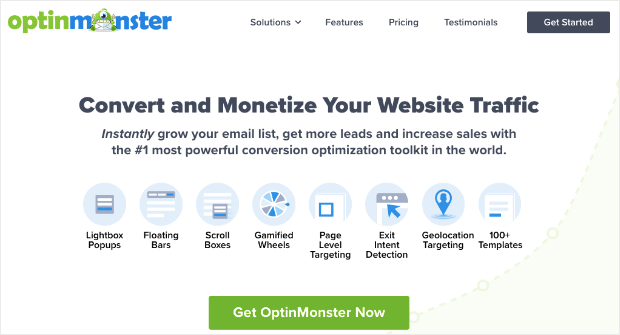 OptinMonster is the best lead generation software on the market. So you might be wondering how it will help you convert your Instagram followers into customers.
This happens in a few easy steps.
First, OptinMonster gives you all the tools you need to create stunning optin campaigns in a matter of minutes.
By "optin campaigns," we're referring to things like popups, floating bars, fullscreen welcome mats, and more.
The goal of these campaigns is to get users to "opt-into" your offers. This could be for:
Signing up for a newsletter
Joining a webinar
Downloading a coupon
Making a purchase
And much more…
But the best part is that you don't need to be a professional coder or designer to build high-converting campaigns.
That's because OptinMonster gives you 100+ pre-made templates to choose from: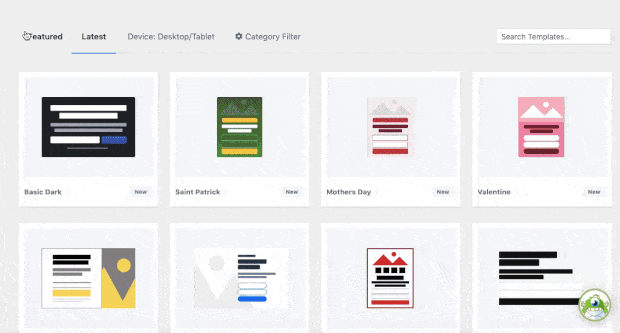 These templates are fully-response and look great across devices.
Plus, they're easy to modify. Once you've selected the template you want, everything can be customized to your brand's style and offer with just a few clicks.
That's because OptinMonster uses a codeless drag and drop visual editor: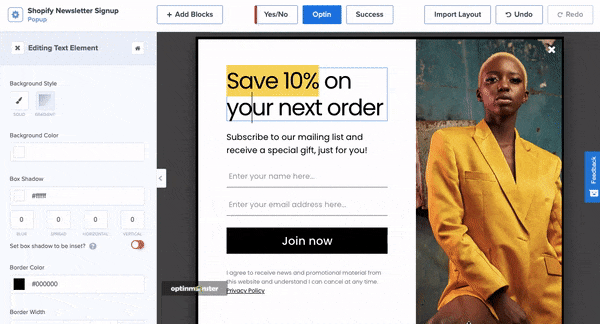 At this point, though, you might be wondering:
"How will any of this help convert my followers from Instagram?"
One of the best reasons for using OptinMonster are the powerful targeting rules. While you've likely heard of OptinMonster's Exit-Intent® Technology or Geolocation targeting, there's an even better rule for targeting your Instagram followers:
Referrer Detection.
This allows you to show campaigns to your site's traffic who came from a specific 3rd-party site.
In this case, that would mean targeting people who came from your Instagram account: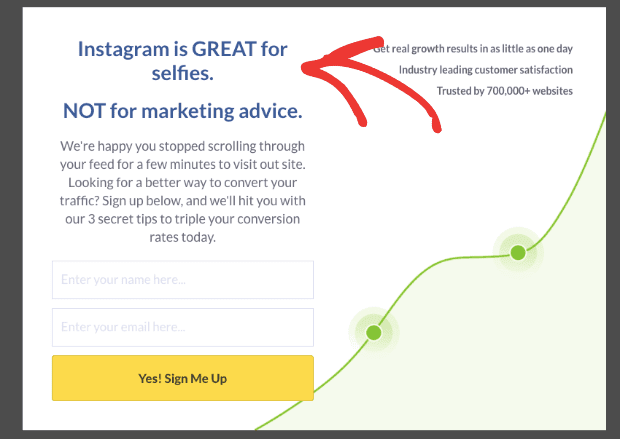 Notice how the message is totally tailored to someone coming from their Instagram account.
By personalizing the user experience (UX) in this way, you'll be more likely to see HUGE increases in signups and conversions across your site.
Want to see it in action for yourself? Click below to start your 100% risk-free OptinMonster account today:
Sign up for OptinMonster Today!
BONUS: Done-For-You Campaign Setup ($297 value)
Our conversion experts will design 1 free campaign for you to get maximum results – absolutely FREE!
Click here to get started →
We hope you enjoyed this post. If you did, you'll definitely want to check out the following resources:
These articles will have even more information on how you can take your Instagram marketing strategy to the next level.