There's nothing more frustrating than seeing a marketing campaign fail after you invested effort, time, and money into it.
Unfortunately, failure is the usual outcome of most campaigns.
But it doesn't have to be that way.
We believe small businesses deserve to have a fighting chance in the market.
However, we also understand that most eCommerce stores, bloggers, agencies, and product owners don't have big marketing departments or a lot of resources to 'figure out' what works and what doesn't.
And that's why we created Playbooks.
Playbooks are ready-to-use campaigns that replicate the same strategies, rules, and structures successful brands use in their marketing.
In simpler terms, we studied some of the biggest and most successful brands in the world, to figure out exactly what they are doing to get results.
We then took those principles and used them to create a series of ready-to-use campaigns for you.
It's necessary to point out that Playbooks are not a series of popup examples.
While popup examples are helpful in their own way, Playbooks are so much more!
Each Playbook campaign has done-for-you:
Structure
Design
Copy
Display Rules
You are free to personalize anything you want, but you don't have to.
You don't get that from a list of popup examples, do you?
Years of Proven Marketing at Your Fingertips
Playbooks take guessing and luck out of campaign creation.
When you use a Playbook, you know the strategy behind it is proven, the design is proven, the display rules and copy are proven.
Compared to that, a blog post with popup examples or templates doesn't offer you the same confidence and trust.
There's no doubt your chance of success increases when you follow a blueprint backed by years of research, tests, and results.
Even so, you could say that these strategies won't work for you because you don't have the same level of brand recognition other companies have.
That's a valid concern.
To show that Playbooks work no matter what type of business you have, how small your company is, or how knowledgeable you are… we made sure they were implemented by our OptinMonster customers first.
So, each Playbook is validated by the general market, and by OptinMonster customers who have businesses just like yours.
Increase Your Conversion Rate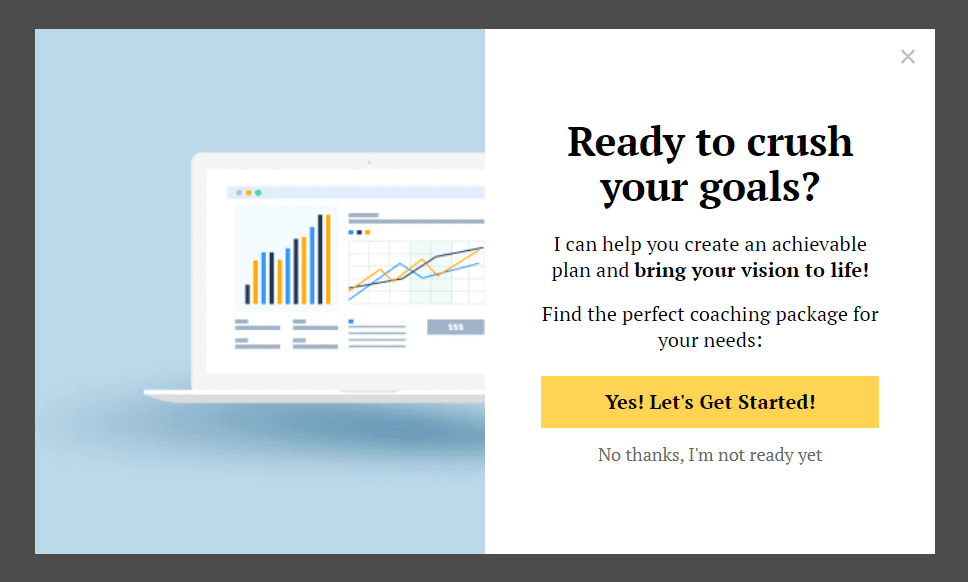 Getting better results is a direct benefit of using Playbooks.
Implementing a ready-to-use Playbook campaign is a great way of increasing your conversion rate with very low risks.
One could say using a Playbook is a faster, easier, safer, and more affordable alternative to hiring a marketing consultant.
Playbooks are proven and tested.
Consultants might not be a good fit, or they might not have enough expertise to help you out.
Playbooks can be implemented in minutes. 
Working with a consultant can take days if not weeks.
Playbooks are a part of OptinMonster and can be used at no additional cost. 
Consultants need to be hired and paid.
Overall, Playbooks give you a higher return on your investment than a consultant could, especially in the short term.
You can increase your conversion rate by 2-5% in just minutes, with close to no effort.
Never Get Stuck Again
When in doubt about what type of campaign to create, what design, structure, or copy to use… open a Playbook.
This drastically reduces the time you spend on planning and implementation.
It also helps you understand the foundational principles that Playbooks are built upon. Having a good idea of how these principles work allows you to replicate them in other business areas.
A specific type of offer or piece of copy that works in a popup campaign could potentially work just as well in an email.
So Playbooks can widen your perspective and open your mind to new growth opportunities.
Personalized to Your Goals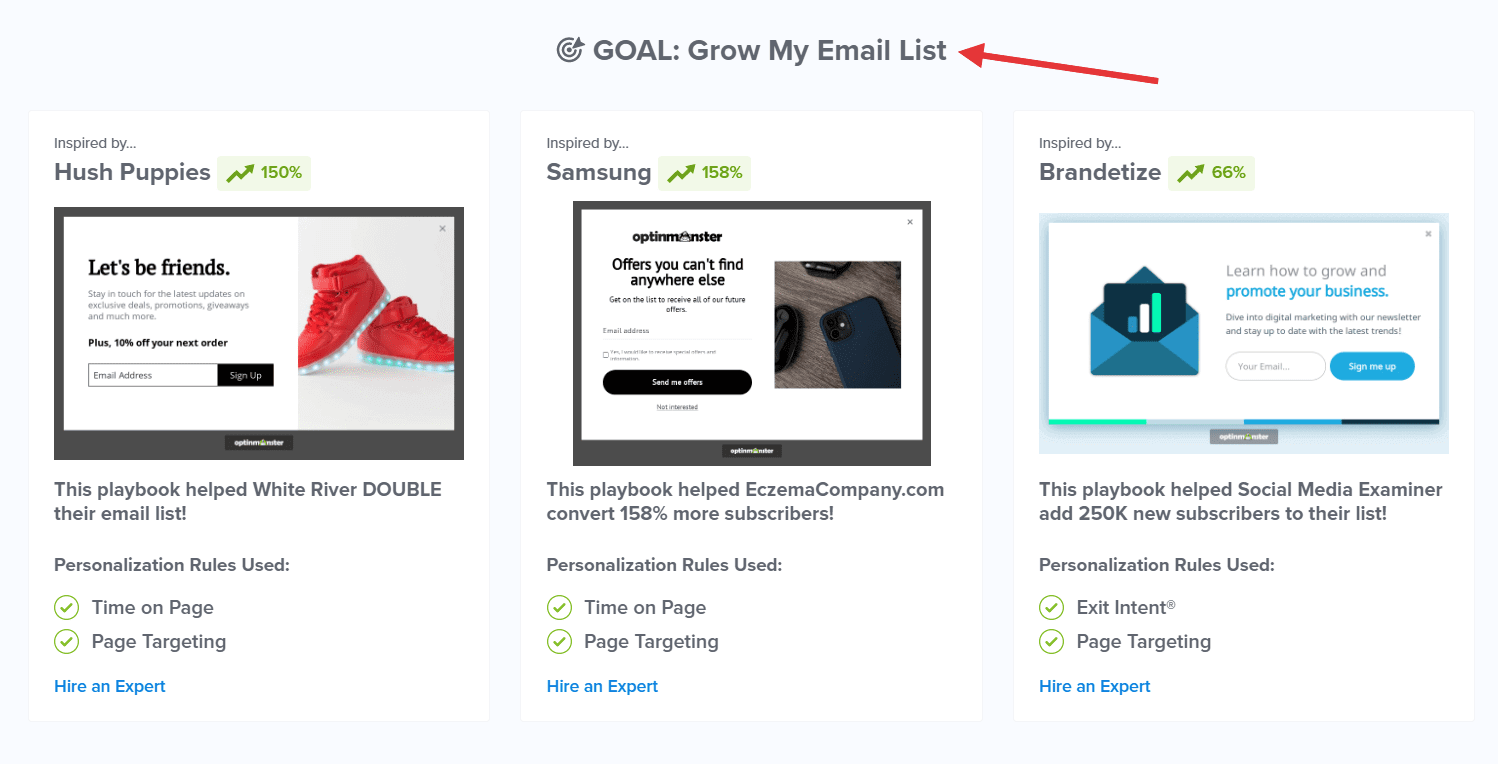 The Playbooks you have access to are categorized based on the most relevant campaign goals.
This means you can choose a Playbook that is proven to work for your specific goal, whether that goal is capturing leads, growing your social media following, or generating sales.
To have an even higher chance of success… you can use a Playbook that is specific to your goal and inspired by a company in the same industry as yours. (All these options are available to you inside the OptinMonster dashboard).
Ready to increase your conversions with Playbooks? Get started with OptinMonster today!