Do you want to learn how to increase your Shopify store's conversion rate?
Shopify conversion rate optimization is one of the most important parts of running a Shopify store. After all, converting visitors into customers is necessary for your store to be profitable.
No single growth hack can instantly increase your Shopify store conversation rate.
However, with the help of a few Shopify apps, you can optimize your conversion rate in no time.
Today's tutorial will show you the tips and tricks you need to increase conversions on your Shopify store.
Ready to get started? Let's dive straight into our list.
1) Create Targeted Popups
Most people know you only get a few seconds to make a first impression.
That's why it's wise to bring your offers to your site's visitors with a helpful popup and a lead magnet.
You can give a lead magnet in exchange for a visitor's email address or phone number. It can be a discount or an informational product that your audience would find valuable. Common examples include:
Ebooks
Infographics
Free shipping
BOGO deals (buy one, get one free)
And many others
Popups are one of the best ways of using a lead magnet to grow your email list.
But maybe you've heard that "popups don't work" or that they "hurt the user experience (UX)."
If so, make a note: popups are effective!
The problem is that too many people don't target their popups correctly. So, in the end, they're left with a generic offer they show everyone on their site.
Targeting your popups is a surefire way to increase conversions on your Shopify store.
And to get the best results, you'll want a tool like OptinMonster:

OptinMonster is hands down the best popup app for your Shopify CRO.
With 100+ eye-catching templates and a drag-and-drop builder, OptinMonster makes it simple to create customized popups for your store.
Here's an example of a Shopify popup that we built in under 5 minutes: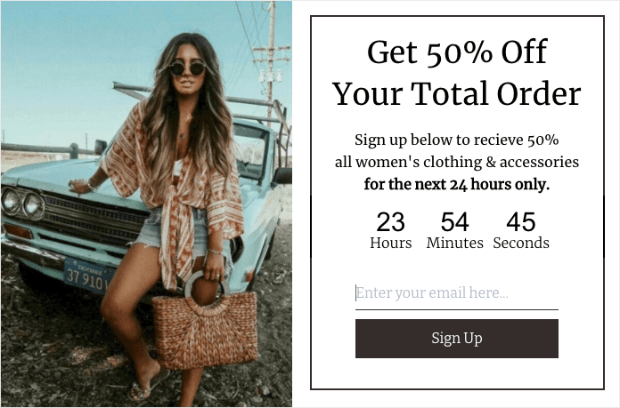 You don't need "code skills" to make these popups work.
That's thanks to OptinMonster's visual drag-and-drop builder: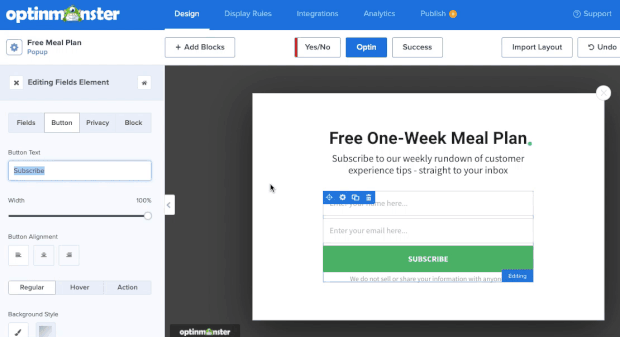 This gives you complete control over your campaign's look, style, and messaging.
Then, with a few clicks, you can add targeting rules that give you complete control over where, when, and to whom your popup appears.
OptinMonster makes it fast and easy with simple targeting rules that do your hard work.
A few of the most popular targeting rules include:
These are just a few examples, but there are many others. And they're the same rules that helped Human Food Bar get over 1800+ signups per month.
Or how Crossrope was able to grow its list by 900%.
You can get the same massive results by clicking below and signing up for your 100% risk-free OptinMonster account right now:
Get Started With OptinMonster Today!
BONUS: Done-For-You Campaign Setup ($297 value)
Our conversion experts will design 1 free campaign for you to get maximum results – absolutely FREE!
Click here to get started →
2) Announce Offers With Floating Bars
Floating bars are the next tool in your arsenal to increase Shopify conversion rate optimization.
With floating bars that you can create in OptinMonster, you will get maximum visibility without potentially annoying your customers.
Floating bars are the perfect alternative to popups.
That's because they are highly noticeable and attach to the top or bottom of your shop. This is the best way to get visitors' attention without harming the user experience (UX).
So, how do you use floating bars to your benefit?
One way is to use countdown timers and seasonal offers to create a sense of urgency.
People respond to the timeliness of marketing campaigns.
If you show them a deal on the items they want (and show them they need to act now to get it), chances are you'll convert that visitor.
They're also good for announcing deals like free shipping:

It's a great way to keep your audience engaged, informed, and happy with your brand.
3) Upsell With Automated Triggers
Upselling can be a powerful technique for increasing sales and conversions. But you need to do it the right way.
The biggest thing to remember about any marketing campaign, but especially with an upsell, is that you have to do it at the right time.
Page-level targeting is a great tool to use for an upsell.
This can be done on the cart or any other page where a customer makes a purchase decision.
Here's a modified example from a popup we've already seen. Only, in this case, we can use it for what customers have already put in their carts: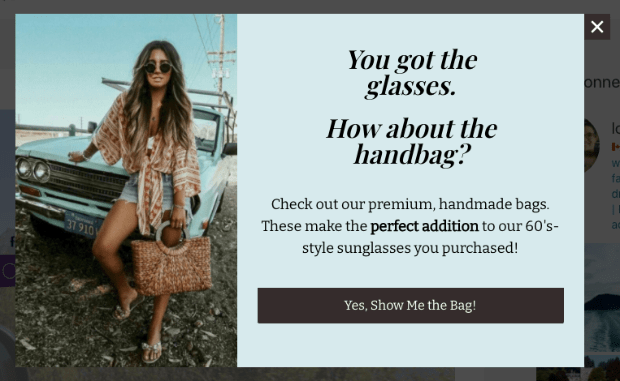 You can easily accomplish this with OptinMonster's Smart Tags technology.
OptinMonster also has targeting rules specifically for Shopify: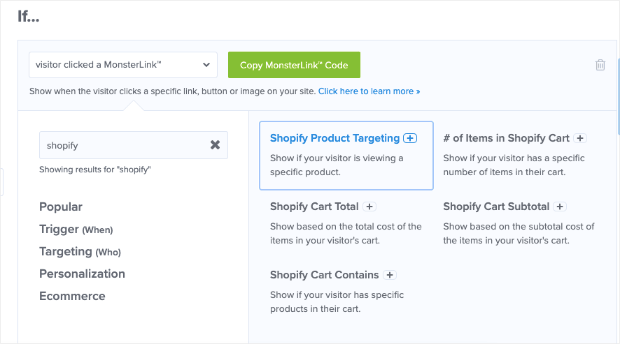 This saves you hours and eliminates any technical setup in the process.
Once your Shopify store is synced with OptinMonster, all these display rules become yours with the click of a button.
Now let's look at another technique to increase the conversion rate on Shopify: down selling.
4) Down sell With Automated Triggers
Before diving into this tip, let's talk about down selling.
Down selling is a sales technique when you offer a similar item that people are looking for at a more budget-friendly price.
This is a way to help boost sales, regardless of the customer's budget.
As an added benefit, you're also training customers to spend money on your products. If you deliver high-quality goods, you'll increase the odds that they'll be back for more.
So, how is it done?
Imagine you run a clothing store.
And your customer fills their cart with a few expensive items. But, at the last minute, they don't make the purchase.
So you show them a popup for a cool item at a price that's hard to turn down: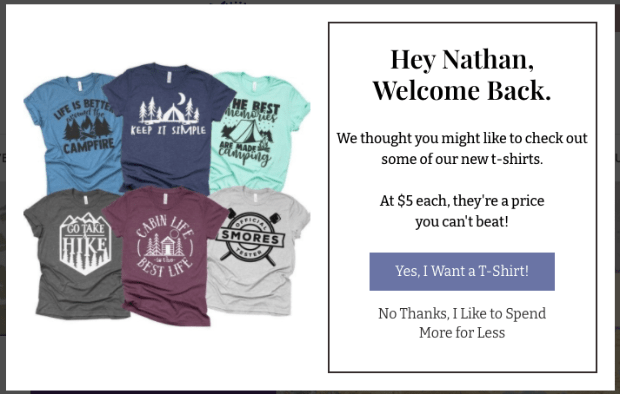 Now, this customer has decided to make a purchase. And you'll have their:
Name
Email address
Credit card information
That means their next purchase will be even faster and easier.
Combining the upsell and down-sell techniques can increase your Shopify CRO and gain customer loyalty.
5) Reducing Cart Abandonment
Shopping cart abandonment is one of the biggest problems Shopify owners face.
Every year, trillions of products are left in shopping carts because the customer didn't finish checking out.
On average, 67.91% of all shopping carts are abandoned.
How can you bring that number down?
We already talked about OptinMonster's Exit-Intent® Technology, which can also be used to display an offer or coupon code for those users about to abandon their cart.
Another trick is to try OptinMonster's InactivitySensor™.
This is a powerful targeting rule, especially since we all know how easy it is to get distracted while shopping online.
First, you get a text from a friend. Then, you get a calendar alert reminding you to check your email. Finally, that email reminds you to call someone; you see where this is going.
OptinMonster's InactivitySensor™ will cause a popup campaign to appear when your visitor has stopped engaging with your store.
This lack of action triggers a campaign to motivate the visitor to re-engage, such as:
a special, time-limited discount
an invitation to sign up for special offers
an offer of help with completing the purchase
Take a look at this campaign used by Skates.co.uk that converted 10.97% of visitors just by using inactivity triggers: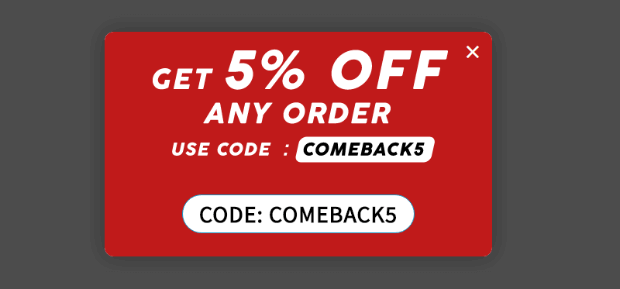 With targeted campaigns with Exit-Intent® and InactivitySensor™ technologies behind them, you can be confident that you will see less cart abandonment and more sales.
Get Started With OptinMonster Today!
BONUS: Done-For-You Campaign Setup ($297 value)
Our conversion experts will design 1 free campaign for you to get maximum results – absolutely FREE!
Click here to get started →
6) Build Trust With Your Audience FAST
As people are looking at your Shopify store, they have two questions in mind:
Do you have the item I need?
Can I trust you?
You have the item they want. Perfect.
But how do you answer the question about trust?
And is trust that important? 100%.
TrustPulse says 70% of website visitors leave and never return because they don't believe you can be trusted.
So, the question is how to increase your Shopify store conversion rate while building trust.
The answer is social proof.
Social proof helps bring credibility to your Shopify store as more people engage with it.
As visitors see people buying your products, they will instantly assume you are trustworthy and the products will be worth their hard-earned money.
Social proof comes in many forms, such as testimonials, reviews, live sales notifications, and much more.
For more information on social proof, we highly recommend this article: How to Use Trust Badges to Increase Sales and Conversions.
But now, let's look at how a specific type of social proof can boost your Shopify conversion rate.
7) Add Live Sales Notifications
A live sales notification will be a game-changer for shops that already see traffic and have more consistent sales but want to boost it to the next level.
You've more than likely seen these before. If not, they look a little something like this:

Live sales notifications let shoppers know when someone has purchased on your site.
And to create live sales notifications, there's simply no better tool on the market than TrustPulse: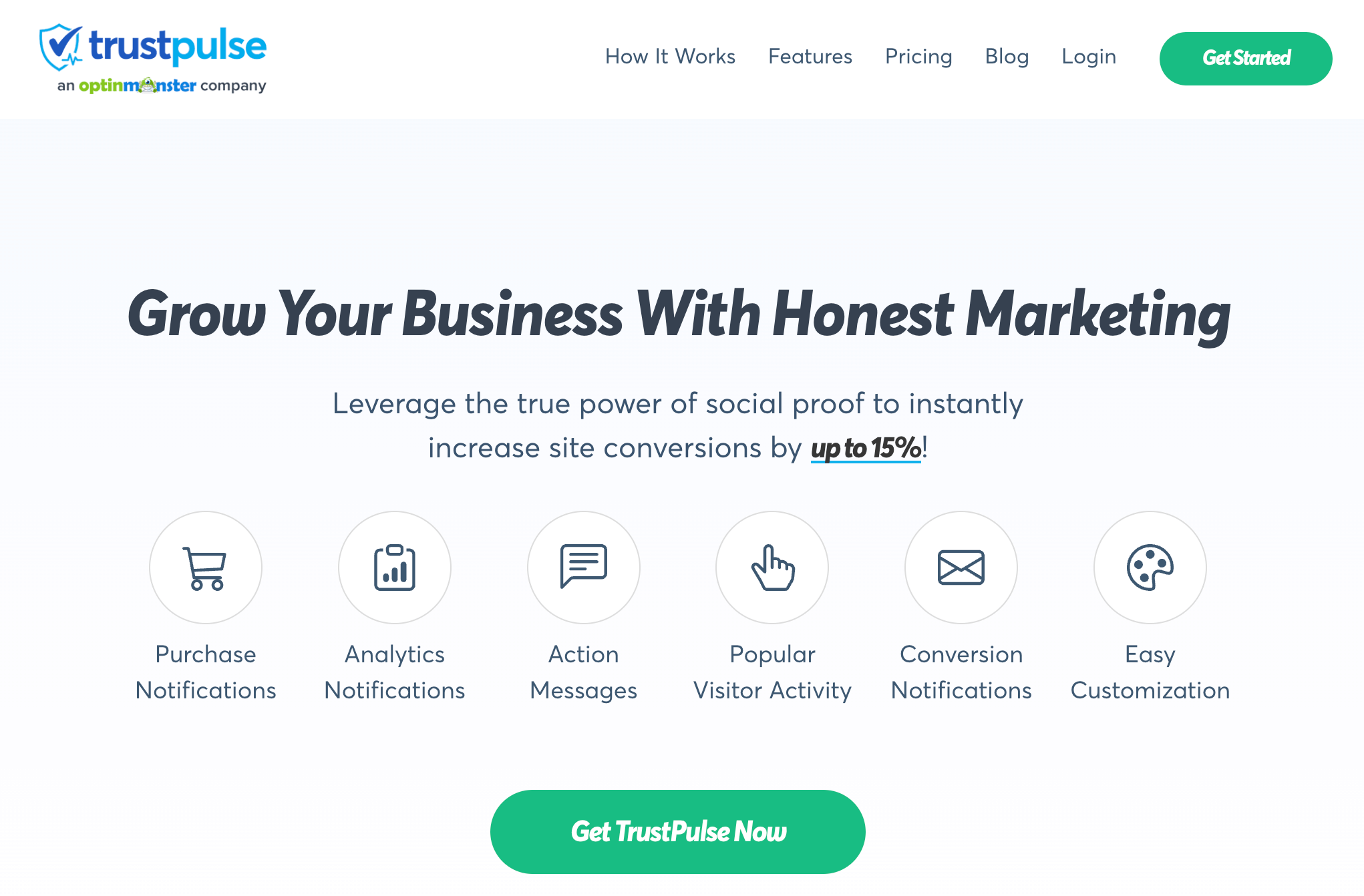 TrustPulse is hands down your best bet for instilling confidence in your audience.
It allows you to create real-time notifications for your Shopify store. Plus, it can help you leverage social proof at every stage of your business.
With TrustPulse, you can create the following types of notifications:
RecentActivity: Show a live stream of website activity like purchases, registrations, signups, and more.
On-Fire: Show the number of people taking action on your website in a given period.
Visitor Analytics: Highlight active interest in your site by showing real page visits over time.
Action Message: Display a single static notification to help drive visitors to take action or highlight valuable information.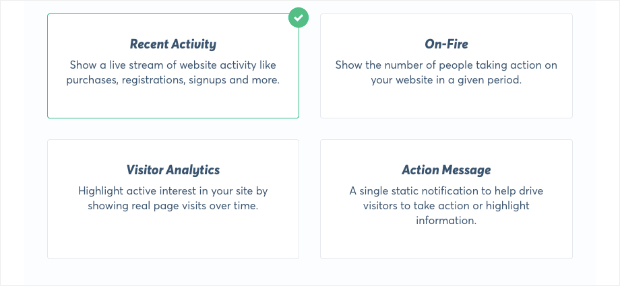 You'll also have 100% control over your notifications' look, style, and messaging.
Here's another example of a live sales message designed to boost trust and drive more sales:

But the best part is that you don't need any technical skills to set this up.
Instead, TrustPulse is a software that just works.
And it's proven to boost sales by up to 15%.
Want to see it in action for yourself? Sign up for your 100% risk-free TrustPulse account today!
Our next tip will use social proof software like TrustPulse, too. But you won't need to have any active sales to use it.
8) Showcase How Popular Product Pages Are
You know what your popular products and categories are. But how can you prove that to your customers?
Visitor analytics help highlight active interest in your Shopify store by showing actual page visits over time.
In addition, you can show store activities like purchases, registrations, signups, and more.
Visitor analytics is handy if you are beginning and need to increase your Shopify store's conversion optimization rate fast.
By adding TrustPulse to your website, you can show your potential and current customers how many visits that particular product page has had.
Here's an example of what a Visitor Analytics campaign might look like for a contest:

Even if you aren't to the point that you can share how many people are buying your product, you can instill that sense of FOMO (the fear of missing out) in your customers by showing how many others have looked at that product page.
You can set up your visitor analytics campaign and let it work its magic.
All of this is automated, giving you time to focus on more important things.
9) Promote Offers With Push Notifications
Push notifications aren't new. We've all seen them before. But did you know they are a popular way to increase conversion rate on your Shopify store?
Why? Because push notifications give you direct access to your customers, whether or not they are on your website.
A major bonus with push notifications is that you usually see higher rates with these subscribers since they don't have to provide an email address.
All they have to do is click Allow, and they can receive notifications straight to their browser.
Push notifications are an excellent way to promote any offers you may launch on your Shopify store.
When you send these messages, a notification will appear on your customer's browser until they interact with it, such as by clicking to view or close it.
PushEngage is the best tool to use for push notifications for your store: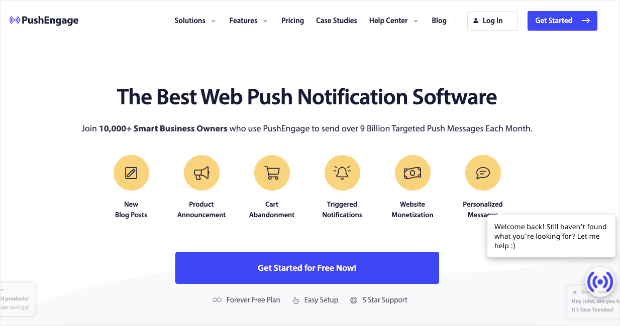 PushEngage makes it simple to create push notifications without the required coding or technical skills.
It also comes with powerful features to help you:
Schedule notifications
Segment your audience to more personalized messaging
A/B test your messages
Create cart abandonment "drip" series
Automate a subscriber's customer journey
And much more
These features make it easier for you to boost conversions across your Shopify site.
Another plus? PushEngage notifications are delivered instantly to your customers. If they are offline, they will see them when they reconnect, so they will never miss an offer.
This gives you direct access to your audience at a moment's notice.
See how easy it is to use by starting your 100% risk-free PushEngage account today!
10) Personalize Your Store
Now that you have tools like OptinMonster, TrustPulse, and PushEngage at your service, it's time to personalize your Shopify store.
Shopify offers fast-loading themes designed to reduce wait times while allowing you maximum control over the look of your store.
Your store is your brand.
Your brand is how your customers come to recognize you, so carrying your brand over into all aspects of your store is crucial.
Luckily, you can follow all the tips above while still maintaining the look and identity of your brand.
OptinMonster and TrustPulse give you control over the design process, from logos to fonts to colors and beyond.
By spending time personalizing and designing a cohesive and professional-looking Shopify store, your customers will feel more comfortable buying from you, increasing your Shopify store conversion rate.
11) Optimize Your Product Pages
Driving traffic to your Shopify store and having all the tools above in place are two of the three major hurdles to increase your Shopify store conversion optimization rate.
What's the third?
You need to optimize your product pages.
A little work will go a long way in soaring over this hurdle.
First, you will want to use professional-level photography for your product images.
Product images are essential because that is how your visitors know what they are buying.
Consider including images showing ways they can use the product and different aspects of the product. You can also have videos to show it in action.
To round out your product page, spend some time with the product description.
Product descriptions explain why the visitor needs your product.
Tell them what their life would look like with that product. If you're buying from a manufacturer, steer clear of their standard description and make it your own.
Need some more tips on Shopify CRO? Check out The Ultimate eCommerce Optimization Guide.
12) Understand Your Customers and Their Actions
Since you want to increase your Shopify conversion rate, we know you are losing customers.
How do you fix that?
You have to track your customers' actions and find out their motivators.
Google Analytics will help you gain invaluable insights into your customers' minds and habits. You can do this by tracking the user flow through Google Analytics.
Plus, when you pair that with the analytics built into OptinMonster and PushEngage, you have a heavy 1-2-3 punch that helps you raise your conversion rate fast.
But just hearing "Google Analytics" can be intimidating for some. We get it.
So, here is a step-by-step guide on how to track conversions using Google Analytics.
The step-by-step guide also simplifies tracking the data by showing you how to collect data from analytics and view it within OptinMonster.
Once you spend some time with Google Analytics, it's time to update your store.
13) A/B Test All Changes to Your Store
This is the last tip, but it's one of the most important.
Now that you know where you are losing the most customers, you can work at fixing it.
We will be honest; sometimes, converting visitors to customers can be frustrating and challenging. Let's make it easier on you by running A/B testing.
By using A/B testing that's already built into Shopify, OptinMonster, and PushEngage, you can test out your changes to find which campaigns and designs make your customers take action.
A/B testing eliminates the guesswork.
With OptinMonster's and PushEngage's drag-and-drop popup builder, you can easily set up different campaigns to test different layouts, campaign triggers, and more.
Plus, OptinMonster lets you split-test all of your Shopify campaigns in a single click: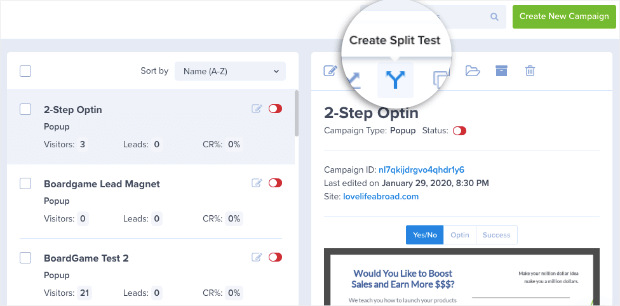 So, before you make all of your changes, try out a few ideas in A/B testing first. That way, you know you are getting the most out of every campaign.
And that's it for today!
Now you know the 13 tips to increase your Shopify store's conversion optimization rate.
All in all, OptinMonster is your best bet for increasing the CRO for Shopify.
OptinMonster is the number 1 app for conversion rate optimization, and it also has a dedicated Shopify app to make your job easy.
It comes packed with solutions like email optin popups, live sales notifications, and cart abandonment popups which help increase the conversion rate for Shopify.
Get Started With OptinMonster Today!
BONUS: Done-For-You Campaign Setup ($297 value)
Our conversion experts will design 1 free campaign for you to get maximum results – absolutely FREE!
Click here to get started →