Wondering how to make money on Twitter? Whether you're a blogger or a business owner, you likely have a Twitter account to promote your brand or business.
Since Twitter is one of the biggest social media platforms with 126 million daily active users, there are a ton of people you can introduce to your business. So, you tweet constantly and hope that just some of those 126 million people see your tweets and check you out.
But, where's the money at?
In this article, we'll let you in on some awesome ways to make money on Twitter. But before we show you how to make money on Twitter, you need to build your Twitter profile and your following first.
So, let's take a look at what you can do to create a great Twitter profile and attract your target audience.
Step 1 to Making Money on Twitter: Create A Killer Twitter Profile
Of course, if you want to make money on Twitter, you need a Twitter profile. Not just any Twitter profile though. In order to make money tweeting, your Twitter profile needs to be set up for success.
For example, check out the Twitter profile below: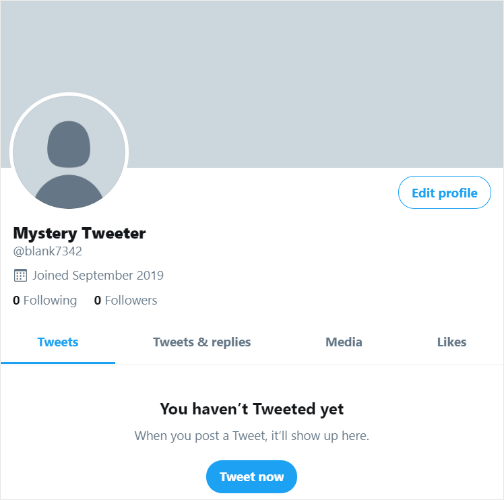 What do you see? A whole lotta nothing, right?
Now, take a look at the OptinMonster Twitter profile: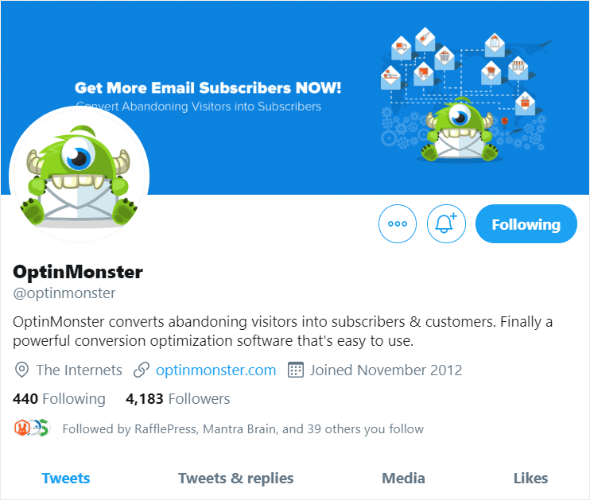 It has a branded look with profile photo and Twitter Cover photo, a matching username and handle, a brief description of what OptinMonster is/does, and a link to the website.
Between these 2 Twitter profiles, which profile is set up to make money?
The OptinMonster profile, of course!
So remember, when creating your Twitter profile be sure to include:
A profile photo of yourself or your company logo
A relevant username and Twitter handle (your name or company name)
An engaging bio
A link to your website or blog (if applicable)
A completed Twitter profile will help your followers get to know you and build a trusting relationship with you or your brand.
Speaking of followers, let's find out how to get some.
Step 2 to Making Money on Twitter: Grow Your Following
With 0 followers on Twitter, your tweets won't get much engagement, which hurts your chances of making money on Twitter.
So, how do you get followers on Twitter?
Well, the easiest way to get more followers organically is simply by being active on the platform.
Being active on Twitter simply means that you need to post regular content and interact with other users on Twitter by retweeting, liking, and commenting.
Make sure the content you share on Twitter is relevant to your niche or your industry and use hashtags to widen your reach.
For example, Tough Mudder shares content that Tough Mudder participants, or aspiring participants, would be interested in seeing.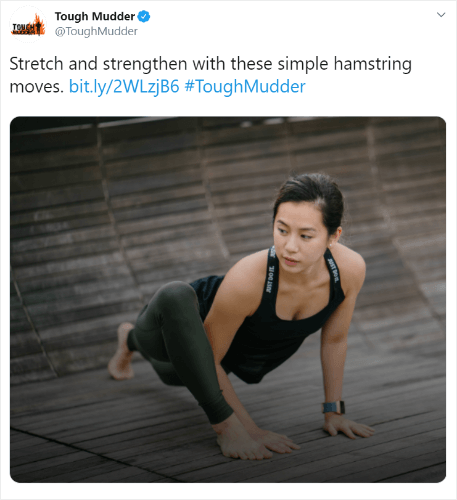 They also add #ToughMudder so that their post will show up in search results of users searching for that particular type of content.
Being active on Twitter will attract more followers to your profile and it will help you keep the followers you already have too.
Some other easy ways to grow your Twitter following are:
Follow people relevant to your industry/target audience
Add your Twitter handle to your email signature
Promote your Twitter profile on other social media platforms
Embed your Twitter feed to your website
You can also create a "Follow Us on Twitter" popup on your website to grow your following.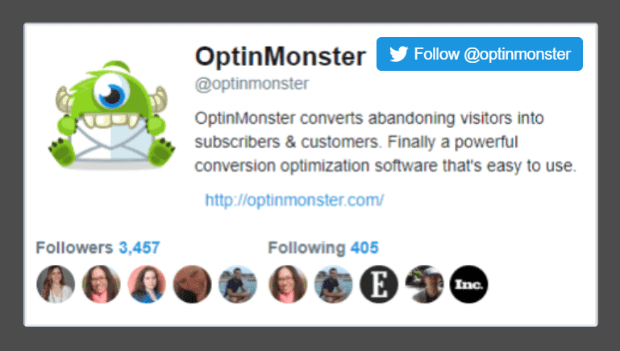 By creating a "Follow Us on Twitter" popup, you can take the website traffic you already have and turn those users into Twitter followers.
Another option is to embed your Twitter feed on your website using a tool like Smash Balloon.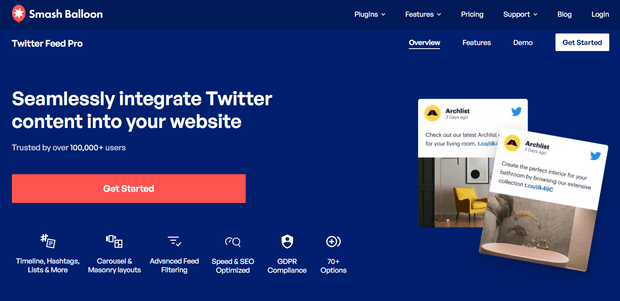 With Custom Twitter Feeds Pro by Smash Balloon, you can easily embed a Twitter feed anywhere on your WordPress site.
This makes it easy for website visitors to check out the awesome content you're sharing on social media.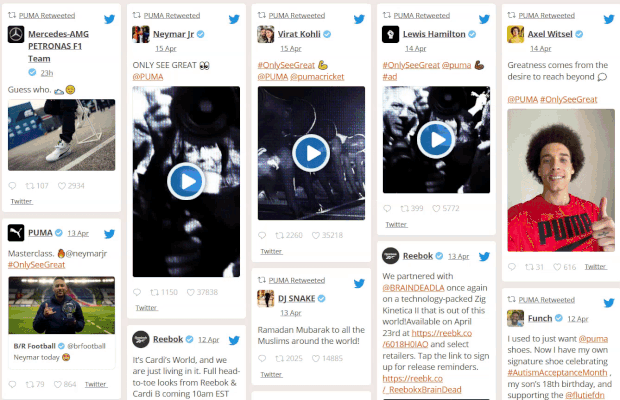 You can display a follow button in your feed and users can interact with your posts, without having to leave your website.
How to Make Money on Twitter
Now that you know how to create an optimized Twitter profile and how to get more followers, we'll show you how you can line your pockets using Twitter.
1. Use Sponsored Tweets
Want to make money just for sending out a tweet? You can do that with sponsored tweets.
When you have a solid presence on Twitter with a large following of engaged fans, other companies will actually pay you to tweet about their products, services, or brand.
If you're really popular on Twitter, you can simply reach out to brands you love and share the benefits of promoting their product to your audience with a paid tweet.
Alternatively, there are a number of online platforms that will help you connect with companies looking to pay for tweets.
A couple of them are:
SponsoredTweets
SponsoredTweets is a platform where companies can search for and connect with Twitter influencers.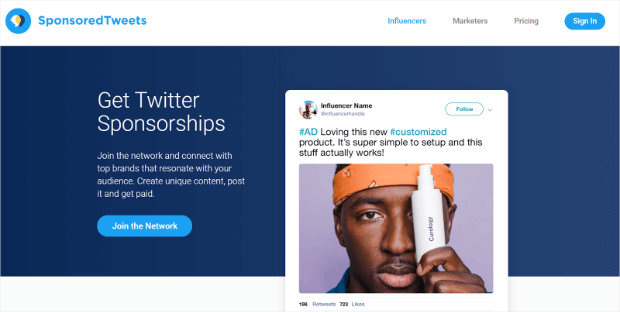 PaidPerTweet
PaidPerTweet lets companies access millions of top Twitter users, both standard and celebrity users. Prices range from $1 to $10,000 depending on the influencer.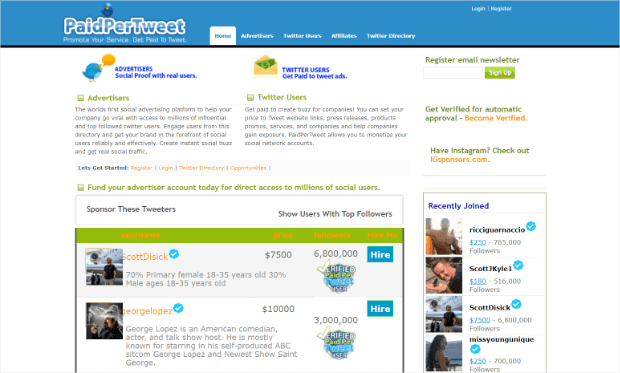 As you can see, if you're an individual with a popular Twitter account, you can make money tweeting. But also, companies can purchase sponsored tweets from influencers to promote their business to a whole new audience of people that want to buy from you.
It's a win-win for everyone!
2. Promote Affiliate Products on Twitter
Another way to monetize your Twitter account is by promoting affiliate products. When most people think of affiliate marketing, they think of bloggers promoting affiliate products on their websites.
But, you can promote affiliate products on Twitter to make money too.
Affiliate marketing is simply the process of promoting other people's products. When someone buys that product via the link you shared, you make a commission.
One of the great things about affiliate marketing is that you can get started as a newbie—you don't need to have a huge Twitter following to be accepted into affiliate marketing programs.
To find affiliate products you can promote on Twitter, create an account on an affiliate marketing network like:
Don't promote any affiliate product you come across though. If you promote a ton of different products without any rhyme or reason, your Twitter profile won't be focused and your target audience won't know what they're getting from each day to the next.
Just take a look at all of the different types of affiliate products you can find on ClickBank.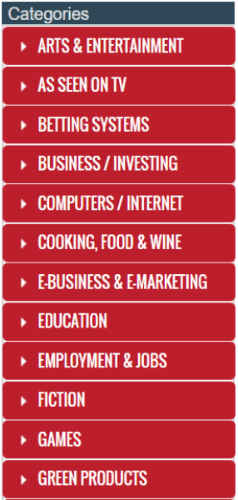 To be successful at affiliate marketing, it's wise to choose a niche. Choose a niche that you're knowledgeable about and that you're passionate about too.
For instance, a food blogger should stick with cooking, food, and wine products because they know that their audience is interested in those types of items. Plus, their audience will trust their recommendations in the category and be more likely to buy.
Don't spam your followers with affiliate links either. Mix them in with your regular content so that you don't annoy your followers. Too many suspicious links can get your account suspended too.
Quick Tip: Want to set up your own affiliate program? Check out our guide!
3. Promote Your Own Products
If you sell your own products, a great way to make money on Twitter is by promoting them to your followers. Since your followers are already following you, they're likely to be interested in the products you offer.
If you're wondering how to promote a product on Twitter, it's quite simple—just share a post.
Check out this tweet from Lush as an example.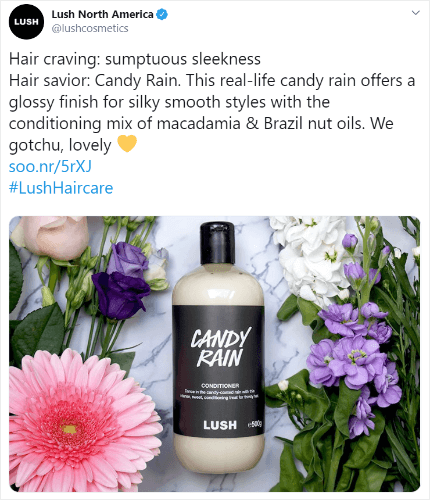 This post includes an eye-catching image of the product, an engaging description of the product, a relevant hashtag, and a link to the product on their website.
Want to drive even more sales of your product? Promote a sale or discount on Twitter like French Bulldog Love did in the tweet below.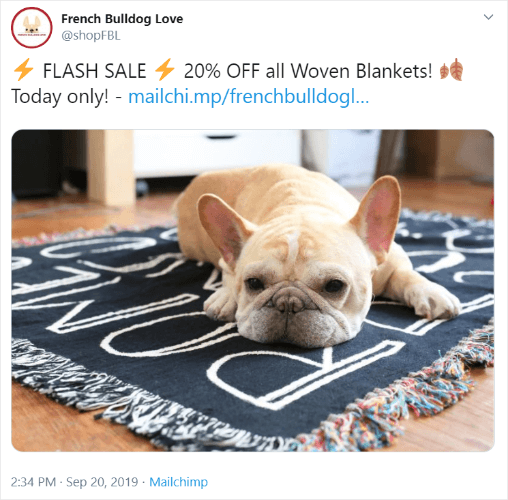 A limited time sale will have your Twitter followers rushing to your website to snag that awesome deal before it's too late.
By selling products on Twitter, you can introduce your products to millions of online shoppers on Twitter, instead of reaching only your existing website visitors.
In fact, according to studies, Twitter users shopped online 6.9 times a month, while non-users shopped online just 4.3 times a month. Plus, Twitter users planned to spend 21.7% more than non-users in a 6 month time period.
4. Generate Traffic for Your Website
Even if your business doesn't sell products, you can still use Twitter to generate traffic for your website or generate more leads for a service-based business.
For instance, Ali Marten, owner of the popular food blog Gimme Some Oven, shared this post on Twitter to let her followers know about the latest recipe on her site.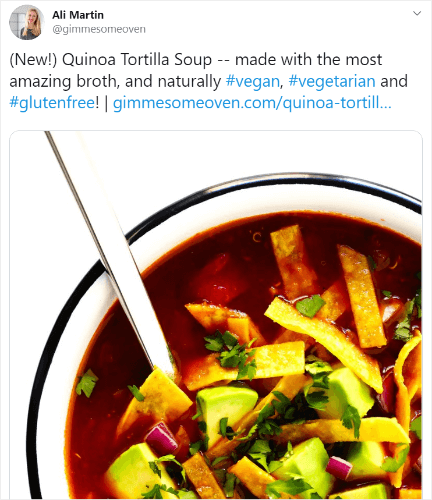 Sharing your latest blog posts on Twitter will help more users discover your website, boost your website traffic, and grow your blogging career.
You can even be proactive about generating traffic and leads by searching for relevant threads and discussions on Twitter.
In the case of a service-based business like a dentist's office, you could search Twitter for keywords like "looking for dentists" or "dentists in [your city]." When you find tweets from people that are looking for dentists, start up a conversation.
Reply to their tweet by saying something like "Hey Sarah, I see that you're looking for dentists in the area…" and leave a link to your business website.
5. Build an Email List
Building an email list is one of the best ways to generate more sales for your business. With email marketing you can message your subscribers directly to share company news or your latest blog posts, announce new products, promote flash sales, and more.
According to WPForms, automated emails can boost revenue by as much as 320%.
To build an email list, create an exit-intent popup using OptinMonster to grab the attention of your website visitors before they leave your site.
Offering a lead magnet, which is a freebie like a guide, checklist, ebook, or template, in exchange for your visitors' email addresses is a great way to grow your email list quickly.
Here's an example from The Saddle Geek: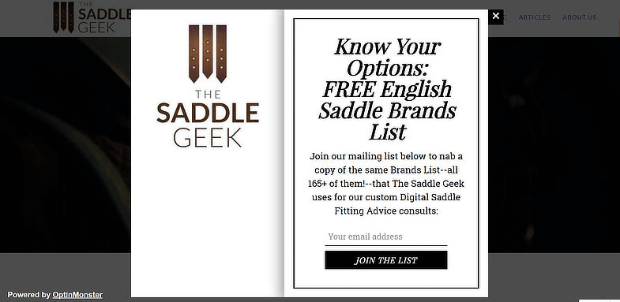 But, how do you grow your email list on Twitter?
It's easy! All you have to do is share your lead magnet on Twitter along with a link to your email list optin landing page.
Here's how Talia Wolf does it. Notice how she also pins this tweet so that it's the first thing users see when they land on her profile.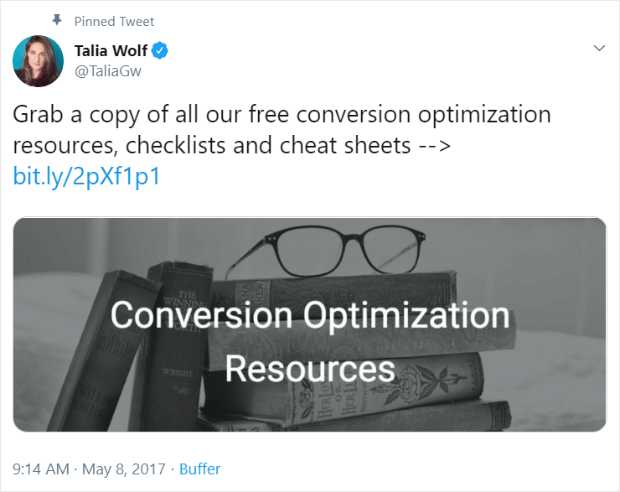 With this strategy for making money on Twitter, you can turn your Twitter followers into subscribers and then into customers with targeted email marketing campaigns.
For more tips on how to create a winning email marketing strategy, check out our Beginner's Guide to Email Marketing.
6. Provide Customer Service
Providing quality customer service is important to any successful business. While providing customer service doesn't necessarily help you make money directly, it can help you generate more leads and keep your existing customers.
In fact, according to HelpScout, 7 out of 10 U.S. consumers say they've spent more money to do business with a company that delivers great service.
And today, consumers want quicker and more convenient customer service than ever before. Which is why you should be using Twitter to provide customer service.
Some big companies like UPS have entire Twitter accounts dedicated to customer service.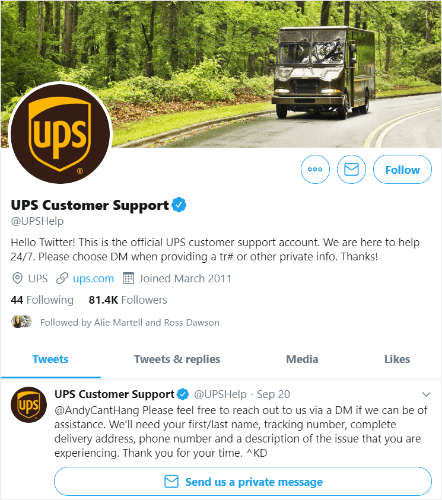 You don't have to own a big company to provide awesome customer service on Twitter.
All you have to be is be available to your customers and help them solve their issues in a timely manner—which will help your business drive more sales. But being there for your customers 24/7 is nearly possible, unless…you use a Twitter chatbot.
A Twitter chatbot can be available for your customers day and night and uses artificial intelligence (AI) to answer customer questions.
For instance, check out how Patron Tequila is able to make money with a Twitter bot.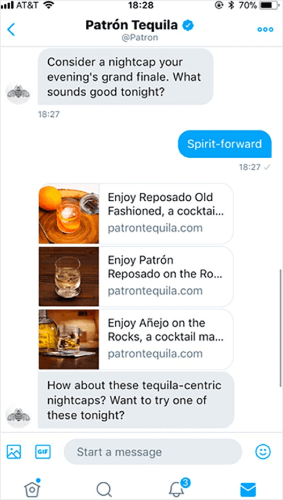 In this case, the chatbot recommends different items the customer should buy for their special event. It's like the customer has their very own personal shopper.
Building a Twitter chatbot seems difficult, but don't worry. You can use a tool like ManyChat to easily create a Twitter bot for your business.
7. Run a Giveaway
Running a giveaway seems like a great way to promote your business and build brand awareness but does it really help you make money?
You're in luck, it really does!
Want proof? KnivesShipFree.com, an eCommerce store selling premium knives, used a giveaway to turn window-shoppers into customers and generated over $10,000 in sales.
So, if you want to make money on Twitter, try running a giveaway.
You can use a tool like RafflePress, which is one of the most powerful giveaway plugins on the market, to easily build and manage your giveaway.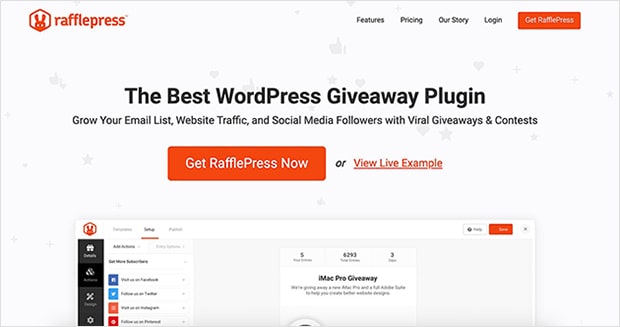 With RafflePress you can create a giveaway landing page in no time using their drag and drop giveaway builder (and there's a FREE version).
Then, promote your giveaway on Twitter like BomiBox did below. They included an appealing image of the giveaway prize, contest details, and #Giveaway. In your post, don't forget to add a link to your RafflePress giveaway landing page so your followers can easily enter your contest.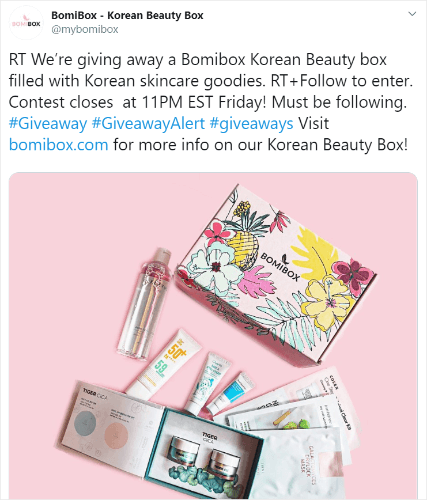 Another great thing about RafflePress is its verified bonus actions. Bonus actions give users extra entries for completing specific tasks, like visiting a page on your website, following you on Twitter, joining your email list, and much more.
So, by running your giveaway with RafflePress, you can generate more sales and grow your Twitter following at the same time.
8. Create Twitter Ads
Another way to generate more sales for your business is by creating Twitter Ads. Twitter Ads will help your business reach more people online—not just your current followers, but other users on Twitter too. The more people that are aware of your business, the more sales you can make.
Twitter Ads look just like other tweets in the feed but are clearly labeled "promoted" like in the example below.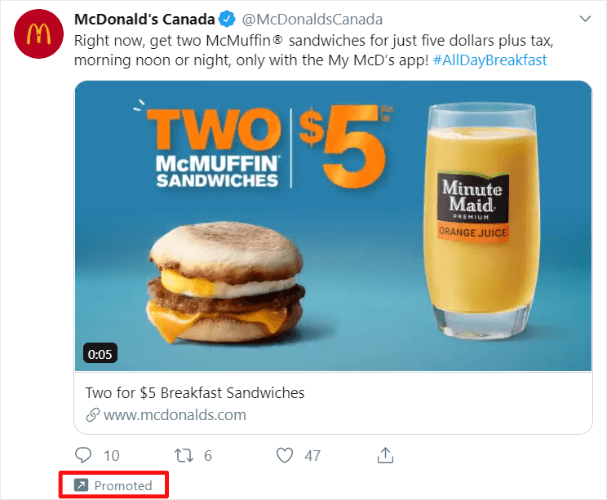 Twitter Ads are so effective because you're able to show your ad to just the right people. You can display your Twitter Ad to users based on their specific interests, demographics, and even their activity on Twitter.
By using targeted Twitter Ads, you can promote your business to tons of users that are interested in exactly what you're offering.
So, when a user sees your Twitter Ad in their feed and thinks "Wow, that's just what I needed!", they'll be more likely to click on your Ad and make a purchase.
9. Monetize Your Twitter Presence
On YouTube, creators can monetize their channels, which lets them place ads in their videos and live streams. When an ad is watched or clicked, the creator makes money from those advertisers.
And… You can do that on Twitter, too!
A few years ago, Twitter rolled out the Twitter Media Studio, which lets content creators monetize their presence on Twitter.
Twitter Media Studio lets you place in-stream video ads and in-stream video sponsorships right into your brand-safe Twitter video content so that you can earn money directly from the platform.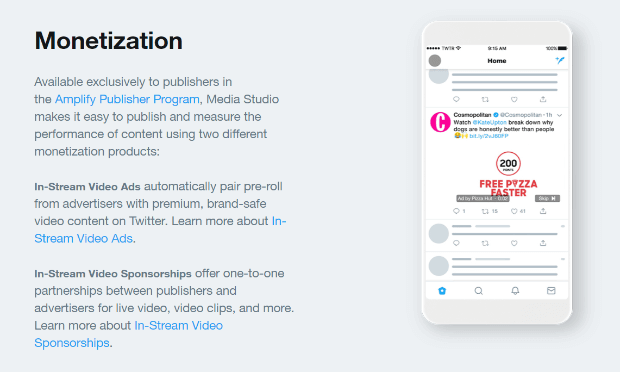 Other features of Twitter Media Studio include:
Producer – Broadcast professional live streams, promote and schedule live streams, and create instant highlights of your stream with LiveCut.
Library – Manage all of your videos, images, and GIFs in one place. You can also add user roles and permissions across your team.
Analytics – Measure your performance on Twitter by viewing metrics of your tweets and earnings from monetized videos.
Voilà! Now you know how to monetize Twitter and drive more sales for your business using one of the most popular social media platforms.
So, instead of just logging on to Twitter and sending out a few tweets in hopes of attracting customers, you now have a plan that is sure to bring in cold, hard cash.
Speaking of Twitter… Be sure to follow OptinMonster on Twitter, Facebook, and YouTube for more marketing tips, tools, and guides. And, don't forget to join OptinMonster today to create your own Follow Us on Twitter popup!