OptinMonster makes it easy to create and display a slide-in scroll box campaign on your site. Slide-in scroll box campaigns are a great way to convert visitors without disrupting their browsing experience. With OptinMonster, you can create a slide-in campaign in just a few easy steps following this guide.
Also, if you haven't reviewed the general process for creating a campaign, we encourage you to check out our Creating Your First Campaign documentation.
---
Step 1 – Create a New Slide-In Campaign
The first step is create a new campaign by determining it's type and title according to our guide.
You should select the Slide-In Campaign Type.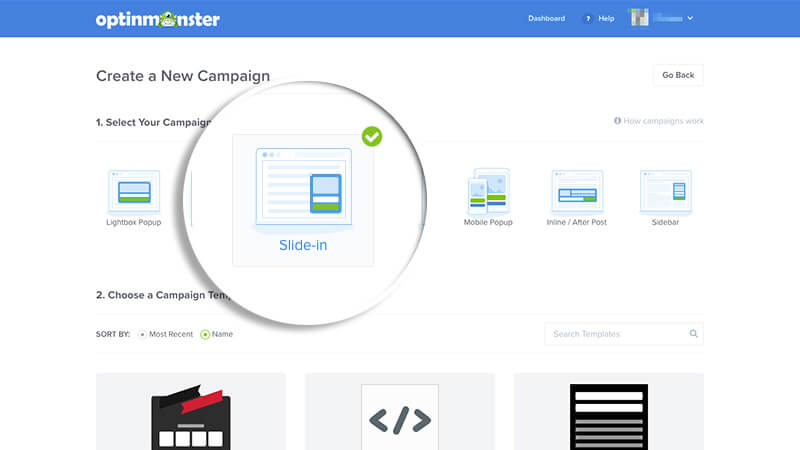 After you've followed the guide above and created a new campaign, then the next task is to build your campaign.
Step 2 – Design Your Slide-In Campaign
The next step is to design your popup according to the steps in Creating Your First Campaign.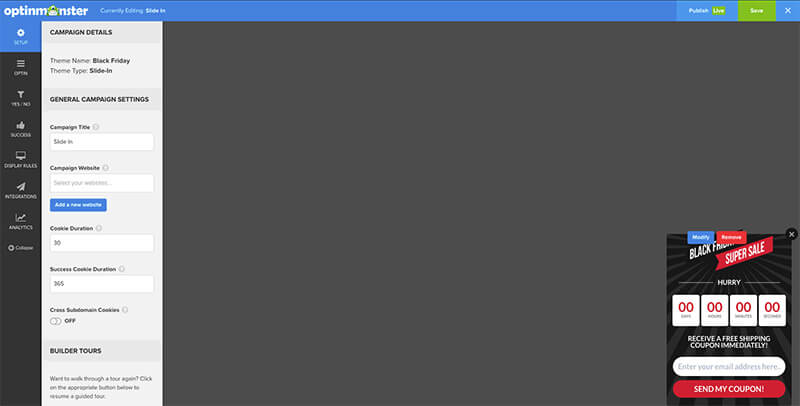 When you are finished, be sure to save your campaign and make it Live. Congratulations, you're all done building your campaign!
Step 3 – Embed the Slide-In campaign on Your Website
The final step is to embed your campaign on your site. We provide a number of guides for the most popular platforms, check out our Platform Docs to get started.
Want to control who sees the campaign? See our guide on how to do page targeting with OptinMonster!
---
FAQs
Q: Can I display my Slide-In campaign to mobile visitors?
A: Yes! If you have a Pro subscription you can configure your Slide-In campaign to display on specific devices following our guide: How to do Page Level Targeting with OptinMonster.
---
Q: Which themes have a minimized state? Which themes disappear completely when closed?
A: Some themes have a minimized state and can be toggled, while others will hide completely when the user closes them.
Toggled Slide-In Themes are:
Converse
Drop
Firm
Gourmet
No-Toggle Slide-In Themes are:
Black Friday
Estate
Flatland
Metro
Postal
Spooktacular
---
Q: How do I completely hide my Slide-In campaign when closed?
A: See our documentation on How to Hide Slide-In Completely When Minimized.
---
Q: How do I edit the text that appears when my Slide-In campaign is minimized?
A: To edit this text, select the close icon for your campaign in the campaign builder; this will minimize the campaign and you can then direct-select the text to edit it.