OptinMonster makes it easy to create and display Floating Bar campaigns on your site. Convert subscribers without interrupting their browsing experience, displaying your campaign at the top or bottom of the browser window. With OptinMonster, you can create a floating bar campaign in just a few easy steps following this guide.
NOTE:
If you haven't reviewed the general process for creating a campaign, we encourage you to check out our
creating your first campaign
 documentation.
---
Step 1 – Create a New Floating Bar Campaign
The first step is to create a new campaign by determining it's type and title according to our guide.
You should select the Floating Bar campaign type and any theme.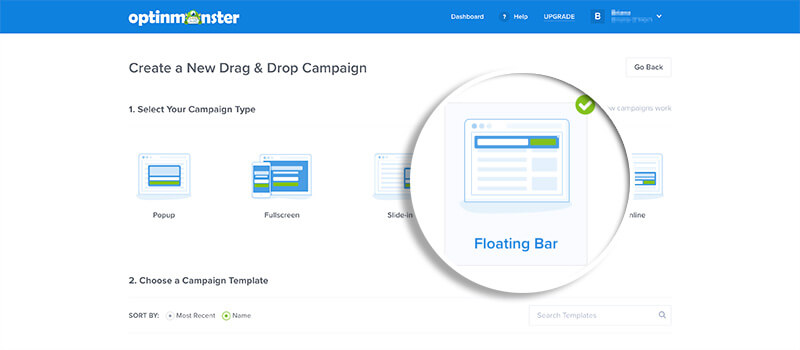 Step 2 – Design Your Floating Bar Campaign
The next step is to design your campaign according to the steps in creating your first campaign.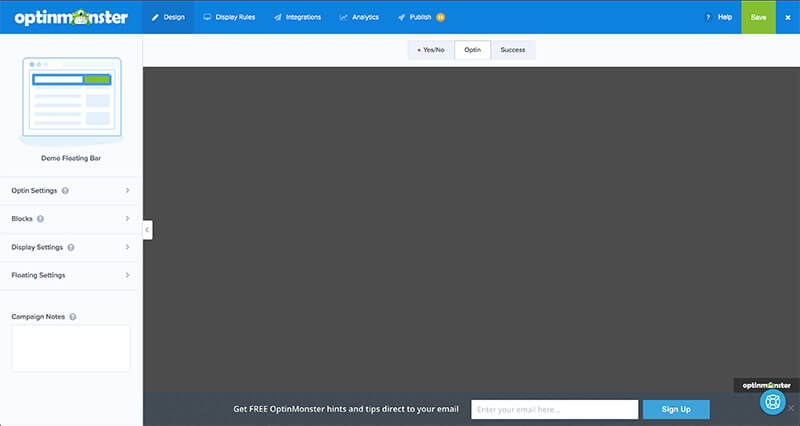 NOTE:
See our
Builder Overview
for more information about how to use OptinMonster's new drag and drop Builder.
When you are finished, be sure to save your campaign and congratulations, you're all done building your campaign!
Step 3 – Embed Your Floating Bar Campaign on Your Website
The final step is to embed your campaign on your site. We provide a number of guides for the most popular platforms, check out our Platform Docs to get started.
Want to move the floating bar to the top of the page? See our guide on how to reposition the floating bar campaign!
---
FAQs
Q: Why doesn't the Floating Bar push the content down when I reposition it to the top of the browser?
A: The default behavior for the Floating Bar campaign is to push the page content down when the campaign is positioned at the top of the browser.
If you're seeing the Floating Bar overlay your page content instead of at the top, it's likely that your site's theme or styling is interfering with the natural behavior of the campaign. For example, if your site has a sticky header or navigation bar this can result in the campaign overlaying that sticky header or navigation bar.