Are you having trouble turning your subscribers into customers? Your job isn't finished once you've gotten someone's email address; in fact, your job is only beginning. In this article you'll learn 7 email marketing mistakes bloggers and marketers make that kill their email conversions, and how you can correct them.
Ready? Let's dive right in.
1. Getting Off on the Wrong Foot
Congratulations! Someone just subscribed to your email list.
…Now what are you going to do?
If your answer isn't "immediately send them a welcome email," you're missing a golden opportunity.
By far, your most read email will be the first email you send to your subscribers. Why? Because it's sent when readers are most engaged with you.
They just subscribed. You're fresh in their minds. They remember you.
So as soon as someone signs up for your email campaign, they should receive an email that explains who you are and what they can expect from you. Welcome them to your email list. Introduce yourself. Tell them what's ahead.
Your welcome email sets the tone for all emails to follow; as such, it plays a vital role in future conversions.
How It's Done
There's no one right way to send a welcome email. Some are lighthearted and funny: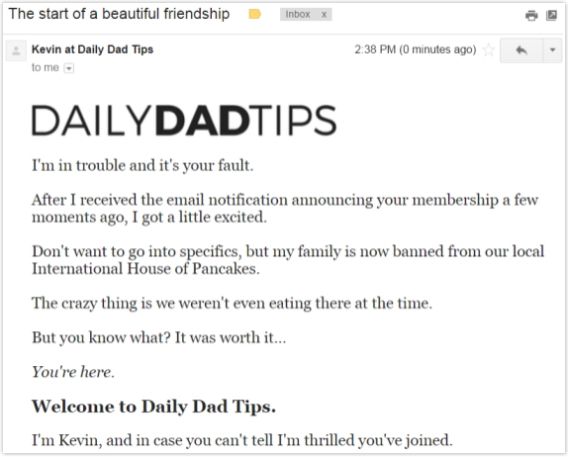 Some are more straightforward and professional: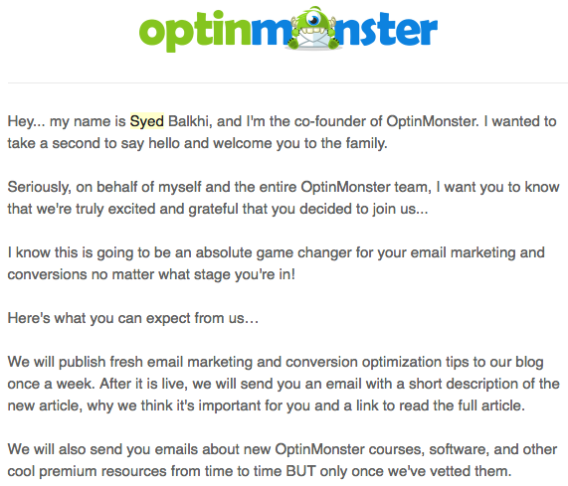 But however you compose them, all great welcome emails have 3 common elements. They:
Welcome your reader
Introduce the reader to the author or business
Set the stage for what's to follow
If you know how to write a welcome email that does these 3 things, your email campaign will be off to a great start.
For more inspiration, check out these welcome email examples that build trust with subscribers.
2. Not Having a Clear Call to Action
As you've undoubtedly read a time or two or ten, your content needs a call to action (CTA). This is true whether you're talking about a landing page, a blog post, or an email.
Without a call to action, you're leaving it up to your audience to figure out what you want them to do. Your readers are undoubtedly smart, but this is asking too much of them.
So before you compose your email, start with a clear vision of its purpose in mind.
What outcome do you want?
Do you want to promote a piece of content you've written? Do you want to inform the reader of an upcoming launch or event? Do you want to make a sale?
Focus your email's text, images, and design to guide your readers toward this outcome. Then, before you send the email, make sure your call to action is clear, enticing, and points the reader towards the outcome you hope to achieve.
So how do you make a great call to action? Here are a few suggestions:
#1: Make Your CTA Easy to Find
Don't bury your call to action in your email. Use bright colors, bold text, or large buttons. Display it prominently so that it stands out from the rest of your email.
#2: Use the Right Call-to-Action Words
Words matter. If your CTA is boring or vague, readers may skip right over it.
Use action words like "read more" or "buy now". Use urgency. Foster curiosity.
#3: Don't Muddle the Message
Like so many things in life, there can be too much of a good thing. If you have multiple calls to action in a single email, your message can easily become muddled.
Instead of taking the action you wanted them to take, readers will take no action at all.
#4: Repeat the Message
When it's appropriate, repeat your call to action more than once.
You're trying to make it as easy as possible for your reader to go straight from the email to your website or product. Repeating the call to action multiple times allows your reader more opportunities to notice and interact with it.
So far, so good. Now for the mistake that really trips up bloggers and marketers…
3. Not Meeting Your Readers' Expectations
Let's be blunt…
If your emails aren't meeting your readers' expectations, they are going to unsubscribe from your email list.
And if that happens, the best email copy in the world won't matter. Your brilliant words, your amazing product, and your compelling CTAs will no longer be seen because your emails will no longer be delivered to inboxes.
So how can you fail to meet readers' expectations?
One way is email frequency.
If you promised to email weekly, but you're emailing your audience daily, you're not meeting your readers' expectations. On the other hand, you're not meeting expectations if readers expected to hear from you frequently but you only email once in a blue moon.
Another way you can fail to meet the expectations of your audience is by going off topic.
If your readers were expecting weight loss tips when they subscribed, send them emails related to weight loss. If they were expecting blogging tips, give them blogging tips.
Your trip to Omaha, Nebraska, as enthralling as it may have been, isn't going to interest your readers.
One of the great benefits of email is being able to touch base regularly with your customers, and keep your brand on their minds. But don't go crazy.
Go too far off topic, or off topic too frequently, and readers are going to leave you.
4. Not Looking Professional
The web is a sketchy place, so your readers are rightfully skeptical of new websites and emails until they're proven safe and professional.
If your emails look sketchy or amateurish, most readers won't be willing to give you the benefit of the doubt. Conversions? You'll be fortunate if you can keep them as subscribers.
To maintain the level of professionalism your readers expect, consider the following:
#1: Check Your Spelling and Grammar
Nothing will kill a conversion quite like a "Byu Now" call to action. Proofread every email before you send it out.
#2: Avoid Stock Images
You're better off not having an image at all than having a stock image readers have seen a dozen times elsewhere.
#3: Don't Include Attachments
Professional marketers don't include attachments in their emails. Know who tends to use them, though? Spammers and scammers.
Unless your attachment is a PDF the reader specifically signed up to receive, don't include attachments in your marketing emails. And even then, it's best to provide a link to your PDF.
#4: Use Respectful, Professional Language
Unless you're marketing specifically to sailors, it's best not to curse like a sailor.
It's a very, very specific audience that will tolerate such language in email marketing. And odds are your audience isn't it.
5. Using Cliche and Sales-Heavy Language
Ever notice the similarities in the email subjects you receive in your inbox? They're so similar, they all blend in together, don't they?
Use what you see to your advantage. Browse your inbox. What works on you? What sounds cheesy?
While you might see your product, service, or content as being unique; your reader will likely see it as just another voice that gets lost in their inbox. Unless, of course, you make yours special.
So how can you avoid sounding just like everyone else? Here are a few tips:
#1: Make Your Emails Personal
Here's where many email marketers miss the mark: they sound like a TV commercial. Instead, write your messages like you'd write someone you know. Be a friend, not a salesperson.
#2: Talk About Them, Not About You
Instead of saying how great your product is, tell your reader what benefits they can reap from it. Make your sales focused on what value you can provide.
Shopkick does a great job on both of these points in the following short and simple email: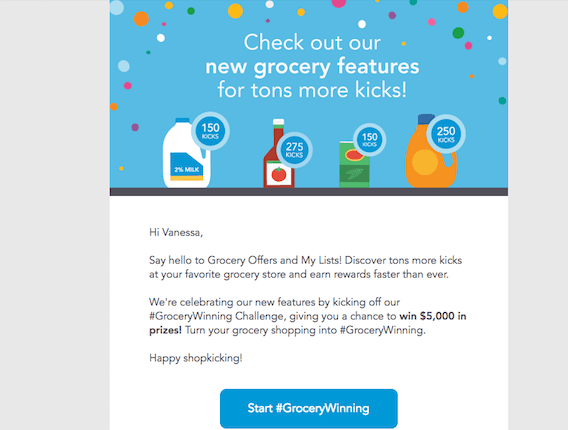 #3: Skip the BuzzFeed-Sounding Subjects
You know the type:
"The 7 Most Confusing Vegetables of the Past 10 Years (#4 Will Blow Your Mind)"
"5 People Who Messed Up The One Job They Had"
"12 Brilliant Gifts For Your Chihuahua You Had No Idea You Needed"
Besides being inexplicable, these kind of headlines and titles are a dime a dozen these days. Your emails will stand out less if their subject lines follow this tired formula.
Instead, write purposeful subjects. Your readers will appreciate it, and your conversions will increase.
6. Forgetting Your Mobile Users
Want a sure-fire way to send your email conversion rates way down?
Don't optimize for mobile.
Up to 70% of your readers will be reader your email on their mobile device. If you're not ensuring your audience can read your emails on their phones or tablets, you're making a very expensive mistake.
Formatting for mobile devices should be simple and clean, with images and text that are easily readable on a small screen. You have limited real estate, and you don't want to make your reader do any more work than is necessary. Keep content to a single column, and use images that are no wider than 600 pixels.
Don't fly blind! Test your emails on mobile apps to ensure that they're coming across the way that you want them to.
If you're working with a small team or simply don't have the hours or experience to create mobile-optimized emails, there are services that can do this for you. However you do it, don't skip it, because it could make or break your email campaign.
Here's a look at how the welcome email from Daily Dad Tips we saw earlier looks on mobile devices: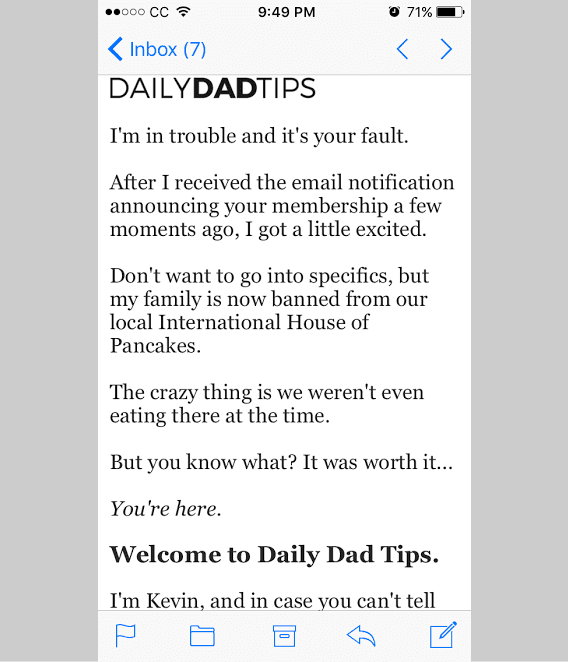 And here's an email from The Krazy Coupon Lady: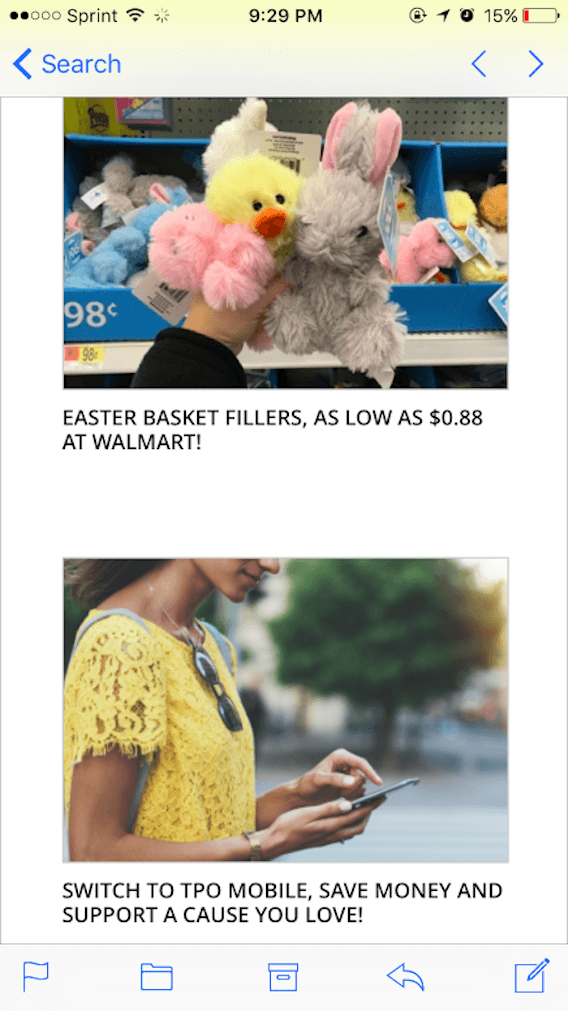 In each example, the text is a nice, readable size; the images are clear; and the white space is generous.
These are mobile-friendly emails built for conversions.
7. Relying too Heavily on Images
Your first instinct may be to load up your emails with beautiful, eye-catching, professional pictures that will excite your readers.
While this isn't wrong in and of itself, it's important to remember that many of your readers may view emails with images turned off. If you don't have a plan B, you're missing these clients altogether.
This doesn't mean that you shouldn't use images at all. It just means that you need to be a little more careful with how you use them. If you judiciously employ proper alt text, your viewer will still be able to get a good idea of what your email is about even if the images don't load.
"Alt text" is text that will replace an image if the image fails to load or is blocked by the service. It's placed by using the "alt=" tag inside HTML code for the image, but the best email marketing services will let you add alt text without the need to know HTML code.
However, even if you're using alt text, an email with a bunch of large empty boxes with a few lines of texts is not going to come across well to your readers. Go easy on images and make sure that all of the truly important messages come through somewhere in plain text, so your readers won't miss them.
This email from The Rapid E-Learning Blog has great alt text for the pictures that didn't appear here, as well as a great balance of text vs. pictures.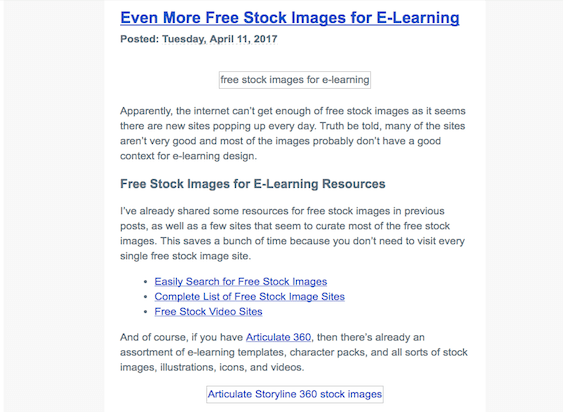 Even though the images in this example don't display, the reader can still see the key messages in the email.
Ready to Increase Email Conversions?
Conversions don't stop simply because you already have someone's email address.
You now know 7 crucial mistakes bloggers and marketers make in their email campaigns that kill conversions. Ready to write emails capable of turning prospects into clients? If so, tell us in a comment below!