Are you using the power of search engine optimization (SEO) for lead generation? If you're not using SEO as part of your marketing strategy, you're missing a great opportunity to get more qualified organic leads by attracting more traffic to your website.
What is Lead Generation in SEO?
How does SEO help with lead generation? Here's how it works, in a nutshell:
SEO increases your site's search ranking for content using the business-related keywords you want to target
When potential customers search for those keywords, they find your content in the search results, and may follow those links back to your site, creating organic traffic
If your content meets their needs, you have the chance to convert those visitors into leads, and eventually make sales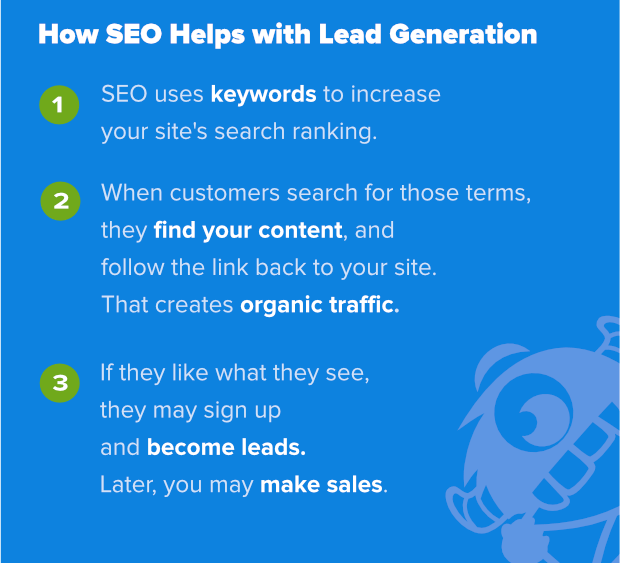 SEO serves as a map or funnel bringing a stream of leads to your website, making your website one of the best lead generation tools you have. To make the most of the opportunity, you need to create and optimize quality content so that search engines and searchers see the value in what you offer, and want to sign up or buy.
Recommended Resource: Need more website traffic? Learn how to rank #1 on Google with our Ultimate Guide to SEO in 2018.
Wondering how SEO for lead generation compares with other lead generation tactics?
Cold calling was a much-used lead generation tactic prior to the advent of digital marketing. These days, cold calling isn't just ineffective; it's pretty much dead.
In contrast, SEO is part of inbound marketing, which helps leads to find you. And SEO sales leads that find you are more likely to be receptive than people you approach out of the blue.
Plus, when you improve your content with SEO, it just keeps attracting more and more traffic over time.
The bottom line: when you're looking for tactics for generate more leads, SEO lead generation is one strategy you can't afford to ignore.
In this guide, we're going to walk you through how to generate leads and sales by improving SEO for your content and website.
SEO Leads – Statistics You Need to Know
Before we get into how to generate SEO leads, let's take a look at some statistics that show why it's so important to use SEO for lead generation.
When you're thinking about how to generate a lead, creating ads to attract visitors to your site is one option, but the research shows that 70% of visitors ignore ads in search results.
In addition, according to PageFair, ad blocker usage rose 30% in the last year, with hundreds of millions of desktop and mobile devices worldwide routinely blocking ads.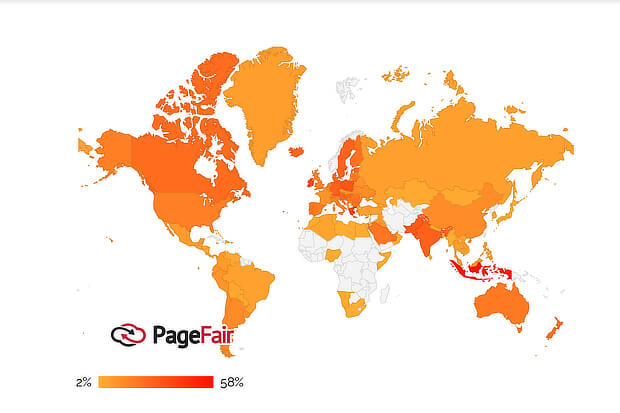 That means if you're relying only on paid traffic, rather than including SEO, for lead generation, you're missing out on valuable leads.
Even worse, you're also losing sales, especially if you're catering for a particular locality. The statistics show that:
Half of those who did a local search on their phone visited a store within a day
18% of local mobile searches lead to a purchase within 24 hours
78% of local mobile searches lead to offline purchases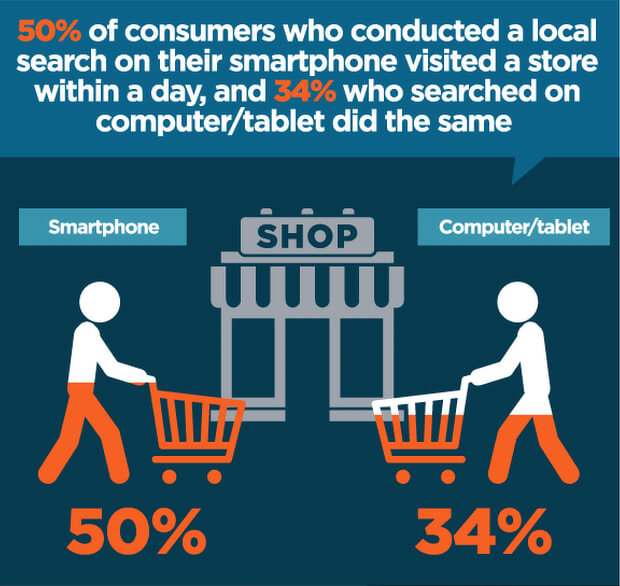 You can't afford to miss out on that potential revenue. Instead, it's important to make your website work effectively as a lead generation tool.
What SEO Is – And What It's Not
So, what is SEO traffic generation all about? If you're still thinking of SEO as writing for bots and cramming your content full of keywords, stop right now.
SEO has changed, and so has the way customers start the purchase process.
These days, customers find information and start making a decision long before they talk to you.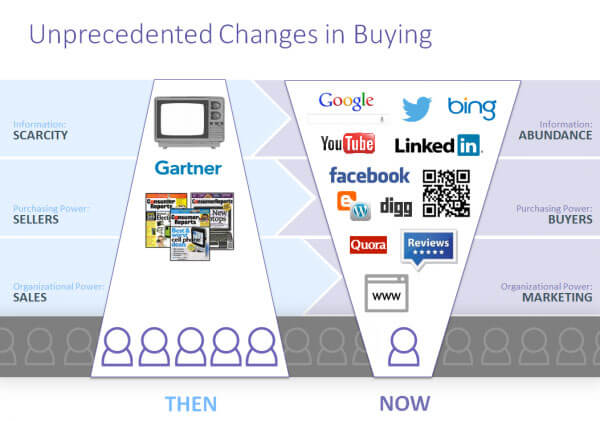 Your content provides that information. That's why you don't just need a strategy for how to get leads to your website with SEO, you also need a great content marketing strategy. That means:
Read our full content marketing strategy guide for help with this.
Now, let's get started with your step by step guide to a successful lead generation SEO strategy.
Step 1. Create an SEO Strategy
To start the process of creating a strategy for getting SEO sales leads, you'll need to:
Know your audience
Define your leads
Identify target keywords
Monitor rankings
Let's look at each of these in more detail.
1. Know Your Audience
First, as with all marketing, know who you're trying to attract. Rather than take a scattershot approach, create concrete buyer personas so you can target your SEO. Buyer personas bring together the characteristics of your ideal customers in a tidy package – or several – including:
Age, gender, education and income
Sources of information
Key challenges and pain points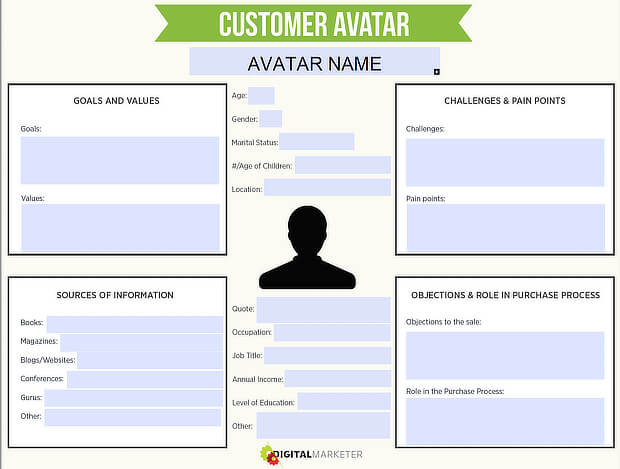 When you have this information you'll find it easier to optimize content for improved lead generation. Learn more about creating buyer personas in our guide.
2. Define Your Leads
Be clear on what counts as lead generation for you so you can measure the success of your SEO lead generation strategy. A lead conversion might be when a website visitor:
If you're using OptinMonster, you'll be able to measure conversions easily via our built in conversion analytics dashboard.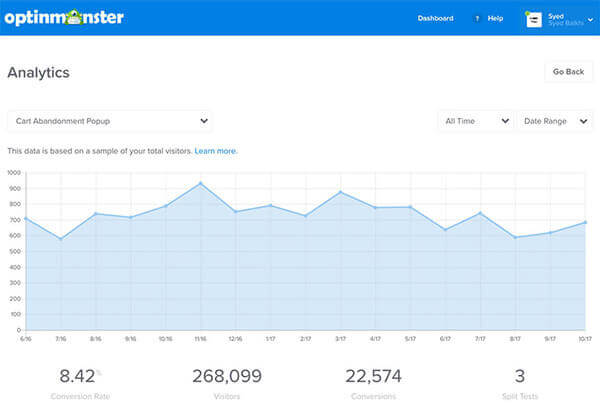 And you can also use MonsterInsights as an easy way to keep track of analytics data within the WordPress dashboard.
3. Identify Target Keywords for Content Optimization
Next, find keywords you need to include in your content to optimize for your SEO lead generation strategy. You can do this by:
Seeing what people are already searching for in Google Search Console
Using Google Analytics to see what keywords are already driving traffic to you
Checking out where content ranks with SEMRush and identifying opportunities to improve
It's also essential to understand user intent: what people really want when they type in particular search terms.
Learn more in getting started with keyword research.
4. Monitor Rankings
Finally, you'll need a baseline so you can measure improvements from your organic lead generation strategy. To do this, you'll need to know where key web pages in your lead and sales funnel rank now.
If you just want a quick check, Google your target keyword phrase and see where your page comes up. Make sure you use an incognito or private window, as Google tailors search results to your account.
For a more structured approach, go to Google Search Console, and navigate to Search Traffic » Search Analytics.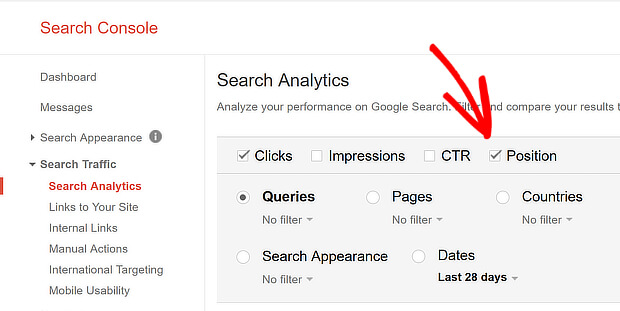 Select Position and you'll be able to see the top search queries that led to your site and the position of the page on search results pages.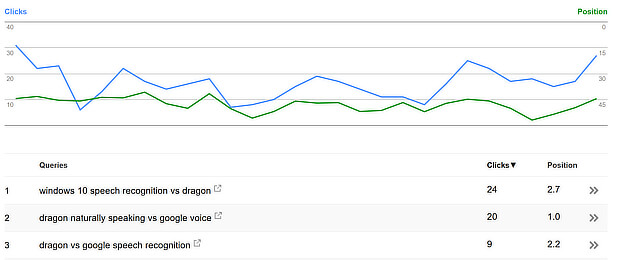 And you can go to Domain Analytics » Organic Research » Positions in SEMRush to get an in-depth look at where your pages rank.

SEMRush can also help you to check out the competition by typing the URL of your competitor into the on-screen search box.
Or you could simply search Google for your ideal keyword phrase and see what comes up.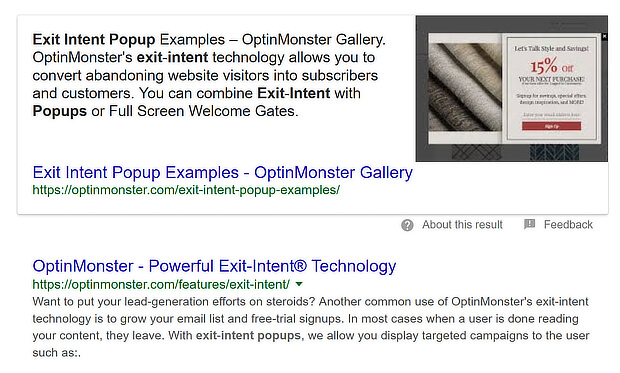 The people in the top three spots (which are the ones that get the most clicks and traffic) are the ones you want to beat. Search for other keywords and see if there's a pattern.
You can also use Ahref's content gap analysis, described in our recent content marketing strategy article to find new opportunities for SEO improvement.
Step 2. Audit Existing Content for SEO
Doing content analysis is an important part of using SEO for lead generation. That's because it's the only way to tell how your existing content is performing so you can make it even better.
You also want to avoid SEO errors that may hurt your search ranking. Since SEO best practices change regularly in response to Google algorithm updates, it's important to make this kind of audit a regular part of your strategy.
Here are some tactics you need to include. See our SEO audit guide for a complete step-by-step tutorial on doing an in-depth audit.
Audit for SEO Errors
One of the first things to do with existing content is to check for technical SEO errors. One easy way to find these is with Neil Patel's SEO Analyzer. Type your URL into the onscreen search box, and you'll get a report showing you an SEO and page speed score, along with recommendations for fixes.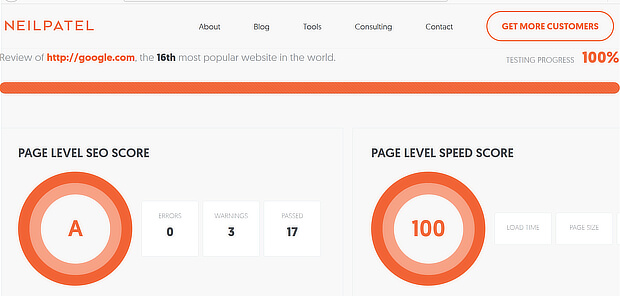 Another, more complex tool for this is Screaming Frog. This SEO URL crawler lists page URLS, analyzes page titles and descriptions, and highlights any SEO errors. SEER Interactive's Screaming Frog guide looks at this tool in detail.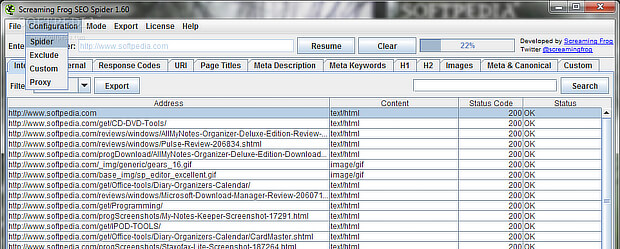 In both cases, you can also do competitive research, allowing you to see where you can out-SEO your competitors.
With mobile-first indexing coming soon, it's also important to look after mobile SEO. To test your site's usability on mobile devices, type your URL into Google's mobile-friendly test tool. You'll get a score, and recommendations for fixes.
Check link quality with SEMRush by following the tips in Step 1. And check page speed, which also affects search ranking, with Google's page speed insights tool. There's a mobile page speed checker, too.
Find Your Top Pages
Next, use content analytics to find out which pages are already performing well. This'll help you identify what's working, plus small tweaks will give you a quick SEO win for those pages.
To find your top pages in Google Analytics, go to Behavior » Site Content » All Pages.

This'll show you the pages that have the most views. These are a good starting point for SEO improvements because they're already attracting visitors' attention.
Step 3. Optimize Content (New & Existing)
Let's dive into optimization for lead generation SEO a bit more. Here are the SEO ranking factors you need to look at:
Titles and Descriptions
First, optimize titles and meta descriptions, as these are what people see in search engines when they decide to click.
Title length display varies according to the device, making it more difficult to come up with an optimal title length. Make sure you put your target keyword phrase early in the title, so it will show on any device searchers use. For example, here's how search results for the same term look on a desktop: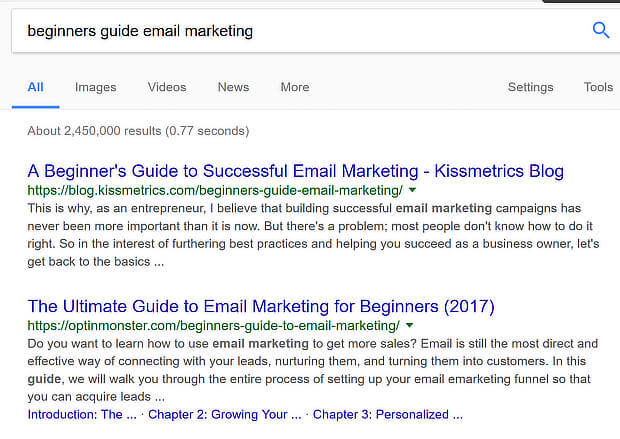 And here's how they look on a mobile device: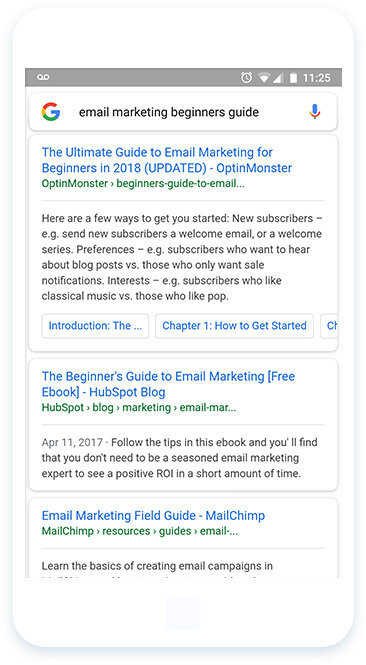 Meta descriptions used to be a maximum of 160 characters, but Google has recently doubled meta description length, so you can really take the time to describe your content. The more appealing you make your descriptions, the more people are likely to click.
If you're using a WordPress site, then Yoast SEO is the best tool to help you address SEO issues with your content. It includes prompts to help you get titles and descriptions right, as well as look after other SEO issues.
Page Content
It's important to include your target keywords in your content if you want to rank for those terms. You can:
Search the content for keywords close to your target keywords and replace them where it makes sense
Do a complete rewrite, targeting new keyword phrases.
To optimize for current search behavior it's a good idea to include semantic keywords, which are terms related to the main search term. You'll often see these at the bottom of a search results page on the web.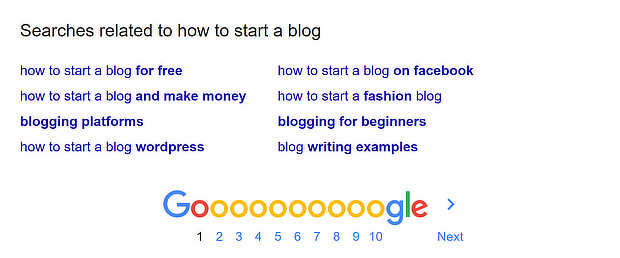 Learn more about latent semantic indexing and keywords in our keyword research guide.
Links
Link building is another important part of SEO. First, you want to make sure your content links to other content on your site, enhancing the site's value and encouraging readers to go deeper into your site.
But, just as importantly, you'll want to attract links from high quality sites. You can do this by:
Participating in expert roundups
Creating pillar content and mentioning influencers
You can also link to high quality external resources. Remember, it's not all about you, plus if you link out, the people you mention may return the favor, enhancing the perceived value of your content.
Semantic Search and Answer Boxes
Increasingly, Google serves up content that answers questions via answer boxes and featured snippets. Here's an example of an answer box: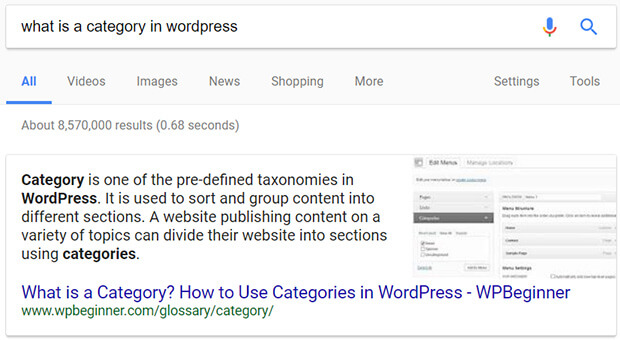 Having your content appear in an answer box can significantly increase traffic to your site.
Here are some tips to help you optimize your content for answer boxes:
Ensure that you use heading tags to give your content a structure
Include properly formatted bulleted or numbered lists, or steps to complete an action or process
Include questions (and the answers) as part of your article
Make lists long enough so searchers need to click through to read the full article
If you're looking for questions to answer with new content, Answer the Public is an excellent resource. We describe how it works in the content calendar section of our content marketing guide.
Step 4. Turn Traffic Into Leads
The first step in generating leads from SEO is attracting traffic, which you learned how to do following the steps above. But how do you turn those visitors into leads?
Here are some sure-fire ways to get those visitors to turn into leads:
Create a Lead Magnet
A good starting point is to create a lead magnet and offer it in exchange for an email address. OptinMonster integrates with all the leading providers of email marketing services, so you'll be able to use it with your preferred option.
Your lead magnet can be an ebook, checklist, download, or more. Try one of these lead magnet ideas for inspiration.
To deliver a lead magnet with OptinMonster, follow our instructions for creating your first campaign.
https://youtube.com/watch?v=Z0FumjhiAKE%3Frel%3D0
When you're in the campaign builder, go to the Success view.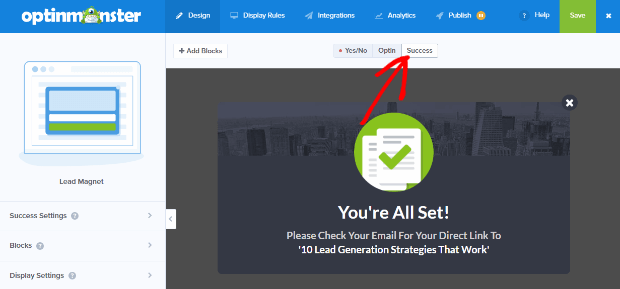 You can add a button to this view to let eager subscribers download right away without waiting for the email. To do this, click the + Add Blocks button and simply drag and drop the button block over to the live preview.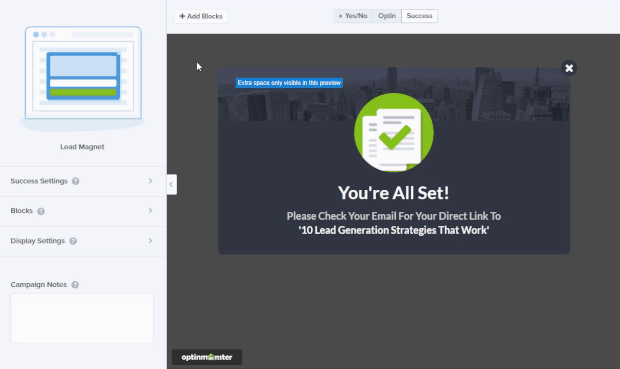 Once you have your button designed to your liking, you'll need to set the button action to direct to the download URL.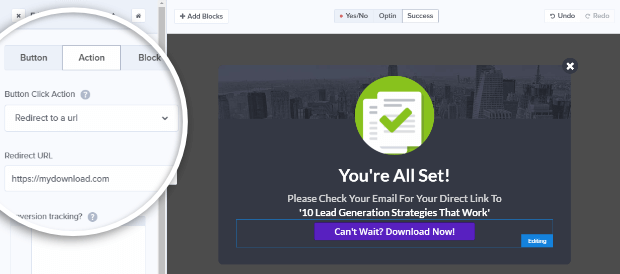 Use Gated Content
And you can use gated content to encourage people to sign up. Photowebo increased conversions 3806% with this technique.
Here's how to do this in OptinMonster:
https://youtube.com/watch?v=XIMdly7rpnI%3Frel%3D0
First create your campaign, then go to the Inline Settings and choose a content locking style. For example, Obfuscation blurs the text below the campaign.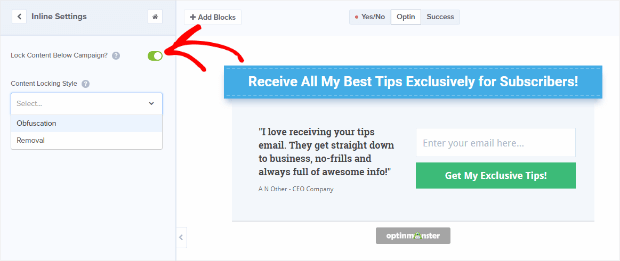 Now you can use a shortcode to publish it on a WordPress site, or grab the embed code to publish on other platforms.
Retarget Visitors Onsite
Lead visitors deeper into your site with onsite behavioral retargeting. This'll let you present different offers depending on what they have looked at. Podcast Insights used this technology to boost conversions by 1099%.
To implement onsite behavioral retargeting, you'll need at least two campaigns. One of the easiest ways to do this is to duplicate your existing campaign and change the messaging to attract those who didn't opt in to the first campaign.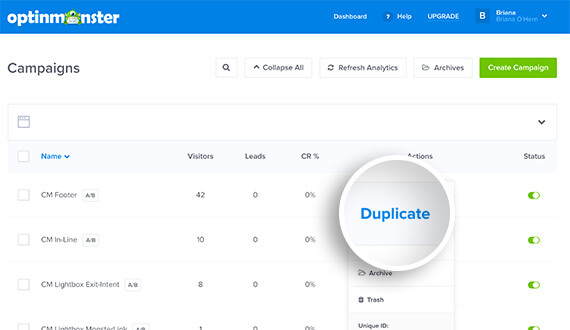 Once that's done, go to Display Rules and set a condition to visitor has not opted into and choose the name of the first campaign. Save and publish the campaign.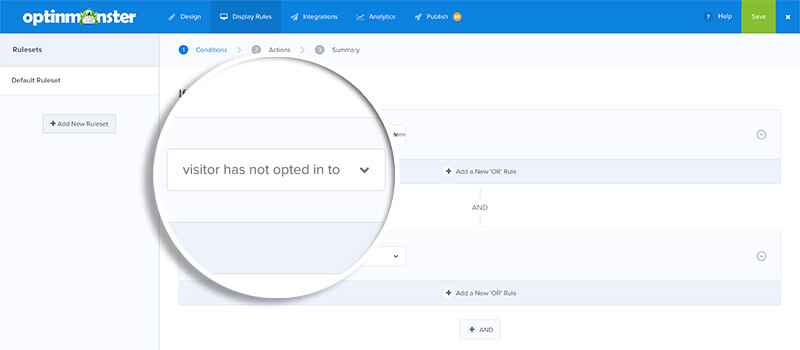 Use Exit-Intent® Technology
Use OptinMonster's exit-intent® technology to keep visitors' attention by presenting offers or new content just before people leave your site. Ryan Robinson used exit-intent to get a 500% increase in subscriber numbers.
https://youtube.com/watch?v=pW2KRvUropk%3Frel%3D0
To implement this, after creating and editing your campaign, go to the Display Rules section of the campaign builder. Go to When should the campaign appear? and toggle to enable On Exit-Intent®. Save and publish the campaign.

You can also improve lead generation by tracking conversions in the OptinMonster dashboard, and by using conversion rate optimization tactics such as split testing.
Now you know how to use SEO for lead generation, and attract more organic leads, here are a couple more useful resources.
Check out our guide to creating a high-converting sales page, and learn how to find out your visitors' secret thoughts with a popup survey. And follow us on Twitter and Facebook for more in-depth guides.