Want to boost engagement on your site with quizzes?
Quizzes are a neat way of keeping visitors on your site for longer and giving them something fun to do. In some cases, like in health plans, quizzes are needed to assess the user to find the right plan and move them along in their customer journey.
When used right, quizzes can not only engage an audience but also capture valuable leads to grow your website.
In this guide, we're going to show you how to create a quiz that generates leads so you can grow your email list, personalize your email marketing, and create a loyal subscriber base.
But first, let's look at a few ways you can use quizzes to generate leads on your site.
How to Use a Quiz to Generate Leads
You may already have optin forms on your site that may or may not do well. By adding a quiz in the mix, you can increase your average optin rates by 55%!
Quizzes pique a curiosity in us humans where we love to discover new things about ourselves or find the answer to something we don't know.
They have the power to turn a passive browser into an active participant on your site. But they can do more than that! By adding an optin form to the quiz, you can collect emails by asking the visitor to sign up to:
Start the quiz
Reveal the last question
Get results
Get more engaging content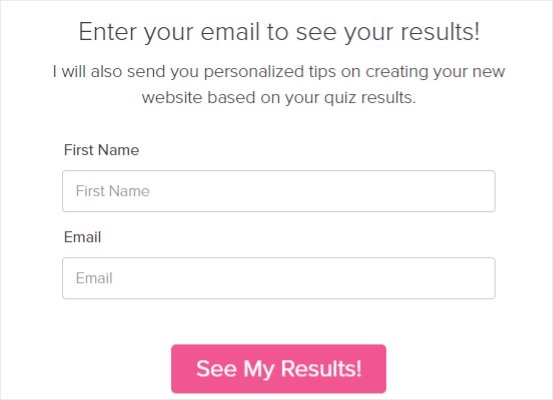 Keep in mind studies show that users are far more responsive to calls to action (CTAs) after 6-10 quiz questions. At this point, they're highly engaged which means they'll be more likely to give you their email address.
Now you know how to generate leads from a quiz, so let's get started with the steps you need to take.
Here's a table of contents you can use to navigate the post easily. Feel free to jump ahead to the section that interests you the most:
Ready? Let's dive in!
1. Know Your Quiz Questions and Goals
Before you set out to create a quiz, you'll first want to come up with good ideas that match your brand, industry, and marketing goals.
It would make sense if a health coach created a quiz about an exercise or diet routine. Or if a travel blog had a quiz about the best place for you to travel.
A brainstorming session can go a long way in coming up with relevant ideas that will attract your target audience.
Check out how DateID, a website that verifies online dating profiles, runs a quiz on their blog. They help you find the best dating site for you based on your quiz answers.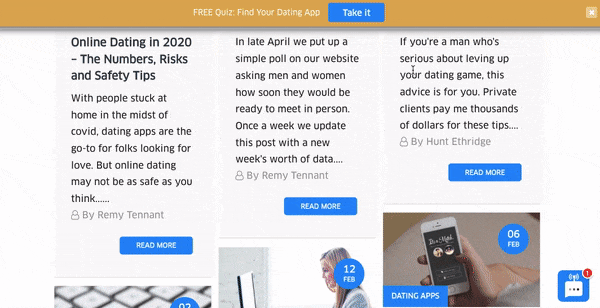 The quiz is displayed in a floating bar, so the reader can take the quiz at any time while they're browsing the blog.
2. Create a Compelling Title and Copy
Did you know we spend the majority of the time talking about ourselves and not others? It's actually 80% of the time if it's online!
That statistic plays a big role in the success of your quiz. The reason we love quizzes so much is that we want to know more about ourselves.
Once you have your quiz aligned to your target market, you need to come up with a compelling title that will be irresistible to your readers. Your quiz has to be all about them.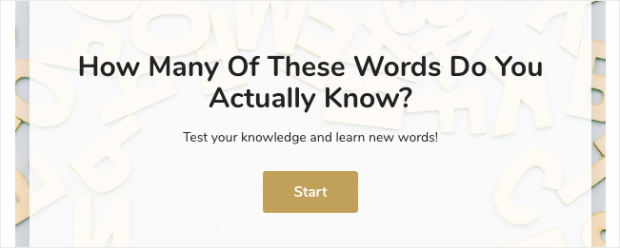 For example, the question "What is July 4th really about?" is very generic. Instead, if you turn it around and make it "How much do you really know about July 4th?" you involve the reader in the question.
Not only is it all about them, but you've also created a challenge.
3. Use the Right Quiz Tool
Quizzes don't have to be fun only for your audience, they can be fun for you too! That's if you use the right tool.
We recommend 2 powerful tools here depending on what your needs are: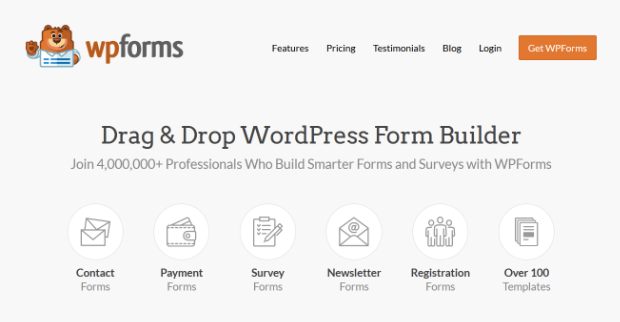 WPForms is the best form builder for WordPress, and it comes with an addon to create surveys and polls. You can use this addon to create a customized quiz for your site.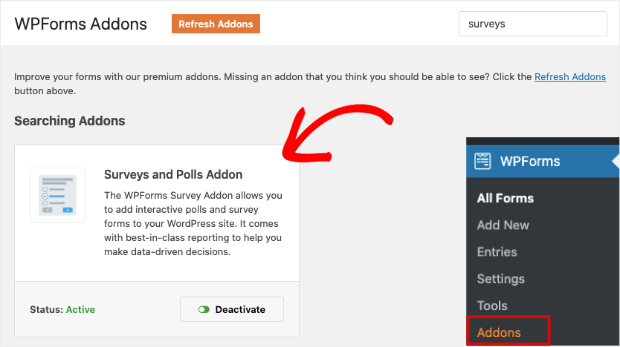 We love WPForms because it's packed with advanced features. For starters, you can create forms with smart conditional logic. This means you can ask follow-up questions based on the user's answer.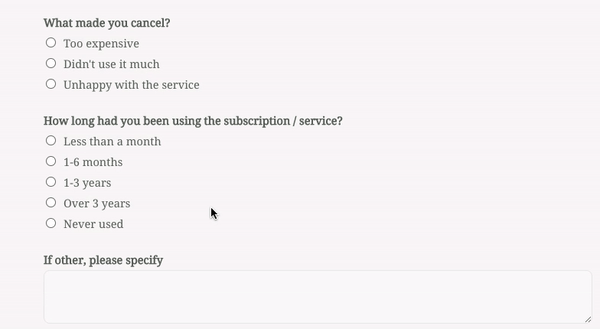 This helps you shorten the form and avoid asking redundant questions. Plus, with WPForms, you can make your form conversational in style. This is helpful if your quiz is long.
This plugin also makes your forms more engaging by asking questions one at a time, which makes it feel like a real conversation rather than a long form.
And if you're worried about bots spamming your quiz, WPForms has got you covered. It comes with built-in spam protection that keeps bots and spam entries out.
That means you'll get only genuine leads through your quiz.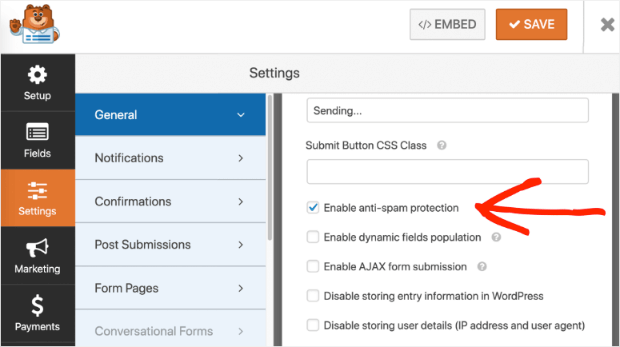 Finally, you can integrate the form with your email service provider (ESP) to send quiz results or trigger automated emails to welcome them on board as subscribers.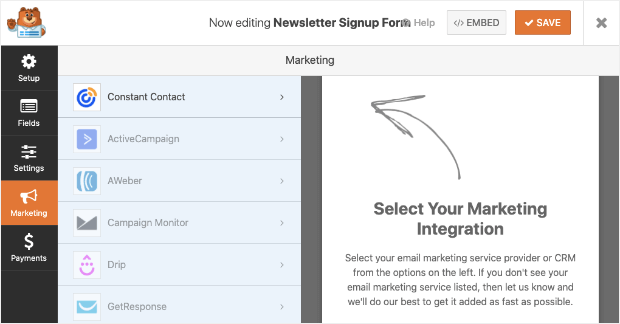 WPForms is hands down the best form builder to create a quiz for your site. If you're looking for different features, we recommend Formidable Forms.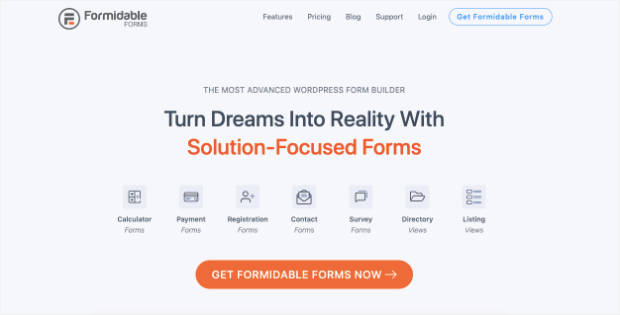 Formidable Forms is a drag and drop WordPress form builder that's both easy and powerful. It comes with a Quiz Maker addon that lets you turn a WordPress form into an automated quiz.
You can set up automatic scoring based on selected quiz keys or set up custom grading scales.
Once the user submits the quiz, you can send their score in an email or show it instantly in a success view.
If you're on the Business plan, then you can also format the displayed quiz scores in several ways: the correct answer count, percentage correct, letter grade, or the fraction correct like 8/10.
Once you create your quiz form, you're ready to add it to your site. This is the most important part because it will determine how many people actually take your quiz.
By simply adding the quiz to a page on your site, you may not get the response you're expecting. Visitors won't know where to find it and worse, they'll browse right over it.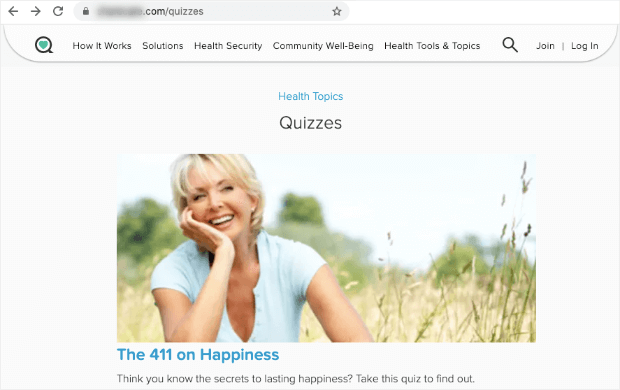 If you really want to maximize the number of people that take your quiz and subscribe, you need to target your audience at the right time and place.
For that, you need a powerful lead generation tool.
4. Use the Right Lead Generation Tool
The best targeting tool to maximize your quiz results is OptinMonster.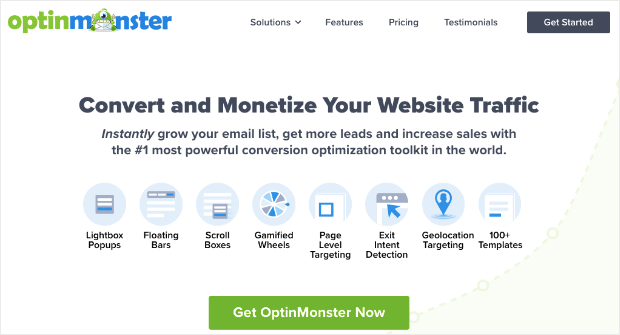 OptinMonster is the #1 lead generation tool in the world and it can help you take your quiz to a whole new level.
How?
OptinMonster lets you create stunning lead generation campaigns like popups, floating bars, gamified wheels, slide-ins, and fullscreen mats. You can add your quiz inside these campaigns to entice visitors to take it.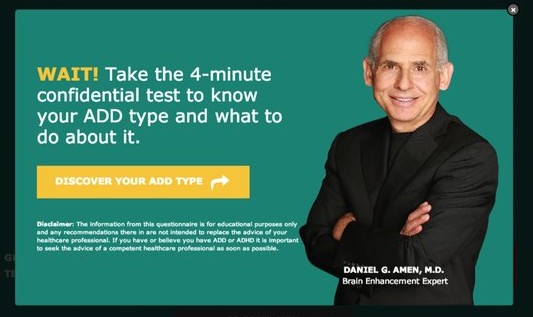 OptinMonster comes with 50+ beautiful templates and a drag and drop builder to create eye-catching campaigns in minutes.
Would this really help optimize results?
Yes! OptinMonster gives you access to super-powerful targeting rules to display the quiz to visitors when they're most likely to take action.
For example, you can use OptinMonster's Exit-Intent® technology to display the quiz to visitors who are just about to leave your site.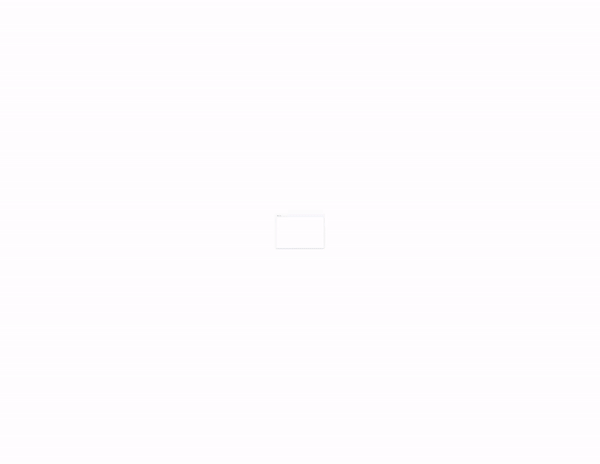 This will help you capture abandoning visitors and get them to sign up. So instead of losing visitors, you gain subscribers that you can engage with over email and get them to come back later.
In this way, OptinMonster has tons of display rules that include:
On click: Make a quiz appear when a user clicks on a button, link, or image on your site
Page view: Show only if a visitor is on a specific page
New/Returning visitor: Display based on whether it's a first-time visit or they have been to your site before
Physical Location: Interact with a visitor based on their geographical area
Scroll Depth: Engage with visitors that show interest by scrolling down the page
Time and Date: Schedule campaigns to appear at a specific time, date, day of the week, and month of the year
Referral Targeting: Connect with visitors that are coming from specific channels like Facebook or Google
These are just a few examples of OptinMonster's advanced targeting rules, though there are many others.
Plus, OptinMonster integrates with all popular email service providers including Constant Contact, Mailchimp, AWeber, SendinBlue, and ActiveCampaign.
This lets you trigger autoresponder emails when someone submits the quiz.
To top it all off, OptinMonster lets you track the performance of your campaigns. That way you can see exactly how many people signed up and converted through your quiz.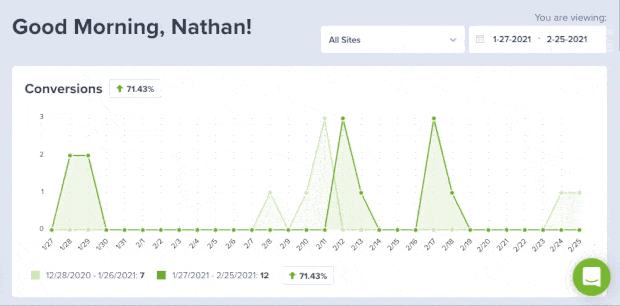 If you're selling a product, you can even see how much money your campaigns make for you.
Not totally convinced? Take a look at how IMSource increased conversions by 6,500% using Optinmonster's behavioral automation features.
Ready to create your own high-converting quiz campaign? Then sign up for your 100% risk-free account right away by clicking below:
Get Started With OptinMonster Today!
BONUS: Done-For-You Campaign Setup ($297 value)
Our conversion experts will design 1 free campaign for you to get maximum results – absolutely FREE!
Click here to get started →
Next, we'll show you how easy it is to add your quiz to a targeted OptinMonster campaign in just 5 simple steps.
Step 1: Sign up for OptinMonster
The first thing you'll want to do is sign up for an OptinMonster account.
Then you can sync your website to OptinMonster. OptinMonster works with any website platform including HTML websites.
We have extensive documentation to sync your site in just a few clicks.
If you're using WordPress, you can install the OptinMonster plugin on your site.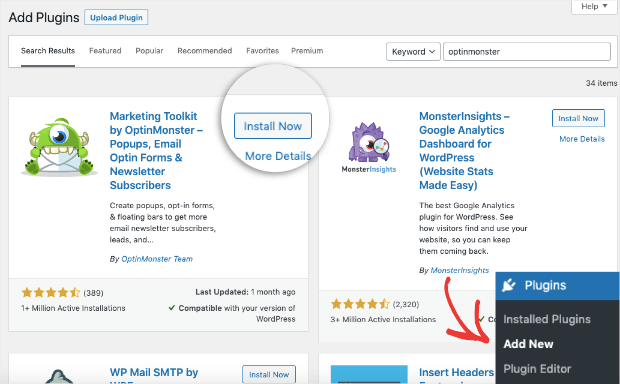 There are apps available for Shopify and BigCommerce sites, too.
While installing these apps, make sure you're logged into your OptinMonster account in another tab. OptinMonster will auto-detect your account and sync it to your website app/plugin.
For all other websites, you can go ahead and create your first campaign and we'll show you how to add it to your website after that.
Step 2: Create an OptinMonster Campaign
In the OptinMonster dashboard, you can get started by clicking on the Create New Campaign button.

This will open up a page where you can select a campaign type and template. For this tutorial, we'll show you how to create a quiz popup to generate leads.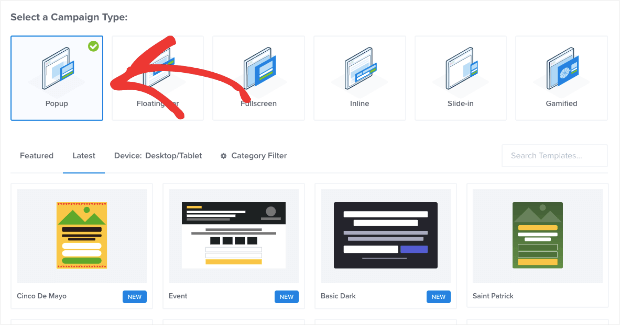 OptinMonster has tons of beautiful templates that you can explore on this page. Today, we'll use the Canvas template that lets you start from scratch.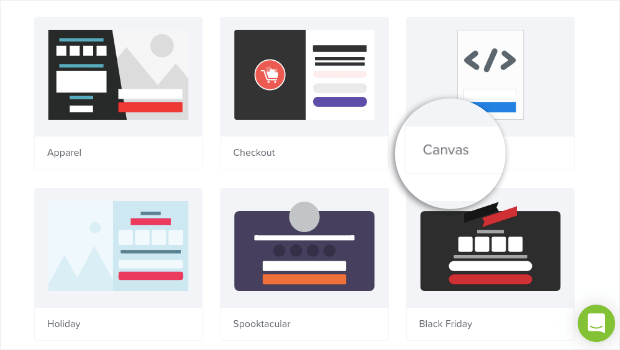 When you select a template, OptinMonster will ask you to add a name for your campaign after which you can click on the Start Building button.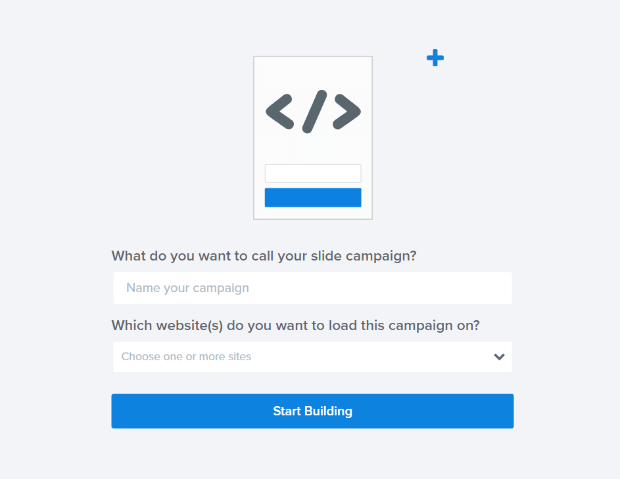 This will take you to the campaign builder where you can embed the form.
Step 3: Add the Quiz to OptinMonster Campaign
Inside the campaign builder, you'll see a preview of the template on the right and a settings menu on the left.
To embed a quiz inside a popup, you'll need to use an HTML shortcode.
Never used a shortcode before? Don't worry, it's just going to be a simple copy and paste.
First, you'll want to remove elements you don't need using the delete option that appears above every block. Then, select the Add Blocks button and drag and drop an HTML block into the template.

Inside this block, you can paste the shortcode of your quiz form.
If your using WPForms, head over to your WordPress dashboard. Navigate to WPForms » All Forms tab and you'll see a shortcode next to your quiz form like this:

Copy and paste this shortcode inside the HTML block in OptinMonster.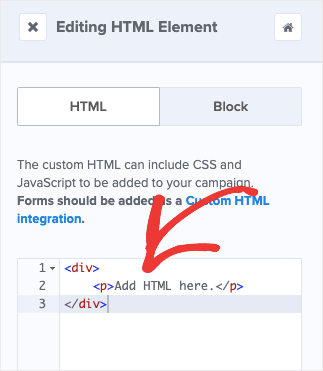 Using Formidable Forms? That plugin will give you a shortcode for your form the same way as WPForms.
Almost all form builders have this feature, so you can simply copy-paste it into OptinMonster campaigns and you're all set!
OptinMonster campaigns are designed to look great, but shortcodes need a bit of styling to make sure the form appears nicely.
To style the form, we've created a snippet of code for you. All you need to it is copy and paste this code inside the OptinMonster builder.
To do this, use the home menu on the left to open the Optin Settings tab.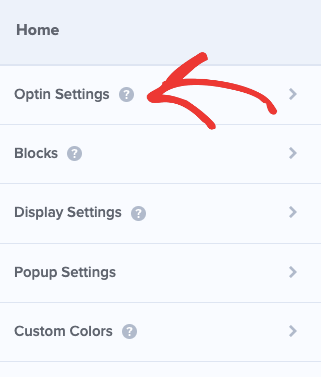 Scroll down to the Custom JavaScript section, where you'll see an empty field to enter your own code.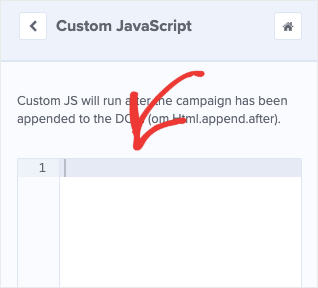 Copy and paste the code below in the JavaScript field box.
This will add a few styling rules to your quiz popup so your campaign looks much nicer.
This code is enough to style any form in most cases. However, if you're experienced with Javascript and CSS, you can customize it even further.
Keep in mind that you won't see a preview of your quiz in the campaign builder just yet. We'll show you how to view your campaign after we add targeting rules.
Step 4: Add Targeting Rules
Here is the most interesting part about OptinMonster campaigns: the targeting rules will help you skyrocket your leads by getting more people to take the quiz.
In the campaign builder, open the Display Rules tab, and you'll see that, by default, your popup quiz will appear to every user who spends at least 5 seconds on a page.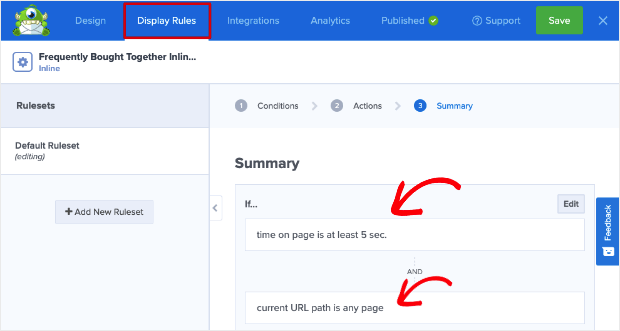 When you edit this rule, OptinMonster will display a list of all the available targeting rules.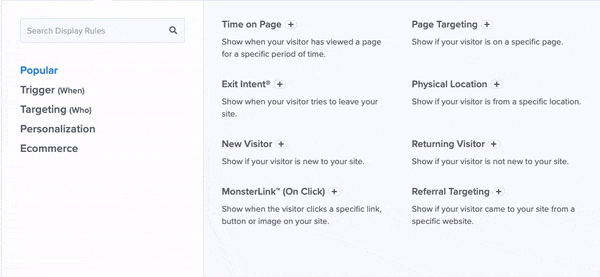 They're neatly categorized so you can find what you're looking for easily. Plus, each rule has a note about what it is used for so you can quickly figure out which rule you want.
Today, we'll show you how to display the quiz in 3 different ways:
1. On Exit:
If you want to display the quiz just before a visitor is leaving your site, select the Exit-Intent® rule like so: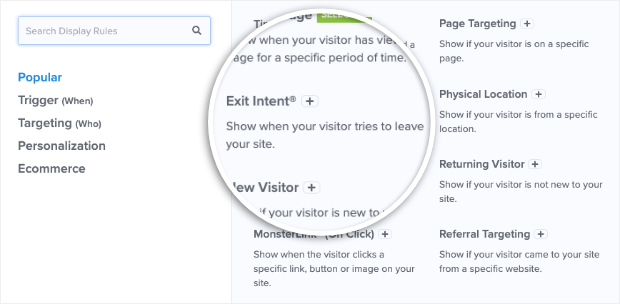 Then back on the Display Rules page, you can decide whether you want it to appear on all devices, mobile-only, or desktop-only.
You can even determine how sensitive you want the detector to be.
We recommend leaving it on medium.

2. On Click:
OptinMonster lets you embed your campaign inside buttons, hyperlinked text, and images. When a user clicks a button, the quiz will appear inside a popup.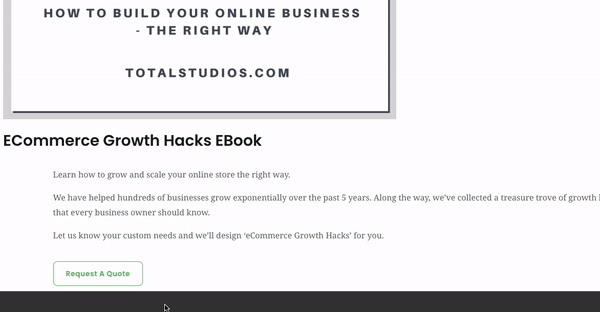 To set this up, select the MonsterLinks™ (On-Click) rule.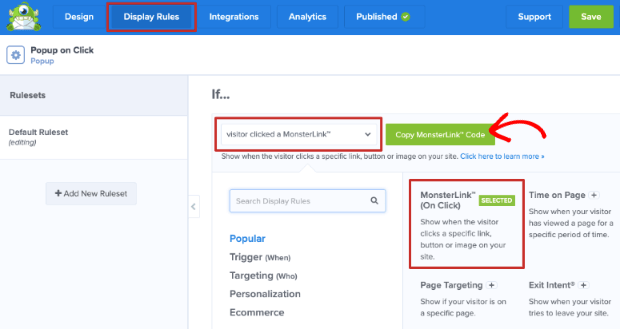 Then copy the MonsterLink™ code by clicking on the green button. You can use this code to hyperlink any button, text, or image on your site.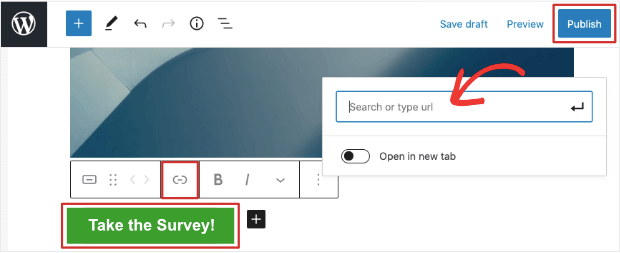 The popup will then appear when you click on it.
3. Page Targeting:
This rule lets you add the quiz only to specific pages of your site. That way, you can target your audience based on what they're viewing or interested in.
To filter by page, select the Page Targeting rule: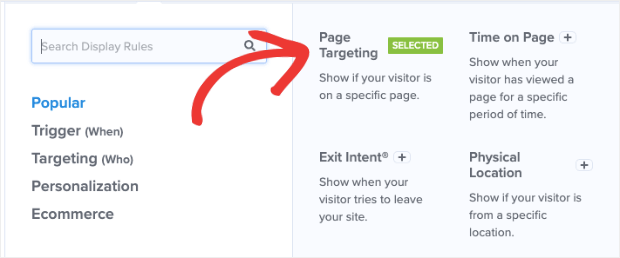 Then, in the Display Rules page, you can add more rules like 'exactly matches', 'is the homepage', and 'contains' to filter your pages.
For example, if you want to appear on all blog pages, then you can choose the 'contains' operator and enter 'blog' in the last field.

OptinMonster lets you add multiple rules together, so you can create targeting combinations like display only on blog pages when the visitor is about to exit the page.
This gives you endless possibilities to target your visitors and maximize your conversions.
Step 5: Integrate and Publish Quiz Campaign
Now that you've set display rules for your campaign, it's ready to go live on your site.
In case you want to add an email integration, you can do that under the 'Integration' tab. Simply select your email service provider and follow the onscreen instructions to connect your account.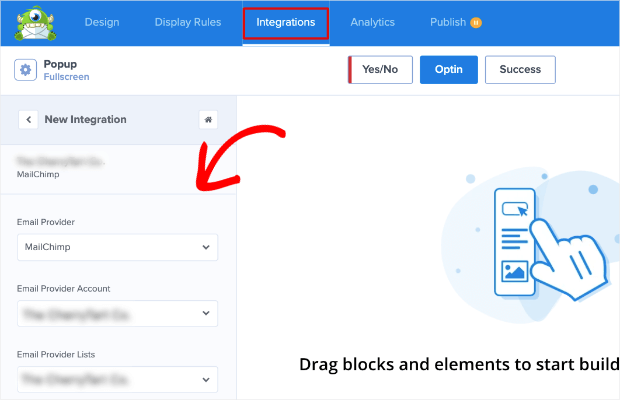 Next, switch to the Publish tab. You can preview a sample of your campaign here and then change the status to 'Publish' to make it live.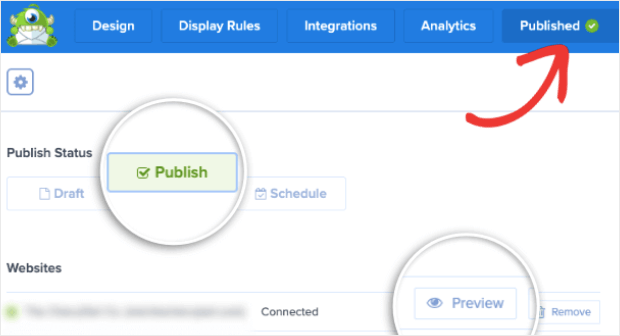 In case you haven't connected your OptinMonster account to your website yet, you'll find onscreen instructions to do so on this page.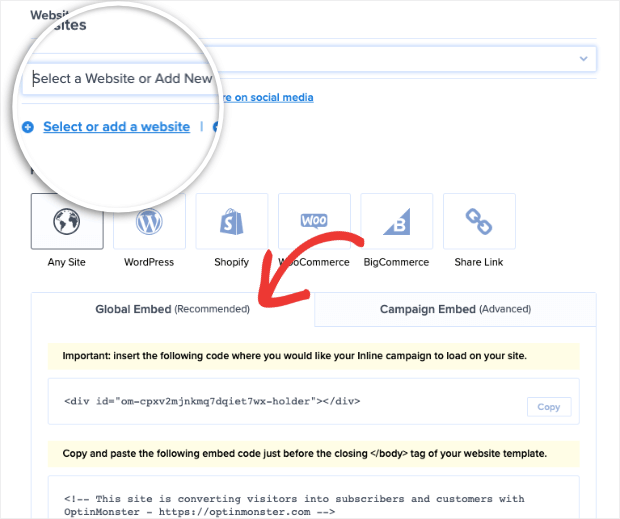 For more help on that, OptinMonster has plenty of documentation you can follow. Check out the following detailed guide: How to Add OptinMonster to Any Website.
And there's one last thing…
Since we're working with shortcodes, we recommend exiting the campaign builder and reloading the OptinMonster dashboard. You can also clear your browser cache to make sure the latest changes are reflected on your site.
If you're using WordPress, head over to your WordPress dashboard and navigate to the OptinMonster » Campaigns tab and make sure the status is set to 'Published' here.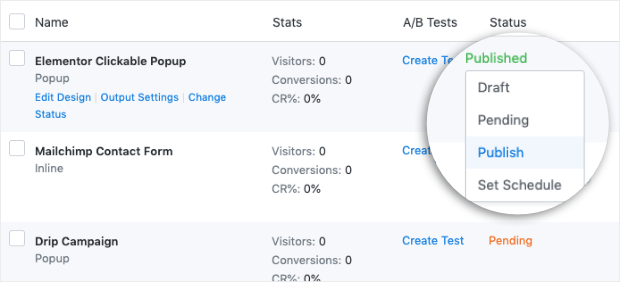 With that, your quiz will appear in a targeted popup. You've now learned to display your quiz at the right time to the right people to maximize your lead generation.
Want to see how OptinMonster works on a real site? Check out how DowntownOrlando.com adds over 4k subscribers each year using OptinMonster.
Once your quiz campaign gets some engagement, you can see how many people saw it and how many converted.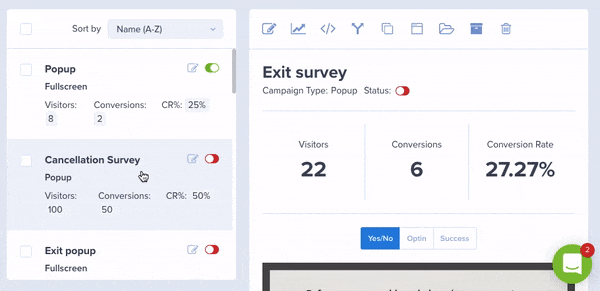 And remember, if you're selling a product, you can even connect OptinMonster to Google Analytics in a few clicks. Then you can see more statistics including how much money your popups are making for you.
Ready to join OptinMonster? Get your 100% risk-free OptinMonster account now by clicking below:
Get Started With OptinMonster Today!
BONUS: Done-For-You Campaign Setup ($297 value)
Our conversion experts will design 1 free campaign for you to get maximum results – absolutely FREE!
Click here to get started →
We hope you found this post helpful in creating a high-converting quiz for your site that actually generates leads.
We also have these resources that you'll definitely want to check out:
These posts will help you skyrocket your leads and subscribers. The last one is a curated list of really cool lead generation tools that help you grow your subscriber base fast!