Are you using OptinMonster on your WordPress website? Our WordPress plugin makes managing your campaigns easy! This guide will show you how to install the OptinMonster API WordPress plugin so you can access features specific to WordPress.
---
Step 1 – Install the WordPress Plugin
You can find the OptinMonster plugin from your WordPress admin by navigating to Plugins > Add New and search for OptinMonster in the plugin repository.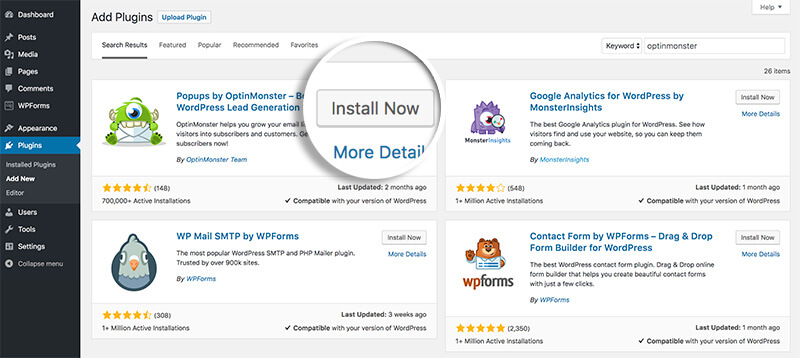 Select the Install button, and OptinMonster will be installed on your site.
Step 2 – Activate Plugin
Once you've successfully installed OptinMonster, be sure to activate the plugin.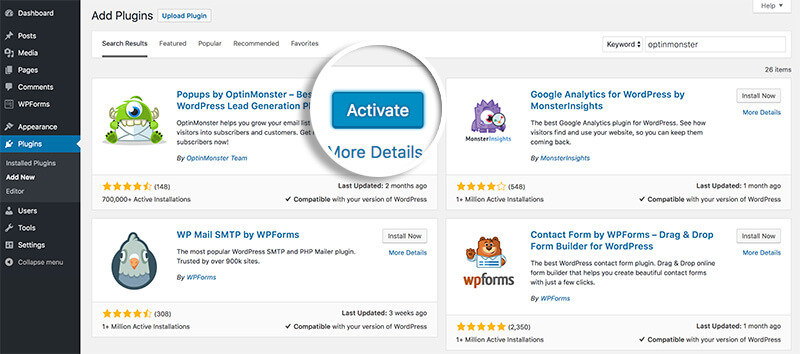 Step 3 – Setup Plugin
Navigate to the OptinMonster menu link, where you'll be prompted to authenticate your OptinMonster account before proceeding.

To locate your API Key, navigate to the API Credentials page at https://app.optinmonster.com/account/api/ by clicking your name at the top right, clicking My Account, and then selecting the API link from the top menu.
If this is your first time creating an API key or if you would like to create a new key, click Create New Key and give the new key a descriptive label such as the name of the website the key is for.

Once you have created a key, or if you would like to use an existing key, copy and paste the key into the API Key field in your WordPress admin. Then select the Connect to OptinMonster button to authenticate your account.

Once you've successfully authenticated your OptinMonster account, additional options will appear in the OptinMonster screen of your WordPress admin for you to manage your campaigns.
You should now see the following tabs:
Campaigns
API Credentials
Support

That's it, you're now ready to manage the campaigns on your site and begin growing your subscription list!
Want to show your subscribe form on every page? See this guide on how to create an Inline campaign in WordPress.
---
FAQs
Q: Do I need to use both the WordPress Plugin and the Display Rules?
A: Learn how our WordPress Plugin and Display Rules work together.