OptinMonster can work with any website. The best lead generation tool works on BigCommerce too! This guide will show you how you can integrate the power of OptinMonster into your BigCommerce site.
---
Step 1 – Create and Publish a Campaign
The first step is to create a campaign and retrieve it's embed code. See this guide on how to embed your campaigns on your site for a step-by-step walkthrough if you need assistance.
Step 2 – Paste the Embed Code into Your BigCommerce Site
Log into the admin of your BigCommerce site. Next, click Storefront Design.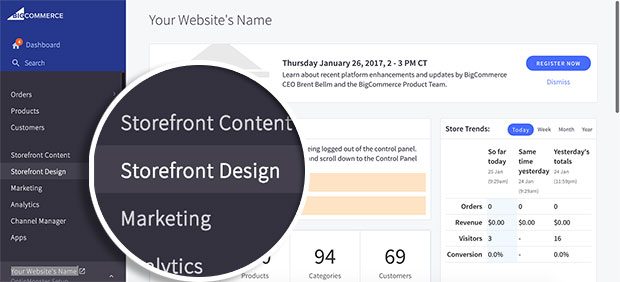 On the following screen, you need to click My Themes.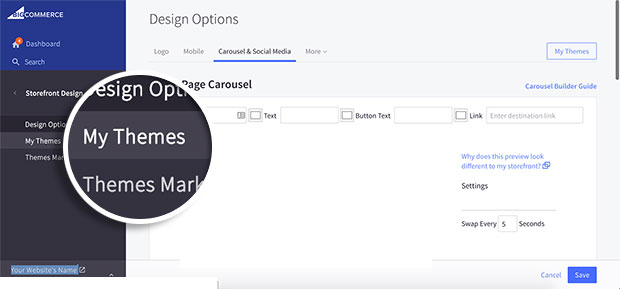 On the next screen, select Edit HTML/CSS from the Current Theme section.
If you're using the Single Account-wide Embed code, and you're adding a popup type campaign (Lightbox, Fullscreen, Mobile, Floating Bar or Slide-In) you'll edit only the default.html.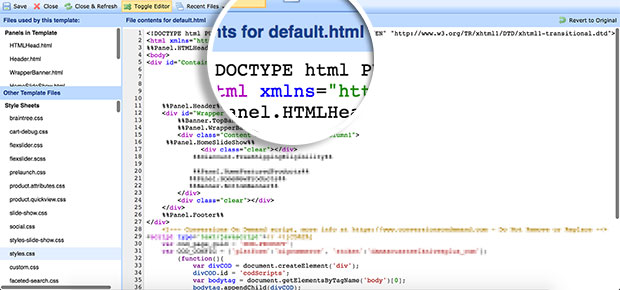 NOTE: Campaign Specific Embed Codes must go on the exact page where they want the popup to load.
Paste the embed code you previously copied at the bottom of the theme file just before the closing </body> tag and Save your changes.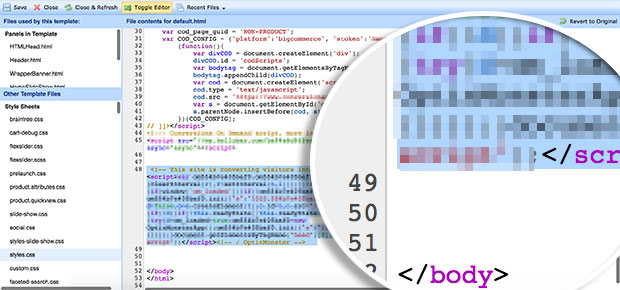 What about Inline Campaigns or Campaign Specific Embed Codes?
If you're adding an inline type campaign (After Post / Inline or Sidebar), you'll add either the HTML Placeholder (if using a Sitewide Embed) or the entire Campaign Specific Embed where you want your campaign to appear on the page.
You're all done! You can now navigate to the front-end of your BigCommerce site and test your beautiful new campaign!
---
FAQs
Q: What domain do I enter when creating my Campaign?
A: When creating your Campaign you can add the domain bigcommerce.com for your campaign to load on. This will allow you to view the Campaign when previewing your site.
If your site uses a custom domain, you should also add your site's custom domain (the domain used to reach the front-end of your site) in the Setup panel > Optin Campaign Website section of the Campaign Builder.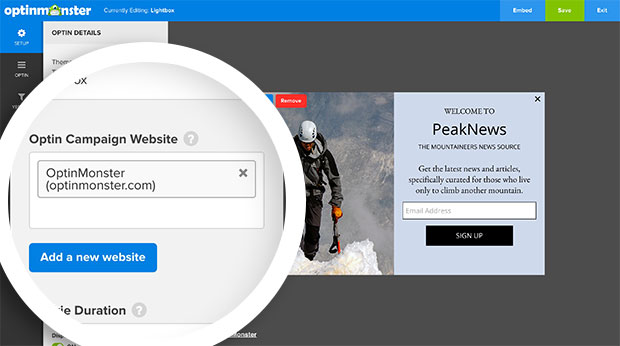 ---
Q: I have questions about how the Embed Code works.
A: If you have any questions, such as:
What domain do I enter when creating my campaign?
What's the difference between the Sitewide and Campaign Specific embed codes?
I'm using the Sitewide Embed, how do I control where my campaigns load?
I'm using the Sitewide Embed, how do I control where on the page my After Post / Inline or Sidebar campaigns appear?
Does the embed code have to be pasted before the closing </body> tag?
How do Afterpost and Inline Campaigns work with Embed Codes?
All of the questions above are answered on our main Embed Documentation available here.