Want more engagement from your email marketing campaigns? Low engagement or high unsubscribes could mean that you aren't engaging your subscribers immediately when they first opt in to your list. In this post, we'll share 7 ways to engage your email subscribers from the moment they opt in.
First impressions are everything, especially when it comes to email marketing. In the online world, you don't get to network face to face with a person, so it's a lot harder to make a lasting impression.
Online marketers have to put a lot more thought into creating memorable and engaging emails from the get-go. If you don't, your subscribers will promptly forget who you are, ignore your emails, or completely unsubscribe from your list.
So how do you ensure that your subscribers are engaged with your emails right from the onset? The best time to do it is in your welcome email.
The All-Important Welcome Email
Successful marketers know that the welcome email–the very first email new subscribers receive immediately after they opt in–is the make it or break it moment. This is the moment when new leads become active followers of your brand, or you lose them.
There is very little room for error here if you want to keep your subscribers engaged and, well, subscribed.
When a new user opts in to your email list, you may be tempted to send a generic confirmation email, and then sit back and wait until your next planned promotion to make contact. This is a risky move, though. You're completely ignoring a golden opportunity in which your brand is at top of mind and the subscriber is the most engaged with your emails.
What kind of golden opportunity? Research shows that welcome emails enjoy 86% higher open rates, 196% higher click rates, and 336% higher transaction rates. That's way more than your average engagement.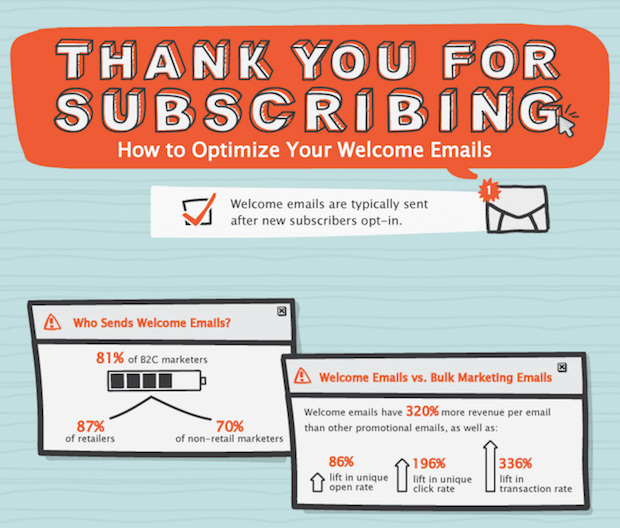 So what does that mean for your bottom line? Well as a matter of fact, welcome emails generate 320% more revenue than any other promotional email you send. (We sure hope you're not leaving all that money on the table!)
7 Ways to Engage New Subscribers with Your Welcome Email
With so much riding on the welcome email, it's important that you take the time to strategize your welcome email and develop a unique approach that resonates with new subscribers and persuades them to take the next step in your sales process.
Are you doing everything you can to leverage your welcome email? Here are 7 tips to help you hook new subscribers from the get-go…
1. Set Expectations
Before we dig into the welcome email itself, there are a few things you should be doing before the opt-in to set expectations and set your welcome email up for even greater success.
First, make sure that prospective subscribers are clear on what they'll get after they opt in.
What is the incentive? What kind of emails will they be receiving? How frequently are those emails distributed? What other benefits will they receive as a subscriber?
All of this is important because people don't like surprises in their inbox. If they receive an email that wasn't something they expected–and remember, they aren't too familiar with your brand yet–they'll probably think it's spam and unsubscribe.
However, if they know ahead of time that you are going to be sending them a free PDF download, and then a weekly newsletter thereafter, and occasional discounts and bonus offers, they will take more kindly to those emails because they have given you express permission to send them.
(Note: If you don't have the virtual real estate to set all the expectations on the opt in form itself, use your lead magnet delivery/welcome email to explain the type and frequency of emails that they can expect to receive from you in the future.)
Second, make sure that your branding is very clear on the opt in form itself.
Here's why branding is so important: if your opt in form looks too generic or too similar to your competition, new subscribers will forget who you are. When they see your welcome email (and any subsequent emails) in their inbox, they won't remember that they opted in for them, and they'll hit "unsubscribe" as fast as they can.
To prevent this, make sure that your logo, color scheme, typography, voice, and imagery are all present and consistent on your opt in form. If you are the face of your brand, like Syed Balkhi for example, include a photo of yourself on the opt in.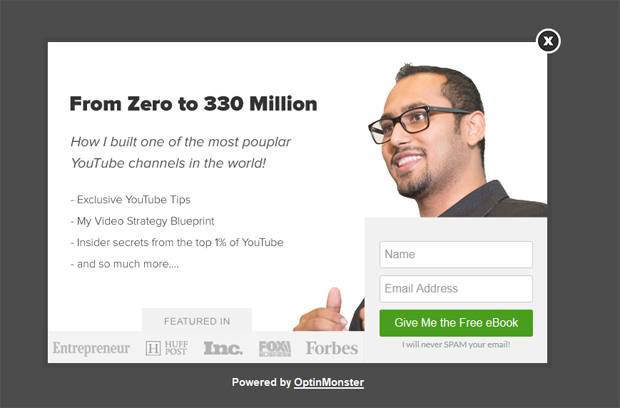 Your opt in form is like your virtual "handshake": you need to clearly introduce yourself so that when new subscribers see your name in their inbox they will immediately remember you.
2. Make it Timely
So you may be wondering, how soon should you send a welcome email after the subscriber opts in? While this isn't an exact science, there are some common trends that reveal when the majority of marketers are sending their welcome emails.
According to a study by Return Path, 75 percent of marketers send their welcome email on the same day, while 13 percent send an email the next day. Only 12 percent wait longer than one day to send their welcome email. Some choose to send an email within seconds of an opt in, while others decide to wait a few minutes or hours.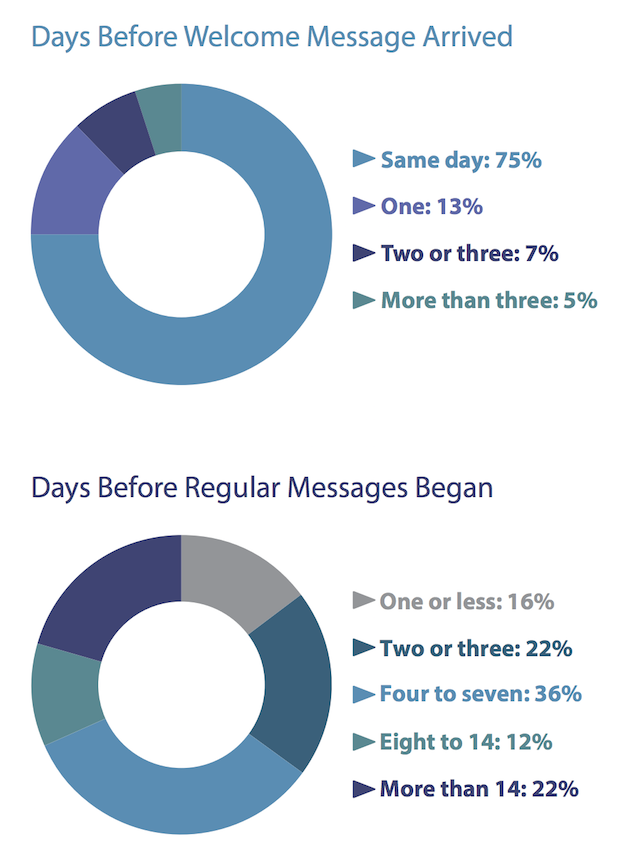 In my opinion, the sooner you send the first welcome email the better. Don't forget how short attention spans are, and take advantage of that fleeting moment when your brand is top of mind!
However, there may be exceptions. For example, if you have just delivered a lead magnet that already includes a good introduction to your brand, you may decide to wait a tiny bit longer before sending the official "welcome to the newsletter" email. That's if you don't want your subscribers to be overwhelmed with too many emails from you all at once.
Whatever you decide, make sure that the first email they receive from you right away is not some generic "thank you for subscribing!" email, but that you've actually made it your own.
3. Use the Right Sender Name
As an email marketing best practice, you should always use an actual name in the "from" line, as opposed to an email address such as "noreply@yourbusiness.com".
But you may be wondering, should you use an individual name or a company name?
Here at OptinMonster, we like to use a combination of the two. "Syed from OptinMonster" is what our subscribers see in the "from" line when they receive our emails, and it works really well for us.

Emails are more personal coming from an individual, but also including our brand name ensures that even brand new subscribers will be able to recognize us in their inbox.
When deciding whether to use an individual name, a company name, or a combination of both, here are some things to consider…
First, individual names are good to include if possible, because they make your emails more personal. However, don't use an individual name by itself unless you have already introduced your subscribers to that person on your opt in form (see #1 above).
Second, if you are a very large company with a lot of turnover, don't use the name of a person who will only be with the company for a short while. You want to keep your "from" line as consistent as possible for your subscribers rather than changing it every few months.
Third, if being personal isn't as important for your brand (for example, if you are in the retail industry), you may decide to use your brand name instead of an individual. It's up to you.
4. Nail the Subject Line
We've written an entire article on subject lines because, aside from the "from" line, they are the biggest factor in determining your open rates. Especially in a day and age where most people get email on their mobile devices and only see the subject line in the notification, you can't afford to mess this part up.
Believe it or not, including or excluding just one word can help or hurt your open and click through rates.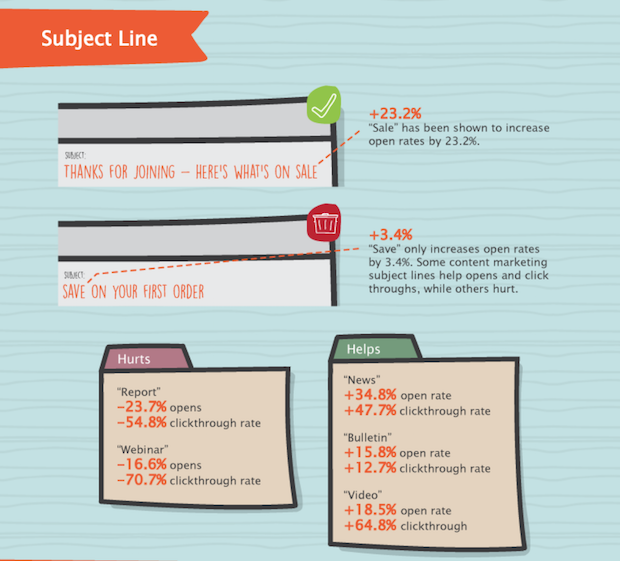 For example, using the word "sale" in the subject line has been shown to dramatically increase open rates by 23.2%. Other good words to use include "news" (34.8% increase in open rate and 47.7% increase in click through rate) and "video" (18.5% increase in open rate and 64.8% increase in click through rate).
As far as words you should avoid, stay away from "report" (23.7% decrease in opens) and "webinar" (16.6% decrease in opens).
For your welcome email, try not to overthink the subject line. A simple and straightforward subject line usually works really well. Here are some examples of email subject lines done right:
Bonus tip: We have done a lot of testing here at OptinMonster, and we've found that including emojis in the email subject line significantly increases open rates. Try it and see for yourself!
5. Use Relatable Copy
Do you know exactly who your buyer persona is? Make sure to tailor the content of your email with relatable copy that speaks directly to that individual person, rather than a large group of email subscribers.
Boring, corporate speak is less memorable than copy that is bubbling over with personality. Of course, you don't need to go too crazy with your copy if that's not what your buyer persona would respond to. When you truly understand your customers, you'll be able to find your sweet spot.
Here is an example (from The Hustle) of just how much personality you can infuse into your welcome email, if you choose to do so: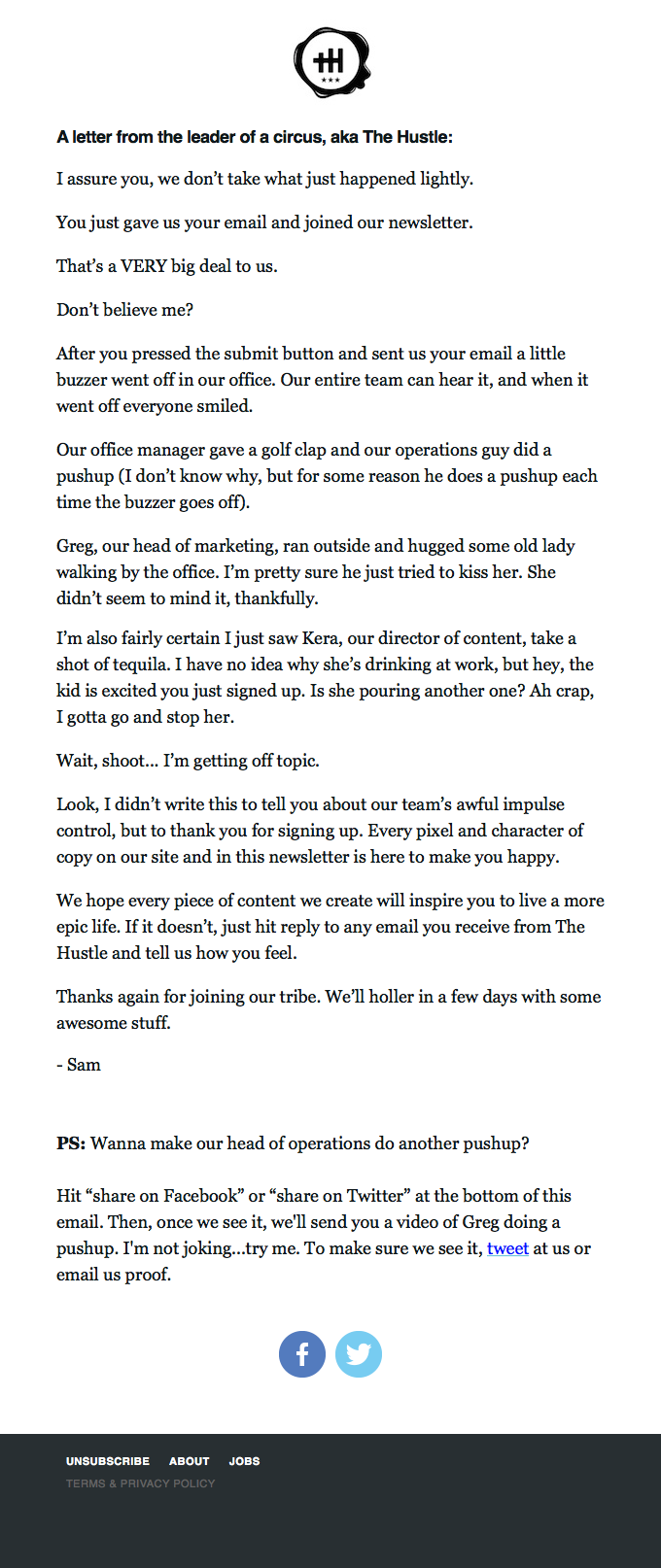 Hilarious, right? Now that's a memorable welcome email!
But if that's too much humor for your brand, check out this example from Virgin America:
Notice how they use casual phrases, like "welcome aboard", "we'll be in touch" and "here's to the start of a healthy digital relationship". However, it's much more professional sounding than the previous example.
Another very simple, yet effective tactic is to insert the subscriber's name into the email. So, instead of saying something like "Welcome, new subscriber," you can say "Welcome, Mary. Thanks for subscribing!" It's a small touch, but it's been shown to dramatically increase engagement.
According to one study, personalized subject lines are 26% more likely to be opened. Furthermore, research has shown that segmented, personalized campaigns produce 760% more email revenue. So keep that in mind when writing your welcome email!
6. Use Branded Emails
You may have wondered whether it is better to use images versus text-only campaigns. Some marketers say that text campaigns appear more personal, and that emails with images tend to go to the spam folder, so open rates are lower. However, there are tons and tons of marketers who use branded emails and it works really well for them.
So who's right and who's wrong?
Well, we've tested this here at OptinMonster, and our open and click through rates are significantly higher for branded emails (i.e. emails with images) as opposed to text-only emails. Now it's possible that you will find the opposite to be true for your email list, however, we encourage you to split test this and see for yourself.
The advantage to branded emails, if you decide to use them, is that your subscribers will have those visual cues to remind them of who you are. This is especially handy for your welcome email, when new subscribers are still getting to know you. If your email has the same branding as your opt in form, then your new subscribers will be able to recognize it right away.
Here are some great examples of branded welcome emails…
UX Designer Paul Boag's welcome email walks you through an introduction to virtually everything you can get from his site, with a few photos of himself sprinkled in and a casual voice, so you feel connected with him right away.

SpiritJS's welcome email uses their own unique illustrations and typography that really stand out among the typical emails that would land in your inbox.

Whistle (a GPS pet tracking device) uses a strikingly cute photo of a doggie on a motorcycle in their welcome email… now who wouldn't remember that??

7. Include Calls to Action
As previously noted, welcome emails enjoy much higher open rates, click rates, and transaction rates than other emails that subscribers get down the road. So why not take full advantage of that?
The best way to get subscribers to take the next step in your sales process is by simply telling them what to do next.
If they've just signed up for your software, give them the next steps to using their product or setting up their account. If you are an eCommerce store, give them a discount code or free shipping on their first purchase. If you sell information products, whet their appetite for your product with some free content via your best blog posts.
Here are some examples of welcome emails with excellent calls to action…
Tattly (an eCommerce site that sells temporary tattoos) uses a big red button in their welcome email with the call to action to grab your discount code for 20% off your first order.

Airbnb includes three calls to action in their welcome email: to complete your profile, verify your information, and start exploring their site for adventurous places to stay.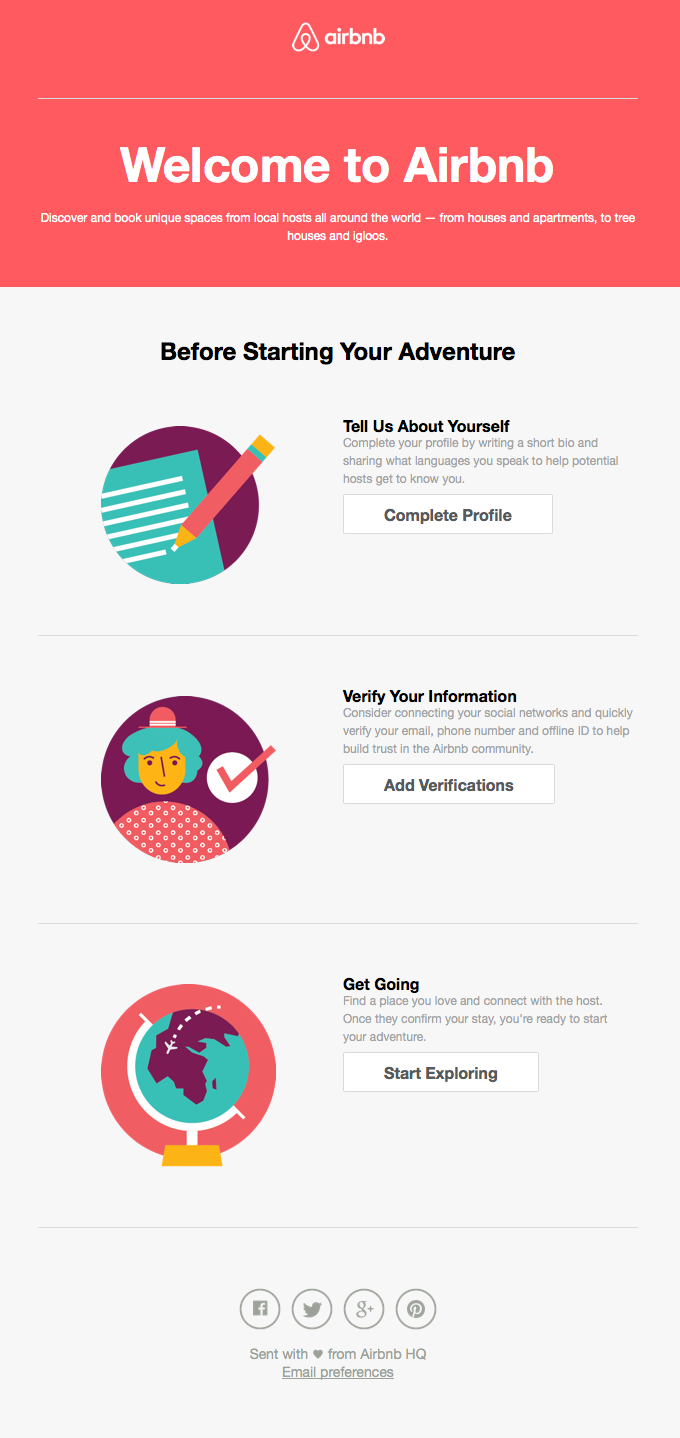 Designmodo sends a welcome email to new subscribers/customers who have just purchased one of their products. It includes three calls to action: learn about the first steps to start using their product, view some video tutorials, and read the F.A.Q.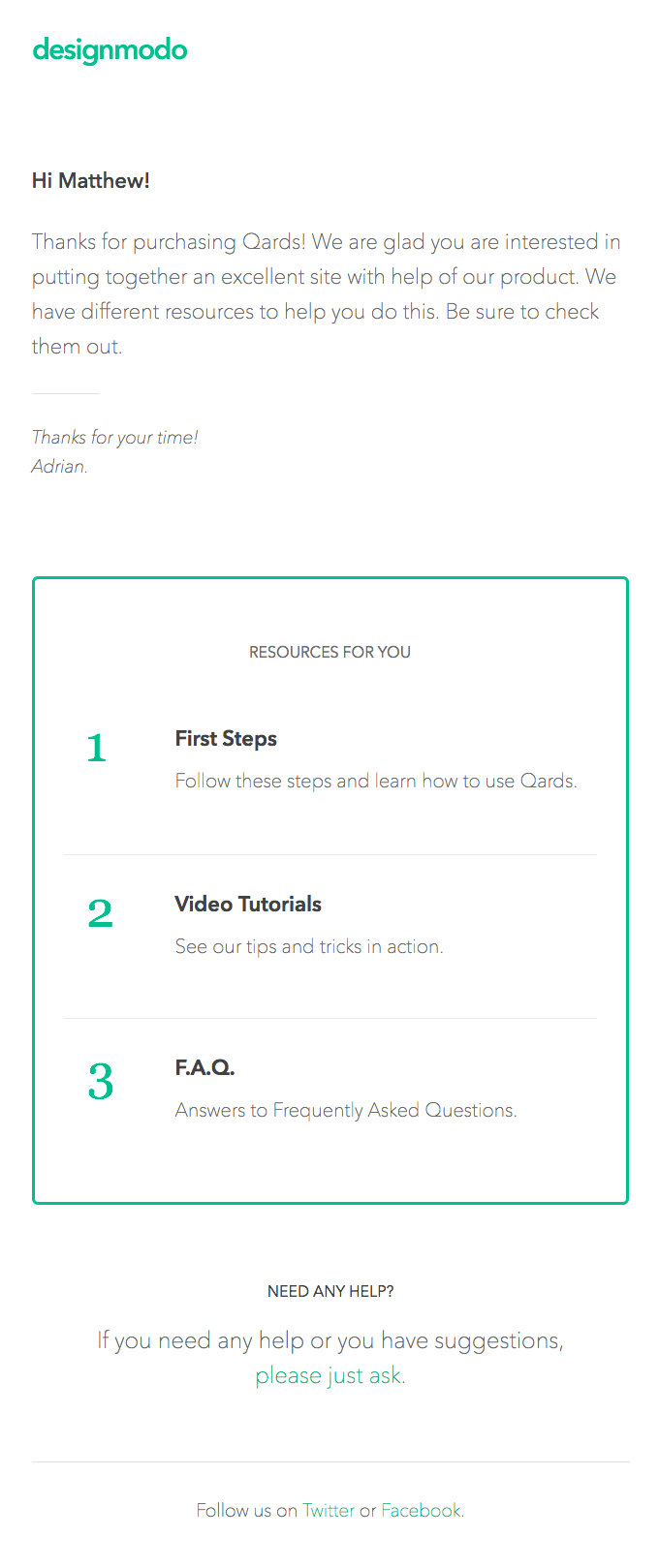 That's it! 7 ways to engage your email subscribers from the moment they opt in. If you enjoyed this article, you may also want to check out our post on 50 Smart Ways to Segment Your Email List Like a Pro.
What does your welcome email look like? Do you have any great ideas we didn't mention here? Let us know in the comments!