Do you want more from your social media holiday strategy? Or, maybe you stumbled upon this article and didn't have a plan in place, but now you know you should.
Either way, in this article, you'll find a simple, 5-step process to creating a social media strategy for the holidays that will engage your audience and boost sales.
Why Social Media?
Email marketing is indeed where it's at. Who's going to argue with a 4400% return on investment, right?
So, why spend time creating a social media holiday strategy when email marketing is responsible for 24% of holiday sales?
The truth is that you need both email and social media in any successful marketing strategy.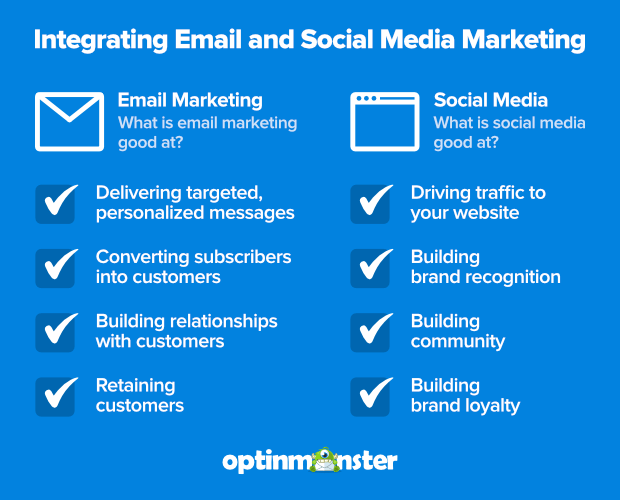 Email marketing and social media marketing are very different, uniquely successful tactics, and, like peanut butter and chocolate, they're even better together.
Social media marketing is pretty magical at driving traffic to your website through viral content, online contests, or social media ads. When you add user-generated content to the mix, well, you're on fire.
Related Content: Want to know how to use social media to auto-generate revenue for you or your company? Check out this guide on how to use social media for affiliate marketing.
Convinced? Great! Let's jump into some strategy building.
Creating a Social Media Holiday Strategy
A successful social media holiday strategy is going to include both social selling and social media marketing.
Wait a minute, you're thinking. Aren't those the same thing?
They aren't.
Social selling doesn't involve any direct selling at all. Instead, you're using social media to find and nurture leads, create or increase brand awareness, and build relationships.
With social media marketing, on the other hand, your goal is conversion.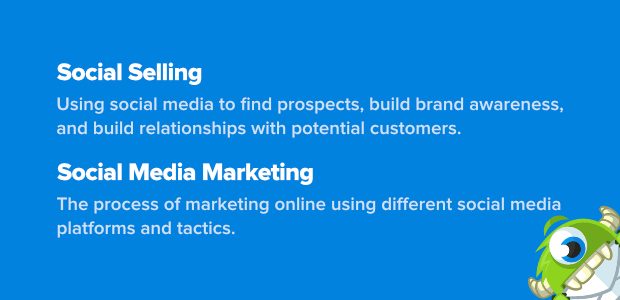 Both are vital to your business's success in social media. 78% of marketers who use social selling outsell their peers who don't. And, a full 90% of all marketers say that social media marketing has increased their brand's exposure.
Pretty cool, right? If you want to learn more about social selling, we've got some tasty social selling statistics you're going to love.
But, right now, let's start building our social media holiday strategy.
Step 1. Review Last Year's Holiday Social Media Posts
Marketing isn't something you check off a list and never revisit. The best way to figure out what you want to focus on is by looking at what you've already done.
That's why the first step in any great social media holiday strategy is to review what you did last year.
You'll want to take stock of the content you used, of course, but most importantly, you'll want answers to these questions:
What worked (or didn't)?
You can learn a lot from what worked, but you'll learn a whole lot more by looking at what didn't.
Did your visuals and copy miss the mark? What should you do instead?
Look at your buyer persona and put yourself in their mindset. What do they want from you?
Which platforms had the best ROI?
Where did you get the most engagement and sales? If a platform isn't working for you, it has no business being in your social media holiday strategy.
Check out the analytics for each platform. Are the sales, traffic, and engagement you're getting from the platform exceeding the cost you're putting into it?
Check it out: The Best Social Media Platforms for Business: Your Ultimate Guide
What should you do again?
Make a list of the things you're going to do again. Is there visual content from prior years that you can use as inspiration for this year? What about your copy?
Want to make your copy even better? Here's a list of copywriting templates that you can use!
Step 2. Set Goals for This Year's Social Media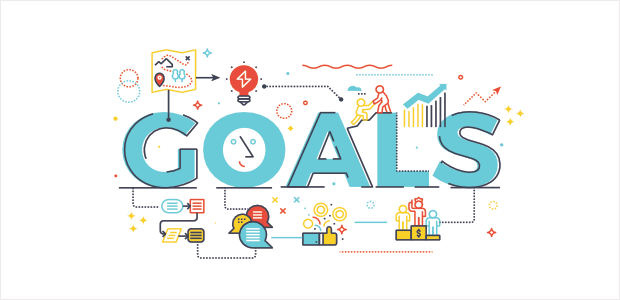 Do not skip this step. It's super easy, and you'll use these goals to guide your schedule and strategy.
Decide what you want to accomplish with your social media holiday strategy. Are you looking to increase awareness, boost sales, get more interested people engaged with your brand?
Maybe you have a special holiday offer that you want people to get.
Whatever your goal for your social media holiday strategy, write. it. down.
Step 3. Plan a Schedule (and Strategy) for Your Holiday Social Media Content
Now that you know what worked, what didn't, and what you want to accomplish with this year's social media holiday strategy, it's time to plan.
Schedule out your content using a social media scheduler like Buffer or Tailwind. Remember to keep each day varied with eye-catching visuals, dazzling copy, and strong calls to action.
It helps to have a theme or a single idea for your holiday marketing campaign. That way, you can create visuals and write content around that theme, and your holiday marketing will have a cohesive feel.
Once you have your theme, decide what types of content you'll post… promos, sales, contests, well-wishes, anything you want! If there are any products or services that you're highlighting, be sure that they feature prominently.
As you're deciding on the content to include, ask how each piece will help you reach the business goals that you set in Step 2. If you can't figure out how it helps, try something else.
Don't forget content for novelty holidays like National Ugly Christmas Sweater Day (December 21), Festivus (December 23), or National Fruitcake Day (December 27) if that kind of thing fits with your brand's personality.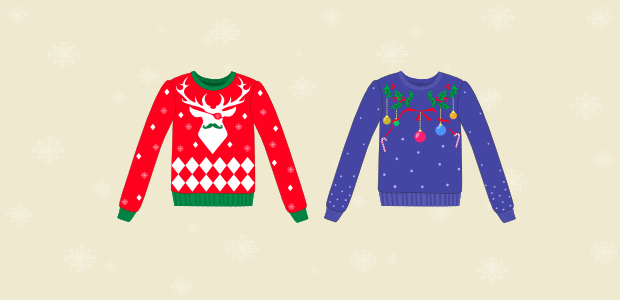 Step 4. Create Holiday-Themed Content for Social Media
Now for the best part of your social media holiday strategy: decorating and creating content!
What do we mean by decorating?
It's simple. Add festive touches to your social media accounts. These festive touches could be anything from changing your cover photo to something seasonal, changing your profile picture, or editing your bio to include holiday copy.
Starbucks is always on point with their holiday imagery on their social media accounts. Here's an example from their Facebook page: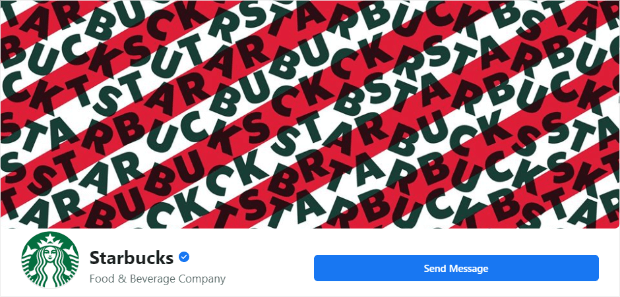 Now is the time to get into the mind of your ideal customer and create content for them.
You don't need to reinvent the wheel, though. Creating your own visuals is great, but if you're in a time crunch, it's better to find high-quality images from a stock photo site like Shutterstock or Pixabay and edit them to reflect your theme.
If you're running ads on social media, get them created and scheduled.
We also recommend creating at least 1 contest for the holiday season. People love giveaways, and with online giveaway software like RafflePress, you can create a stunning online contest in minutes.
Related Content: Looking for holiday marketing design ideas? Check out our list of 40 holiday marketing design examples sure to inspire you!
The Secrets to Great Content
To get you started with your best foot forward, let's talk about what makes content great. Okay, it's not secrets, but doesn't that sound neat?
First, your content should tell a story. Stories help you create an emotional connection with your audience.
When you combine stories and images into visual storytelling, you'll be able to:
Quickly get and keep your audience's attention
Create messages that resonate with your audience
Help your brand connect on an emotional level
Once again, we're looking at Starbucks for inspiration. They're great at creating seasonal content. Here's an example from their Instagram account: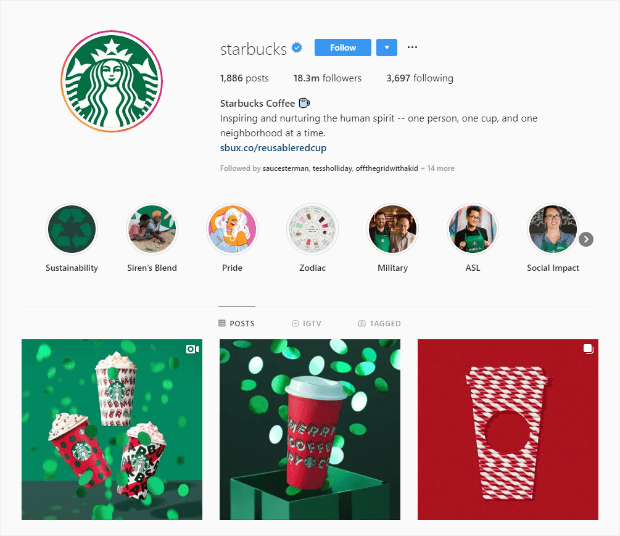 But, not every piece of content works for every audience.
That brings us to the next tip for creating great content: be relevant to your audience.
Your content isn't about you; it's about your audience. If your audience is interested in monetizing their social media presence, give them ways to make money on Twitter. Don't give them content about direct mail marketing.
When you create content that is relevant to your audience, you're going to see more engagement from them. But, don't let communication be a one-way street.
You must engage your audience. Reply to their comments and go comment on the posts where you're mentioned.
If you want to create brand evangelists, go comment on the posts of your biggest fans even if they don't mention you.
Next, don't just sell. Remember, you're trying to build relationships. Nobody wants to talk to someone who only wants something from them. Don't be that person.
Finally, keep the content going past the holiday season. If you're only paying attention to your social media content around high-volume sales holidays, your audience is going to notice.
It's all about relationships. Your audience wants quality content from you all the time, not just when you're hawking your wares.
Step 5. Track Your Social Media Holiday Campaign Success
Your goals are set, your social media posts are planned out, you've created some great content. Now what?
Tracking, of course! You want to be able to see how your social media holiday strategy is working, don't you?
There are 2 easy ways to track your performance:
Check out your social media platform analytics
Set up UTM tagging
Social Media Analytics
Social media platforms for business accounts have tons of excellent information that will tell you if your efforts are well spent. Here's an example of Instagram's insights: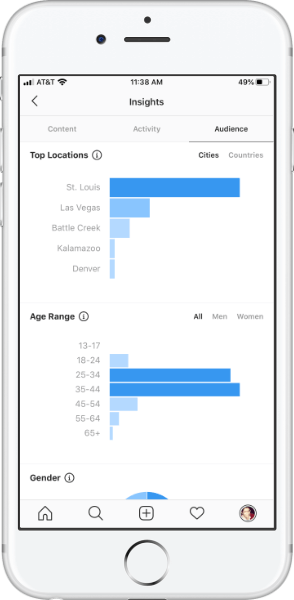 Not sure what to track? Here's what we recommend:
Impressions
Reach
Shares and mentions
Ad recall
Click-through rate
Total purchases (online and offline)
New visits
Total leads
Referral traffic
Landing page views
For an in-depth "how and why" for each of these metrics, check out 11 Social Media Metrics You Need to Nail Your Marketing Goals.
UTM Tagging
A UTM parameter is a small snippet of code added to your URL that lets you track information about the source, medium, and campaign associated with the link.
UTM tags aren't that hard to create, but you can create your UTM tags in seconds using Google's Campaign URL Builder.
First, you'll need to decide where you want to send your followers. We recommend using OptinMonster to create a landing page. Then, put your landing page URL in the Campaign URL Builder and enter your parameters.
The resulting URL will be the one you link to in your social media marketing.
With Google Analytics, you can easily get reporting data based on the URL with UTM tags.
Helpful Content: How to Add Google Analytics to Your WordPress Site—Quick & Easy!
That's everything you need to create a successful social media holiday strategy. If you found this article helpful, you may also like this post on the best WordPress plugins for social media or this one on 8 social media feed tools to boost followers.
And to take advantage of all the new leads you'll be getting, be sure to join OptinMonster.