Is your holiday email marketing strategy already in place?
Don't procrastinate until November before you start creating holiday email messages. The best time to start is now.
For many businesses, the holiday period, spanning from early November to early January, is one of the most profitable of the year. So if you don't get your marketing right for the holidays, then the financial health of your business could be at risk.
Who wants to lose money, right?
This period is especially important for retail. According to the National Retail Federation, holiday sales account for 20% of all retail sales. In November and December 2017 alone, those sales accounted for $691.9 billion!
Not in retail? Don't worry! All businesses benefit from a seasonal lift in sales.
When people are scouring the web for Black Friday and Cyber Monday retail offers, the holidays are a great opportunity for any business to offer deals that entice customers to stick around and keep that income flowing in all year round.
As you'll see, we practice what we preach, and run holiday marketing campaigns right here at OptinMonster.
Why You Need Holiday Email Marketing
Holiday email marketing is a big driver of the seasonal sales boom. According to Mailcharts, email marketing is responsible for 20% of holiday sales. If you do the math, that means email marketing alone brings in billions of dollars in revenue for businesses each year.
The Black Friday to Cyber Monday period is particularly lucrative. That's why Mailcharts' stats show 60% of all marketing emails sent over that weekend are promotional: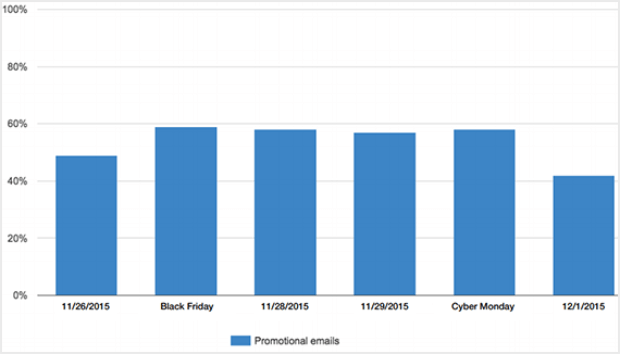 Even outside the holiday period, email marketing plays a key role in lead generation and customer acquisition, so it makes sense to craft holiday email messages to capitalize on this peak sales period and boost your income.
In this guide, you'll get holiday email marketing tips that'll help you make the most of the most important buying season so you can set yourself up for a profitable year. We'll also include holiday email marketing examples you can use to inspire your own campaigns.
1. Know Your Holidays
Every country's got its major holidays, which often coincide with peak sales times.
If you're in the US, the most important holiday season runs from early November to early January, a two-month promotional window that fuels profits for the whole year.
Wherever you're located, our first holiday email marketing tip is to collect a list of key holidays and integrate them into your email marketing calendar.
If you've been in business for a while, use analytics data to figure out which ones usually bring in the most revenue. Here's a guide on how to track your eCommerce revenue in Google Analytics. Those will be a good starting point for holiday email messages.
Almost any event is a good peg for a marketing campaign, so don't be afraid to include unusual events, like:
The first day of fall
The winter solstice
An eclipse
Here's an example from King's Flower and Garden: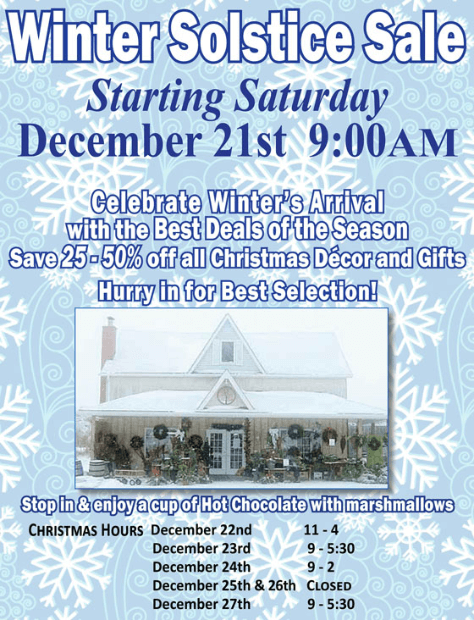 2. Start Early
For the US holiday season, GoDaddy recommends you start your holiday email marketing campaigns between November 1st and 15th. That's when most people open your holiday marketing emails; after that, open rates drop.
If you have a long internal approval process, that means you need to create any holiday email marketing campaigns at least a couple months before, so everything's ready to go by the target date.
It's not just your email campaigns you should plan in advance, either. If you want to have somebody to market to, you'll need to grow your email list early, too.
We always recommend starting to build your email list when you start your business, even before you launch it formally. And if you have an established business, you should be building your list all through the year.
3. Segment Your List
There's no point in marketing to the wrong people. That's why one of the best things you can do to improve your holiday email marketing is to segment your list.
Email list segmentation allows you to send more relevant and targeted emails to people who are truly interested in what you have to offer.
One way to achieve this is to segment subscribers as they subscribe. Let's assume you already have email lists set up for people interested in different groups of holiday gifts so you can send them appropriate offers. You also know how to create an OptinMonster marketing campaign.
You can use OptinMonster's Yes/No view to get people to opt in to the right list on their own.
After enabling the Yes/No view, you would edit the Yes button for one of your segments. In our example, we're going to segment between cat people and dog people.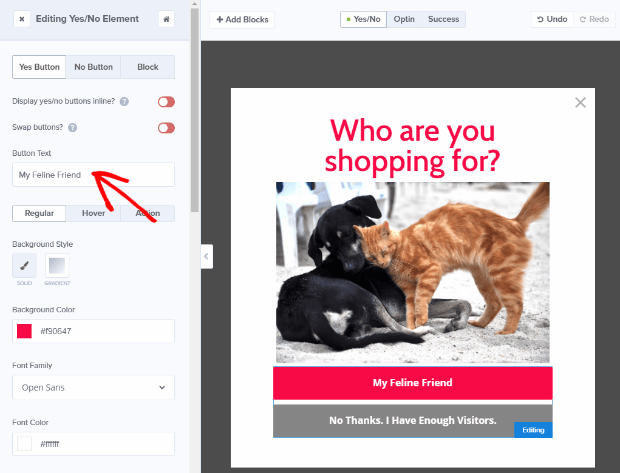 Change the Yes redirect URL to the landing page for cat-specific products.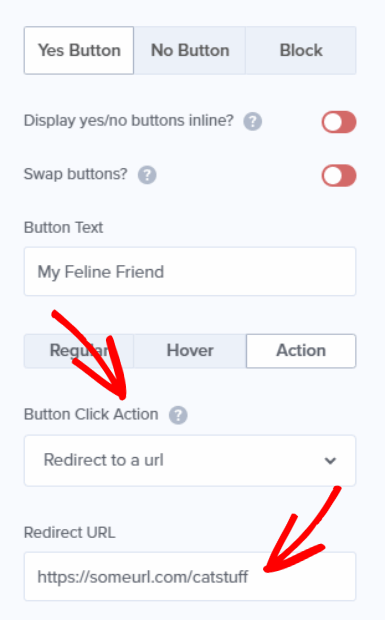 Use the same method to edit the No button for your other segment and change the redirect URL to that landing page.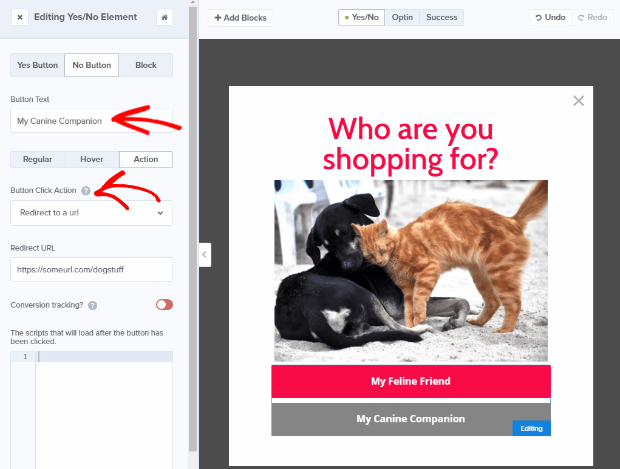 When visitors arrive at the appropriate landing page, you can then use OptinMonster to show a new offer, encouraging them to subscribe in exchange for a coupon. Here's how you create a popup coupon in OptinMonster.
This method allows your visitors to segment themselves so you can send them more relevant promotions. OptinMonster customers have successfully used yes/no optins to increase pageviews, improve lead generation, and boost sales.
4. Create Holiday-Themed Campaigns
Many websites change colors and themes to signal the holiday season. You can do the same with holiday email marketing campaigns. Let's face it; if your emails always look the same, your subscribers will soon get bored.
Switch things up with some holiday email templates, and and you'll get much more attention for your marketing campaigns. One OptinMonster customer, Cloudways, used holiday marketing to get a 120% increase in free trial signups.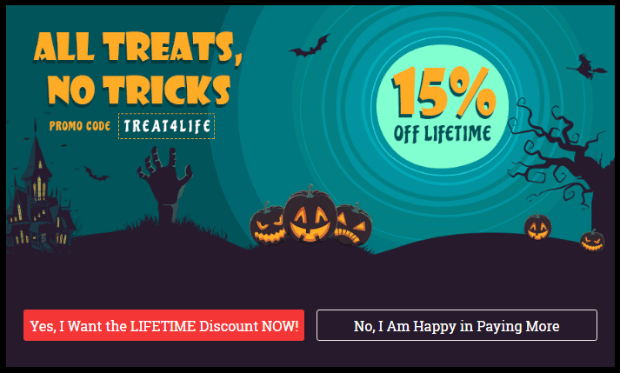 5. Create a Holiday Gift Guide
One great holiday marketing idea is to create a holiday gift guide.
This is a resource for email subscribers and web visitors that showcases gifts that match their interests. Here's an example from Rip Curl, courtesy of Campaign Monitor: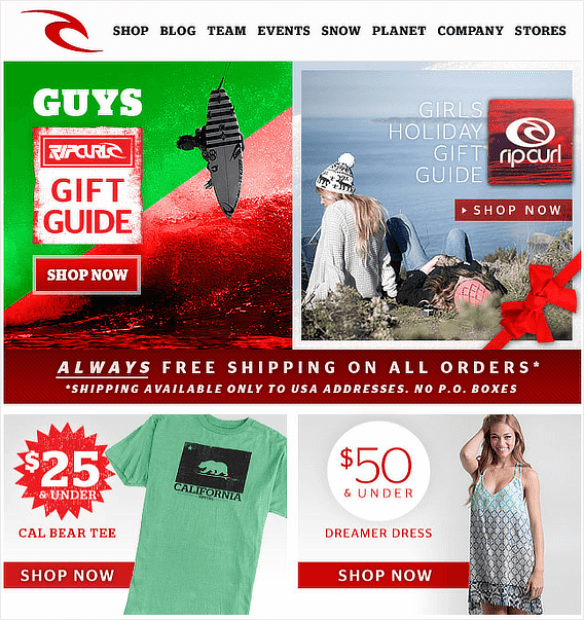 You can create your own holiday gift guide by creating a new page or blog post on your website that showcases relevant products.
Include different sections in your guide, so your subscribers can easily find the things that interest them most. For example, some guides divide their featured products:
By gender, showcasing gifts for men and gifts for women
By age, such as gifts for kids
By price
By interests, such as gifts for gadget lovers or dog owners
If you know your buyer personas, it'll be easy to decide on how to segment your products or services.
Shopify's tips on creating a gift guide include:
Creating collages of your best products (You can do basic collages yourself with Canva or Pixlr, or hire a designer with Photoshop skills for more advanced requirements.)
Curating products around a theme and using influencers as guest curators where appropriate.
Making it mobile-friendly, so subscribers can reach key products in a couple of clicks or taps.
For best results, link to your gift guide in every holiday email message, so it can keep promoting your products and services all through the holiday season.
6. Launch Exclusive Holiday Sales
If you're looking to wow your subscribers with holiday email marketing, try offering exclusive offers for those who are already on your list.
Not only is it good to get something for nothing, but being an insider makes your subscribers feel great. In fact, offering discounts can help you make more sales.
Insider deals are also a great incentive for people to sign up for your email list, as in the campaign from EatTreat below: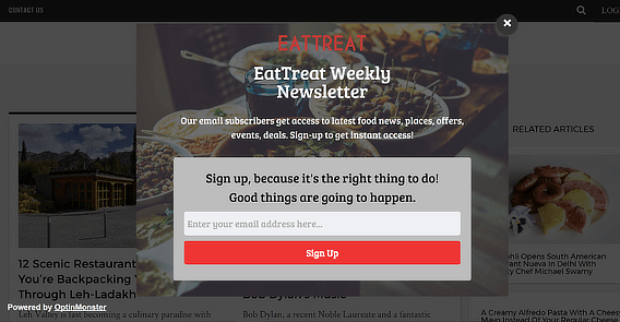 One example of a Christmas-themed campaign is "naughty or nice" messaging, used by a number of companies. Here's an example from Canon.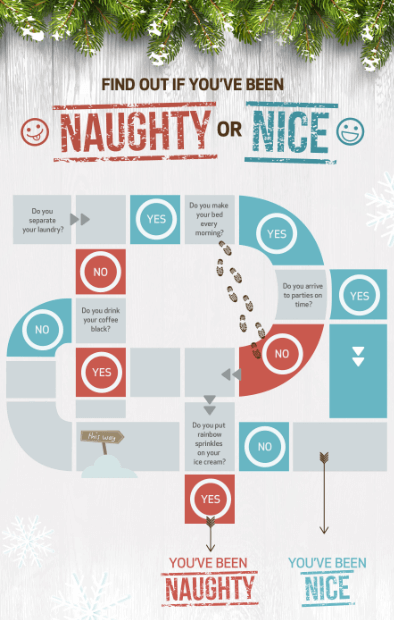 Have a little fun with this concept, by seeing what could be naughty or nice in your own niche, and incorporating that into your holiday email messaging.
You can also build a relationship with subscribers throughout the holidays, by tempting them with more and more relevant offers each time they visit your site using OptinMonster follow-up campaigns.
7. Use Urgency
Using urgency is a great way to boost sales with your holiday email marketing campaign. A time-limited holiday offer encourages visitors to take action now because nobody likes to miss out.
Here's an example of a non-retail business using holiday marketing from WPForms. This uses OptinMonster's Countdown theme for an urgency-based campaign that encourages visitors to grab a huge discount before the sale ends. Those who do get emails from the company.
If you use this strategy for your own company, you can also segment your audience according to the package they buy so you can send appropriate offers their way.

You can also leverage urgency by:
Promoting early bird pricing for some of your products and services.
Including last order and last shipping dates in all your emails so subscribers know exactly to order so they get their stuff on time.
Displaying holiday discount codes with a countdown timer. That's easy to do with OptinMonster's Spooktacular theme: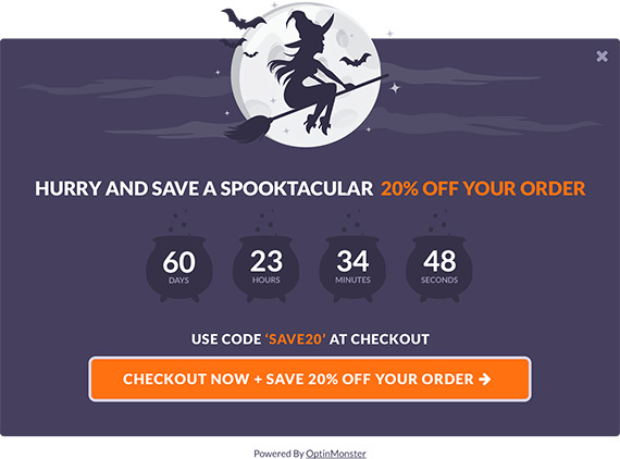 8. Create an Online Advent Calendar
One innovative idea for holiday email marketing is to create an online advent calendar. This is a great way to maintain interest in your business and increase engagement throughout the holiday season.
Time-tracking software provider Freckle has done this couple of times, creating Freelancember, an online advent calendar for freelancers. They send daily emails reminding subscribers to click on today's date and uncover what's inside.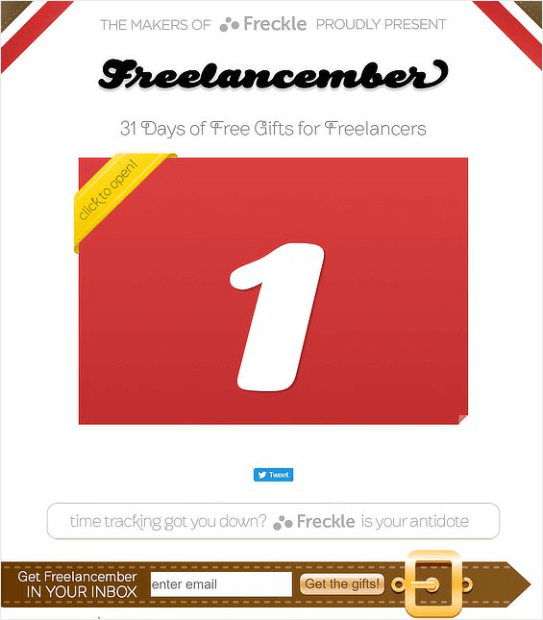 One of the most appealing things about this strategy is that most of the items are non-promotional, designed to raise awareness of their product by providing useful tips for their target audience.
But you can also use an online advent calendar to highlight daily special offers or to showcase fun holiday-themed contests, quizzes, polls, videos, images, and articles.
Two tools to try to create your own calendar to promote in your holiday email marketing are Tuerchen and Dot.vu.
9. Theme Your Subject Lines
If you want subscribers to open your holiday marketing emails, your email subject line has to be right. That's why one of our top tips for improving holiday email marketing is to tap into that holiday feeling with your subject lines.
Next time you send a holiday email, try including a seasonal emoji. The research shows that using emoji in subject lines gets attention, and results in 56% more opens.

If you think about it, wouldn't you pay more attention to an email subject line with a turkey, a Christmas tree, or a snowman? We know we would!
Emoji aside, you can get more attention by referring explicitly to the holidays or your holiday offers in your emails. Here are a few examples we liked:
Chronicle Books: "Put Some Boo in Your Next Book Order"
Dell: "It's Cyber Monday All Week!"
Fortnum & Mason: "Making Christmas merrier since 1707"
Just Give: "Gifts that do good…and feel good"
Kathryn Aragon: "Christmas in July"
Monoprice: "Holiday Gift Guide – Headphones & Earphones Starting Under $10"
Nordstrom: "Black Friday Is Here Early"
Pottery Barn Kids: "[gift emoji] The BEST gift: 20% OFF anything (TODAY ONLY!)"
Shutterfly: "We're feeling very merry. Get 50% off your order"
Sports Authority: "Hurry, Only Hours Left for Cyber Monday Savings!"
Story Bistro: "Thanks, Giving, and a Little Bit of Getting"
theSkimm: "Winter is (officially) coming"
For more inspiration, check out this list of the top 20 holiday subject line words from Vertical Response.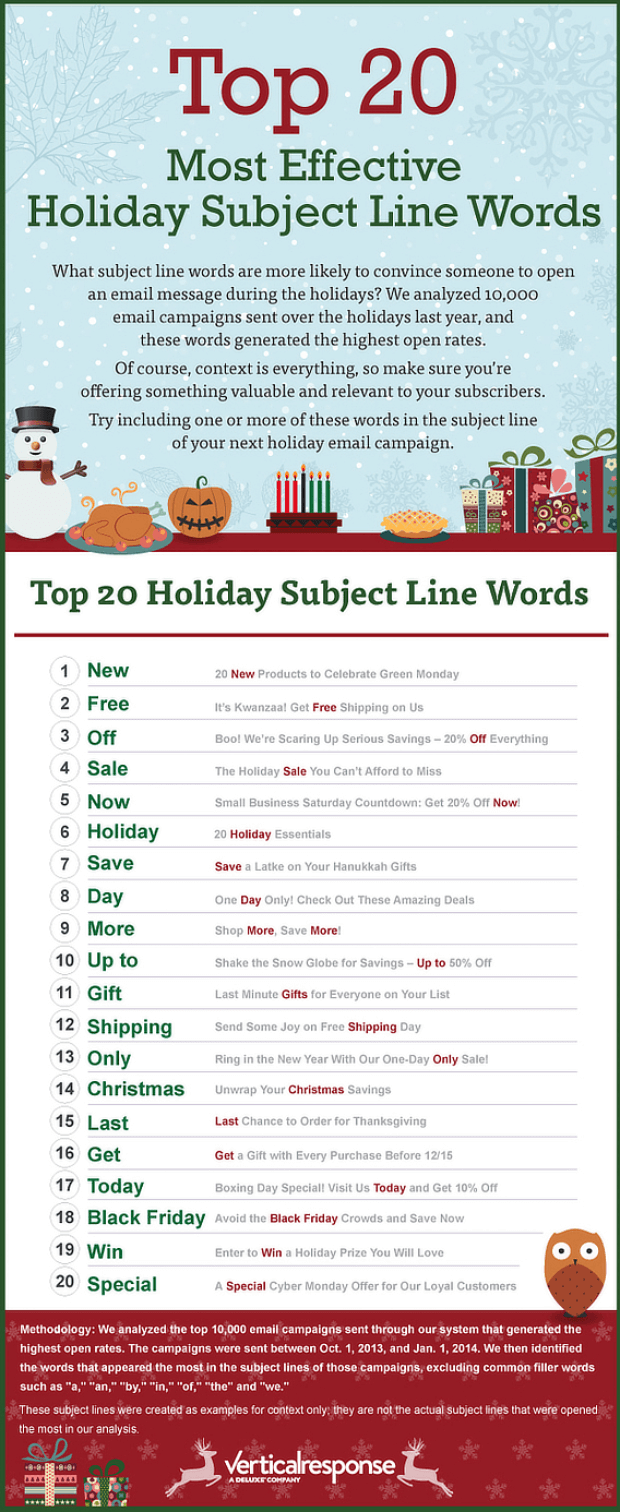 Don't forget to make the email preview text holiday-themed as well. Email preview text is like a second subject line that'll pique your subscribers' interest so they want to open your emails. Here's how you edit preview text in Mailchimp.
You can also carry the theme over to your campaigns, as in this example from Cloudways: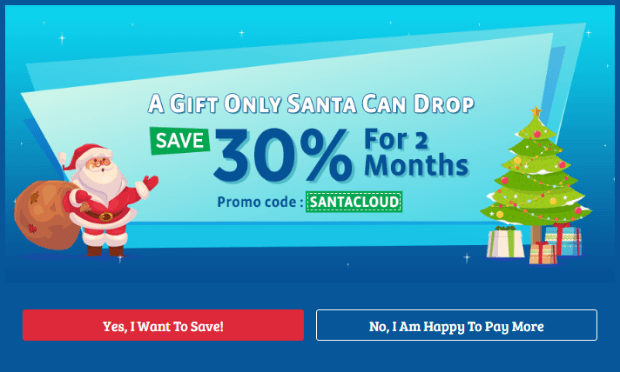 10. Don't Forget the Footer
Here's another smart holiday email marketing tip: don't neglect the footer of your email as a place to woo your customers and make sales. It's easy to neglect the footer once you set up your email template, but that's a mistake. In fact, the footer's a great place to promote:
Your holiday gift guide (tip #5)
Gift cards and other gift services
Last order and last shipping dates
Here's part of West Elm's holiday email footer, courtesy of Email Monks: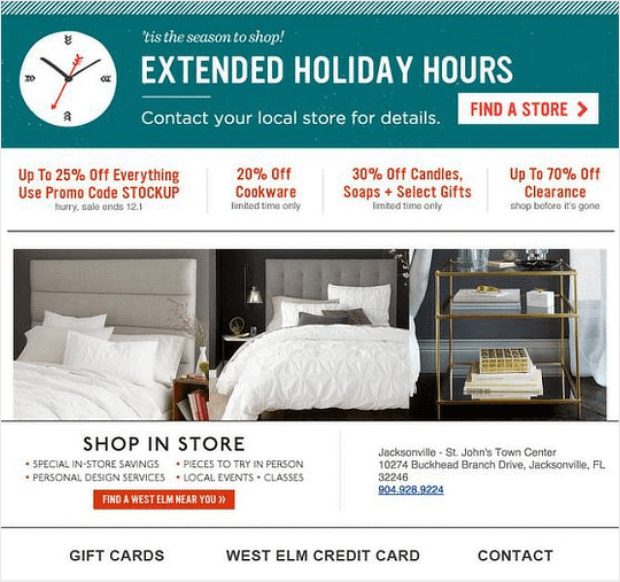 West Elm includes information about holiday hours, its top deals, and a link to their gift cards and credit cards. Having that information in the footer keeps it handy when subscribers need it.
11. Optimize for Mobile
Mailchart's Holiday Email Marketing Guide reveals that 63% of emails are opened on mobile devices. However, only 40% of emails are mobile optimized. That's a big problem.
The data shows that more and more sales happen on mobile devices each year. In fact, research from GoMoxie shows 65%  increase in sales on smartphones between 2015 and 2016.

That's why it's important to make sure that your holiday email marketing campaigns, and your marketing campaigns in general, are mobile optimized.
Optimizing holiday email marketing for mobile devices means:
Using responsive templates which resize for different screens while keeping the most important content visible.
Optimizing images so they look good and load quickly because slow loading content drives mobile users away.
Writing short subject lines, or making sure the key information is at the start, so subscribers aren't mystified by missing information.
Finally, one of the best ways to test your holiday email marketing campaigns is to see how it looks on your own mobile device or the mobile devices your customers are using.
12. Pre-test Your Campaigns
Here's a holiday email marketing tip we really liked from the Email Design Workshop.
You don't have to wait until the holidays to test your email marketing campaigns. Instead, get a preview of what your subscribers like with a Christmas in July campaign. This lets you figure out which products, services, and campaign types will get the most response when the holidays start.
Here's an example from Godiva, courtesy of Email Design Workshop: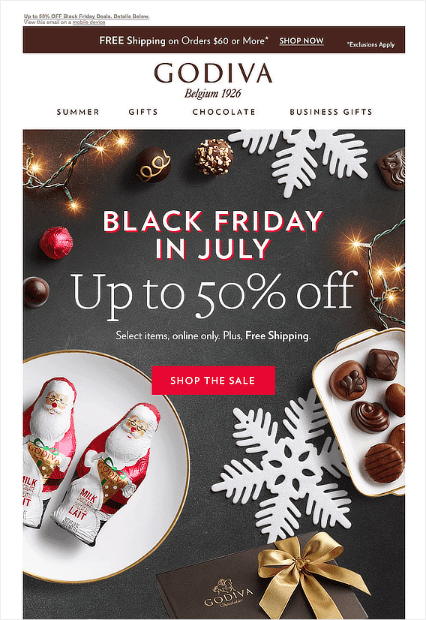 13. Test and Measure
Finally, improve your email marketing campaigns by testing campaign types, to see what works. Two places to check your stats are the OptinMonster dashboard, for conversion analytics, and reports from your email marketing provider.
To find your holiday email marketing stats in OptinMonster, go to your dashboard. Click the little graph next to the campaign you want to track.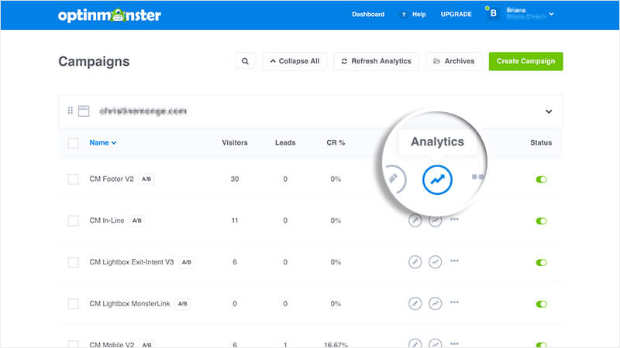 You'll see a graph of recent conversions.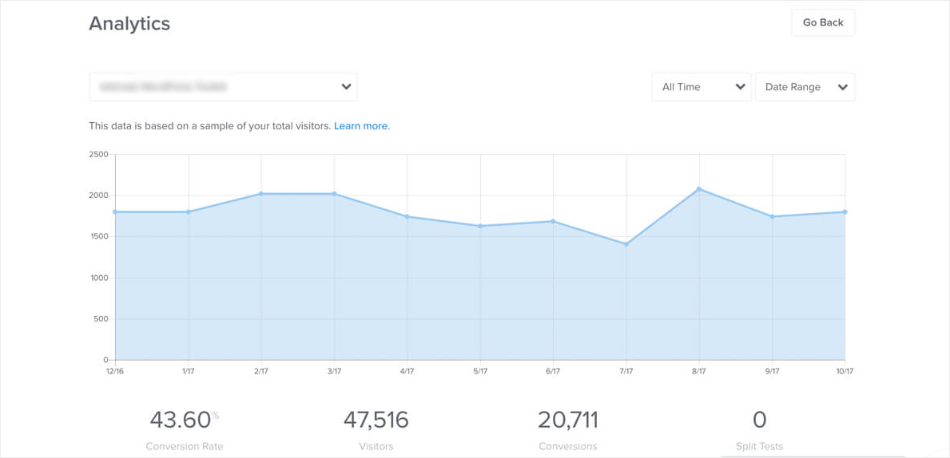 Below that is a list of your highest converting pages.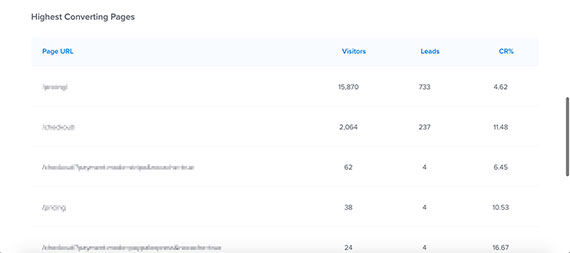 Another way to figure out what works with holiday email marketing is to split test your campaign. This is a key tool for many OptinMonster customers. For example, Escola EDTI used it to boost conversions by 500%, and Logic Inbound increased conversions by 1500% with split testing.
Split testing helps you work out which messaging and call to action works best for enticing visitors to become subscribers and customers.
With these holiday email marketing tips, you're all set for a very merry holiday season. Next, check out our list of sales promotions examples you can copy to lift your revenue year-round. Seal the deal by learning how to write the perfect call to action so your visitors want to subscribe, engage, and shop!
Don't use OptinMonster yet? No time like the present 🎁 😂 (oh, holiday humor)… Join us today!