Do you want to learn how to automate lead generation?
You should always find ways to become more efficient when running an online business. Marketing automation for lead generation can help you do that.
Automated lead generation can sound complicated and time-consuming to some, but it doesn't have to be. You only need two things:
A capable tool that can help you automate lead generation, and
An effective and proven strategy.
In this post, we will share both.
First, we will share a step-by-step guide on how to automate lead generation. In addition, we will also list some of the best lead generation tools that can help you along the way.
Let's get started.
What Is Automated Lead Generation?
Automated lead generation is a system or process that enables you to generate leads without manually sourcing them.
Business usually source leads manually via cold calling, referrals, and emails. Automated lead generation takes away that manual labor and generates leads on autopilot. This allows marketers and businesses to focus on other important tasks instead.
Why Is Automated Lead Generation Important?
Automating lead generation is the best way to collect data and grow your email list. This will help you start converting more website visitors to paying customers. You can get this all set up and running on your site in just a few minutes.
Here are a few majorbenefits of automating lead generation:
SaveTime: Once you've set up your lead-generating tool, the rest is hands-off, freeing up time for more important things.
Improve Your User Experience: If someone shares their email, they expect you to follow through. Give them a positive experience with full automation so they don't slip through a crack.
Collect More Leads: Watch more visitors convert to leads and, in time, become paying customers.
How Do You Automate Lead Generation Process?
We've broken down the lead-generation automation process into three steps:
Create an Optin Campaign
Target Your Audience
Collect and Segment Your Leads
Step 1: Create an Optin Campaign
Creating an optin campaign isn't always easy. However, it's crucial as it's the first step to building an automated lead generation campaign.
While email marketing services like Mailchimp let you create optin forms on your own, they're limited in functionalities. In most cases, you might want to build it from scratch and spend a lot of time customizing it.
This is where the lead automation tool OptinMonster comes in.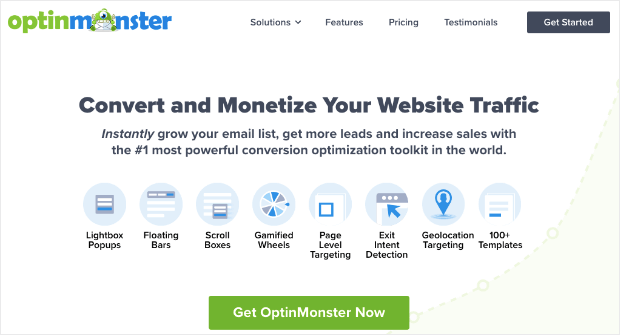 Here is how you do it:
Choose Your Campaign and Template
The first thing you'll need to do is log into OptinMonster and select Create New Campaign.

Then, you need to decide on what campaign you want to run with OptinMonster. You have plenty of options to suit whatever your needs are:
Popup
Floating Bar
Fullscreen
Inline
Slide-In
Gamified
For this tutorial, we'll select a popup campaign:

OptinMonster also offers 100+ pre-built campaigns to help you create the perfect email optin campaign. Whether it's a holiday promotion or offering a free giveaway, OptinMonster has the ideal template and design ready for you.
These templates were designed with you and your customers in mind so that you can use them right out of the box. However, you can easily edit the template if you want a more personalized experience.
For now, we'll go with the Basic template: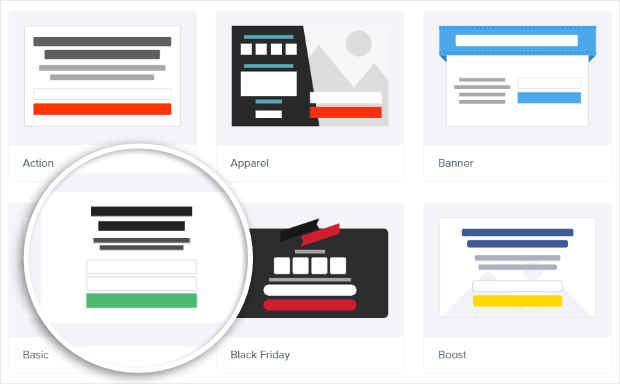 The Basic template is a stripped-down template that doesn't require any modifications. Though, it's also the perfect choice if you want to play around with adding your personal touch.
In other words, it's the perfect option if you're a beginner or want to see what OptinMonster can do.
Next, you'll need to give your campaign a name and click Start Building: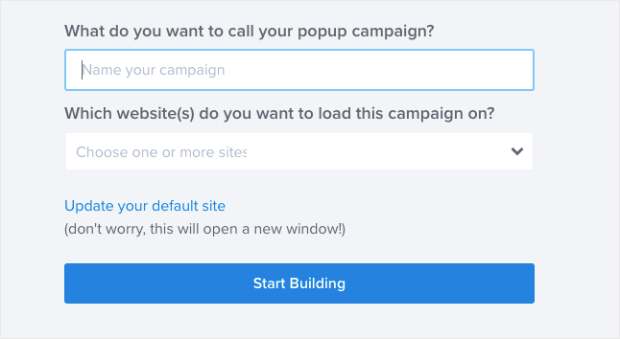 Now, you're ready to flex that design muscle. But don't worry, this is just as easy as selecting a template was!
Design Your Campaign
You'll want to tailor your message and design to your brand and visitors to get the most out of your automated lead generation efforts.
OptinMonster features a drag-and-drop editor, which makes it easy to change colors, fonts, images, layouts, and more.
All you have to do is click where you want to make a change, and you can make the edits directly in the builder: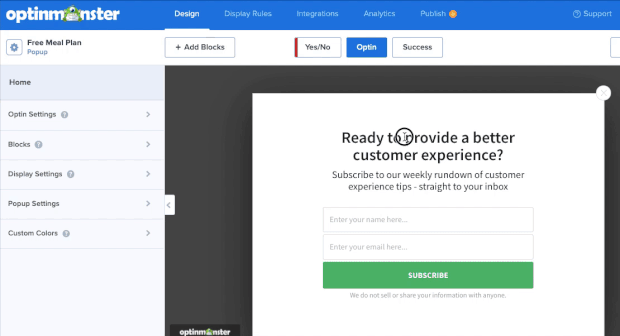 But, of course, changing everything else on the template is just as simple.
Whenever you want to change, click the element you want to change. Then the editing tools will appear in the left-hand side menu.
You can change where it says Subscribe on the green button. You would click on it and make the modifications on the left: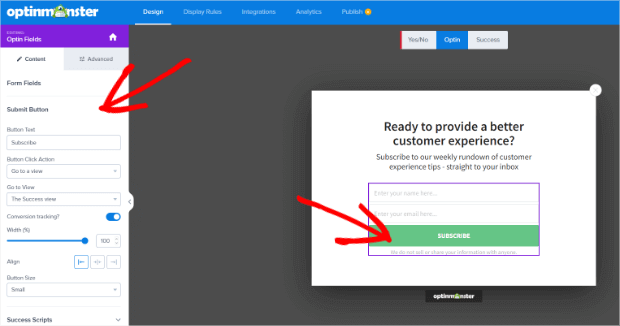 That's only some of what you can add. OptinMonster also lets you add things like:
Videos
Icons
Countdown timers
ChatBot
And more
To add these, click on + Add Blocks. Then, find the element you'd like to add and simply drag it to the place you'd like it on your template.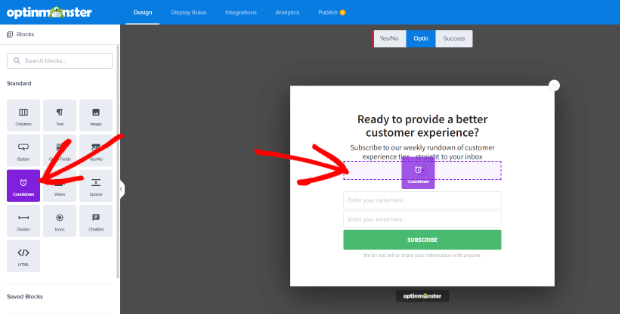 And since all these functions come in Blocks, they'll fit nicely into pre-configured areas.
But that's not all. You can also add extra fields to your campaign using the Field Mapping feature.
Following are the field types you can select from:
Text – for shorter text entries
Text Area – for longer text entries
Number – for other numerical entries besides phone numbers
Dropdown Select – for choosing an option from a list
Radio Button – for selecting one option out of many
Checkbox – for choosing one or multiple options
Privacy notice – for compliance with GDPR and other anti-spam laws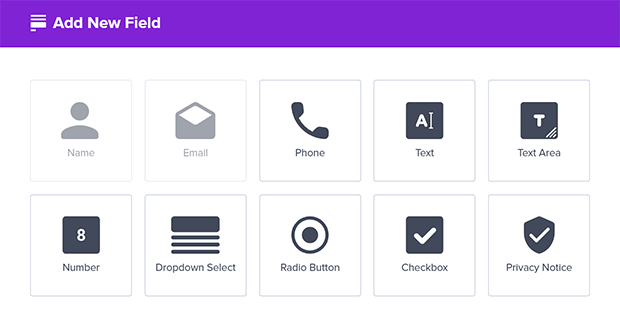 For more information on Field Mapping, explore these 11 Ways to Use OptinMonster's Field Mapping Feature.
Now, you'll notice options to design both the optin screen and a success screen at the builder's top. Be sure to customize both to have a uniform look for the campaign. The optin screen is where your visitor enters their email address. When OptinMonster successfully collects their email, the success screen will display.
For this tutorial, we want our popup optin campaign to appear when someone stays on your website for at least 5 seconds.
Let's go over how we can make that happen.
Step 2: Target Your Audience
Before we get too far into this next step, we should point out that there are more options than just time on the page that you can choose to trigger your optin campaign.
Some of the most popular targeting and display options available in OptinMonster are:
Let's go ahead and click on the Display Rules tab. You'll see that you have two rules by default:
Time on page is 5 seconds
Current URL path is any page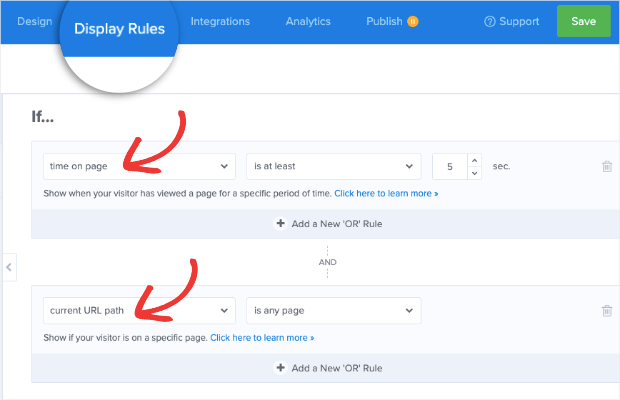 If you want to change any of these options, you can click on the drop-down menus and customize the options to best fit your needs.
Now that your campaign is designed, let's get it ready to start collecting emails and automate the lead-generation process on your website.
Step 3: Collect and Segment Your Leads Automatically
This step is about automated lead management, where you'll tell OptinMonster precisely what to do with the emails your campaign will collect.
To do that, you need an Email Service Provider (ESP). Though, if you don't have one already, don't worry.
OptinMonster does have a function called Monster Leads that will save your lists, which you can import into an ESP later if needed.
In this step, we'll assume you already have an email provider. So, let's learn how to sync it with OptinMonster.
Click on the Integrations tab at the top of your editing screen. Then click on + Add New Integration.
You'll now see an option to select your email provider. Scroll down to find yours.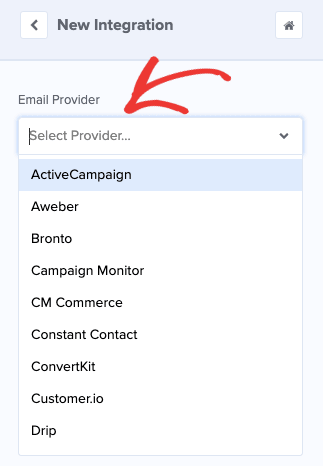 From there, OptinMonster will walk you through every step you need to follow to get your ESP linked up. For most providers, all you need to do is copy and paste your API key.
But OptinMonster will prompt you if you need to do anything else to make sure your leads get sent to the right place.
You may have noticed that OptinMonster works with many different providers. If your ESP isn't on the list, don't worry. We have a tutorial to walk you through syncing OptinMonster to any email provider using Webhooks.
Automatic Lead Segmentation
Lead segmentation is the most important part of your lead automation process. With segmentation, you can personalize the emails you send to your subscribers. With OptinMonster, you can specify the list you want to store the leads and the tags you want to add.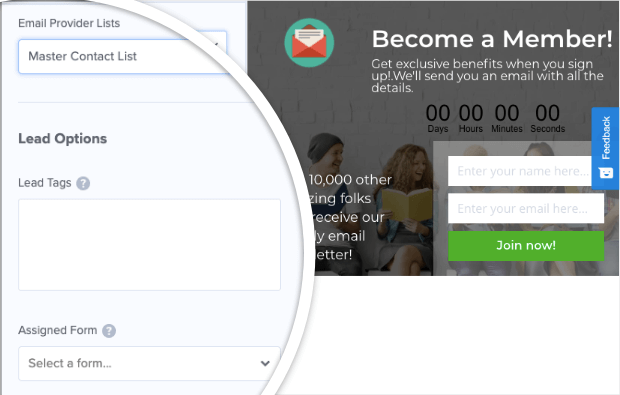 We're just about done. All that's left is to publish your campaign.
So, go back to the top of the editor and click on Publish. Preview your campaign and make sure it looks how you want it to be on your site.
Once you're done, click on Publish under Publish Status, and you have successfully implemented lead automation on your site.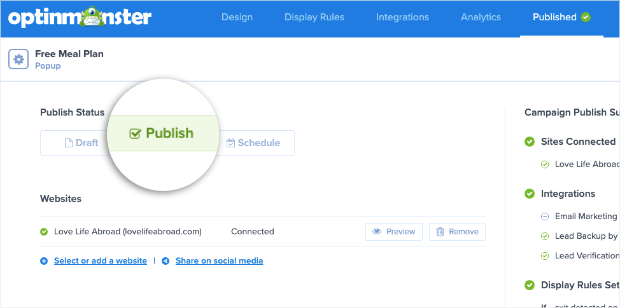 We also highly recommend that WordPress users verify their campaign's status in OptinMonster » Campaigns and check that the campaign status has switched from Pending to Publish: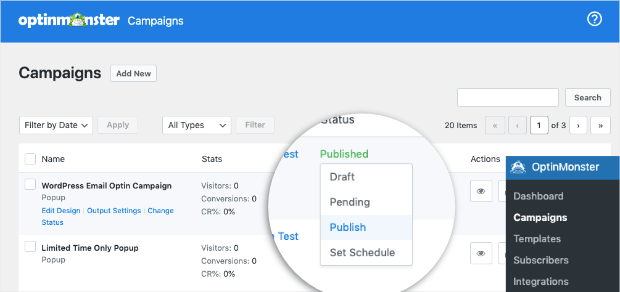 Congratulations, you have published your lead automation campaign. That's all you need to do to automate lead generation on your website.
And that's it for today! This has been a quick and easy tutorial on how to automate lead generation in just three steps.
Which Is the Best Tool for Automated Lead Generation?
There are plenty of tools to automate lead generation, but not all are good. That's why we have handpicked a few names for you:
OptinMonster is the best tool for automated lead generation making it easy to convert your visitors into leads and customers.
OptinMonster offers the creative control to make attractive sales lead generation campaigns like popups, slide-in windows, and gamified spin-to-win wheels. It has a beginner-friendly and easy-to-use drag-and-drop builder.
Key Features:
Reduce cart abandonment
Increase conversions and sales
Show targeted promotions
Targeted offers
Grow your email list
Pricing: OptinMonster pricing starts at $9/month for the Basic plan, $19/month for Plus, $29/month for Pro (the most popular plan), and $49/month for Growth.
Sendinblue is a marketing automation tool that includes email marketing services and SMS messages.
It lets you build custom workflows and automated emails based on your customer's actions on your website or app.
SendinBlue also allows you to automate welcome messages, lead nurturing, and customer reactivation.
Key Features:
Lead scoring
Automation workflow designer
Visitor tracking
Lead management
Reporting and analytics
A/B testing
Segmentation
Pricing: Sendinblue offers a free plan for unlimited contacts and up to 300 emails daily. Their paid plans range from $25/month for their Lite package to $65/month for the Premium package.
WPForms is a user-friendly form builder that adds simple lead-generation forms to your website.
It offers 300+ pre-built templates, which you can use to create a lead generation form for your website in just a few clicks.
Key Features:
Drag-and-drop builder
Mobile-friendly forms
Instant notifications
Smart conditional logic
Pricing: WPForm's yearly pricing starts at $49.50 for the Basic package, $99.50 for the Plus package, $199.50 for the Pro package, and $299.50 for the Elite package.
Constant Contact is a great email marketing automation tool that helps you stay connected with your leads.
Constant Contact has an easy-to-use interface and offers excellent deliverability rates.
Their drag-and-drop editor and email newsletter templates give your emails a polished and professional look, impressing your leads.
Key Features:
Integration
Email automation
Tracking
Contact management
Pricing: Constant Contact's email marketing pricing ranges from $9.99/month for Core to $45/month for Plus. They do offer a free trial.
AeroLeads offers a Google Chrome extension to search professional websites like LinkedIn for sales leads.
You need to give AeroLeads a name and company, and it will find their business email addresses and other contact details.
It will then add these leads to your email marketing database so that you can reach them immediately.
Key Features:
Easy to use
Data export
Verified information
Pricing: AeroLeads offers a limited free plan. Their lowest tier is Take Off, which is $49/month for 2000 records.
However, OptinMonster is the best marketing automation lead generation tool in the business.
With OptinMonster, you can do the following:
Save time: You can choose from several different types of pre-built optin forms
Automate targeting: Showing the same form to everyone would annoy your visitors and negatively impact conversion. With our behavior automation, you can show your different forms to users based on the traffic source, time spent, and other on-site behavior like clicks
Personalize forms: If you want to show the same form to everyone but want to personalize the marketing copy, you could do that with OptinMonster. You can personalize your campaigns based on the user's geographical location, traffic source, and more!
Automate segmentation: Our segmentation engine automatically allows you to tag your leads based on your needs so you can send personalized emails leading to higher conversions.
With OptinMonster, Medstar Media increased clients' conversions by 500%. It's also how American Bird Conservancy saw a more than 1,000% increase in leads.
Get Started With OptinMonster Today!
BONUS: Done-For-You Campaign Setup ($297 value)
Our conversion experts will design 1 free campaign for you to get maximum results – absolutely FREE!
Click here to get started →