Do you want to learn how to automate lead generation?
When running your own business, your time is sacred, and you are probably looking for ways to save time. Automating your marketing efforts, especially lead generation, can help you do just that.
Automating lead generation can sound complicated and time-consuming to some. But, it doesn't have to be.
All you need are the right tools and strategy.
That's why, in today's post, we will explain how to automate lead generation and get the best results for your efforts. The best part is that it can be done in just 3 easy steps.
Why Automate Lead Generation?
Automating lead generation is the best way to collect and send email addresses to a marketing list. This will help you start converting more website visitors to paying customers.
When you use the right tool, you can automate how you capture leads. Then, you can send those leads directly to your mailing lists.
In just a few minutes, you can get this all set up and running on your site. But why should you? Here are just a few of the major benefits of automating lead generation:
Save Time: Once you've set up your lead-generating tool, the rest is hands-off, freeing up time for more important things.
Improve Your User Experience: If someone shares their email, they expect you to follow through. Give them a positive experience with full automation so they don't slip through a crack.
Collect MORE Leads: Watch more visitors convert to leads and, in time, become paying customers.
Honestly, why wouldn't you want to automate lead generation? Especially since there are tools that make it so simple?
With that in mind, let's dive right into today's tutorial.
How to Automate Lead Generation
We've broken down this post into 3 steps:
Create an Optin Campaign: OptinMonster saves time by making it super easy to build high-converting campaigns
Target Your Audience: Never show the same campaigns to everyone. Instead, automate display and targeting options and show the right campaign to the right people at the right time
Collect and Segment Your Leads: OptinMonster lets you collect and segment your leads automatically
Step 1: Create an Optin Campaign With OptinMonster
Creating an optin campaign isn't easy. Indeed, it is the first step to building a lead generation campaign.
While email marketing services like Mailchimp let you create optin forms on your own, they're limited in functionalities. In most cases, you might want to build it from scratch and spend a lot of time customizing it.
This is where a tool like OptinMonster comes in.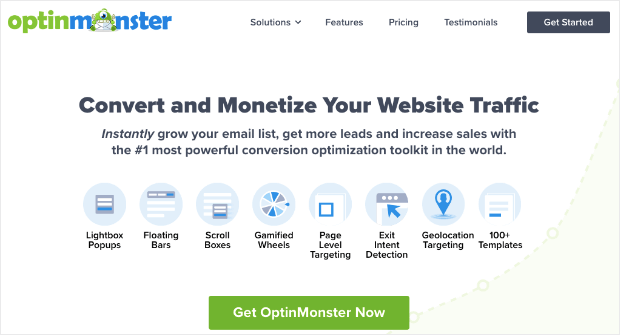 With OptinMonster, you can
1. Save time: You can choose from several different types of pre-built optin forms
2. Automate targeting: Showing the same form to everyone would annoy your visitors and negatively impact conversion. With our behavior automation, you can show your different forms to users based on the traffic source, time spend, and other on-site behavior like clicks
3. Personalize forms: If you want to show the same form to everyone but wanted to personalize the marketing copy, you could do that with OptinMonster. You can personalize your campaigns based on the users' geographical location, traffic source, and more!
4. Automate segmentation: Our segmentation engine allows you to tag your leads based on your needs automatically so you can send personalized emails leading to higher conversions.
In fact, OptinMonster is how Medstar Media was able to increase clients' conversions by 500%.
It's also how American Bird Conservancy saw a more than 1,000% increase in leads.
So, how do you get this on your site?
Choose Your Campaign and Template
The first thing you'll need to do is log into OptinMonster and select Create New Campaign.

Then, we need to decide on what kind of campaign you want to run with OptinMonster. You have plenty of options to suit whatever your needs are:
Popup
Floating Bar
Fullscreen
Inline
Slide-In
Gamified
For today's tutorial, we'll select a popup campaign:

OptinMonster also offers 50+ pre-built campaigns to help you create the perfect email optin campaign. So whether it is a holiday promotion, offering a free giveaway, or whatever else you have in mind, OptinMonster has the ideal template and design for you.
These templates were designed with both you and your customers in mind so that you can use them right out of the box. Though editing and designing are so easy with OptinMonster, you'll definitely want to try it out.
For today, we'll go with the Basic template: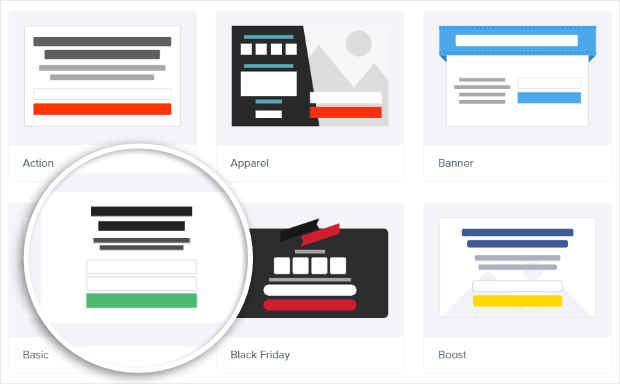 The Basic template is a stripped-down template that doesn't require any modifications. Though, it's also the perfect choice if you want to play around with adding your personal touch.
In other words, it's the perfect option if you're a beginner or want to see just what OptinMonster can do.
Next, you'll need to give your campaign a name and click Start Building: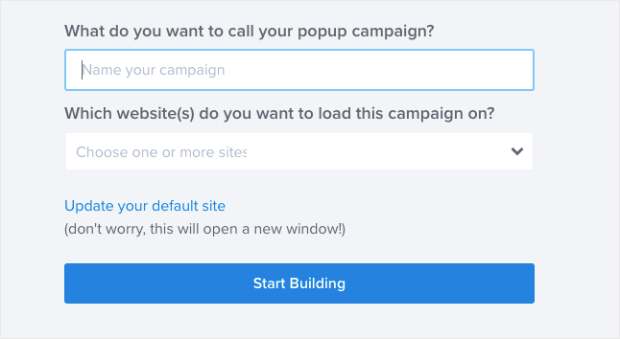 Now, you are ready to flex that design muscle. But don't worry- this is just as easy as selecting a template was!
Design Your Campaign
To get the most out of your automated lead generation efforts, you will want to tailor your message and design to your brand and visitors.
OptinMonster features a drag and drop editor, which makes it very easy to change colors, fonts, images, layouts, and more.
All you have to do is click where you want to make a change, and you can make the edits directly in the builder: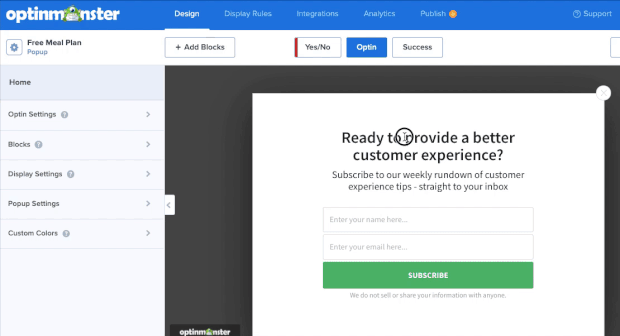 But, of course, changing everything else on the template is just as simple.
Whenever you want to make a change, just click the element you want to change. Then the editing tools will appear in the left-hand side menu.
Perhaps you want to change where it says Subscribe on the green button. You would simply click on it and make the modifications on the left: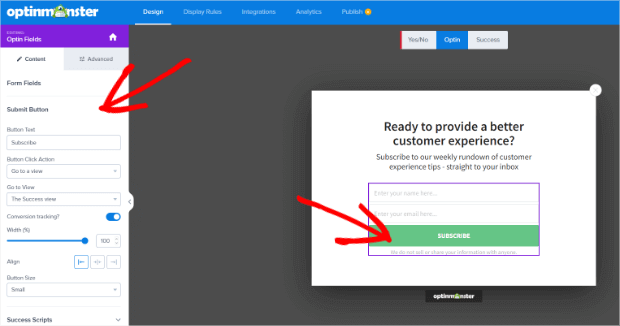 That's not all you can add. OptinMonster also lets you add things like:
Videos
Icons
Countdown timers
ChatBot
And more…
To add these, click on + Add Blocks. Then, find the element you'd like to add, and just drag it to the place you'd like it on your template.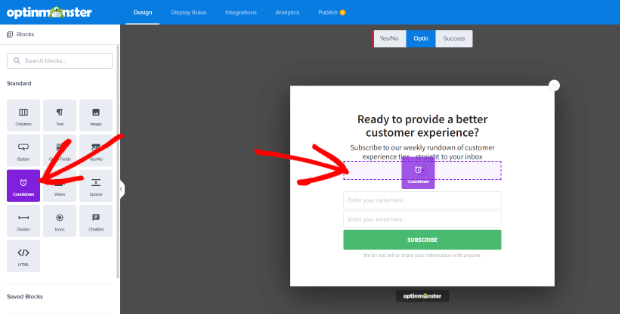 And since all of these functions come in Blocks, they'll fit nicely into pre-configured areas.
Now, you'll notice options to design both the optin screen and a success screen at the top of the builder. Be sure you customize both, so you have a uniform look for the campaign. The optin screen is where your visitor enters their email address. When OptinMonster successfully collects their email, the success screen will display.
For this tutorial, we want our popup optin campaign to appear when someone stays on your website for at least 5 seconds.
Let's go over how we can make that happen.
Step 2: Target Your Audience
Before we get too far into this next step, we should point out that there are more options than just time on page that you can choose to trigger your optin campaign.
Some of the most popular targeting and display options available in OptinMonster are:
Page-Level Targeting: Boost conversions by matching your offers with the on-page content your visitor is reading.
Exit-Intent® Technology: Recover and re-engage abandoning visitors as they're actively leaving your website.
Geolocation: Personalize your offers by targeting people's physical location.
OnSite Retargeting®: Show new campaigns to returning visitors to keep them coming back for more.
So, let's go ahead and click on the Display Rules tab. You'll see that you have 2 rules by default:
Time on page is 5 seconds
Current URL path is any page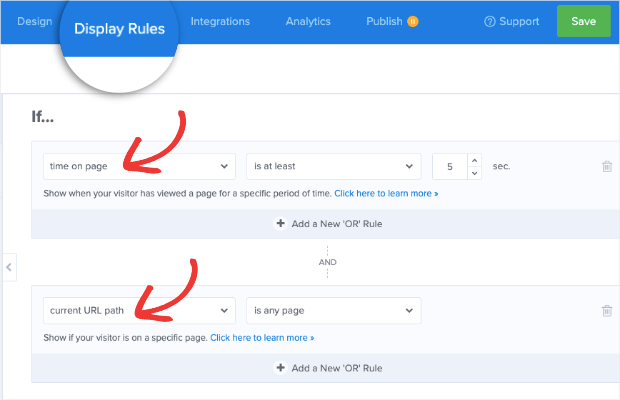 If you want to change any of these options, you can click on the drop-down menus and customize the options to best fit your needs.
Now that your campaign is designed let's get it ready to start collecting emails.
Get Started With OptinMonster Today!
BONUS: Done-For-You Campaign Setup ($297 value)
Our conversion experts will design 1 free campaign for you to get maximum results – absolutely FREE!
Click here to get started →
Step 3: Collect and Segment Your Leads Automatically
In this step of our lead generation tutorial, we'll tell OptinMonster precisely what to do with the emails your campaign will be collecting.
To do that, you will need to have an Email Service Provider (ESP). Though, if you don't have one already, don't worry.
OptinMonster does have a function called Monster Leads that will save your lists, which you can import into an ESP later if needed.
In this step, we will assume you already have an email provider. So, let's learn how to sync it with OptinMonster.
Click on the Integrations tab at the top of your editing screen. Then click on + Add New Integration.
You'll now see an option to select your email provider. Scroll down to find yours.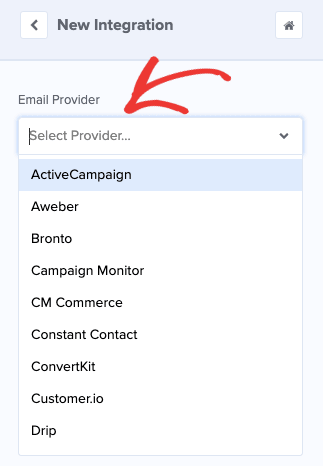 From there, OptinMonster will walk you through every step you need to follow to get your ESP linked up. For most providers, all you need to do is copy and paste your API key.
But OptinMonster will prompt you if you need to do anything else to make sure your leads get sent to the right place.
Now, you've probably noticed that OptinMonster works with many different providers. Though, if your ESP isn't on the list, don't worry. We have a tutorial that will walk you through syncing OptinMonster to ANY email provider by using Webhooks.
Automatic Lead Segmentation
Lead segmentation is the most important part of automating your lead generation process. With segmentation, you can personalize the emails you send to your subscribers. With OptinMonster, you can also specify the list you want to store the leads and the tags you want to add.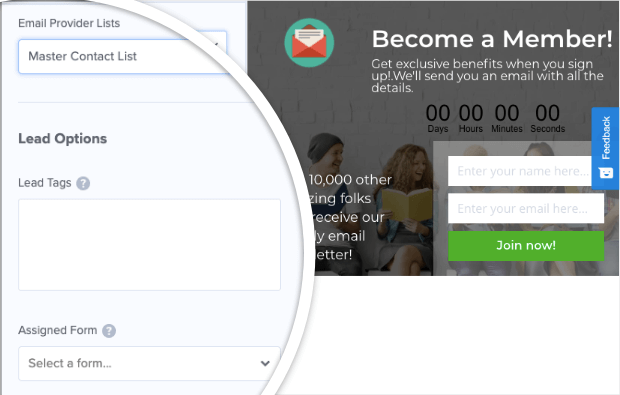 We are just about done. All that's left is to publish your campaign.
So, go back to the top of the editor and click on Publish. Be sure to preview your campaign and make sure it looks the way you want it to on your site.
Once you're done, just click on Publish under Publish Status, and you are on your way to automating lead generation on your site.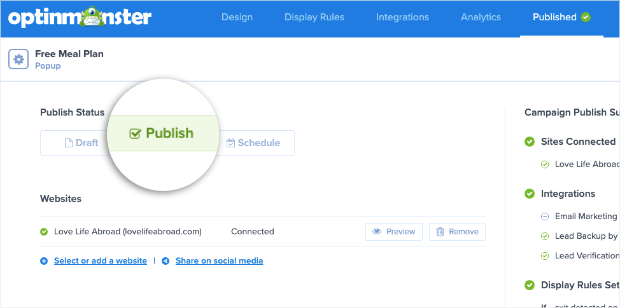 We also highly recommend that WordPress users verify their campaign's status in OptinMonster » Campaigns and check that the campaign status has switched from Pending to Publish: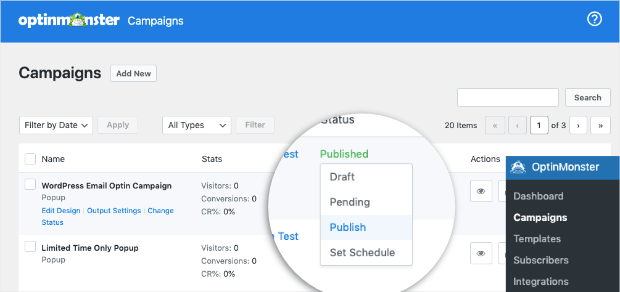 Congratulations, you have published your popup optin campaign. That's all you need to do to automate lead generation on your website.
And that's it for today! This has been a quick and easy tutorial on how to automate lead generation in just 3 steps.
We hope that this tutorial has been helpful. If so, we encourage you to check out these other resources to take lead generation to the next level:
Not using OptinMonster? Get started with OptinMonster today!