Do you want to integrate customer relationship management (CRM) apps with HubSpot to improve your workflow and increase sales?
HubSpot offers powerful and seamless integrations to popular marketing, sales, and lead generation tools. These integrations open doors to more features and functionality that you'll need as your business grows.
We've picked the best Hubspot CRM integrations that are focused on increasing sales and revenue for your business.
Ready to get started? Let's dive right into the list.
Best HubSpot CRM Integrations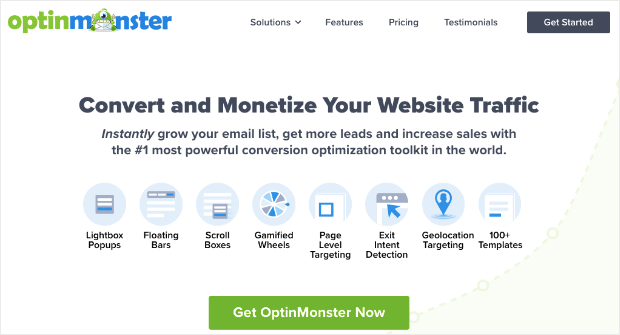 OptinMonster is the best conversion optimization tool to boost sales and leads.
It lets you create high-converting optin forms and lead generation campaigns for your site such as popups, floating bars, slide-ins, gamified wheels, and more, to convert traffic into subscribers and sales.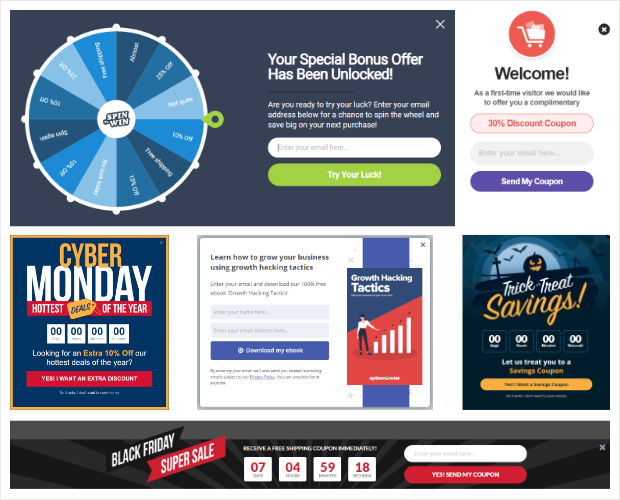 There are 50+ templates and an intuitive drag and drop builder to create attention-grabbing campaigns.
These save you time and energy in the campaign creation process. Plus, they're super simple to modify and customize to your brand's unique voice, style, and message.
OptinMonster seamlessly integrates with HubSpot. All it takes is a few clicks inside the OptinMonster dashboard.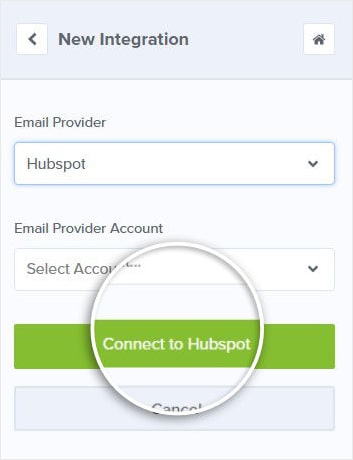 Then OptinMonster will automatically send all new leads to your HubSpot account. You can even configure additional lead options by selecting an assigned form, so your contact list stays clean and organized.
As a backup, you can rely on OptinMonster's native lead management system Monster Leads™ to store, manage, and import (and export) leads anywhere.
Plus, OptinMonster lets you integrate the HubSpot tracking cookies to track the user's journey. You can then show them targeted offers based on where they are in their journey.
But the best part about OptinMonster are the powerful targeting rules.
These let you show campaigns to the right people at the right times using display rules like Exit-Intent®, OnSite Retargeting®, and OnSite Followups®.
You can even show offers based on a user's location, device, referral source, and more!
All these rules can be added to your campaign at the click of a button. That means you won't need any coding to have professional and high converting campaigns up on your site in minutes.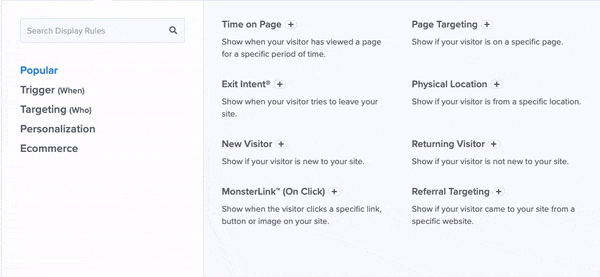 With OptinMonster, you can generate leads faster and have them instantly sent to your HubSpot account to continue the user journey.
Highlights
Works on any website
Seamless integration with 3rd party apps and tools
Recover cart and form abandonment
Powerful targeting features including Exit-Intent®, referrer detection, and device targeting
Built-in metrics, Google Analytics integration, and UTM tracking
Still not convinced? Check out how KnivesShipFree.com uses the OptinMonster-HubSpot integration to add 5,000 leads and increase revenue by $10,118.20.
Cost: The HubSpot integration is available with OptinMonster Pro and Growth plans that start at $29 per month (billed annually). You can also use our Custom HTML integration to add a HubSpot form to your OptinMonster campaign.
This is available with all plans.
Ready to join OptinMonster to increase sales? Sign up for your 100% risk-free account below:
Get Started With OptinMonster Today!
BONUS: Done-For-You Campaign Setup ($297 value)
Our conversion experts will design 1 free campaign for you to get maximum results – absolutely FREE!
Click here to get started →
Then you can follow our step-by-step tutorial to connect OptinMonster to your HubSpot account.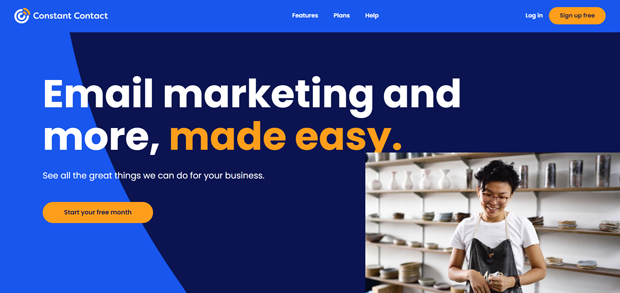 Constant Contact is the best email service provider (ESP) on the market. They offer a robust business email setup with a high deliverability rate.
Constant Contact comes with advanced features to build long-lasting relationships with customers through targeted email marketing.
You can create a 2-way channel between Constant Contact and HubSpot.
You can automatically pass contacts between the apps depending on where they were created or updated. This way, your contact list on both platforms remains up to date.
You can also add a filter for any Constant Contact field or HubSpot list to sync exactly what you want and leave out what you don't want.
Highlights
Professional email accounts
Automated and scheduled emails/broadcasts
Default and custom field mapping
Historical sync to import/export old data
Plans available for businesses of all sizes
Cost: Starts at $16 per month.
Get started with Constant Contact!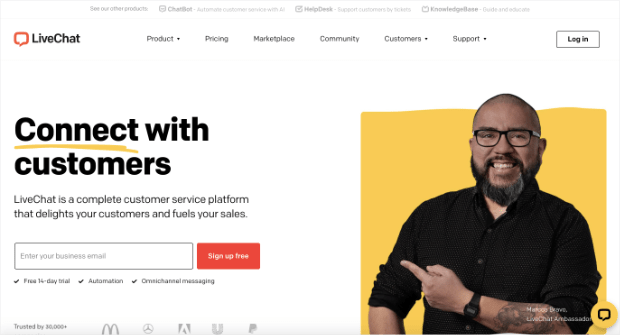 LiveChat is a complete customer service platform to offer reliable support and fuel sales.
It helps you get qualified leads through custom forms and AI chatbots. And with its product cards feature, you can drive more sales while you chat.
By integrating LiveChat with HubSpot, you can have new leads sent to your HubSpot pipeline as soon as they engage with you. This allows you to communicate with potential customers in real-time directly from HubSpot.
You can answers product questions, help them through the checkout process, and just build solid relationships with customers.
Plus, all chat transcripts will be added to your HubSpot account. So you can put your chat support admin tasks on autopilot and focus on increasing sales.
Highlights
Easy lead management
Omni channel messaging
AI automation to anticipate questions and respond faster
Automatic lead segmentation
Cost: Starts at $19 per month.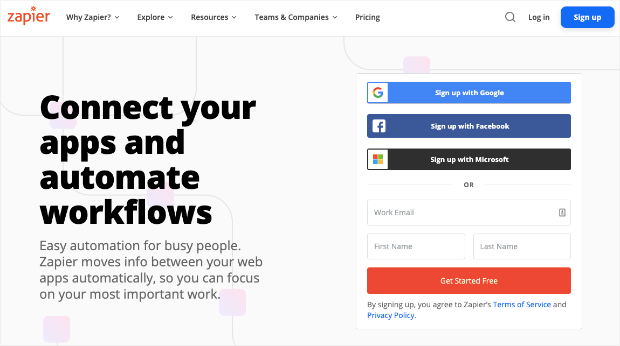 Zapier lets you connect to 3000+ apps and tools to create quick and easy workflows.
You can connect your marketing and sales apps and create automated recipes called zaps. This way, you can cut out manual tasks that take up most of your time.
So, for example, you can create a custom recipe by connecting OptinMonster with Gmail, and Slack. That way when a person signs up through OptinMonster, Zapier will trigger an email to welcome/confirm their subscription, and send you a notification in Slack.
And that's just a simple zap.
You can create endless recipes that will boost productivity and sales.
Highlights
Smooth integrations in a few clicks, no coding required
Custom triggers and actions for automation recipes
Organized leads in one location
Top-notch data security
Cost: Start for free. Premium plans start at $19.99 per month.
Get started with Zapier today!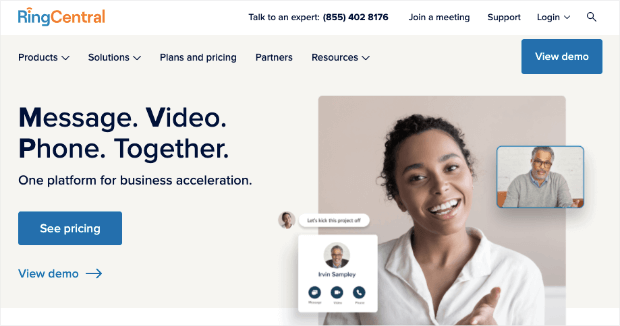 RingCentral offers cloud-based communication solutions for businesses that include a messaging, video, phone, and contact center.
It comes with auto-dialer software to maximize your sales team's productivity and reduce downtime. This means they can connect with more people per hour.
And once you sync RingCentral to HubSpot, all your leads will be automatically added to your HubSpot list so you can carry on your marketing journey with them.
Highlights
99.999% uptime
Rule settings to control who, when, and how often you call
Voice broadcasts and IVR
Custom field mapping integrations
Cost: Starts at $29.99 per month.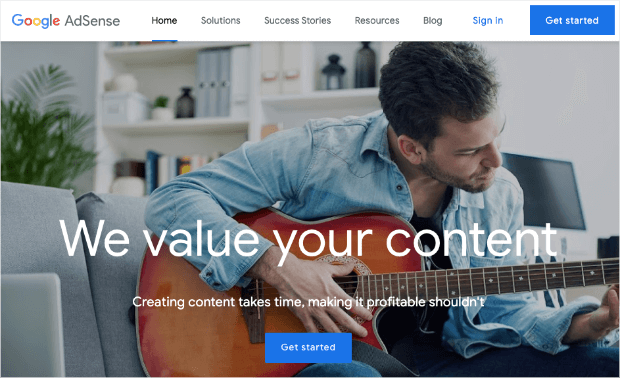 Google Ads lets you target your customers with highly relevant ads to maximize sales and leads.
By signing up for Google Ads, you get access to the largest ad network in the world to promote your business. You can filter your audience and decide who, where, and how you want to target them.
This not only boosts brand awareness but also increases ROI and revenue.
All it takes to sync HubSpot to Google Adsense is just a few clicks. Then you can turn on add tracking and apply your tracking pixel.
That way, you can see how your ad spends affect your bottom line.
HubSpot also lets you create highly targeted audience filters that automatically sync with your Google Ads account. Plus, you can use HubSpot to run the rest of your marketing so the customer's journey will remain consistent.
Highlights
Track ad performance
Create targeted audiences for Google
Integrate your workflow and marketing efforts
Cost: Free.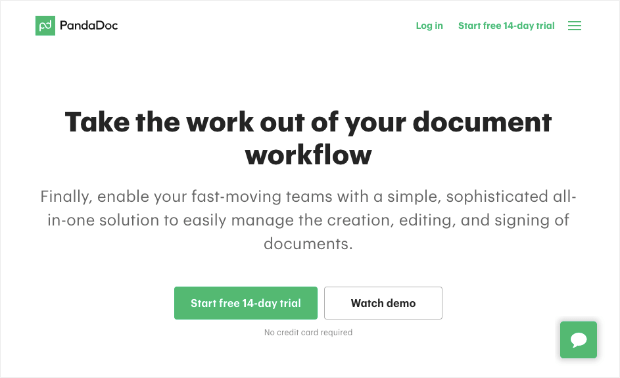 PandaDoc helps you organize your pre-sales tasks like creating and sending quotes, proposals, and contracts. It makes it easy to e-sign documents and close deals.
It also allows you to closely track your document progress and get updates straight to your email inbox.
By integrating PandaDoc with HubSpot, you can pull CRM data and autofill the content of your documents. This means you can reduce manual work by pre-populating form fields with the customer details from HubSpot.
You can even pre-fill prices, quotes, and other details.
Highlights
Unlimited eSignatures
Unlimited docs and templates
Advanced real-time reporting
Content locking and sharing
Collect payments instantly
Cost: Starts at $49 per month.
And there you have it! That's our list of the top Hubspot CRM integrations to improve workflows and increase sales.
If you're serious about improving sales instantly, check out OptinMonster. It's hands down the best CRO (conversion rate optimization) tool in the world but it also does a lot more than that. OptinMonster can help:
Grow your email list and capture valuable leads
Recover abandoned carts and browser sessions
Integrate with email marketing
Improve engagement and session length
Increase sales and revenue through targeted offers
With OptinMonster, you'll have endless possibilities to connect with customers and increase sales instantly. Its advanced features are so versatile and flexible that it suits any marketing goal.
OptinMonster is how Woodside Communities Made $294,435 in less than 2 months!
Whether you have an eCommerce store, business site, or a blog, OptinMonster can help drive leads and sales at incredible rates.
Ready to give OptinMonster a try? Get your 100% risk-free OptinMonster account below:
Get Started With OptinMonster Today!
BONUS: Done-For-You Campaign Setup ($297 value)
Our conversion experts will design 1 free campaign for you to get maximum results – absolutely FREE!
Click here to get started →
We hope you found this article helpful. You'll definitely want to check out more of our resources to help you increase sales:
These posts will help you create a strong marketing strategy to boost sales consistently and drive your business forward.