Are you looking to automatically send your leads an email when they subscribe? It's simple with OptinMonster's Zapier integration! This guide will show you how to set up an automated email using our Zapier integration.

NOTE:
Zapier
is a paid service, however they do offer a trial you can use to determine if it's the right fit for your needs.
---
Step 1 – Configure Webhook Integration
Create a Webhook Trigger by connecting OptinMonster to Zapier using our integration guide.
Step2 – Create Zapier Action
Once you've configured a Webhook Trigger in Zapier following our Zapier integration guide, you'll be ready to create an Action for your Zap. Select the Continue button to begin configuring your Action.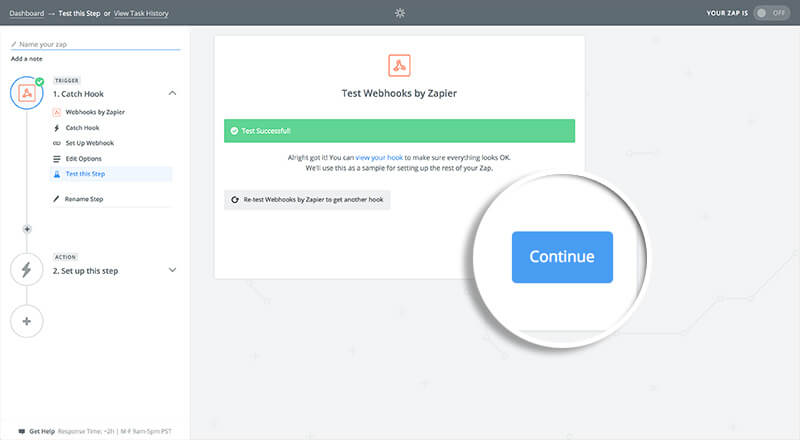 Step 3 – Configure Gmail Action
From the Choose an Action App screen, select Gmail.
Note: you may need to search for this app if you haven't previously used it in a Zap.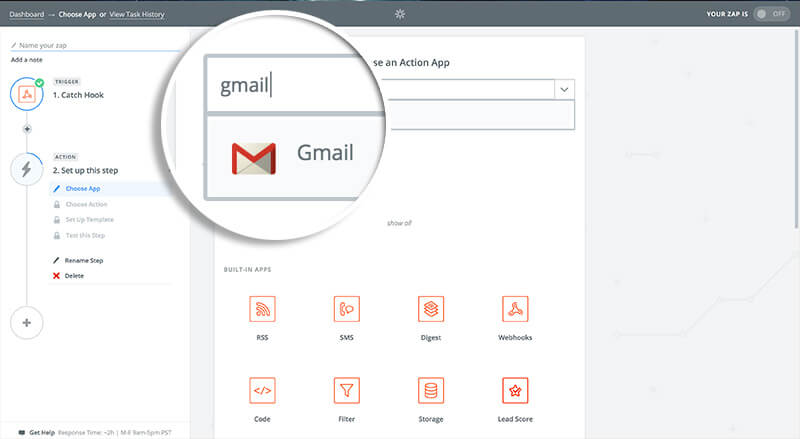 Next you'll be prompted to specify what Action should happen within Gmail. Choose Send Email from the options.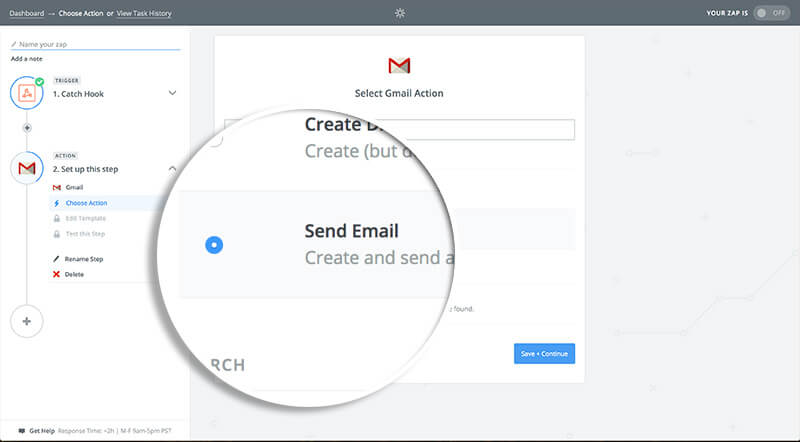 Then, click on the Save and Continue button.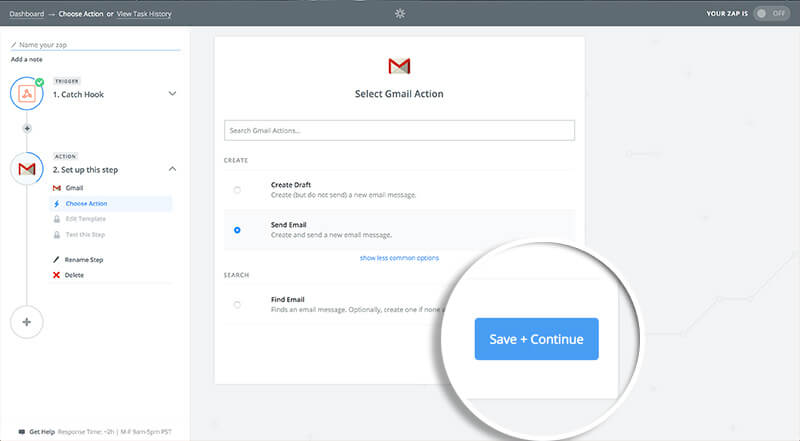 Zapier will now ask you to choose or connect your specific Gmail account. If you haven't already connected your Gmail account to Zapier, select the Connect a New Account button.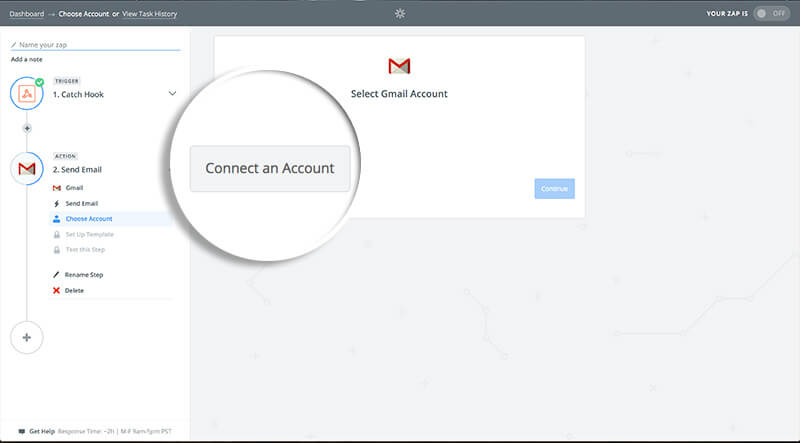 If connecting your Gmail account for the first time, a new window will open prompting you to login to your Google account and confirm Zapier can access your account. Select the Allow button to proceed: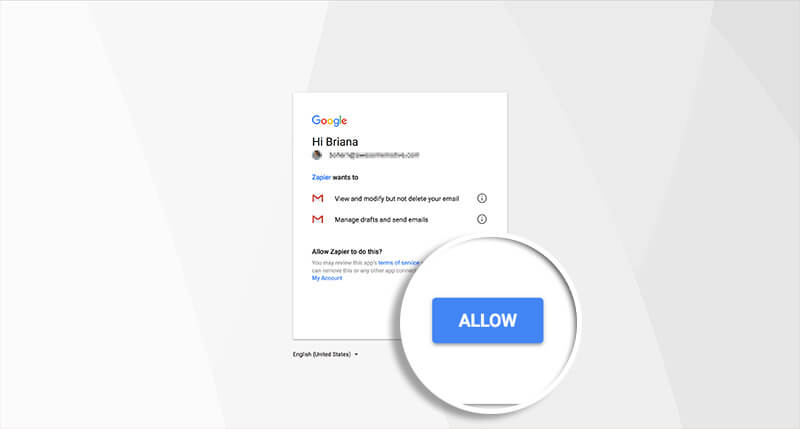 If you connected a new account, or if you have connected your GMail account previously, you'll see the account listed here and can choose it. Click the Test button to test the connection.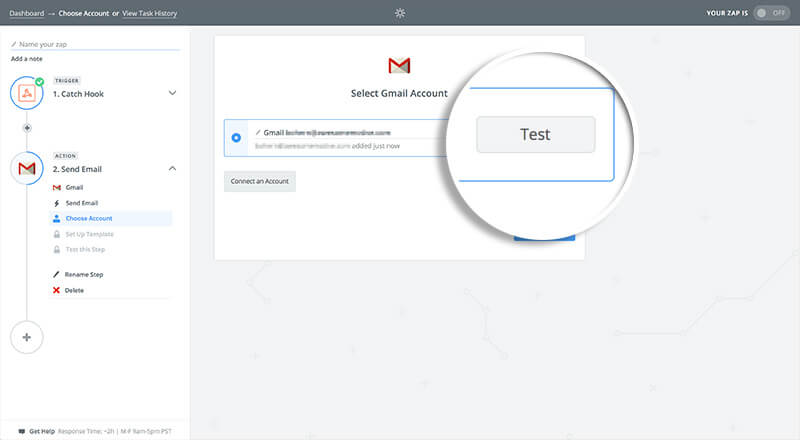 Clicking the pencil icon next to your account's name will allow you to rename the account. This can be helpful if you need to connect more than one Gmail account to your Zapier account.
Once the test is successful, you will see a green success message. Click Save and Continue.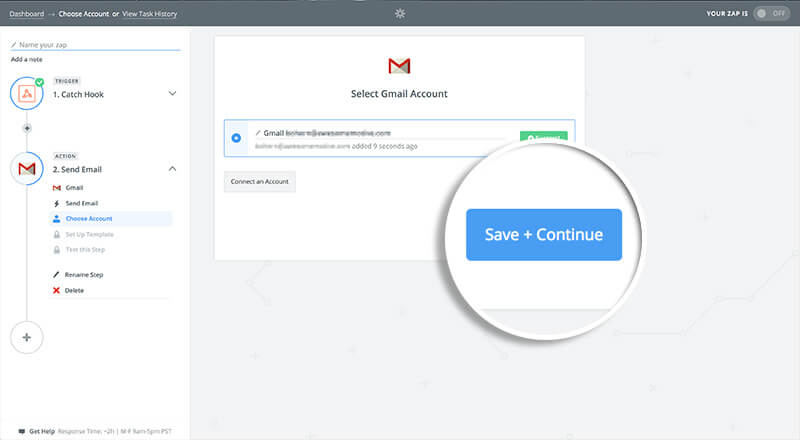 Step 4 – Setup Gmail Template
On the next screen you'll be asked to create a template for the email this Action should send to new subscribers.
Clicking the icon on the right of the field will provide options for selecting the lead data from your optin when appropriate.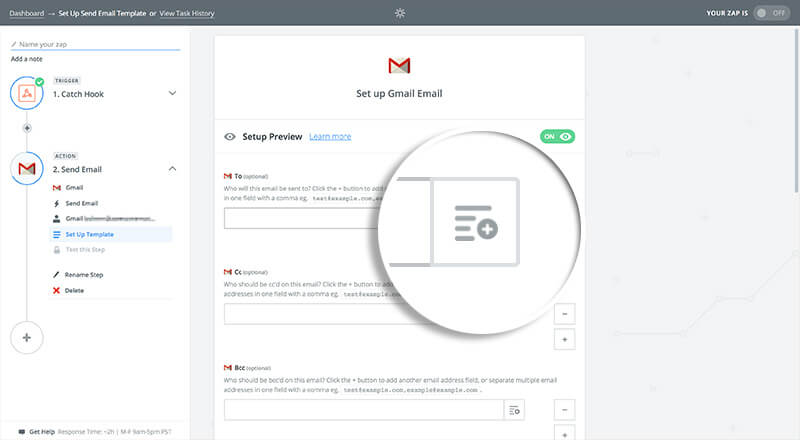 For To recipient, choose Lead Email from the drop down.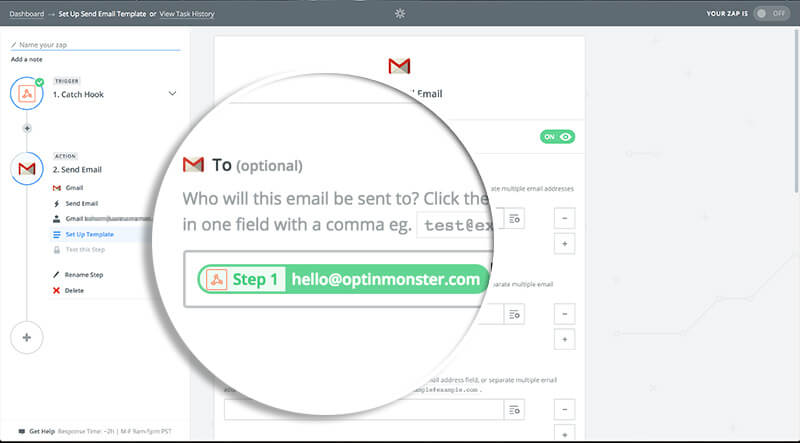 For From Name, type your name or the name associated with the Gmail address you connected to Zapier.
For Body Type, you can choose from plain text or HTML. For this example, we chose plain text because the resulting email will look like a conversational email.
For Body, write the text of your email. We like to include the recipient's first name in the email because personalized emails convert better.
You can do this by using the dropdown icon shown previously and inserting Lead First Name into your email where you'd like the actual name to appear.
If your campaign promised a PDF or other lead magnet, you can include it in your email as an attachment. Simply paste in the URL of the file, and Zapier will automatically attach the file.
When you are satisfied with the template, click Continue.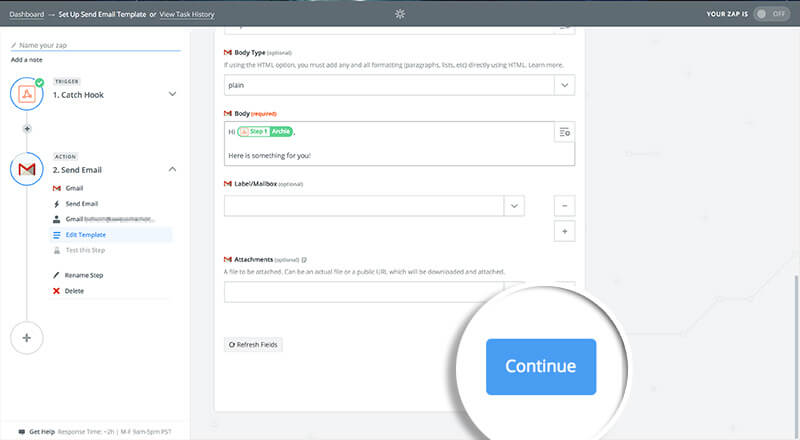 Step 5 – Test Action
Review the layout of your email. If you need to make additional changes, you can click the "Edit Template" link in the left sidebar to return to the previous screen. If you're happy with your email, click Send Test to GMail to send a test email to yourself.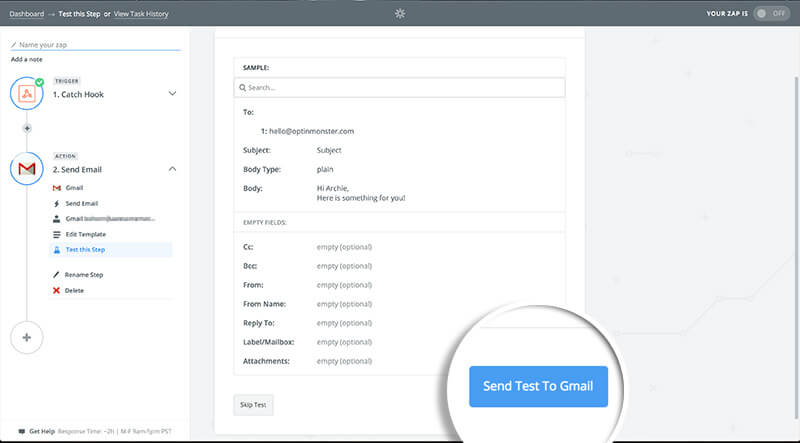 If your test was successful, you will see a green Test Successful message. Click Finish.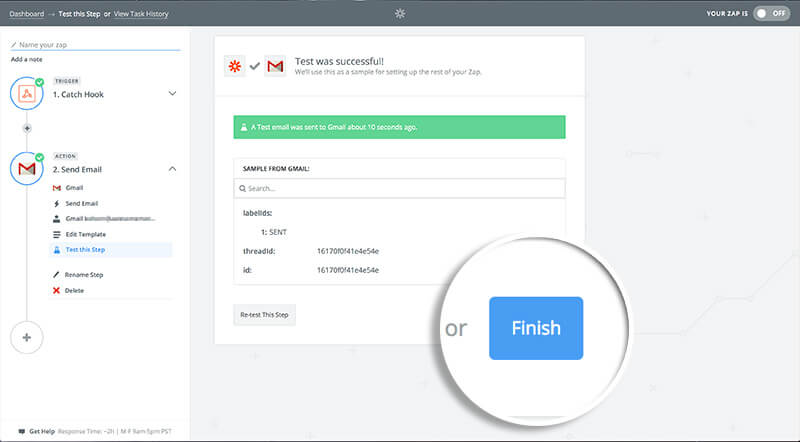 Step 6 – Turn on Your Zap
The final step is to turn your new Zap on!
Give your Zap a name which will help you identify it in your Zapier account. Toggle the switch "Your Zap Is…" to ON.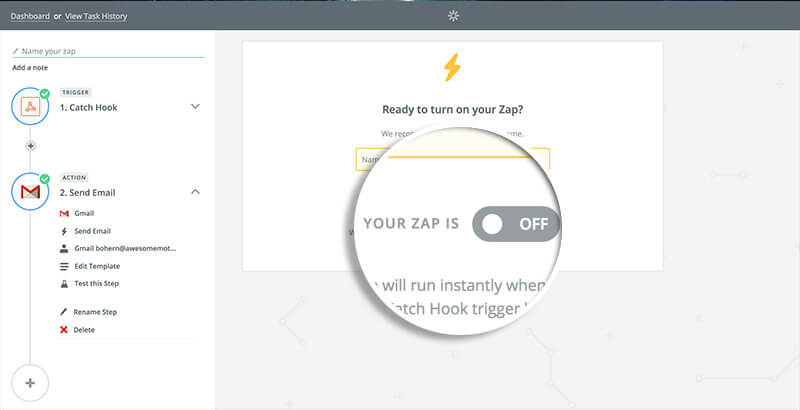 Congratulations! You've now created a Zap which will send an email to visitors who complete your campaign!
Are you looking for an easy way to keep a list of your lead information? See our doc on how to add subscribers to a Google Spreadsheet with Zapier.