What do Aristotle, Confucius, and Michael Scott have in common?
They're all great teachers.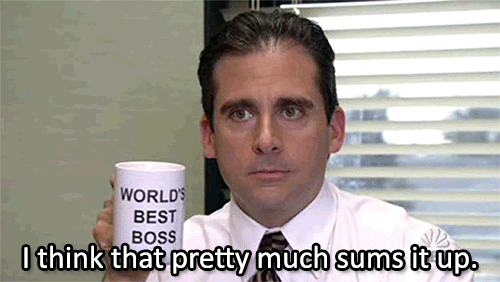 And now, you'd like to join the ranks of these legends by creating an online course of your own. That's the easy part.
The hard part? Figuring out how to market an online course so people actually show up. So that's exactly what we're going to tackle today.
In this post, we'll look at:
Why create an online course?
Things to consider before creating your digital class
12 techniques for marketing your course
3 email service providers for your email marketing strategy
Alright folks, please take your seats. It's time to learn how to create and market an online course. By the end of this post, you'll have everything you need to creating, launching, promoting, and selling your courses online.
Class is in session.
Why Create an Online Course
Creating an online course is a great way to connect with your customers, increase your authority within your niche, and build another stream of passive income. They tend to go deeper than your blog posts but are just as fun to create.
And if you do it right, there are actually very little downsides to the project.
Plus, it's a business that has proven to be very profitable over the last 20 years.
Online courses (or "eLearning") has seen some remarkable growth. Forbes has sourced some excellent data on that trend: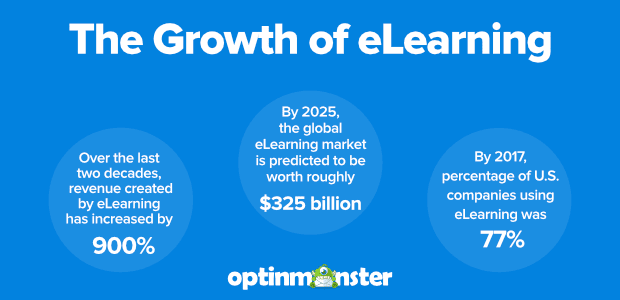 Over the last two decades, revenue created by eLearning has increased by 900%
By 2017, 77% of U.S. companies were using eLearning
The global eLearning market is predicted to nearly triple from $107 billion in 2015 to $325 billion in 2025
Not only that, but TechJury gathered the following statistics that show how helpful eLearning can be for both companies and individuals:
IBM saved roughly $200 million after switching to eLearning
eLearning has expanded income by 42% for U.S. organizations
eLearning increases the retention rate of information by 25–60%
The American Society for Training and Development ran a survey that showed 218% higher revenue per employee who completed extensive online training
Needless to say, eLearning has some major benefits to both student and teacher. But before you go off and begin designing your course content, there are a few things you should keep in mind.
Things to Consider Before Making Your Online Course
As the saying goes, "Those who can't do, teach; and those who can't teach, teach gym." Funny as that may sound, nothing could be further from the truth. In fact, teaching is one of the most time-consuming jobs you can take on.
Plus, with eLearning in particular, you're putting your online reputation on the line (no pun intended). If you design a class that doesn't offer the value you're promising, it'll likely get blasted with negative reviews via social media, public forums, and review sites.
This small disclaimer isn't meant to discourage you from creating an online course. But you should definitely take it seriously by asking yourself a few questions before getting started:
Is There a Need?
Before asking yourself how to market an online course, the first thing you need to establish is whether or not this particular class already has a need. In other words:
You should do some market research before creating your online course.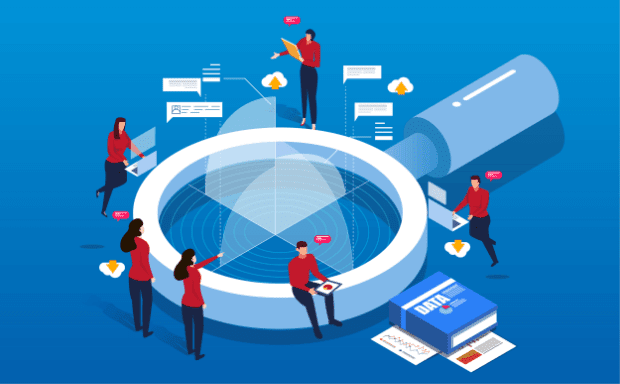 Make sure to address the following questions when you do:
Who is your ideal student?
How is this course specifically different from your competition?
At a minimum, you should have those two questions hammered out before creating your syllabus. You may find that while the topic of your online course is good, you need to focus on different aspects of it than you had initially thought.
Plus, creating a buyer persona (your target audience) early on will save you hours of headaches down the road as you build your digital marketing strategy.
What's Your Price Point?
This is a factor that too many online course creators leave as an afterthought. They build their product and then determine it's value.
Don't do that.
While you don't need to think about the exact cost of this course, you should have a rough idea of what the price tag will be. Or, at the very least, you should determine if this will be a high-ticket course (over $1,000) or a low-ticket course (under $1000).
Honestly, the main reason you're doing this before creating or marketing online courses is that you'll really start to understand what this information is worth. A lot of teachers are either drastically undervaluing or overvaluing the worth of their online courses.
How Will You Present This Information?
You should determine how you're going to get your knowledge to your students in a way that they'll retain the information. A lot of that has to do with your personality and teaching style. But there are other factors as well:
What's your budget?
What platform will you use?
Will it be mostly video-based or text-based?
Your budget is an obvious concern. If you're creating an online course and working with almost no money, then you need to get creative. This will also impact the platform you use to deliver your content.
If you do have a strict budget, check out this curated list of free marketing tools.
That said, we definitely recommend going with a WordPress site for your online course.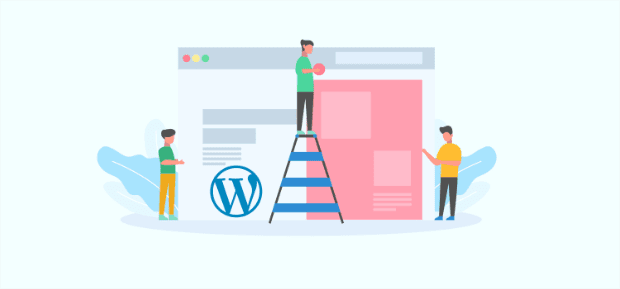 WordPress is flexible, cost-effective, and has a low learning curve. There's a large community of WordPress users and developers to help you troubleshoot any problems you may run into while creating your course.
Plus, you've got loads of WordPress plugins to unlock some pretty cool features. But more on that in just a sec.
Finally, are you going to be making your course video-based or text-based? This depends on your personality as a teacher, the content you're working with, and, again, your budget. That said, creating compelling video-based content will likely attract more students.
What tools do you need?
Now you need to determine what tools you'll invest in for making your course. You've got loads of options which is good, and bad. It's good because, well, you have loads of options!
And it's bad because sometimes it can be difficult to sort through those options if you're new to all this.
But here's the cool thing: we've already written a killer article on WordPress learning management systems (LMS) and the LMS plugins you need for an online course.
So if you're using WordPress to create and market your class (like we highly recommend you do), check out these 3 plugins for a bit of help.
1. MemberPress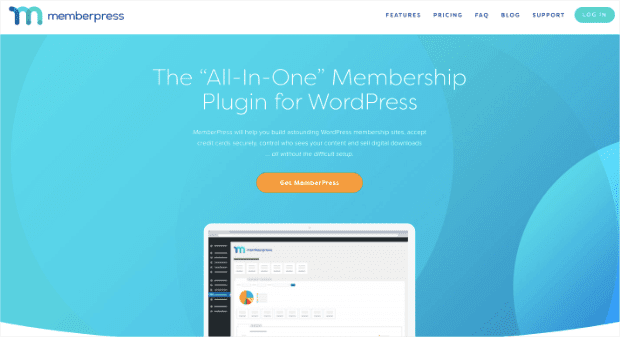 MemberPress is a great plugin that turns your WordPress site (or a section of it) into a member's only area. That means you can grant your students special access to get course materials or mingle online with other students.
2. LearnPress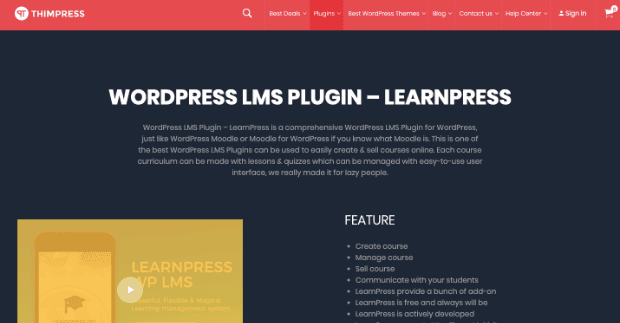 LearnPress is awesome for several reasons, one of which is that it's totally free, and comes with everything you need to design and distribute your online course.
Later, you can scale to the Pro Bundle edition of LearnPress, which creates certificates, content drips, and gives more management tools.
But by the time you need that package, the one-time fee of $249 will have paid for itself. After all, if you need to scale, it means you've got loads of enrollments!
3. LifterLMS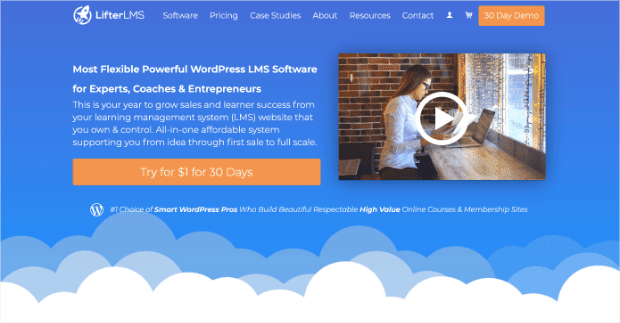 LifterLMS is another really neat tool you can use to create, protect, and sell your online courses. This is definitely an option for those who want to build an in-depth course with lots of bells and whistles.
Honestly, this is likely better for high-ticket courses or course designs with higher budgets. The plugin fee is only $99 per year, but the add-ons can quickly add up.
Ok, now that you've got some cool tools under your belt, let's answer the real question that will make or break your online teaching career: how to market your online course.
How to Market Your Online Course: 12 Tricks and Strategies
If you're looking for the best way to market your online course, then look no further. Because one question we get a lot is, "How do I promote a class?"
And, fortunately, we've figured out the best ways over the years. So give the following 12 tips your undivided attention, and we're sure you'll find the answer you're looking for.
1. Treat Your Online Course Like a Product Launch (Because It Is)
Though your online course is a little different from other digital products, it's still a product. It's something you build, promote, and sell, right?
So why would you treat it any differently? Check out our guide on how to crush your next product launch if you haven't already.
But in the meantime, do yourself a favor and build a coming soon page. Using software like SeedProd, you can build a landing page that lets you generate interest in your online course and grow your email list before you even create the curriculum.
It allows you to easily create a stunning landing page in minutes using a drag and drop builder. No code needed.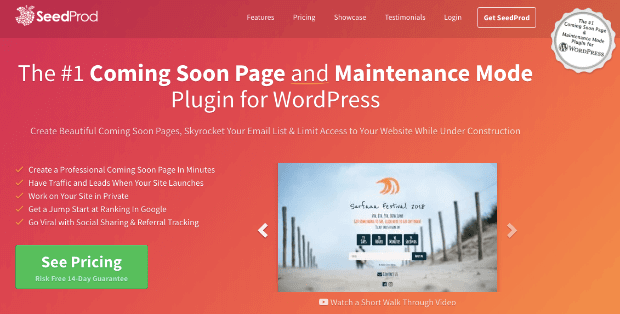 As you're trying to figure out how to promote your online course, a coming soon page may not be your first thought. But it can be surprisingly effective. It's also a great way to test if there's a real need for your class, and it can be a good gauge for your market research.
Another benefit is that a coming soon page buys you time. You can build leads while testing out the perfect marketing strategy for selling online courses.
The point is that you should be treating your online course exactly like a product and, thus, you need to build excitement and hype around the product's launch.
2. Talk About Your Course on Social Media
Regardless of which social media platform you use for your business, you should start announcing some teaser information about your online course early on.
But remember, as you're growing your social media following, don't make all of your content posts about yourself and your course. Use your various social media channels to deliver quality content to get your target audience interested in your course.
And yes, sometimes that content will come from sources other than you.
By consistently posting quality content on social media, you're training your audience to check in with you on a daily basis. Then when it comes time to market your own online course, you'll have a highly engaged user-base at your fingertips.
One easy tip is to create a private Facebook group for your students. It's a free solution to build a community on a platform most people already use. Then as people in your group start connecting, they'll tell their network about your class.
Hence why Facebook is often used by teachers looking to sell online courses.
3. Start a Podcast to Hype Your Online Course
Everyone and their mother has a podcast right now. And for good reason. Podcasts are an excellent way to show your knowledge about a particular topic.
As you're preparing to release your online course, you can start a podcast as a way of self-promotion.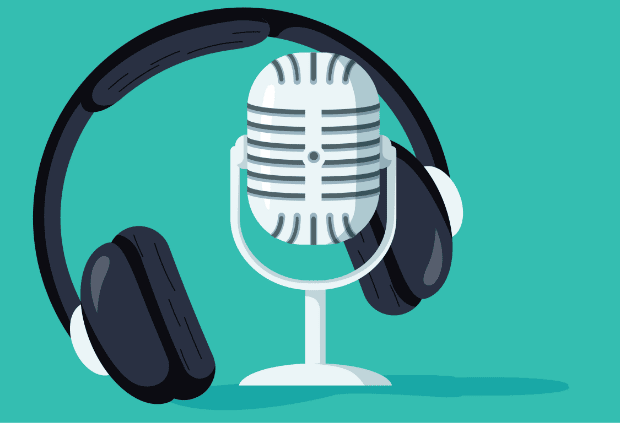 Podcasts can be one of the best ways to market and sell courses online. But remember, as you design your podcast's content, you need to plan what information will be free and what will be included in the paid course.
You'll have a lot of angry students if your online course is just rehashed information from your free podcast.
Related Content: Top 12 Best Podcast Plugins For WordPress (2020 Expert Picks)
4. Run a Weekly Webinar to Connect With Potential Students
This is another great option for promoting your online course if you aren't interested in a podcast. Running a weekly webinar can be similar to a podcast, but has a major benefit:
You don't need to constantly think up new content.
Because a webinar is usually 45–60 minutes with a structured formula, you just need to nail your webinar script once. Then you can fine-tune it over time and even release pre-recorded webinar sessions throughout the week (assuming you have the right webinar software).
But how do you promote a class with a webinar? Simple.
Create a 45–minute presentation concerning a broad topic your online class covers. Touch on pain points of your target audience and deliver a clear call to action at the end. Then run ads to your webinar and you'll soon see how easy it is selling online courses through webinars.
Plus, when you start getting more attendees in your audience, the size of the webinar will add some valuable social proof to your presentation.
5. Pay for Ads to Promote Your Course
It's true what they say. Sometimes it really does take money to make money. And learning how to promote classes online is no exception.
Because in total honesty, running some paid ads can be one of the best ways to advertise your class. This will, obviously, depend on your budget, but even a simple $10 Facebook post boost can go a long way.
There are a few benefits to using paid ads over organic content marketing. Paid ads are:
Faster at getting results
Easier to track in terms of success
Highly targeted to your buyer persona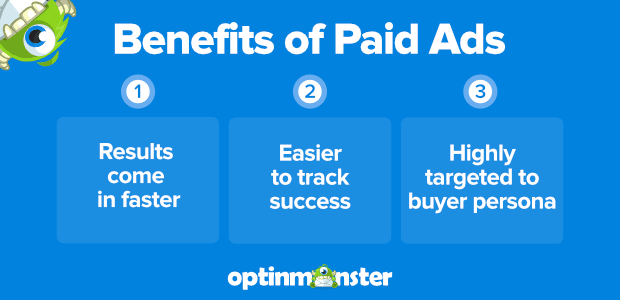 The downside? They take away from your overall budget. So you need to make sure you can afford them before taking the risk.
In the end, don't forget to research which platform is best for advertising while taking your audience into consideration.
6. Find Non-Competitive Partners in Your Niche
It's not what you know, it's who you know. In this case, that's definitely true.
Try reaching out to your professional network to help you figure out how to promote your class. Other professionals in your industry can become customers to give you more valuable feedback, testimonials, or even a nice shout-out on their social platforms.
Plus, you never know. Reaching out to other non-competing experts in your field may lead to partnerships for future courses you design!
But regardless of future products, influencers in your niche can be one of the best ways to advertise a class online.
7. Guest Post on Blogs/Podcasts
If you've ever worked on SEO to market a product or service, then you know the importance of guest posting. You can totally do the same to promote your online course. Reach out to blogs or podcasts to see if they need some free help.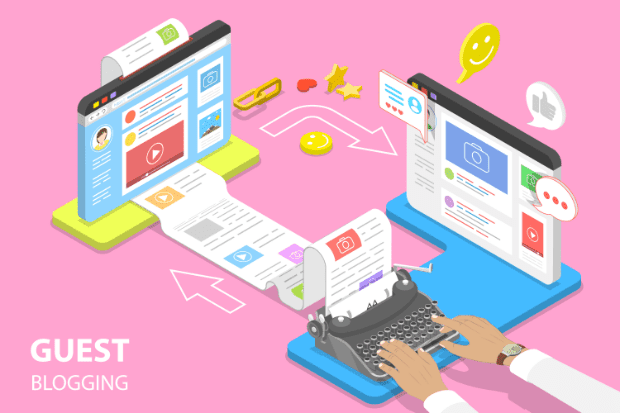 The mere fact that you're considering creating an online course means you probably have some reputation in your niche as is. Finding opportunities to provide quality content for other people in your field of business shouldn't be too complicated.
After all, you're proposing the ultimate win-win situation: they get free content to publish for their audience, and you get free promotion for your online course.
So if you've been wondering, "How can I promote my online class?" it might be time to let someone else's blog do the publicity for you.
8. Create a "Teaser" Mini-Course
This strategy takes a little effort but is well worth it. Creating a free "mini-course" is a great way to give people a taste of the value you're offering.
Most software as a service (SaaS) companies offer free trials of their product. The problem for you, though, is that your product is knowledge. That means that if your students are fast learners, they could purchase the course, learn the material, and return it before their trial expires.
So that's just no good.
But creating a "mini-course" allows you to accomplish the same thing in a responsible way. Your students will get to experience a bit of the value you're offering while learning how deep the topic you're teaching runs.
Now we know what you're thinking, "How does giving away a course for free help me figure out how to market my online course? Won't they just take the mini-course and run?"
You'd be surprised. If you build your mini-course the right way, you can use it to show the depth of your topic. By the end of the free course, your students should have learned just how little they actually know about your niche.
From there, selling your online course will be a breeze.
9. Offer a Discount for Your First Round of Students
Offering a discount for your first round of students is the perfect solution to how to market your online course. This accomplishes two things really well:
Generates tangible revenue for your course
Creates a system in which you can gather feedback and testimonials early on
These are two crucial components to your online course's success. Seeing money coming in at the early stages of your course launch is helpful in paying for your tools and your advertising costs (if you're running paid ads).
You can even offer a discount for those who sign up for your course in the pre-launch phase. Pre-launching is an awesome solution for how to sell online courses.
Some marketers even pre-sell their course at a discount before finishing the syllabus to see if there's really a need.
But more importantly, getting students enrolled early on helps you generate testimonials that may convert other hesitant customers. Using testimonials or other trust signals on your site can lead to higher conversion rates and more enrollments.
10. Create a Course Sales Page
We've already discussed why you should use a coming soon page, you also need to create a landing page dedicated to selling your online course. We've written a killer guide on how to write a sales page that converts.
That's an awesome place to start.
In fact, there are too many tips in that article to include here. However, these are the top 5 things you need to know to create a killer sales page: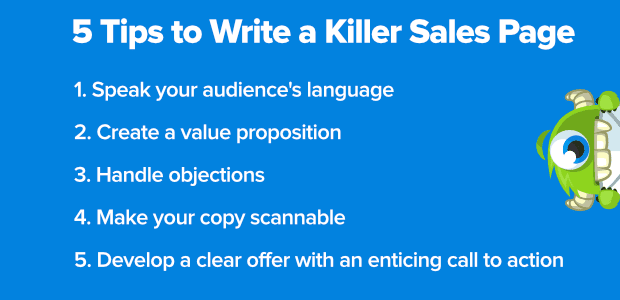 Speak your audience's language
Create a value proposition
Handle objections
Make your copy scannable
Develop a clear offer with an enticing call to action
Again, if you need help with any of those tips or just want to learn more, then definitely give that article a thorough read through.
11. Translate Your Course in Another Language to Open the Market
This is an insanely valuable tip that not many course creators take advantage of. By translating your course into another language, you can effectively broaden your market to millions of other people.
And it's not nearly as hard as you think.
Rather than brush out the old English – Spanish dictionary you kept from high school, hire a translator to get your courses running in a different language. Or, if you're working on a budget, sites like Upwork or Fiverr allow you to get awesome contractors who can translate your course for less money.
There are also plugins like TranslatePress that can do the lion's share of the work in no time.
As for video content, most online tools allow you to auto-generate or add custom subtitles. That means you don't need to re-record your entire course in a new language. You simply need to create quality subtitles that give native speakers in other languages the opportunity to enroll in your awesome course.
12. Build Your Email List
We decided to save the best for last on this one. Because when it comes to digital marketing, we firmly believe that having a large email list is the best way to go for several reasons:
Email is consistently delivered straight to your audience's preferred device
Email use is still crazy popular compared to other platforms
You're at less risk of losing your audience due to a platform shutting down, suspending your account, or just waning in popularity
Everyone on your email list has already shown interest in your content or product
Messaging via email is way easier to automate
For all of these reasons, and more, we think email marketing is far from dead (despite what some marketers will say). And luckily, that's our specialty here at OptinMonster.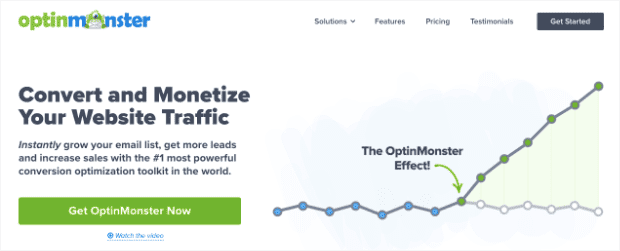 With conversion optimization software like OptinMonster, you can easily grow your email list. From there, you can simply nurture your leads, write compelling email copy to drive sales, and even add some affiliate links to create even more revenue.
When it comes to email marketing, the sky truly is the limit. That's why we wanted to include 3 email service providers that we highly recommend you use to grow your email list.
3 Email Service Providers For Your Email Marketing Strategy
Constant Contact is an awesome tool that lets you manage your email list, contact list, email templates, and more. If you need anything regarding your email marketing strategy, Constant Contact is bound to have it. That's probably why they are one of the fastest-growing email service providers on the market.
Pricing beings at $20/month for the Standard package and goes to $45 per month for the Plus package. Both scale depending on your number of contacts.
2. Sendinblue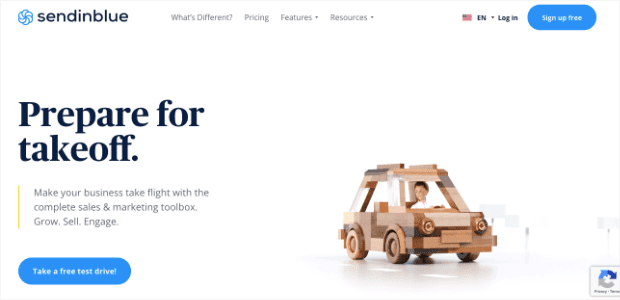 Sendinblue is a great choice if you're looking for email service providers. They do a whole lot more than just email, but for today, we'll focus on that. It's totally easy to use and comes with a drag and drop builder for your email campaigns. You can manage your contacts and set up automated email campaigns to drive sales.
Pricing is varied though they do have a free version that allows 300 emails per day. Their Lite package starts at $27/month, and the pricing continues up to their Premium package at $79/month with some options in between. Businesses can inquire about pricing if they have any custom needs.
3. Drip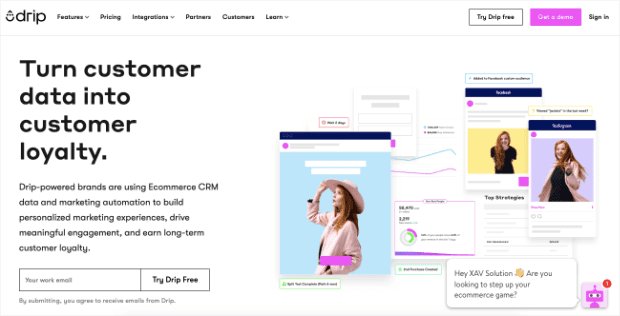 Drip is a killer tool that really lets you get your automation in order. They also integrate with the most popular website platforms (WordPress included), and they're ridiculously easy to use. You can segment your lists, create custom tags, and basically do anything you need to in order to have a successful email marketing campaign.
And when you get stuck? They've got a wide range from support from live chat to webinars to get things sorted.
Pricing starts at $49 per month and scales depending on how many contacts you have. However, there is a free 14-day trial that is worth checking out.
A Few Final Thoughts
When it comes to how to market your online course, here's the thing:
It's just like marketing any other product or service you've created.
That means that you should be doing everything you can to drive traffic to your site, grow your email list, and focus on boosting conversions.
Again, using a conversion optimization software like OptinMonster allows you to do all of those things with as few hiccups as possible. We give you the ability to create custom campaigns that are highly targeted to your buyer personas.
That means you can save hours of mind-numbingly painful marketing problems and get back to doing what you love best: guiding your online students through your online course.
Do you have any tips for online courses that we didn't cover in this article? If so, we'd love to hear about them.
Reach out to us on Facebook or Twitter and let us know what strategies worked for you. Or, you can always just leave us a comment below.
Plus, check out our YouTube channel for some great tutorials that will level-up your marketing game.
And do you have an online course you're trying to get off the ground? Stop struggling to grow your email list and drive conversions. There's a much easier way…