Are you looking for the best Stripe payment plugin? Is WP Simple Pay a reliable solution as a Stripe payment gateway?
WP Simple Pay is an easy to use payment plugin for accepting one-time and recurring payments on your WordPress website.
In this article, we'll put the WP Simple Pay plugin to test and explain all the features it offers for fast and errorless payments.
Let's get started.
What Is the WP Simple Pay Plugin?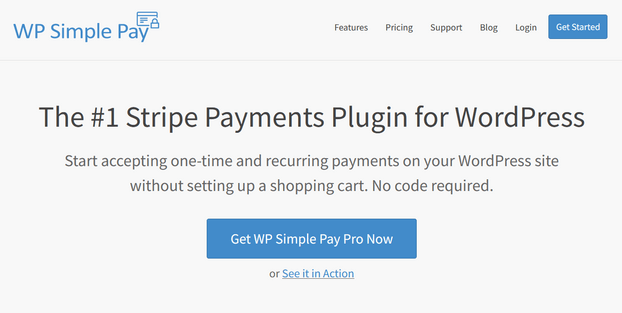 WP Simple Pay is the most popular Stripe payments plugin for WordPress. It's simple, easy to use, and helps you accept payments on your WordPress website.
WP Simple Pay works as a standalone plugin, so you don't need to install any addon to integrate with Stripe. You'll need to create a payment form, and customers can use this form to make payments.
Whether you're a freelancer, agency owner, or website professional, you can use WP Simple Pay forms to accept Stripe payments. The plugin also allows you to accept payments with Google Pay, Apple Pay, and other banking cards.
Getting Started With WP Simple Pay
Setting up the WP Simple Pay plugin on your website is simple.
First, you need to install the plugin just like any other plugin. If you're installing a plugin for the first time, check out this guide on how to install a WordPress plugin.
Activate the plugin, and navigate to WP Simple Pay » Settings » License .

Paste in your license key and click on the Activate button for license verification.
After activating the license, you'll need to connect to your Stripe account.
For that, switch to the Stripe tab and click on Connect with Stripe.

That's it.
You've completed the initial setup, and we're good to go exploring the plugin features.
Why Should You Use WP Simple Pay Plugin?
WP Simple Pay forms make it easy to accept payments without setting up a complicated store or a checkout process.
You can create embedded payment forms, popup forms, and even redirect customers to the official Stripe payment page. These forms are responsive and offer a smooth checkout experience on mobile phones and tablets.
WP Simple Pay uses Stripe's PCI-compliant servers for making payments. All the transactions are secure, and you don't need to worry about malicious breaches.
While these are just a few reasons for using WP Simple Pay, you'll get better clarity after checking out the plugin's features.
WP Simple Pay Features
The plugin is packed with many features, but we're mentioning those that stood out most compared to other payment plugins.
And it's time to explore each one in detail.
Let's get started.
1. Drag and Drop Form Builder
The WP Simple Pay plugin comes with an easy-to-use drag and drop form builder. You can add, remove and customize form fields.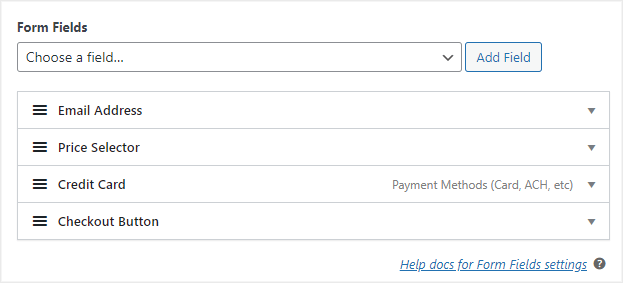 By default, 4 fields are added to all forms – Email Address, Price Selector, Credit Card, and Checkout button.
You can add even more fields by selecting from existing form fields and reordering them as per your requirement.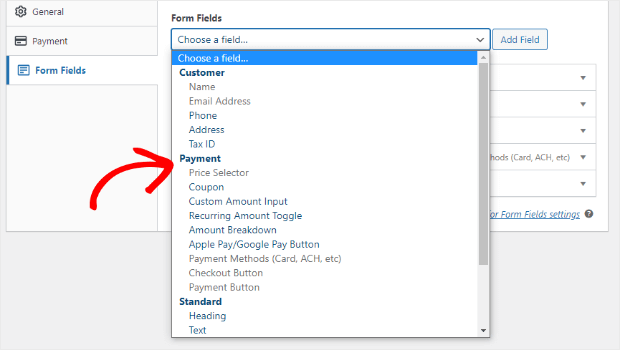 Clicking on the form fields opens up customization options for adding a field label and placeholder.
You also get access to plenty of readymade form templates, so there is no need to create anything from scratch.
2. Multiple Form Display Methods
With the WP Simple Pay plugin, you can add payment forms in 3 different ways. You'll find these form type options in the General tab while creating your payment form.
1. Embedded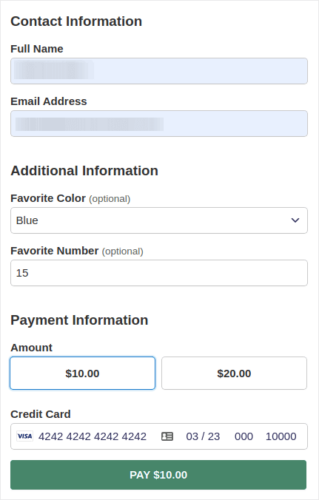 You can easily embed this form anywhere on your website.
2. Overlay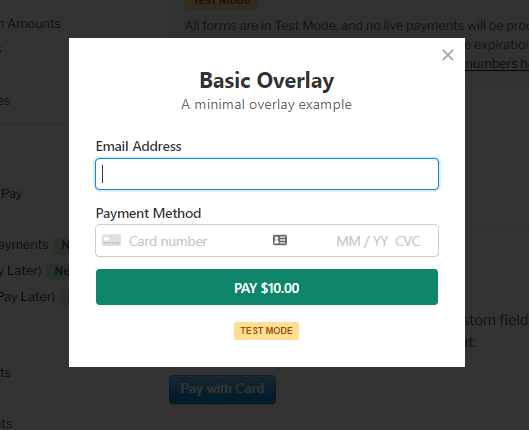 Overlay forms are popups that appear when a user clicks the submit button.
3. Stripe Checkout form
This option provides the default Stripe payment form.
Once the user clicks on the checkout button, they'll be redirected to the Stripe platform to complete the payment.
3. One-Time and Recurring Payments
You can easily create payment forms for accepting one-time and recurring payments.
For one-time payments, you'll simply set an amount that needs to be paid by the customer.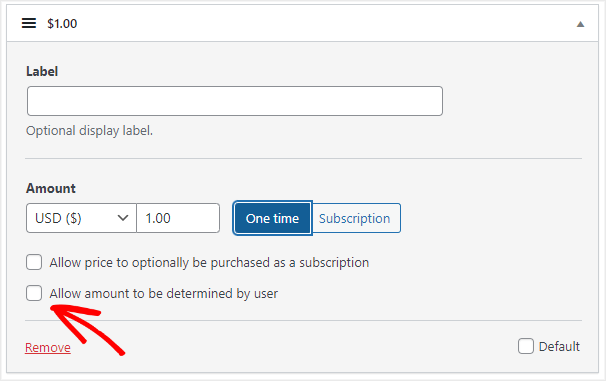 Or you can also check the Allow amount determined by user option that gives them the privilege to add a payable amount.
For accepting recurring payments, choose the subscription option.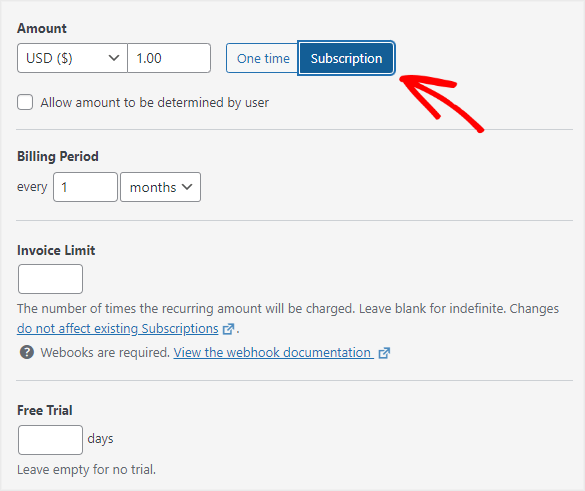 And then, you can set the billing period, invoice limit, setup fee, and the number of free trial days from the customization settings.
4. Discount Coupon Codes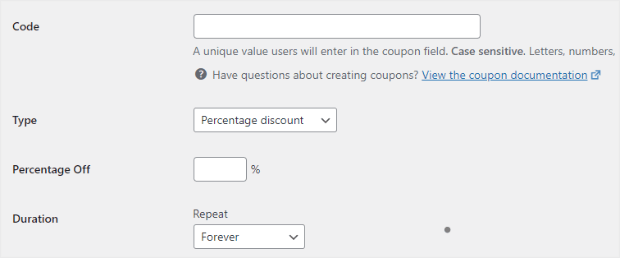 WP Simple Pay understands the importance of coupon codes. Nowadays, every customer looks for some type of discount before making a purchase.
You can easily create coupon codes and set redemption restrictions like expiry date, payment limit, and many more. Coupons can be made for one-time as well as recurring payment methods.
5. Multiple Payment Methods
WP Simple Pay allows you to accept money from payment portals like Google Pay, Apple Pay, credit card payments, and ACH payments.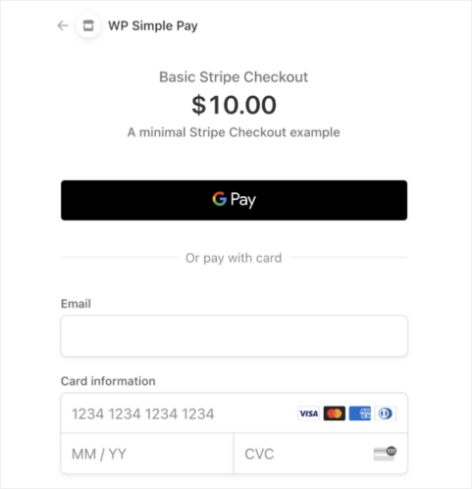 Using popular browsers like Chrome, Safari, and Microsoft Edge, anyone can make payments on your website from desktop or mobile using the WP Simple Pay form.
6. Alternative Payment Methods Support
Besides the popular payment methods like Google Pay, you can also accept payment in many other ways.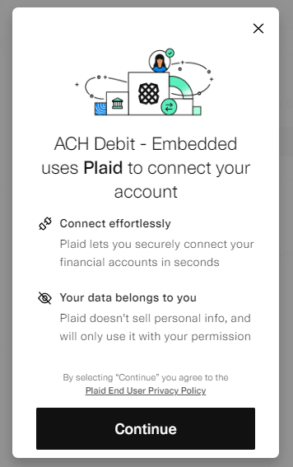 You can accept ACH debit payments directly from bank accounts. WP Simple Pay also supports accepting payments from:
SEPA Direct Debit
iDEAL
Alipay
giropay
Bancontact
Przelewy24
And many more.
7. Customized Payment Confirmation Details
Most payment solutions do not have any type of customization setting to edit the payment email.
But that's not the case with WP Simple Pay.
The plugin offers complete control over customizing the payment confirmation details.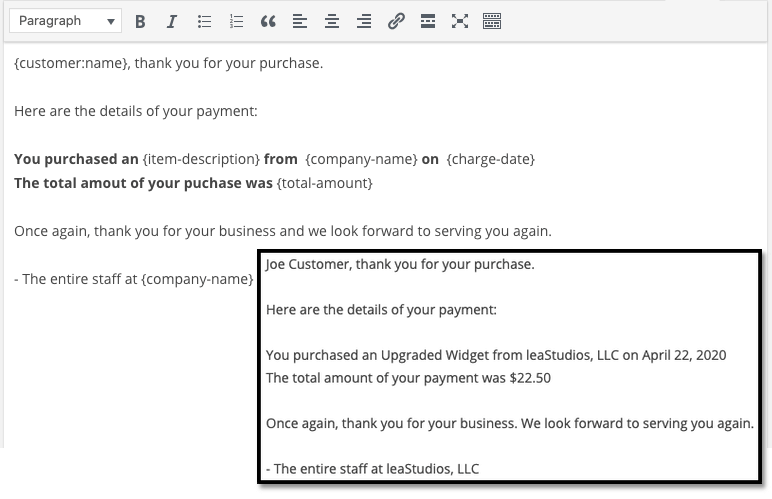 Simply create a custom template within the post editor and use placeholder tags for the information part. This way, you can stick to your brand tone and messaging style.
8. Buy Now, Pay Later Payments
WP Simple Pay provides integration with new and emerging trends like pay later methods.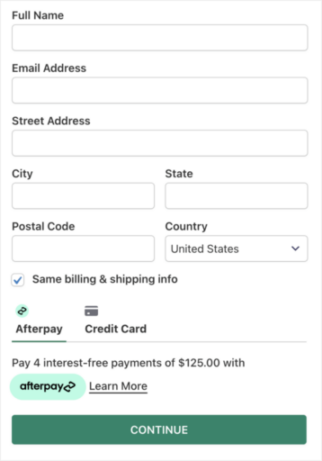 You can easily connect with apps like Klarna and AfterPay to accept buy now, pay later payments.
This payment method is supported for limited currencies like USD, CAD, GBP, AUD, NZD, and EUR (depending on the Stripe account country) for one-time amount payments only.
9. 3rd-Party Integrations
WP Simple Pay offers 3rd-party integrations to extend the functionality of payment forms.

You can integrate the plugin with utility tools like Uncanny Automator and Zapier, which can help you to automate multiple tasks once the Stripe payment is completed.
WP Simple Pay also integrates popular page builders like SeedProd, Elementor, and Divi. You can connect page builder buttons to work with WP Simple Pay's overlay forms and Stripe checkout pages.
Moreover, you can even integrate with marketing tools like AffiliateWP that will grow your business and help you make more money.
WP Simple Pay Pricing Plans
WP Simple Pay Lite is a free version available on the WordPress plugin repository. You can try the plugin by integrating it into your website.
But if you run an eCommerce business, we highly recommend checking out the functionalities in the premium plans.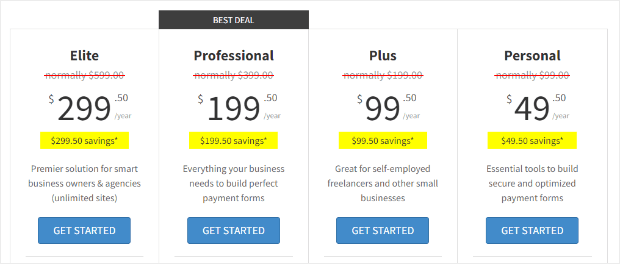 You can get started with the Personal plan at $49.50/year. You can create unlimited payment forms and perform transactions in this affordable plan.
If you're an agency running many websites, you can check out the Professional plan at $199.50 for use on 10 websites.
For using WP Simple Pay on unlimited websites, you can go with the Elite plan, which includes all the features, priority support, and integrations at just $299.50/year.
WP Simple Pay Review: Final Verdict
It's time to conclude our WP Simple Pay review and share a final verdict about the plugin.
Is WP Simple Pay the best Stripe payment plugin?
Yes!
It's an excellent payment plugin that requires no coding experience. The plugin includes many great features, but we mentioned the ones that stood out most compared to other payment plugins.
WP Simple Pay will help your business accept payments quickly and easily. Some of the other vital features of the plugin are:
Tax rate management
Offer free trials
Coupon duration settings
Custom payment receipt emails
User-managed subscriptions
We hope you enjoyed our review of the WP Simple Pay plugin. If you did, consider checking out these articles for increasing website sales:
Ready to accept Stripe payments on your website? Get started with WP Simple Pay Today!
If you like this article, you might want to follow us on Facebook and Twitter for more articles like this.