What is a good CTR for Google Ads? Are your ads measuring up? It can be disheartening to spend time and money on Google Ads, only to find they're not generating the traffic or sales you expected them to.
If you want to see better results from your Google Ads, you need to improve your CTR (click-through rate). But first, it helps to know what a good click-through rate is. After all, if you don't know what a good CTR is, you can't accurately evaluate the performance of your ads.
In this article, we'll share what is a good CTR rate for Google Ads. Plus, if you find your Google Ads CTR to be on the low side, we'll share tips on how to improve it.
Let's get started.
Clickthrough Rate Basics
Before we find out what clickthrough rate you should be aiming for, let's start with the basics.
What is a clickthrough rate?
CTR is simply the ratio of people who click on your Google Ad when they see it.
You can calculate your CTR by taking the number of clicks that your Google Ad gets and divide it by the number of times your ad is shown, like this: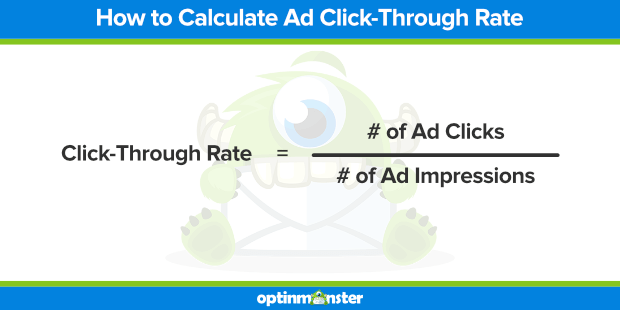 For example, if your ad gets 5 clicks and 100 impressions, then your CTR would be 5%.
Related Content: How to Boost the ROI of PPC Campaigns With Targeted Optins
Figuring out your CTR is important because it lets you see how well your ads are performing. If your CTR is good, it shows that your Google Ads are helpful and relevant. But, if your clickthrough rates are low, then your time, money, and efforts are going to waste.
Here's how to link Google Ads to Google Analytics to track your ad campaigns better.
Your CTR will vary depending on which networks you use to place your ads. There are 2 Google networks you can use to place ads, so let's go over them.
The Search Network
With the Search Network, your ad shows when a user searches for terms related to your keywords.
For instance, if a user searches Google for "veggie spiralizer," Google ads with those keywords will display at the top of search results with an "Ad" icon next to them, like in the image below.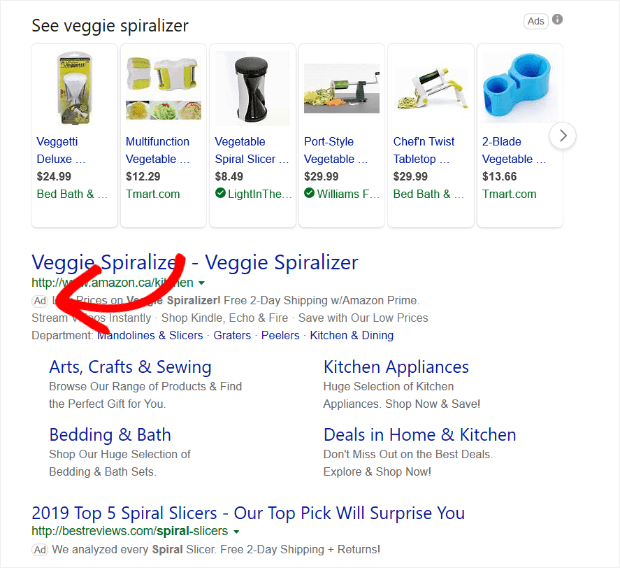 Clickthrough rates for the Search Network are typically higher because your ads are relevant to what the user is searching for.
Related Content: Remarketing Lists for Search Ads: Custom Campaigns and Tailored Bids
The Display Network
On the other hand, with the Display Network, you can show ads on websites or apps that users are browsing, like in the image below.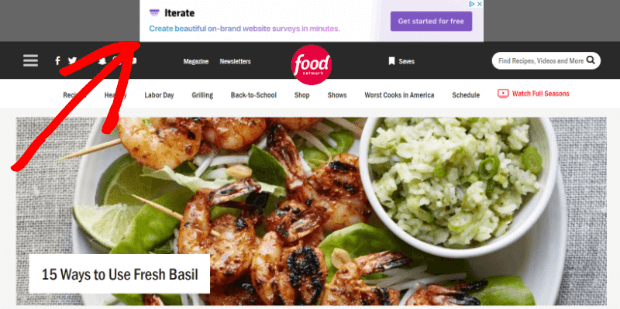 Users might see your ad on a particular website because the content is relevant to your keywords or because you're retargeting previous visitors to your website.
Since the user isn't actively searching for your keywords on the web, users are less likely to click on a Display Network ad. So, CTR is generally lower for the Display Network.
Related Content: Google Display Retargeting Ads: A Budget-Friendly Google Ads Option
Now that you're more familiar with clickthrough rates for Google Ads, let's find out what a good CTR rate is.
What's a Good CTR Rate for Google Ads?
Alright, so let's get to the burning question.
To figure out what CTR you should be aiming for with your Google Ads, you have to look at industry standards.
According to AdStage, the average clickthrough rate is 2.88% on the search network and 0.64% on the display network as of Q2 2019. And that's the average across all industries.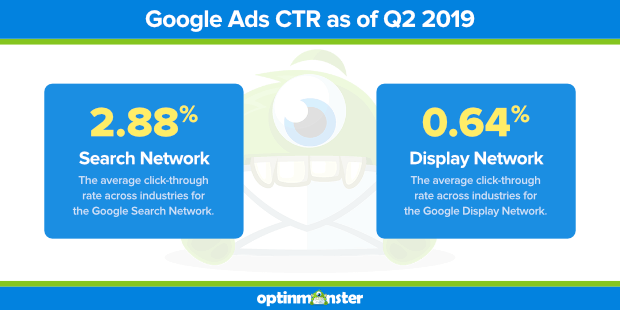 As you can see from the WordStream image below, the average clickthrough rate varies by industry. At the time of their reporting (2018), the highest industry average is for dating and personal ads with an average clickthrough rate of 6.05% on search. This is followed by industries like travel and hospitality, advocacy, and auto.
The industry with the highest average clickthrough rate for display network is real estate at 1.08%, followed by industries like dating and personals, auto, health and medical, and advocacy.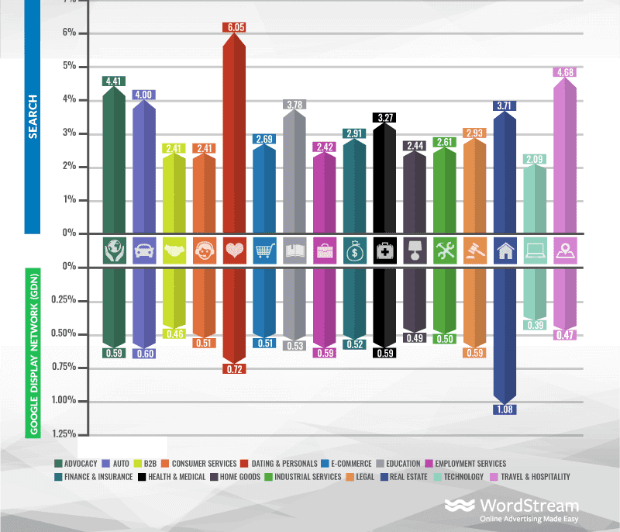 Here's a closer look at the industry averages for CTR.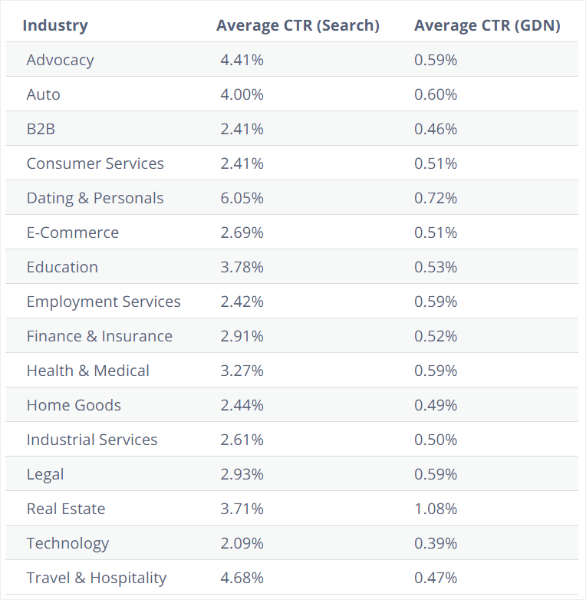 As you can see, the average CTR for search ranges from 2.09% all the way to 6.05%.
So, if you find yourself on the lower end of these numbers, that means there's room for improvement with your clickthrough rate.
And, even if your CTR is meeting industry standards, there's no reason why you shouldn't want to improve your clickthrough rate to generate even more leads and sales.
Want to boost your lead generation the quick and easy way? Sign up for OptinMonster today!
Before trying to improve clickthrough rate, let's talk about the factors that affect it.
Factors That Affect Your Clickthrough Rate
Your clickthrough rate isn't up to chance, there are actually a number of elements that help determine whether your ad gets a lot of clicks or whether it's ignored.
Here are some of the factors that can affect it:
Ad Position
When a user searches on Google for their keywords, the search results will come back with 3 relevant ads at the top of each page. Many users will stay on the first page of search results. So, if you think the Google ads in the top 3 positions would get the most clicks, you'd be right.
Since the #1 spot is the first ad that users see, it gets the most clicks out of them all.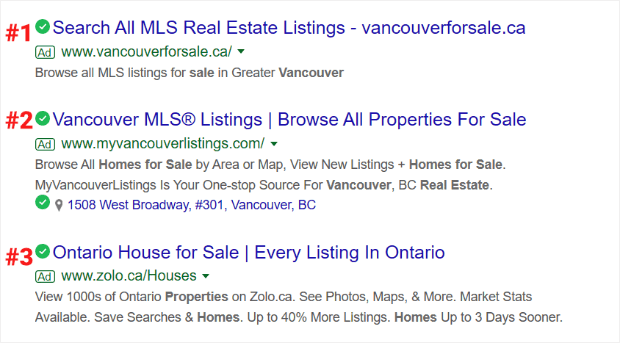 The better your ad position, the higher the CTR you'll have. That's the reason why most companies are willing to bid more for the top spot.
The Headline and Copy
What your Google Ads say to users is also an important element that affects your clickthrough rates. Your ad headline and copy need to stand out and encourage users to click.
Related Content: 21 Viral Headline Examples and How You Can Copy Their Success
For instance, check out this Google Ad from Colors Bridesmaids. The headline lets users know they have a wide range of styles, colors, prices, and sizes. And the copy includes other information potential buyers may want to know including that they offer multiple payment options, free returns, order tracking, and more.

When you give users solid information about why they should choose your company, they'll be more likely to click on your ad.
Ad Relevance
As we mentioned earlier, users are more likely to click on an ad that's relevant to their search queries and interests.
So, it might seem obvious but, you need to make sure your ad includes relevant keywords.

An ad that has the users' relevant keywords within the headline and copy will get more clicks than a generic ad.
How to Improve Clickthrough Rate for Google Ads
If your clickthrough rate leaves a bit to be desired, check out these tips for how to improve it.
1. Add a Special Deal in Your Headline
People are drawn to an awesome deal like moths to a flame. So, if you want to improve your CTR, add a special deal in your headline.
For instance, check out this Google Ad from All Modern. Users will be more likely to click on this ad that offers 60% off modern furniture versus a similar ad that doesn't offer any savings.

A headline with an amazing deal is sure to stand out online and get a ton of clicks.
2. Put Your Main Keyword in Your Display URL
Here's a tip to improve your CTR that's incredibly easy to do but often completely overlooked. All you have to do to get a little boost in clicks is put your main keyword in your display URL.
In your headline and your description, you're limited in the number of characters you can use. So, why not take advantage of your display URL to fit in an extra keyword?
Here's an example:

As we mentioned earlier, using keywords will make your ad more relevant to the user, which increases their likelihood of clicking.
3. Write Higher-Converting Ad Copy
Now it's time to bust out your professional writing skills. Well, sort of.
You need to start writing higher-converting ad copy to improve your CTR. But you don't need really need to be a pro, you just need to practice these simple tips.
Add a Strong Call-to-Action:
You need to persuade users to click your ad by adding strong calls-to-action like "Buy Now," "Learn More," "Get Started," etc.
Use Power Words:
Power words like "You," "Now," "Best," and "Find" are good at convincing users to engage with your business.
Use Emotional Triggers:
Think about the user's point of view, what might they be feeling when they're looking up your keywords? Is it anger? Sadness? Or are they happy? Use emotional triggers to connect with the user's feelings like in the Google Ad from Glow Beauty Bar below.
This ad aimed at acne sufferers includes phrases like "say goodbye to your acne" and "gain your confidence back."

When you write better ad copy it drives users to click and take action.
4. Link Ads to Relevant Landing Pages
When someone clicks on your Google Ad, they should be taken to a page on your website that matches what they're looking for.
For instance, when searching for a dentist, a user might find this Google Ad.

Clicking on that ad brings them to this landing page. On this page, there's a clear call-to-action that lets the user easily schedule an appointment.

If the user clicked on the ad and was taken to the home page instead, they would have to click around to find what they're looking for. The more work the user has to do to find what they need, the less likely they are to take action.
So, make sure your Google Ad leads to a relevant landing page that gives your target audience the exact information they're seeking.
5. Use Detailed Audience Targeting
If your ad isn't being seen by your target audience, it's not going to get any clicks. That's why it's important to use detailed audience targeting for your Google Ads.
Detailed audience targeting lets you be more accurate when choosing who sees your ads. With Google Ads, you can target remarketing lists, custom combination lists, life events, and interest categories.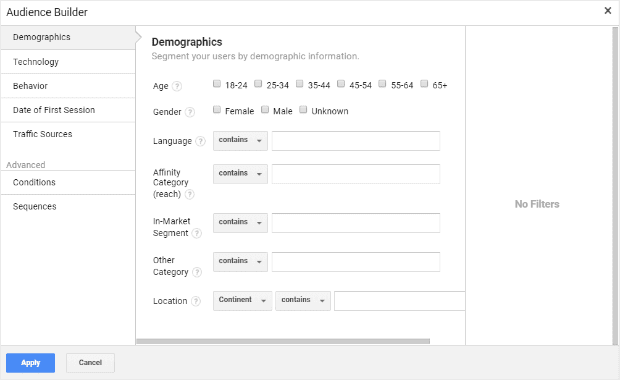 For instance, if you want to create a Google Ad for your personal training business, you can target users that are interested in fitness.
You can dramatically increase your CTR by putting your ads in front of the users that are most likely to buy from you.
6. Take Advantage of Ad Extensions
Google Ads are tiny—super tiny—which means you don't have a lot of space to try and sell your business. But, with Ad extensions, you can increase the size of your Google Ads and give yourself more room to work with. This means you can make your ads more relevant to users and they'll stand out from the crowd.
There are a number of different types of Ad extensions you can take advantage of, here are a few examples:
Location Extension:
The location extension lets you add an extra line at the bottom of your Google Ad that displays the address of your business.

Did you know: You can target visitors to your site using OptinMonster's geo-location targeting feature. Our customer Skates.co.uk increased daily sales by £2000 just by using geotargeting. Check it out!
Call Extensions:
With call extensions, you can show your business phone number on your Google Ad. On mobile, users can simply click on your ad to make a call to you.

Sitelink Extensions:
Sitelink extensions let you link people to other specific pages of your website. This lets you show the user more of what you offer, making the ad more relevant to their needs.
In the catering service ad below, the company links to pages showing their multiple locations, breakfast catering options, franchise information, and about page.

7. Split Test Your Ads
Now, you're probably not a mind reader. So, when you're creating Google Ads, how do you know what's causing people to click on your ads and what's making people ignore them?
You won't know, it's all guesswork. Unless you're split testing your ads.
Split testing your ads lets you see what's working and what's not. So, create 3-4 ads per ad group and have them compete against each other.
For instance, you can create 4 different ads each with a different headline. When you find out which ad has the best CTR, you can create more ads like the winning one and pause the losing ads.
There you have it! You now know what a good CTR for Google Ads is and how to achieve it for yourself. So, start experimenting with these tips to improve your clickthrough rate.
In time, you should be able to create the perfect Google Ad recipe that makes your target audience want to click on your ads time and time again.