Have you been looking at different lead generation tools to grow your online business?
If so, you've likely come across OptinMonster and wondered, "how much does it cost?" Then, when you went to the pricing page, you got to the question you REALLY wanted to know:
"Is OptinMonster worth the price?"
That's why, in today's post, we're going to break down OptinMonster's pricing and what's included in each plan.
We'll also share what each plan's limitations are, so you can better determine if you'd want to upgrade.
Let's start with the basic pricing structure.
How Much Does OptinMonster Cost?
There are 4 subscriptions you can have with OptinMonster.
Here's how they break down by price (all plans are billed annually):
Basic: $9/month
Plus: $19/month
Pro: $29/month
Growth: $49/month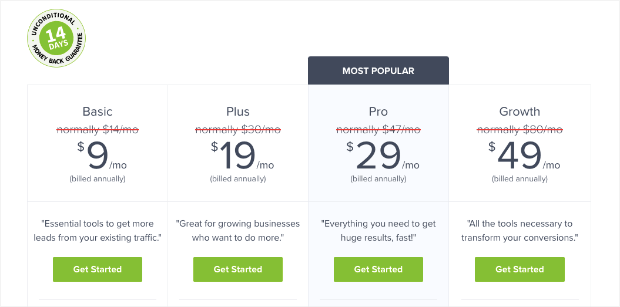 Each plan comes with unique features that we'll look more closely at.
These features include things like:
Campaign impressions
Targeting rules
Analytics reports
And more…
Before starting, we should note that each plan comes with a subscription to OptinMonster University.
OptinMonster University is a complete online course in digital marketing at a value of $1,997. But it becomes yours, for FREE, with any OptinMonster subscription.
We also include a Done For You campaign valued at $297.
When you sign up for OptinMonster, one of our conversion experts will design a campaign for you as you ease into your new lead generation strategy.
With that in mind, let's see how each plan compares in terms of pricing and what type of business would most benefit from using that subscription.
Keep in mind this is a very detailed post. So, for your convenience, feel free to jump to the plan that you'd like to learn most about:
You can also get started signing up for your 100% risk-free OptinMonster account right now by clicking below:
Get Started With OptinMonster Today!
BONUS: Done-For-You Campaign Setup ($297 value)
Our conversion experts will design 1 free campaign for you to get maximum results – absolutely FREE!
Click here to get started →
Otherwise, let's start with the Basic plan.
What Comes With the 'Basic' Plan?
The Basic plan is OptinMonster's entry-level subscription. It's perfect for bloggers, startups, and solopreneurs who are just getting started with their website and don't have a lot of traffic yet.
What You Get
You have an unlimited number of campaigns for your site, and you have access to every one of OptinMonster's campaign types except OptinMonster's gamified coupon wheel.
These campaigns include things you're likely already familiar with, including:
Lightbox popup
Floating bar
Fullscreen welcome mats
Inline campaigns

Sidebar widgets
Campaigns embedded directly inside of your pages and posts

Slide-in scroll box
There are a few things to note about this plan, namely the number of campaign impressions or "pageviews" you'll be allowed.
"Pageviews" in this context doesn't mean how many website visitors you have. Instead, it simply refers to the number of times your OptinMonster campaigns appear to visitors on your site.
This is an important distinction because you may not show an OptinMonster campaign to each of your site's visitors.
With powerful targeting rules, OptinMonster lets you select the best people, times, and places for your campaigns to appear.
If someone doesn't meet the criteria for your targeting rules (perhaps they're not visiting the right URL for your offer, for example), then the campaign won't appear.
On the Basic plan, you have 3,500 campaign impressions before needing to upgrade to a higher plan.
You'll also have a handful of targeting rules that help you grow your list fast. These rules include:
Time display: Show campaigns after users have engaged with your site for a predetermined amount of time.
Scroll depth: Display campaigns after users have scrolled a certain percentage of the page.
Subscriber recognition: Avoid showing campaigns to people who've already signed up for your offer.
Page-level targeting: Show campaigns on specific posts or pages across your site.
You'll also have the ability to "segment" your audience. Once you set up tags with your email service provider (ESP), you'll be able to apply those tags directly from your campaign.
Though the Basic plan doesn't integrate natively with every ESP on the market, it works with the major players, like:
Constant Contact
Active Campaign
Campaign Monitor
MailerLite
Sendinblue
Mailchimp
And more…
These allow you to connect with the world's most popular ESPs so you can automate a large portion of your email marketing strategy.
With all of these features included in the Basic plan, you might be wondering why you'd need to upgrade.
Let's look at a few limitations of the Basic plan that you may want to consider before selecting it.
Why You'd Upgrade
Again, the Basic plan is perfect for smaller businesses or websites that are just starting out.
Here are a few factors about the Basic plan that are worth thinking about to help you determine if you should upgrade to the next plan:
Websites: This plan works for 1 website.
Pageviews: If you need inline campaigns (which are embedded on your posts or pages), you'll likely go through your pageviews very quickly. That's because these campaigns will appear to every visitor on your site.
Targeting Rules: While you have a great start on this plan, you're missing advanced targeting rules that can help you grow your list even faster. These are rules like:

Exit-Intent® Technology
OnSite Retargeting®
AdBlock Detection
And much more…

Sub-Accounts: If you need to give access to other team members, you won't have sub-accounts to assign user roles.
A/B Testing: This lets you compare 2 versions of the same campaign for optimized results.
Campaign Archives: Put away seasonal campaigns without deleting them.
Priority Support: Get your issues taken care of FAST by OptinMonster's stellar support team.
Custom Branding: Remove OptinMonster's logo from your campaigns.
Activity Logging: Analyze detailed notes about changes made in your account.
Client Logins: Allow clients access to preview campaigns and leave notes.
If any of the above are important to your current needs, then you'd likely want to select a higher plan to get started.
Now let's look at the next upgrade from this plan: Plus.
What Comes With the 'Plus' Plan?
The Plus plan includes everything that comes with the Basic plan, but it also unlocks even more helpful features.
This plan is perfect for websites that are starting to generate more traffic and seriously looking to grow their email list.
What You Get
Again, this plan starts with everything that's included in the Basic plan.
However, you'll now have 15,000 pageviews (or "campaign impressions"), and OptinMonster will work on 2 websites instead of just 1.
You still have unlimited campaigns for each site and access to every campaign type that OptinMonster offers.
You also unlock 3 new (and powerful) targeting rules:
Inactivity Sensor™: Re-engage users who have stopped interacting with your website.
Content Locking: Gate your content so only people who are signed up to your list can view it.
Attention Activation™: Highlight your inline campaigns by darkening the content around them when the user scrolls the campaign into view.
These targeting rules help you grow your list FAST.
In fact, content locking was the same strategy Whole Whale used to see a 62% lift in conversions and grow their list by 100%.
You've likely seen content locking used by other popular brands in the past. It looks something like this: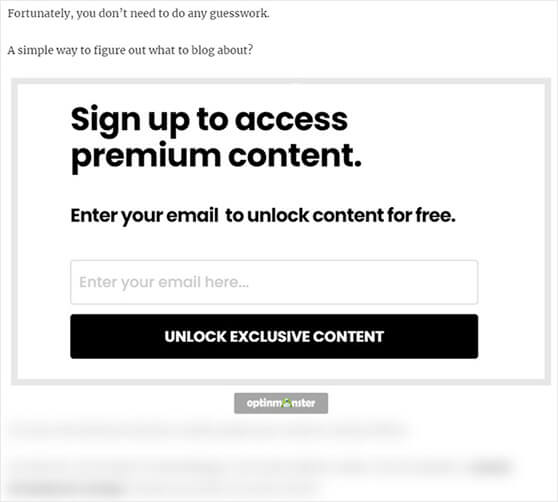 Plus, you'll add 2 other features that help with all campaigns, but are particularly good when paired with the Inactivity Sensor™:
MonsterEffects™: Animate your campaign's entrance to grab your user's attention.
MonsterSounds™: Add sound to your campaigns to engage your users.
You also have access to even more email service providers (ESPs), including:
Every ESP on the Basic plan
AWeber
Conversio
ConvertKit
GetResponse
Klaviyo
And many more…
You'll have full access to the analytics reports so you can see what's working and, more importantly, what's not.
Finally, you'll also have OptinMonster's A/B Testing.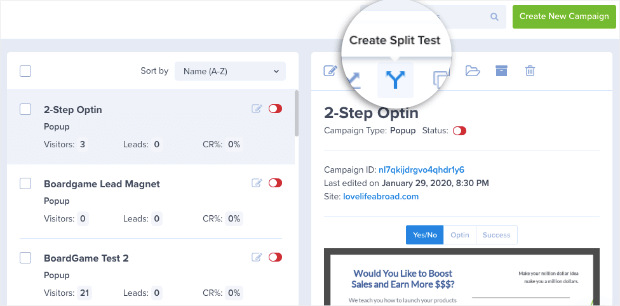 This allows you to duplicate a campaign from within your dashboard and run 2 "almost" identical versions of the same campaign.
That way, you can test images, headings, text, and more to learn what your audience responds to best.
And since you'll have the analytical data to fall back on, you'll never leave these questions up to guesswork.
Why You'd Upgrade
While the Plus plan opens up new opportunities for you, there are still some features that you won't have access to just yet.
On top of OptinMonster's Exit-Intent® Technology, here are a few other targeting rules you might want from a higher plan:
Device-based: Show campaigns depending on what type of device your visitor is coming from (mobile, tablet, or desktop).
MonsterLinks™: Create campaigns that open on a button click. These work great for buttons or anchor text on websites and emails.
Referral Detection: Display campaigns based on the 3rd-party website your visitors are coming from.
Geo-location: Target users based on their physical location to further personalize the user journey.
These are just a few of the rules you'll be missing out on with the Plus plan, though the list isn't exhaustive.
You'll also be limited for the following features:
Priority Support
Custom Branding
Activity Logging
Client Logging
If you truly want to personalize your customer journey, then you'll likely want to upgrade to OptinMonster's Pro plan.
Let's take a quick look at what's included with the plan.
What Comes With the 'Pro' Plan?
This is OptinMonster's most popular plan.
The Pro plan provides advanced targeting rules for solopreneurs, bloggers, and small to medium-sized businesses.
Let's take a look at everything you unlock with this subscription.
What You Get
This plan works on 3 websites and gives you 50,000 pageviews (or "campaign impressions").
It gives you everything in the Plus plan and unlocks loads of new triggers and features to help you increase conversions across your site.
Let's start with the new campaign options you'll unlock:
Yes/No Multi-Step Forms: Increase conversions by presenting users with a simple "Yes/No" question rather than a full optin form.
Countdown Timers: Create a sense of urgency with static and dynamic countdown timers.
Remove the OptinMonster Badge: Remove all OptinMonster branding from your optin campaigns.
These features will help you grow at a higher rate than any plan we've previously seen.
The Yes/No Multi-Step Form is a particularly promising campaign addition.
Its success is based on a basic consumer principle known as the Zeignarik Effect.
This is a psychological behavior that suggests people are more likely to finish a process they've already started.
By getting users to click "Yes" or "No" right away, you're more likely to have them complete their signup form.
And since it's a simple "yes/no" question, users find it less intimidating to interact with. Here's an example of a Yes/No popup: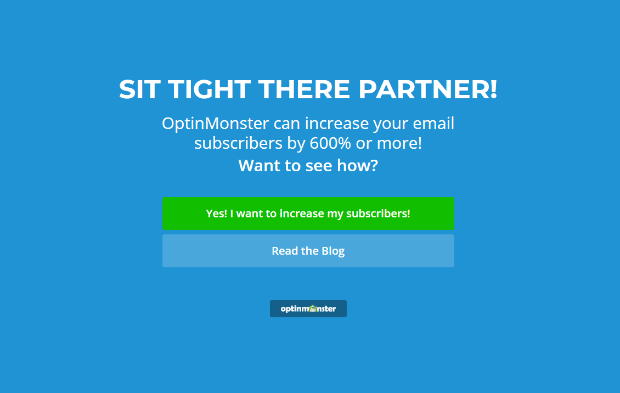 It's the same tool that InternetSuccessGids used to increase signups by 250%.
Now, let's take a look at the new triggers you'll have access to under this plan:
Exit-Intent® Technology: One of OptinMonster's most popular targeting rules, show campaigns as users are actively leaving your website. This is how sites like Fastrack recover 53% of their abandoning visitors.
Device-based: Target users based on what device they're using to browse your site.
MonsterLinks™: Create campaigns that open on a button click.
Cart & Form Abandonment: Turn abandoning customers into email subscribers for better follow-up email marketing.
Campaign Scheduling: Sit back and run campaigns on an automated schedule.
Smart Tags™: Personalize your campaigns with the user's name or location.
UTM Tag Targeting: Show campaigns to users visiting from specific links with pre-defined UTMs.
Referral Detection: Display campaigns based on which 3rd-party sites people are visiting from.
Cookie Retargeting: Show campaigns to people based on the cookies they have stored in their browser.
Lead Sharing: Send your new leads to multiple locations to help track, manage, and guide your new subscribers down your sales funnel.
These targeting rules give you WAY MORE opportunities to target new leads.
These are the same kinds of strategies that led to the following success stores:
You also get all of the email service providers (ESPs) that come with the Plus plan while unlocking even more options, such as:
Eloqua
HubSpot
Marketo
Pardot
And more…
You'll have 2 sub-accounts that you can use, which means you can share the account with teammates.
And you'll be able to assign user roles to these sub-accounts to give limited access to certain team members. This gives you 100% control over how other users are interacting with your site's campaigns.
As you can imagine, unlocking more features means doing away with other limitations.
Let's take a quick look at what you'll be missing in the Pro plan that you can expect from the Growth plan.
Why You'd Upgrade
In terms of the campaign types, you still won't have access to OptinMonster's coupon wheels.
These are incredibly powerful campaigns you've likely seen before: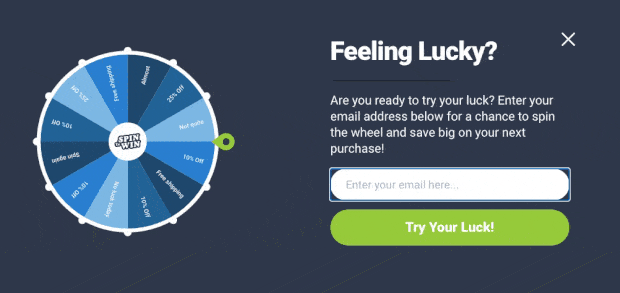 They gamify your site and allow you to capture new leads in an engaging way.
You also won't have access to OptinMonster's ManyChat integration.
This feature allows you to add a chatbot directly to your OptinMonster campaign. This lets you strike up conversations with live visitors so your team can increase conversions.
In terms of triggers, you'll definitely have more than enough to reach your marketing goals.
But you'll miss a few key display rules that can get you there infinitely faster. These include things like:
OnSite Retargeting®: Show campaigns based on whether the user is new or returning.
OnSite Follow-Ups®: Keep returning users engaged by displaying fresh campaigns based on how they've interacted with your forms in the past.
Geolocation: Target users by their location for a truly personalized user experience (UX).
AdBlock Detection: Alert your site's visitors to disable their AdBlocking technology to get exclusive offers you know they'll love.
Success Scripts: Trigger custom scripts (such as a Facebook targeting pixel) when users complete the signup form.
Behavior Automation: Build and automate follow-up campaigns for users who successfully fill out the signup form.
These are the types of triggers that let you target users at a granular level.
While you may not need these when you're just starting a website, they'll become invaluable as you scale your business.
Finally, there are a few other features you won't have on the Pro plan, but are available when you upgrade to Growth:
Custom Branding: Save fonts, colors, templates, and more to save time in the campaign creation process.
Activity Logging: Know what changes were made, when they were done, and who made them with detailed activity logs.
Client Logins: Let your clients access previews of your campaigns so they can sign off on them before going live.
Again, as lead generation becomes more of a priority for your business, these features are what will take your growth to the next level.
Which brings us to the last pricing plan: Growth.
What Comes With a 'Growth' Plan?
The Growth plan is perfect for businesses of any size. The difference is that it unlocks ALL the OptinMonster features you could possibly need or want.
It comes with everything included in the Plus plan, along with much more.
That means it's an excellent plan for solopreneurs or businesses that are 100% committed to getting the best results.
What You Get
This plan comes with all the features that OptinMonter offers. It works on 5 websites and includes 250,000 pageviews or "campaign impressions."
It also includes every email service provider (ESP) integration, including custom webhooks.
Some of the biggest needle pushers for your lead generation strategy include:
OnSite Retargeting®
OnSite Follow-Ups®
Geolocation targeting
AdBlock Detection
Success Scripts
And more.
These newly unlocked features let you target users at the granular level to completely maximize your conversions and profits.
You'll also get:
Custom branding
Activity logging
Client logins
These were a few key features to help larger teams better track their campaigns' progress to better results at a faster rate.
Why You'd Upgrade
There's only one consideration for larger companies that might hold you back on the Growth plan: pageviews.
If you're getting millions of visitors a month, you may need a larger pageview limit.
For that, you can always speak with our team about the Enterprise plan to build the right subscription for your needs.
Otherwise, the Growth plan comes with every tool, feature, and integration that OptinMonster has to offer.
The Final Verdict
The question of "how much does OptinMonster cost" is easy. Again, here's a quick breakdown of the pricing:
Basic: $9/month
Plus: $19/month
Pro: $29/month
Growth: $49/month
But what you're really wondering is whether or not it's worth it.
That answer's just as easy: YES.
OptinMonster gives you the tools you need to grow your list, increase conversions, and boost sales FAST.
It's easy to use, so even total beginners can create high-converting campaigns in a matter of minutes.
Working with OptinMonster gives you everything you need to instantly become a digital marketing and lead generation master.
No matter what stage of business you're in – from startup to 9-figure enterprises – OptinMonster can take you to the next level.
In fact, it's already done that for SO MANY businesses, such as:
These are just a few examples, though there are many others.
So why would you leave your lead generation strategy up to chance any longer? Instead, click below to sign up for your 100% risk-free OptinMonster account.
All subscriptions are backed with a 14-day money-back guarantee, so there's literally no risk to you.
Click below to get started:
Get Started With OptinMonster Today!
BONUS: Done-For-You Campaign Setup ($297 value)
Our conversion experts will design 1 free campaign for you to get maximum results – absolutely FREE!
Click here to get started →
And that's all for today. We hope this article helped you determine if OptinMonster is the right tool for your unique needs.
If you enjoyed this post, you might want to check out the following resources:
These articles will have even more information about OptinMonster's features, benefits, and how you can use it to grow your business today!