If you hang around SEOs long enough, you'll find that one term will come up over and over again: Domain Authority. But what is it? Is it important? And, if it is, where do you learn how to improve domain authority?
In this post, we're going to answer your questions and teach you how to improve your domain authority through proven, time-tested techniques.
What is Domain Authority?
Domain authority is a way of predicting how well a website will rank on search engines. The official term and algorithmic score were invented by the good folks at Moz.
You can find your Domain Authority (DA) score through Moz's Link Explorer tool. Since Moz's introduction of the DA score, many other domain authority scoring systems have come out. For example, Ahref's Domain Rating and Majestic's Trust Flow and Citation Flow.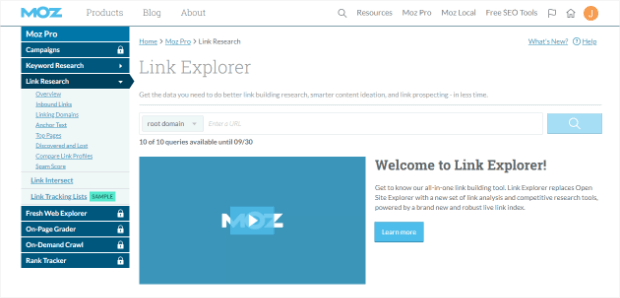 While some of the criteria for calculating these scores differ from tool to tool, they all measure the same thing: a website domain's SEO power.
Moz calculates DA by evaluating multiple factors including linking root domains, number of total links, and the strength of those links into a single DA score. Based on these factors, Moz issues a score from 1-100.
A higher score means a stronger website that's more likely to rank higher in the search engines. A lower score means a weaker website that will have trouble ranking for competitive keywords.
It's important to note, there's a difference between the official term and the general usage of the term.
People use the term loosely to describe how strong a website's SEO metrics are. For example, "My website is ranking number one for a lot of keywords. Therefore, it has a high domain authority." What they're really referring to is a site's general power and authority in Google search.
Why is Domain Authority Important?
Domain authority is an easy way of understanding of how Google ranks websites.
Google's ranking algorithms, and how they decide which websites will rank for which keywords, are somewhat of a mystery. Google shares best practices and their ranking factors but never reveals exactly how each website is ranked.
Domain authority is the most accurate representation of the search results landscape and a key to understanding why certain websites rank higher than others. Higher DA sites perform better than lower DA sites. As a result, there's a direct correlation between high DA scores and higher rankings.
Page Authority vs. Domain Authority
Domain authority measures the predictive ranking strength of entire domains and subdomains.
Page authority measures the strength of specific individual pages.
Although DA provides a better understanding of how your site is ranking overall, it doesn't mean that page authority isn't useful. In fact, page authority of your site's webpages has a direct impact on your overall DA and your search engine ranking.
How to Improve Your Domain Authority
When you first register a domain, it takes a while to build up your authority.
There are many factors that are important, like proper on-page SEO, making sure your website's content is high quality, keeping your site mobile-friendly, and let's not forget about your site's loading speed.
However, the biggest factor in increasing your DA is your link profile. In fact, you can basically consider the domain authority score as a measurement of how strong (or weak) your link profile is.
Backlinks are the #1 ranking factor in Google. While there are over 200 ranking factors, a strong link profile is the most important in getting your site to rank and increase search traffic.
Therefore, it makes sense that the biggest factor in increasing your domain authority is also backlinks. While not always so absolute, it's safe to say that in most cases, the stronger your link profile, the higher your Domain Authority.
#1. Get links from high Domain Authority websites
Getting backlinks from high domain authority websites plays a significant role in not only improving your own domain authority but improving your page authority as well.
And there are a ton of ways you can get authoritative backlinks to grow your link profile. For one, guest posting is a great way to do so. You're essentially exchanging a piece of content for a backlink. The higher the Domain Authority of that website, the stronger the backlink and the more link "juice" (yep, that's the actual term) is passed onto your own site.
#2. Eliminate/minimize spammy links
It's not just about earning strong links. Not getting a ton of spammy websites to link to you is also important in keeping a high domain authority. In terms of rankings, Google has gotten better at ignoring spammy links rather than penalizing websites for them.
But still, it's important to clean up your link profile periodically by performing a link audit, removing spam links manually, or disavowing them.
#3. Get links from real websites
These days, there are people who fake domain authority scores. Yes, it's possible and people actually do that (mainly in order to deceivingly sell backlinks on their websites for a price that's higher than they're really worth).
Also, there are many websites out there that have a good historical link profile but have been inactive for the past few years. Sometimes, they'll even have expired because the owner stopped working on them.
Some SEOs will buy up domains like these and build a network of websites with high domain authority, but no traffic, and then build links to their own websites they want to rank.
This is a red flag. Google, and tools like Moz, are getting better at identifying websites like these and not giving any value to them.
Therefore, a major signal of a strong link today is also measured by how much traffic that linking the website gets.
What Factors Does Moz Use to Determine Their Scores?
Moz uses a variety of 40 different factors to calculate your Domain Authority. Although not all of them are known, here are some of the most important ones:
Linking root domains: Root domains are the number of unique backlinks your website has. For example, if you have 1,000 links from one website, it will still be considered as a link from one root domain. If you have 3 links on 3 different websites, you'll have 3 root domains. You'll earn a higher domain authority from earning links from different websites than earning a bunch from one website.
Search engine friendliness: This refers to your site structure and user-friendliness of your site. If you have poor site structure, it will make it difficult for Google to crawl your site, hurting your ranking scores.
MozRank: This is the metric used to score the strength of your backlinks. It takes into account not only the number of external links you have but also the quality of those links. With Moz, it tends to be quality over quantity, meaning one excellent external link is better than having a couple of mediocre links.
MozTrust: Like MozRank, this is also a metric to calculate the quality of your backlinks. But it goes into more depth by analyzing how closely your website is related to trusted websites.
Related Content: 15 Ways to Get More Backlinks and Boost Your Search Engine Ranking
How Do I Find My Domain Authority?
As we mentioned earlier, you can find your domain authority score using Moz's Link Explorer tool.
Simply enter your website and it will show you your score, how many links you have, how many of those links come from unique root domains, and how many keywords you're ranking for as a result.
As you can see, OptinMonster has a domain authority score of 69. It has 263,300 total backlinks coming from 11,900 root domains.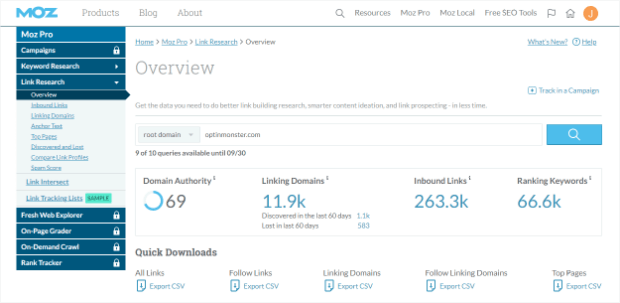 What about other tools with different scoring systems?
Moz's closest competitor is Ahrefs.
Instead of calling it domain authority, they refer to it as domain rating. It's the same thing, different name.
On Ahrefs, OptinMonster's score is 84. It has 697,000 total backlinks coming from 11,200 root domains.

It's important to note that each tool uses its own algorithms and scoring systems, which results in the different scores. They also have their own crawlers, which results in the different reported backlinks and keyword rankings.
Now you're probably wondering…
Is 66 a high DA score? Where did the DR of 84 on Ahrefs come from? What is considered a high domain authority, and what is considered a weak domain authority?
What is Considered a Good Domain Authority?
Generally speaking, a week domain authority score will fall somewhere between 0-20. Anywhere between 20-30 is getting there and between 30-50 is good. Once your score is in the 50-60 zone, it's really strong and once you've cleared that and you're in the 60-100, you've got an excellent domain authority score.
And to get to the 60-100 zone, remember that you'll want to spend the most time building your link profile, as it's the most important factor and will help your domain authority in the long run. Always aim to get the best quality links, not the most links.
There you have it! You now should have a much better understanding of domain authority and its importance to your site's rankings. Plus, you learned how to improve domain authority through high-quality backlinks.
And now it's your turn… Any thoughts on DA that you'd like to share? Let us know in the comments!
Did you know: Poorly designed popups can ruin user experience and hurt your rankings. Join OptinMonster today to get access to gorgeous, professionally-designed, fully customizable popups and optins that can help you make your visitors' experiences on your site even better!