Have you ever wonder why some people visit your website and leave without making a purchase? Instead of spending more money and efforts in growing your site traffic, focusing on improving your conversions can result in a better ROI. In this article, I will share 7 reasons why your visitors don't convert into customers.
Why people don't convert?
I'm guessing you already know some of the basics of conversion such as making a prominent offer, making it easy to convert, and so on.
But to get better at converting and really get to know your audience, you have to know why a person wouldn't convert.
The obvious answer could be that they aren't interested in what you're selling, which you can't really prevent.
But beyond that, it's usually the result of an innate fear or apprehension that prevents them from clicking the button.
If you can understand these fears that prevent your visitors from converting, then you can easily improve your conversions.
Let's examine some of these most common reasons why people don't convert in more detail.
1. The brand isn't trustworthy
The first fear is one of the most ambiguous which makes it hard to identify and hard to fix.
Most visitors look to a brand before they buy a product. A major household name, like Amazon or Walmart, instantly carries some degree of trust.
Repeat visitors often trust or distrust a brand based on their prior experiences. Meaning if you perform your duties well, then you can build consumer trust over time.
But what about first-timers? For them, you'll need to increase brand trust in anyway you can.
There are many ways to do this, including listing your affiliations, displaying customer reviews and feedback, and even including images of real people to make your brand seem more personable.

You have to make yourself approachable and demonstrate your authority.
2. The product isn't valuable
This is a tough problem to crack, since it comes in so many permutations.
It could be that your product doesn't appear useful. You might be too similar to a competing or existing product. Your product might be too expensive.
If you can narrow down these possibilities, you'll stand a better chance at correcting the trust problem.
If not, then you'll have to go with a handful of general fixes; summarize the unique value of your product, explain why it's worth what you're asking users to pay for it, and consider comparing it to a similar product on the market.
You have to show what makes your product both unique and valuable. And if you can't, then you have bigger problems than just a conversion rate.
3. The product isn't what's being sold
Anybody can write copy that makes a product seem great: "The last frying pan you'll ever own!" sounds pretty good, but modern consumers are skeptical of such seemingly perfect words.
If you want to win the trust of your users, then don't try to go over-the-top with your claims; instead, be straightforward and transparent.
Clearly explain the benefits and advantages of your product, and include real images or videos. Show your product being used in a real environment, even if it isn't perfect.
If you're honest and open, people will trust your messages more, and they'll be more likely to convert.
4. There's no fallback or guarantee
Consumers love safety nets, and if they can't see one, they might avoid converting entirely.
Put yourself in your user's shoes for a moment. If you order this product and it doesn't come, or it comes damaged or otherwise imperfect, what options do you have?
It's a thought scary enough to prevent some users from following through, but you can easily overcome this by including some reassurance – a safety net for your customers.
For example, you could make references to your stellar customer service department, or offer a money-back guarantee on your product.

Little touches like these can go a long way in making your customers comfortable enough to convert.
5. There's a better deal somewhere else
It's also possible that your users simply aren't converting because they can get a better price or a better product elsewhere.
Here, your first step is to ensure that you're communicating the value of the product clearly and effectively.
Your offer should be both valuable and unique in the market, and if it isn't, it needs to change.
Beyond that, you can compare a handful of similar products to show users what they'd be getting otherwise, or offer a price match guarantee that puts any competitive concerns to rest instantly.
6. Acting now would be impulsive
The moment a visitor hesitates, the conversion is as good as lost. They fear the repercussions of acting quickly, they procrastinate the decision, and they end up never making it.
To overcome this, include some call to urgency, such as a "limited time offer" or strong wording that compels quick action. See: how to use urgency to hack your conversion rates.
These can overcome the fear of impulse by making the impulsive decision a more acceptable one.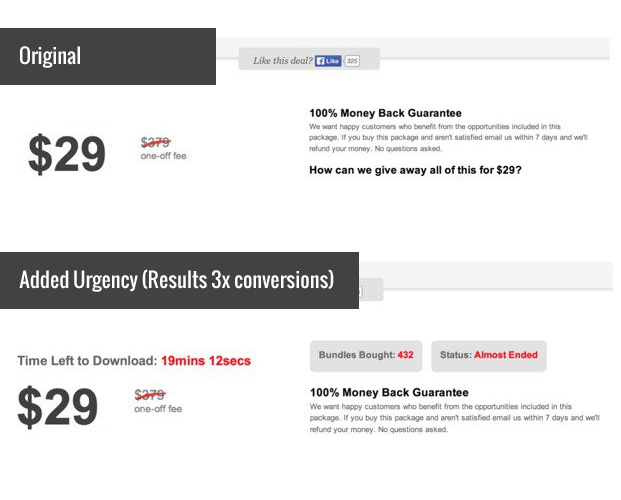 It's also a good idea to make the process as fast and simple as possible. The more steps you make in the process, or the more complicated you make things, the more chances your visitor will have to second guess their decision.
7. There's no information security
This is becoming an increasing concern as more data breaches become prevalent in the news.
Information security can refer to a range of different needs and consequences, from something relatively innocent like using a customer's email address for overly frequent messages to something devastating like the exposure of a credit card or social security number.
If you want your visitors to convert, then you need to reassure them that their information is in good hands. You can start by adding an SSL encryption layer to your site, and work with a trusted payment gateway to reassure customers their information is being handled properly.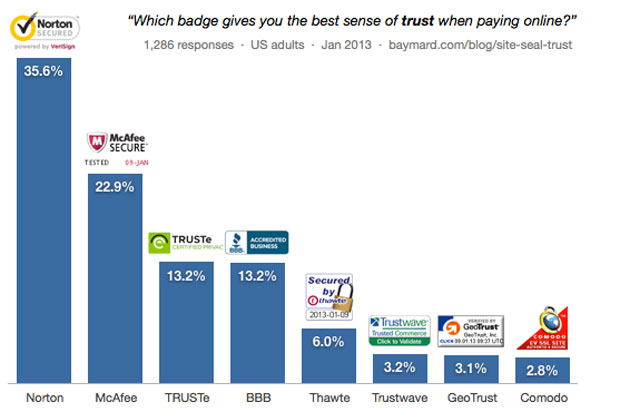 Additionally, you can include a privacy policy or other commitment of trust to win users over.
Once you understand and take action on these potential consumer fears, you should see your conversion rate start to rise.
Obviously, you won't be able to quell every fear of every user, but your customer behavior patterns should start to skew toward more confident conversions.
If you've taken action on these points, but you're still having trouble getting the conversions you want, then you may want to look at these 12 tips to reduce bounce rate and boost conversions.
You may also want to A/B testing your optin forms and landing pages to increase conversions.
If you liked this article, then please consider following us on Twitter and Facebook for more conversion rate optimization tips.