Are you looking for the best cart abandonment software and solutions?
We know how bad it feels to see your products left behind by your prospects. Its one of the worst feelings you can experience in business, because your hope gets crushed.
The energy and effort spent on driving traffic and converting users go to waste.
After all, there's no point in doing anything if your visitors don't pay.
So let's fix that.
In this article, we're going to look at the best cart abandonment software and solutions.
Each one of our mentions is capable of helping you convert users that want to abandon their cart.
Before we get to our list, let's try and see the bright side of things.
Why is Cart Abandonment a Good Problem to Have?
It might sound crazy, but having visitors abandon their cart is not that bad.
In fact, it's one of those good problems to have.
Why?
Because cart abandonment means you get traffic, and you have people interested in what you sell.
All you need to do is give them a little push (our software and solutions will help with that).
Plus, cart abandonment is very common.
The average cart abandonment rate across all industries is 69.57%. As you can see… you're not the only one dealing with this issue.
And because it's so common, there are plenty of ways to fix it. Or at least to improve your cart abandonment rate, and drop it by 15-30%.
Without further ado, let's look at the best cart abandonment software and solutions we gathered for you.
Our Top Cart Abandonment Software and Solutions: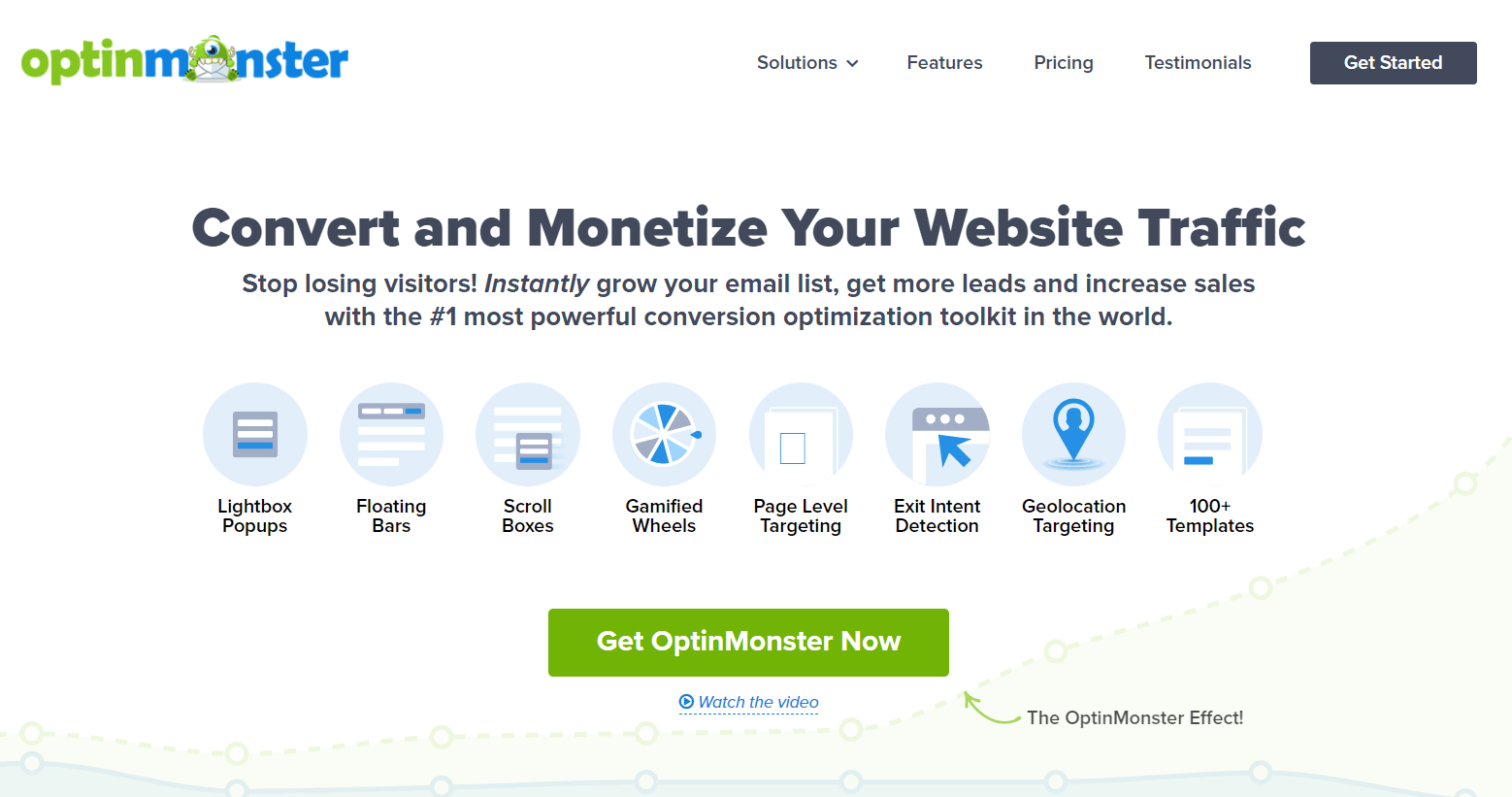 OptinMonster is the best cart abandonment software on the market.
It's versatile, has advanced functionality, and outstanding support. It's also one of the few solutions that can satisfy the needs of both beginners and grizzled vets.
If you're a beginner, there are plenty of tutorials and templates you can make use of in order to achieve your goals.
If you're a veteran, you can play around with different campaign types, Advanced Targeting, and Display Rules.
All in all, OptinMonster is perfect for those who are more serious about lowering their cart abandonment rate.
Features:
Exit-Intent Technology
Geo-Location Targeting
Mobile-Friendly Popups
Drag & Drop Builder
Multiple Campaign Types
Seamless Integrations
A/B Testing
Conversion Analytics
Pricing:
The cart abandonment solution is available in the Pro subscription plan, priced at $29 per month.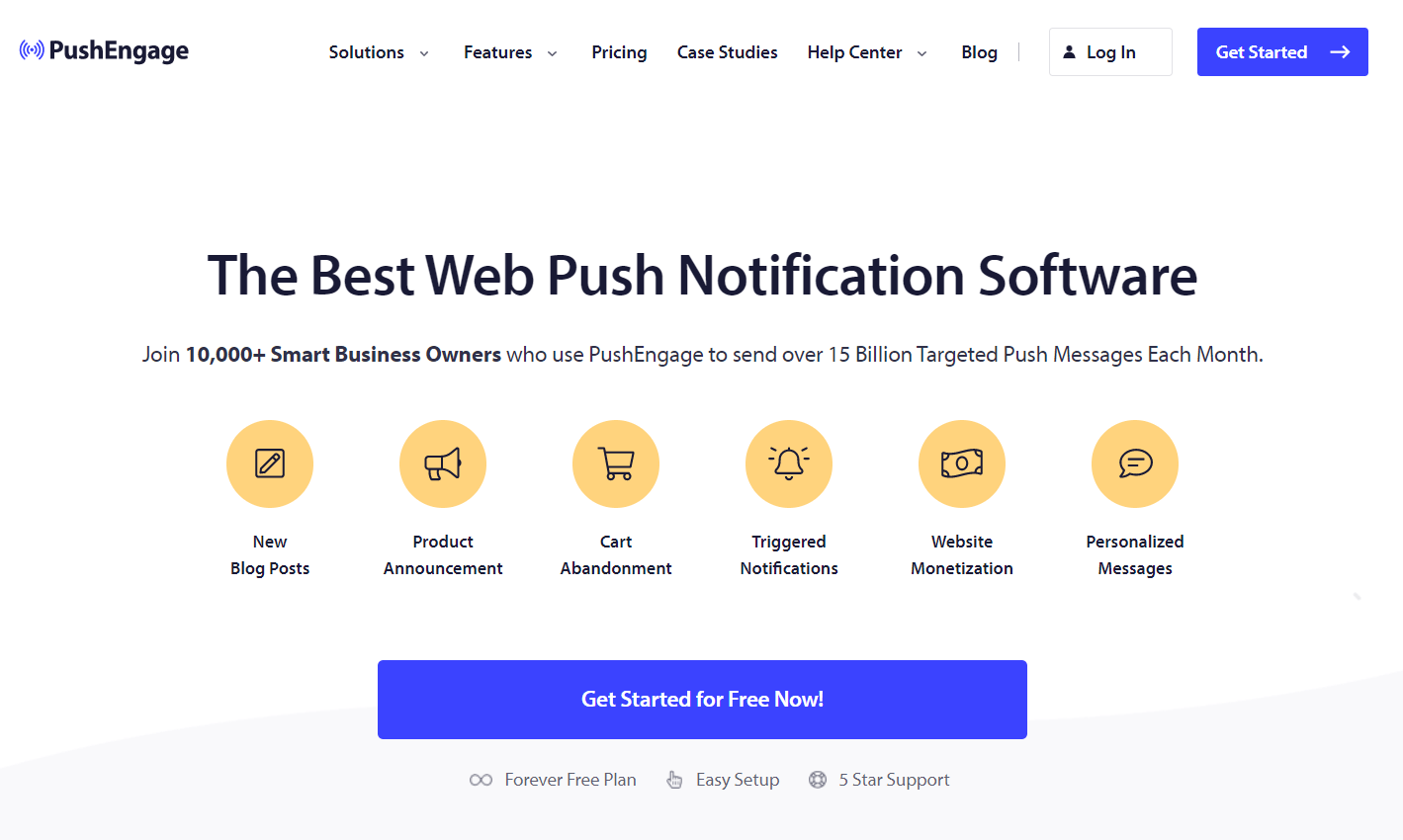 PushEngage is a great cart abandonment software for recovering lost revenue.
It helps you send targeted and personalized push notifications to your prospects. This can be done in under 10 minutes using one of PushEngage's top cart abandonment features.
PushEngage is also compatible with all web platforms, WordPress and Shopify included.
Best part? No coding skills required.
Features:
Geo-Location Targeting
Abandon Form
Browse Notifications
Goal Tracking & Analytics
Cart Abandonment Reminder
Automatic Drip Campaigns
Pricing:
The price starts at $9 per month for the Business plan, and it goes up to $29 per month for the Premium plan. For cart abandonment features, we recommend the Premium plan.
CartStack is another great cart abandonment software.
It comes with a variety of features that can help you reduce cart abandonment. In fact, you can use CartStack to reach out to your prospects on multiple channels at once.
That means you have the ability to send email reminders, push notifications, SMS reminders, and tab notifications.
CartStack also integrates with all major eCommerce and Booking platforms.
Features:
On-Site Retention Tools
Email Reminders
SMS Reminders
Push Notifications
Abandoned Tab Notifications
Multiple Integrations
Pricing:
The price starts at $29 per month for the Basic plan, and it goes all the way up to $149 per month for the Agency plan.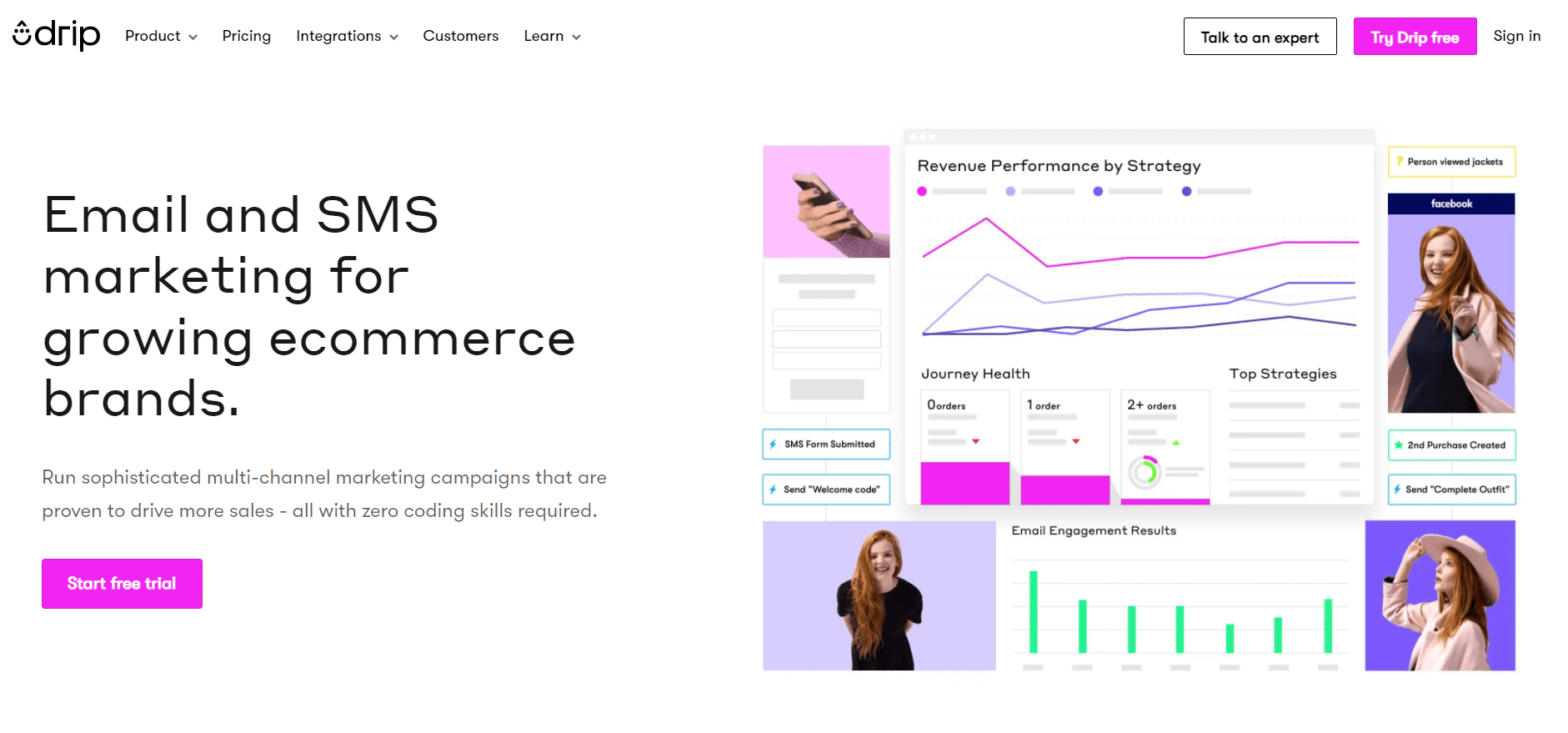 Drip is a straightforward cart abandonment solution focused on email and SMS marketing.
Since most visitors who abandon a website never come back, Drip gives you the opportunity to reach out to them in different ways.
You can use the data you have on your prospects and customers to create multi-channel campaigns focused on reducing cart abandonment.
We use Drip in our email marketing efforts, and we recommend it to anyone looking to grow their list and increase sales.
Features:
Multi-Channel Campaigns
On-Site Popups
eCommerce Playbooks
Multiple Integrations
Precision Targeting
Pricing:
The price is varies based on the size of your email list. It starts at $19 per month for 500 contacts.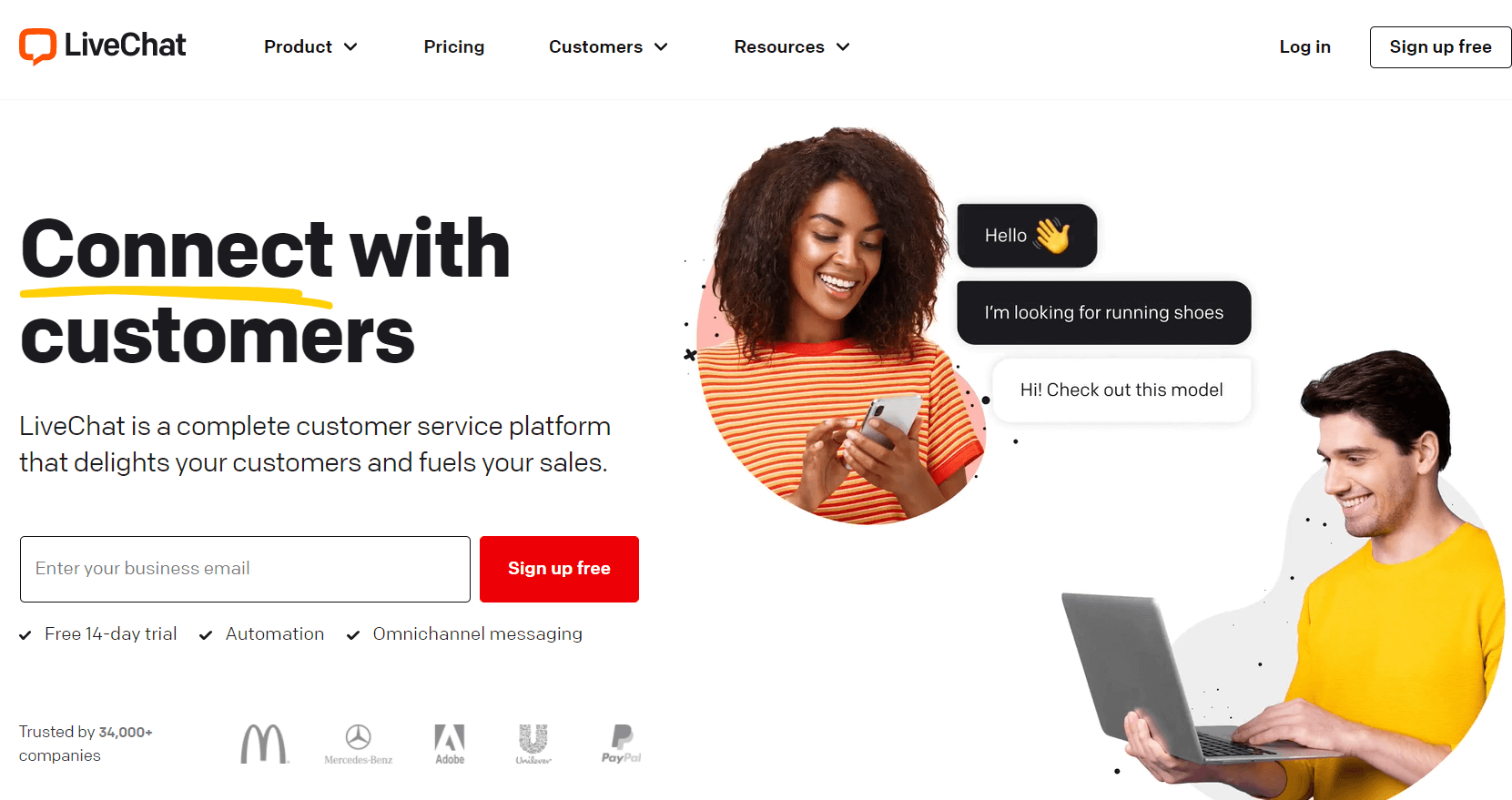 LiveChat is a cart abandonment solution perfect for having live interactions with your prospects.
There's almost no better way to reduce cart abandonment than approaching your visitor right as they are about to leave. The downside of LiveChat compared to other options we presented is the human factor.
More specifically, you need to have someone on your team ready to reach out and interact with those who are browsing your website.
However, that only applies if you want to interact 1-on-1. If not, then you can use automated responses, even if that's going to lower the conversion rate.
Features:
Custom Forms
AI Automation
Hundreds of Integrations
Targeted Messages
Notifications
Reports & Analytics
Pricing:
The price starts at $16 per agent/month for the Starter plan, and it goes up to $50 per agent/month for the Business plan.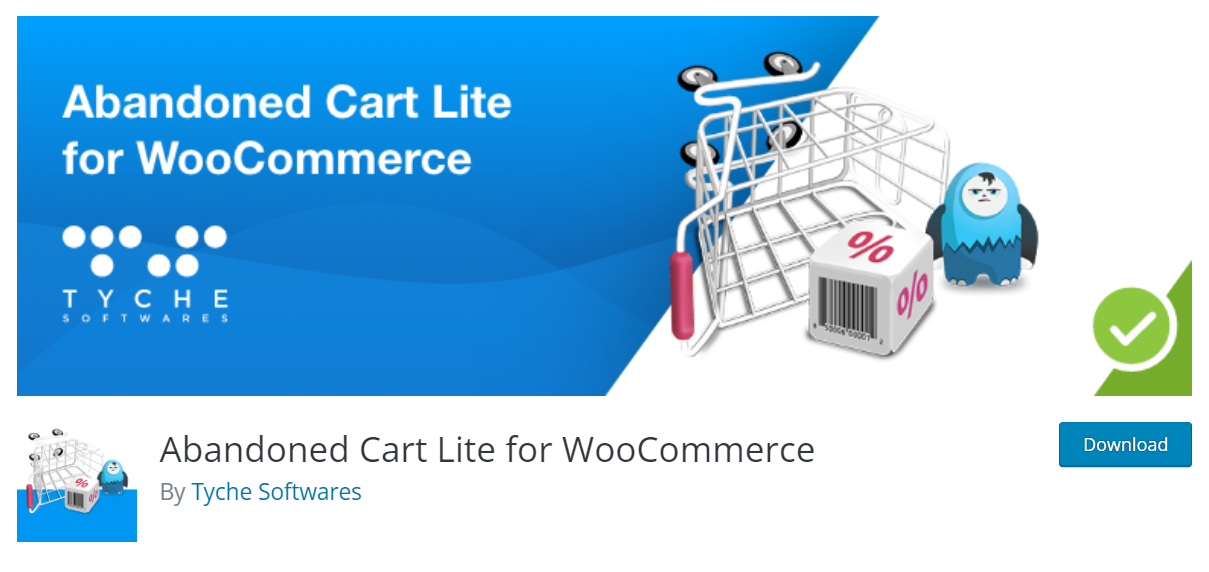 Abandoned Cart Lite for WooCommerce is a cart abandonment solution for WordPress.
It's simple and easy to use. This also means it doesn't have a wide range of features.
That being said, it still does its job well, and it reduces cart abandonment with the help of email notifications.
This particular solution is a good choice if you have a WordPress website and want to reach out to your prospects in a straightforward way.
Features:
Identify Abandoned Orders Information
Email Notifications
1 Default Email Template
Time Intervals
Custom Message Variables
Pricing:
The Lite version is FREE.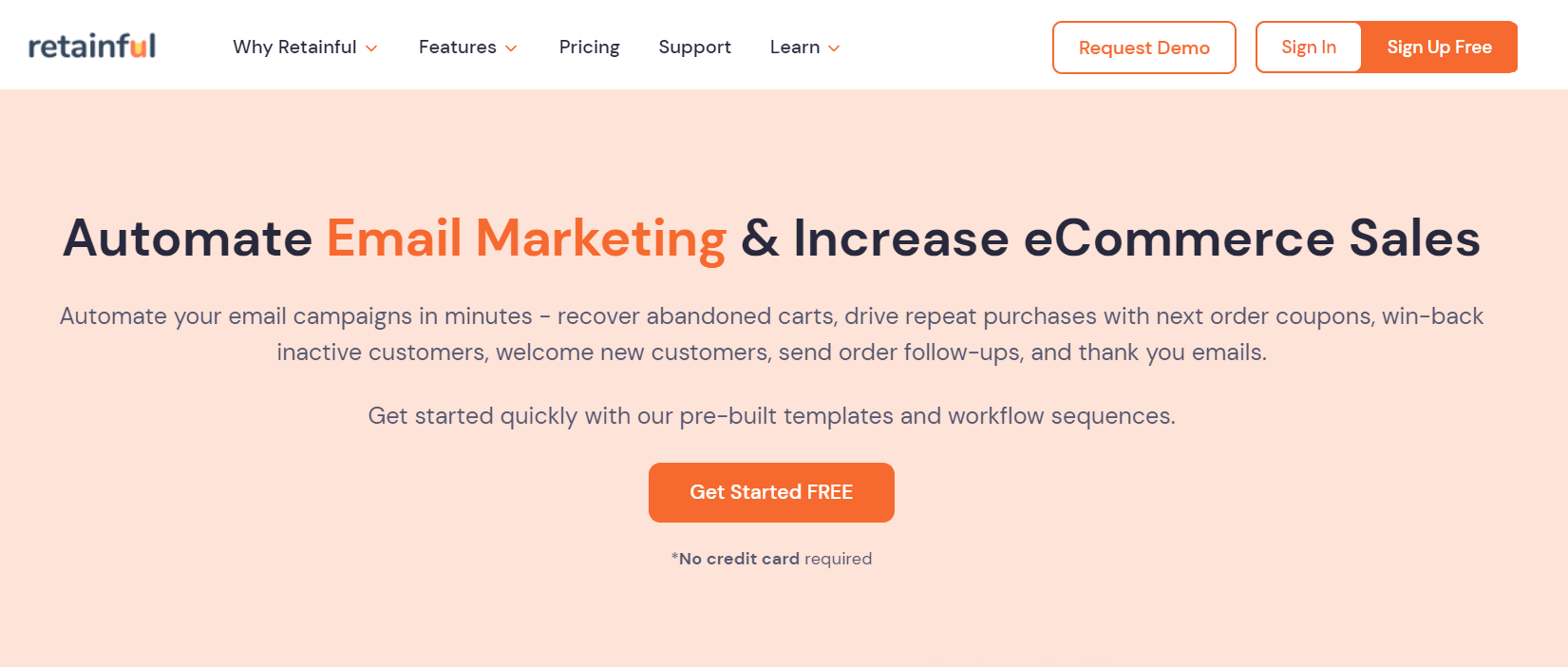 Retainful is a cart abandonment solution focused on email marketing.
It comes with multiple email-specific features that help you reach out to your prospects at different stages of the marketing funnel.
Retainful offers pre-built templates and workflow sequences, so it's a good option for beginners who never used a similar software before.
Features:
Exit Intent Popup
Personalized Cart Recovery Emails
Track Abandoned Carts
Pre-Built Templates and Workflow Sequences
Automated Email Campaigns
Pricing:
Retainful has a Free plan for those who are just starting out, and 3 paid plans for the more experienced users. The price starts at $19 per month, and it goes up to $199 per month.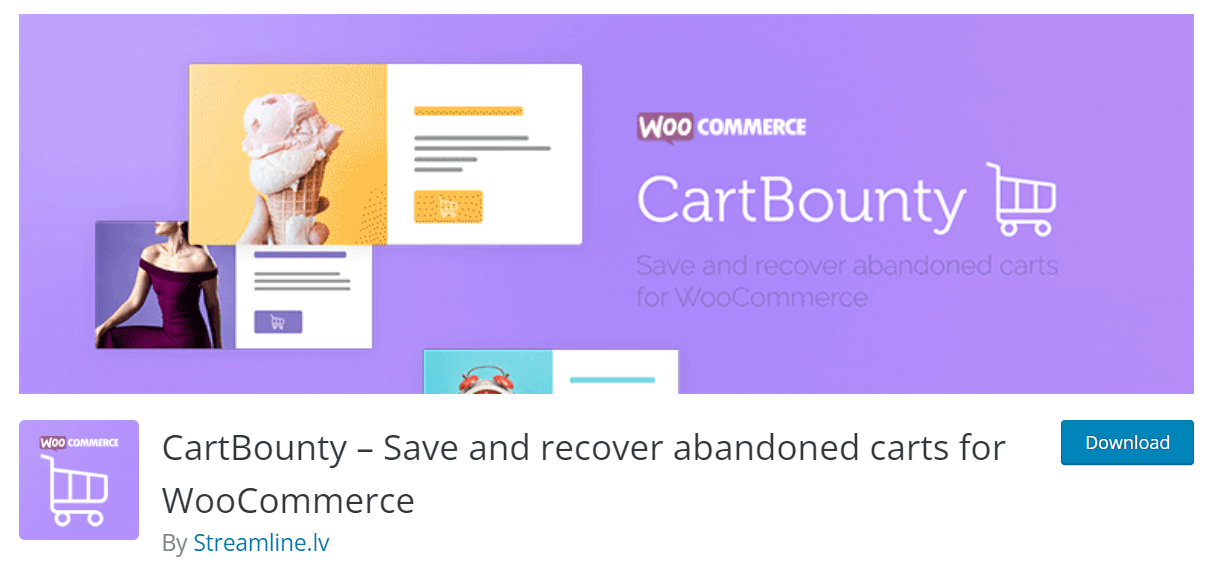 CartBounty is another cart abandonment solution for WordPress.
Similar with the other WordPress plugin we previously mentioned, CartBounty is simple and quite limited in its functionality.
This is the type of option we recommend to beginners who just started out their eCommerce business.
Features: 
Abandoned Cart Reminder Email
Remember Checkout Fields
Exit Intent Popup
Pricing:
The Basic version is Free. The Pro version is priced at $79 for a single website license.
What Cart Abandonment Software or Solution Should I Choose?
It all depends on how you want to handle the issue.
Our recommendation is to combine the solutions we presented. That way, you can approach your visitors in multiple ways, from different angles.
The more you address their objections, the higher your chance of success.
And don't worry… you can do this in a way that's not sleazy.
Even if some of your visitors get frustrated with how often you interact with them, it's not like they were planning to stay in the first place.
Plus, know that there will always be people who won't like your marketing approach, no matter how hard you try to do things perfectly.
In any case, we put together an actual example of how you can reduce cart abandonment by combining the software and solutions we presented.
How To Reduce Cart Abandonment (Example):
1. Use OptinMonster to create an Exit Intent Popup.
OptinMonster's Exit Intent Technology tracks your visitor's cursor. When your visitor tries to exit the page, a popup will appear.
The goal of the popup is two-fold.
On one hand, it automatically reduces cart abandonment. On the other hand, it generates leads.
When it comes to lowering the cart abandonment rate, giving discounts is one of the best approaches you could take. You can send your visitors a discount coupon in exchange for their email address. This type of campaign converts well for most businesses.
Even if your visitors don't use the discount coupon, you still get their contact information and you can follow-up with them later on.
And this takes us to step 2 of the example.
2. Use Drip to create a cart abandonment email sequence.
Place those who abandoned their cart in a special list. You can easily connect OptinMonster with Drip to accomplish this.
Then, create an email sequence of 3-4 emails to grab their attention and make them come back and finish their purchase.
For advice on how to write great emails, you can check OptinMonster University (FREE with an OptinMonster account).
Ideally, you would want to send the first email in maximum 60 minutes from the moment they opted in. This, of course, can be done inside Drip.
3. Watch your cart abandonment rate drop.
Just by following this simple example you can reduce cart abandonment by 10-15%. You don't have to reinvent the wheel or test complicated strategies in order to get results.
If you don't know how to start with OptinMonster, we'll help you out.
Get a FREE Cart Abandonment Campaign ($297 value) When You Register for an OptinMonster Account!
We'll take the first step towards solving your cart abandonment issue.
How?
When you first join OptinMonster, we'll have one of our conversion experts create a cart abandonment campaign for you. This campaign will be fully functional and personalized to your needs.
If that sounds good, register for an OptinMonster account below.
Get Started With OptinMonster Today!
BONUS: Done-For-You Cart Abandonment Campaign Setup ($297 value)
Our conversion experts will design one High-Converting Campaign for you to reduce your cart abandonment rate – absolutely FREE!
Click here to get started →
Enjoyed This Article? Give These a Try Next: