You may be thinking about guest blogging to grow your email list.
After all, it only takes a few hours to write a guest post for a popular blog like The Huffington Post, Forbes, or Lifehacker. And, in exchange, you get a free backlink to your website – bringing you a huge surge of traffic.
However, if you want that traffic to translate into email subscribers, then simply getting published is not enough.
You need to optimize your guest post for optins.
Unfortunately, most bloggers overlook this. And it's costing them 1000s of subscribers.
Let's look at 6 common guest blogging mistakes and how you can fix them.
By the end of this post, you'll have the exact formula on how to turn your guest posts into a powerful lead-generating machine.
Let's go!
1. You're Writing For the Wrong Blogs
Most guest posts crash and burn before they're even published. Why? Because they were written for the wrong blog.
You see, not all guest posting opportunities are created equal. Many blogs are a complete waste of time to write for (even if they appear to be a great guest posting opportunity). No matter how good your guest post is, it doesn't stand a chance of getting optins if you publish it on one of these blogs.
So how can you tell the difference between a good blog to write for, and a bad one?
Every blog you write for absolutely must have these essential elements (if it doesn't, your guest post is doomed):
Allow Unsolicited Guest Contributors
Before you waste any time writing a guest post or pitching your idea, you need to find out whether your target blog even accepts guest contributors.
Some blogs that obviously have guest contributors don't actually allow you to write for them without an invitation (e.g. OptinMonster).
On the other hand, some popular blogs that don't openly accept guest contributors actually do… in secret. (They just don't want too many people to find out about it, or they'd be overly swamped with pitches.)
So how do you know if the blog you want to write for will even accept your pitch? Follow these steps to find out if they accept unsolicited guest posts or not:
In the blog's navigation bar, look for a page with guest posting guidelines, such as "Write For Us" or "Submissions". Check the footer too – sometimes it's discretely placed at the very bottom of the page.
If you can't find any information in clear view, it could be that the blog is hiding their guest post guidelines. To reveal a hidden page, do a Google search for:
site:exampleblogurl.com guest post


OR:
site:exampleblogurl.com write for us


This will search all the pages on that blog for those keywords.
If you still can't find any official guidelines, look at their blog posts to see if any guest contributors have written for them. Are the posts written by different authors? Or do they only appear to have one, or just a few authors?
If there are a lot of different authors, that's a good sign that they accept guest contributors. However, it's not a guarantee that they accept unsolicited pitches.
When in doubt, find the blog author's email or the editor's email on the "About" or "Contact" page. If all they have is a contact form and no email address, reverse-engineer it using a free tool called Pipl.
Simply type your best guess at the email address and see if you get a hit.

(Hint: most people use their name @ their website's url. E.g., name@exampleblogurl.com.)
Then you can send them a quick email to ask if they will accept a guest post pitch.
Shares & Comments
You may be thinking that the more traffic a blog gets in terms of monthly page views, the better a candidate it is for guest blogging. After all, you want your post to get the most exposure it possibly can, right?
However, if you want to get a lot of optins, page views are not the best indicator of whether a blog is a good target.
You see, a blog could get tons of traffic each month, but that doesn't mean their audience is actually engaging with the content.
The best indicators of an engaged blog audience are shares and comments. An audience that engages with the content by sharing it on social media and commenting is far more likely to click through to your site and optin to your email list.
Take a look at the 10 most recent posts on the blog in question: do they get consistent shares and comments (preferably 50 or more total shares and 20 or more comments per post)?
If the blog doesn't include a social share count, that could be a sign of poor engagement. You can know for sure by plugging the site's url into BuzzSumo.com to see how many shares their posts are actually getting.

A Byline
Your target blog may accept guest posts and have good engagement, but if they don't give you credit for your work with a byline (a.k.a. an "author bio") then you have no hope of getting clicks back to your site, and you won't get any optins to your email list.
So what is a byline and what does it need to include?
A byline isn't just your name or a headshot. It must include a brief description of who you are, and you must be allowed to include at least one link back to your website. These are non-negotiable.
The byline could be at the top of the post, like this one by Jeff Goins:

Or it could be at the bottom of the post, like this one by Kevin J. Duncan:

Either way is fine. However, the byline must be located on the same page as the guest post. If you have to click on the author's name in order to see their author bio, that is a deal breaker.
Your Target Audience
If the people you want to have on your email marketing list aren't reading a particular blog, why write for it? It would be completely pointless.
You see, your guest post could be seen by 100,000 college graduates looking for their first job, but if your target audience is business professionals between the ages of 30-50, then you are just wasting your time.
Know your target audience and what blogs they like to read. Here's a quick way to find blogs that your target audience frequents (if you already know one blog that they like to read):
Login to your Facebook account and click on "Ads Manager" on the left hand column. Then click on Tools » Audience Insights.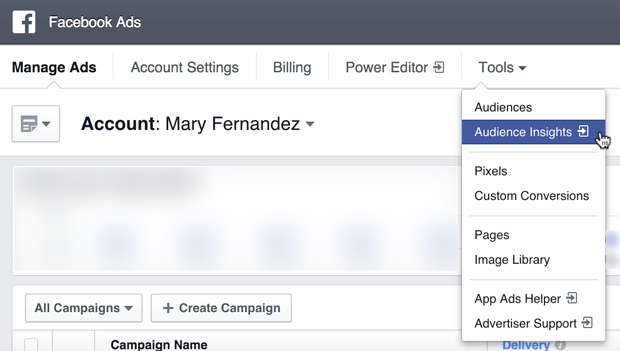 Choose "Everyone on Facebook" to start discovering your target audience from scratch. (Or, if you already have fans on Facebook, you could choose "People connected to your Page" to get insights about what blogs they like to read.)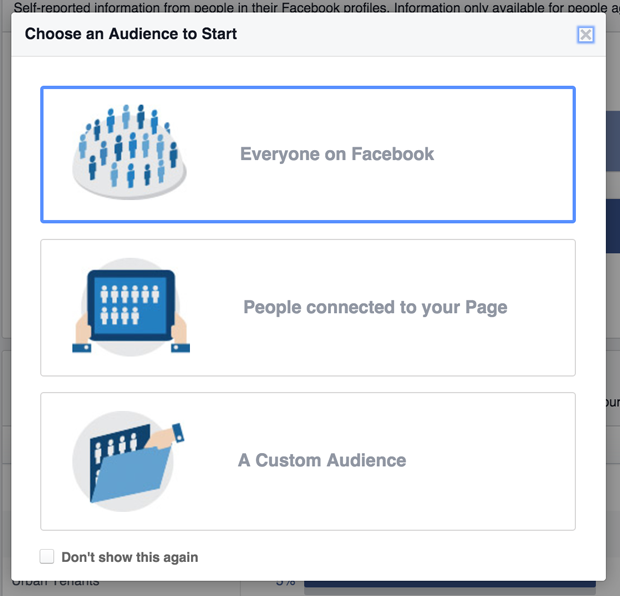 On the next screen, you can select the demographics that you wish to include from the "Create Audience" column on the left hand side.
Under the "Interests" field, type in the name of the fan page for a blog that you think your target audience loves to read (this will help narrow your search). Or, if you don't know any blogs that they like to read, select from one or more of the topics listed in the dropdown menu.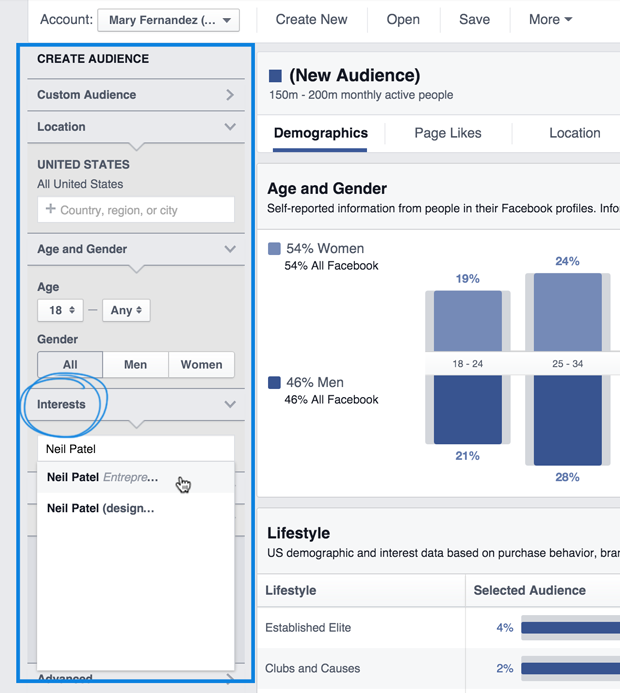 Now you will be able to see what other blogs and magazines they like to read (and what people they like to follow, which will help you deduce even more blogs that they like to read) by clicking on the "Page Likes" tab.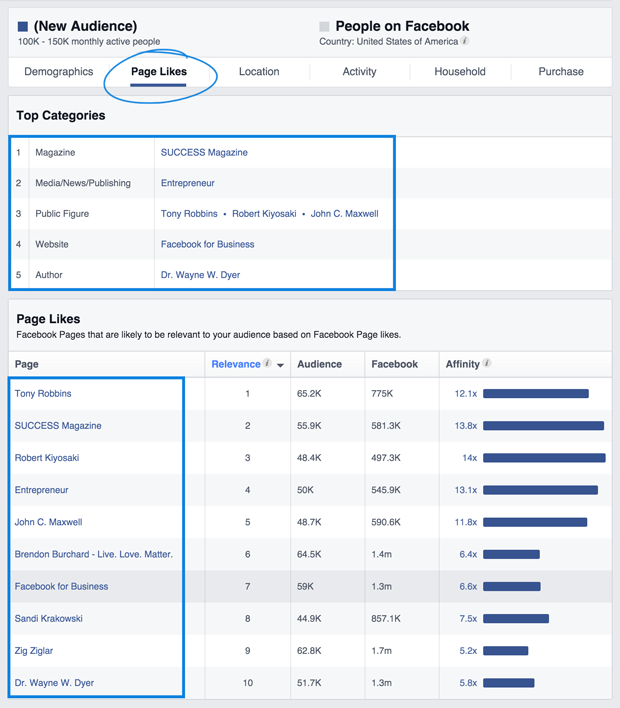 Email Updates (BONUS TIP)
A blog is a particularly good target to write for if it sends email notifications to their list to notify them of updates. That means, when your guest post is published, tens of thousands of people could be receiving a notification right to their inbox.
The blog emailing updates is not an absolute requirement for every blog that you guest post for. But, if you have the opportunity to write for one of these blogs, and all the other points above check out, then you should jump at the chance!
Note: You're probably wondering, "How can I know whether or not a blog sends email notifications when a new guest post is published?" Easy. Join their mailing list! Then you'll see what they do (or don't do) first hand.
2. You're Choosing the Wrong Topics
Choosing the right topic to write about is critical. Mess this one up, and your guest post will attract people who don't actually want to opt in to your email list.
There is one key to discovering the best topics to write about:
Know what keeps your target subscribers lying awake at night.
If you know what keeps them lying awake at night, you can write a post to help them solve their biggest obstacles and achieve their greatest ambitions. Not only will you be attracting the right people with your guest post, but you'll have them so excited they simply won't be able to resist opting in for more!
So how do you discover what keeps your ideal subscribers lying awake at night?
Go to Amazon.com and search for books in your niche. For instance, if your business is fitness, search for books on weight loss or strength training.
Then read all the reviews, both positive and negative. You may need to read a bit in between the lines, but the exact blog topics you should be writing about will be revealed…
To demonstrate, here are some examples of actual Amazon book reviews in the "weight loss" category, with corresponding blog topics:
Review: "I am one of those people who can stick to a diet, but can't lose weight."
Blog Topic: 6 Reasons You Can't Lose Weight, Even Though You Eat Like a Bird
Review: "Helpful information, but most I already knew. Not much along the lines of NEW information."
Blog Topic: 33 Weight Loss Tips You've Never Heard in Your Life
Review: "For the first time ever, at age 64, I am leaving food on my plate…"
Blog Topic: Train Yourself to Leave Food on Your Plate in 5 Simple Steps
See how easy it is to find the most relevant, exciting topics for your ideal subscribers?
But don't limit your search to Amazon… Facebook groups, LinkedIn groups, and forums in your niche are also great places to look for problems that keep your ideal subscribers lying awake at night.
Answering any of these questions from Quora would make an excellent blog topic: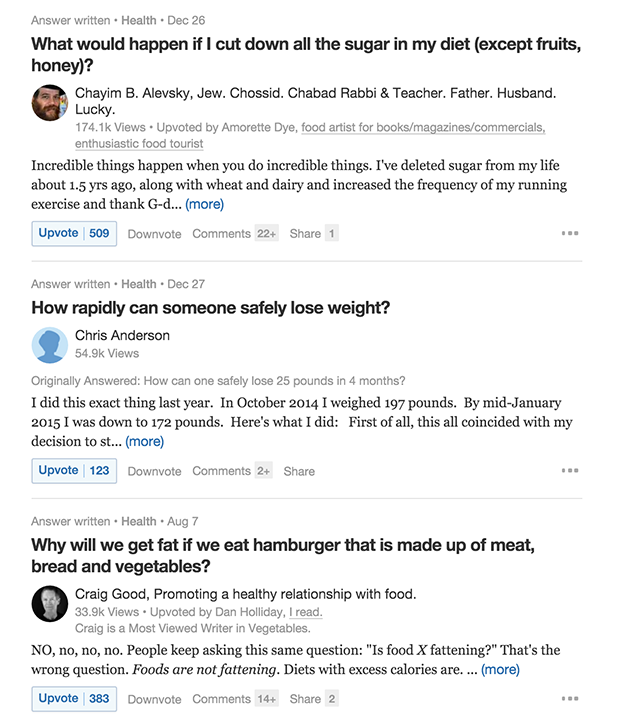 You can also spy on your competitors with BuzzSumo to see what topics are working well for them, and then use that information to write even better content.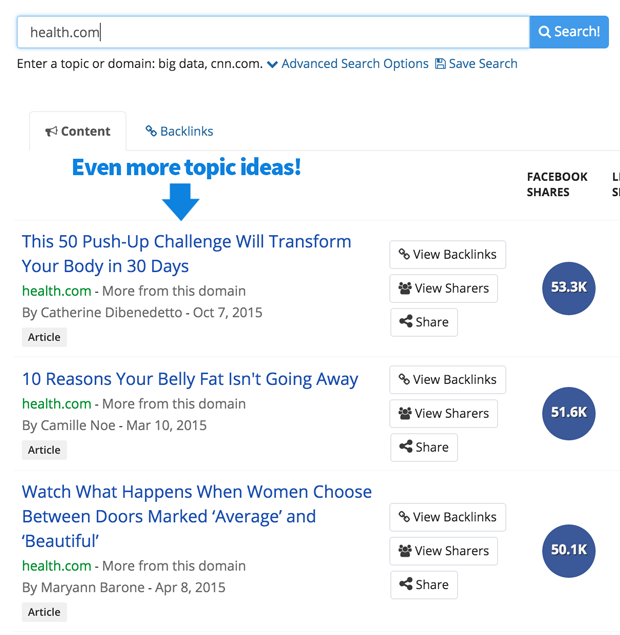 3. You Have Too Many Links in Your Byline
You may be thinking the more backlinks you can get, the better. More backlinks should equate to more optins, right?
But that is actually completely wrong.
You see, researchers have found that giving people too many choices makes decision making difficult, and leads to procrastination.
The same is true for your readers who are deciding what action to take next after reading your guest post. If you give them too many links to choose from, they will procrastinate (and probably never decide).
Giving people fewer choices is not only better for getting more clicks through to your website, but it's also better for keeping them happy after they click through…
As Barry Schwartz says in his book, The Paradox of Choice, choice makes us dissatisfied. The more choices we have, the higher our expectations, and the more likely we are to be disappointed by the outcome of our choice. Whereas, if we only have one choice, to "take it or leave it", we'll be happy that we even had that option.
So don't ask people to follow you on your various social profiles, visit your homepage, and download your lead magnet. Instead, make their decision easy by including just one link in your byline.
Where should you direct your one link? Simple: to an optin landing page. That way, in order to get anything more from you, they'll have to opt in to your email list. Take it or leave it.
4. Your Link Lacks an Enticing Call-to-Action
When it comes to writing out their byline, what most guest bloggers do is say something like this…

On the surface, this byline sounds OK (aside from there being two links as opposed to one). The problem is it lacks an enticing call-to-action.
Sure, asking readers to connect with you on Twitter or to learn more by visiting your website is a call-to-action, it's just not a particularly enticing one. It doesn't encourage readers to click.
An enticing call-to-action link consists of two parts:
1. A clear explanation of what you want the reader to do
(e.g. "Click here to download John's free guide…")
2. An enticing lead magnet that describes how the reader will benefit
(e.g. "The 30 Essential Tools Every Carpenter Needs")
Example: "Click here to download John's free guide: The 30 Essential Tools Every Carpenter Needs."
When crafting an enticing title for your lead magnet, resist the urge to write a cute, clever, or vague title that doesn't clearly describe what the reader will get and how they will benefit.
These inventive titles require people to think, and making people think often leads to confusion. So if you want your call-to-action to be effective, don't make people think.
Instead, treat your lead magnet title like a blog post headline. List post style headlines work particularly well for lead magnets. Spend time on it – at least 45 minutes if you are new to this.
If you are struggling with writer's block, here's what to do:
Open up a text editor (like Evernote) and write down whatever title comes to mind first. Don't be hard on yourself if you think it sounds terrible.
Just hit the return key to start a new line, and write a variation of your first title.
Then, for the next 20 minutes or so, just keep going… keep tweaking your title to see how many different variations you can come up with.
After the 20 minutes are up, take a break and do another activity for a while. When you come back to it later, you'll find that new ideas spring to mind, and your variations will keep getting better and better.
Highlight your favorites in bold as you go along, so you can revisit them later.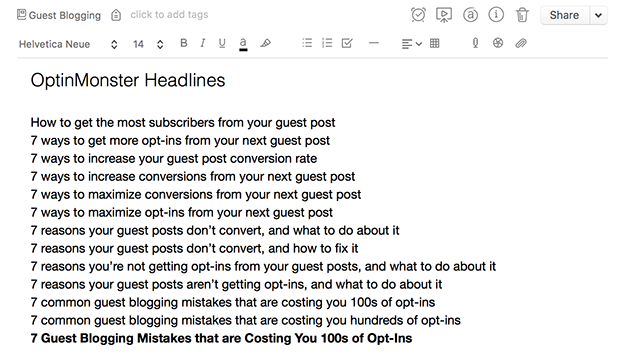 Eventually, you'll find a winner.
5. Your Landing Page Isn't Personalized
Now that you've enticed your readers to click through from your byline to your optin landing page, all you need is for that landing page to convert.
This part should be relatively easy, given that the traffic coming to this page is warm (they've already read your content and liked it), as opposed to cold traffic (people who have no idea who you are).
But be careful: it is also easy to screw this part up… And if you do, you'll lose a ton of optins.
The good news is, there is a way to practically guarantee that your landing page converts, just by adding one simple ingredient…
Personalization.
You see, psychologists have found that marketing messages are more persuasive when they are personalized to reflect the interests, concerns, and even the personality traits of the target audience.
Unfortunately, most guest bloggers miss this opportunity to personalize their landing page. Don't make the same mistake!
Here are 3 ways to use personalization to create the highest-converting landing page possible:
1. Personalize the Pre-Headline
Before writing any other copy on your landing page, you should include a pre-headline that addresses the audience by name.
For example, when John Corcoran appeared on the Suitcase Entrepreneur Podcast, he personalized his optin landing page for them with the pre-headline, "Welcome Suitcase Entrepreneur Podcast Listeners".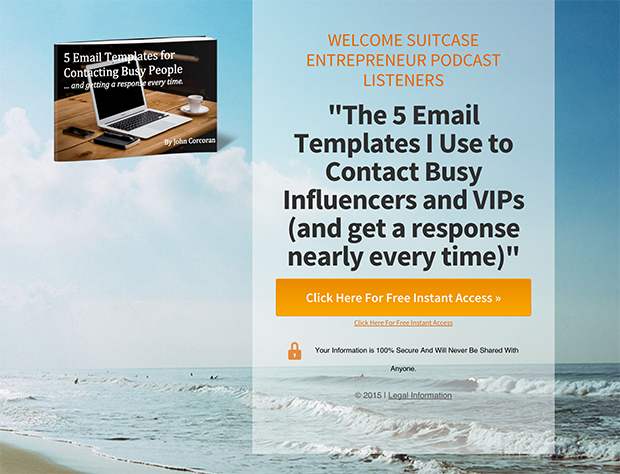 You should do the same with each of your guest post landing pages. When you write for Lifehacker, for instance, your pre-headline could read, "Exclusive Lifehacker Reader Bonus!"
This way, the very second that a visitor lands on your optin landing page, they will see that it is specific to them.
Remember, you are asking them to leave the blog they are used to, and put trust in you. They may be skeptical at first, but personalizing the pre-headline helps immensely by bringing down those psychological barriers.
2. Personalize the Lead Magnet
Make sure your lead magnet is something very specific to the audience reading your blog post. That is, it needs to be directly related to your blog topic. When your visitors read your main headline, they will be able to quickly assess whether it is relevant to them.
Bryan Harris normally experiences 20-30% conversion rates on personalized lead magnets, and some even as high as 62%!
For example, if your post is about how to plan your day better and get more done, create a lead magnet that lists the best scheduling and productivity tools to use.
If your post is about how to host a memorable party, offer a PDF checklist of all the decorating supplies you'll need.
If your post is about how to eat for increased energy, give a list of "superfoods" that they can print out and put on their refrigerator.
Each one of these examples is highly relevant to the readers because they are simply a continuation of the guest post: they take the same topic further. Or, they offer a download of the same steps or resources mentioned in the post.
Remember: your lead magnet doesn't have to be elaborate. In fact, lengthy eBooks, courses, etc. don't always do as well as simple PDF checklists because they may be perceived as too time-consuming.
3. Personalize the Call-to-Action Button
Finally, you need your visitors to take action by clicking on the button and opting in. The best way to make your call-to-action enticing is by personalizing the button copy.
So instead of a generic button that says, "Subscribe" or "Sign Up", write copy that directly relates to the lead magnet that they will be getting.
For example, if you are offering a checklist of steps to setting up your YouTube channel, the button could echo back, "Click Here to Download the 7 Steps".
Or, if you are offering a video tutorial showing how to apply a makeup look, the button could read, "Watch the Step-by-Step Transformation".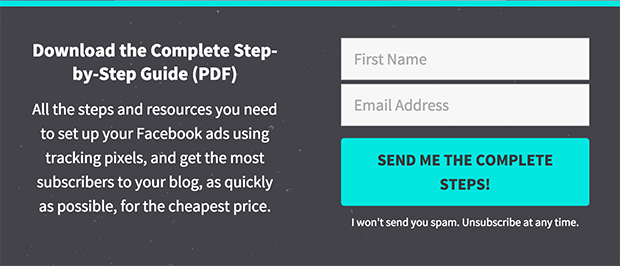 See how much more appealing that is? Those buttons are just begging to be clicked. You can also A/B test the buttons to see what converts best.
6. Your Homepage Isn't Optimized for Optins
If you've followed all the advice so far, you should be in really good shape to get a large number of email subscribers from your guest posts.
However, ignoring this one piece of advice alone could cost you hundreds of extra optins.
You see, not everyone is going to click on the link in your byline and get to your landing page. Some people will skip right past that and move on to the comments section.
And if you are replying to the comments (which you should be), then your name could be hyperlinked to your main homepage.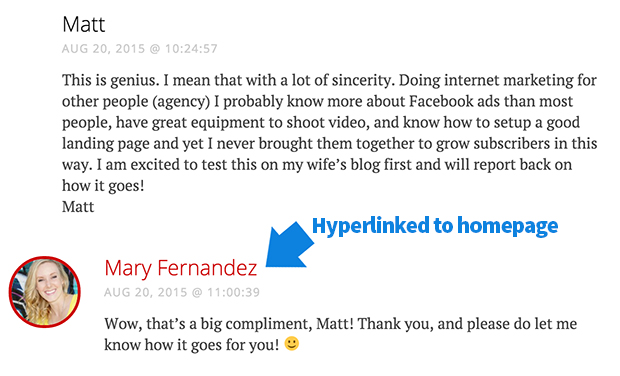 Don't make the mistake of underestimating the importance of an optimized homepage. You may be surprised at how much traffic it will get when your guest post goes live.
Here are 3 things you absolutely must have on your homepage before you publish your guest post:
1. A big optin form above the fold
Michael Hyatt features an optin form for his free eBook right beneath the hero image, above the fold: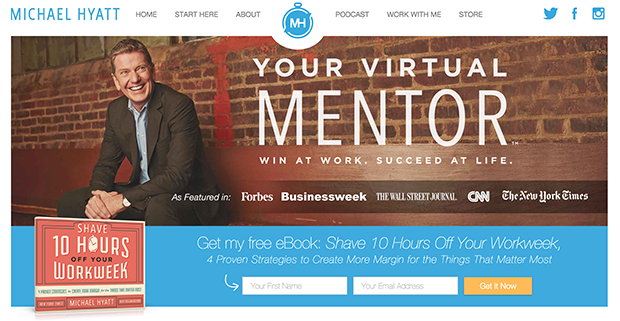 2. A bold call-to-action button in the navigation menu
KissMetrics makes their "Request A Demo" button stand out in bright blue:

Or, if you'd rather have a call-to-action bar spanning across the top or bottom of your page instead of within the navigation menu, OptinMonster's Floating Bar is a great alternative.
3. An exit-intent popup
Syed Balkhi has an exit-intent popup form that shows up when the visitor moves their cursor outside of the webpage: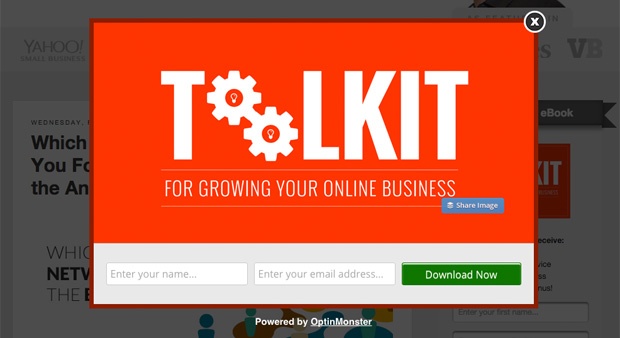 You can also use the referral detection option in OptinMonster to show custom optin messages based on where the visitor is coming from.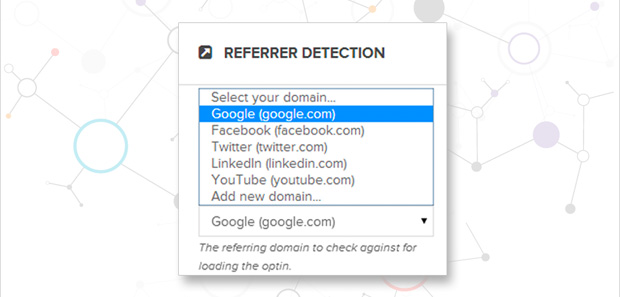 This allows you to show personalized optin forms through out your website.
Want something similar on your website?
Start using OptinMonster
to convert website visitors into subscribers and customers.
4. Turn Your Homepage into a Quasi-Landing Page
If you really want to go hardcore with your optin optimization, you can turn your homepage into a quasi-landing page by removing the navigation from the header and placing it in the footer instead.
Then, use the rest of the page to promote one universal lead magnet, such as a mini course or your very best freebie.
Neil Patel uses his entire homepage to showcase his webinar, with a very subtle navigation menu at the very bottom: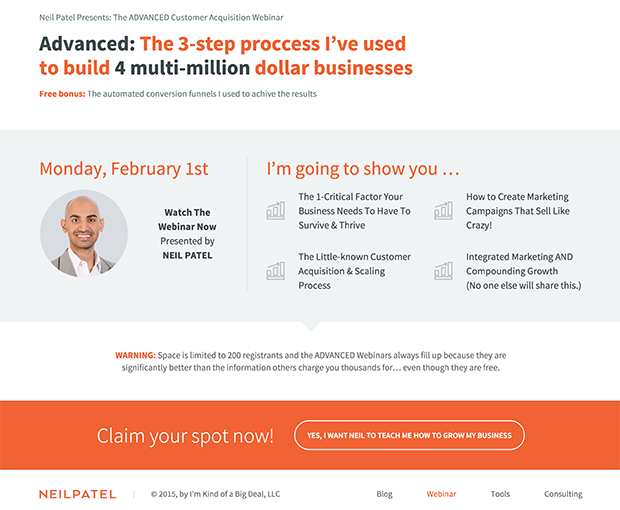 Conclusion
Guest blogging offers a huge opportunity for you to get optins to your email list. When you optimize your posts properly, guest post traffic converts really well.
In fact, Daniel DiPiazza got nearly 10,000 new subscribers in just 3 days after publishing this one guest post.
Because guest post leads are very warm (they've already read your content and liked it), they are much more likely to actually buy from you.
DiPiazza's guest post not only resulted in a ton of new subscribers, but those exact same leads who read his guest post ended up purchasing $10,360 worth of products and services within 30 days of the publish date.
Start by analyzing the blogs you wish to write for to determine whether they are really good opportunities. It is important to know what blogs your target audience is reading, so do your research before you spend any time writing for a particular blog.
Then, you can use the tips above to optimize your guest posts for lead generation, and start getting surges of traffic, leads and sales on demand.
How do you use guest blogging to get optins to your email list? Would you like to share your results from a guest post you wrote? Leave a comment below to let us know.