Are you thinking about adding pop-ups to your site, but not sure whether it will really work? The top brands in the world are using pop-ups to get more leads and sales, and if pop-ups work for them, they can certainly work for you too. In this post, we'll share 40 top brands that are using pop-ups to increase their conversions.
Did you know that adding pop-ups to your site can double your subscription rate? In fact, when Entrepreneur.com added pop-ups to their site, their subscriptions increased by 86%, and their sales increased by 162%!
But before you think that's just a fluke, or it only works for Entrepreneur.com, think again. As you'll soon see, pop-ups are being used by the top brands in the world. Why? Because they work.
Here are 40 top brands that are increasing their conversions with pop-ups…
1. Amazon
When you first visit Amazon.com, you'll see a pop-up box appear prompting you to sign in to your account or create a new login.

2. Walmart
Walmart uses a similar pop-up on their website as well. The pop-up only appears for a few seconds on your first visit, but it is enough to draw your attention towards the main call-to-action: to sign in, or sign up.

3. McDonald's
McDonald's wants to get you into one of their restaurants, so their pop-up asks if they can use your location. Once you hit the "allow" button, they will display the nearest location to you.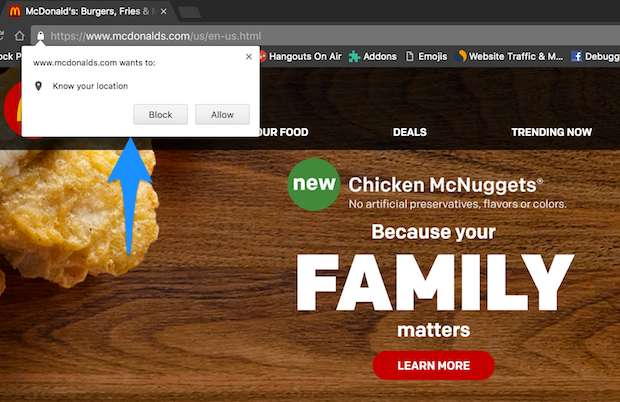 4. Kellogg's
Kellogg's uses a lightbox pop-up that appears just a couple seconds after page load. Their offer is to sign up for "family rewards", which gets you special offers and coupons.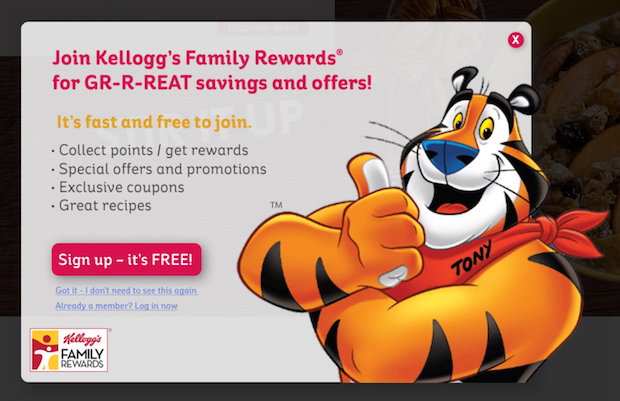 5. Colgate
Colgate also uses an immediate lightbox pop-up on page load to capture your email address in exchange for coupons, etc.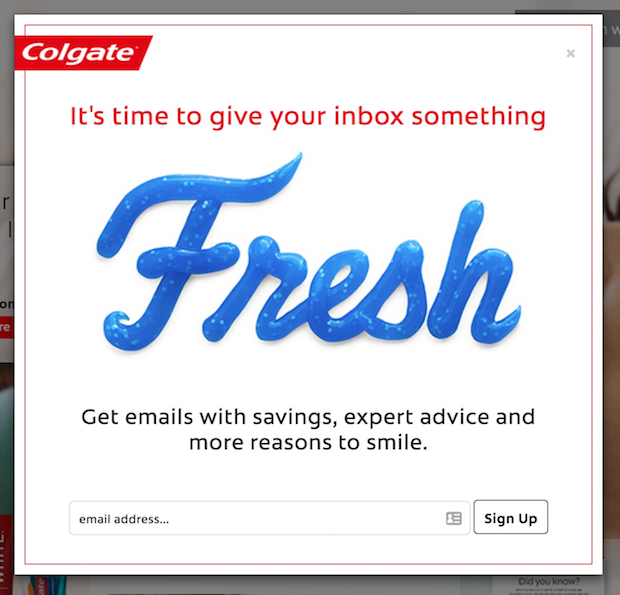 However, if you do not opt-in, then they will show you a survey pop-up on your next visit.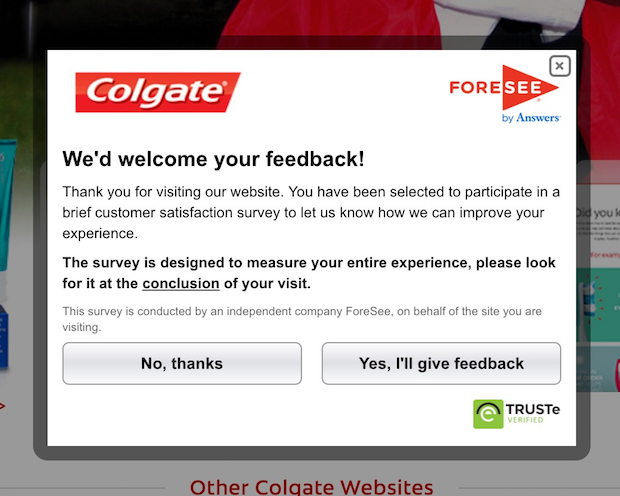 6. AT&T
AT&T uses a minimal pop-up pinned to the lower right-hand corner that displays, "Chat available."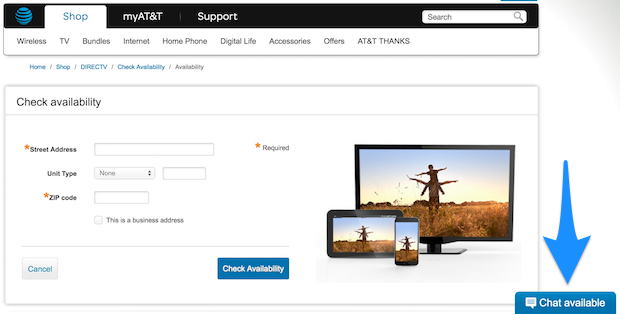 7. Pinterest
If you don't have an account with Pinterest yet, you'll see a pop-up that works essentially like a welcome gate or a landing page: in order to see anything further on Pinterest, you'll have to enter your email or connect with Facebook.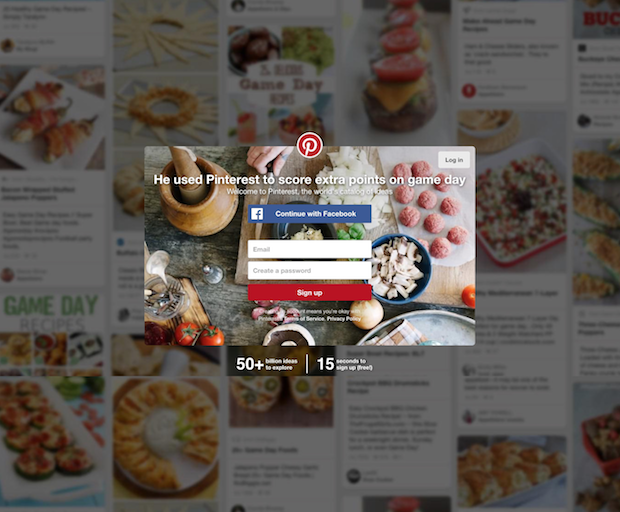 (Want to create your own Pinterest popup on your website? See our tutorial on How to Add a Pinterest Follow Button Popup to Your WordPress Site.)
8. L'Oréal
L'Oréal uses an immediate lightbox pop-up on page load when you are visiting the site for the first time. If you opt-in or exit out of the pop-up, you won't see it again.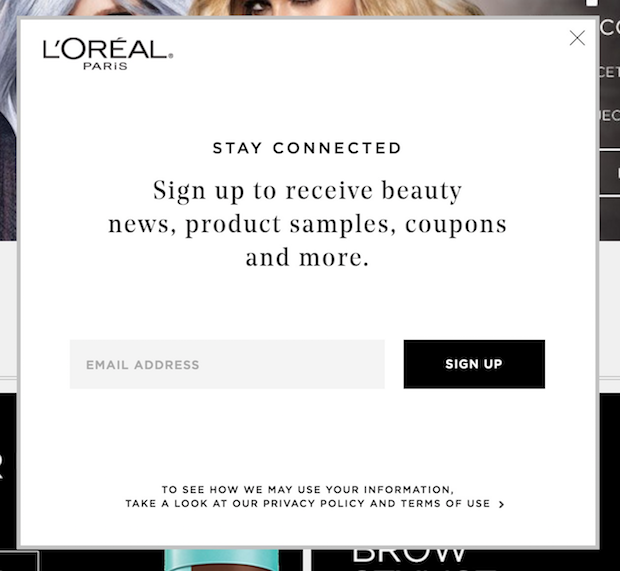 9. Esquire
Esquire shows you a full-screen exit pop-up with their lead magnet when they detect that you are about to leave the site.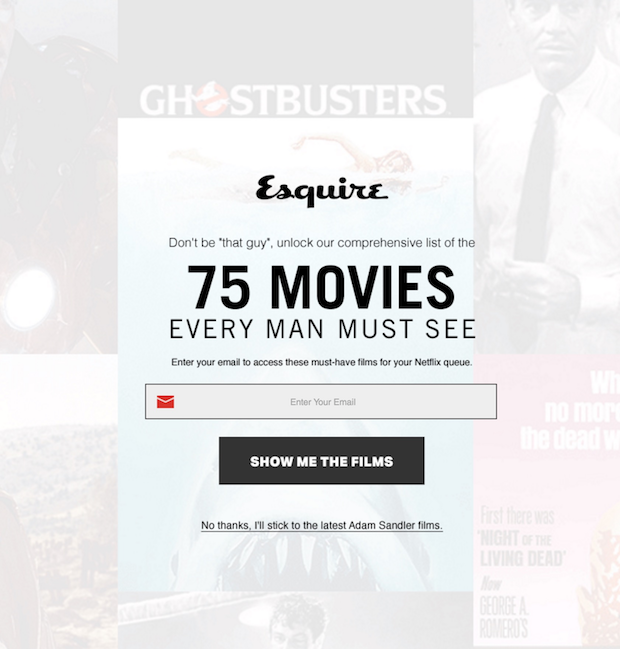 10. Entrepreneur
Entrepreneur also uses an exit pop-up with the offer to join their newsletter.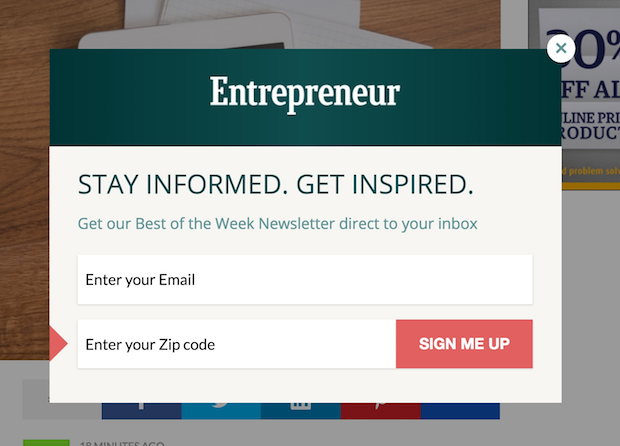 11. CountryLiving
CountryLiving uses pop-ups that are behavior personalized. For instance, you will see a different exit pop-up depending on whether you've been reading the design section or the food section of the blog.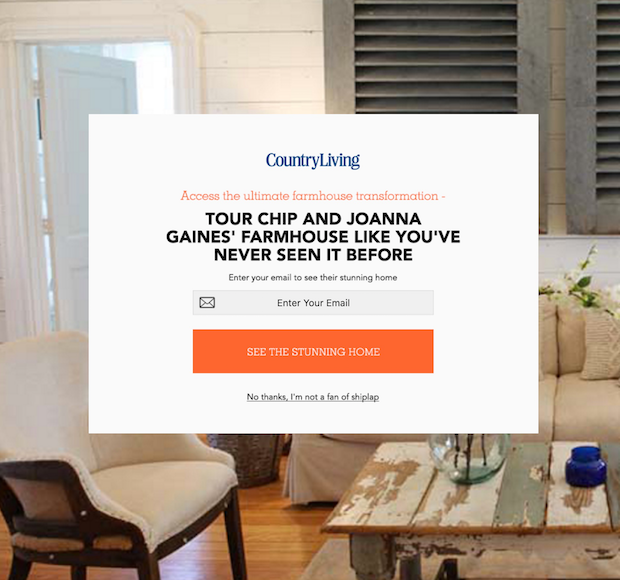 12. IKEA
IKEA's pop-up comes up right away, and asks for your email, country (automatically filled in for you) and zip code.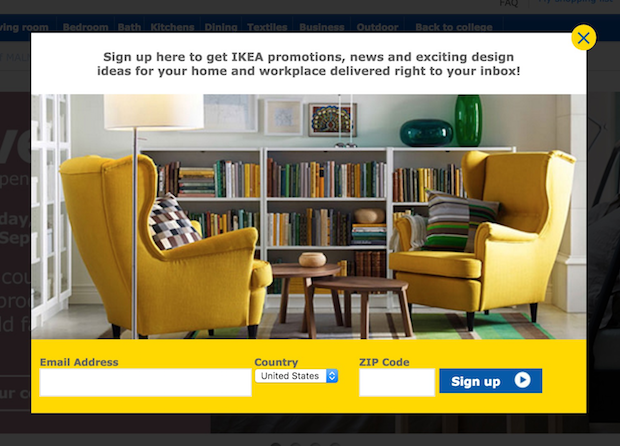 13. Orange
Orange uses a yes/no pop-up to ask whether users would like to participate in a survey about their experience.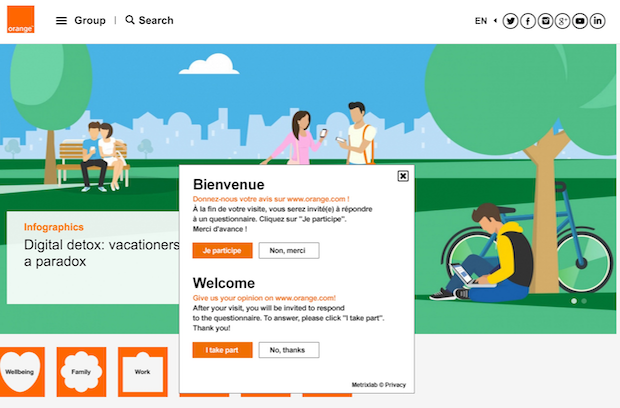 14. AXA
AXA includes a small but noticeable pop-up pinned to the bottom of the page which, when opened, allows you to enter your contact details and have a financial professional contact you.
15. H&M
H&M's pop-up is a 2-step optin which offers 20% off your first item plus free shipping when you sign up for the newsletter.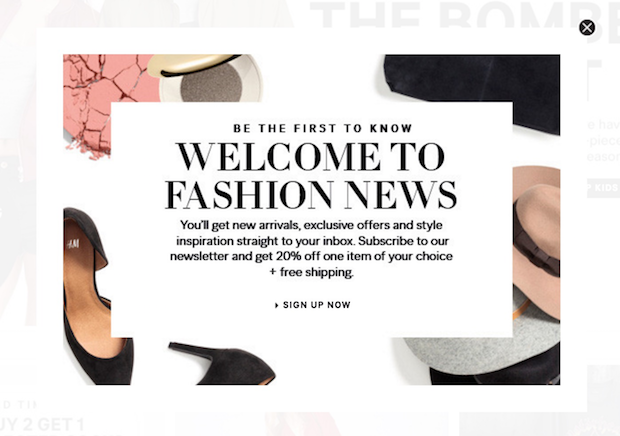 16. Lowe's
Lowe's doesn't display a pop-up until after you've been browsing the site a bit. Then they show you this pop-up, which asks if you would like to chat with a representative.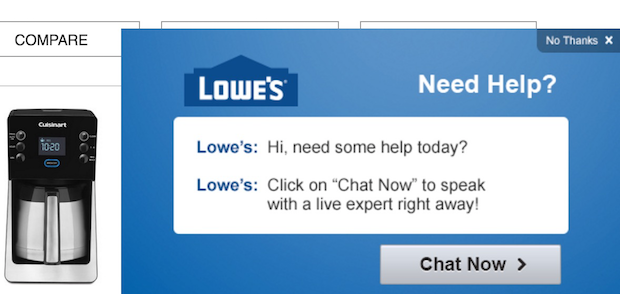 17. Sam's Club
Sam's Club uses your geographic location to recommend the closest club near you in their pop-up box.

18. Subway
Subway uses a slide-in box pinned to the right-hand side of the screen.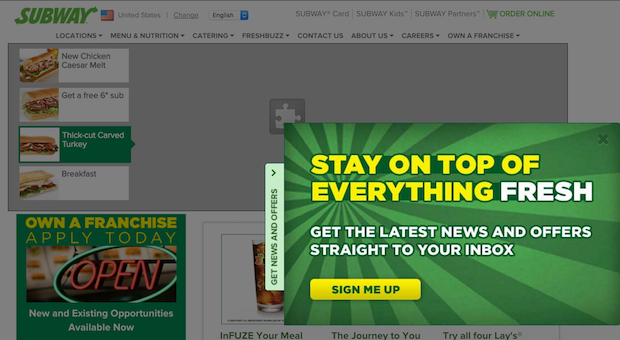 19. Sony
Sony's pop-up appears after you've been browsing the site for a bit. It simply asks if you'd like to sign up for the latest news, stories, tutorials, events and product news.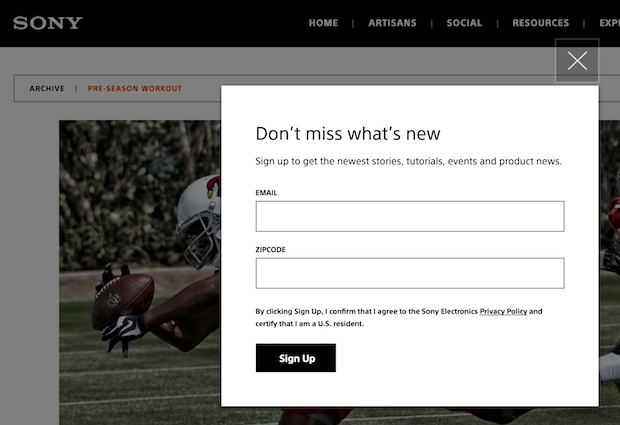 20. Ebay
Ebay's pop-up is so small and meek, you can't possibly be irritated by it. When you click through, it sends you to another page with a survey about your experience using their site.
21. Adidas
Adidas asks for your email, date of birth and gender in exchange for 15% off your purchase.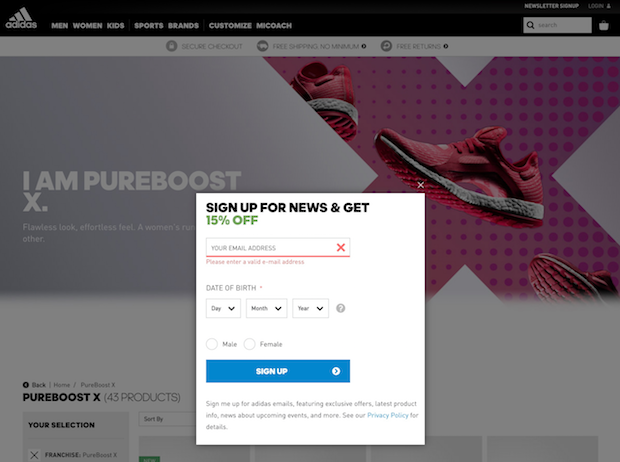 22. Pampers
Pampers uses a pop-up on the second page, which features a polite yes/no optin and a slider with the perks you'll get as a subscriber.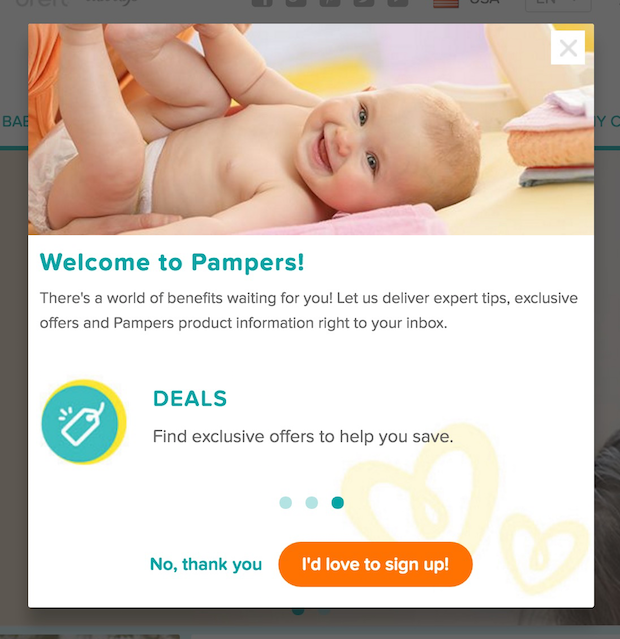 23. Victoria's Secret
Victoria's Secret uses a simple optin box that appears immediately upon page load.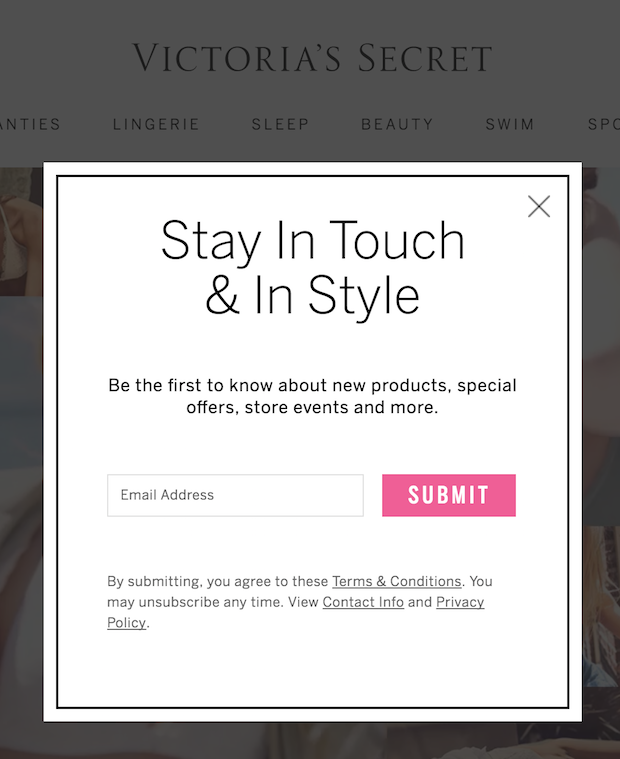 24. Purina
Purina uses a more complex optin form that asks what kind of pets you have. It appears immediately on page load, however they used a fade-in effect to make the pop-up less jarring.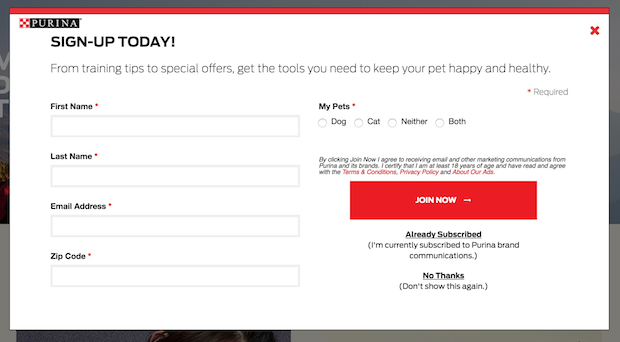 25. Neutrogena
Neutrogena's immediate pop-up asks for your email and birthday, promising 15% off your first order.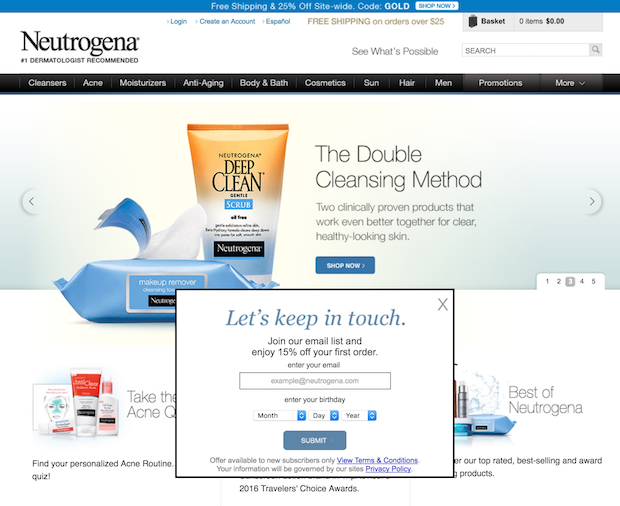 26. Bud Light
Bud Light uses a fullscreen welcome gate to confirm that you are of legal drinking age before entering the site.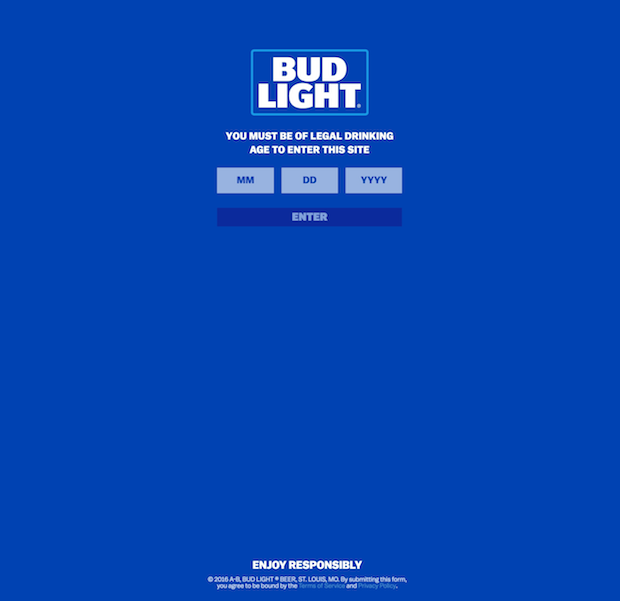 27. Budweiser
Budweiser also uses a similar welcome gate.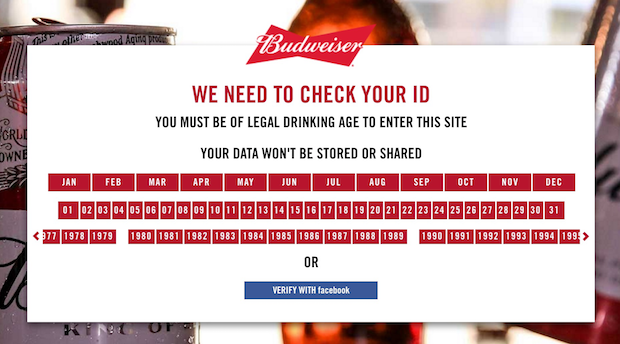 28. Marks & Spencer
Marks & Spencer uses an immediate pop-up to let you know about shipping changes. Once you click through to the U.S. site, you'll see another pop-up offering 20% off your first order when you subscribe.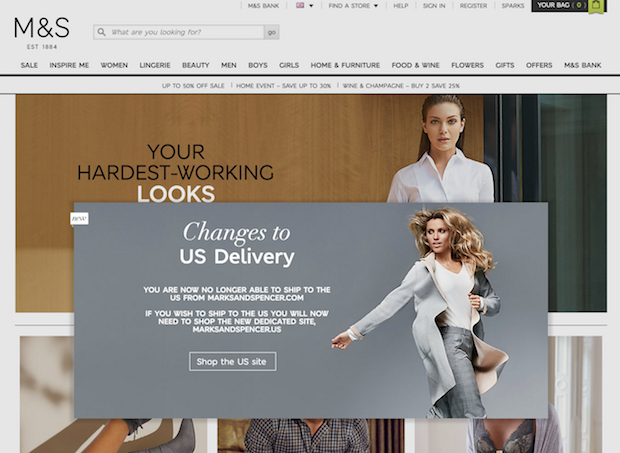 29. Domino's
Domino's uses a pop-up to prompt you to sign in and start earning points.

30. Lay's
Lay's has a floating optin bar that stays in view at the top of the page as you scroll.

31. Lego
When you click through to one of Lego's products from their main site, a yes/no pop-up appears which notifies you that you must be over 18 years old or with an adult to buy online. This is great foresight and helps to improve the user experience, since many of their visitors may be children.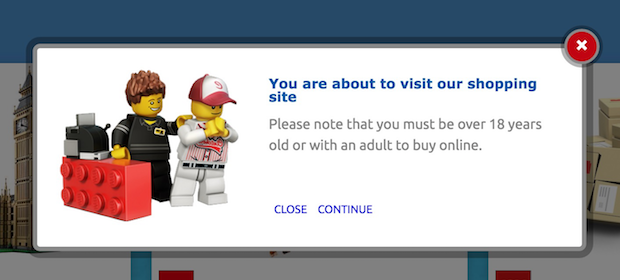 32. Carmax
After you've been browsing Carmax for a while, you'll see a yes/no pop-up appear asking if you'd like to complete a quick survey about your experience.
33. The North Face
The North Face uses an immediate pop-up on their homepage with the simple promise to "discover new gear, events, athletes and more".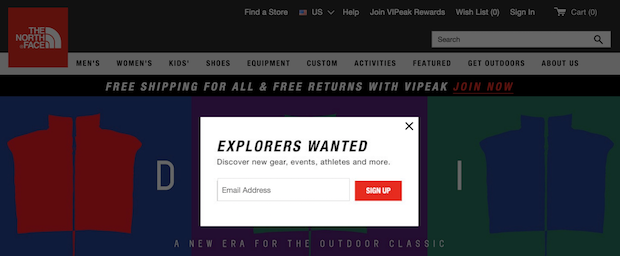 34. Ferrari
Ferrari's bright red floating bar encourages you to boost your experience by downloading the app.

35. Under Armour
On page load, Under Armour uses a lightbox optin that offers free shipping on your next order, and reminds you that you get free returns every day.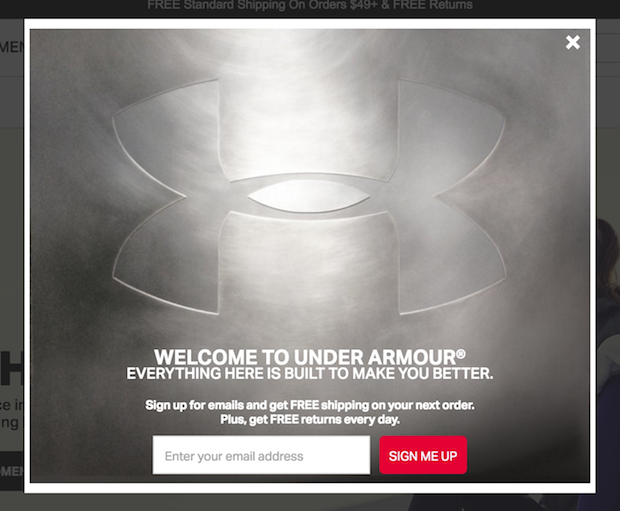 36. Expedia
Expedia uses both a floating bar with the offer to save an extra 10%, plus a box that appears for a few seconds with a sign up button.

37. Estée Lauder
On Estée Lauder's site, a fullscreen welcome gate fades into view with the offer of 15% off when you join the "E-List" loyalty program.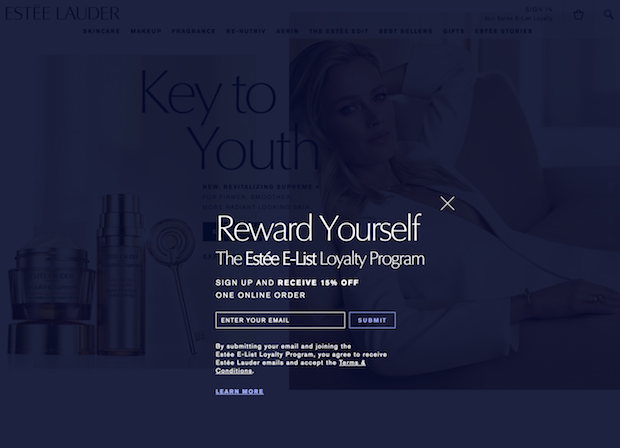 38. Priceline
Priceline's pop-up fades in for just a few seconds with the prompt to sign in and "unlock lower hotel prices".

39. Moo
Moo's pop-up (offering "free shipping, business tips, inspirational ideas, exclusive special offers and more") only appears after you've been on the page for about 30 seconds.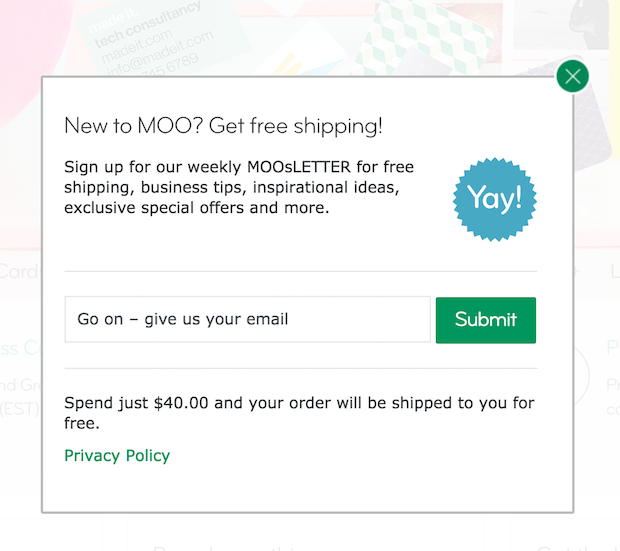 40. Anthropologie
Anthropologie asks you right away whether you'd like to sign up for the latest scoop on new arrivals, free shipping, promotions and more. However, you only see this pop-up on your first visit.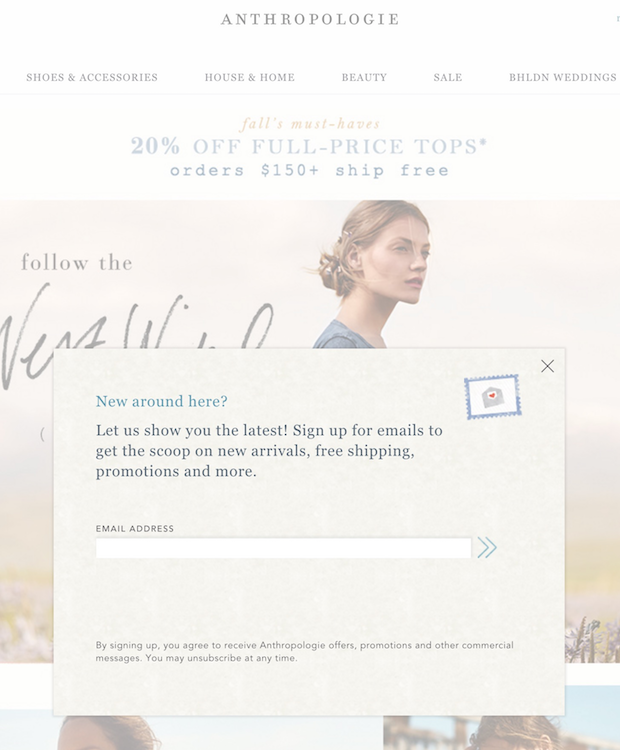 That's it! 40 top brands that are using pop-ups to increase their conversions. Are you using pop-ups on your website yet? If not, what are you waiting for?
If you enjoyed this article, you may want to check out our other post on 6 Reasons Why Pop-Ups, Welcome Gates and Slide-Ins Suck, and our list of best practices for email popups.
Do you know a brand to add to this list? Which of your favorite brands use pop-ups? Let us know in the comments below!