Are you looking for an easy way to boost leads? American Bird Conservancy used OptinMonster to create new leads and drive donations and petition signatures. Nonprofit or for-profit, you can adopt these same strategies to reach your business goals.
Meet American Bird Conservancy
American Bird Conservancy is a nonprofit organization dedicated to conserving birds and their habitats throughout the Americas.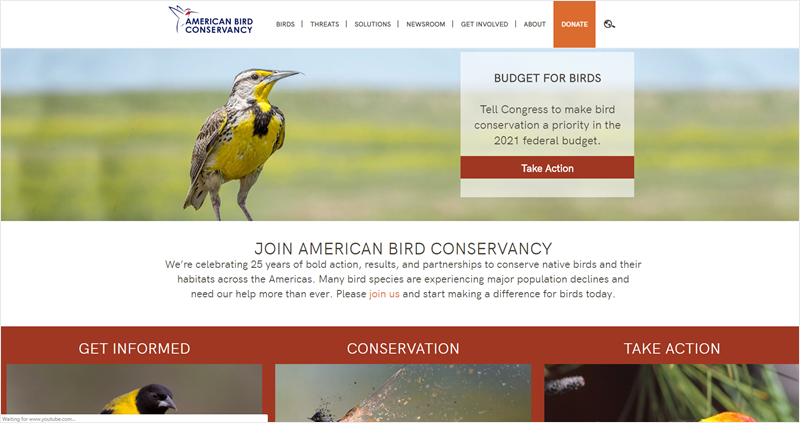 Before using OptinMonster, American Bird Conservancy collected fewer than 100 leads per month on their website. They turned to OptinMonster with the goal of creating new leads as well as driving donations and petition signatures.
Joe Lowe, Director of Digital Communications for American Bird Conservancy, told us more about how they use OptinMonster.
How American Bird Conservancy Uses OptinMonster
American Bird Conservancy knew that getting less than 100 leads per month wasn't doing any favors for their fundraising. One of the first things they wanted to do with OptinMonster was to capture more leads with a strong lead magnet. This would help them build a robust email list that they could target for their fundraising efforts.
A lead magnet is a valuable piece of content offered in exchange for a visitor's email address.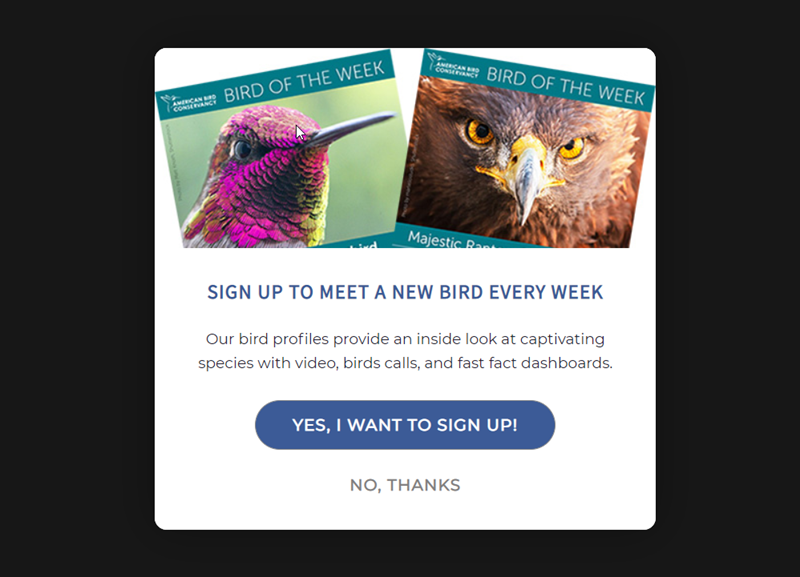 Their Bird of the Week offering is extremely popular. The mobile version converts 3.67% of visitors while the desktop version converts at a respectable 1.4%.
Those are great results, but to get the most from their campaigns, American Bird Conservancy loves using OptinMonster's A/B testing tools to find out which campaigns perform the best.
American Bird Conservancy has used A/B testing on their Federal Buildings campaign with great success. Here are 2 campaigns they evaluated… Which campaign do you think performs the best?
Campaign 1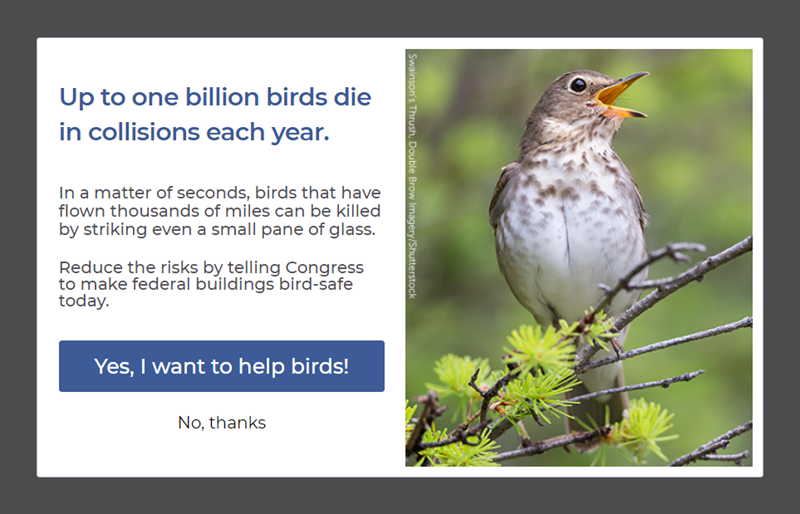 Campaign 2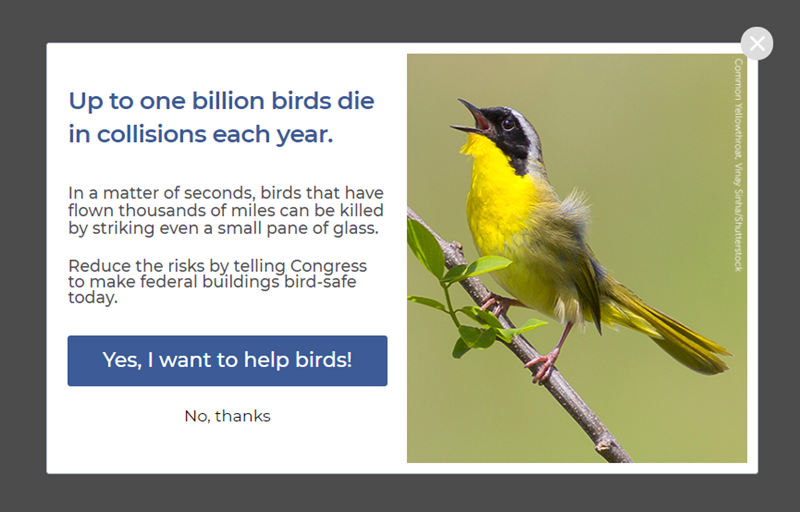 If you guessed campaign 1, you're right. A simple change of the image resulted in a 3.99% conversion rate!
A/B testing is super easy to implement. From your campaign dashboard, choose the campaign you want to split test and click the split test icon:

From there, give your split test campaign a name and enter a description detailing what you're testing: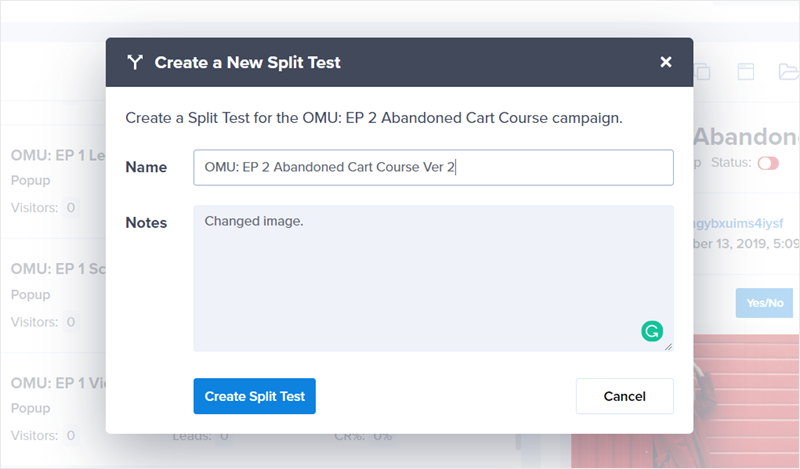 Then, just click Create Split Test and make your edits before saving this version of your campaign.
As if all this success weren't enough, American Bird Conservancy uses page-level targeting for their best lead conversion rates. Their Cats Pledge campaign used display rules to have the campaign only show up on certain pages, resulting in a 3.54% conversion rate!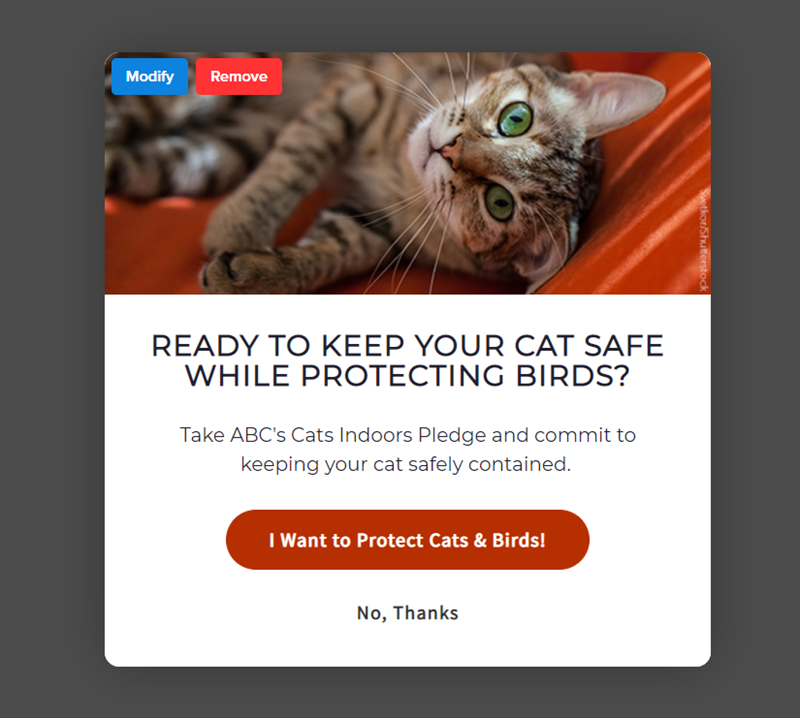 With page-level targeting, you can show or hide offers depending on how different groups of visitors have interacted with your website: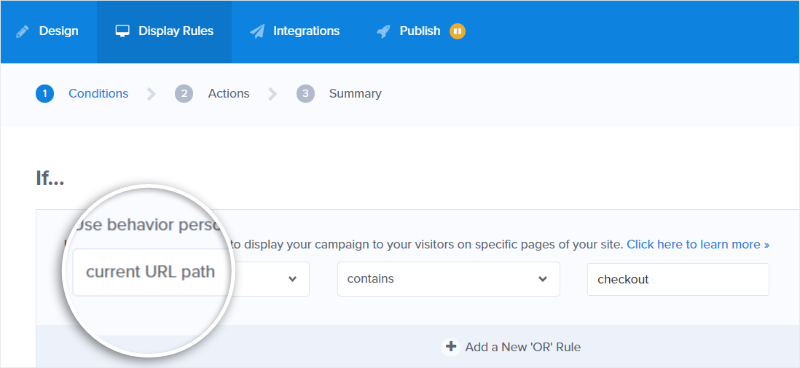 American Bird Conservancy has also had great luck with mobile-specific campaigns and page-level targeting together.
This campaign is created specifically for mobile devices and only appears when visitors are on a specific page: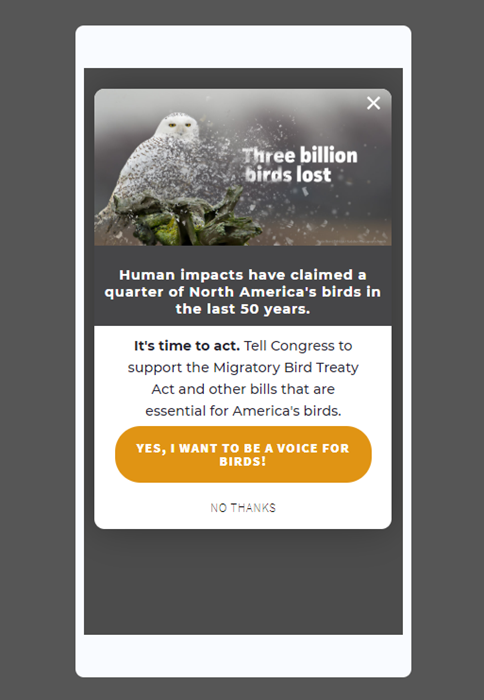 This campaign converts at 7.01%!
Results
Using OptinMonster has helped American Bird Conservancy double the size of its email list and contributed to strong year-end fundraising results.
1,000%+ increase in lead collection
1,500–2,000 leads collected per month
A mobile conversion rate of 7.01%
Summary
Using just a few campaigns can turn your existing traffic into leads and dollars. Plus, with our fully-customizable templates, you have the freedom to really make each campaign your own.
American Bird Conservancy turned to OptinMonster because they knew that they could do better than 100 leads each month. And, wow, did they!
OptinMonster has been a game-changer for us. From driving donations to collecting new leads, there is nothing that this simple tool has failed to accomplish. Our lead collection rate has jumped by over 1,000%.
Joe Lowe, Director of Digital Communications, American Bird Conservancy