Do you have a Shopify store, but you're struggling to drive more sales or make passive income? Or maybe sales are great, but you'd like to take your business to the next level.
In any case, Shopify email marketing is a skill you need to understand to get the most out of your Shopify site. That's because email marketing remains the best way to connect with your audience and generate long-term profits.
That's why, in this post, we're going to share the 7 best Shopify email marketing tools you can start using today. With these integrations, you'll be able to quickly and easily grow your eCommerce business.
But first, let's make sure we understand why email marketing is worth investing in for Shopify store owners.
Why Shopify Email Marketing Matters
Shopify is one of the most popular eCommerce platforms on the market today. It allows anyone to create their online storefront and start selling their products with no coding skills required.
Plus, it comes loaded with tons of apps and integrations to help you drive traffic and maximize profits. So you may be wondering why you need to worry about email marketing at all.
After all, you already have the business, and you likely already have the traffic. How can email marketing help increase sales from your Shopify store?
Here are 3 concrete reasons why Shopify email marketing is worth your attention:
Build a Connection With Your Target Audience: Once you have your customers' email addresses, you can nurture and develop a relationship with them. Over time, this connection can help you get positive reviews, gather user feedback, leverage word-of-mouth marketing, and much more.
Upsell, Cross-sell, & Downsell: As you grow your email list, you can send your audience promotional deals based on their purchase history. This helps you generate more sales as you're sending offers to extremely warm leads.
Train Customers to Come Back for More: Through your email marketing efforts, you can create more customer loyalty with your transactional and promotional email content. This keeps you at the forefront of your customers' minds and trains them to make your website a part of their daily or weekly routine.
In the end, email marketing is simply one of the best strategies for growing your business regardless of the platform you're using.
And Shopify is no exception.
So let's turn our attention to 7 apps you can start using to master Shopify email marketing.
7 Tools You Need for Shopify Email Marketing
Before we dive in, let's clarify the two requirements necessary for the tools on this list.
First, they either need to be available on the Shopify app store or integrate seamlessly with the Shopify platform.
Second, they need to grow your email list or help you create automated email series that you can send to the list you already have.
We'll start with apps that let you grow your email list. Then we'll finish with the best email service providers (ESPs) that you can use to master Shopify email marketing.
Let's dive in!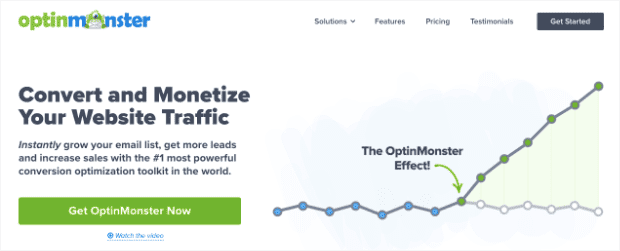 OptinMonster is hands down the best software available to improve your Shopify email marketing strategy. It allows you to build stunning optin campaigns like popups, floating bars, slide-in scroll boxes, and much more.
These campaigns help you capture your audience's attention and grab their contact information. Here's an example of a Shopify popup built with OptinMonster: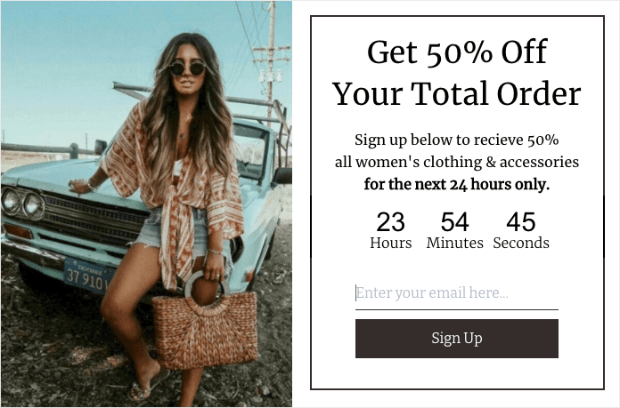 Thanks to its intuitive drag and drop editor, this campaign was built in less than 5 minutes. Plus, it requires zero technical or coding skills to create stunning optin campaigns like the one you see above.
When combined with the right offer, promotion, or lead magnet, these campaigns will drastically grow your email list. Just check out some of these success stories shared by OptinMonster clients:
Want to get similar results for your Shopify store? Just click the button below to get started with your risk-free OptinMonster account today:
Grow Your Shopify Leads Today!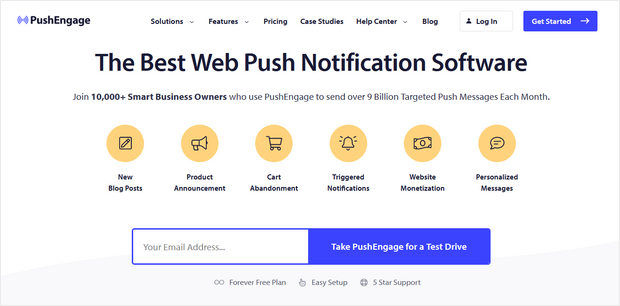 PushEngage is without a doubt the most efficient way to create and send push notifications to your customers.
Now, you may be wondering, "what do push notifications have to do with email marketing?"
Though PushEngage may not directly grow your list, it's the perfect complement to any Shopify email marketing strategy. That's because it gives you another way of opening the lines of communication with your clients.
The beauty of push notifications is that they don't ask for any contact information at the start of the interaction. Instead, people need to allow you to send them these notifications with the click of a button.
Then, over time, you can grow the relationship to collect their email address and add them to your marketing campaigns.
And PushEngage makes this process a breeze. You can quickly set up your push notifications without any prior experience.
Even if you don't consider yourself "tech-savvy," you can configure highly effective push notifications for your Shopify site in a matter of minutes.
Get started with PushEngage today!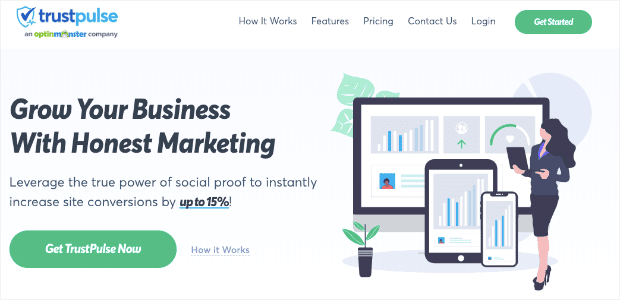 TrustPulse is the world's #1 social proof software that works on any website–Shopify included. That makes it one of the best tools for your Shopify email marketing plan. Here's why:
Imagine you're trying to get more people to join your mailing list but can't seem to get the ball rolling. You get a few signups every week, but you'd love to see real growth.
Then you add a simple TrustPulse notification to your Shopify store that looks like this:

This notification appears in the bottom corner of your screen whenever someone signs up for your list. And suddenly, you notice more and more people joining your list each week.
That's because TrustPulse is leveraging the power of FOMO ("fear of missing out") to get your site's traffic to take action.
This works because social proof is a powerful motivator for many online consumers. When they see other people getting benefits from your Shopify store, they won't want to miss out. That makes them more likely to join your list.
And the best part is that social proof allows you to grow exponentially. The more people who sign up, the more notifications get created, which leads to even MORE subscribers.
The best part is that TrustPulse comes with all the features offered by competitors, but for a fraction of the cost.
To see a detailed breakdown of how TrustPulse stacks up in terms of pricing and features, check out this helpful comparison post: FOMO vs. UseProof vs. TrustPulse: Which Is Best for Social Proof?
Ready to try it out risk-free? Get started with TrustPulse today!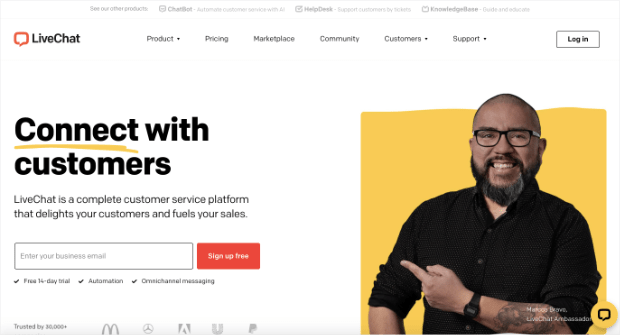 LiveChat is a Shopify app integration that allows you to instantly connect with your customers. This makes it an excellent tool for improving your Shopify email marketing efforts.
With LiveChat, you can support your customers and help them troubleshoot and solve any questions or concerns they have with your online store.
This helps you in two ways:
First, you get to work 1:1 with your site's traffic. This allows you to build a stronger relationship with your potential customer and move them down your sales funnel.
Second, it lets you capture more email addresses for your mailing list. That's because you can make it a requirement to add a name and email address to begin the chat, like so: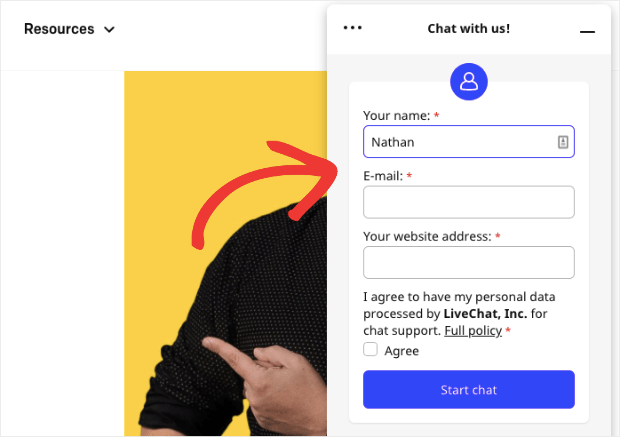 This is a standard best practice with any live chat software, which means you won't be harming the user experience (UX) by making it a requirement.
Once you have their contact information, you can send them your transactional and promotional email campaigns.
Get started with LiveChat today!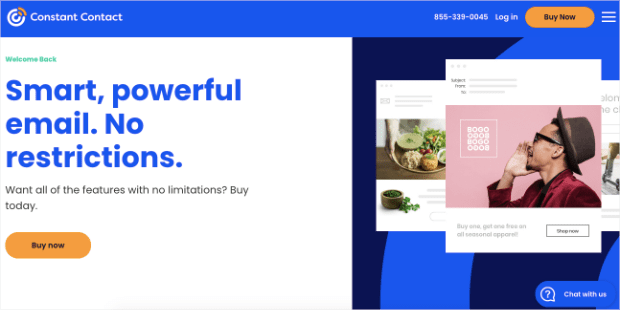 Constant Contact is one of the best email service providers (ESPs) for Shopify. It's an excellent option for small businesses that value both phone and email support.
With Constant Contact, you can create an email series that automatically send promotional campaigns to your audience. This helps you:
Drive sales with product recommendations
Upsell, cross-sell, or downsell to customers based on purchase history
Gather feedback about your store to improve UX
And much more.
Plus, if you work with a lead generation tool like OptinMonster, you can send new leads directly to your Constant Contact list.
This means that your Shopify email marketing will run on auto-pilot. Once you set it up, you can sit back and watch the new leads (and sales) pour in.
Check out Constant Contact today!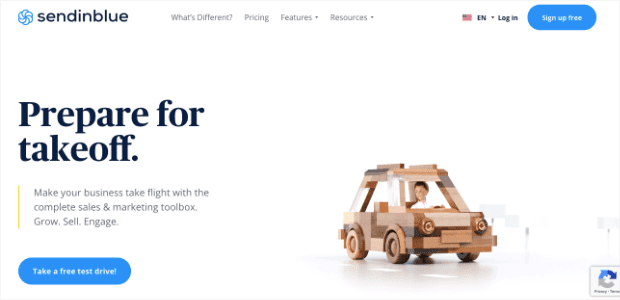 Sendinblue is another excellent ESP that you can use to improve your Shopify email marketing efforts. You can use Sendinblue's Shopify app to sync it with your store.
Then use their templates to create highly-effective email campaigns that push your customers into action. You can sync your existing Shopify list to Sendinblue to make everything run automatically.
Or, if you use software like OptinMonster to get new subscribers, you can send all your new leads directly to your Sendinblue account.
Plus, Sendinblue prides itself on having high deliverability rates due to its strong reputation. That way, you can rest assured that your emails will end up in your customers' inbox where they belong.
Sendinblue is the perfect choice for small businesses on a budget. That's because they have a free version that lets you get started and upgrade as you grow.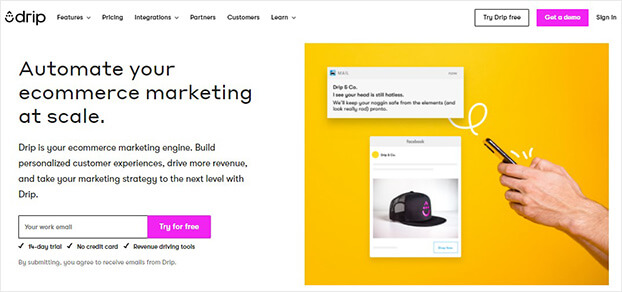 Drip is the last email service provider on this list. But it certainly isn't the least qualified option to consider.
In fact, Drip can be the perfect ESP to give your Shopify email marketing plan the boost it needs to reach the next level.
That's because Drip is one of the most advanced email providers on the market. And the good news is that it integrates with your Shopify store with the Drip app.
That means you can start sending automated email campaigns to your Shopify list in a matter of minutes. You can segment your audience to personalize the messaging and rely on powerful analytics to constantly improve your strategy.
Plus, their visual campaign creator helps you organize your email list and send the right messages to the right people at just the right time in their customer journey.
Ready to give it a shot? Get started with your Drip account today!
What's the BEST Shopify Email Marketing Tool?
In this post, we've covered 7 apps to help you improve your Shopify email marketing efforts.
But the real question remains: Which is the BEST app to help you grow your list and drive more sales through email marketing?
For that, OptinMonster is definitely the tool you need.
That's because every email marketing strategy requires a robust list of contacts to send campaigns to. OptinMonster is the tool that has been proven to grow your list with the highest quality leads.
And with our new TruLead™ Lead Verification software, you can also verify that your new subscribers are people in your target audience.
Not only will this save you money with your ESP (because you won't pay for spambots to take up your mailing list), but it will improve engagement and lead to more sales.
At the end of the day, OptinMonster has everything you need to create a Shopify mailing list that will drive the most profits over time.
Grow Your Shopify Leads Today!
And that's it! We hope you enjoyed this article. If you did, you might want to check out the following resources:
These will have everything you need to improve your Shopify email marketing strategy and drive more sales from your online store.